Oakland University G8 Dining Services
As an Amazon Associate and member of other affiliate programs, I earn from qualifying purchases.
Recently, my readers found my University of Michigan and Michigan State University dining hall posts to be helpful. Therefore, I jumped at the opportunity to visit the new Oakland University G8 dining stations. They offer students lots of options, in a pretty fantastic setting!
A Campus Full of Surprises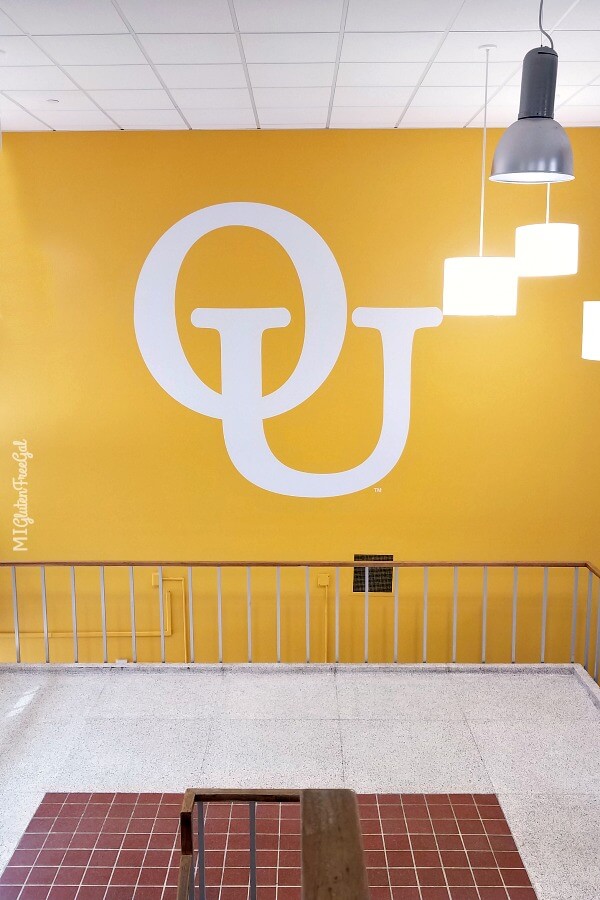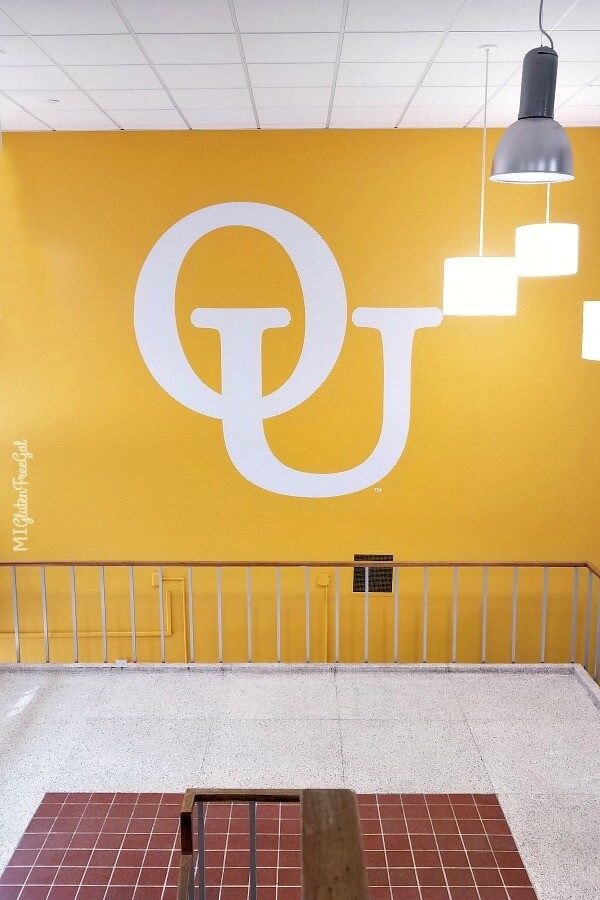 If I could sum up my visit at Oakland University in one word, I would say, "surprised." I previously failed to appreciate the expanse and beauty of the campus. I always thought of it as the little college I passed by on my way to Trader Joe's. Boy, was I mistaken. (Oakland alum, please don't hate on me for being oblivious!)
I recently visited Oakland University, with my plucky side reporter Mr. Gal. (Excellent note taker, that guy.) We meet up with Mark Mccormick, the resident district manager for Chartwells. Chartwells runs the food service program at Oakland University and 270 other universities across the country.
How Many Students?!?!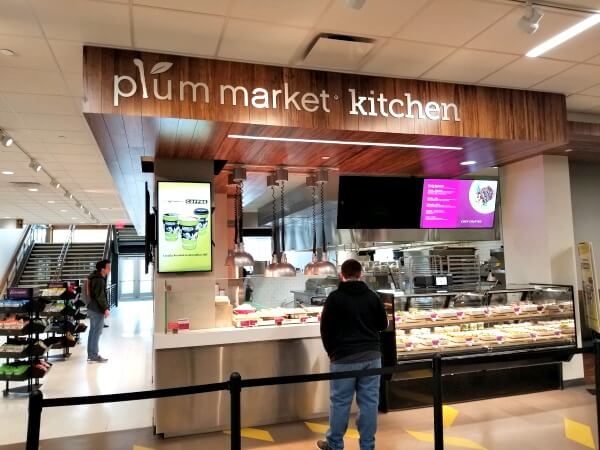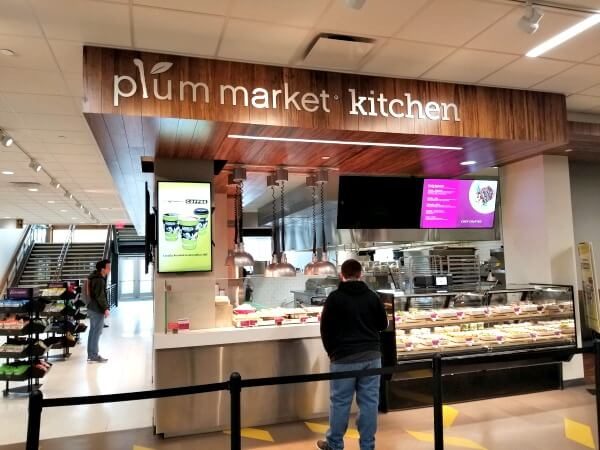 While the Oakland University G8 dining stations initially drew me to campus, Mark provided us a fantastic tour of campus. We started in the Campus Center, which features a Chick Fil A (the first one in Michigan!), a Moe's Southwestern Grill, and a Plum Market station. Plum Market proudly serves Ethel's Baking Company Dandies!
From there we ventured to Vandenberg hall, the older dining hall on campus. They offer a variety of different options, in separate dining stations. Mark stated that 3,000 of Oakland University's 20,000 students live on campus. Both on and off campus students use the dining halls.
What is G8?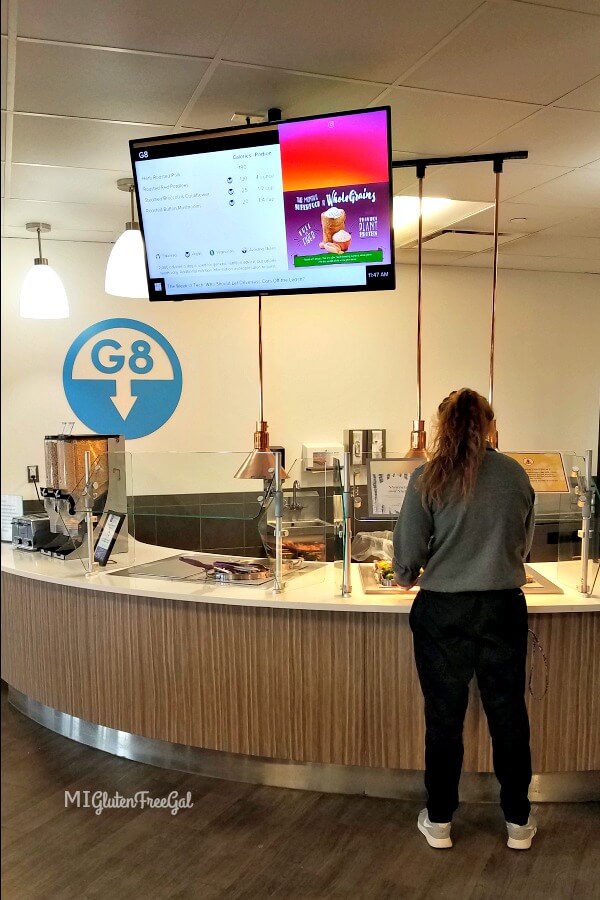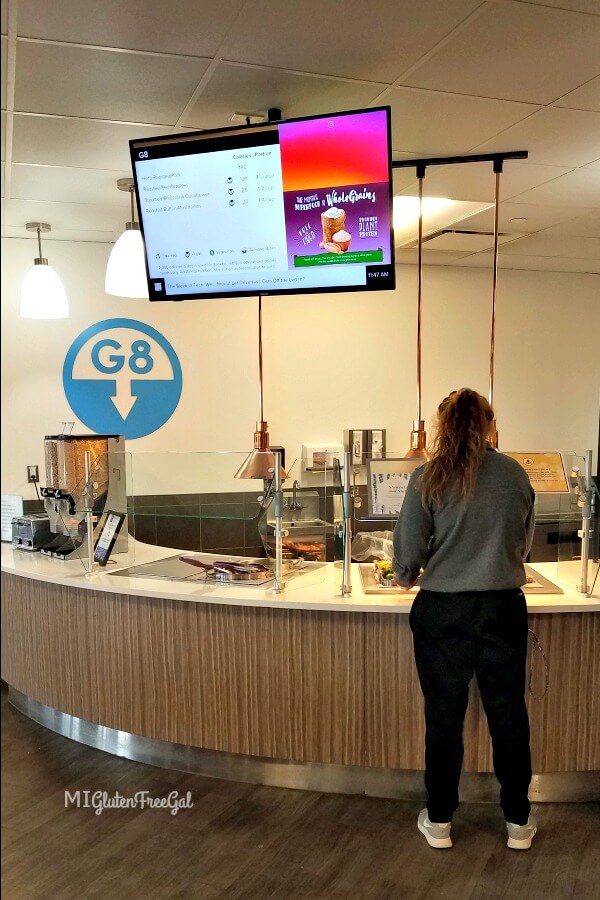 Mark thoroughly explained the Oakland University G8 dining stations to us. While other meals are prepared in a shared space, all meals prepared at G8 stations use their own separate cooking space. The name "G8" comes from the concept of being free from the 8 most common allergens, as well as gluten. Pretty spiffy. Staff even use separate, uniquely colored utensils to serve all meals in these stations. Their is a protein, starch, veg and a composed cold salad every lunch and dinner.
In addition, they offer Udi's gluten free bread and buns. They have a dedicated gluten free waffle maker and gluten free waffle batter. I totally could eat those for dinner, too! Dedicated, separate toasters are available at these stations as well. A sign hangs above them, explaining to other non-food allergy students that are for food allergy needs.
How Do They Handle Other Allergens/Diets?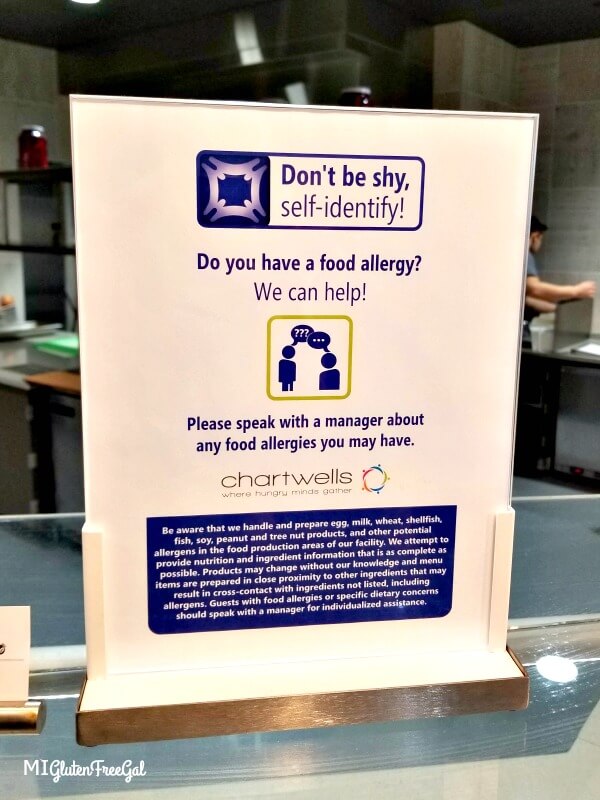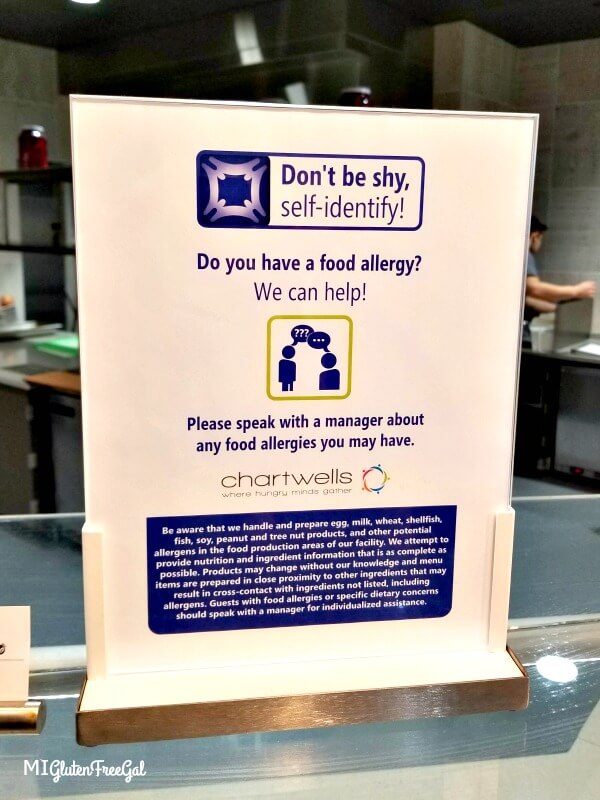 Glad you asked. As stated on their website, they feel it is their responsibility to "provide safe and appropriate meals for all students on campus when possible." They even offer to go the extra step and "create meals specific to each student's needs." Read more about this on their Special Diets section of their website.
Cooks offer halal chicken options at the Oakland University G8 stations, and kosher wraps are available elsewhere on campus. Stations at both Vandenberg and Hillcrest displays menu items, as well as highlight dietary restrictions in those meals. Students easily find this information on the school's dining app.
Welcoming to All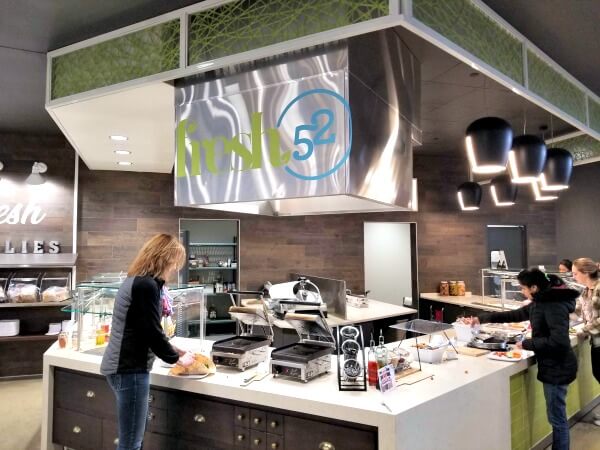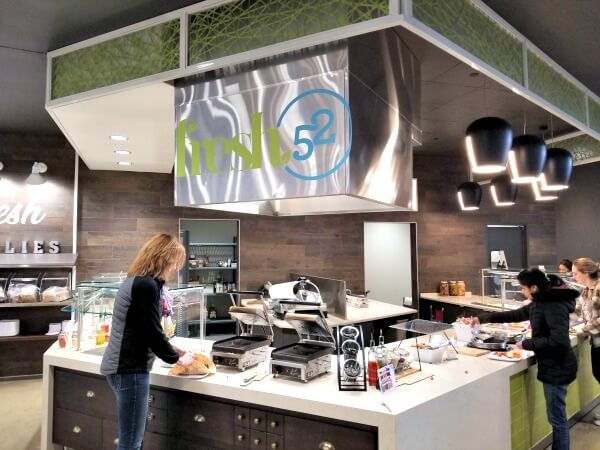 Fridays on campus are BUSY. Anyone can eat there, student or community member for only $5. And they're open until 7 pm!! Despite that, everyone we talked to was just so NICE. Mark took time to talk to students. Chef Joey gave us his undivided attention as we asked further questions. I instantly felt at home there.
Chef Joey explained they don't always offer gluten free desserts, but when they do, they get eaten quickly. I suggested he connect with Gluten Free Specialties in Rochester for some gluten free donuts. I appreciated how receptive he was to new ideas! He always encourages students to ask him questions and give honest feedback.
Check out this article in Gluten Free Living magazine for more tips on Navigating the Dining Hall while in college.
Gluten Free Options Outside of Campus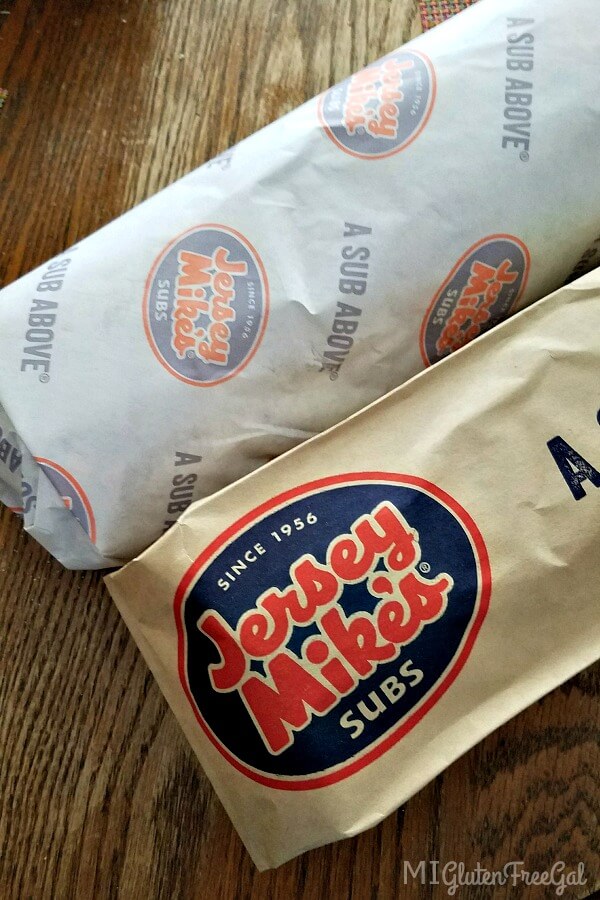 Looking to venture off campus? Whether dining alone or as a family, Rochester offers many gluten free dining options. Close to campus you'll find Buddy's Pizza, Jersey Mike's and BD's Mongolian BBQ. Down the street at The Village of Rochester Hills, eateries include Chipotle, Bravo! Cucina Italiana, Mitchell's Fish Market and P.F. Chang's.
Looking to do some gluten free grocery shopping? Wander through Whole Foods at the Village, or go across the street to Trader Joe's. Drive a bit further to Star Batt Drive, home to Gluten Free Specialties, Michigan's longest operated, dedicated gluten free bakery! Find donuts, bread, muffins and more at their storefront.
So, what universities are you or your child researching? Have you found one outside of Michigan that's top notch? Leave a comment below so we can help each other find more safe options!