Trader Joe's Gluten Free Finds
As an Amazon Associate and member of other affiliate programs, I earn from qualifying purchases.
People often ask in Facebook groups about Trader Joe's gluten free options. For those who don't have a location nearby, they're eager to know what to buy when they finally go. Hopefully this list can give friends a start!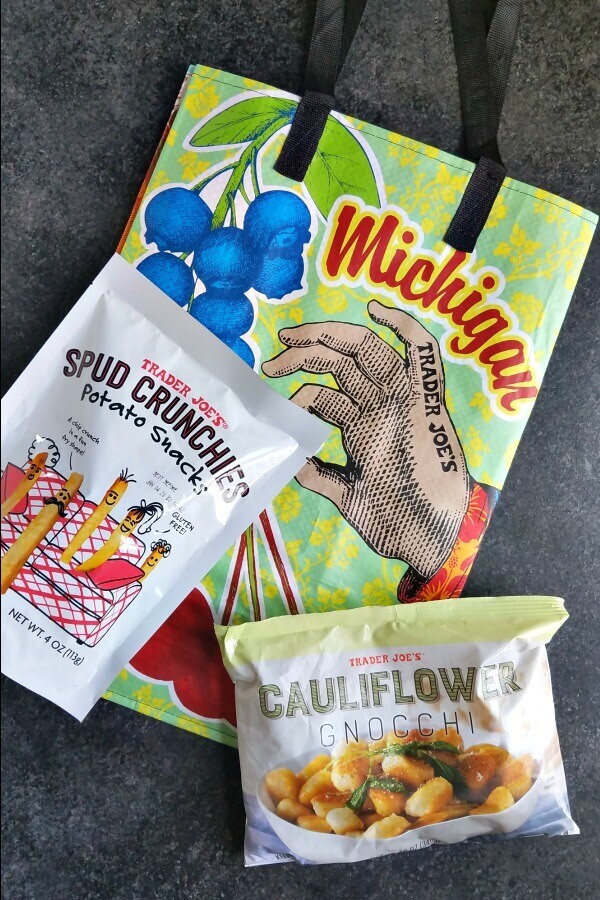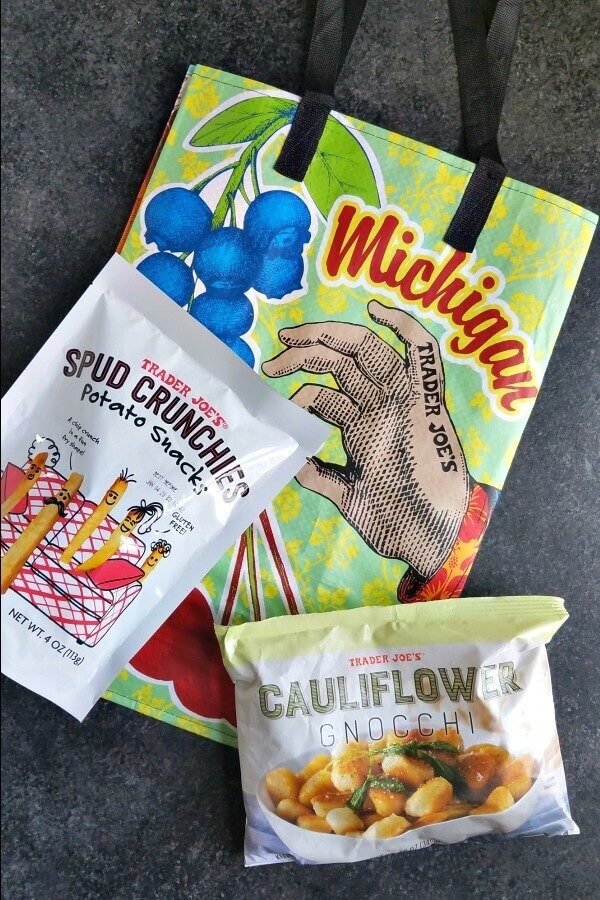 Aren't Trader Joe's and Aldi the Same?
People often (incorrectly) assume Trader Joe's and Aldi have the same parent company. The two businesses were separately owned by two German brothers. Originally the brothers jointly owned Aldi in Germany. However, after a difference of opinion, they amicably split the company into Aldi Sud and Aldi Nord.
Aldi Nord acquired the Trader Joe's chain that started in California. Aldi Sud operates the Aldi locations in the United States. Confusing? The Kitchn further explains the Aldi and Trader Joe's connection, for those who want to dig deeper. However, like Aldi, Trader Joe's relies on separate manufacturers to make their products, placed in Trader Joe's packaging. The practice is often called "private label."
Trader Joe's Gluten Free Labeling Guidelines
Trader Joe's website states "If you see "Gluten Free"on a Trader Joe's product, this means that the product has been validated to contain less than 20 ppm of gluten (or made in a certified gluten free facility). Individuals with Celiac Disease or Gluten Sensitivity must avoid gluten for their health."
Some people, myself included, choose to eat some items not specifically labeled gluten free, based on ingredients. Trader Joe's has stated in past emails, "We do have many products that are made in facilities that don't process gluten, even though it's not labeled gluten free. Generally, [the reason it's not labeled] is because the supplier doesn't want to pay for certification."
Gluten Free Bread & Baked Goods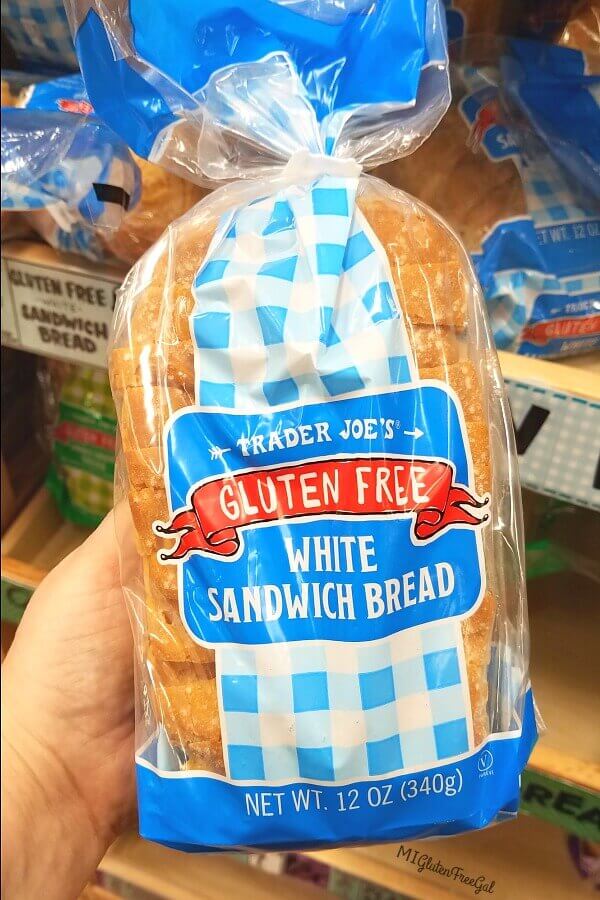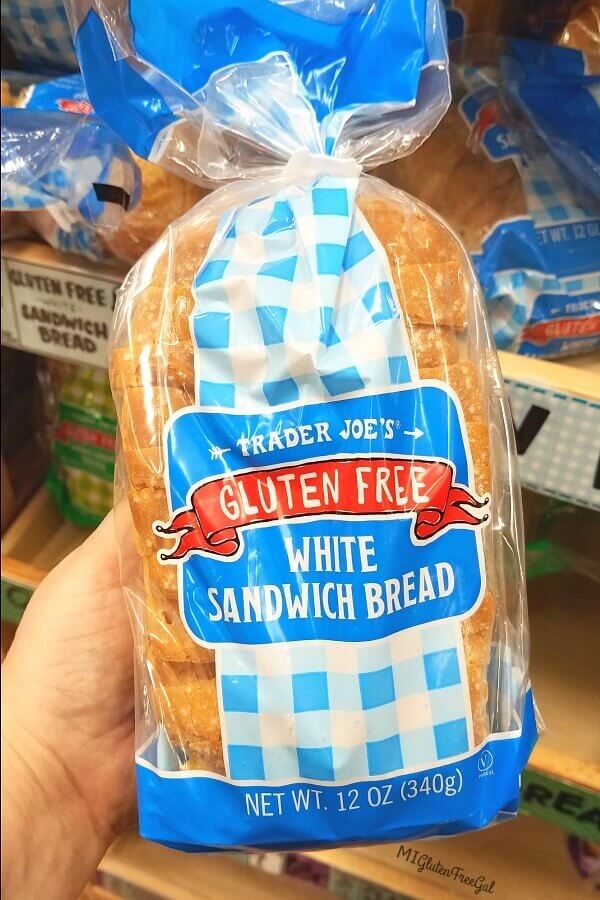 Trader Joe's stocks gluten free white sandwich bread and gluten free whole grain bread. Many people declare this to be their favorite gluten free bread.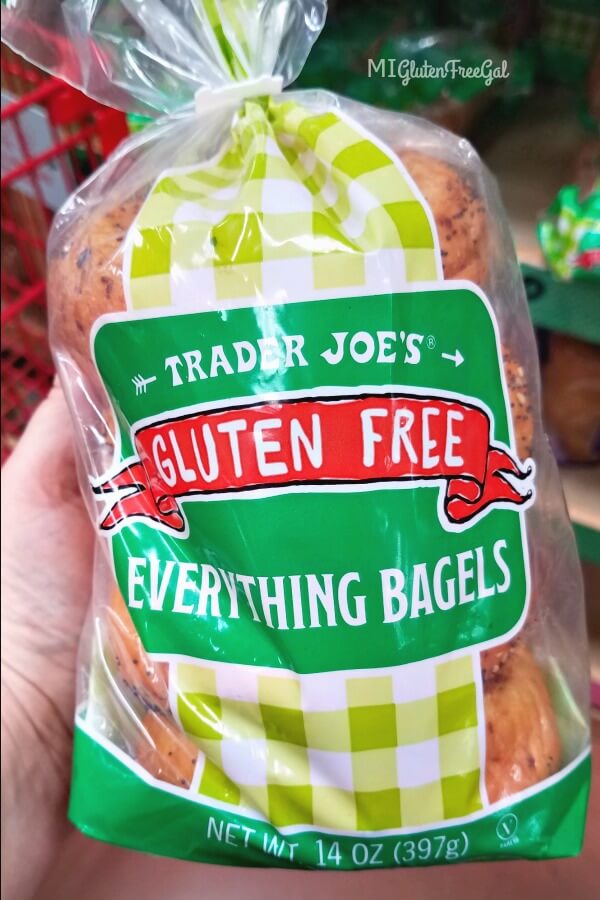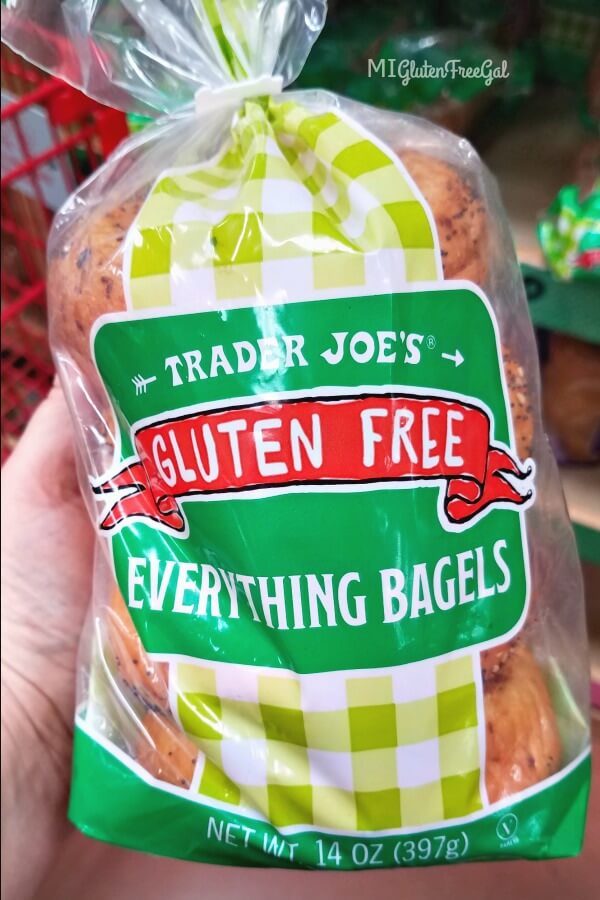 They also sell gluten free bagels. Not a fan of "everything"? They sell plain gluten free bagels as well. This fall they offered gluten free pumpkin bagels for (I believe) the first time. They're amazing!
Gluten Free Cookies & Cupcakes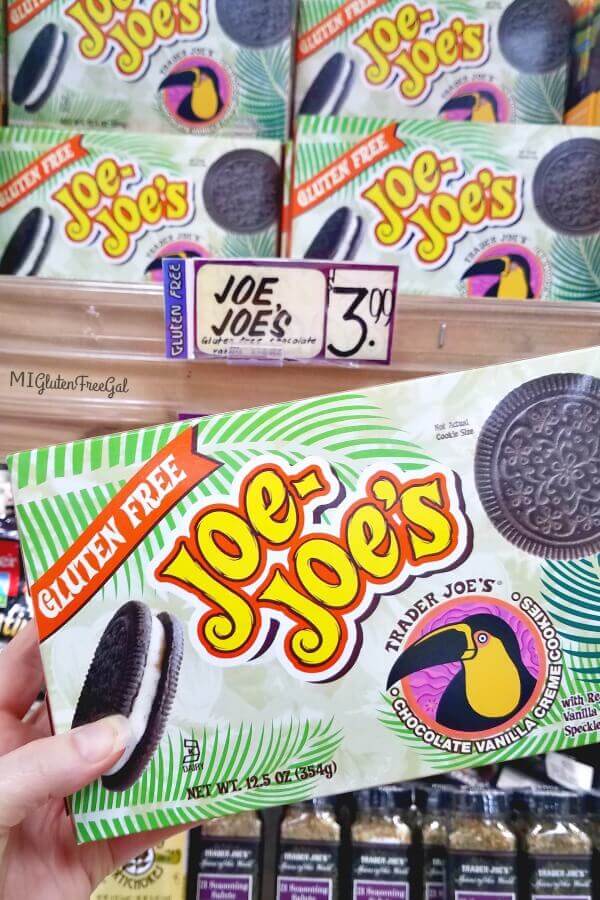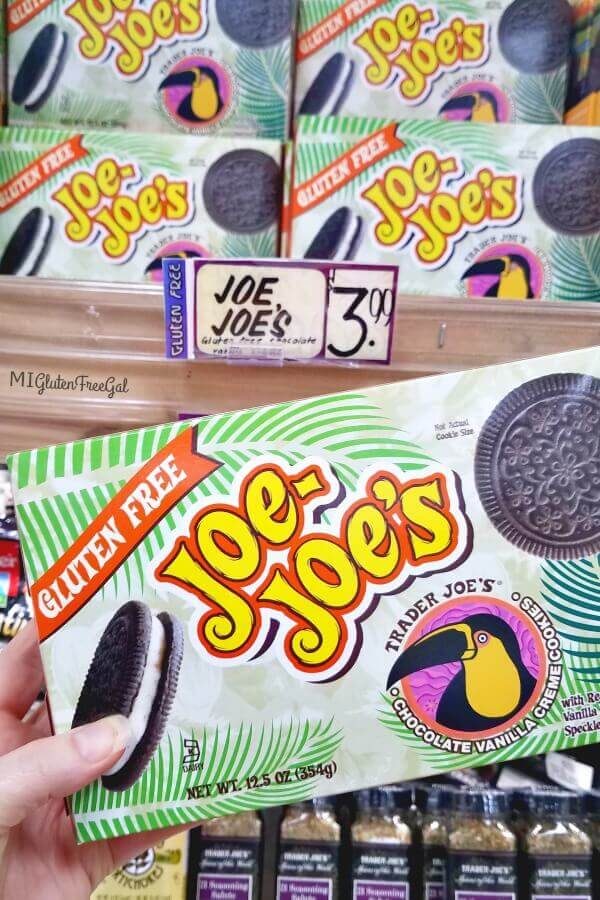 People LOVE Joe Joe's. During the Christmas season, they offer gluten free Candy Cane Joe Joe's. They stock many more gluten free treats than I can picture here. They sell gluten Soft Baked Snickerdoodles, Crispy Cookies and Brownie Crisps. **Update- The Gluten Free Joe Joe's now contain oat flour.
Gluten Free Frozen Foods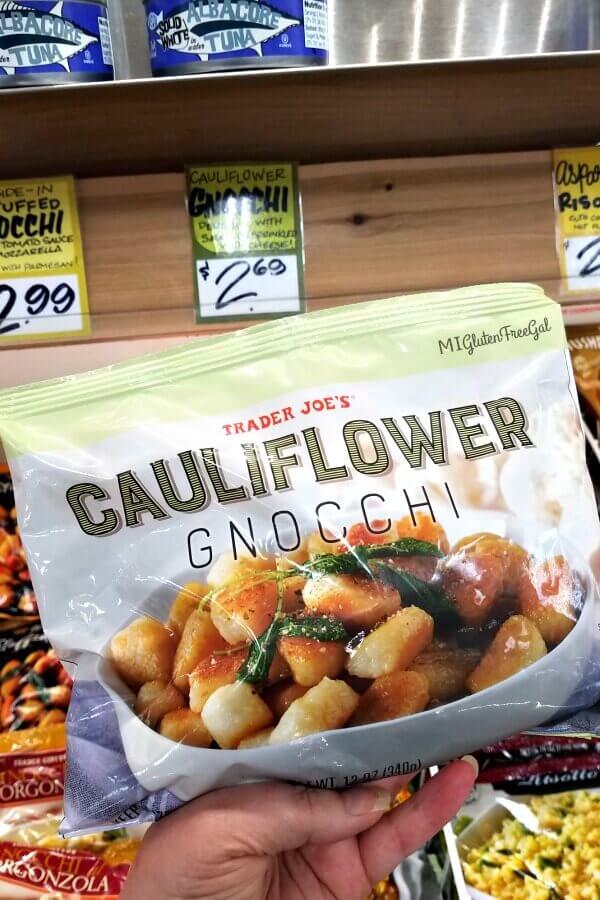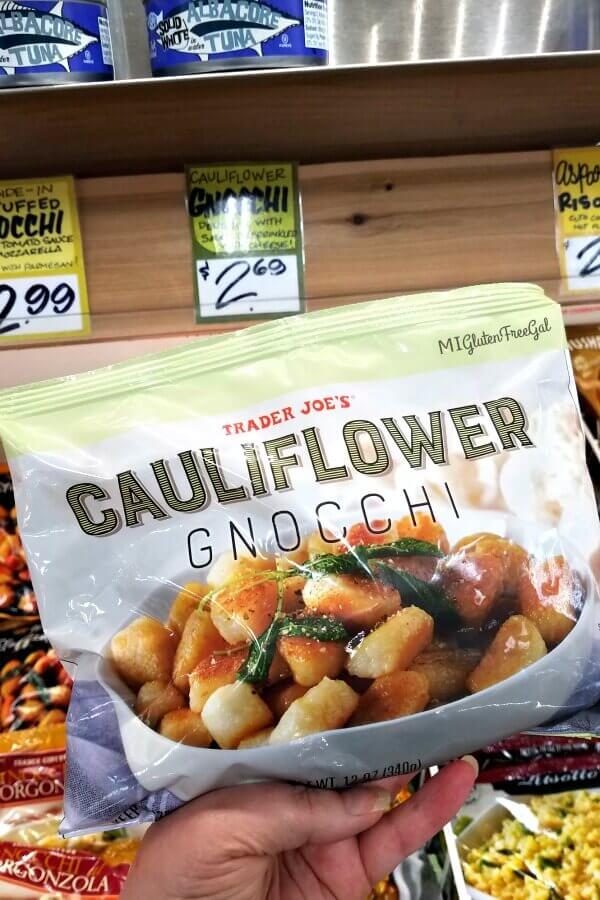 This highly popular Gluten Free Cauliflower Gnocchi is not specifically listed on the Trader Joe's Gluten Free Dietary List. I have purchased this many times, but you decide. I really like Iowa Girl Eats' tips on cooking cauliflower gnocchi. Trader Joe's also sells cauliflower and butternut squash pizza crusts, which ARE labeled gluten free.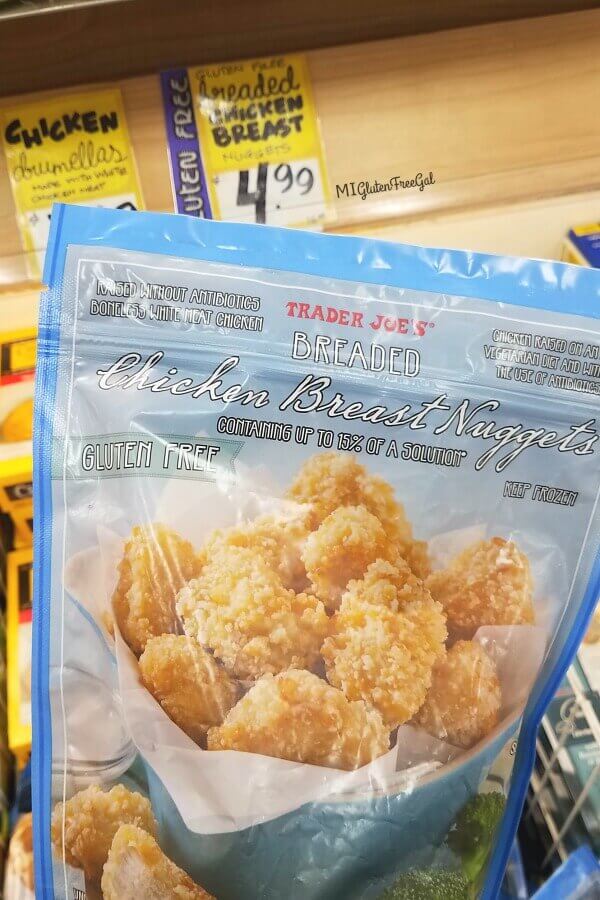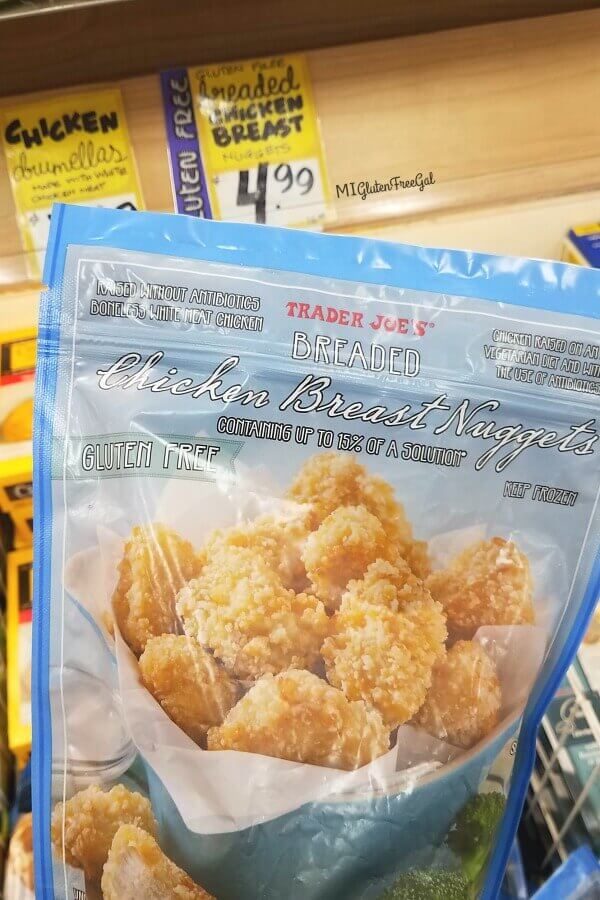 I have not personally tried these gluten free chicken nuggets. I know my friend Amanda of Eat at Our Table loves them, as do the rest of her family.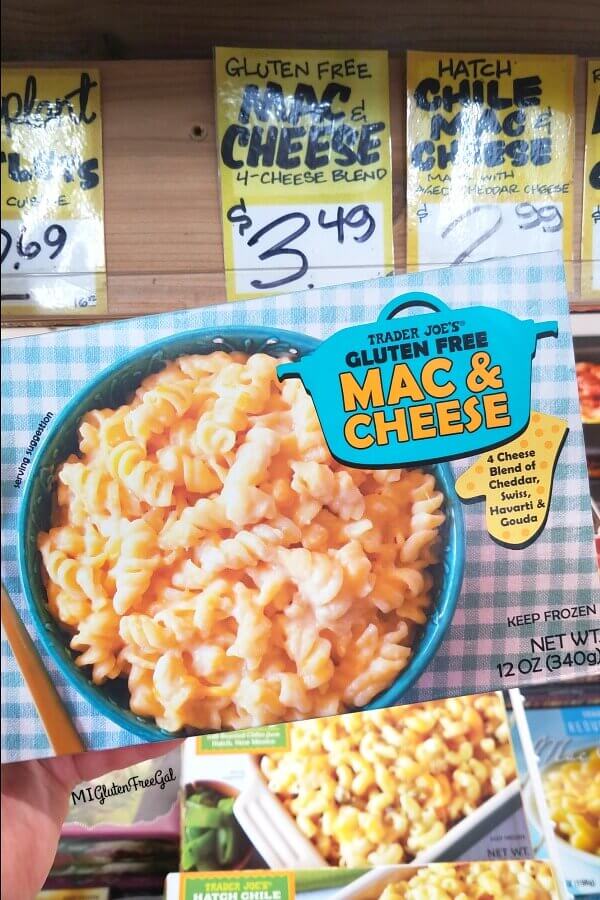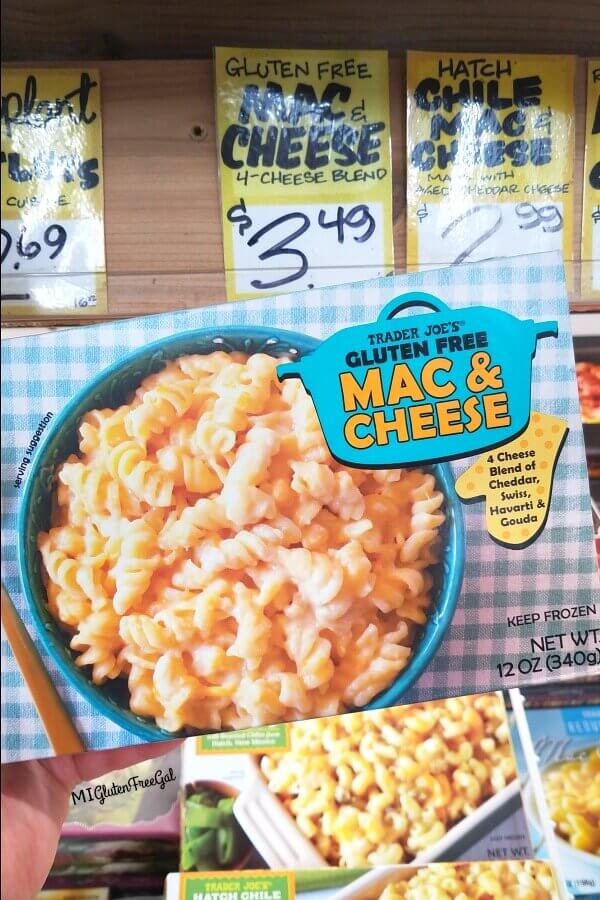 You'll find many Trader Joe's gluten free foods in the freezer section. This gluten free macaroni and cheese works great in a pinch. They also stock a gluten free cheese pizza, and a gluten free Chicken Tikka Masala. There are also many other items, again not specifically labeled gluten free, that contain no gluten ingredients.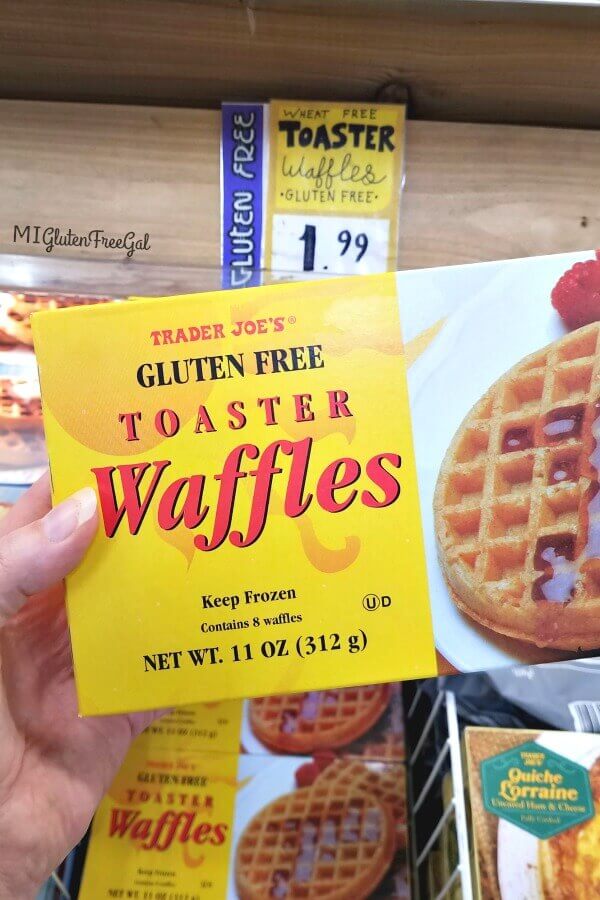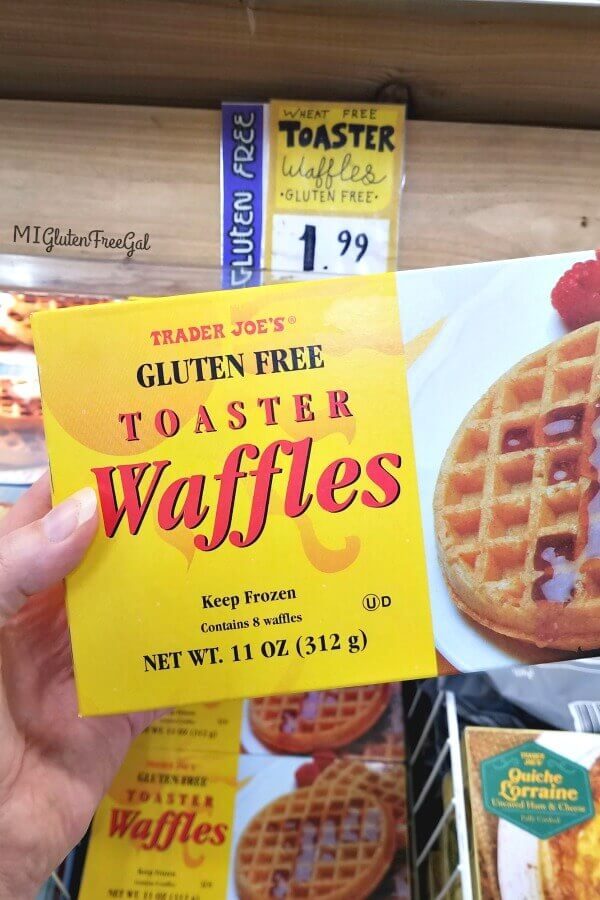 Don't forget breakfast. These gluten free toaster waffles are a steal at only $1.99 a box. They also sell gluten free (and dairy free!) frozen pancakes. I really love their gluten free mochi ice cream treats!
Gluten Free Cereal & Grains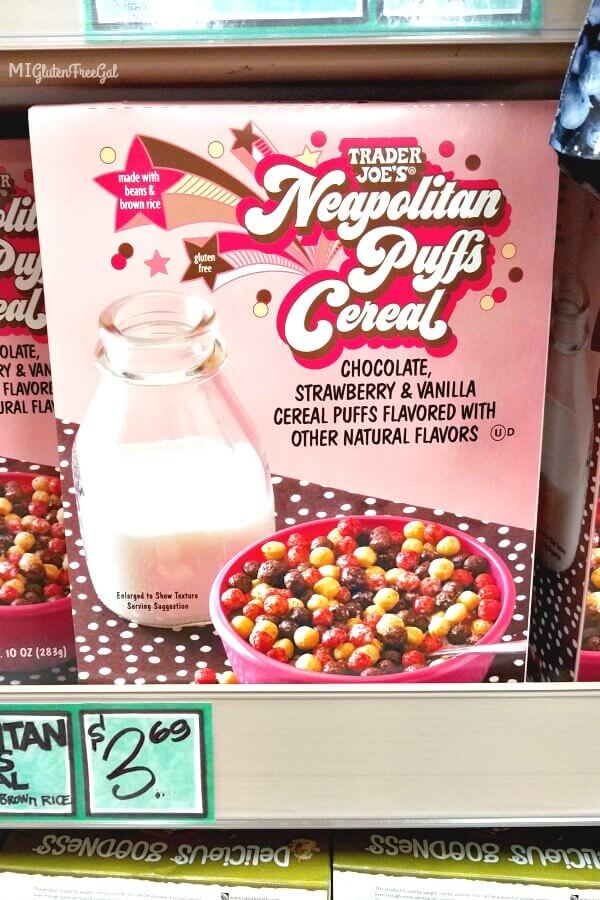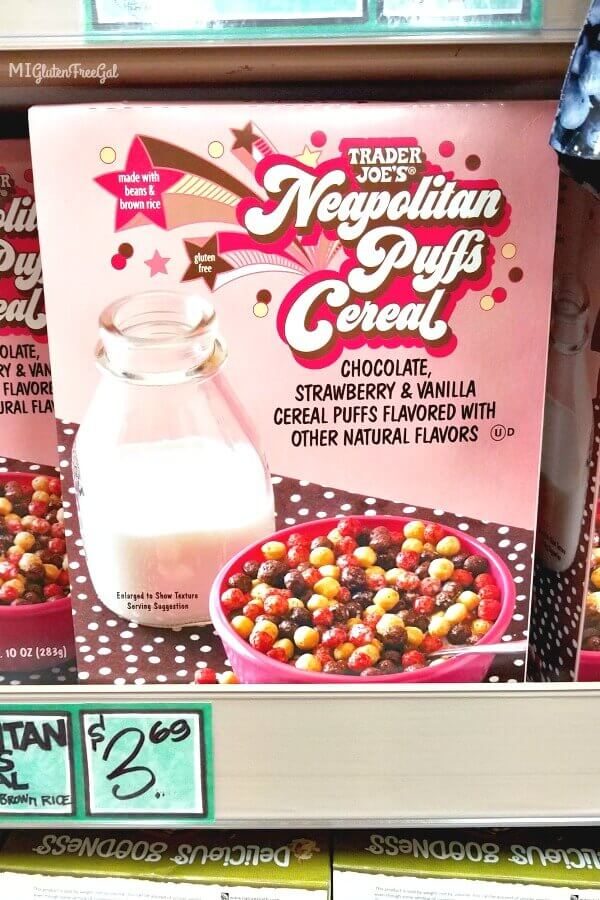 Trader Joe's sells many gluten free cereals. In addition to the Neopolitan flavor, they also sell Maple Ladders and Cocoa Crunch Cereal, and Crispy Quinoa Stars. Please note that their "O" cereals are not on their gluten free list.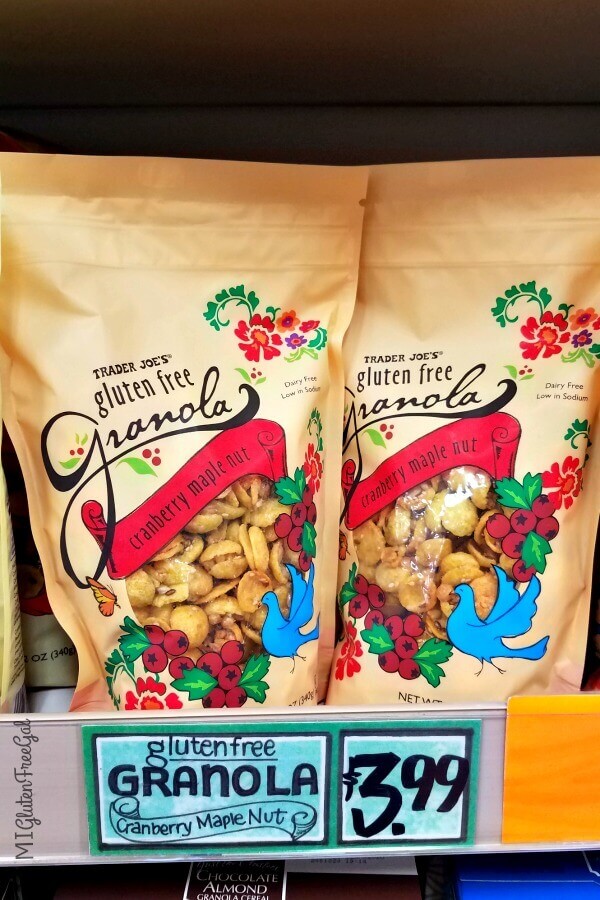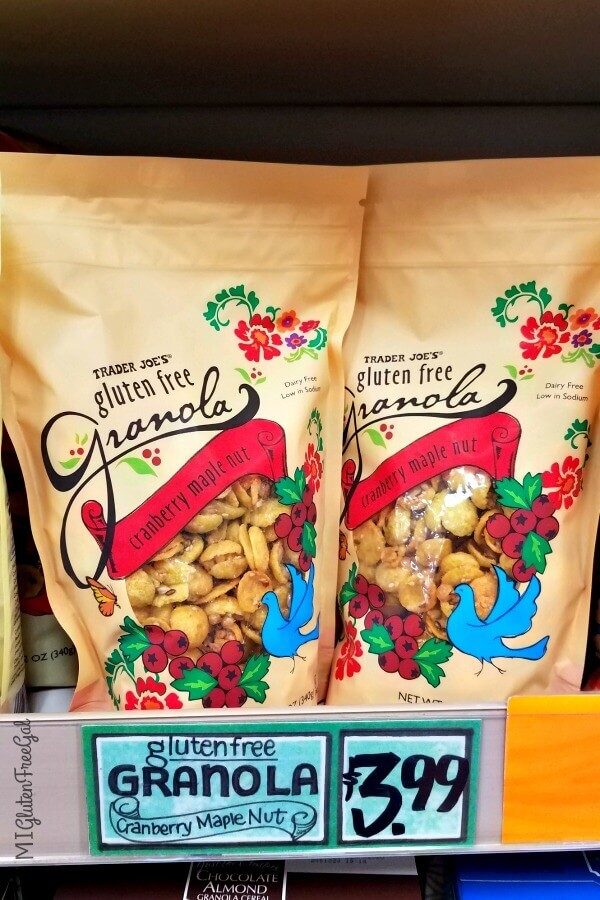 I fell in love with this years ago after my first visit to Trader Joe's. It contains no oats, which I'm sensitive to. Trader Joe's also sells oats specifically labeled "gluten free." It is my understanding that they are purity protocol oats, sourced from Canada. For more about purity protocol, please read my post on gluten free oats.
Gluten Free Dry Goods & Spices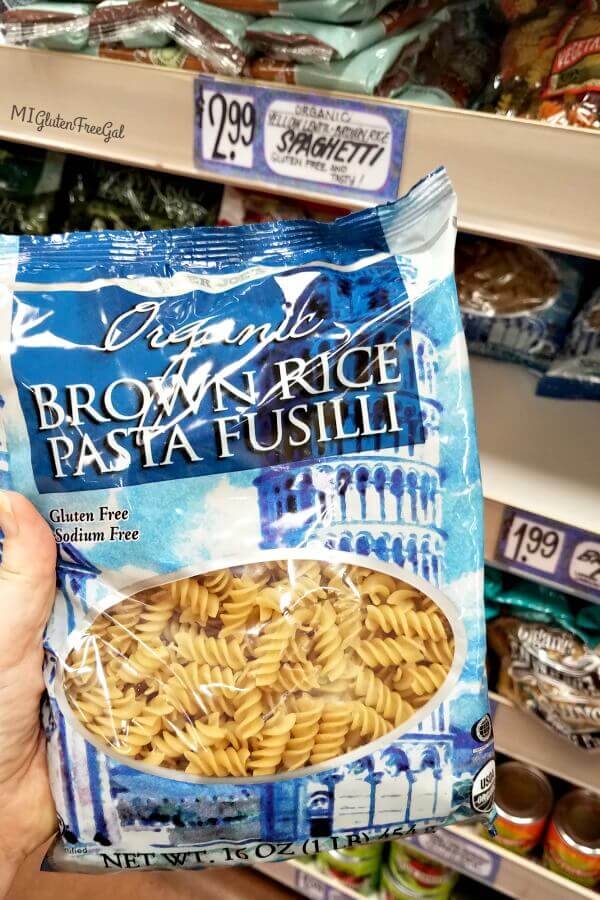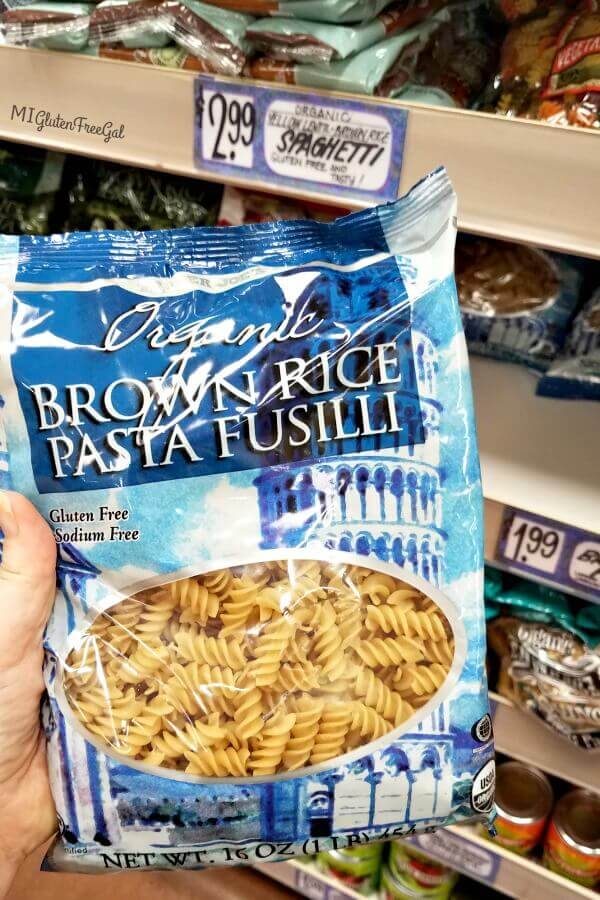 Trader Joe's offers a WIDE variety of pasta. Brown rice pasta. Quinoa pasta. Red lentil pasta. They even sell their own brand of boxed gluten free macaroni and cheese! I used their fusilli in my gluten free beef stroganoff and rather enjoyed it!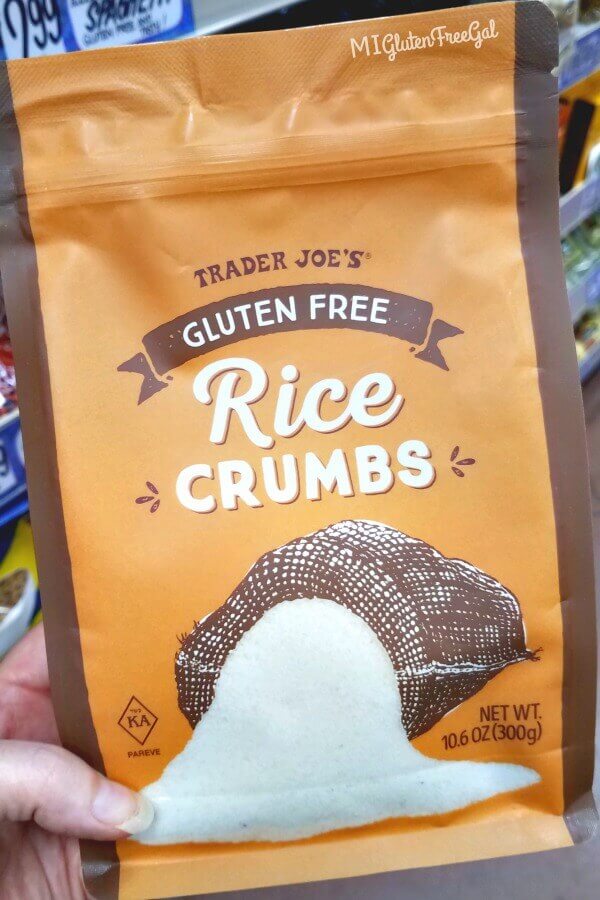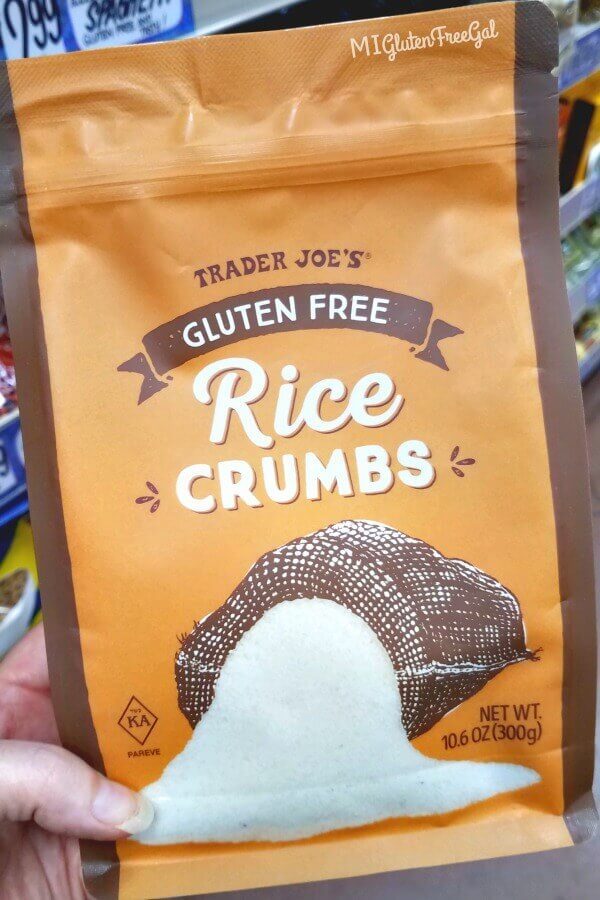 You can stock your pantry will all sorts of gluten free goodness at Trader Joe's. They sell their own gluten free all purpose flour blend. In addition, they stock various mixes. Their gluten free pancakes mix is an old standard. However, they continue to add new products like their mochi cake mix and Fudgy Chocolate Quinoa Cake mix.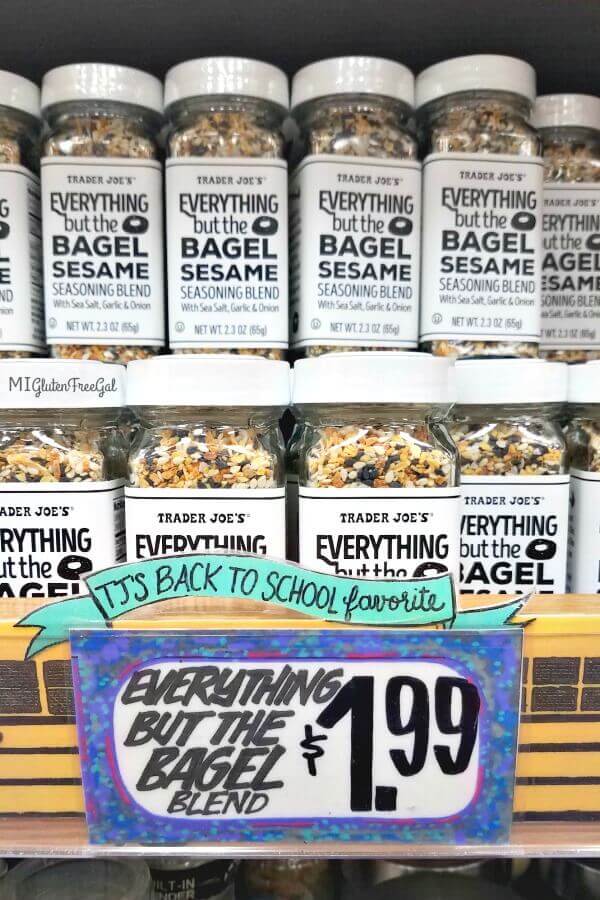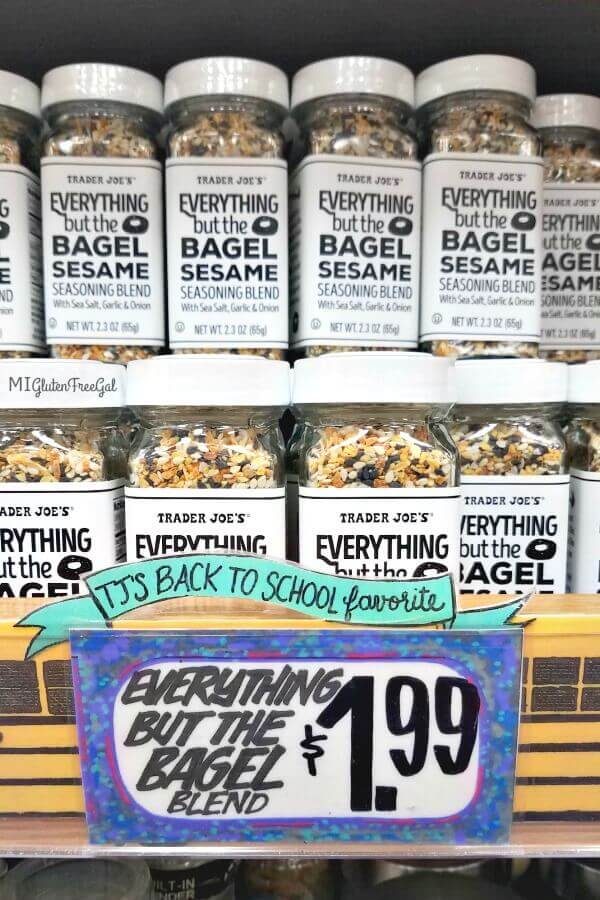 At this point, I think the words "Everything But The Bagel" are synonymous with Trader Joe's. On top of the famous seasoning blend, they how have Everything but the Bagel smoked salmon and Everything but the Bagel yogurt dip. This is not listed on the Trader Joe's gluten free list, however none of their spices do either. However, I consume this, their baking powder, and cocoa all without issue.
Gluten Free Fresh Foods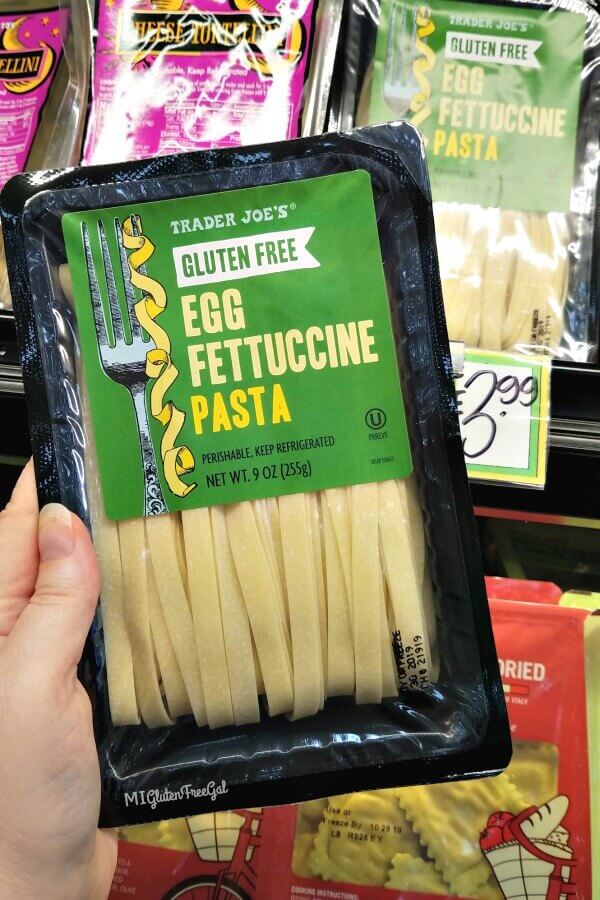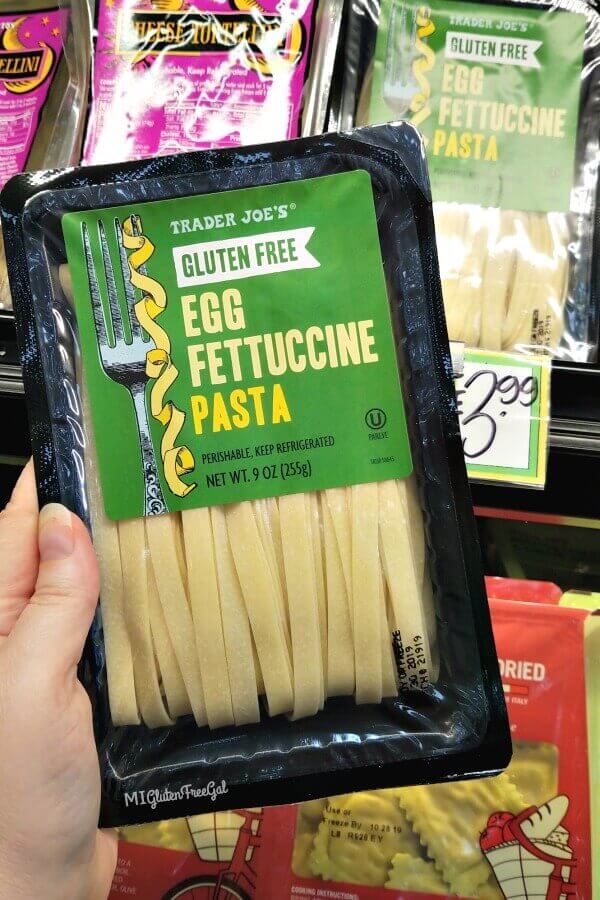 For those who are wondering, Trader Joe's offers a wide variety of fresh foods. Produce, bagged salads, a large cheese selection, dairy and non-dairy alternatives and eggs. This fresh gluten free fettuccine is popular with so many people. If you liked the ones during the Aldi Gluten Free Special Buys this year, I'm 99.9% certain this is the exact same manufacturer, which is Taste Republic.
Gluten Free Snacks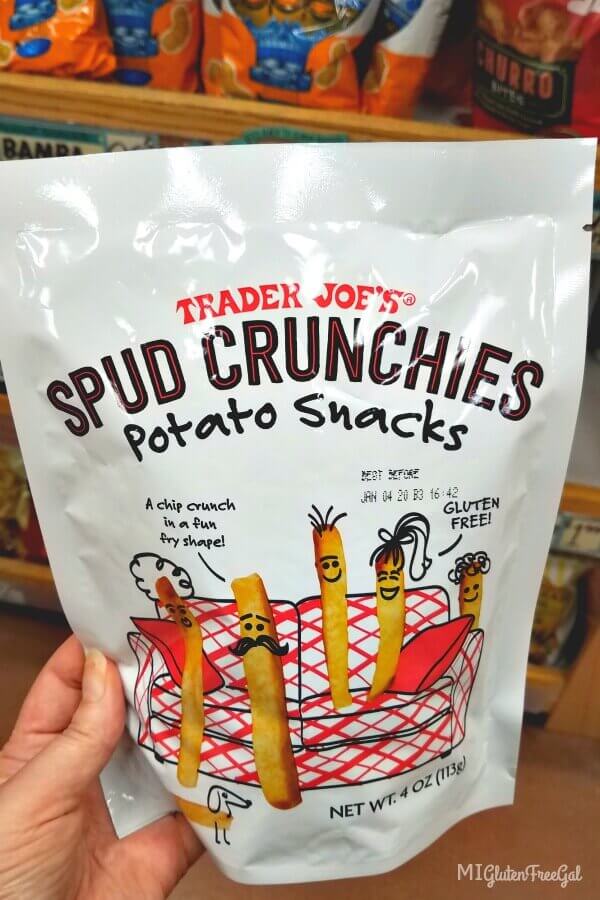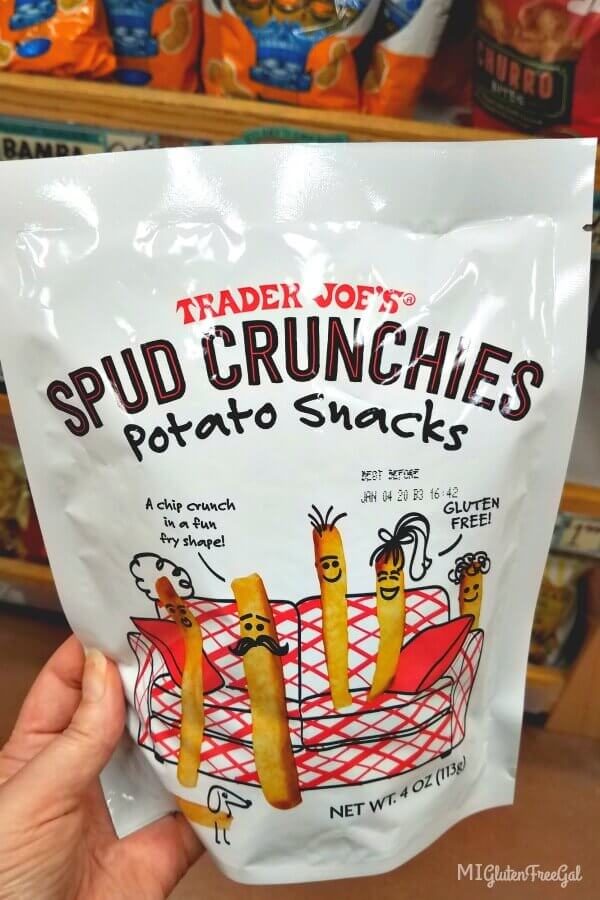 So many tasty gluten free snacks abound at Trader Joe's. They carry their own brand of gluten free pretzels, as well as Chomps meat sticks and Enjoy Life Foods Protein Bites. These Spud Crunchies are popular as well!
Gluten Free Seasonal Items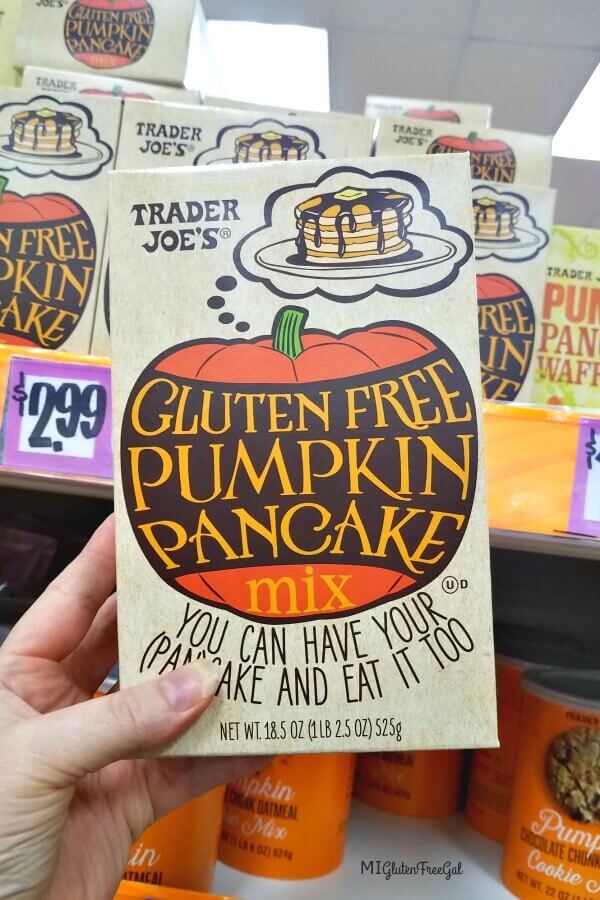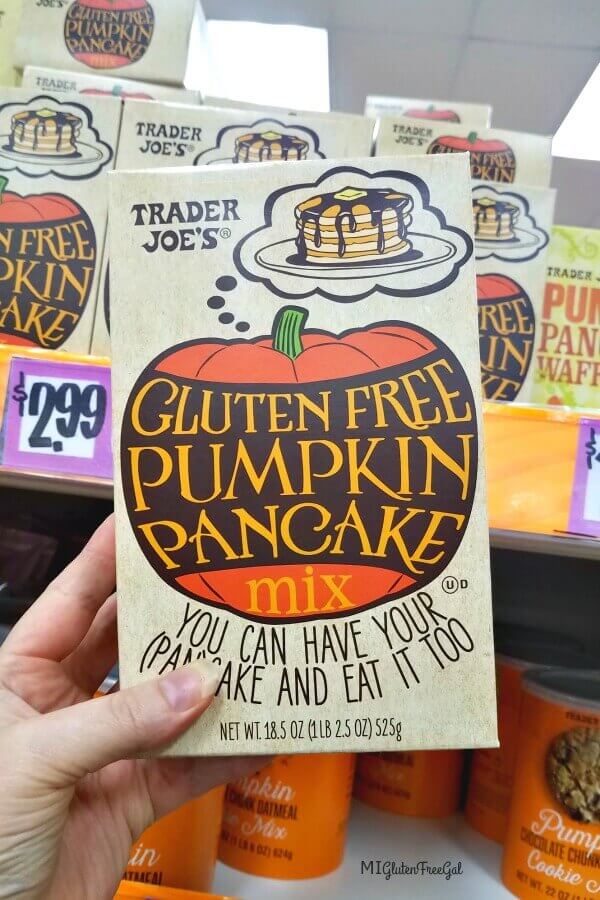 Just like Aldi, every season new Trader Joe's gluten free finds hit the shelves. Everyone's excited about the fall offerings every year, including this gluten free pumpkin pancake mix, and their gluten free pumpkin bread mix. In addition you'll find their maple butter, apple cider jam, and new gluten free pumpkin bagels at this time.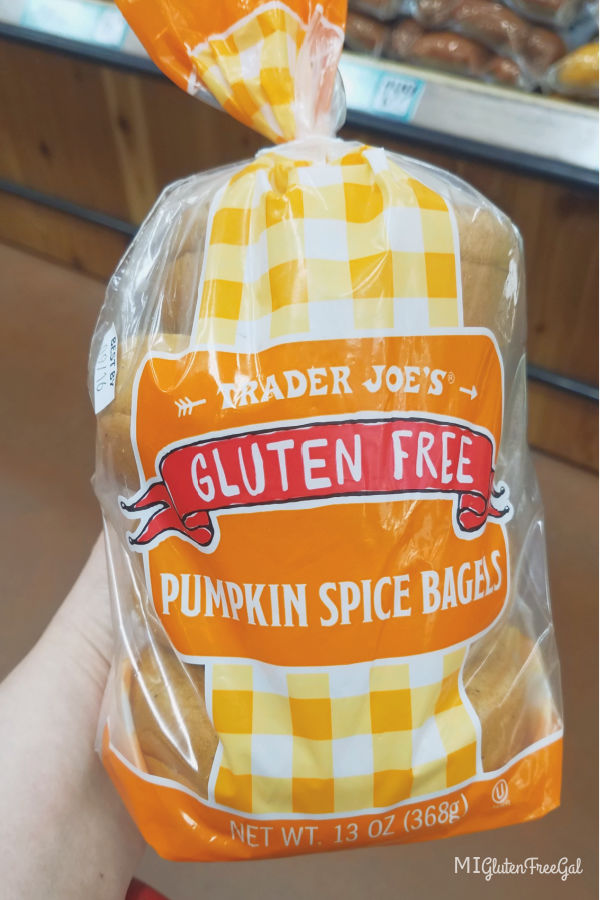 Different seasons offer different items. Stuffing and frozen gluten free pie crusts hit the shelves last year mid to late October. At Christmas time, Candy Cane Joe Joe's get restocked. To see the newest product releases, I highly recommend following the Instagram account @traderjoesglutenfree, as well as the official Trader Joe's account, highlighted below.
SO MUCH MORE!
Trader Joe's offers more than I can possibly photograph and mention. Please comment with your favorite Trader Joe's gluten free items below!
Trader Joe's
Website | Instagram | Pinterest
Don't have a Trader Joe's nearby? You may like this list about Gluten Free Finds at Aldi. You may also find my Plum Market and Horrock's Farm Market shopping guides to be helpful.