Buddy's Pizza – Gluten Free Detroit Style Pizza
As an Amazon Associate and member of other affiliate programs, I earn from qualifying purchases.
In the world of pizza, people often pick between deep dish and thin crust. However, here in Michigan, we also have Detroit style pizza. Square, and thick, and absolutely delicious! Buddy's Pizza makes a delicious, yeast free and gluten free crust that will absolutely love!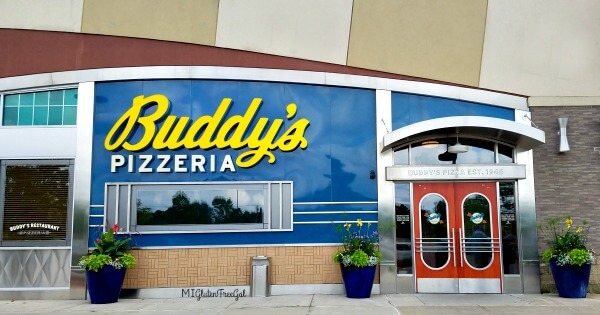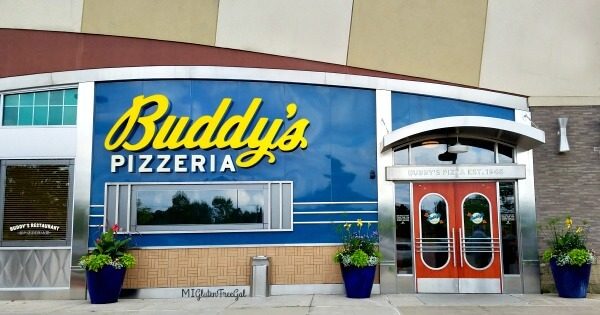 Buddy's Pizza has been a Detroit institution for decades. Literally. The original Buddy's Pizza opened in Detroit, Michigan in 1946. This is Detroit's iconic pizza parlor, from the small corner business to the large chain that runs today. This gem is not just a Michigan favorite. In 2003 the Food Network claimed it as one of the "Nation's Five Best Pizza Places." Regardless of its growth, this pizzeria is still family owned.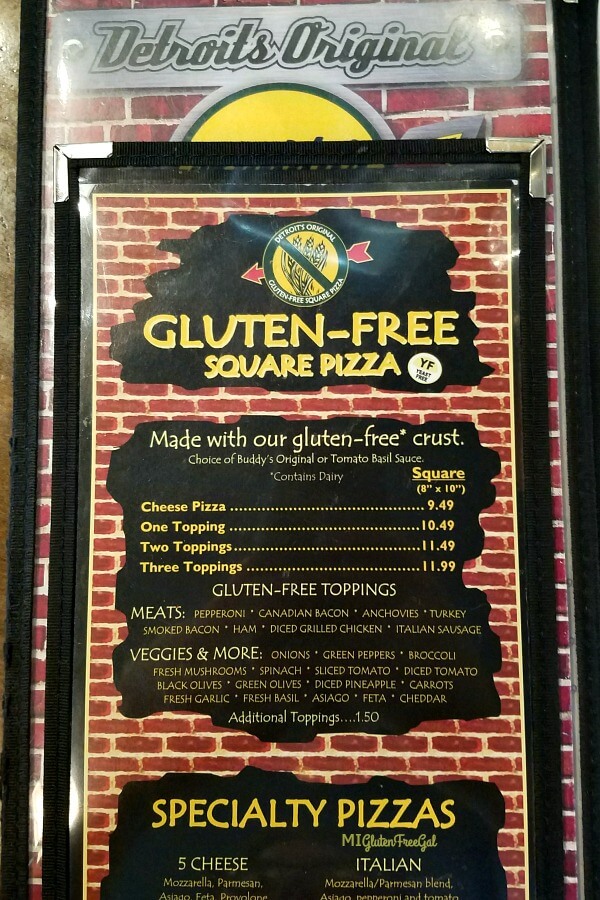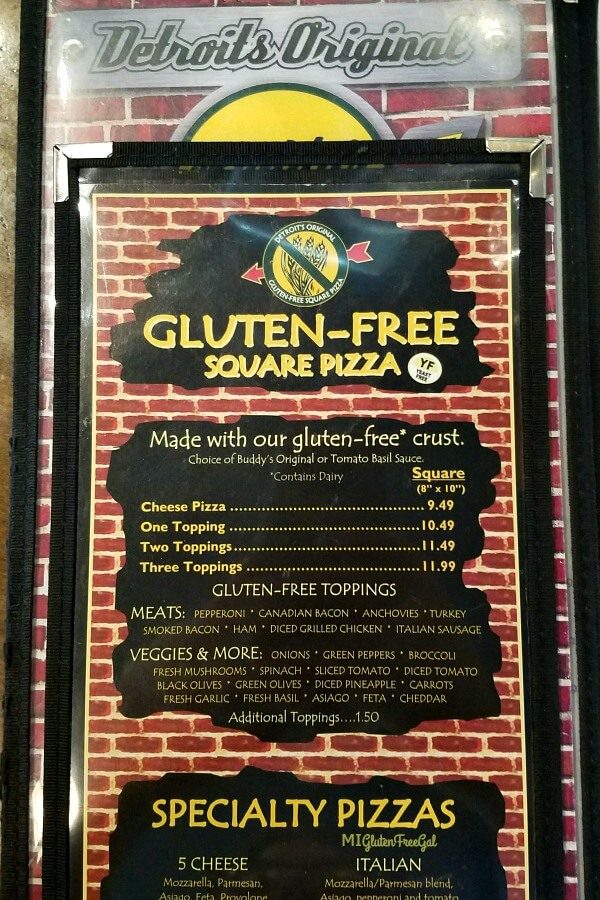 Buddy's Pizza Gluten Free Prep Standards
I learned about Buddy's Pizza from people in my support group years ago. Everyone who eat there LOVES it. They take some great steps to prevent cross contact, too. They make their own homemade gluten free crust, first sterilizing their work space. When a customer orders a pizza, they change gloves and use clean utensils. They even use fresh sauce and toppings. Gluten free pizzas are baked on the top rack, lined with foil, to prevent cross contact with other pizzas. Each of their location hires employs a staff member explicitly trained in food allergy preparation protocol.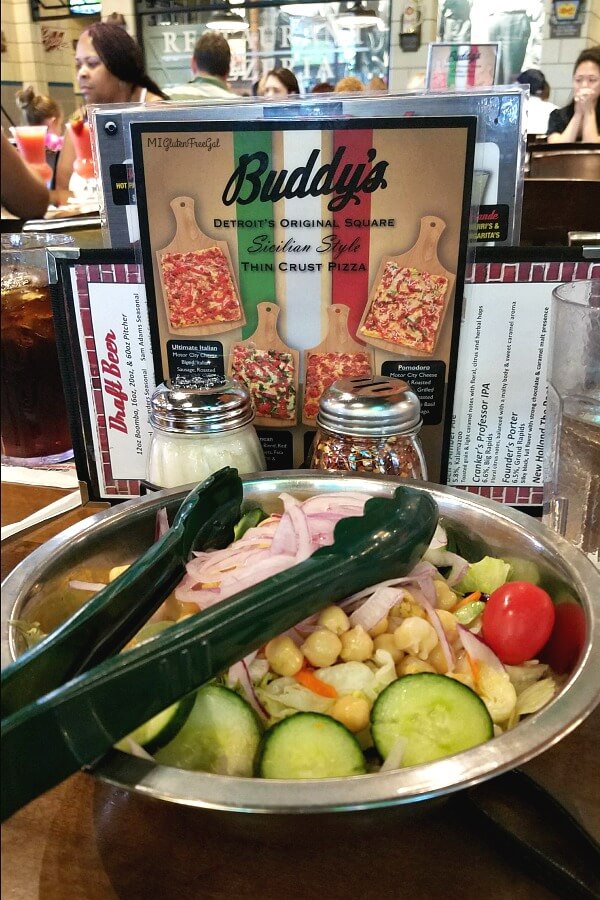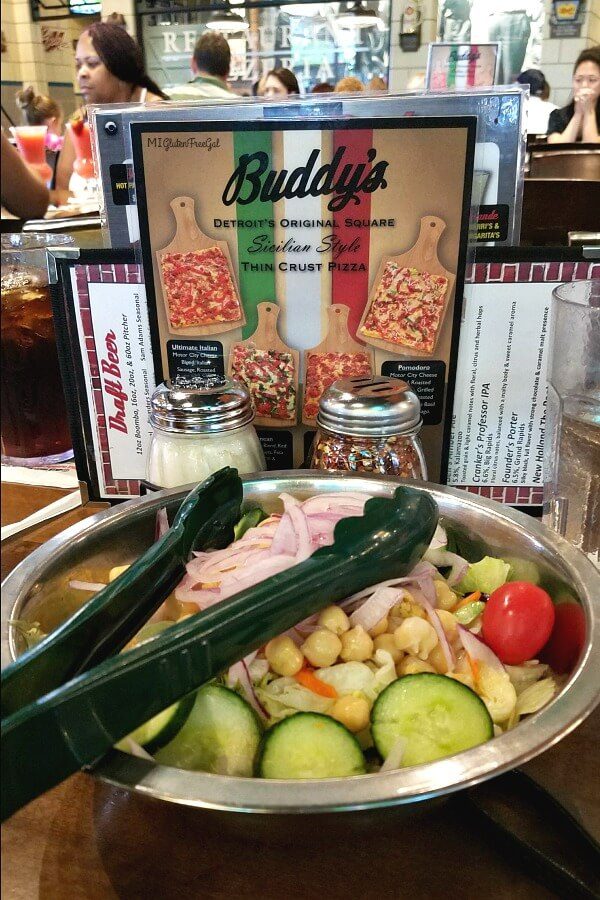 Each salad is prepared freshly in a clean bowl, which is brought to the table. Buddy's Pizza makes a majority of their salad dressings from scratch, although not all of them are gluten free. I LOVED the salad, especially because it contained chickpeas. The only way it could have been better is if it had contained beets, too!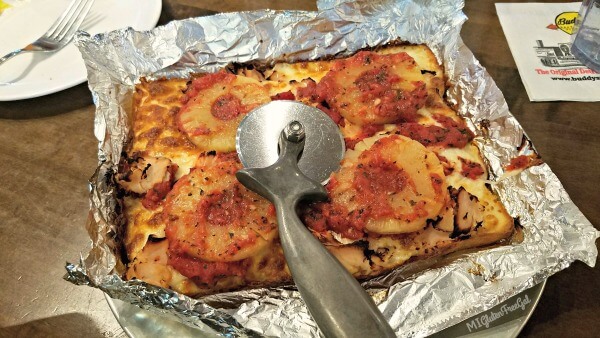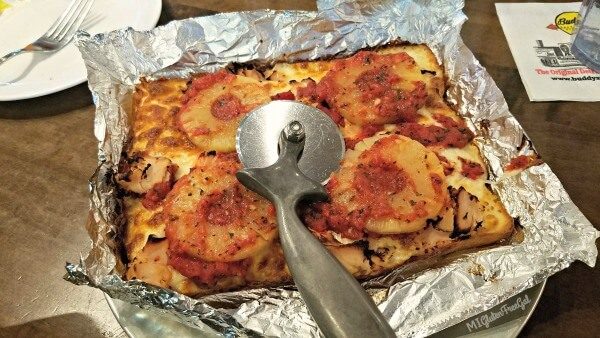 However, the pizza is the real star of the show. This Buddy's Pizza crust tastes 100& amazing, is nice and fluffy, and contains no yeast. I asked the staff how they miraculously pull this off. Buttermilk. All those fantastic cultures provide the lift to this pizza. You can choose your own toppings (from their gluten free menu, only) or order one of their signature pizzas. We chose pineapple and grilled chicken. (My husband lives with a pork intolerance, so ham is off limits.) I highly appreciate that Buddy's Pizza waitstaff bring a fresh pizza cutter with your order. Therefore, you cut your own pizza, further diminishing the chance for cross contact.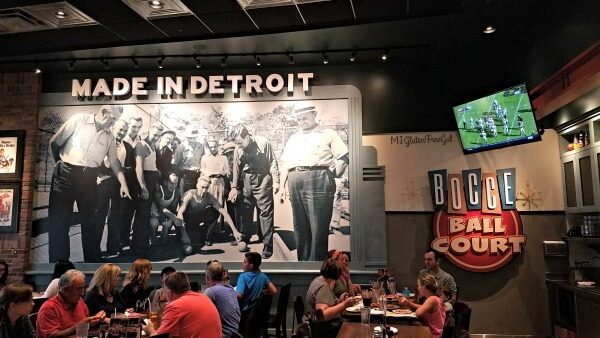 More Than Just Pizza
Buddy's Pizza offers more than just food and drinks. The original downtown Detroit location also offers bocce ball. The tradition of bocce ball at Buddy's Pizza is as old as the founding of the original location. What's bocce? This "lawn game" involves 8 balls, and a one small target. The game can be played between two people, or against teams. While bocce disappeared from the original Buddy's Pizza location for a time, visitors can play once again. The connection between Buddy's Pizza and bocce is so famous, that a local (non gluten free) brewer named a beer in honor of it. So head to Buddy's Pizza on Six Mile, order a pizza, and play a round!
Buddy's Pizza owns 9 full service and 3 carry out locations in the greater Detroit area. While I have only visited the Novi location, my Facebook friends praise other locations as well. If you visit the Novi location, I highly suggest a short drive to the Dairy Twist Cafe on Benstein Rd in Walled Lake. They offer gluten free and dairy free soft serve ice cream, as well as gluten free cones! If you find yourself in Detroit at breakfast time, I also suggest a stop at Hudson Cafe. Detroit has lots of gluten free greatness to offer!
Buddy's Pizza
Locations
Website | Facebook | Instagram
I was not paid or compensated in any way for this meal. All thoughts and opinions are my own. Buddy's Pizza is one of many Michigan restaurants I've visited. You can a list of them on my Michigan gluten free dining post. Please remember to always ask any restaurant about their food preparation practices.