Jersey Mike's Gluten Free Subs
As an Amazon Associate and member of other affiliate programs, I earn from qualifying purchases.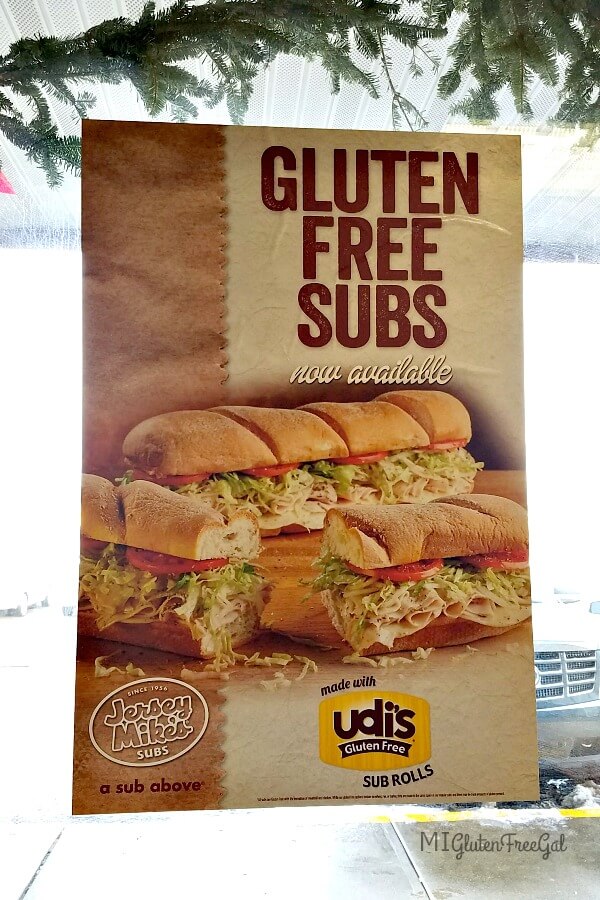 How Does Jersey Mike's Prevent Cross Contact?
The biggest excitement in the gluten-free world revolves around a sandwich. By now, you have likely heard that now you can buy a Jersey Mike's Gluten Free sub. Being part of various Facebook gluten-free groups, I have read various experiences from those who have tried it. So, I ventured to a Jersey Mike's in Lansing, along with my father who also has Celiac Disease.
Prior to ordering, I immediately asked the staff what procedures they use to prevent cross – contact. He promptly explained that they wipe down the prep area and the slicer.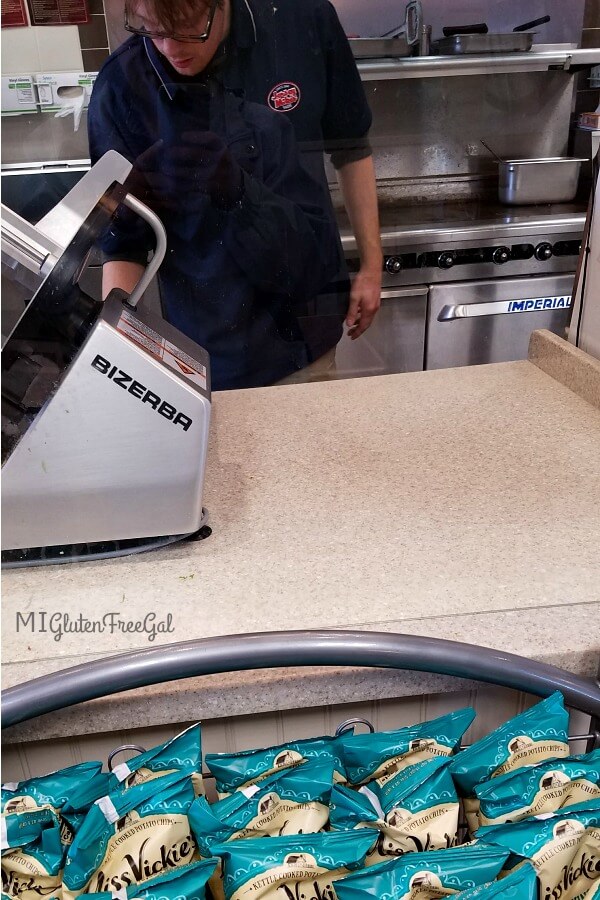 Does Jersey Mike's Change Gloves With Your Gluten Free Order?
He also explained that they wash their hands and put on new gloves. In addition, he explained that the Udi's Gluten Free sub roll is enclosed in an individually sealed bag. The staff thawed it in the microwave. (Pretty sure this was done still in the packaging.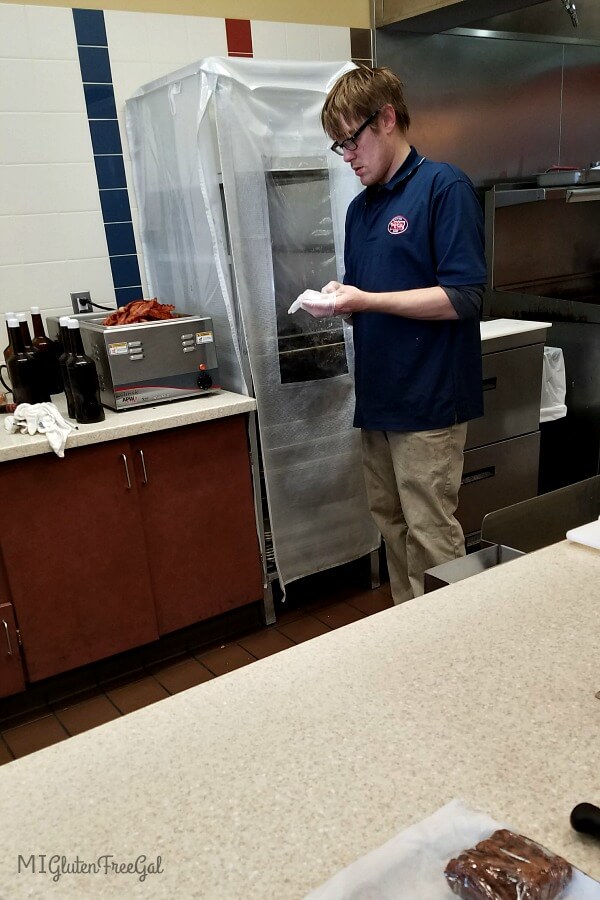 Does Jersey Mike's Use Dedicated Utensils?
Additionally, the employee explained they put down fresh parchment paper as a barrier and always and only cut the sandwich with a designated knife, only used for gluten-free sandwiches. I watched him complete each step just as he described.
The experience I described above has been the same from most who describe their Jersey Mike's gluten free experience. Everyone talks about the care that has been taken to clean the surface and change gloves and lay down a barrier.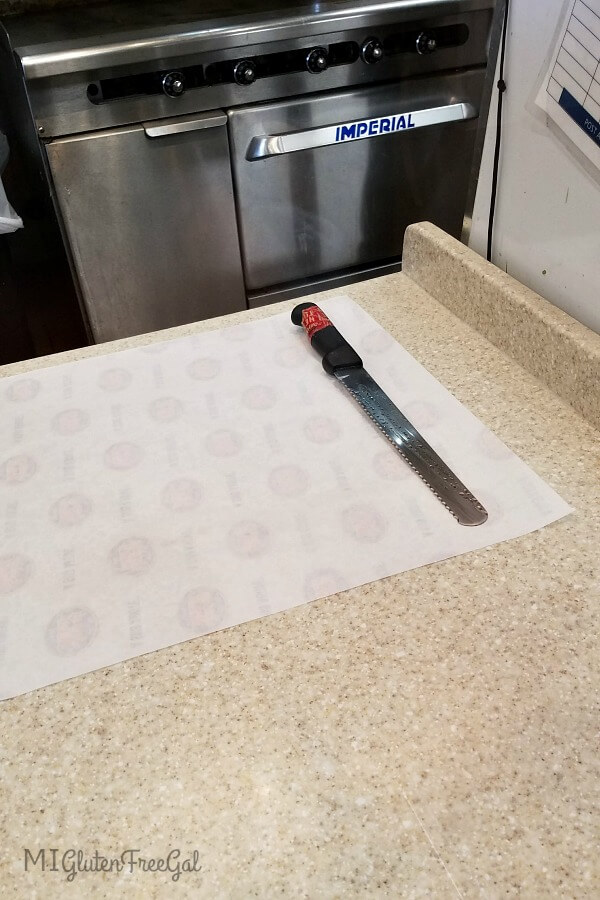 Which Meats are Gluten Free at Jersey Mike's?
He also explained that all the meats and cheeses were gluten-free, EXCEPT the Meatballs and the Chicken Parmesan. I was thoroughly impressed. We were the only diners at the time, as we came for a late lunch after running errands. I would hope all these precautions would be followed even if it were busier.
Are Jersey Mike's Condiments Gluten Free?
The negative reviews tend to start rolling in when it comes to condiments. Our sandwich maker used a squeeze bottle for mayo, versus the bin on the line. I was VERY HAPPY about that. (Some on social media have stated their location DID NOT use a squeeze bottle and tried to use the mayo already on the line. Make sure to help your sandwich maker construct your sandwich safely.) We left off the oil and vinegar, because my dad is not a fan.
Are Jersey Mike's Toppings Gluten Free?
However, my main concern came to the other toppings. They did not have separate vegetable toppings for gluten-free sandwiches. They did not have tongs for grabbing lettuce and just used their hands. Which means there could be all sorts of crumbs in them, regardless of the fact if he has new gloves on.
I will admit I was not good at being adamant about him getting new lettuce from the back. My dad was comfortable with the lettuce and tomatoes from the line. So we got them.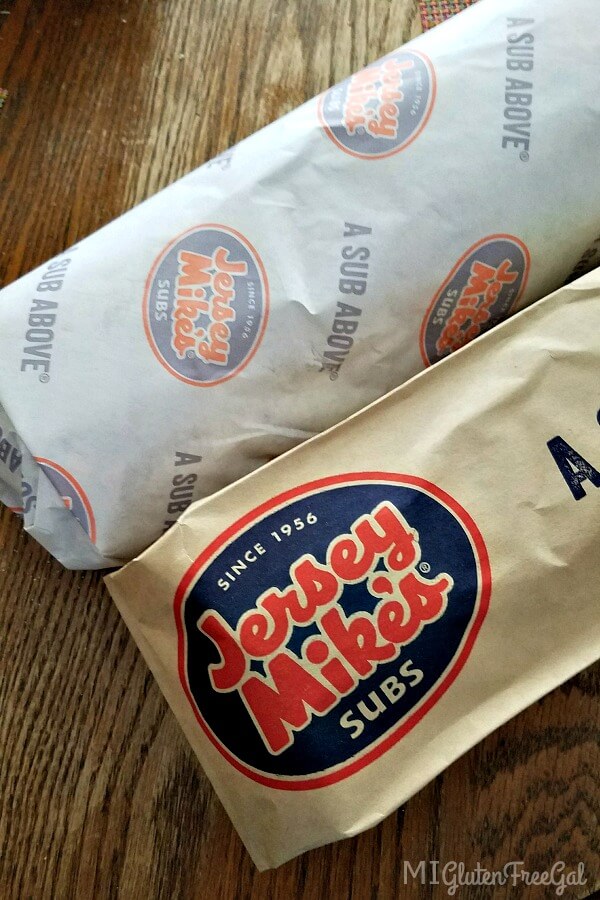 Do Jersey Mike's Gluten Free Subs Taste Good?
Dad and I took our Jersey Mike's gluten free club sub sandwich back home to enjoy it. I will admit the bread was a bit dry and crusty. However, I imagine that would have not been the case had we had the oil and vinegar. I will admit that it was delicious.
Are Jersey Mike's Gluten Free Subs Expensive?
We ordered the 'Giant" Club Sub, which with tax and tip came to $20. It is nice to have this option, especially if you are in group of people and need to find a safe place to eat out. As others have been good to point out, the Udi's bread is gluten-free and dairy-free, but does contain egg.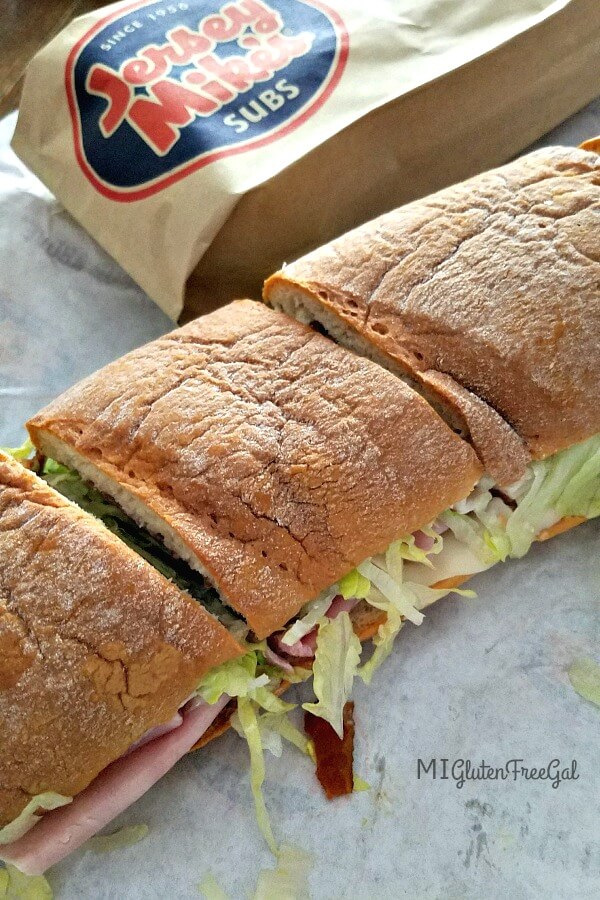 Who Trains Jersey Mike's on Gluten Free Protocols?
I did contact GFFS, which is the restaurant training arm of the Gluten Intolerance Group. Many heard about this new restaurant option though an email from Find Me Gluten Free. Their email stated "After working with the Gluten Intolerance Group, Jersey Mike's developed procedures and a training video to prevent cross-contamination." I assumed that this meant they were "certified" through them. Therefore, I wanted to ask GFFS what steps they told the store to take.
Are Jersey Mike's Stores Certified Gluten Free?
I received a very prompt and thorough reply from them. (It's nice to have connections.) The GFFS representative stated the following. "To date, Jersey Mike's is not certified with us. We have been consulting with them regarding the processes and procedures they would need to adjust to be able to be certified through us."
"They have begun making those adjustments but that is a process in and of itself due to the fact that they have 1300 locations and thousands of staff to train." My connection further explained Jersey Mike's is going through the process of certification, and they will share that when it comes about.
Final Thoughts on Jersey Mike's Gluten Free Subs
To summarize, we really enjoyed our Jersey Mike's gluten free sub sandwich. We have a variety of options to eat, as all except two of the meat options are gluten-free. They took many good precautions in making our sandwich. I would prefer that separate toppings be set aside for those needing gluten-free.
This is because any crumb of gluten is problematic for one with Celiac Disease. As Jersey Mike's continues their certification process, I imagine that the process will become even better. While the bread is $3 more for the large sandwich, I believe this is totally reasonable as they continue to take precautions to keep us safe.
How To Contact Jersey Mike's with Questions
If you go to a location and have concerns about your service, please feel free to contact Jersey Mike's corporate office. If you go to any restaurant that has been certified by GFFS, and have concerns, feel free to contact them as well. For those without a Jersey Mike's in their area, Erbert and Gerbert also serves gluten-free subs with similar precautions.
Jersey Mike's
Locations | Website | Facebook | Instagram
Have you eaten a Jersey Mike's gluten free sub? How was your experience? Please share your comments below!
All thoughts and opinions are my own. Jersey Mike's is one of many Michigan restaurants I've visited. You can find a list of them on my Michigan gluten free dining post. Please remember to always ask any restaurant about their food preparation practices. I was not paid or compensated in any way for this meal.