Gluten Free Apple Crisp for Two (Oat Free)
As an Amazon Associate and member of other affiliate programs, I earn from qualifying purchases.
Since I can't eat oats, I usually stay away from fruit crisps. However, I created this Gluten Free Apple Crisp for Two, using cracker crumbs, and it's a huge hit. Plus, it's a small serving dessert, making it an ideal sweet to share with your sweetheart.
Oat Free, Gluten Free Apple Crisp
First and foremost, I don't use oats in my recipes, because they make me feel ill. Even Purity Protocol Oats cause my stomach to experience less than optimal health. From listening to other, I'm not the only one. Therefore, I wanted to write a gluten free apple crisp recipe for those in a similar situation. But the question that one is left asking is "What Do You Use for the Topping?"
Enter Matzo Farfel.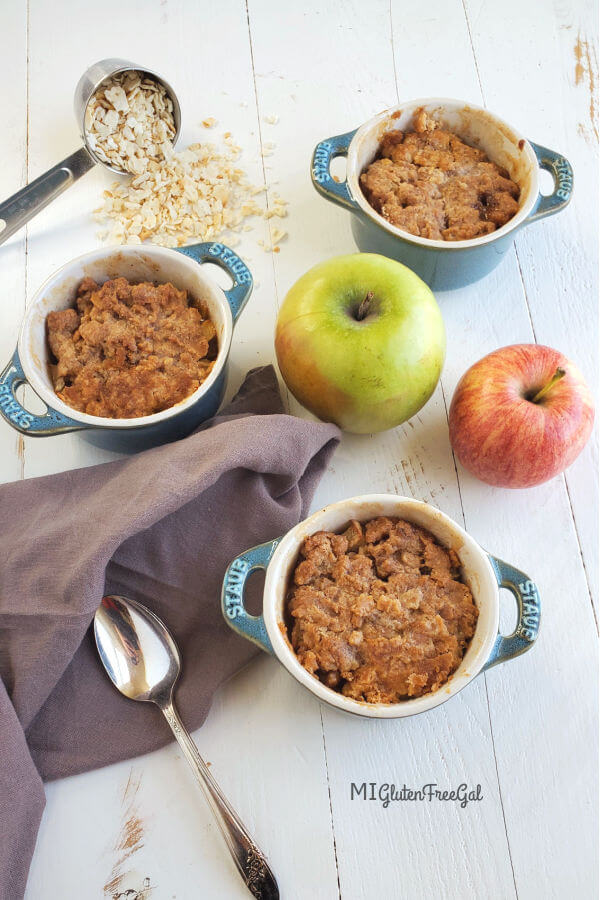 What is Matzo Farfel? How Else Can I Use?
I first tried this recipe on a whim, after purchasing Yehuda gluten free Matzo Farfel at the end of Passover. (Always look for great deals on gluten free items at that time!) Farfel, is simply matzo that's been broken into pieces. So basically, crackers crumbs. It worked great. However, matzo farfel appears to ve seasonal. Therefore, I retested this recipe, using Schar Table Crackers, to make sure it still worked. Answer: YES!
Should you want to try farfel, outside of Passover season, it appears to be availble on Mercato. However, since it's just broken up matzo, you could "make some" yourself. You can find the Whole Yehuda Matzo at most Kroger stores. It's pricey, but Yehuda Gluten Free Matzo is tasty, and we often buy it for a special treat. I buy my Schar Table Crackers at Meijer stores.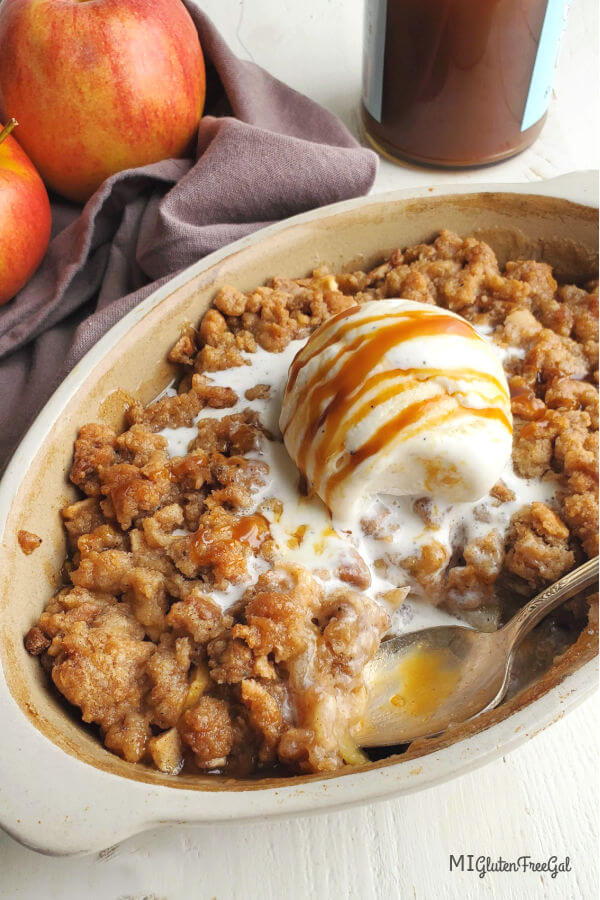 What Dish Should I Bake This In?
I've made this Gluten Free Apple Crisp in two different types of baking dishes. The first time, I made them in the Staub Mini Cocottes, which Staub sent to me, for free. They made great individual desserts. However, it filled three ramekins, and there are two of us, and left us asking who got the extra one!
The second time I made this in my Pampered Chef Small Oval Baker. Unfortunately, it is discontinued. Which is sad, because I use it a lot, and it was the inspiration behind my Breakfast Casserole for Two. Therefore, I recommend the Staub 7.5 x 6 inch rectangular baker as a substitute. (Amazon affiliate link) That is, if you want to make it in just one dish. It's the smaller sibling to the 10.5 x 7.5 inch baking dish, in which I made my Gluten Free Au Gratin Potatoes.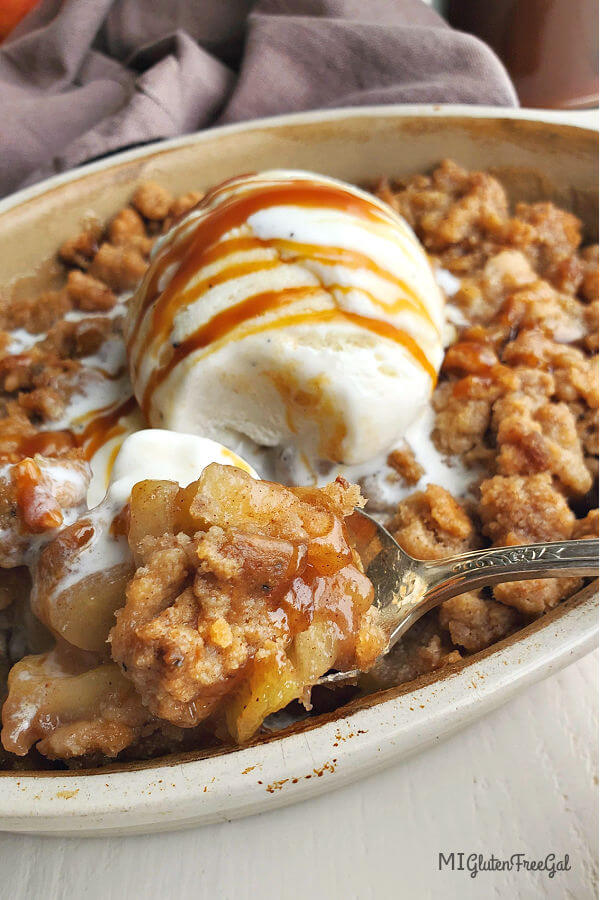 Can I Make this Without Dairy or Eggs? Or Grains?
This gluten free apple crisp for two contains no eggs, as written. To make it dairy free, I'd simply recommend using a butter substitute. Miyoko's is a good one, as is Earth Balance Buttery Baking Sticks. Need this to be grain free? I would try this Paleo Apple Crisp from Texanerin. Want to use oats in your crisp? Try this Classic Apple Crisp recipe from Iowa Girl Eats.
A side note on the caramel sauce you see in the pictures. It was homemade, but really more of a "butterscotch" than a caramel. Still delicious, either way. (And highly recommend it on top of this desset.) For a better recipe, try this Homemade Salted Caramel recipe from Sally's Baking Addiction. Need it dairy free? Try this Salted Caramel Sauce from Downshiftology.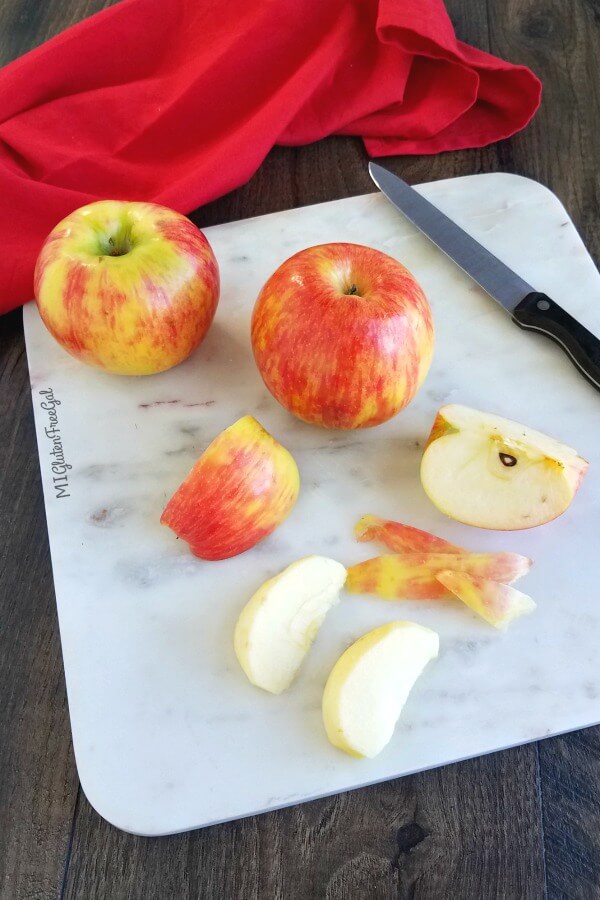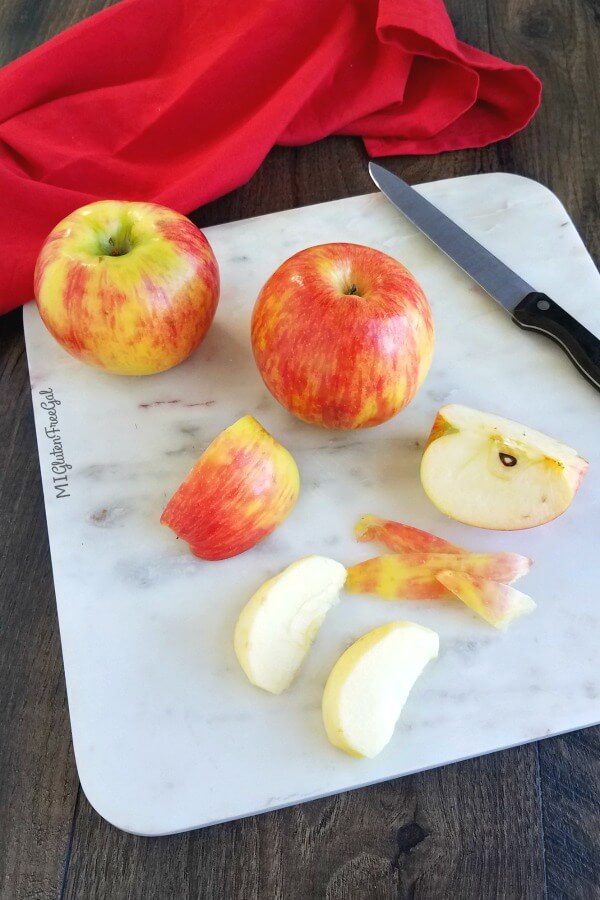 Other Gluten Free Apple Desserts
Did you recently purchase a lot of apples? My website contains quite a few apple based recipes. If you're looking for more "mini" recipes, try my. Small Gluten Free Applesauce Bundt Cake. Other recipes that are good for this season, are my Gluten Free French Apple Cake, my Gluten Free Apple Dumplings, and my Gluten Free Mini Apple Cheesecake.
I recently bought 12 lbs of apples, and have a lot of baking on my mind. First, I want to try this Instant Pot Applesauce recipe from Evolving Table. I'm tempted to sub gluten free flour in this Apple Pie Pizza recipe from Dessert for Two. (She's the inspiration behind all my "small batch" cooking.) What other apple recipes should I try? Anything you're looking for?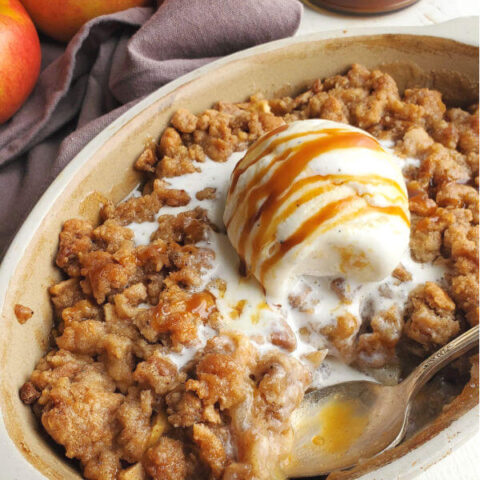 Gluten Free Apple Crisp for Two
Ingredients
For the Filling
2 apples, peeled and chopped
1 tsp lemon juice
1 tbsp gluten free all purpose flour blend
2 tbsp white sugar
2 tbsp maple syrup
1/2 tsp cinnamon
1/4 tsp nutmeg
pinch of salt
For the topping
4 tbsp butter, melted
2 tbsp brown sugar
1/2 tsp cinnamon
1/4 tsp nutmeg
1/3 crushed GF crackers or gluten free matzo farfel
1/4 c gluten free all purpose flour blend
Instructions
Preheat oven to 350 degrees.
Peel and chop two medium sizes apples. Use whichever kind you prefer. I often use gala, because that's what we like to eat.
In a medium size mixing bowl, combine chopped apples and 1 tsp lemon juice. Mix together to coat all the apple bits.
To that same bowl, add 1 tbsp gluten free all purpose flour, white sguar, maple syrup and spices. Set aside.
In a small mixing bowl, place 4 tbsp butter, and melt in microwave for 30 seconds. Remove, and add brown sugar, cinnamon and sugar. Stir to combine.
Next, add the crushed crackers (or matzo farfel) to the melted butter mixture, and stir until all the crushed crackers are moistened. Feel free to break up any larger bits of crackers.
Next, add 1/4 c gluten free all purpose flour to the butter and cracker mixture, and stir until all ingredients are combined.
Place apple mixture in a small baking dish, or 3 large ramekins. Top with butter and cracker mixture, and bake at 350 for 30 minutes.
Best served warm, especially with a bit of ice cream.
** Both Staub and Schar sent me free products. This post does contain affiliate links. Purchases made through those links help support this blog with no extra expense to you. Thank you for your continued support!**