Small Gluten Free Applesauce Bundt Cake
As an Amazon Associate and member of other affiliate programs, I earn from qualifying purchases.
Craving something sweet, but only have a household of two? This small gluten free applesauce bundt cake delivers all the flavors of fall, in a smaller portion size. It's the perfect thing to make after a trip to the cider mill!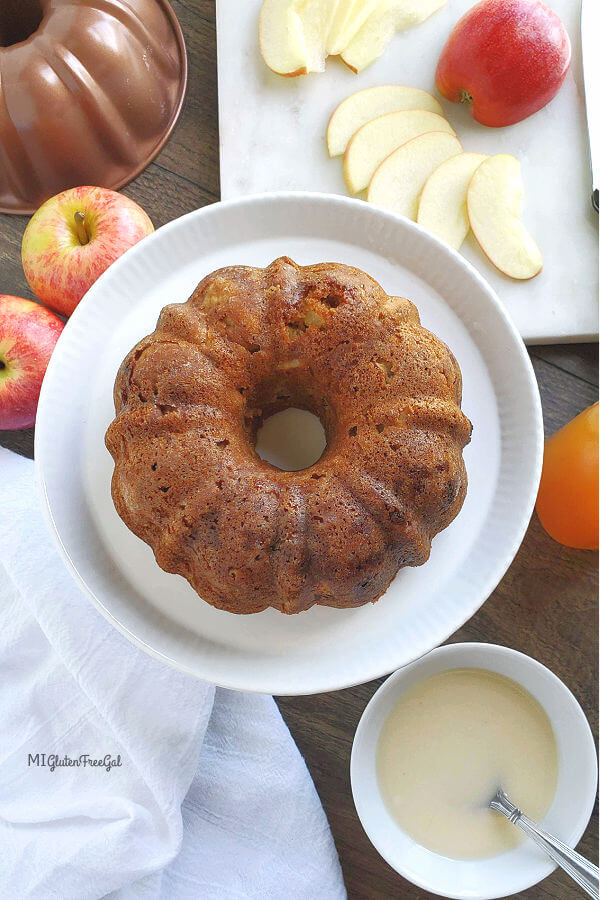 Applesauce: Not Just for Kids!
No matter how old I get, I love applesauce. I eat it plain, on top of cottage cheese, or often with a bit of peanut butter mixed in. Of course, there's nothing better than fresh made applesauce in the fall. (Need a recipe? Follow these steps on How to Make Applesauce from The Stay at Home Chef.) Whether store bought or homemade, I always keep it on hand.
However, one of my favorite ways to use applesauce is in gluten free baking. When I saw my friend Vegetarian Mamma's Easy Apple Cake, I knew I needed to make it. However, I wanted to cut down on the amount of fat in the recipe. Therefore, I substituted a portion of the oil with natural applesauce.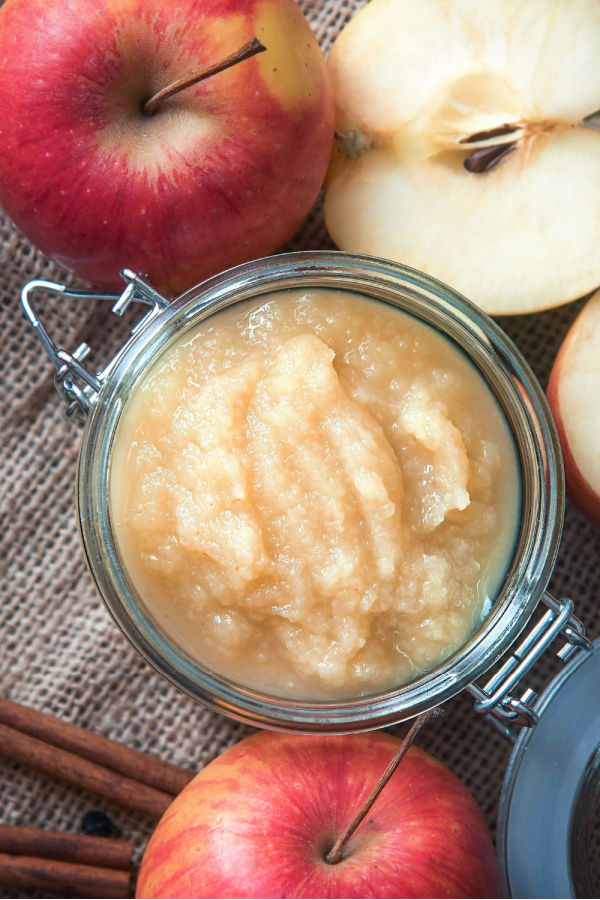 Substituting Oil with Applesauce
This gluten-free Applesauce Bundt Cake has less fat and sugar and than the original recipe. There are loads of suggestions on the internet about substituting applesauce for oil in baked goods. While Musselman's suggests a 1:1 substitution, I prefer a 50/50 swap. I do this in my buckwheat pancakes and my blueberry zucchini bread as well. Since applesauce is naturally sweet, I often reduce the sugar as well.
Another benefit of substituting applesauce for this gluten-free Applesauce Bundt cake recipe is that it provides lift. Applesauce is considered slightly acidic. When that combines with the baking soda in the recipe, it produces carbon dioxide, which allows baked goods to rise. This is ideal in gluten-free baked goods which tend to be more flat and dense than its gluten-filled counterparts.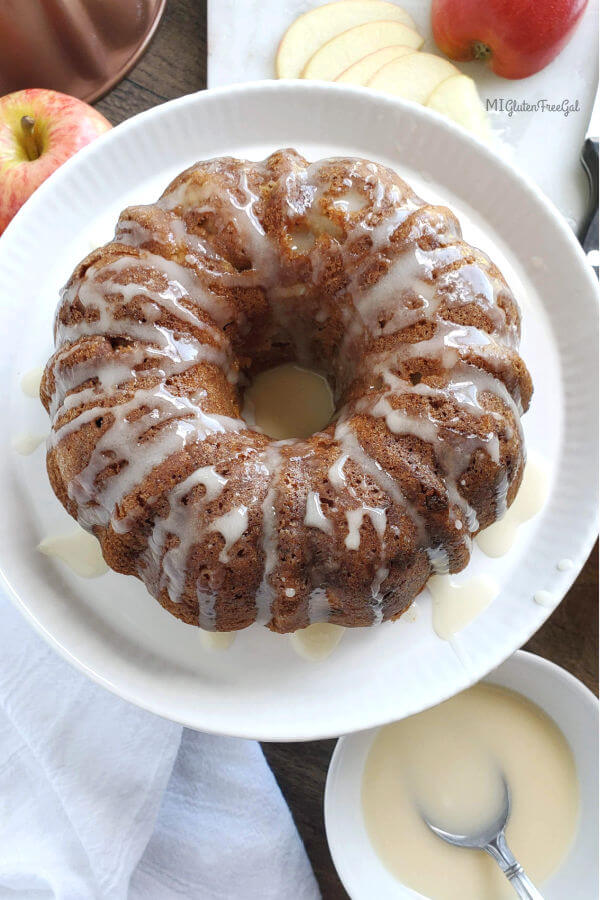 "Quarter Bundt" : 6 inch Bundt Pans
Vegetarian Mamma's original Easy Apple Cake calls for 3 cups of flour, which is appropriate for a standard 10 inch bundt pan. They hold between 10-12 cups of batter. However, I live in a household of 2. (Three if you count the dog, but she's not getting my cake.) That's why I love the 6″ fluted cake pan from Wilton. It holds 3 cups of batter, approximately one quarter of a standard recipe, and is perfect for our small household.
Any recipe that uses 3/4 cup of flour should work fine in this pan. I've made Off the Wheaten Path's Chocolate Banana Bundt Cake in this pan, by cutting the recipe in half. I've also made Gluten Free Palate's Easy Gluten Free Lemon Bread in it, again, cutting the recipe in half. I may need to try NordicWare's 3 Cup Vanilla Pound Cake in it next!
You can also use a 6″ round cake cake pan. Learn more about Cake Pan Sizes & Conversions from Sally's Baking Addiction.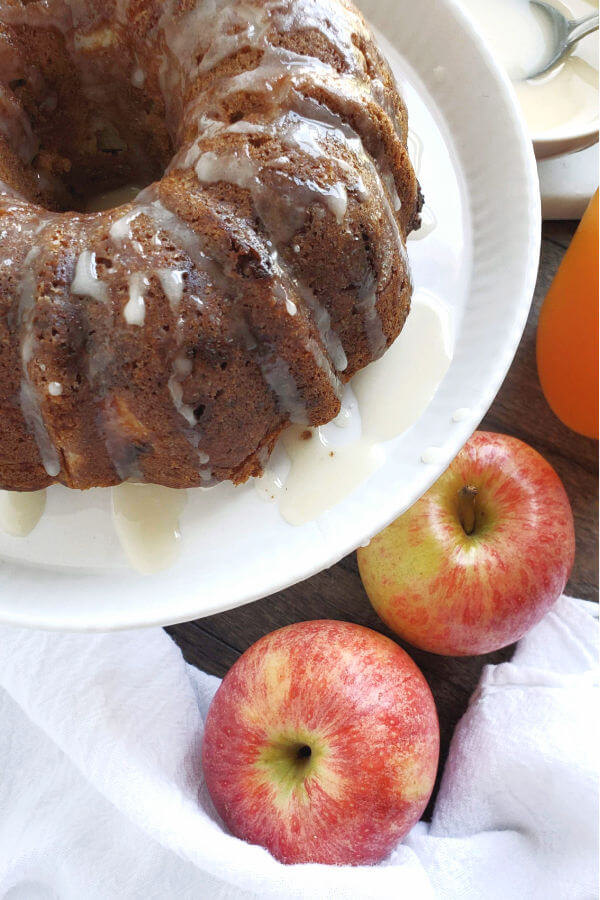 Homemade Powdered Sugar
Did you know you can make your own homemade powdered sugar? Living in a household of two, I find that a standard bag of powdered sugar is too big for our house. When recipes call for a cup of powdered sugar or less, I like to make my own. While most recommend adding cornstarch to homemade powdered sugar, I left it out for this cake.
So how do you make powdered sugar? Simply put regular white sugar in a spice grinder, and let it spin until it becomes a powdered consistency. Truth be told, I use a coffee grinder, and put it on the finest grind setting, and that's usually long enough. To make the glaze for this cake, simply add your liquid to your homemade powdered sugar, and you're all set!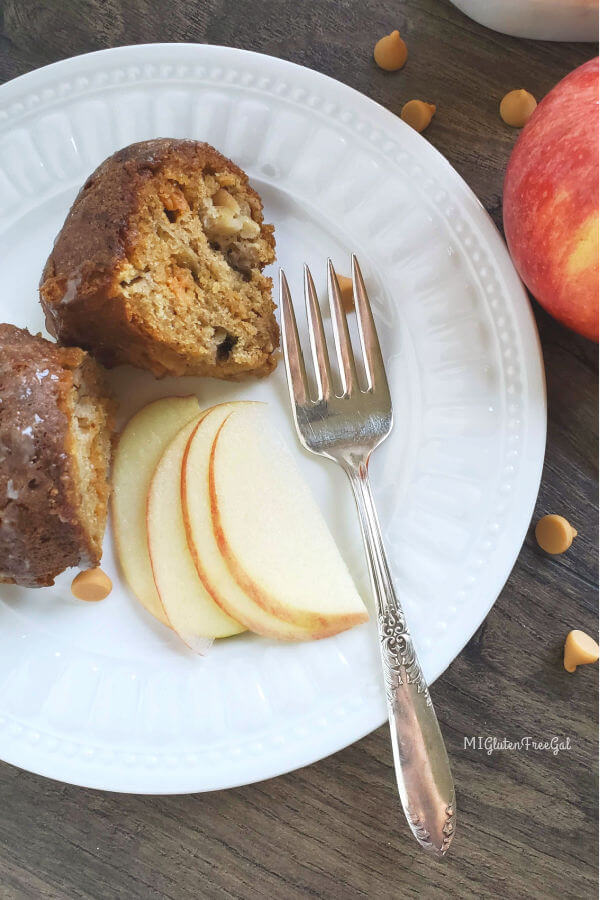 Can I Make This With Coconut Flour or Almond Flour?
NO. These two flours have drastically different absorptive properties than gluten free all-purpose flour blends made with rice. Instead, I highly recommend specifically searching for recipes using those ingredients. If using almond flour, try this full size Glazed Apple Bundt Cake from Paleo Running Momma. Want to use coconut flour? Try this full sice Apple Bundt Cake with Apple Glaze from Keto Adapted.
Need an apple cake without dairy or eggs? If you can tolerate eggs, but not dairy, try this Gluten-Free Apple Cake from My Gluten-Free Kitchen. Need it to be completely vegan? Try this Gluten Free Vegan Caramel Apple Bundt Cake from Sarah Bakes Gluten Free. It looks amazing!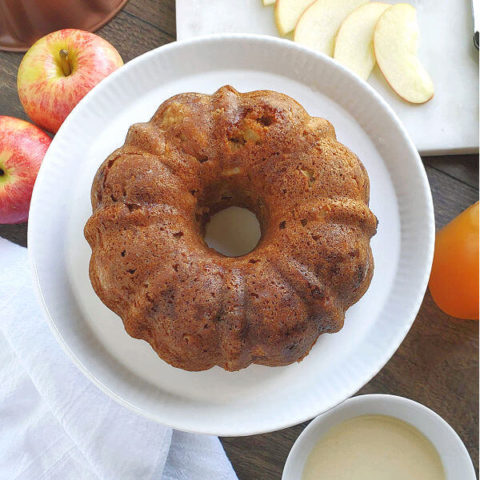 Small Gluten Free Applesauce Bundt Cake
Ingredients
Dry Ingredients
3/4 c. gluten free flour (I used King Arthur for this recipe.)
1/2 tsp baking soda
1/2 tsp baking powder
1/4 tsp salt
1/2 tsp cinnamon
1/4 tsp ginger
1/4 tsp nutmeg
1/4 tsp allspice
Mix Ins
3/4 c. thinly sliced apples, cut into thirds (3/4 of a small apple)
1/4 c. cinnamon chips (I used these instead of the butterscotch chips Cindy used.)
Wet Ingredients
2 tbsp oil
4 tbsp applesauce
1 egg
1/4 c. granulated brown sugar
For the Glaze
1/2 c. powdered sugar
1-2 tbsp apple cider
Instructions
Preheat oven to 350 degrees and oil your bundt pan. This recipe is 1/4 of Vegetarian Mamma's original. I used a Wilton's Copper Retro Round Fluted 6" Pan, which is only 2 1/2 in. deep and holds approximately 3 cups of batter.
In a large batter bowl, combine oil, applesauce, egg and sugar. Whisk together, and set aside.
In a small bowl, combine flour, baking soda, salt and cinnamon. Whisk to fully blend.
Thinly slice and quarter apples of your choice. VegetarianMamma prefers Granny Smith while I prefer Gala apples. The apples do not need to be peeled, but you may do so if you wish. Add sliced and quartered apples and cinnamon chips to the dry ingredients.
Add wet ingredients to dry and thoroughly combine. The batter will be very thick. Allow to rest while preheating the oven.
Bake at 350 degrees for 35 minutes. (This is shorter than VegetarianMamma's recipe as I'm using a smaller pan. Allow cake to cool before removing from pan. Serve with a coating of powdered sugar or a simple glaze of your preference. It's tasty with ice cream too!
What's your favorite cake recipe? What recipes have you converted by substituting applesauce? Please share your tips with me below!
**This post contains Amazon affiliate links. Purchases made through those links help support this blog with no extra expense to you. Thank you for your continued support!**