Gluten Free Mini Apple Cheesecakes
As an Amazon Associate and member of other affiliate programs, I earn from qualifying purchases.
Prepare to be amazed. These gluten free mini apple cheesecakes taste so good, you will have to stop yourself from eating them all! Added bonus? Using Chebe Cinnamon Roll Mix makes this crust grain free as well! Thank you Chebe for this awesome mix, and for sponsoring this post.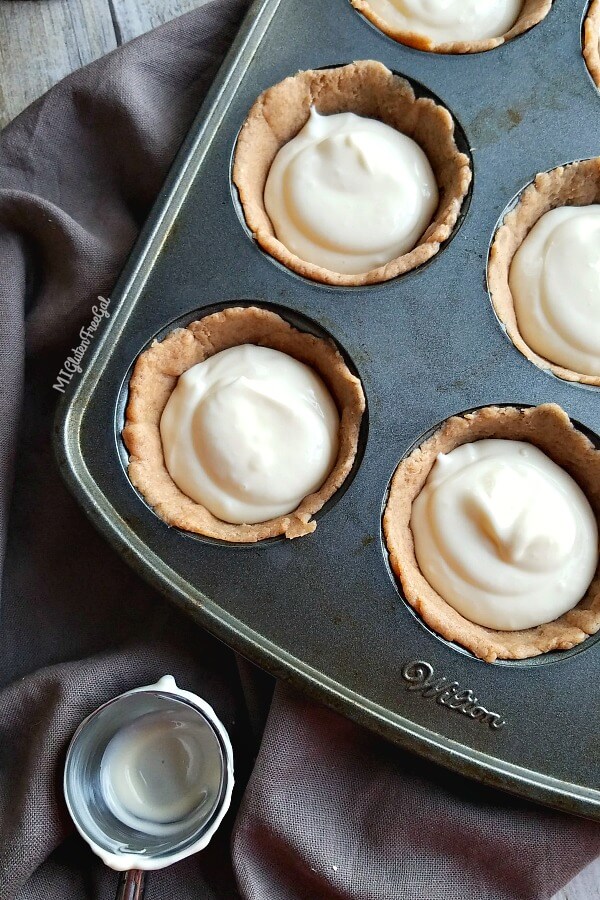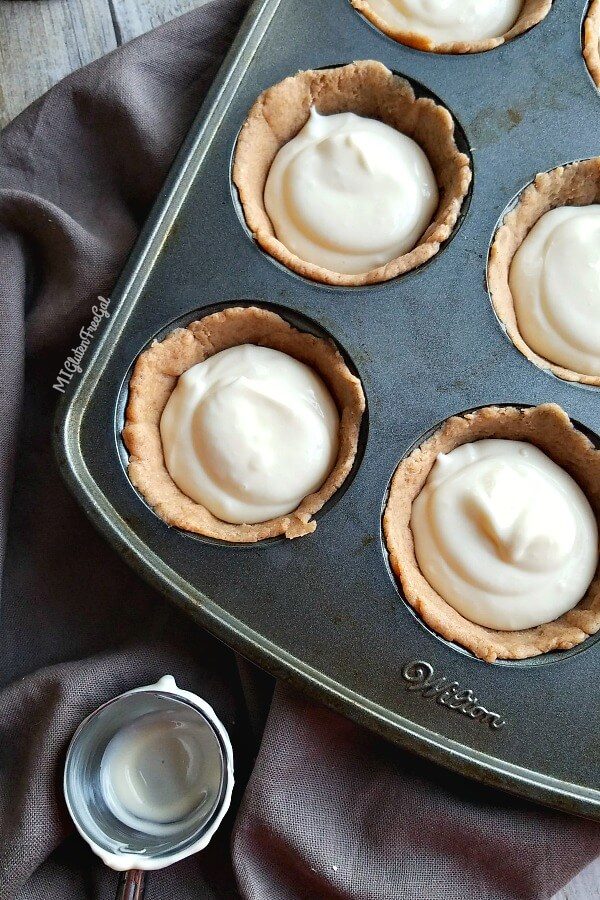 I Tested This Recipe for Accuracy, Twice
This recipe for gluten free mini apple cheescakes taught me a lesson in humility. True story. So, truth be told I made this recipe TWICE. I started out creating this recipe like all my others. I sat at my computer, looking at similar recipes. Baking is more science than art. You can't do "a pinch of this, a dash of that." Ratios need to be followed. So I settled on a basic cheesecake recipe, used by many others.
And then I doubled it. Big mistake.
See, I failed to realize how much these gluten free mini apple cheesecakes RISE when you bake them. Like, rise over the muffin wells where you have the crust. I may or may not have chosen a few choice words while venting to a friend. In truth, the cheesecake shrunk back as it cooled. Totally salvageable. However, I would feel awful to cause you that panic. So back to the store I went. Bought more cream cheese and resolved to listen to the experts. Pride in check.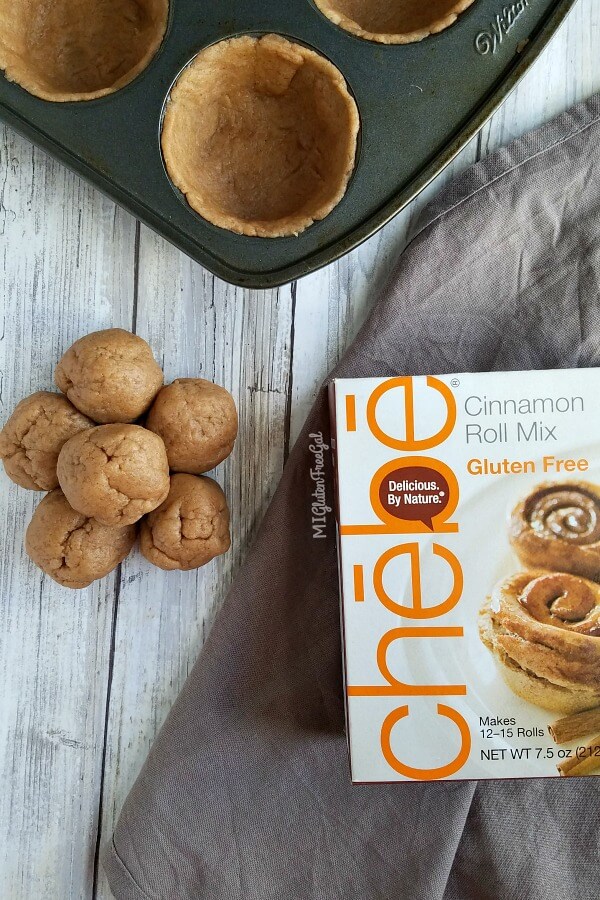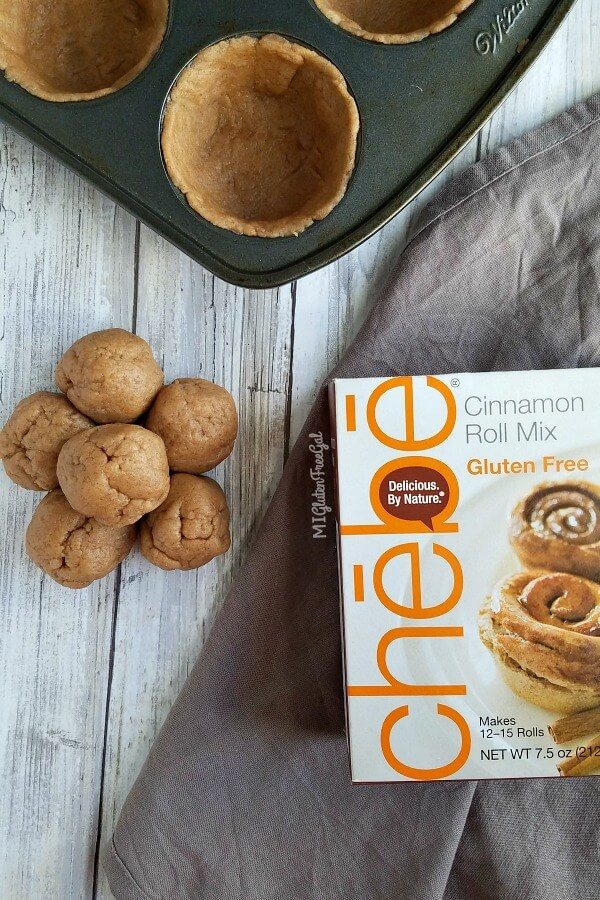 Chebe Grain Free Cinnamon Roll Mix
Lucky for me, I possessed a second box of Chebe Cinnamon Roll mix. The filling and topping for these gluten free mini apple cheesecakes are naturally gluten free. Luckily, Chebe mixes are naturally gluten free as well. Made with tapioca starch, Chebe has been gluten free and grain free since it started. Chebe Cinnamon Roll mix is sometimes elusive to find. Therefore, I suggest if you find it at a store or expo, stock up. (Also find them on Amazon through my affiliate link!) While it makes great grain-free cinnamon rolls, you can use it for so many other things. Turnovers, toaster pastries, and these gluten free mini apple cheesecakes. (Please note! – The crust I made for these mini cheesecakes is NOT identical to the preparation directions on the back of the box!)
My One Kitchen Tool That Makes This Recipe Easier
I own a "secret weapon" that makes forming crusts in a tin a BREEZE. Well, not so secret if you read about it in my grain free beef and black bean enchilada cups recipe. If you don't own a tortilla press, you need to get one. It allows you to press the dough out into a uniform thickness, not to mention a round shape that easily fits inside a muffin well. I lined the tortilla press with sran wrap when I made the dough for these gluten free mini apple cheesecakes. This makes it easier to transfer the dough.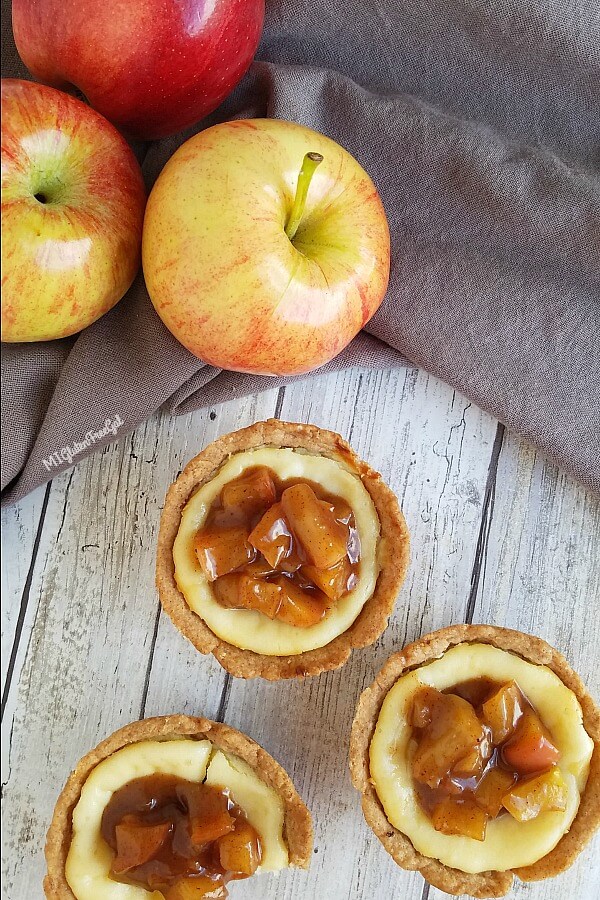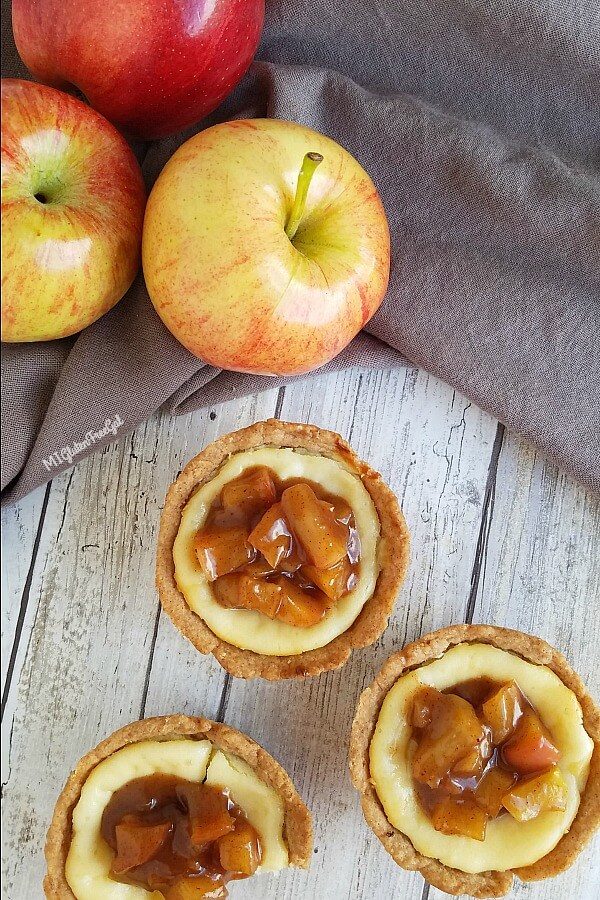 How to Make the Cooked Apple Topping
So truth be told, I still "improvised" a bit on the cheesecake filling, compared to others. I increased it by half. These gluten free mini apple cheesecakes don't have a thick graham cracker crumb crust on the bottom. Therefore, we need a bit more batter to have it bake to the top. Luckily, no rising over the pan this time! It does still crack in the center as it bakes. However, you will cover all that up with a dollop of sweet, cinnamon – laced cooked apples. This topping, my friends, makes all the difference.
I mean, fell free to leave the apples off if you want just plain cheesecake. Your call. However, trust me when I say that the cooked apples knock this out of the park. Now, my husband will tell you that there is such a thing as "too much apple topping." (Then again, he also thinks potato salad is disgusting. So consider the source.) These gluten free mini apple cheesecakes have just a touch of apple topping. Just enough to invoke thoughts of crisp fall evenings and warm apple pie. (Speaking of apple pie, this topping is what I put on my Gluten Free Apple Pie Buttermilk Pancakes. Whose ready for brinner?!
(A quick note about the apple topping. It does use one teaspoon of cornstarch. If you need a 100% grain free recipes, please consider using arrowroot starch instead. It cooks clear and will not discolor your topping.)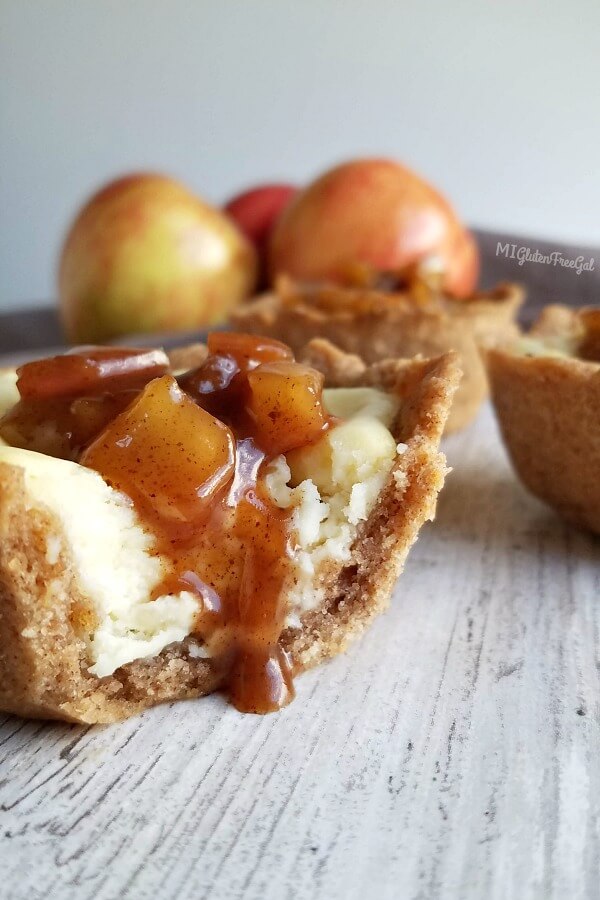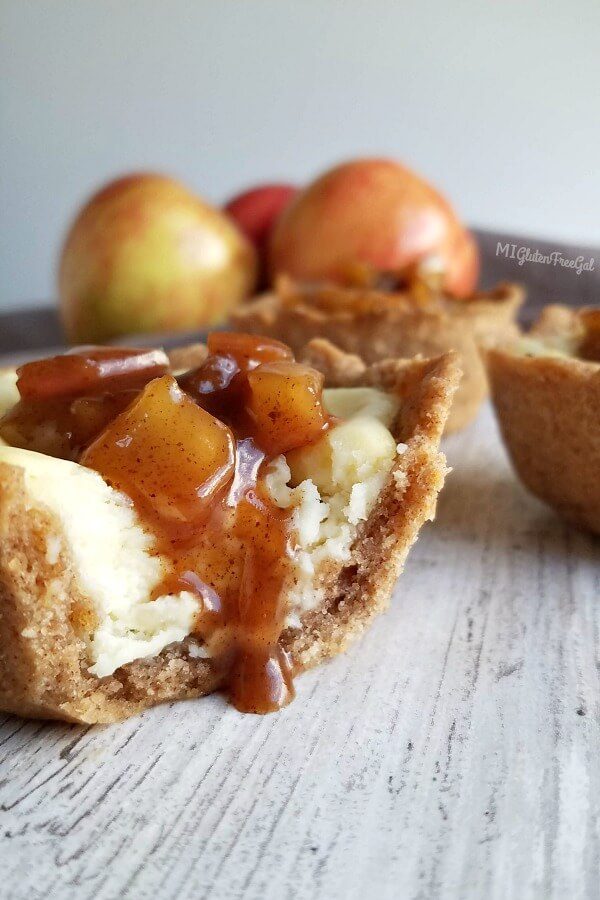 So, make these gluten free mini apple cheesecakes for your next gathering. Or make them for yourself, too. #NoJudgment Should you decide to share, be prepared for compliments. And don't worry about humility. Accept that praise. You earned it!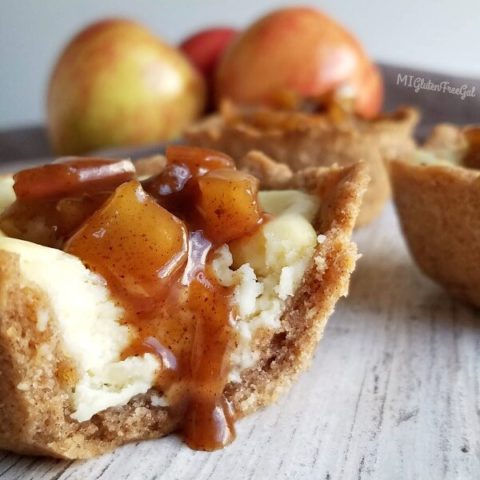 Gluten Free Mini Apple Cheesecakes
Ingredients
For the Crust
1 pkg Chebe Cinnamon Roll Mix
2 tbsp oil
1 egg
4 tbsp cold butter, cut into chunks
4 tbsp ice cold water
For the cheesecake
1/3 c sugar
8 oz cream cheese, softened
4 oz Marscapone cheese, softened
1 egg, room temperature
1 1/2 tsp vanilla
For the apple topping
1 tsp lemon juice
2 apples, cored, peeled and cubed
1 /2 tbsp butter
4 tbsp brown sugar
1/2 tsp cinnamon
pinch of cloves
1 tsp cornstarch
4 tbsp water
Instructions
Prepare the crust. Add the Chebe Cinnamon Roll mix to a food processor, along with the oil and egg. Use a fork to quickly mix them together. (This prevents loose powder from flying all over the processor!)
To that, add the cold butter. Pulse until a dry sand texture develops. This should take 6-7 pulses.
Slowly add the ice cold water to the processor, one tablespoon at a time. Process until a ball of dough forms.
Separate the ball of dough into 12 portions. I use a scale when i do this, and it roughly comes out to 30 grams per portion. Press the dough into the wells of a muffin tin. I find a tortilla press helpful to uniformly flatten the dough.
Once the dough is pressed into all the wells, stick in the freezer to chill. (At least ten minutes. This helps to prevent the crust from shrinking while baking.)
Preheat the oven to 350.
Using a handmixer or KitchenAid stand mixer, cream the cream and marscapone cheese together with the sugar. (If you don't have marscapone cheese, you can simply use more cream cheese.) To that, mix in the egg and vanilla.
Once blended, remove the crusts from freezer and fill the crusts. I used a one ounce pampered chef to fill mine. Each crust received a large heaping scoop of batter.
Bake cheesecakes at 350 degrees for 15 minutes. Then drop temperature to 325 for another 15 minutes. (This is to help the batter from cracking.)
Once baked, remove from oven and cool on the counter for 30-45 minutes. Further chill in the refrigerator for 2 hours.
30 minutes to an hour prior to serving, prepare the apple filling. Remove cheesecakes from fridge to allow crust to come to room temperature.
In a medium bowl, place a teaspoon of lemon juice, to prevent the apple pieces from browning. Core, peel and cube apples, and place in bowl. Toss gently to coat all apple pieces.
In a medium pot, melt butter.
To the apples, add the brown sugar, cinnamon, and cloves. Transfer apples to pot with melted butter and cook, covered, for 10 minutes.
Meanwhile, combine cornstarch and water in a small dish.
After apples have cooked to desired tenderness, add cornstarch and water mixture to apples. Cook until it just starts to thicken. (If you need to eat a grain free diet, you can skip this step. There will simply be less "sauce" with the apples.)
Top mini cheesecakes with apple filling and serve.
More Gluten Free Cheesecake Recipes
Want a "just one, for me" cheesecake recipes? You'll want this recipe on my site for a single serve gluten-free cheesecake. Looking for a regular sized, no bake cheesecake recipe? This Easy No Bake Cheesecake Recipe from What the Fork is what you need! Staying away from dairy and eggs? My friend Nicole from Allergylicious has your back with her vegan Mixed Berry Cheesecake. Looking for even more cheesecake inspiration? Check out this round up of gluten free cheesecakes from Eat At Our Table!
**This post has been sponsored by Chebe. All thoughts and opinions are my own. I have proudly worked with owner Richard Reed and his staff for years. I am honored to call them friends and colleagues, and suggested their products long before our partnership. This page contains affiliate links. **