Gluten Free Apple Dumplings
As an Amazon Associate and member of other affiliate programs, I earn from qualifying purchases.
These gluten free apple dumplings have been on my bucket list for quite some time. It uses my recipe for homemade gluten free crescent dough, and turns out cinnamony sweet. It tastes amazing topped with ice cream!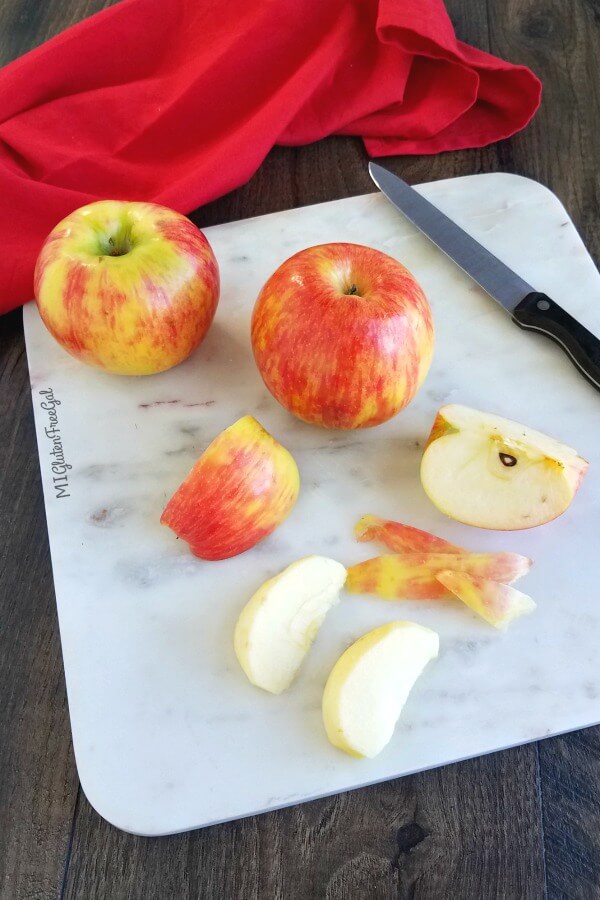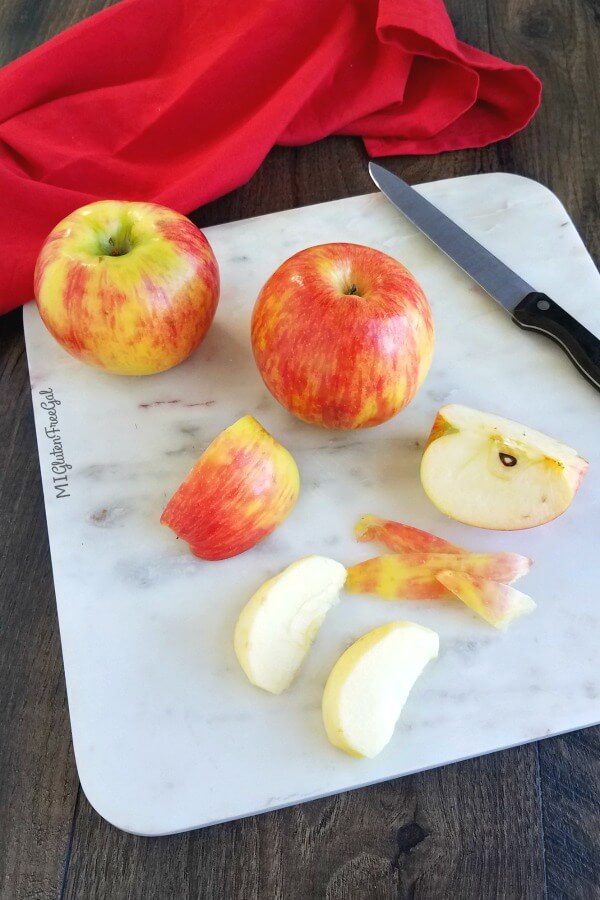 Best Apples for Baking
I first made apple dumplings years ago when I used to serve at the homeless shelter. However, they were made with Pillsbury crescent dough. Living with Celiac Disease, I wasn't able to try them. Since then, I vowed that some day, I would make them. Today is that day!
Usually, I bake with whatever apples I have on hand. Usually Galas. However, I wanted to impress you all, so I chose Honeycrisp. However, I found that after these gluten free apple dumplings baked, the apple still seemed firm. Next time I will try something else. For recommendations, see What the Fork's post on the best apples for baking.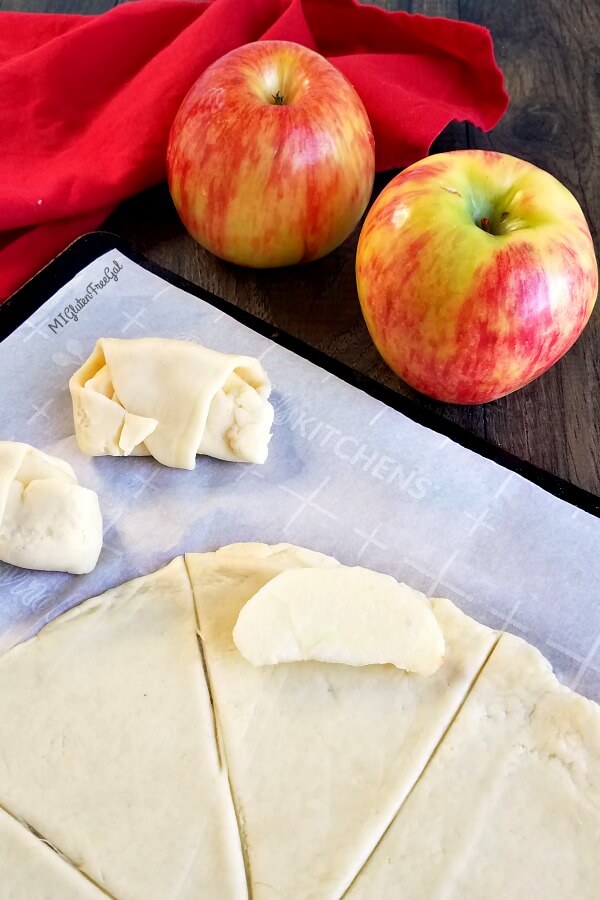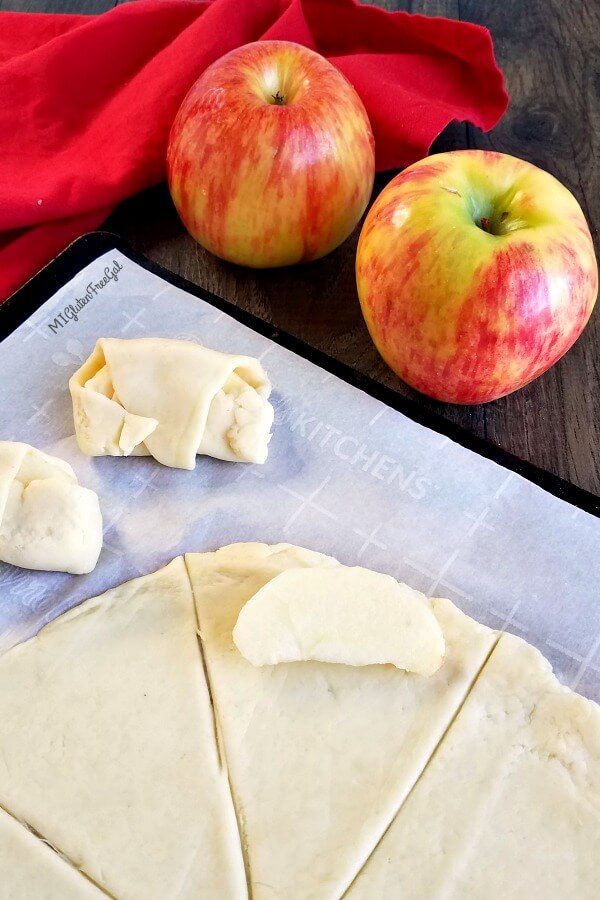 Versatile Gluten Free Crescent Dough
These gluten free apple dumplings use my recipe for homemade gluten free crescent dough. Many people in Facebook groups ask about refrigerated, store bought dough. However, mine really isn't hard to make. If you're searching for a crescent dough without eggs or dairy, try this vegan crescent roll recipe from Petite Allergy Treats.
I've used this dough to make many things. Of course, I've used it to make gluten free crescent rolls. However, it works great for these Easter themed Resurrection rolls and gluten free pigs in a blanket. You could also use it to make this gluten free veggie pizza. It worked phenomenally well in this Pillsbury taco crescent ring recipe, too!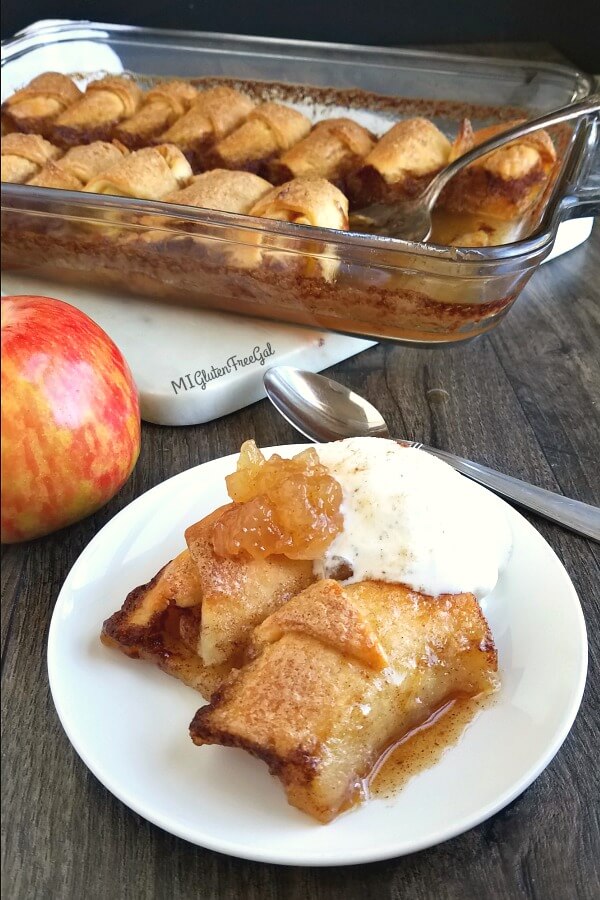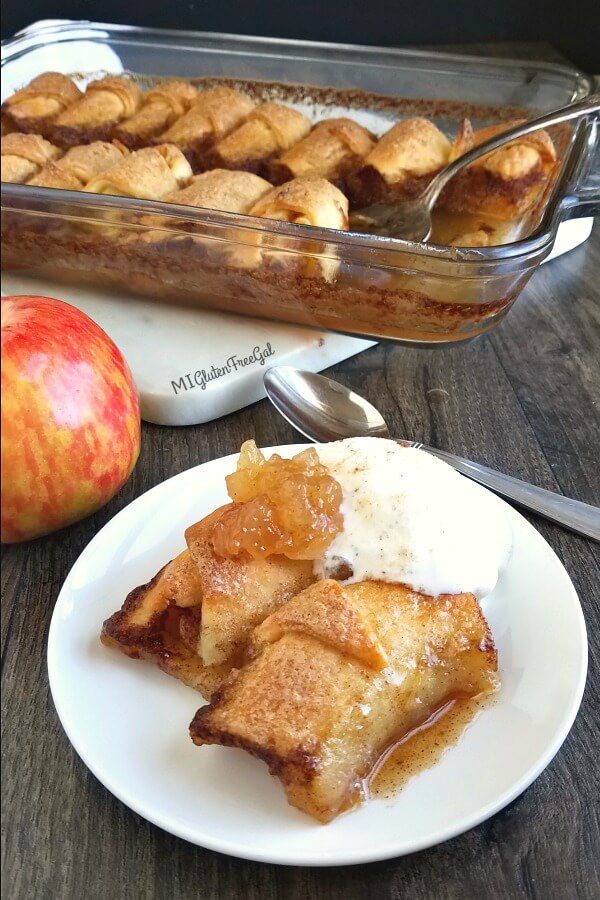 Soda or Pop?
I always scratch my head over the debate over soda vs. pop. I live in Michigan, and people here say we're supposed to call it pop. When I was a child, I called it pop. However, now I call it soda. Maybe because my husband's grandmother worked at a "soda fountain" when she was in college. Who knows. I saw call it whatever you want.
The signature ingredient in these gluten free apple dumplings is Mountain Dew. However, I researched other recipes that stated one can use Sprite. Some recipes state you can use Diet Mountain Dew if you want a reduced calorie option. You do you. 🙂 I've actually made this with fresh apple cider, and it works just as well.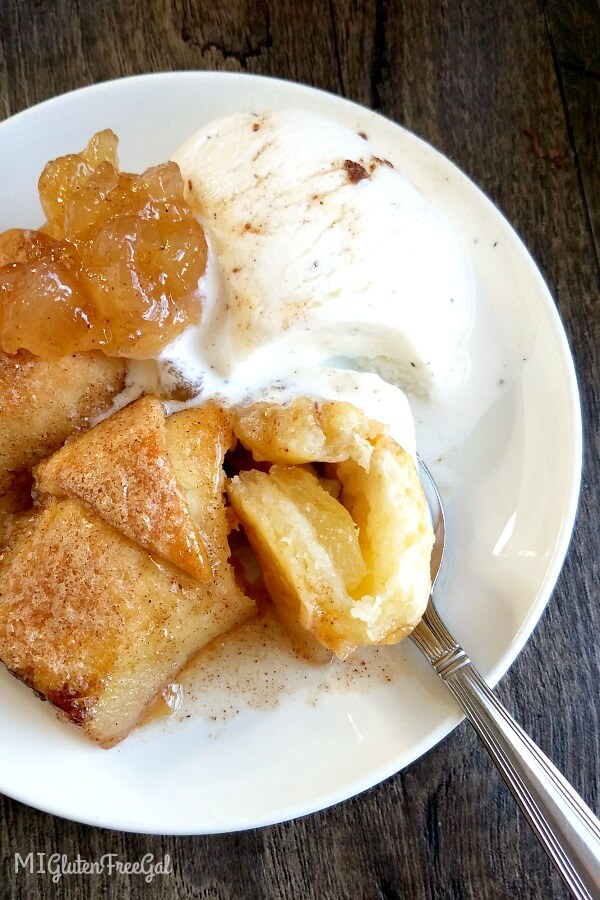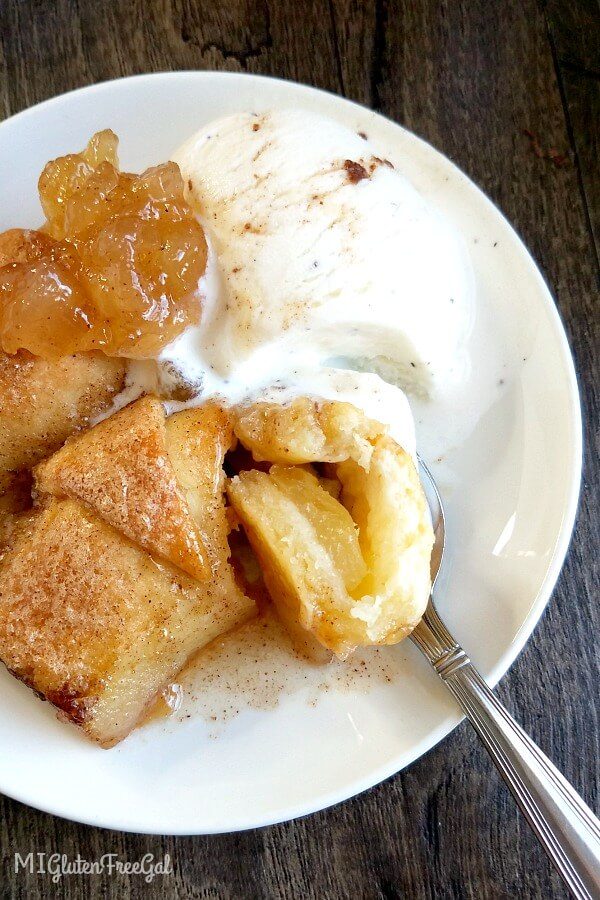 Apple Spice and Everything Nice
The original Pillsbury recipe calls for adding cinnamon to the glaze for these gluten free apple dumplings glaze. However, I chose to step it up a notch and use A Saucy Kitchen's recipe for DIY Apple Pie Spice. I made a half batch of her recipe, and still had plenty left over.
Of course, you can make the full batch and use it in all sorts of recipes. For instance, these Gluten Free Apple Pie Spice Snickerdoodles from Eat at our Table sound amazing! Or use it in these dairy free, Gluten Free Apple Muffins from Gluten Free Palate. Of course, you could simply sprinkle it on hot cereal or yogurt, too!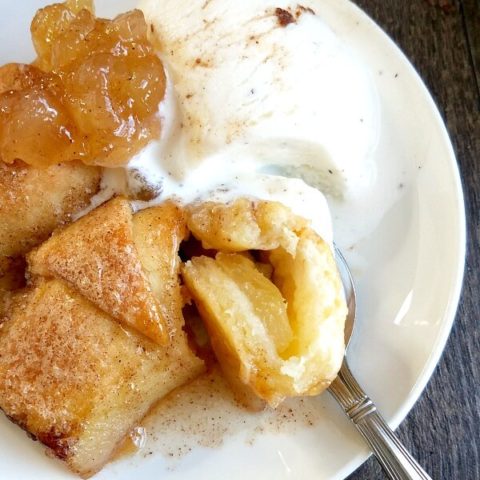 Gluten Free Apple Dumplings
Ingredients
For the gluten free crescent dough
1 pkg active dry yeast
6 tbsp warm water (105*-110*)
4 tbsp sugar, divided
1 3/4 c. Cup 4 Cup flour (244 grams)
1/4 c softened butter, unsalted
1 egg, room temperature
1/2 tsp salt
(add'l flour for rolling)
For the dumplings
2 apples
3/4 c butter, unsalted
1 c brown sugar
1 tsp vanilla
1 tsp apple pie spice (see recipe below)
1 c. Mountain Dew or Sprite
Apple Pie Spice (from A Saucy Kitchen) (YOU WILL NOT USE ALL IN RECIPE)
2 tbsp cinnamon
3/4 tsp nutmeg
3/4 tsp allspice
3/4 tsp ginger
Instructions
Start by pulling out your egg and butter from the fridge to allow them to come to room temperature. 15 minutes should be sufficient. Turn on the oven to 200 degrees. We are warming it only to create the ideal place to proof the dough. Once it comes to temperature, turn it off.
In a 2 cup glass measuring cup, combine 1 tbsp sugar and 6 tbsp warm water. (Ideal temperature is 105-110 degrees. Not warm enough and the yeast won't react. Too hot and you'll kill it. I use a thermometer to check mine.) Once the sugar is dissolved, add the yeast, give it a quick stir, and let it proof for 5-10 minutes.
While the yeast is activating, combine the flour and butter. I prefer to do this in my stand mixer with the paddle attachment. If you don't have a stand mixer, you can also do this in a food processor or by hand with pastry cutter.
Transfer the flour to a large, glass bowl for later. Meanwhile, combine one room temperature egg, the remaining 3 tbsp of sugar, and the 1/2 tsp of salt in the bowl of a stand mixer. Then add the proofed yeast and mix in the stand mixer on low.
Slowly add the flour + butter mixture until a dough forms. Transfer the dough ball back to the large glass bowl, and cover with a towel.
Place covered dough ball in TURNED OFF OVEN and allow the dough to rise for 90 minutes.
While that is rising, combine cinnamon, nutmeg, allspice and ginger for the homemade apple pie spice in a small, sealable container. Set aside.
After dough has risen, remove from proofing area and preheat oven to 350 degrees.
Split dough into two 8 oz dough balls. Roll each dough ball into separate 10 inch circles. Then, cut each circle into 8 wedges.
Peel and cut 2 medium apples, each into 8 slices. (I used honeycrisp apples for this recipe, which were huge. I cut each quarter into 3 slice, for a total of 12 slices per apple.)
Wrap each apple slice in one wedge of crescent dough. Do so by placing the apple slice near the large outside edge, and roll forward.
Transfer raw apple dumplings to a greased 9 x 13 pan. They will end up touching each other.
Place butter in a medium bowl and microwave for 30 seconds until melted. (This can also be done in a pot on the stove top if you prefer.) To that bowl, add the brown sugar, vanilla, and apple pie spice. (Do NOT add Mountain Dew yet.) Stir to combine.
Pour the butter and brown sugar mixture over the raw apple dumplings. Then, pour the Mountain Dew (or Sprite) into the baking dish, but NOT over the dumplings themselves.
Place in an oven preheated to 350 degrees and bake for 35 minutes. Serve warm, with ice cream or whip cream on top.
**This post is not sponsored. This post does contain affiliate links.
Purchases made through those links help support this blog with no extra expense to you. Plus it keeps those annoying pop up ads off my site. Thank you for your continued support!**