Gluten Free Au Gratin Potatoes
As an Amazon Associate and member of other affiliate programs, I earn from qualifying purchases.
For years I thought scalloped or au gratin potatoes were complicated. However, after attempting a few different methods, I discovered the best method is rather simple. With layers of cream and cheese, and a crunchy topping, this dish rivals any other. This recipe for Gluten Free Au Gratin Potatoes is sponsored by Schar.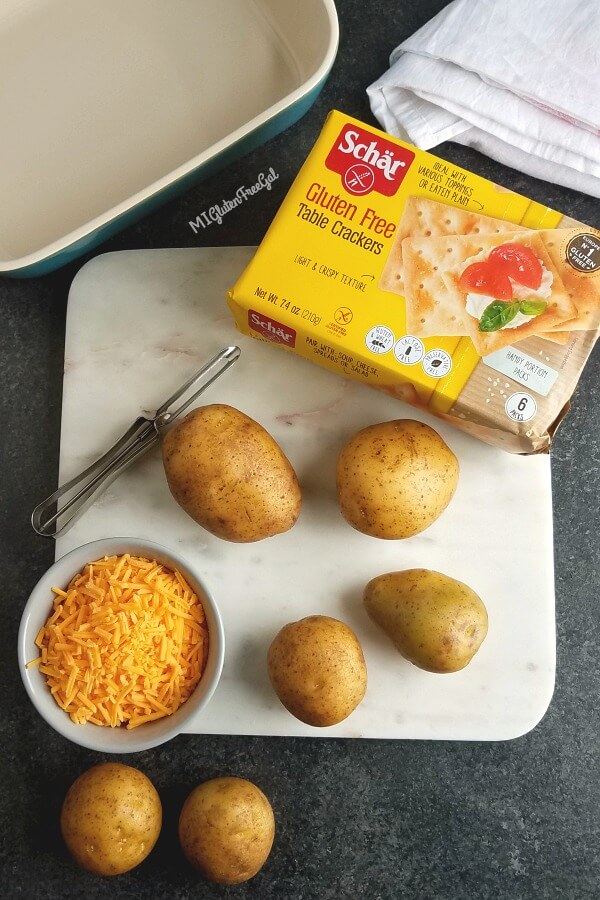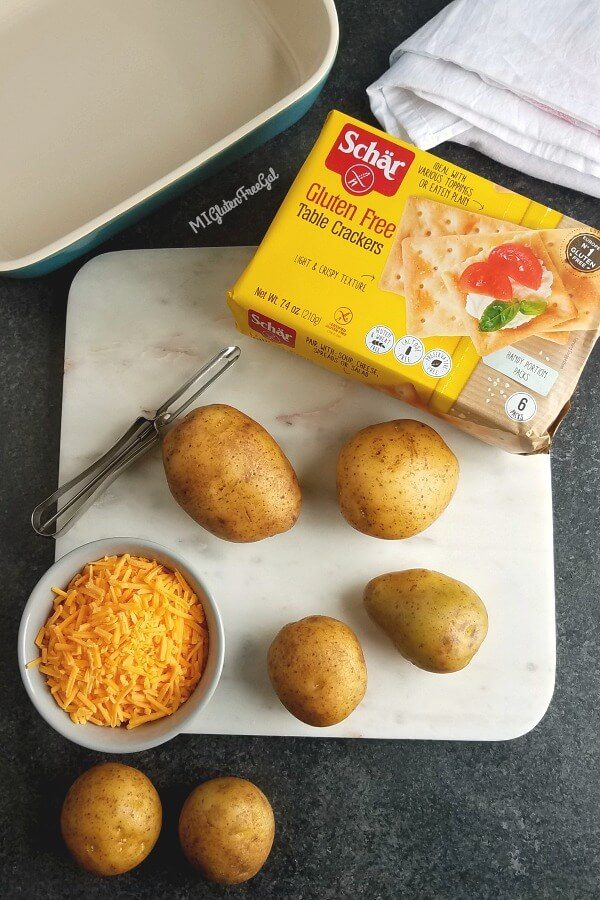 Scalloped Potatoes Vs Au Gratin Potatoes
Crunchy bits and cheese. Technically, these are the two major differences between scalloped potatoes and au gratin potatoes. By definition, scalloped potatoes contain neither. However, people often interchange the two. For example, my friend Amanda at Eat At Our Table calls her family's version Gluten Free Scalloped Potatoes and Ham, even though it contains cheese and crackers. As long as it tastes great, who cares what it's called!
Regardless of what you call this dish, choose the correct bakeware. I chose to use my ceramic Staub 2 qt gratin dish. Ceramic bakeware holds heat well, and can be placed under the broiler, unlike glass bakeware. It can go from oven to table, then from fridge to microwave with no issues. Can't do that with a metal pan!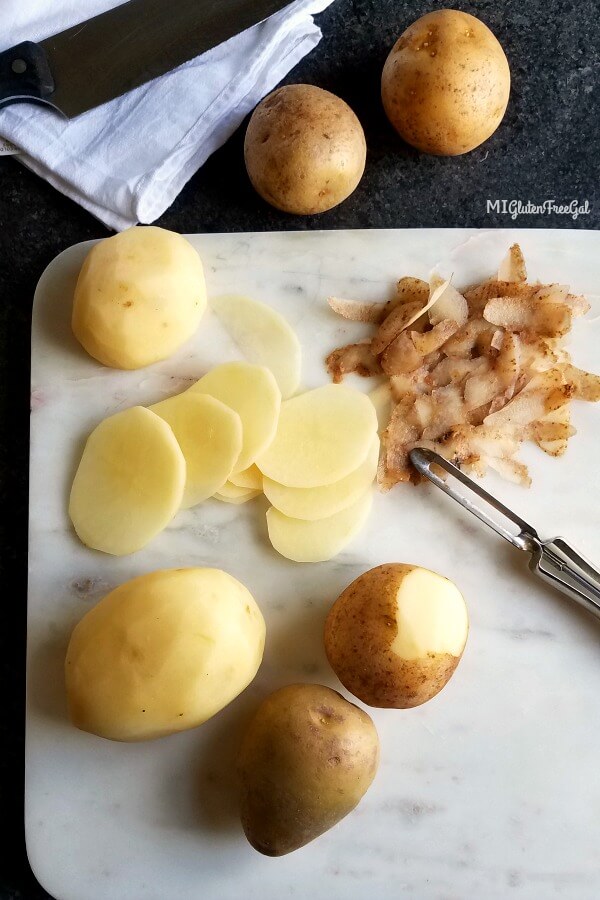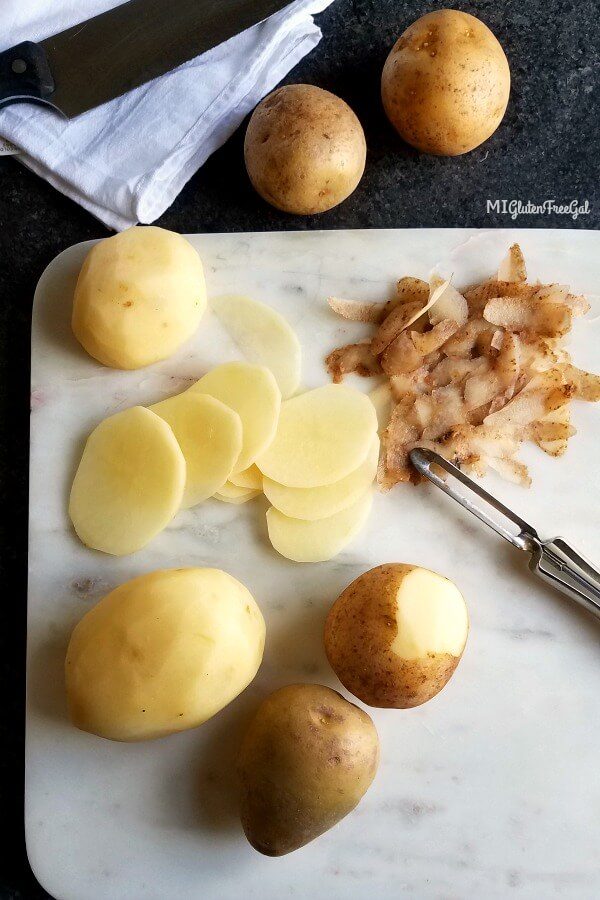 Potato Prep 101
Let's get cooking. First things, first, my husband was right. In selecting potatoes for this dish, I first used russet potatoes. Which work fine. However, he recommended white potatoes. Lemme say after multiple attempts, his suggestion of white potatoes worked better. How he knows all this stuff, I don't know. He needs to go on Jeopardy.
Secondly, after three attempts at these gluten free au gratin potatoes, I decided my idea of soaking the potatoes was not ideal. This washes off the additional starch in the potato, which we want! It is key to making a richer sauce as the potatoes cook. Finally, while some suggest using a food processor or mandalin, I slice my potatoes by hand. Just try to keep them as uniform and thin as possible.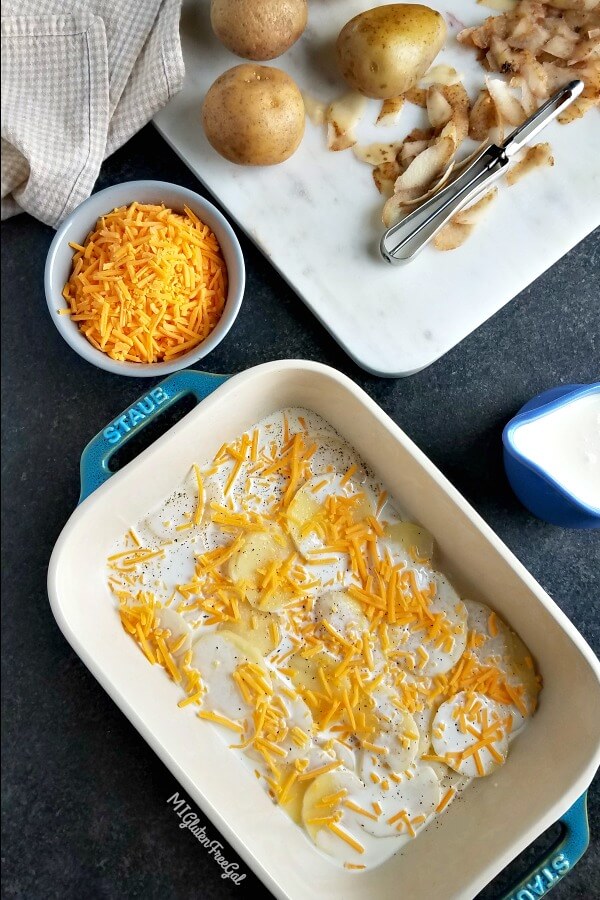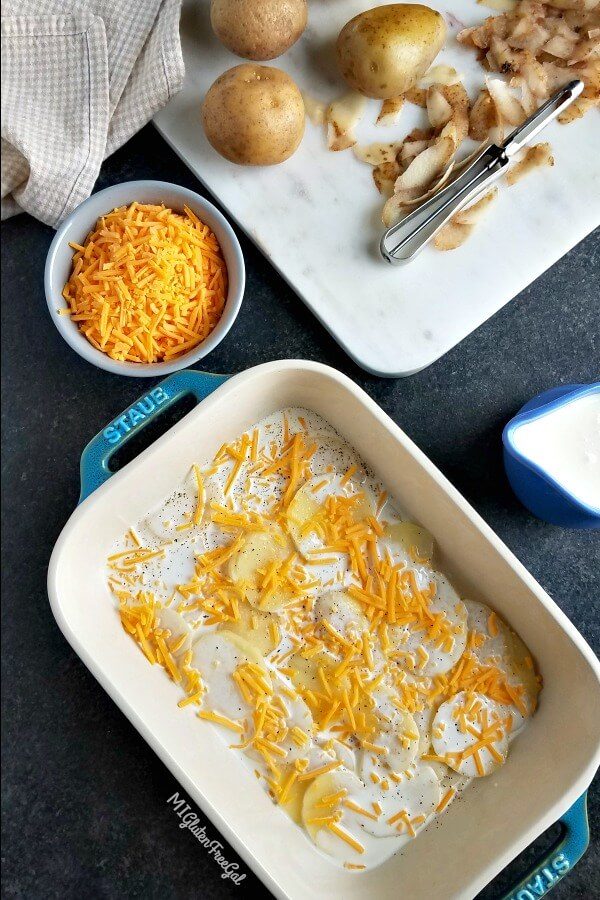 Keep It Simple
The first time I attempted these gluten free au gratin potatoes, I tried to copy the sauce from Schar's macaroni and cheese recipe. They start a roux with their crushed Table Crackers. Yeah, that doesn't work here. Many recipes suggest using milk and flour. However, I wanted to keep this as simple as possible. Therefore, I went with the heavy cream + cheese method.
I consulted many cream based recipes. After looking at Once Upon a Chef's recipe for Potatoes Au Gratin, I settled on a simple ratio. For every 8 oz of potato, I use 1/2 cup of cream and 1/4 cup of cheese. Extrapolate that to 2 lbs of potatoes, and you get 2 cups of cream and a cup of cheese. (If you're not a fan of dairy, this recipe isn't for you.)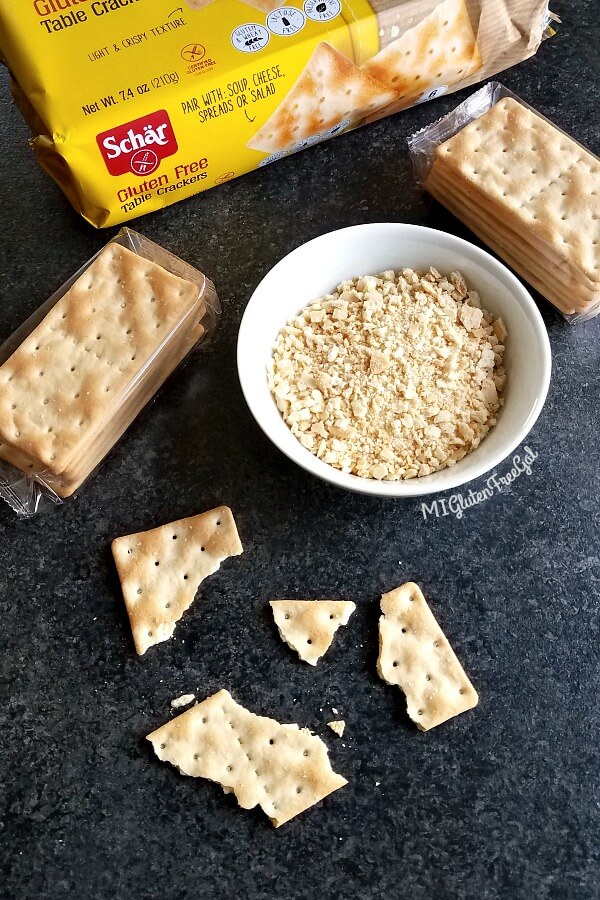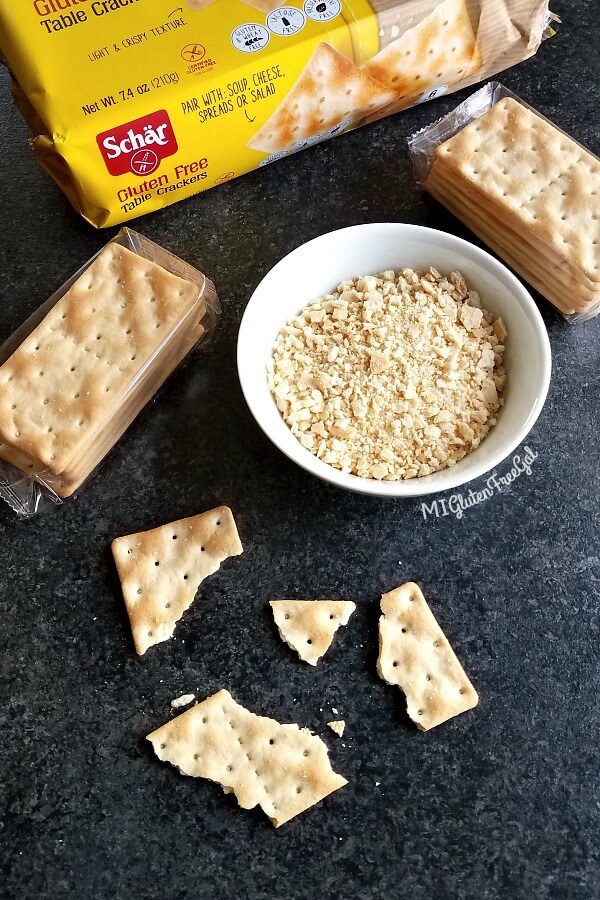 Gluten Free Saltine Crackers
As mentioned previously, the difference between gluten free scalloped potatoes and gluten free au gratin potatoes is the presence of cheese or a crunchy topping. Since I'm an over achiever, I did both! In groups, I often see people asking about a good replacement for saltine crackers. Without fail, I always mention Schar Table Crackers.
Therefore, I chose to highlight them in this dish. I mean, these crackers taste amazing on their own. It's a good thing they come in individual packs of 6 crackers. Otherwise, I might eat the whole package in one setting! However, they work great in casseroles and anything needing a bit of crunch.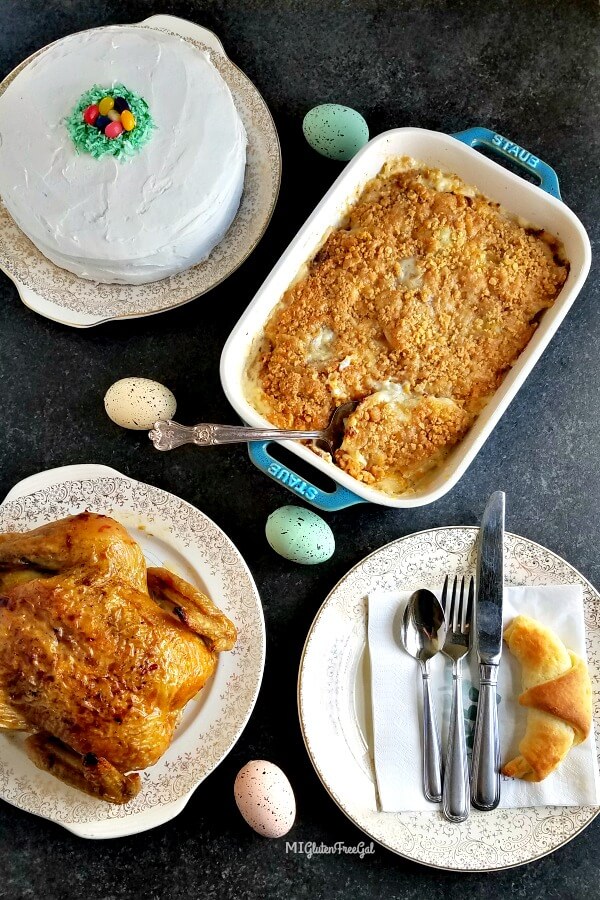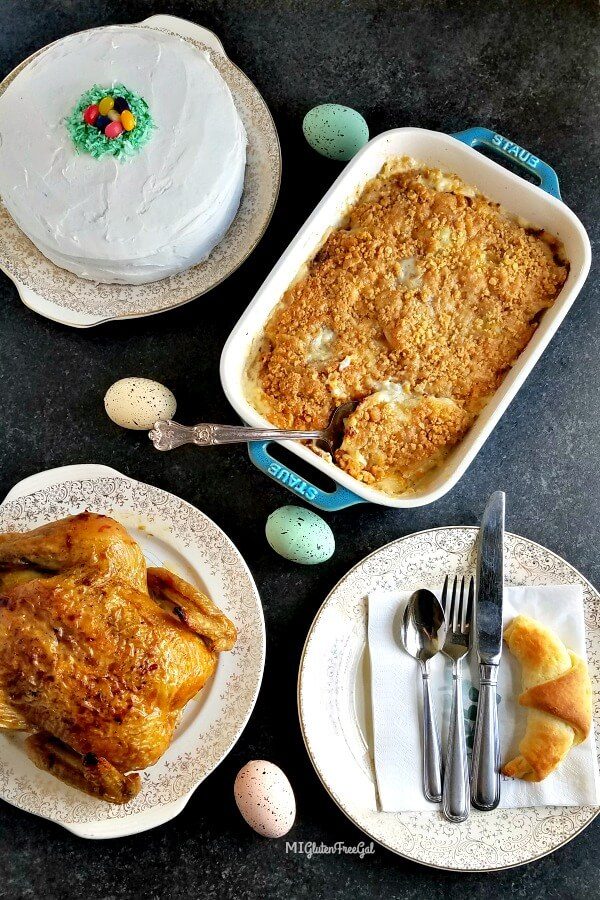 What To Serve with Gluten Free Au Gratin Potatoes
I chose to make this dish after a handful of people on my Facebook page said Easter isn't Easter without potatoes. But what to serve with it? We don't eat pork, so ham was right out. Therefore, I made Iowa Girl Eats' Perfect Roast Chicken. Being spring, I lean towards making Brussels sprouts, even though they're not in the picture.
Other people mentioned rolls, therefore I made gluten free crescent rolls. Many mentioned deviled eggs, but my husband won't touch those with a ten foot pole. Since I don't want to eat them all myself, I passed. For dessert, I remade my mother in law's Easter cake, filled with homemade lemon curd. You should too. 🙂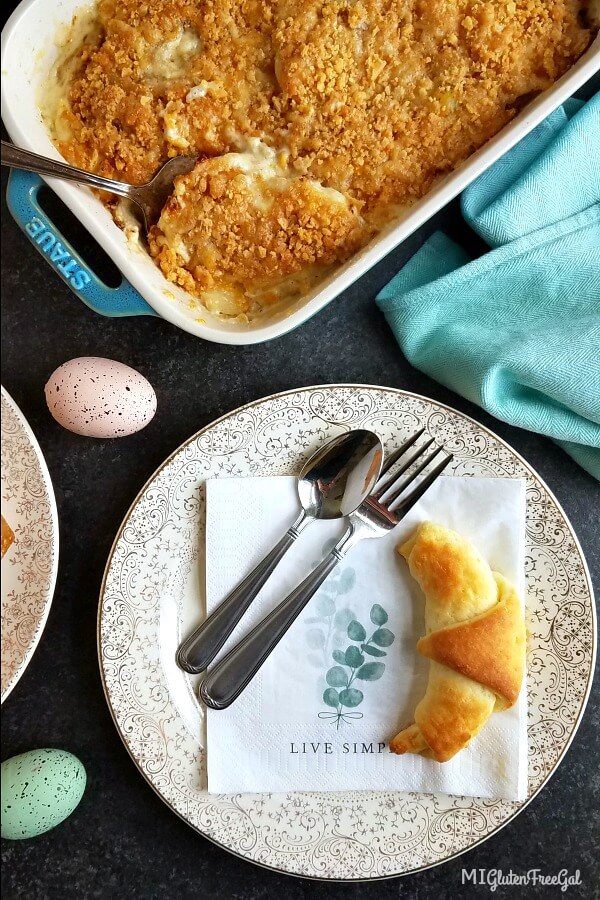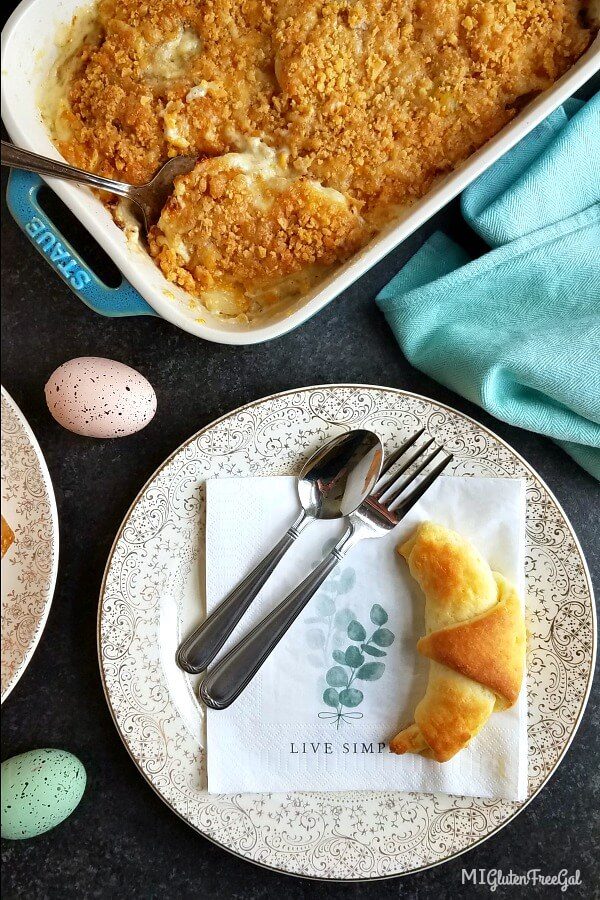 Live Simply – Delegate
Can I be honest? I made the rolls, chicken, lemon curd, frosted the cake, and potatoes all in one day. AND I HURT. My feet hurt. My back hurt. I don't know how people do all this in one day! For certain, holiday meals are not for the faint of heart. Pace yourself friends – this is a marathon, not a sprint.
Definitely make a written plan, and time your dishes accordingly. Make what you can the day ahead. Think through what oven space you have to work with. Suggest others help by bringing dishes to round things out. I think Aunt Esther can safely bring Jello. Uncle Bob can bring the olives and pickles. YOU DON'T HAVE TO DO IT ALL!
Need Dairy Free, Gluten Free Au Gratin Potatoes?
As mentioned, my recipe contains lots of milk and cheese. If you need a dairy free version, I recommend The Pretty Bee's version of Gluten Free Scalloped Potatoes. Looking for that cheesy flavor? Try this Creamy Vegan Potato Au Gratin from Allergylicious.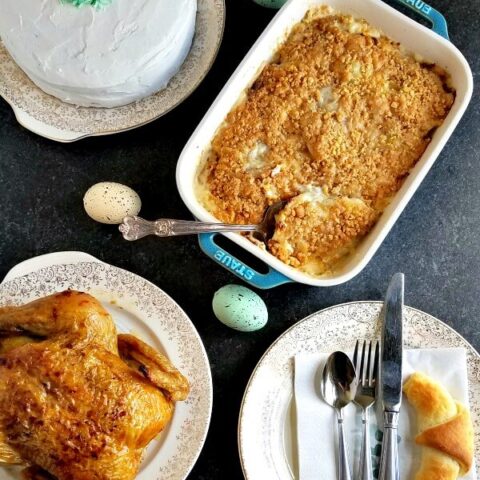 Gluten Free Au Gratin Potatoes
Ingredients
For the base
2 lbs white potatoes (8 medium)
2 cups heavy cream
1 cup shredded Cheddar cheese
Salt & pepper to taste
For the topping
3 tbsp butter, melted
9 Schar table crackers, crushed
3/4 c shredded Gouda or Swiss cheese
Instructions
Preheat oven to 375 degrees
Wash and peel potatoes, and slice as thin as possible. Cut to uniform width, using a mandolin if necessary.
Place a layer of potatoes on the bottom of a 2 quart casserole dish. (You will do 4 layers, so use a quarter of what you have.) Sprinkle the top of the potatoes with salt and pepper (You choose how much. I'd say no more than a 1/4 tsp of salt and an 1/8 tsp of pepper per layer. I did not measure it when i made them.)
Then top the potatoes with 1/2 cup of cream and 1/4 cup of shredded cheese. I used Cheddar, but you can use something else if you wish.
Repeat for three more layers until all ingredients are used up.
Cover casserole dish with aluminum foil and bake for 30 minutes.
While potatoes are baking, crush 9 Schar table crackers, and mix with the 3 tbsp melted butter and 3/4 c shredded Gouda cheese. (If you're not a big fan of a crunchy topping, you can reduce it to 6 crackers (crushed), 2 tbsp melted butter, and 1/2 cup of shredded cheese.)
After the first 30 minutes of baking, remove casserole from oven, and remove foil. Sprinkle coating on top and return to oven. Bake for another 30-45 minutes, until potatoes are cooked to desired tenderness. (I cooked mine for 30 minutes more, but you might like yours more tender than I do.)
Serve hot. I served 6 with this 2 quart casserole dish.
**Schar sponsored this post by compensating me for my time and talents. In addition, Staub sent me the gratin dish featured in this recipe, free of charge. However, all thoughts and opinions are my own. This post also contains affiliate links. Purchases made through those links help support this blog with no extra expense to you. Thank you for your continued support!**