Gluten-Free French Apple Cake
As an Amazon Associate and member of other affiliate programs, I earn from qualifying purchases.
This gluten free French Apple Cake may just be my favorite cake of all time. It's like apple pie, but without all the struggle of a crust. Serve with a sprinkle of powdered sugar, or a dollop of ice cream!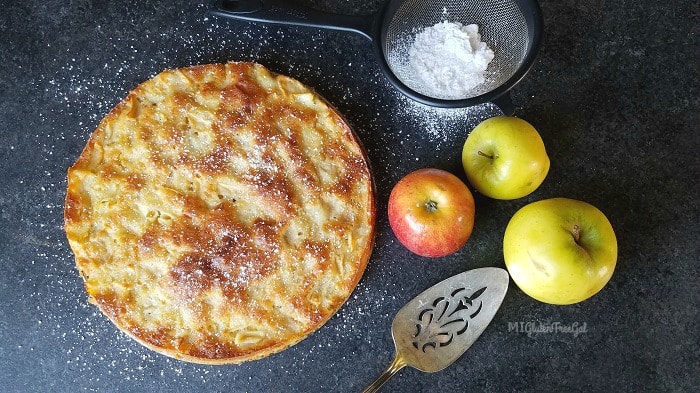 My French Connection
J'adore le pays de France. There is a simplistic beauty about the "paysage" or French coutryside. This simple French apple cake embodies the rustic glory of the small towns there. It brings to mind "les petits villages" outside the walls of d'Avignon and the family vineyards of the Champagne region.
A little known fact about me. I almost moved to France. Well, for a temporary stay. I took three years of French in high school and minored in the language in college at Central Michigan University. After graduating, I had submitted my paperwork to move to France to teach English.
It was going to be the bravest thing I had ever done. Then my dad had back surgery, and I became reacquainted with an old friend. (Whom I had met in French class in college.) Now he's my husband and I am so thankful that I never left his side. Yet, there's a part of me that longs to return to the land of Degas, Hugo and Bizet.
My First Acquaintance with French Apple Cake
This is why I say "grace a dieu" for David Lebovitz. He's an American ex-pat who lives in Paris who shares the daily beauty of French life through his Instagram account. This is how I first became acquainted with this French Apple Cake. It seems so fitting that he shared this recipe from his friend Dorie Greenspan, who shared it from her friend Marie-Helene.
I first made this French Apple Cake and wrote about it years ago. At that time, I went with a recipe that was strictly gluten-free. Not Ms. Greenspan's. When deciding to make this again, I decided to follow the recipe which originally inspired me. This time I used the Cup 4 Cup Gluten Free Flour Blend. It can be pricey. However it really does fantastic in any regular wheat-based flour recipe. It makes FABULOUS gluten free biscuits.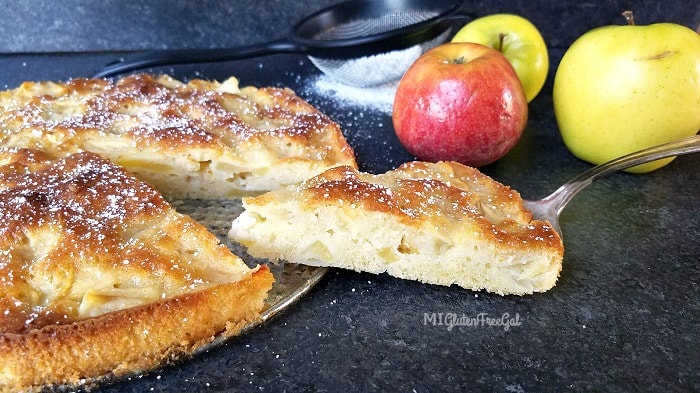 To Rum or Not to Rum?
I did make one or two small deviations from Dorie Greenspan's recipe. Her recipe called for Dark Rum. Now, we rarely drink in our house. However, I had a small bottle of Bacardi white rum. The difference between white vs. dark rum? Dark rum has hints of caramel. Therefore, I substituted part of the white sugar Dorie calls for with brown sugar. I also only used 2 tablespoons of rum versus the 3 for which she called. Regardless of the substitutions, the final product was "marveilleux!
It is suggested that this cake be served warm with a dollop of gelato or ice cream. I gave mine just the faintest dusting of powdered sugar. Truly this cake doesn't really need much more than that. The texture is a cross between a firm pie and a very moist cake.
I took this French Apple Cake to my Celiac Support group potluck and everyone requested the recipe. There were just a few small slivers that made their way back to "ma maison." My husband was lucky to get a piece. I finished off the smallest leftover wedge alone, telling myself that since it had apples, it was healthy. Right?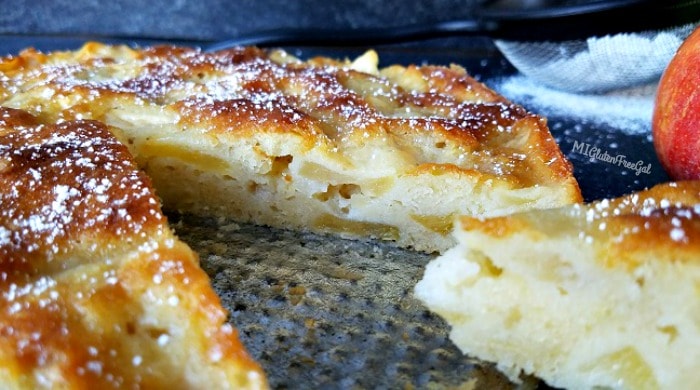 The Finished Product
Finally, I pass on to you what Dorie and David were so gracious to pass on to their readers. I hope this simple dessert brings as much joy to your pallet as it does to mine. In addition, I pray that you are able to share this French Apple Cake with those you enjoy, lingering in each other's presence. May we all take moments in our lives to place people over to-do lists and slow down enough to taste life in all its flavors. Bon appetit.
Other Gluten Free Apple Recipes You May Enjoy
This recipe contains dairy and eggs, and the Cup 4 Cup flour blend I use contains milk powder. If you need a vegan option, you may attempt using dairy free butter and flaxseed+ water, and use King Arthur Measure for Measure flour blend.
Looking for more apple based recipe? Try my small batch gluten free applesauce bundt cake, gluten free apple spice pancakes, mini grain free apple cheesecakes, or my gluten free and oat free apple crisp for two. Or use my never fail gluten free crescent dough to make gluten free apple dumplings.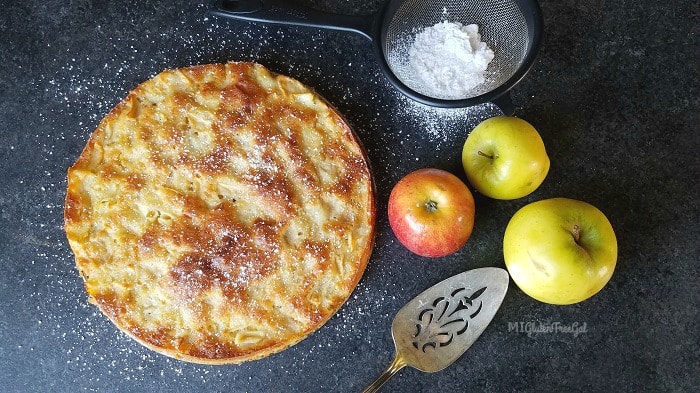 Gluten-Free French Apple Cake
Ingredients
3/4 c. Cup 4 Cup (Brand) Gluten Free Flour Blend
3/4 tsp. baking powder
pinch salt
8 tbsp butter, melted and cooled
4 large apples - peeled, cored & cut into 1" pieces (variety)
2 large eggs, room temperature
1/2 c. white sugar
1/4 c. brown sugar
2 tbsp. white rum (optional)
1/2 tsp. LorAnn Vanilla Extract
Instructions
In small bowl, melt butter and set aside to cool.
Peel, core and cut apples (preferably a variety of 4 types) into 1" chunks.
Preheat oven to 350 degrees. Generously butter the bottom of an 8" springform pan. Place on baking sheet with parchment or silicone mat underneath.
In a small bowl, combine flour, baking powder and salt.
In a medium / large bowl, whisk eggs until foamy. Add white and brown sugars and whisk until fully incorporated. Next, whisk in rum and vanilla.
In alternating portions, whisk in flour blend and melted butter. Repeat until all ingredients are mixed together.
Add apple chunks and use rubber scraper to stir them and coat liberally with the batter. Pour batter into greased springform pan and bake 50-60 minutes.
Serve with a dusting of powdered sugar, or ice cream.
**This post contains affiliate links.
Purchases made through those links help support this blog with no extra expense to you. Thank you for your continued support!**