Homemade Gluten Free Crescent Rolls
As an Amazon Associate and member of other affiliate programs, I earn from qualifying purchases.
Holiday meals feel incomplete without rolls. We may work hard to make our main dish and sides gluten free, but nothing compares to the enjoyment of fresh, warm rolls. These Gluten Free Crescent Rolls fill that void, and are a cinch to make!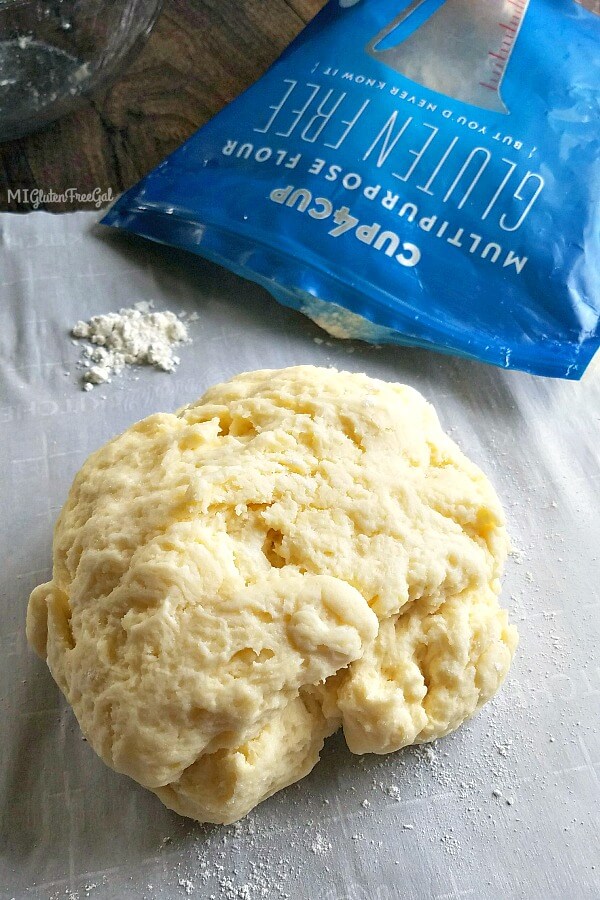 Room To Grow
Last year I made Gluten Free Resurrection Rolls and EVERYONE loved them. The recipe went viral on Facebook. I think it reached something like 20,000 people. Well, almost everyone loved them. One person made them without the marshmallows, and said they were dry and awful. Therefore, I've been meaning to make straight up gluten free crescent rolls.
So, I made them again. And again. And again, until I felt I got them right. Now of course, I have a freezer full of rolls and a waistline that doesn't need them. Yeah, don't need to grow there, lol. *It's 2020, and I've made them again, with a time saving change. I completely cut our the 90 minute rise time. Read below to learn more.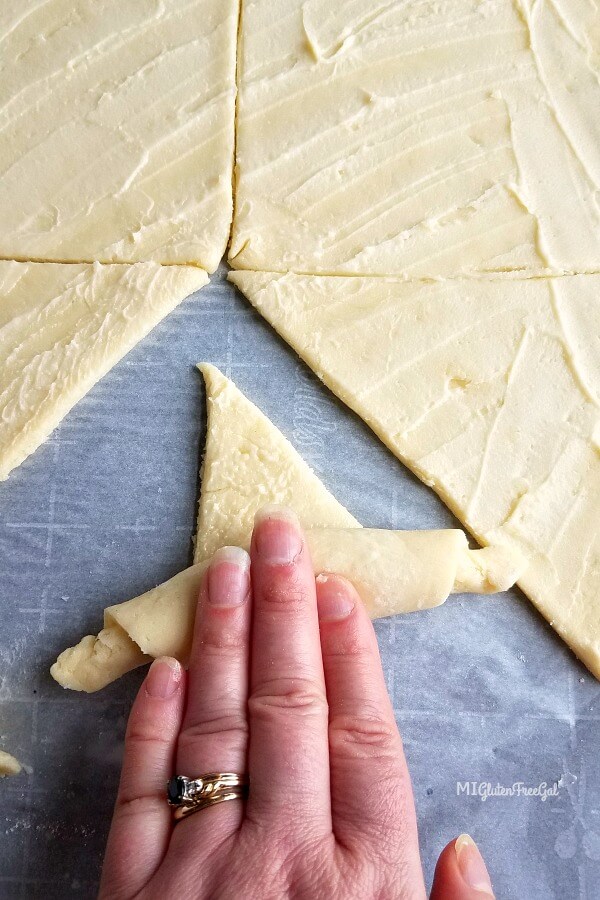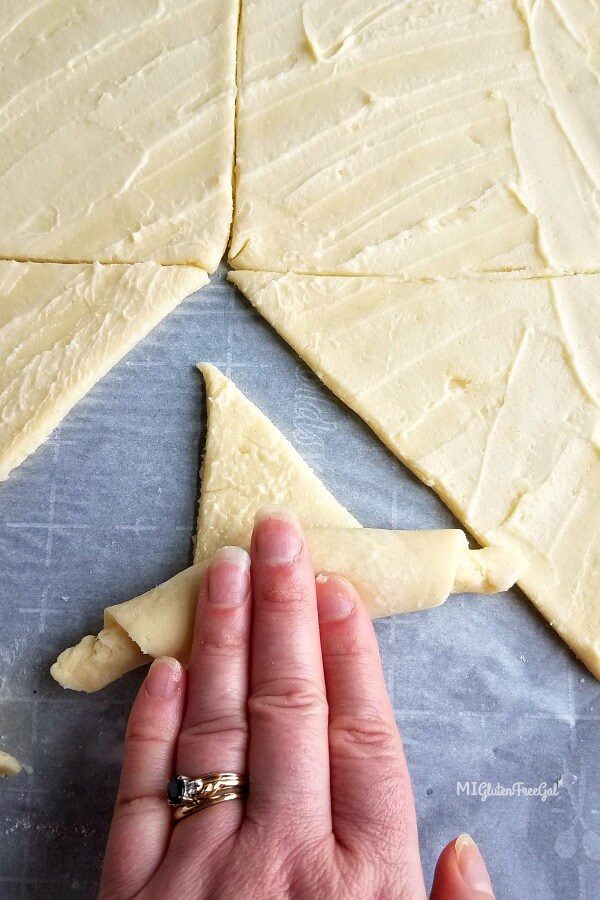 Dairy Makes A Difference
Extra butter. That's what my recipe was missing last year. Not in the recipe, but ON the rolls itself. The picture above probably looks like shaggy flour, but it's not. It's dough covered with a thin layer of butter. Think of your circle of rolled dough as a pizza crust, and butter as the sauce. Make sense? Don't skip this step, or your rolls will be dry.
Speaking of butter, I have not yet tried these gluten free crescent rolls sans dairy. Cup 4 Cup Multipurpose Flour contains milk powder as an ingredient. I used shortening in my second attempt in these rolls, and was not excited about it. For those who need a dairy AND egg free recipe, please try these Gluten Free Vegan Garlic Crescent Rolls from Petite Allergy Treats.
Also, using less flour than before improved this recipe. Note, GF flours absorb moisture differently.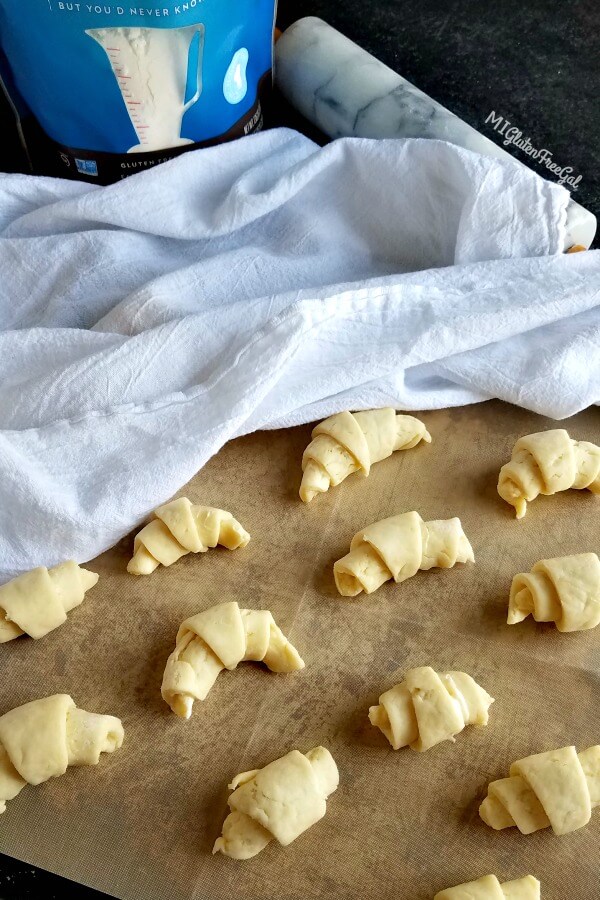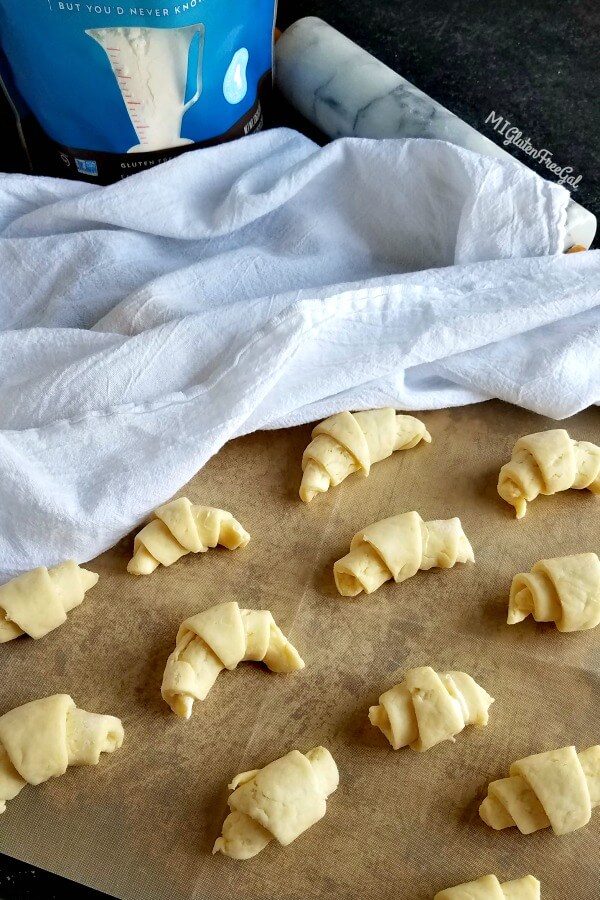 Rolling On
I conquered the dough for these gluten free crescent rolls. Next, to master the actual rolling. I based my recipe on the one from Betty Crocker. That cookbook recommends making 16 crescents. (Smaller rolls pictured above.) Can I be honest? Too small. If I'm gonna go to the trouble of making rolls from scratch, I want more than just two bites.
Therefore, in my next attempt I cut my circle to make 8 gluten free crescent rolls. Go big or go home, right? Next time, I may make 12 though. No need for carb overload, right? A tip on how to form your gluten free crescent rolls. First, roll the wedge of dough forward from the outside edge, in toward the center. This helps you form those perfect spirals.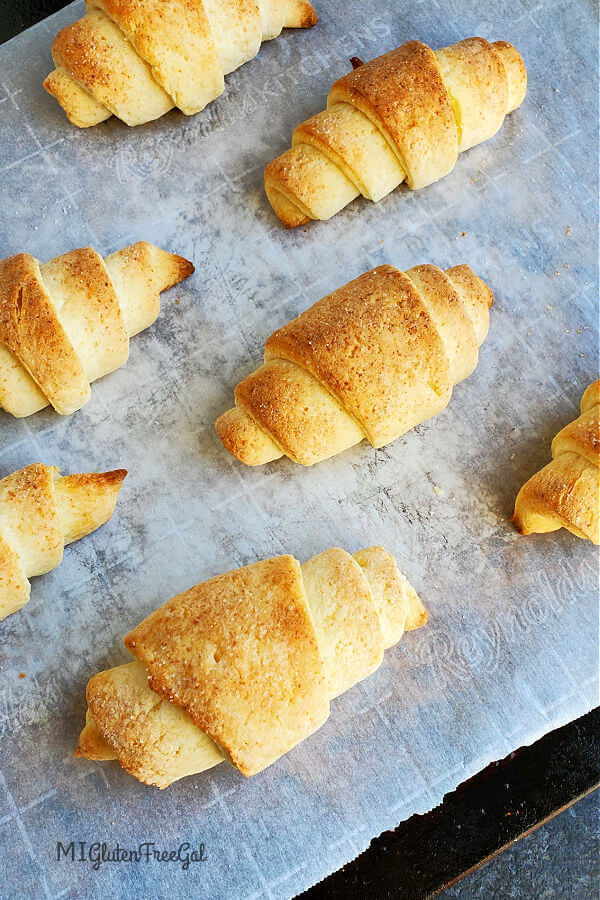 **Time Saving Update – Roll, Rise and Bake (Fall 2020)
This recipe for gluten free crecent dough has been my "go to" for so many things. However, after talking with Jules Shepard, I've made some tweaks. In the past, I've allowed the dough to rise, then rolled them, then allowed them to rise again. She said the second rise was unnecessary. You can hear more of her baking tips in my May 2020 interview with her.
So, I took her at her word, and made them again, with her advice. I eliminated the 90 minute dough rise all together. Once the crescent dough was formed, I rolled it, brushed it with butter, and then cut and rolled the dough into crescents rolls. Then I allowed them to rise in a warm spot for 30 minutes. Once risen, I preheated the oven to 350 degrees and baked them for 12 minutes. I took pictures of the rolls made with the shorter process, and I must say that they taste amazing!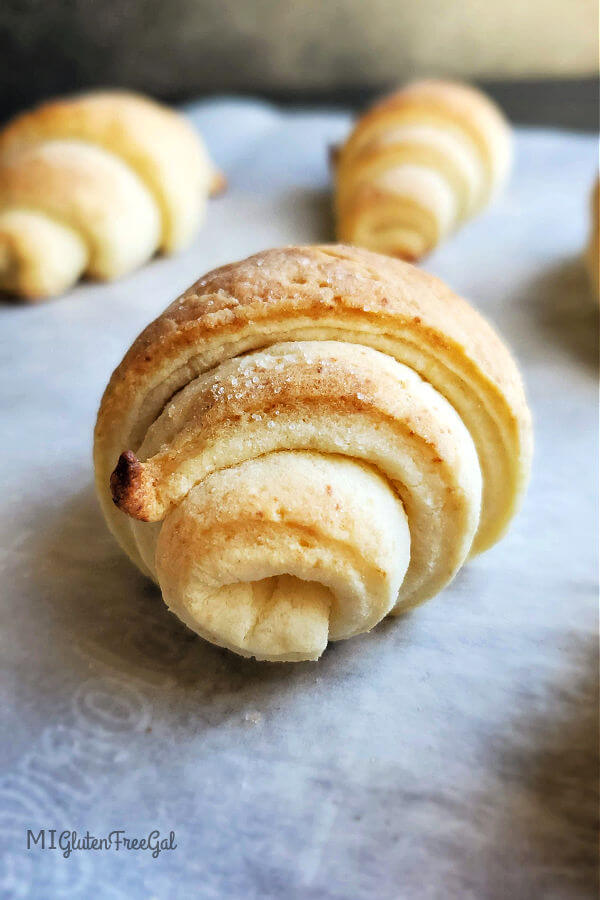 Breaking Bread Together
While I could easily keep these delicious gluten free crescent rolls to myself, I recommend sharing them with those you love. One, because they'll know you're a baking badass superstar. Most importantly, we deserve to be included in social situations. Even if you just have a friend over for tea and rolls with jam, live gluten free, proudly.
My husband and I ate these rolls with a dinner of roasted chicken, green beans, gluten free au gratin potatoes and my mother-in-law's famous lemon cake. We don't eat pork, but these would pair great with your Gluten Free Easter ham. Or make this Roast Beef from Allergy Free Alaska, and have delicious leftovers!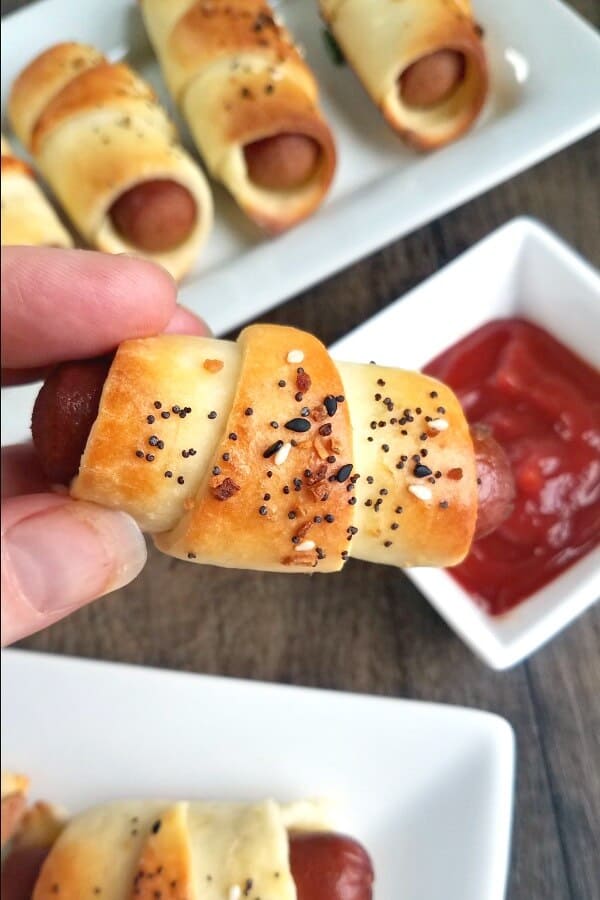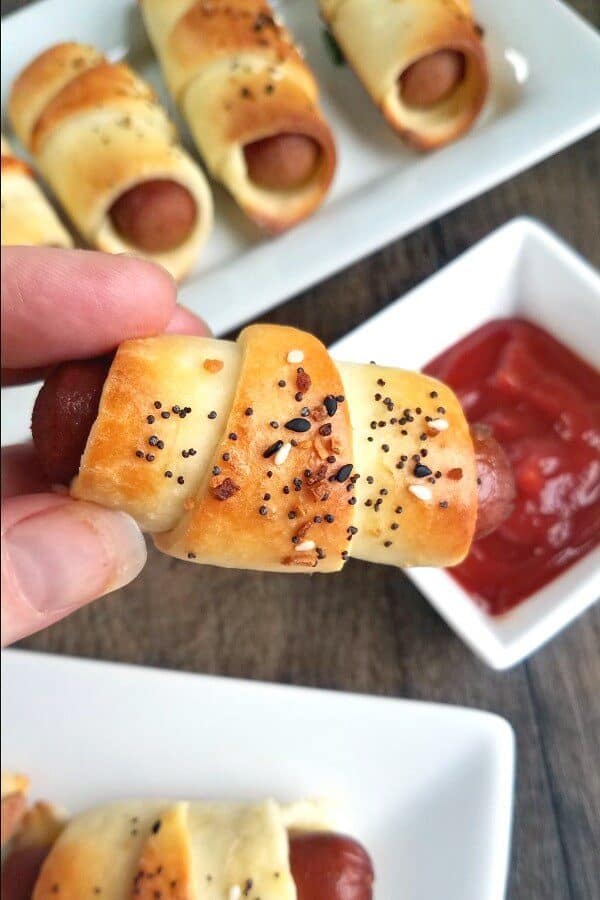 Other Uses For This Dough
I use this crescent dough to recreate all the "Pillsbury" based recipes you miss. Use this dough to make Pigs in a Blanket, Mountain Dew Apple Dumplings, and Cheeseburger Crescent Rings. (Do not baste the inside of the roll with butter, tho.) I also use this dough to make Gluten Free Resurrection Rolls, which are perfect for Easter.
***Important Note – This recipe was made with Cup 4 Cup flour. I've tried it with other flours, and have not had good results. For successfull crescent rolls, please make these with the flour I recommend. If you use a different flour blend, I can not guarantee that you'll have good results.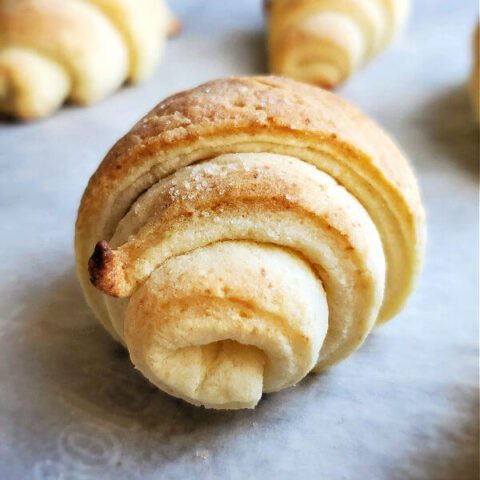 Homemade Gluten Free Crescent Rolls
Ingredients
1 pkg active yeast (or fast rise yeast)
6 tbsp warm water (105-110 degrees)
4 tbsp sugar, divided
1 3/4 cup Cup 4 Cup flour
1/4 c. butter, softened, cut into small pieces
1 egg
1/2 tsp salt
Additional 2 tbsp softened butter for spreading and basting
Instructions
Preheat the oven to 200 degrees. (We are warming the oven to create an environment for proofing the dough. You will turn it off prior to putting the dough ball in the oven. Turn it off once it reaches 200 degrees)
To begin, proof your yeast. I use a glass 2 cup measuring cup to do this. Mix the yeast and 1 tbsp sugar together. To that, add your warm water and allow to proof for 5-10 minutes. It should easily double in size, if not more.
**Update - You can also use instant rise yeast, which requires no proofing. Simply add the dry yeast to the blend of flour and sugar. Add warm water to the dough as the recipe calls for.
Meanwhile, in a stand mixer, combine the flour and chunks of softened butter. Using the paddle attachment, mix the flour and butter together. Do so until it all the butter is incorporated without large chunks.
To that add the egg, salt, 3 tbsp sugar and proofed yeast. (Or just warm water, if you used rapid rise yeast.) Turn stand mixer on low, and allow to run until all ingredients are mixed together and a dough forms.
TURN OVEN OFF. (If you haven't already.)
Place dough on a lightly floured surface. Using a rolling pin, roll into a 12 inch circle. Gently spread approximately 2 tbsp softened butter on top of dough.
Cut dough into 12 (or 8) sections. Working from the outside, roll each individual triangle towards the center to create your crescent. Place on a parchment paper lined cookie sheet, and repeat with remaining dough.
Place rolls in the warmed (but turned off) oven. Cover with a towel, and allow to rise for 30-45 minutes.
After rolls have risen to almost double their size, remove rolls from oven, and preheat oven to 350 degrees. While oven is heating, brush each roll with a thin coat of butter to prevent over browning while baking. Oil can also be used.
Once oven comes to temperature, bake rolls in oven for 12-15 minutes. I always rotate my pans halfway through the baking cycle.
After rolls are done, remove from oven, and serve warm. If desired, brush with any remaining melted butter.
Freeze any remaining rolls for later.
This post is not sponsored by Cup 4 Cup. However, Plan It Products did give me a the Cooking Liner free of charge while I was at the International Housewares Show. It works like thin parchment paper, but is reusable. I have to admit, I LOVE it! Next I need to see how it compares to using a silpat versus parchment paper. Who wants cookies?
This post does contain Amazon affiliate links. Purchases made through those links help support this blog with no extra expense to you. Thank you for your continued support!