Gluten Free Biscuits
As an Amazon Associate and member of other affiliate programs, I earn from qualifying purchases.
These gluten free biscuits are tender and flaky. They melt in your mouth, and are so good, you'll want to make them all the time. This post is sponsored by Lifeway Kefir.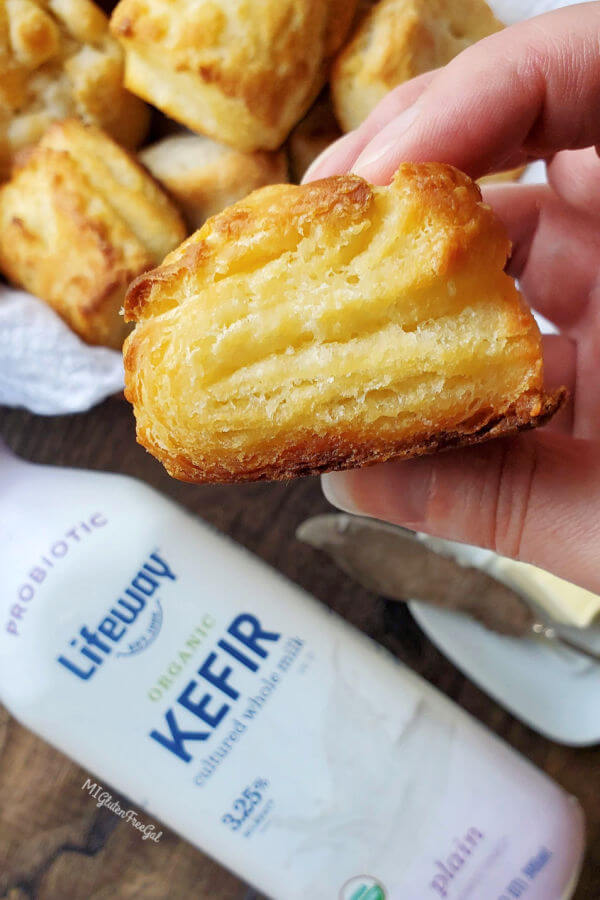 Gluten Free Kefir Biscuits
So often in Facebook groups, I see people asking for brands that make premade, "whack and unwrap" gluten free biscuits. The reality is that there is not a brand that makes those. Which means we'll have to make them ourselves. Luckily, gluten free biscuits aren't that hard to make. The dough freezes exceptionally well, too!
What is Kefir?
So glad you asked. Kefir is like a drinkable yogurt. It's a fermented milk beverage, created by adding bacteria and yeast cultures. (Because of its fermentation, it's often called the "Champagne of Dairy.") The probiotics found in kefir help create good bacteria for the gut. This keeps us healthy, and may even help us sleep better!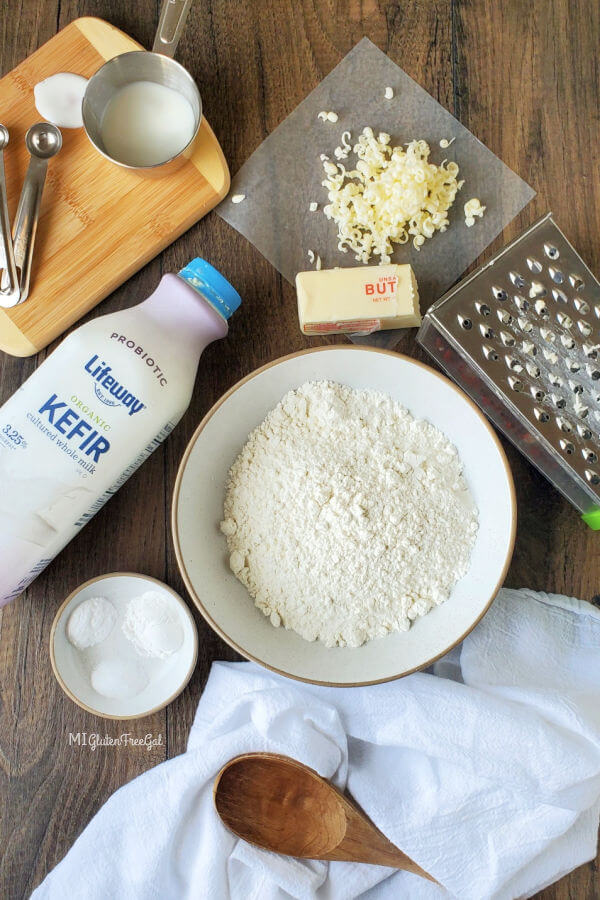 Why I Choose Lifeway Plain Whole Milk Kefir Over Buttermilk
Simply put, I don't keep buttermilk in my house. It seems to be primarily used in baking, and I just don't bake with buttermilk often. Kefir, however, I can use in lots of ways. Especially as the base of a smoothie with lots of fruit! (Or this Sweet Potato Pie Smoothie!) Plus it works great as a Turkey Brine, or as a buttermilk substitute in this Oven Fried Chicken recipe. (Check out the chicken in a biscuit photo, below. Crazy good!)
In addition, Lifeway's Organic Whole Milk Plain Kefir has less sodium, cholesterol and carbohydrates than buttermilk. While my local store's house brand of buttermilk has 340 mg of sodium, Lifeway Kefir only has 125 mg. That's a 200+ mg difference! (They both contain the same milkfat.) Please note that Lifeway also makes a 1% fat plain kefir. That is not what I've used in this recipe.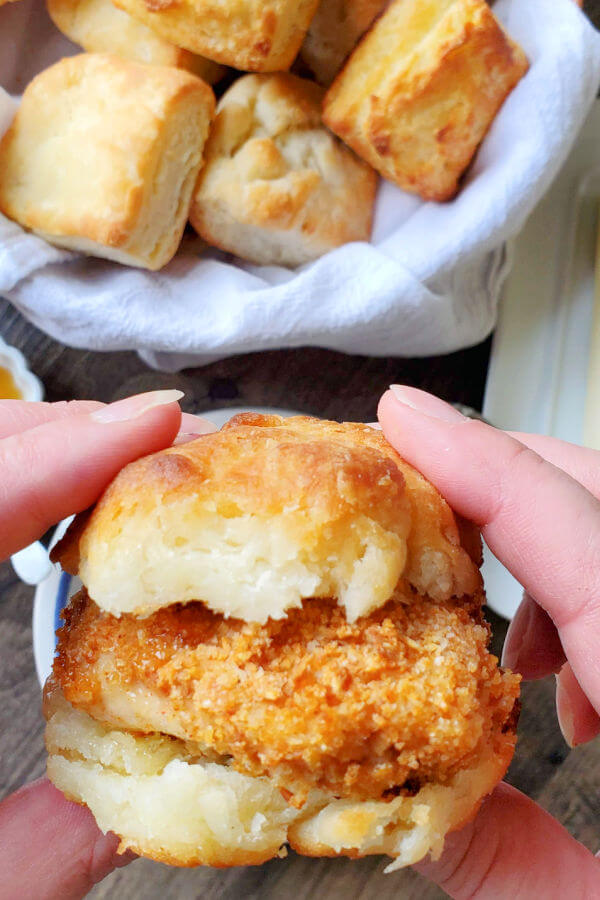 These Gluten Free Free Biscuits are a Great Pillsbury Replacement
First, one batch of dough for my Gluten Free Biscuits weighs between 15-16 ounces. A can of Pillsbury biscuits weighs 16 oz. Also, the beauty of this biscuit dough is that it freezes well ! Prep a batch of these over the weekend, stick the uncooked biscuits in the freezer, and then pull out how many you need and bake them from frozen!
Also, these don't take a long time to make. This recipe only uses 6 ingredents- flour, salt, baking powder, baking soda, butter and Lifeway's 3.25% Plain Kefir. One batch of my Gluten Free Biscuit dough should take you less than 20 minutes to pull together.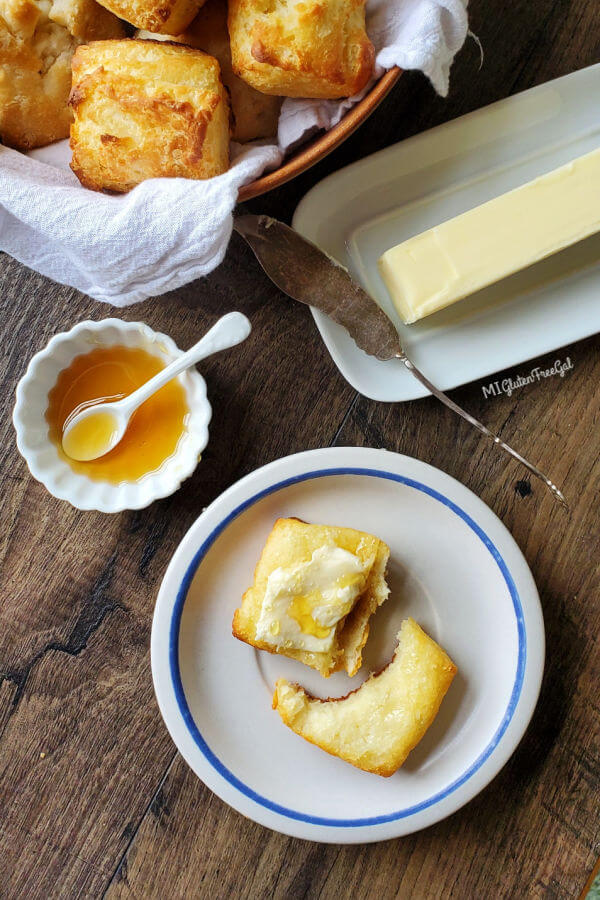 Can I Use This Gluten Free Biscuit Recipe to Make Gluten Free Monkey Bread?
No. I tried it, and it doesn't really rise well enough. I recommend the Gluten Free Monkey Bread recipe I have on my site. Another person mentioned they previously used Pillsbury biscuits to make Gluten Free Pigs in a Blanket. I would recommend using my recipe for that, which uses yeasted cresent dough. (And also Cup 4 Cup flour.)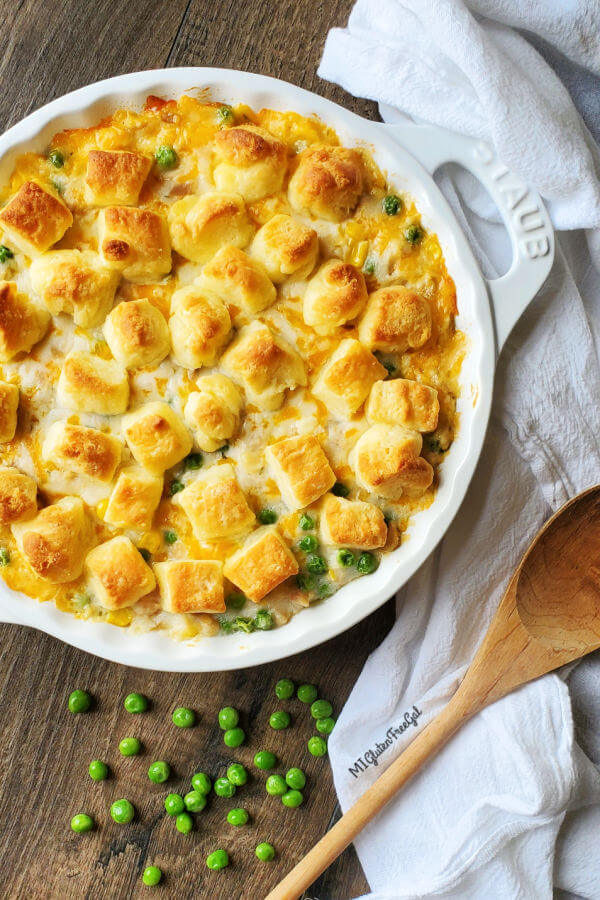 Can I Use This Recipe to Make Gluten Free Chicken Pot Pie/ Bubble Up?
Yes! I made the above dish based on the recipe on the Pillsbury website. To substiute the Campbell's soup, I used Flippin' Delicious' recipe for homemade Gluten Free Cream of Chicken Soup. Of course this recipe for Gluten Free Biscuits would work well for Biscuits and Gravy. I like using Full Flavor Foods Cream Sauce Mix for this.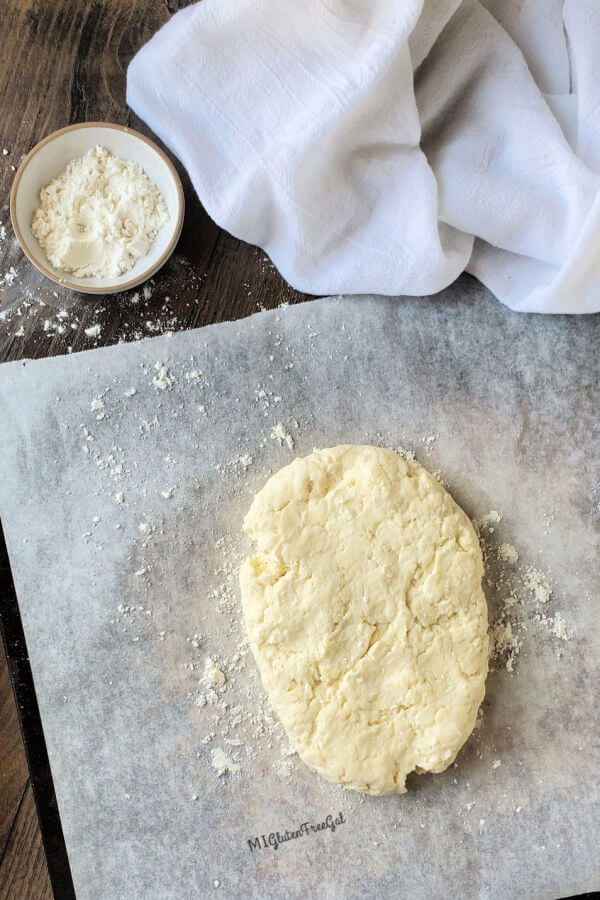 FAQ About Ingredient Substitutions
This recipe contains butter and Kefir. I would not recommend making dairy substitutions. If you need gluten and dairy free biscuits, try Allergy Free Alaska's Gluten Free Biscuits. My recipe is already egg free, so no worries there. If you're looking for a grain free option, try these Herby Paleo Biscuits from A Saucy Kitchen.
I created this recipe using Cup 4 Cup Multipurpose Flour. I have tried this recipe with other flour blends, and DO NOT recommend using a different flour. Using a different flour blend will result in a denser biscuit. If you prefer to use Bob's Red Mill, try these Gluten Free Southern Biscuits from Gluten Free Palate. If you use King Arthur's Measure for Measure, try these Gluten Free Buttermilk Biscuits from Bakes & Blunders.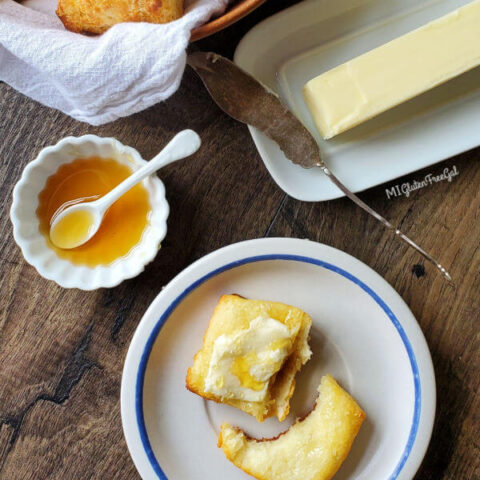 Gluten Free Biscuits
Ingredients
1 1/2 cups Cup 4 Cup Multipurpose Flour Blend (182 grams)
1 1/2 tsp baking powder
1/2 tsp baking soda
1/2 tsp salt
6 tbsp butter, frozen and grated
3/4 c Lifeway Organic Plain Whole Milk Kefir (3.25%)
Instructions
In a large bowl, combine flour, baking powder, baking soda, and salt. Give it a quick stir so that all the dry ingredients are equally distributed.
Over the bowl, grate 6 tbsp frozen butter. (If you're going to freeze the biscuits before baking, you can use refrigerated butter.) The reason we use frozen butter is to keep the dough as cold as possible before baking. As the butter melts, it will add lift.
Gently fold the butter into the flour mixture until all the grated butter is coated in flour.
Next, add in the (cold) Whole Milk Kefir and stir with a rubber spatula, until a ball of dough starts to form. You may want to let the dough rest a few minutes to allow the flour to absorb the moisture from the Kefir.
When you're ready to cut out your biscuits, place the dough on parchment paper that's been lightly coated in flour. Gently pat it into a rectangle. (Don't roll it!) Pat it into a rectangular shape.
Next, fold the dough over itself, and then pat into a rectangle again. Repeat this 5-6 times. This is to help "laminate" the butter in the dough, to create layers when the biscuits bake. (Which helps to create a fluffier biscuit.)
(Add more flour to keep the dough from sticking as you fold, if needed.)
Cut the dough into 8 equal portions. I prefer to keep them in squares. They can also be cut into round circles. Whether you cut them into squares or circles, cut with a straight edge or round circle, from above.
Bake biscuits in a 450 degree oven. Bake 13-15 minutes if fresh, 15-19 minutes if frozen.
**Lifeway Kefir financially sponsored this post. This post does contain affiliate links. Purchases made through those links help support this blog with no extra expense to you. Thank you for your continued support!**