Gluten Free Apple Spice Pancakes
As an Amazon Associate and member of other affiliate programs, I earn from qualifying purchases.
Every autumn, the world goes nuts for Pumpkin Spice EVERYTHING. However, I'm more of an apple girl. Which is why I LOVE these Gluten Free Apple Spice Pancakes. Don't forget the cooked apple topping!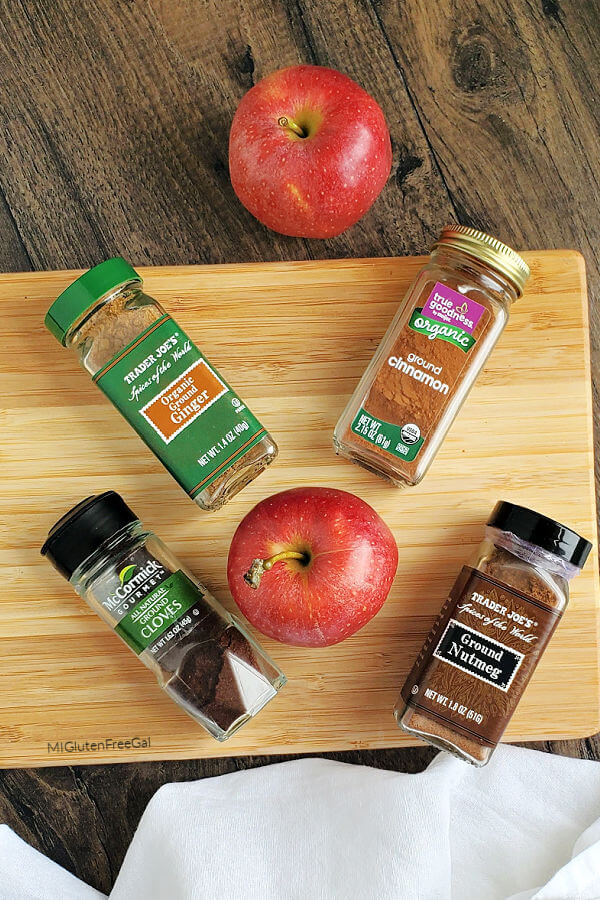 What Is In Apple Pie Spice?
While one can purchase apple pie spice at the store, it's fairly simply to put together yourself. According to various articles on the internet, Apple Pie Spice is primarily composed of
Cinnamon
Cloves
Nutmeg
Ginger
Allspice (occassionally)
My recipe for Gluten Free Apple Spice Pancakes use individually measured spices. However, you could use 2 tsp prepared apple pie spice in this recipe. However, I haven't tried that, so I can't tell you exactly how that would taste. Also, this recipe doesn't just use an apple spice blend. It also includes applesauce, for real apple flavor.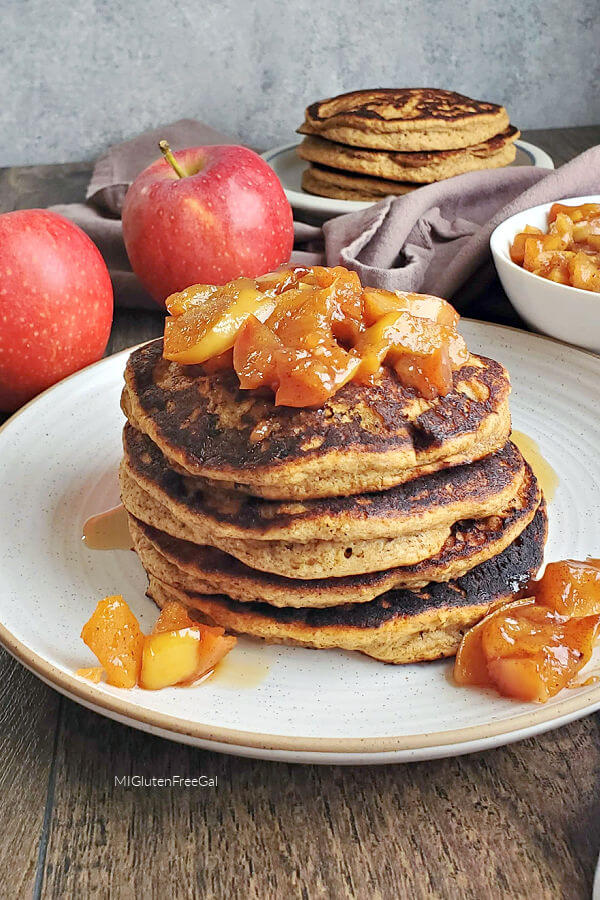 What Gluten Free Flour Do You Use?
When I looked at other gluten free apple pancake recipes, almost all of them contain oats. Which is fine if your stomach tolerates certified gluten free oats. However, my stomach doesn't, and I know there are many people out here in the same boat. For my recipe, I used King Arthur Measure for Measure Gluten Free Flour Blend.
What Other Tips Do You Have for Making Apple Spice Pancakes?
As a general rule, gluten free batters benefit from a resting period. That allows the flour to absorb all of the moisture. For these gluten free apple spice pancakes, I allowed the batter rest for 1o minutes, whild chopping up my apples. Also, I recommend adding just a touch of vinegar to your milk. This gives the leaveners more to react, to create fluffier pancakes.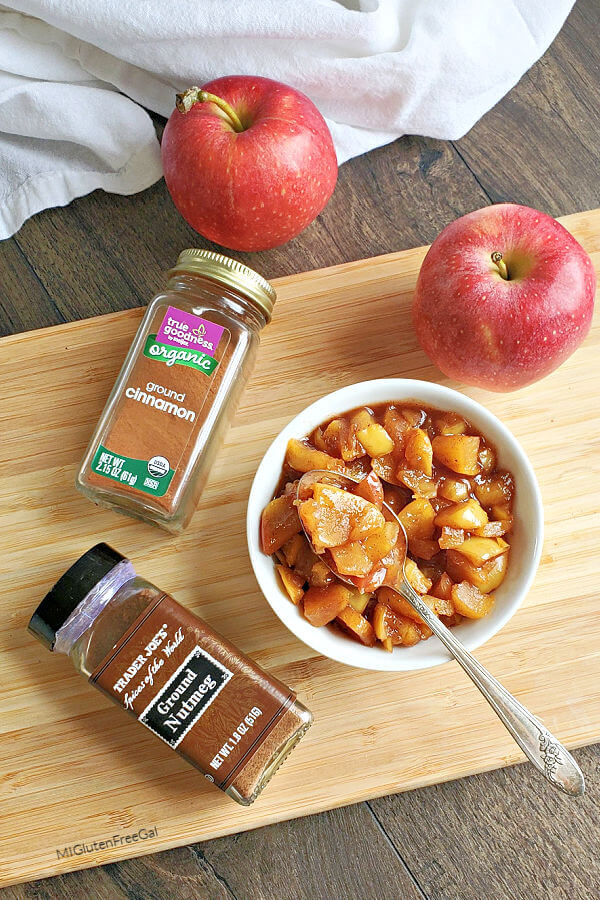 Tell Me More About These Cooked Apples!
While these Gluten Free Apple Spice Pancakes taste great with just syrup, these simple cooked apples take this recipe over the top. It requires very few ingredients- butter, water (or cider), brown sugar, and chopped apples. Then, you cook all of that together in a small pot, and you're on a roll.
I use these same cooked apples in my Grain Free Mini Apple Cheesecakes. They also taste great on top of Congee, for a sweet, and fruity breakfast porridge. You could also add them on top of my gluten free apple dumplings, for more added apple deliciousness.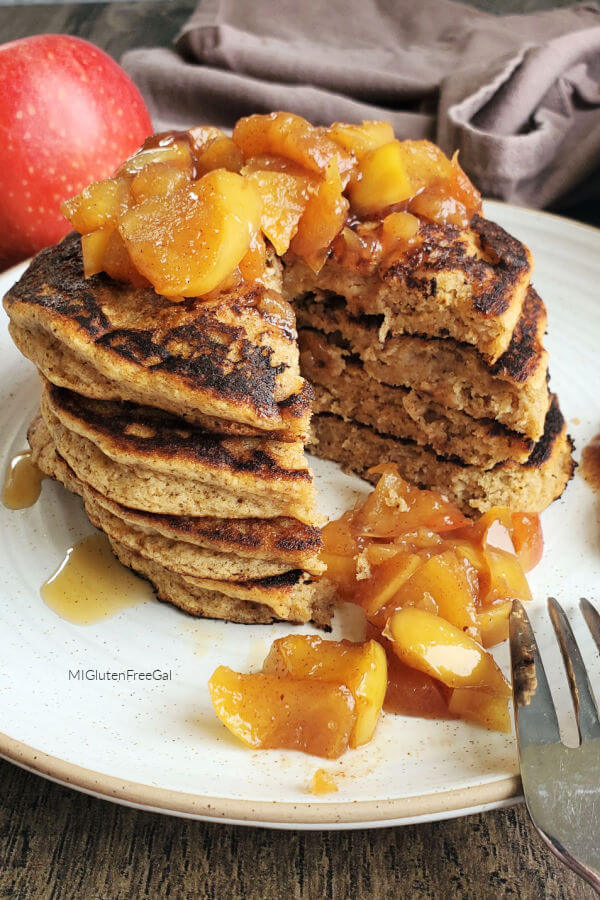 Can I Make These Apple Spice Pancakes Egg Free/ Dairy Free/ Grain Free?
I have not tried this recipe using any ingredient substitutions. My Gluten Free Apple Spice recipe does use melted butter and milk. I theorize that you could use a dairy free milk and oil, instead. If you need gluten free, egg free pancakes, try these Gluten Free Fluffy Vegan Pancakes from Allergy Awesomeness. Simply add the apple pie spices to your batter.
If you need a grain free recipe, you cannot simply substitute almond flour or coconut flour for the all purpose flour blend. (You might be able to substitute 3/4 of Otto's Cassava Flour for the 1 cup of gluten free Measure for Measure blend I use, per Otto's website.) For a grain free pancake recipe, try Love and Lemons Almond Flour Pancakes.
Does This Recipe Contain Tapioca Starch?
Yes. King Arthur's Measure for Measure blend contains tapioca starch. A follower recently asked me about gluten free flour blends that are almond free and tapioca free. Krusteaz Gluten Free All Purpose Flour fits both of those requirements. In fact, it's the only premade gluten free flour blend I've found that doesn't use tapioca. You *should* be able to use that flour in this recipe, as well.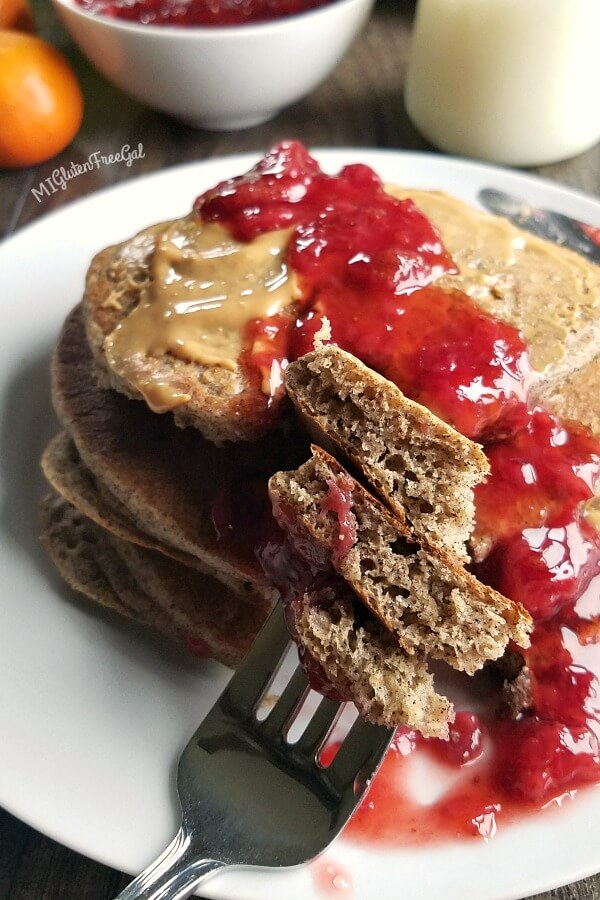 Other Pancake Recipes
We eat pancakes in our house every Saturday. When I crave something heartier, we make these gluten free buckwheat pancakes. I've recently fallen in love with these light and fluffy gluten free pancakes from What the Fork. I make them with King Arthur Flour Measure for Measure gf flour. If you still crave Pumpkin pancakes, try this Gluten-Free Pumpkin Pancake recipe from King Arthur. It uses the same Measure for Measure flour blend.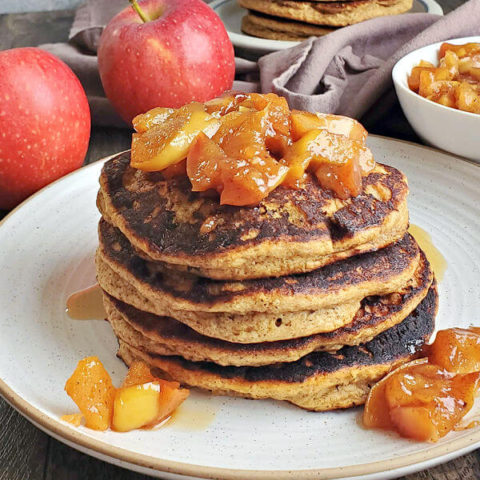 Gluten-Free Apple Pie *Buttermilk* pancakes
Ingredients
Ingredients:
1/2 cup milk
1 tsp apple cider vinegar
1/2 cup natural applesauce
1 tbsp. brown sugar
1 egg
2 tbsp. butter, melted
1 tsp vanilla
1 cup (121 g) King Arthur Measure for Measure Gluten Free Flour
1 tsp. baking powder
1/2 tsp. baking soda
1/2 tsp. salt
1 tsp. cinnamon
1/2 tsp. nutmeg
1/4 - 1/2 tsp. cloves
Pinch of ginger
MyRecipes Cooked Apples
4 apples
1/2 c brown sugar, firmly packed
1 tsp cinnamon
1/4 tsp nutmeg
2 tbsp apple cider or water
1 tbsp butter
Instructions
Preheat your cooking surface. We use an iron griddle that covers two burners. I spray it with Pam and let it slowly heat up. It should be a good temperature by the time you're done mixing things together.
First, melt your 2 tbsp. of butter in a large glass batter bowl,. Generally 25-30 seconds does it for me. Stir it with a whisk to further break down any clumps. Next, mix in the soured milk, applesauce and sugar until well blended. Mix in the egg until fully incorporated. Whisk all wet ingredients together until smooth.
In a small bowl, combine all of your dry ingredients. Whisk to incorporate baking soda and baking powder. Add dry ingredients to the wet and whisk until all the flour is absorbed. Allow the batter to sit for 2-3 minutes before making your pancakes. It helps to activate the leavening agents.
Pour scant 1/4 of batter on your cooking surface and cook until bubbles begin to form around the edge. Flip and cook for 30 seconds to a minute.
For the cooked apples - Combine all ingredients in a medium sauce pan. Cook for 10 minutes until apples are soft.
What favorite pancake recipe do you have? Please share your pancake adventures in the comments below!
**This page contains affiliate links. This helps to offset the cost of my blog. A small portion is directed back to me, however it does not affect the cost of your item. Thank you for your support!**