Gluten Free Peanut Butter Bread
As an Amazon Associate and member of other affiliate programs, I earn from qualifying purchases.
Forget banana bread. This gluten free peanut butter bread is the new quick bread to add to your "to bake" list. It uses no eggs, nor additional oil. It may just be the easiest, and tastiest, bread ever!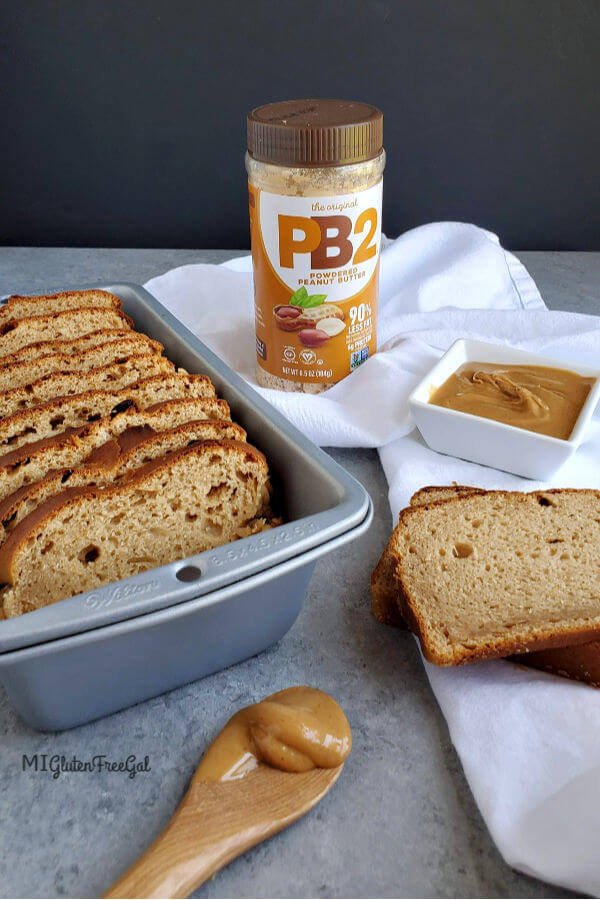 What is PB2 Powdered Peanut Butter?
When I first saw the peanut butter bread on the Glen and Friends You Tube channel, I knew I had to try it. Since it contains no eggs, it easily scaled down to a smaller batch. Like Glen, I agreed that it needed more "peanut butter" flavor. However, I was concerned about upsetting the balance of liquids and fats by adding more peanut butter.
Which lead me to add PB2 powdered peanut butter to the batter. PB2 takes roasted peanuts, presses the oils from them, and then grinds the rest to a powder. It resembles a powder similar in texture to cocoa powder. The general rule in turning a "yellow cake" into a chocolate one is to swap out equal parts of flour for cocoa powder. Therefore, I took out 1/4 cup of the flour from Glen's recipe, and substituted the PB2. It worked great, and deepened the peanut flavor in this bread.
If you don't have PB2, simply use 2 cups of gluten free flour, instead of 1 3/4.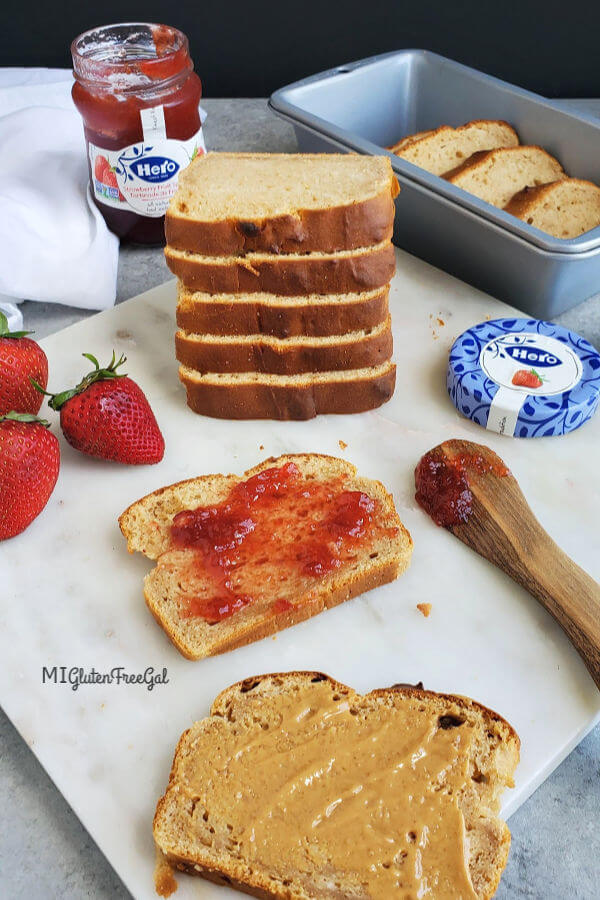 This Gluten Free Peanut Butter Bread makes an amazing PB +J!
Can You Make This Bread Without Dairy and Eggs?
This gluten free peanut butter bread uses no eggs. (No yeast, either.) However, it does require the use of milk. I did make this bread using Cup 4 Cup flour, which contains milk powder. This recipe works well with King Arthur Flour Measure for Measure, which contains no dairy. To substitute the milk, I would try canned coconut milk, either full fat or lite.
Can You Make This Bread Without Peanut Butter?
Great question. I don't know. In theory, if you can't have peanuts, I think other nut butters might work. I think I would attempt almond butter, like I did in these Almond Butter Chai Cookies. If you can't tolerate any nuts, you can try SunButter. However, it might turn your baked goods green. For this recipe, I used natural peanut butter, with no added hydrogenated oils.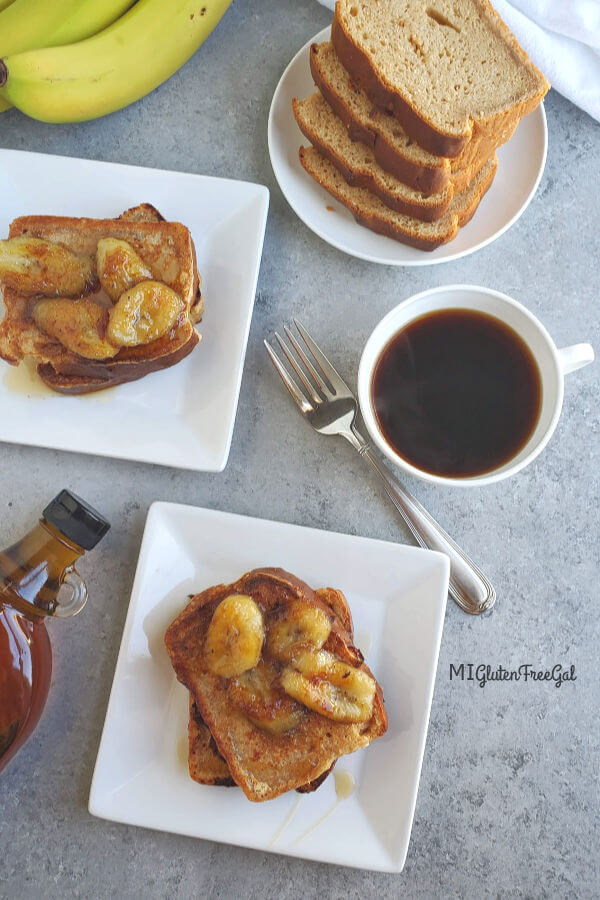 Turn this Gluten Free Peanut Butter Bread into Gluten Free French Toast, and top with caramelized bananas!
Why You Should Bake This Peanut Butter Bread at 325*.
The first time I baked this gluten free peanut butter bread, it split on the side. I believe this is because I baked it at too high a temperature. Instead of 350, bake this at 325 for a longer period of time. The Kitchn recommended baking it at a higher temp for the first 10 minutes, but that still caused my bread to split. Low and slow is what you want to go for.
When I baked this bread the second time, I added 1/2 cup Enjoy Life Mini Chocolate Chips, and it turned out perfectly. The first loaf, in the above pictures, was prepared using a stand mixer. This made the batter much smoother. The second time I prepared it in a bowl, and stirred it with a spoon. The top of the baked loaf ended up lumpier, but still delicious.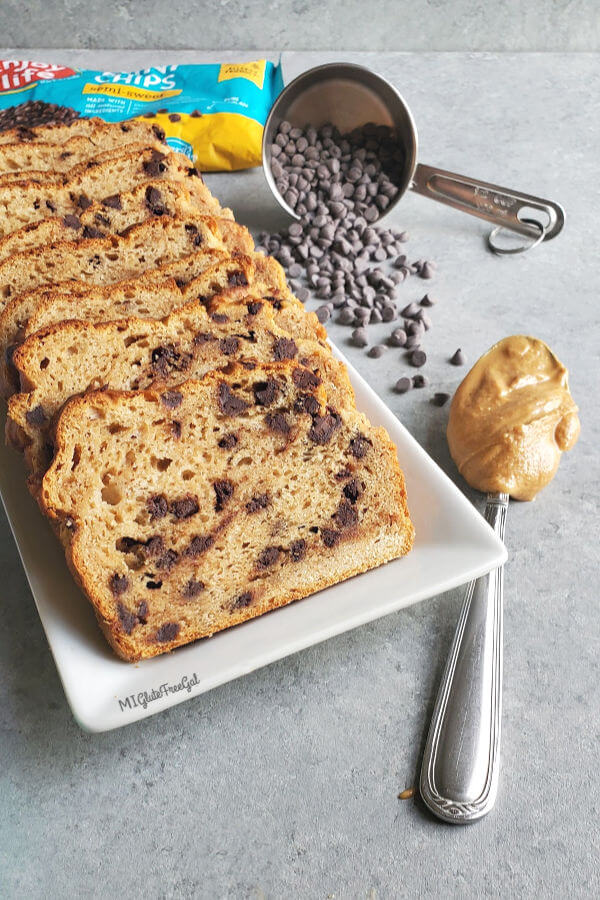 Other Peanut Butter Recipes
I absolutely love peanut butter. In our house, we put it on top of these buckwheat pancakes. My Peanut Butter Pie Shake is a great treat without any refined sugar, and includes hidden fruit! Make it with my homemade gluten free graham crackers. 🙂 If you're looking for something savory, I could put this 5 ingredient peanut sauce by Minimalist Baker on just about every meal.
If you're looking for different flavors of bread, try my gluten free blueberry zucchini bread. Craving pumpkin bread? Try this one from Wheat by the Wayside, in my pumpkin bread pudding recipe. In addition, What the Fork wrote a super list of gluten free quick bread recipes. She even has her own gluten free quick bread cookbook!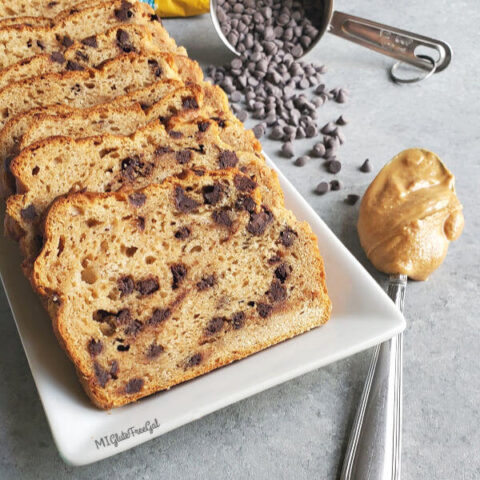 Gluten Free Peanut Butter Bread
Ingredients
1 3/4 c flour (I used Cup 4 Cup brand)
1/4 c powdered peanut butter
3 tbsp white sugar
3 tbsp brown sugar
4 tsp baking powder
1/2 tsp salt
1 1/3 c milk (optional 4 tsp vinegar)
1/2 c natural peanut butter
(if you use Jif, which contains sugar, I'd reduce each type of sugar by 1 tbsp)
(optional - 1/2 c mini chocolate chips)
Instructions
Preheat oven to 325 degrees.
In a large bowl, or stand mixer, combine flour, peanut butter powder, sugars, baking powder and salt. Stir to make sure that all ingredients are blended well, especially making sure that the peanut butter powder is evenly distributed.
Next, add milk slowly, blending thoroughly. The first two times I made this, I just used plain milk. The third time, I used a milk to which i added vinegar. I'm not sure I could tell a big difference, but it definitely didn't' hurt. If you're going to add the vinegar to the milk, allow the milk to set for 5 minutes before adding to the batter.
Finally, add peanut butter. Make sure to stir thoroughly, but don't over mix. If adding chocolate chips, do so after stirring in the peanut butter.
Pour into a greased or parchment paper lined loaf pan. (I've done it both ways.) I used a medium loaf pan, which helps with creating a taller loaf. It measures 8.5 x 4.5. You can use a large 9 x 5 loaf pan. Your loaf will just be shorter.
Place in a 325 degree heated oven and bake for 50 minutes. The first time, I baked this at 350 for 40 minutes. However, it split along the top. (Although it was completely cooked in the center.) The original recipe called for baking it at 325 for one hour.I think 50 minutes is more accurate. To prevent the top from over browning, you may want to cover with foil after the first 30 minutes.
Remove from the oven and allow to cool in pan for about 10-15 minutes. This allows the sides to cool and firm up. Then remove from the pan and place on the rack to cool completely before slicing. Probably at least an hour.
What's been on your baking list lately? Any new recipes I should try? Leave me a note in the comments!
**This post contains affiliate links. Purchases made through those links help support this blog with no extra expense to you. Thank you for your continued support!**