Gluten Free Peanut Butter Pie Shake
As an Amazon Associate and member of other affiliate programs, I earn from qualifying purchases.
This delicious Gluten Free Peanut Butter Pie Shake uses no added sugar, no ice cream, and has added protein. But don't think for one minute it's not delicious! This shake will fool everyone into thinking it's the real deal!
Right now, we are midway through November, 2018. We've had our second snow of the year, and most people are thinking about their Thanksgiving spread. However, November stands out for another holiday. National Peanut Butter Lovers Month. In all honesty, that's every month for me. But I figured this was a good excuse to whip up this Gluten Free Peanut Butter Pie Shake.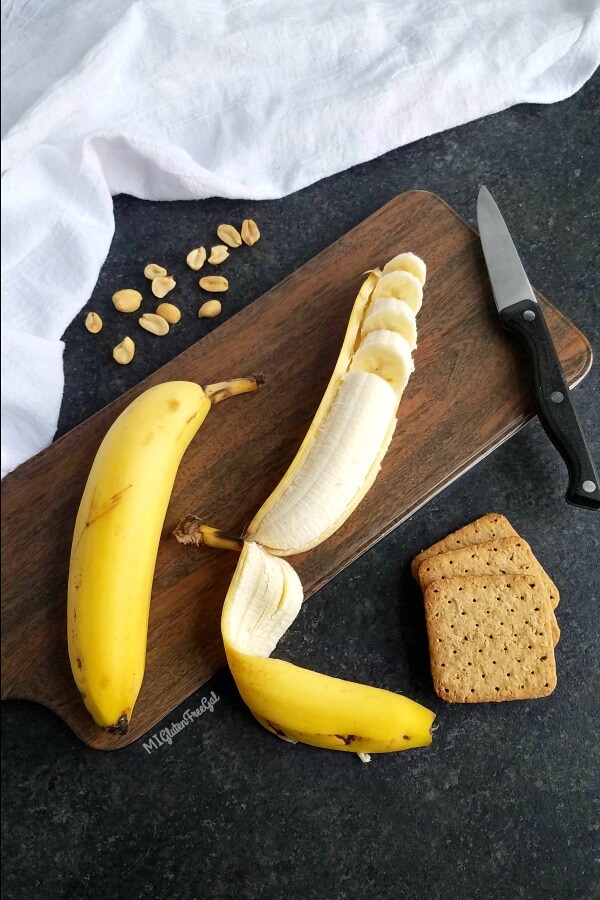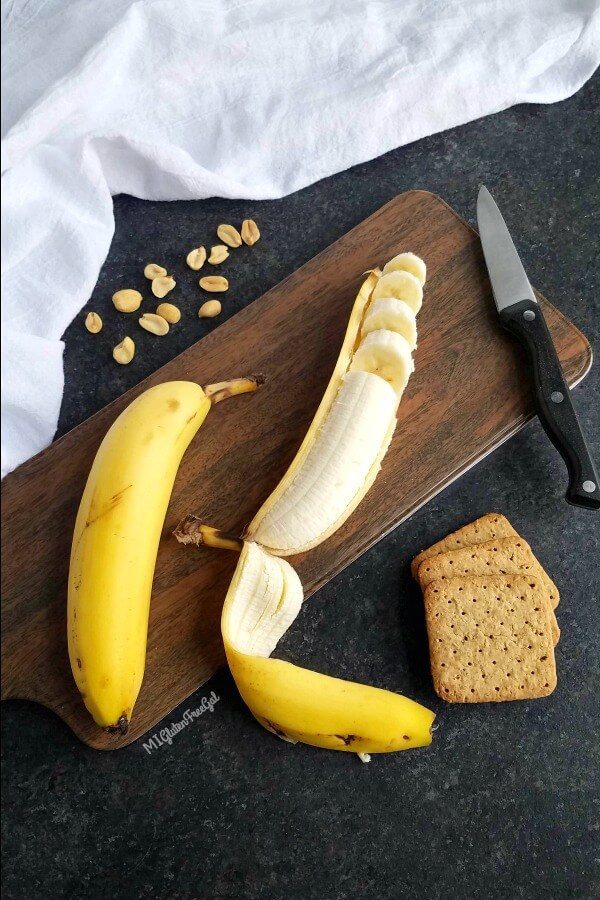 Ice Cream Free Shake
Confession. This Gluten Free Peanut Butter Pie Shake contains no ice cream. Still contains dairy, but no ice cream. Instead, this shake uses frozen, blended bananas. Blended, frozen banana chunks turn into a frozen, creamy consistency that resembles ice cream. (Find out more by reading my recipe for "dairy free banana ice cream.")
I also have a banana related realization to lay on you. What if I told you that you've been peeling your bananas wrong all this time? At this TechInsider YouTube video shows, we've been opening our bananas from the wrong end. The stem that most reach for first, technically is the bottom!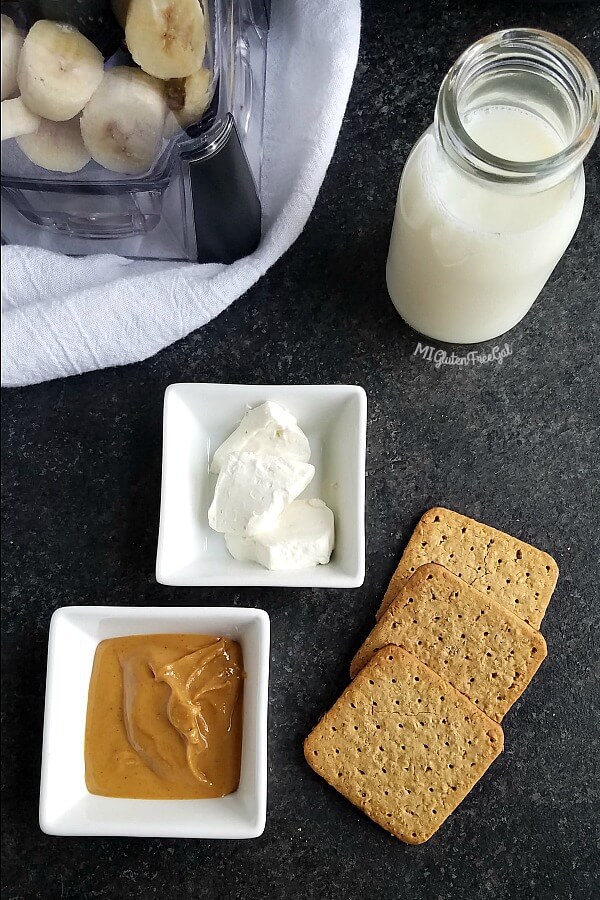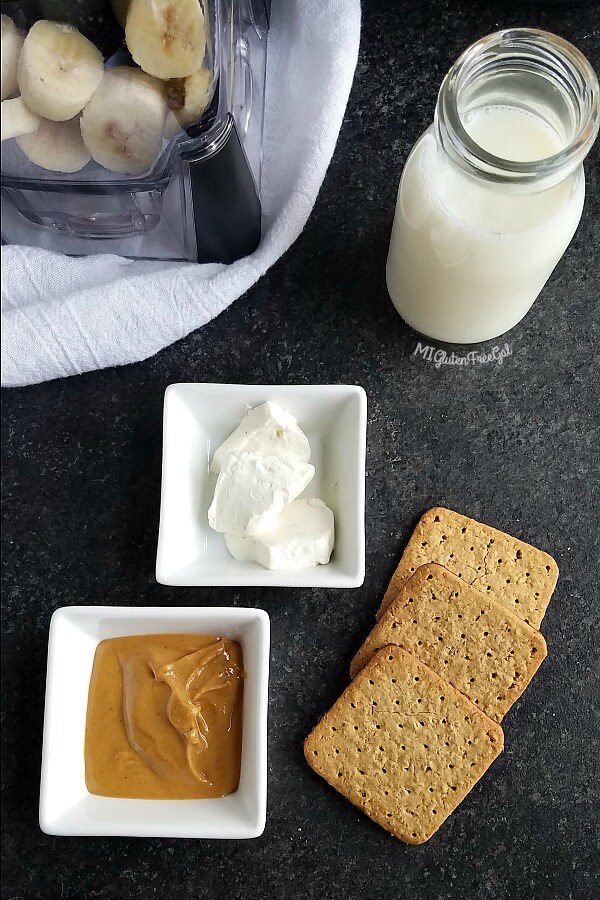 Gluten Free Peanut Butter Pie Shake Inspiration
The creation of this Gluten Free Peanut Butter Pie Shake stems from a family story. My husband's grandmother, also named Margaret, fell ill with diphtheria in her young adult years. As a teacher, and the mother of three children, it must have been terrifying. She survived. However, it left her with a paralyzed esophagus for the remainder of her life. Every food she ate needed to be finely pureed. The slightest chunk could literally choke her. Luckliy, we now have a vaccine against diptheria.
For some 40 odd years, she daily consumed a shake very similar to this Gluten Free Peanut Butter Shake I created. Every day, Peg would blend a banana, graham crackers, milk and peanut butter in a blender, and "drink" it. As she aged, she added things like Greek yogurt or protein powder to "up" the nutritional content. This always sounded delicious to me, so I finally decided to create one myself!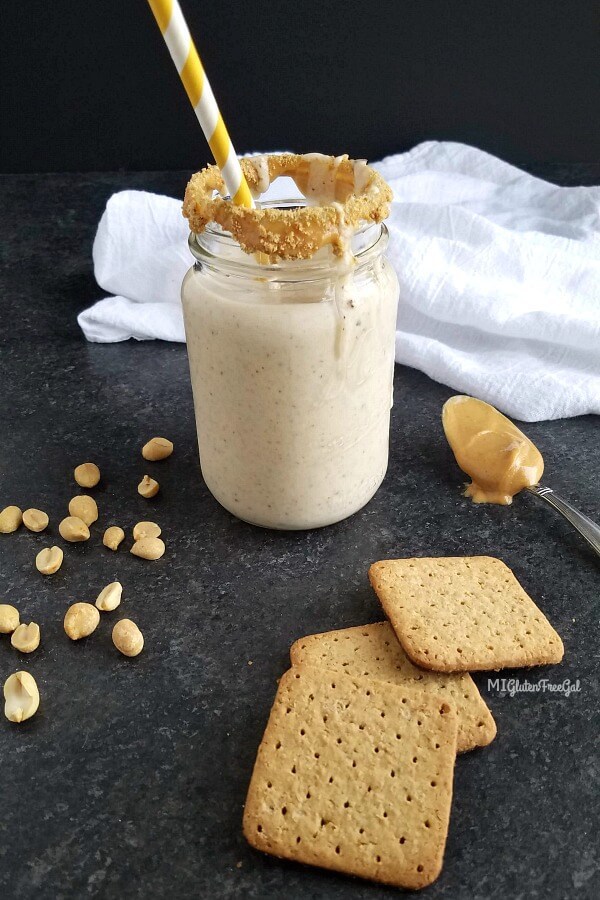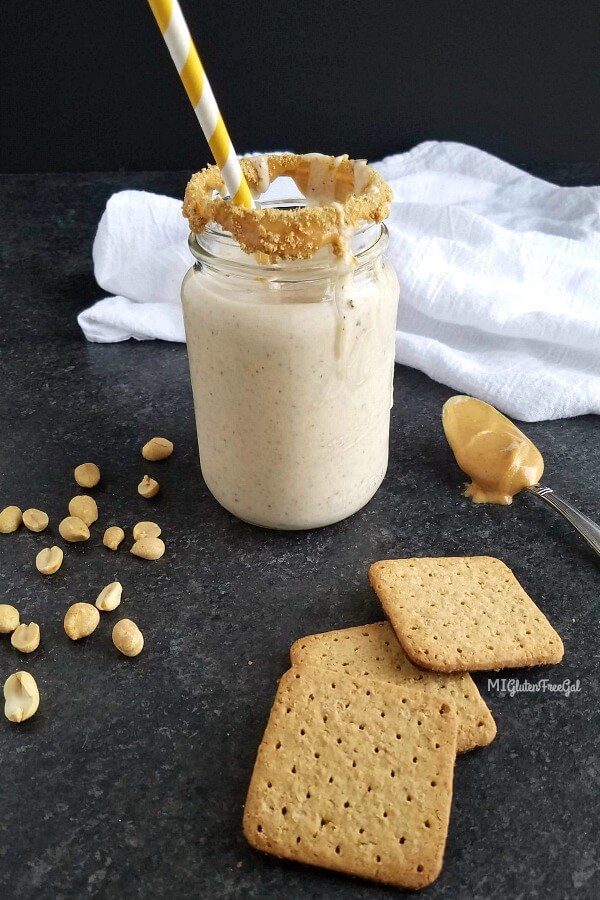 No Added Sugar? Sweet!
After looking at her ingredients, I realized that the shake resembled the ingredients in peanut butter pie filling. Grandma Peg never used cream cheese in her shake. However, I found adding just a bit really mimicked the taste of my favorite filling. This keeps this Gluten Free Peanut Butter Pie Shake pretty thick, similar to the consistency of ice cream.
I dare any kid to try it and NOT think there's ice cream inside. As a matter of fact, aside from what's in the graham crackers, this shake contains no added sugar. Therefore, you can feel pretty great about giving this as an after school snack or after dinner dessert. I find it to be pretty filling myself, and could probably pass on lunch after consuming one of these.
This time of year, we tend to think of family recipes from big meals. However, I find comfort in the handed down day-to-day routines from family. Grandma's shake or her constant baking of peanut butter cookies. Papa Earle's jokes, his bowtie, and his gluten free buckwheat bread recipe. What treasured stories and rituals will our offspring learn from us? And are we willing to allow them to walk along side us in the day-to-day?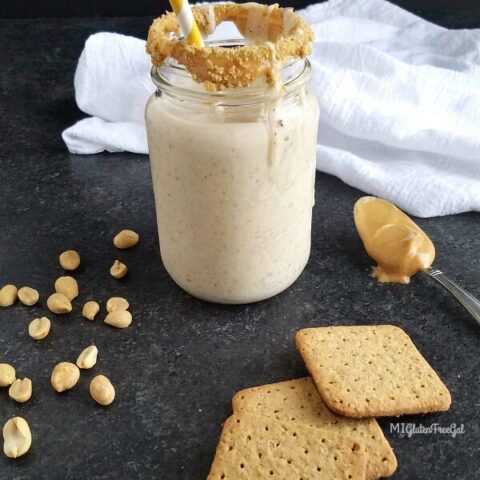 Gluten Free Peanut Butter Pie Shake
Ingredients
2 bananas, cut and frozen
3-4 gluten free graham crackers
2 oz non-fat greek yogurt (4 tbsp)
2 oz skim milk (4 tbsp)
1 oz natural peanut butter (2 tbsp)
1 oz lowfat cream cheese (2 tbsp)
Instructions
Peel two bananas and cut into slices. Place on a plate and put in freezer. Freeze for at least 4 hours, or longer if possible.
When ready to make the shake, add graham crackers to the blender and pulse until broken into crumbs.
Next, place frozen bananas slices into blender. Add milk and Greek yogurt, and blend.
Finally, add natural peanut butter and low-fat cream cheese, and blend until smooth.
Transfer to serving glass and enjoy!
**This post was not sponsored. All thoughts and opinions are my own. **