Gluten Free Graham Crackers
As an Amazon Associate and member of other affiliate programs, I earn from qualifying purchases.
Can't find gluten free graham crackers at the grocery store? Wanting to try to make more things "from scratch"? These gluten free graham crackers are easy to make at home. Great for snacking, S'mores, and more!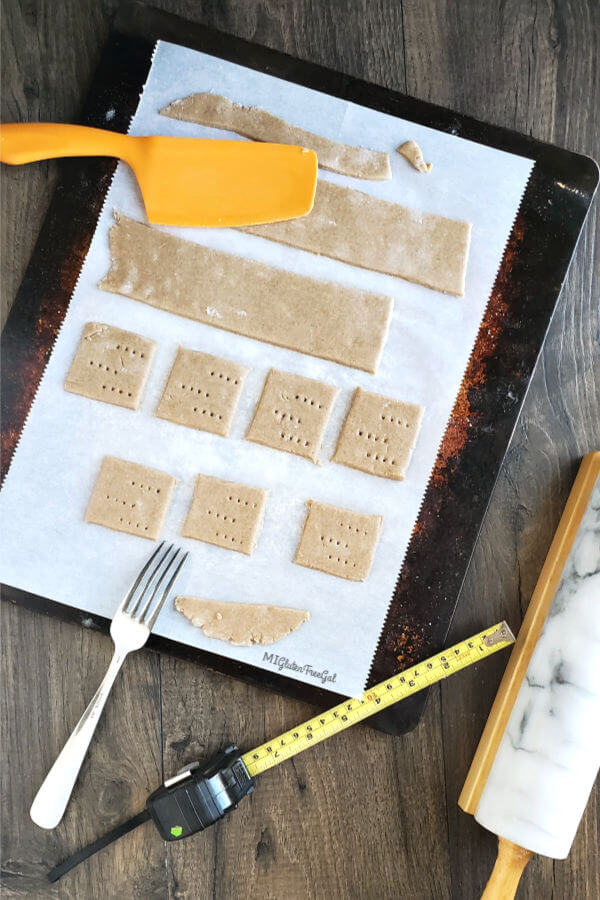 Childhood Comfort Food
As I write this, it is the end of March, 2020. Coronovirus has spread throughout the country, and we're currently "social distancing." Which means we stay in our house, schools and other businesses are closed, and I desperately want life to go back to "normal." So far we're at the end of week 2, with a third on the horizon. School may be closed for the rest of the school year, and my husband may not go back to work until August. HELP ME.
Which leaves me craving foods that bring comfort. Mashed potatoes. ALL THE CHOCOLATE. Macaroni and Cheese. Last but not least, gluten free graham crackers. My husband and I chatted about how we enjoyed them as a child. His grandmother would use them to make ice cream sandwiches. My grandmother would serve them with frosting. Therefore, I'm sharing them with you, as you're likely home. Make these with those you love, and develop your own traditions.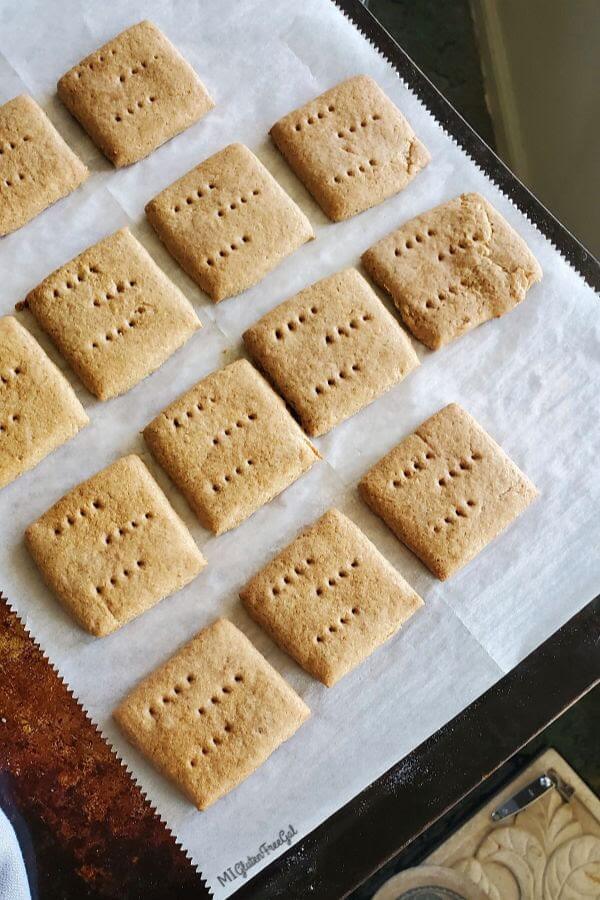 The History of Graham Crackers
Originally, graham crackers were created as a "health" food. Sylvester Graham, a minister, created them with whole wheat flour. He felt eating whole grains helped people avoid certain diseases. (Including "societal" diseases. So weird.) While true that whole grains DO improve health, he was off on a few things. I won't hold it against him.
Apparently graham crackers are truly a United States phenomenon. In the UK, the closest to a graham cracker is their "digestive biscuit." Supposedly, our graham crackers are a bit more sweet that digestive biscuits. However, they also use ground digestive biscuits to make pie crusts, so that's close enough in my book!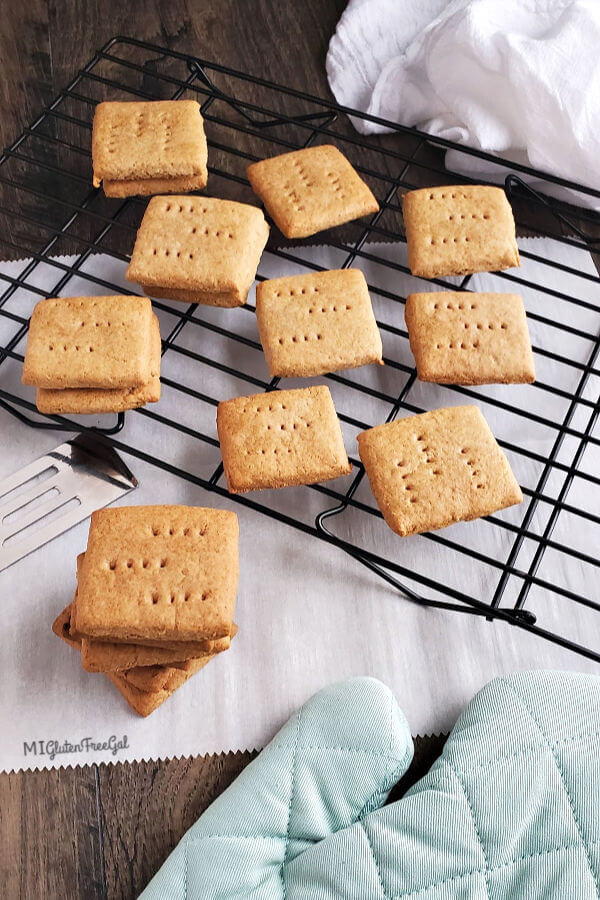 What is Teff Flour and What Else Can I Use?
The first time I made the dough for these gluten free graham crackers, I used buckwheat. At that time, I used them for my gluten free mallomars recipe. However, I felt the cracker needed a deeper flavor, so I used Bob's Red Mill Teff Flour before. It added the perfect deepened flavor I sought out.
Teff, a very fine grain, grows primarily in Africa. While we are most familiar with the dark brown variety, it also grows in white and red varities. Teff is the primary ingredient in authentic ethiopian injera, a flat bread popular in Ethiopian cuisine. Just be careful ordering it at a restaurant, as they often add wheat to their recipe.
If you can't find teff flour, you can use buckwheat flour instead. Brown rice flour may work as well. Alternately, you could use gluten free all purpose flour for all the flour in the recipe, and try using molasses instead of honey. The first time I made these last summer, I used teff AND molasses, and it was a bit much. I think if you used all purpose flour and molasses, it should be about the right depth of flavor.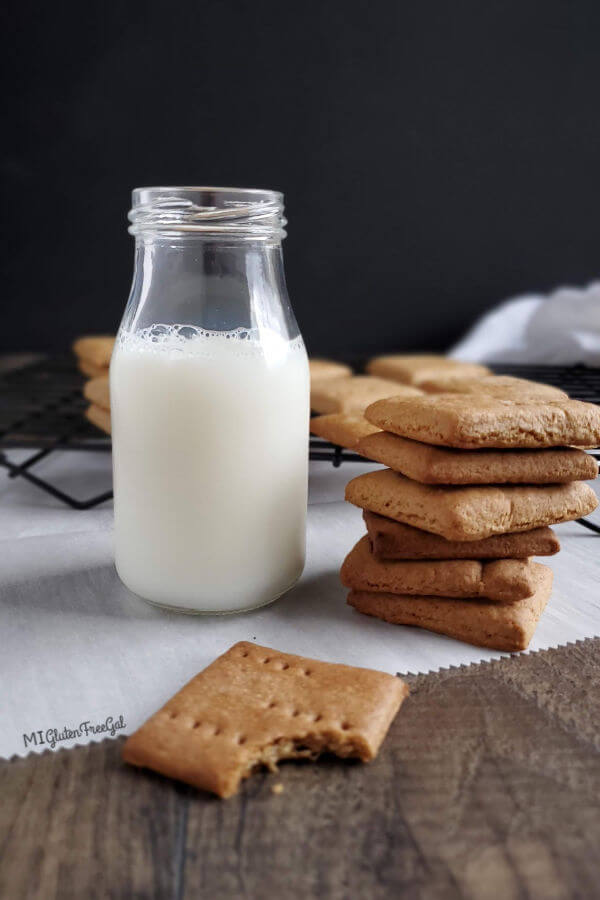 Can These Be Made Dairy Free?
I always try to think of the top 8 allergens when making a recipe. As written, this recipe contains no gluten, eggs, soy, peanuts or nuts. Definiltey no fish or shellfish. However, this recipe contains dairy. First, it contains butter. Second, the Cup 4 Cup Multipurpose Flour I used contains milk powder.
I believe you could easily switch out the Cup 4 Cup and use King Arthur Flour. However, the trick becomes swapping out the butter. You could try using something like Earth Balance or Miyoko's Vegan Butter. (I've tried neither.) Bojon Gourmet recommended Miyoko's, and Sarah Bakes Gluten Free uses Earth Balance. So pick your fave.
**Please note – Different flour blends absorb moisture differently. If you use something other than Cup 4 Cup, you may need to add additional water. Add it only one tablespoon at a time.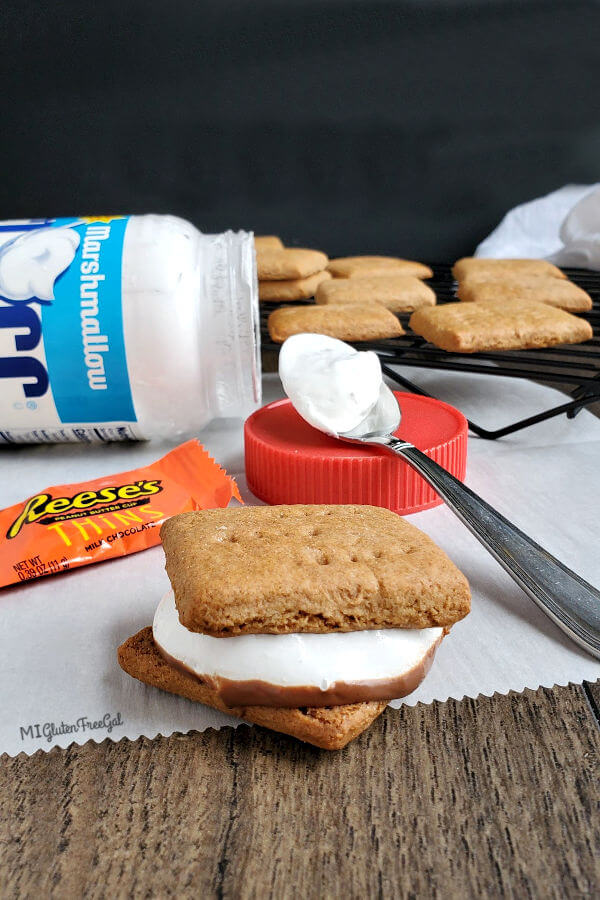 S'mores and More
These gluten free graham crackers create the perfect snack any time of day. However, should you want to take it to the next level, use them for S'mores or any other type of treat. During this time of the coronavirus, I found no chocolate bars in my cupboard. However, I found Reese's thins, and now my husband believes all S'mores should involve nut (or seed) butter.
You can also turn these gluten free graham crackers into crumbs for all sorts of desserts. Make my Gluten Free S'mores Bars, or this Single Serve Gluten Free Cheesecake. As spring inches closer, this Lemon-Blueberry Icebox Cake from Iowa Girl Eats would be a perfect use for my graham crackers. And don't forget the traditional Eclair Cake recipe, using pudding, graham crackers and a rich chocolate topping! Or use them in this gluten free graham cracker crust from Gluten Free Palate.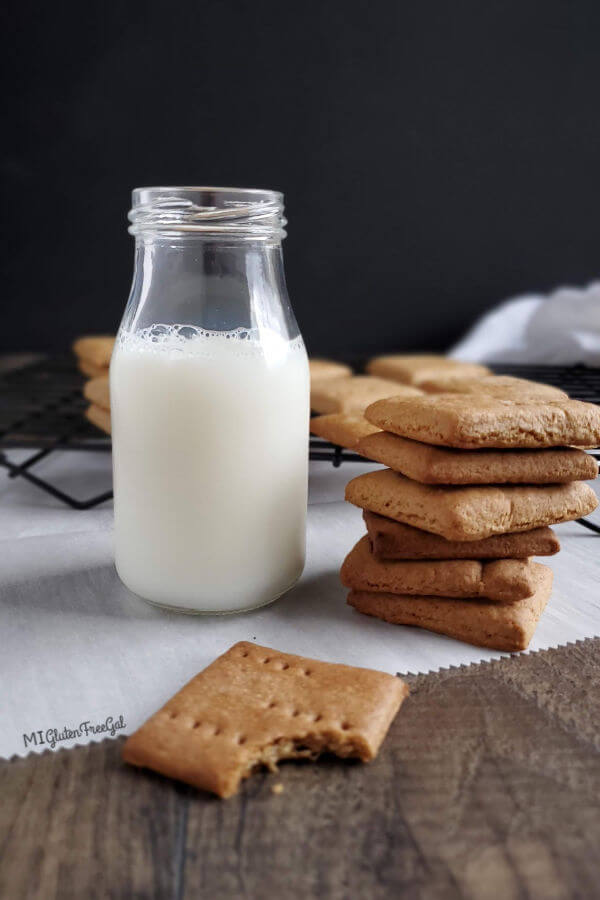 Gluten Free Graham Crackers
Total Time:
4 hours
10 minutes
Ingredients
2 c gluten free flour (I used Cup 4 Cup)
1/4 cup gluten free teff flour (You can also use buckwheat flour)
1/2 c brown sugar
1/2 tsp salt
1/2 tsp baking soda
1 tsp baking powder
1 tsp cinnamon
7 tbsp cold butter, cubed
1 tsp vanilla
3 tbsp honey
3 tbsp ice cold water (may need 4 tbsp)
Instructions
In a food processor, combine flours, brown sugar, salt, soda, baking powder and cinnamon. Give it a few pulses to combine ingredients.
Next, add cubed cold butter to processor and pulse until mixture starts to look sandy. You want most of the butter to be processed into the dough, but a few unprocessed bits are okay.
Next, add vanilla and honey. Pulse to combine. Then add ice cold water, one tablespoon at a time until dough begins to form. If you use a different flour blend, such as Bob's Red Mill you may need to add another tablespoon of water.
Turn dough out onto a lightly floured surface. Knead dough until smooth. Wrap in saran wrap (or put in container with lid) and refrigerate overnight, or at least 2-3 hours.
Remove dough from fridge and allow to rest about 10 minutes to allow to warm, slightly. On a lightly floured surface, roll dough so that it measures 1/8 of an inch in depth. Cut out into 2 x 2 squares, and use a fork to pierce a pattern in the dough, if desired.
Place cut out squares on a parchment lined cookie sheet, and chill for 30 minutes.
Meanwhile, preheat oven to 350 degrees. After dough has chilled, bake graham crackers for 8-10 minutes, rotating halfway through the baking time. Bake longer for a crunchier graham cracker.
Allow graham crackers to completely cool. Place graham crackers on a cooling rack, on top of the parchment paper.
What's your favorite way to enjoy a gluten free graham cracker? Do you top yours or use them plain? If you use graham cracker crumbs to make a pie crust, what's your favorite filling? Share in the comments below!