Gluten Free Buckwheat Pancakes with Strawberry Sauce
As an Amazon Associate and member of other affiliate programs, I earn from qualifying purchases.
Looking for a naturally gluten free recipe for those lazy Saturday mornings? These fluffy gluten free buckwheat pancakes are easy, delicious and exactly what your weekend needs. The added homemade strawberry sauce makes them phenomenal!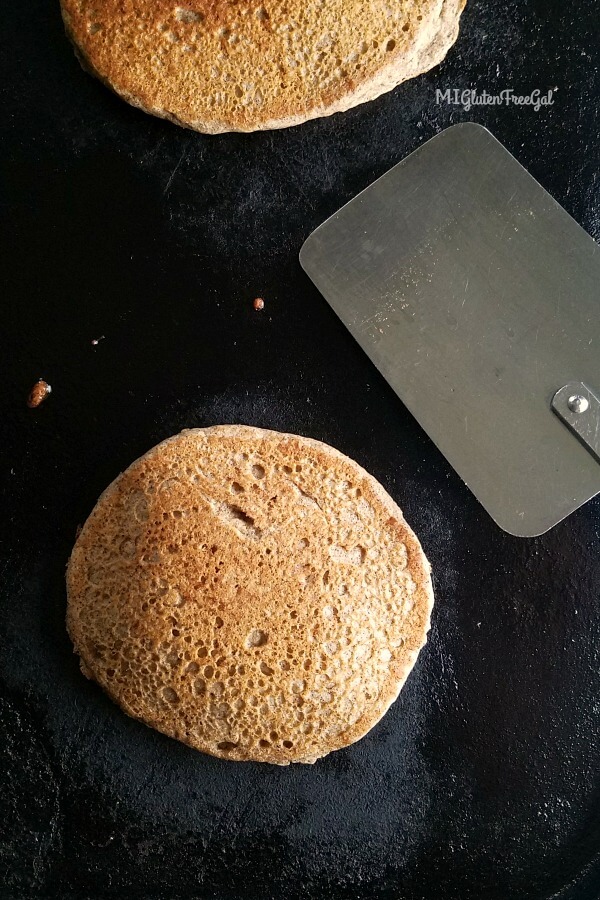 Pancakes – A Weekly Tradition
We eat pancakes at our house every Saturday. No joke. Every. Single. Saturday. A standard routine brings such a sense of peace to the weekend. No frantic thinking about what to make for breakfast. Because Saturday = pancakes. (Also, in our house, Sundays = omelettes.)
When we started this routine over a decade ago, we started eating gluten free buckwheat pancakes. Why? The buckwheat flour I purchased was healthier than the refined flours, and it was cheaper. At least, at that time. (Hello inflation!) So every Saturday you'll find us with our cast iron griddle, straddled over two burners, flipping these gluten free flapjacks.
A Word of Caution About Gluten Contamination in Flour
Back then I also failed to realize that "naturally gluten free" didn't necessarily mean "truly gluten free." After reading this study of "Naturally Gluten Free Grains and Gluten Contamination" from Tricia Thompson, I realized how important it is to select products that saw "gluten free."
A product fairs even better if it contains a third-party gluten free certification logo. I am a huge fan of Birkett Mills buckwheat flour. If you have a great blender that can make flour, you can do it from Bob's Red Mill Buckwheat Groats. **Please note – The Bob's Red Mill buckwheat flour is NOT considered gluten-free as it is not milled in their dedicated GF lines. (If you really love buckwheat, try my egg-free recipe for "Buckwheat Bread!)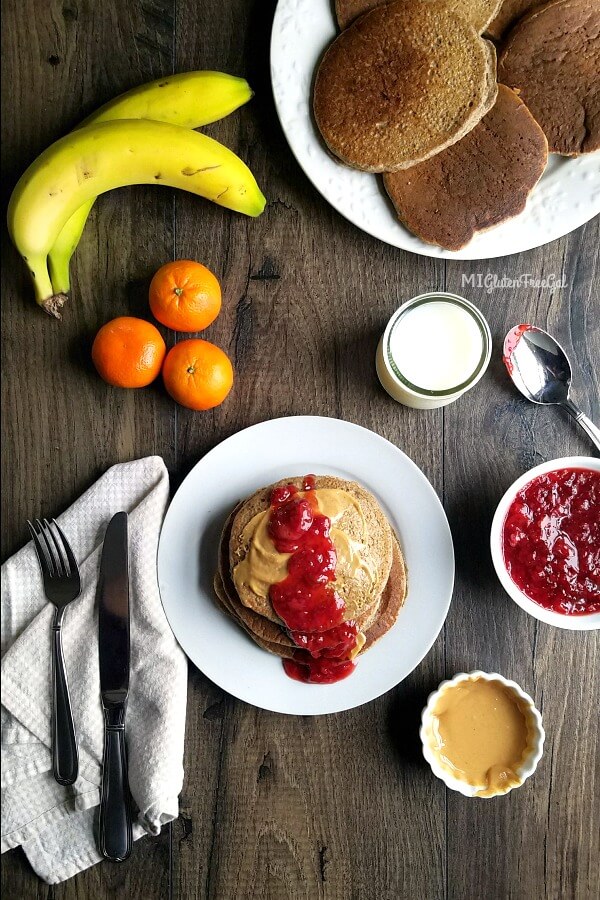 Peanut Butter on Pancakes??
Now, these fluffy gluten free buckwheat pancakes in our home require one very important condiment. Peanut Butter. I never ate peanut butter on pancakes until I started dating my husband. When I found out this family tradition of smothering their pancakes in peanut butter, I was a bit skeptical. However, out of graciousness, I tried it. I loved EVERY bite! Consequently, I've been eating my pancakes that way ever since.
Ironically, there is a unique story to this family tradition. The setting takes place in a small family restaurant. One gentleman overhears another man asking for peanut butter for his pancakes. Aloud the evesdropper states, "The only person I know that puts peanut butter on their pancakes is Tim Clegg." Ironically, the peanut butter requesting customer had indeed been a close childhood friend of my husband's uncle. Small world, isn't it?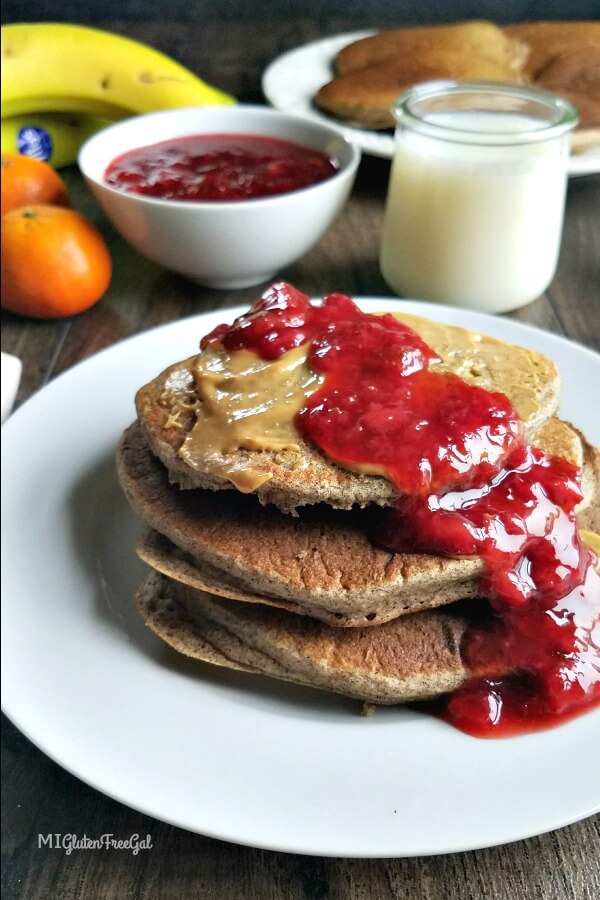 Peanut Butter and Jelly Pancakes?
Now, one could top these gluten free buckwheat pancakes with peanut butter and syrup. However, my mind immediately went to the idea of peanut butter and jelly. Truth be told we make a large batch of these pancakes every weekend to have extra "bread" on hand.
You might catch us using them to make a turkey and cheese sandwich or peanut butter and jelly. Since I succeeded in making a homemade blueberry syrup for my Cream Cheese Stuffed French Toast Casserole, I knew I could make one from strawberries.
Homemade Strawberry Syrup
Unsure of proportions, I complete a quick Google search, and immediately decided that Baking Mischief's Quick and Easy Strawberry Sauce for pancakes was exactly what I wanted to make! While she used fresh strawberries, I simply used frozen ones that I grabbed from Aldi.
Let me tell you, this tastes like biting into a fresh strawberry on a warm summer's day. This sauce is not overly sweet, but thin enough to shed its sweetness on any and everything. As it contains no dairy, you could even but it on top of my dairy free banana ice cream!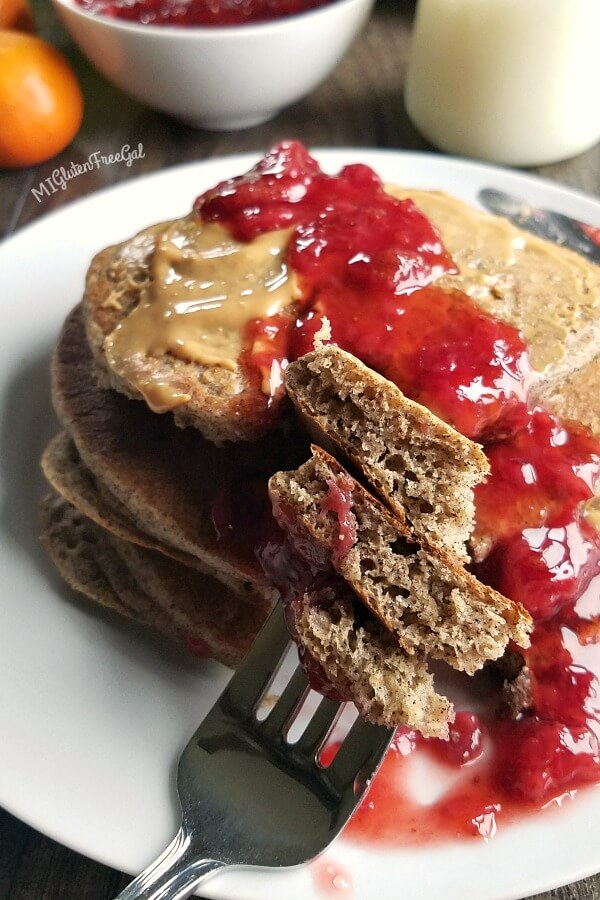 Dairy Free Option
Doesn't this plate of fluffy gluten free buckwheat pancakes look so inviting? So many times we've had gluten free pancakes turn out flat and limp. Not these! Just look at the air pockets in that bite. Amazing! (I think the secret is the soured milk. If you need to eat dairy-free, I have also done this with almond milk!)
These gluten free buckwheat pancakes even taste great rewarmed in the microwave the next day. Because can't everyone use a quick breakfast idea when the alarm clock goes off at 5 in the morning?! I know I do! (Consequently, Monday mornings also = pancakes in our household. Because this girl needs her sleep!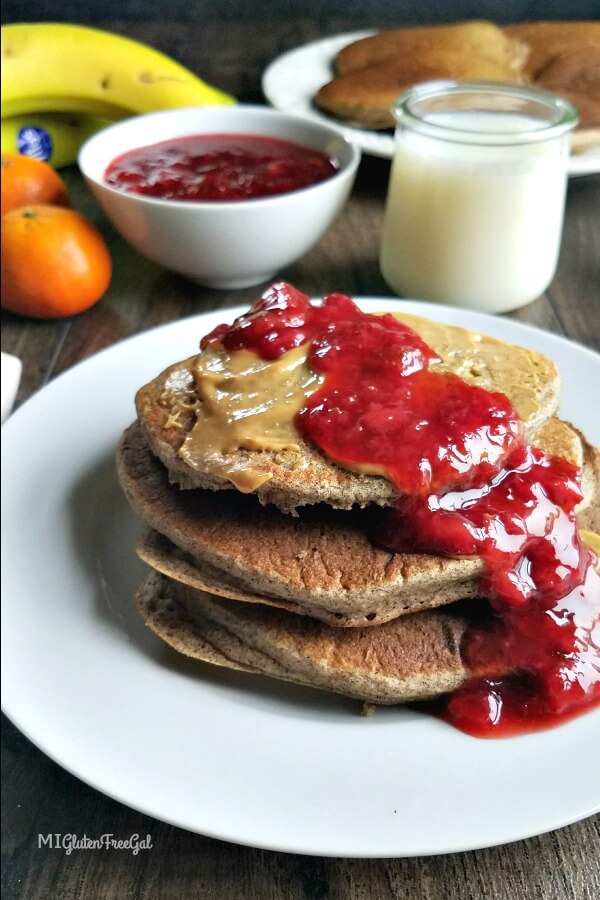 Gluten Free Buckwheat Pancakes with Strawberry Sauce
Ingredients
For the Pancakes
3/4 c. milk
1 tbsp apple cider vinegar
1 c (120 g) gluten free buckwheat flour
1 tsp baking powder
1/2 tsp baking soda
1 tsp cinnamon
1 egg, beaten
1/4 c natural applesauce
1 tbsp oil
1 tsp maple syrup
1/2 tsp vanilla paste (or extract)
For the strawberry sauce (from the Baking Mischief website)
2 c. frozen strawberries (or fresh if you have them)
1/3 c. white sugar
1/3 c. water
1/2 tsp lemon juice
1 tbsp cornstarch + 1 tbsp water
Instructions
Preheat skillet or pan.
In a measuring cup, combine milk and apple cider vinegar to curdle. Allow to stand at least 5 minutes
In a large bowl (or bowl of KitchenAid Stand Mixer) combine buckwheat flour, baking powder, baking soda, and cinnamon. Set aside.
In a smaller dish, beat egg. To that add applesauce, oil, maple syrup, and vanilla paste (or extract.) Mix until combined. Add to dry ingredients, and gently mix in.
Add milk & vinegar mixture to batter, ant whisk until completely combined and all dry ingredients have been incorporated.
ALLOW BATTER TO REST for three minutes prior to cooking.
After batter has rested, use a 1/4 c measuring cup to pour batter onto griddle. Cook 1-3 minutes until bubbles start to form on the side of the pancake. Flip and cook for 1 minute more. Repeat with remaining batter.
Meanwhile, to make Baking Mischief's Strawberry Sauce, place strawberries, sugar and water in a medium sauce pan. Allow water to come to a boil, and cook for 3-5 minutes.
If you put the strawberries in whole, use a potato masher to smash the strawberries. Remove from heat and add lemon juice and cornstarch combined with water. Return to heat and cook until sauce starts to thicken.
I hope you enjoy these fluffy gluten free buckwheat pancakes as much as we do. What are your favorite breakfast or brunch items? Leave me a note in the comments below!
**This page contains Amazon affiliate links. Any purchases made through those link will provide a small commission back to this website. This will in no way change the price you pay for an item. It does however help in the maintenance of this web page.**