Gluten Free Blueberry Zucchini Bread
As an Amazon Associate and member of other affiliate programs, I earn from qualifying purchases.
Looking for a recipe to use up that bumper crop of zucchini you planted? Search no further! This gluten free Blueberry Zucchini Bread uses fresh zucchini and bountiful Michigan blueberries!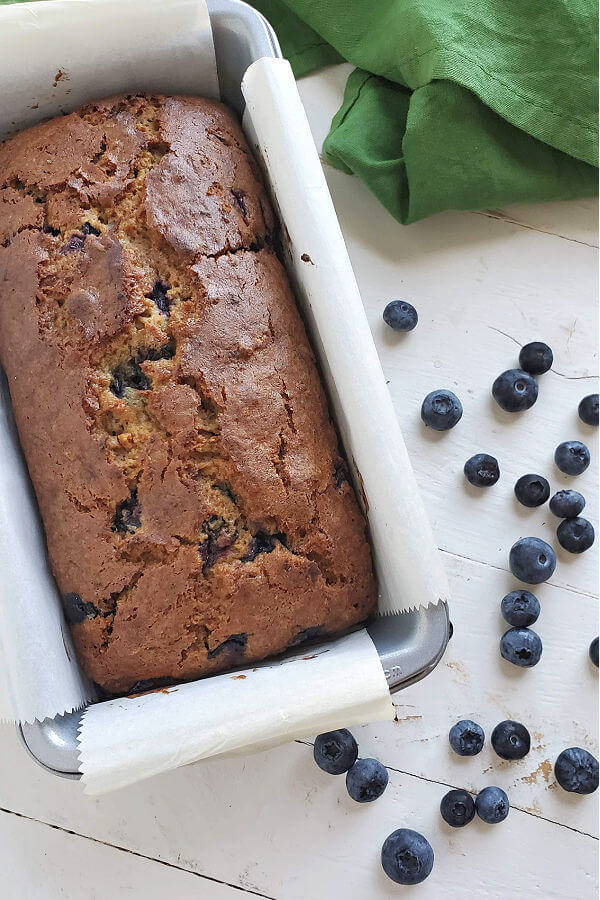 What to Do with 8.5 lbs. of Blueberries
The first time made this gluten free blueberry zucchini bread in 2013. I was recovering from an injury that August, which seems to be right on schedule for me. I had fallen down the stairs at my church and severely sprained my ankle. As I hate crutches, I convinced my husband to bring up my rolling desk chair, which was in the basement. It became my personal scooter/wheelchair. It's handy for when you want to do the dishes and make lunch.
Or make gluten-free blueberry zucchini bread because you recently picked 8.5 lbs of blueberries and you're bored out of your mind. What's that you say? Your zucchini crop is starting to come in gangbusters? Yep, this gluten-free blueberry zucchini bread is definitely a necessity. (P.S. – The rolling chair also makes your dog look at you funny as he's wondering WHAT on earth you're doing.)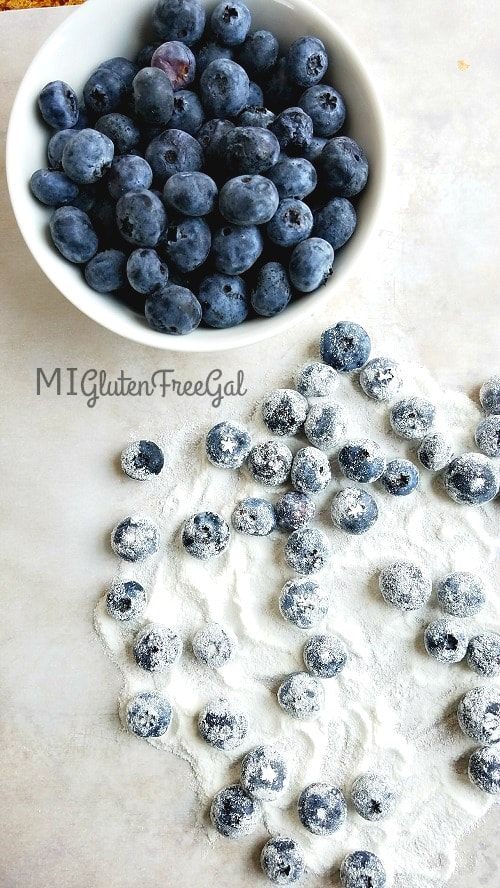 Inspiration for this Blueberry Zucchini Bread
I found this blueberry zucchini bread recipe on AllRecipes.com. For my loaf, I made many substiutions, including cutting the recipe in half. I used one of my new go-to gluten-free flours, King Arthur Baking Measure for Measure Flour. I also substituted the oil with a 1/2 applesauce, 1/2 oil combo, just like in my applesauce bundt cake. The recipe appeared overly sweet, therefore I used half white sugar and half brown sugar, but less than the total amount listed in the original recipe.
Because I subbed some of the oil for applesauce, I also used fewer eggs than called for in the recipe. In many vegan recipes, applesauce is substituted for eggs. (If you're looking for more egg substitutions, check out this post on Egg Free Baking from Allergylicious.)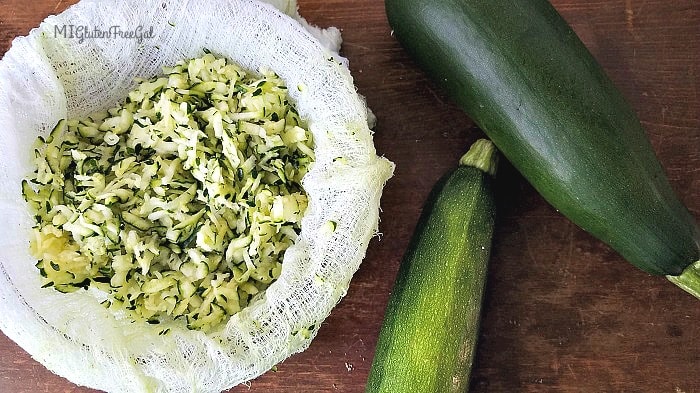 Shredding & Squeezing Your Zucchini
I recently purchased a Hamilton Beach food processor, and it made mixing this recipe a breeze. I've never seen zucchini shred so easily! However, if you don't have one, you can shred your zucchini by hand with a box grater. (Just watch your knuckles and your finger tips!) I used almost a pound of fresh zucchini (one large), to equal the one cup, squeezed, needed for this recipe.
To make this gluten-free blueberry zucchini bread turn our perfectly, you want to squeeze the excess water out of it. (Just like in my cauliflower pizza.) I shredded the zucchini first, then placed it in a clean kitchen towel, and squeezed out the excess water. I also rolled my blueberries in a little bit of cornstarch. This prevents your blueberries from sinking to the bottom of the loaf.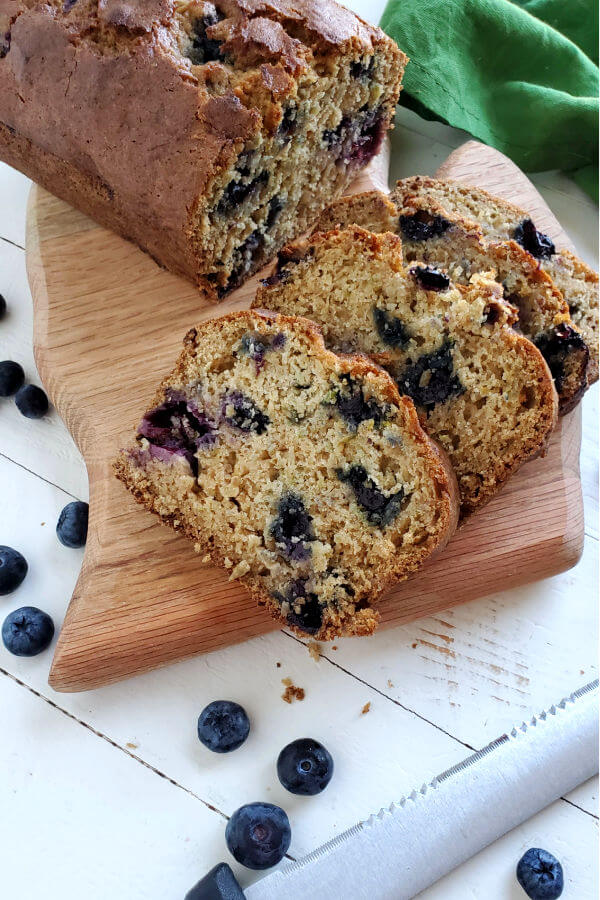 Streusel or Glaze- Yay or Nay?
Quite a few people suggested coating the top with a streusel mixture of flour, sugar and cinnamon. However, I think this gluten free blueberry zucchini bread is absolutely perfect on its own. If you'd like to make these more portable, you could easily bake these as muffins. Just follow the guidelines I shared from King Arthur Flour in my
Banana Muffin Cinnamon Chip post
.
If you'd like, you can make a quick glaze for this bread using 1/2 c. powdered sugar and 1 tbsp of milk. Did you know you can make your own powdered sugar? Simply put granulated sugar in a spice blender, and grind until powdered! I like it so much better than store bought, which can sometimes have a funny after taste.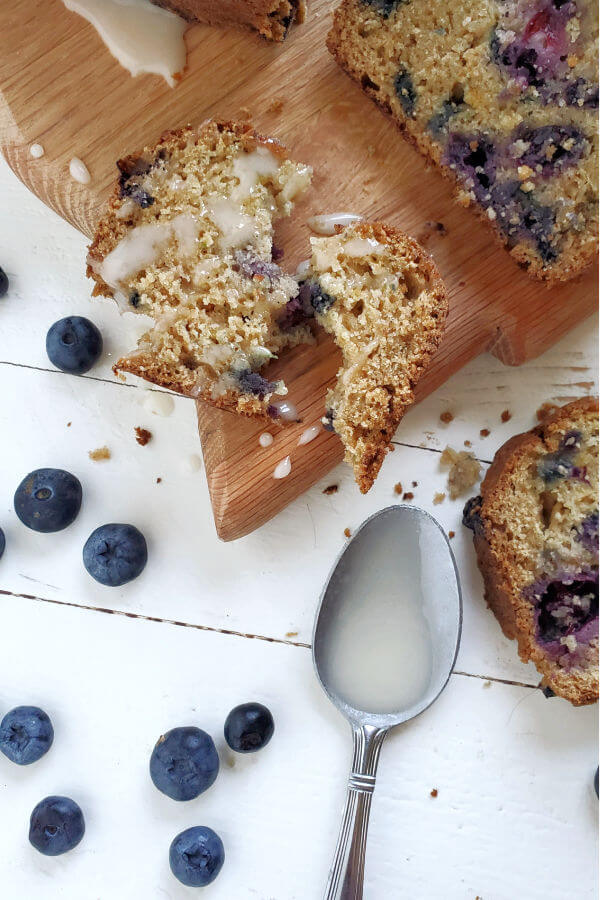 Other Gluten Free Blueberry and Quick Bread Recipes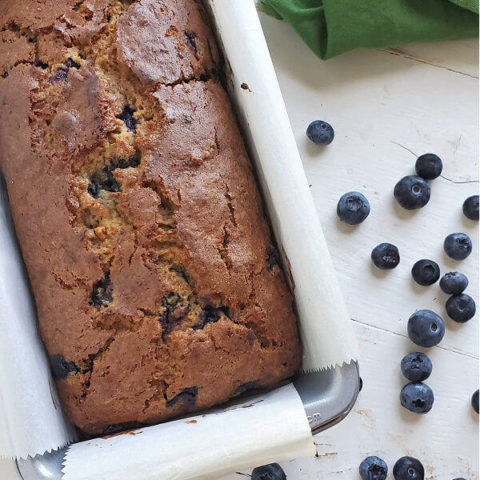 Gluten Free Blueberry Zucchini Bread
Ingredients
Dry Ingredients
1 1/2 cup gluten-free flour (I used King Arthur Measure for Measure)
1/2 tsp salt
1/2 tsp baking soda
1/2 tsp baking powder
1 tsp Penzey's Baking Spice (or cinnamon)
1 cup shredded and squeezed zucchini
1 cup blueberries, tossed in 1 tbsp corn starch
Wet Ingredients
1 egg
1 tsp. almond extract (or vanilla)
1/4 - 1/3 c brown sugar
1/4 - 1/3 c white sugar
1/4 c oil
1/4 c applesauce
1 tsp dry lemon zest (optional)
Instructions
Preheat the oven to 350. Shred zucchini in a food processor or with a box grater. Transfer zucchini to a bowl lined with cheesecloth or a towel. Gather fabric around zucchini and squeeze out excess water. Return to bowl and allow to dry further.
In a large bowl, mix together flour, salt, baking soda and powder, and spices. Set aside.
In a small bowl combine egg, vanilla extract, sugars, oil and applesauce. If using the dried lemon zest, add to wet ingredients and allow to rehydrate for 10-15 minutes.
Next, coat blueberries in one tablespoon of cornstarch to prevent them from sinking as they bake. The cornstarch also acts as a drying and binding agent to counteract some of the moisture released by the blueberries as it bakes.
Gently fold zucchini and blueberries into the flour mixture. I used my hands to lightly toss the zucchini in the flour first, to make sure the zucchini shreds are fully coated in flour. Finally, gently toss the blueberries into the flour mixture.
Add the wet ingredients to the dry ingredients and fruit, and gently stir to combine.
Transfer batter to greased and parchment lined 8.5 x 4.5 (medium) loaf pan. You can use a 9x5 pan, however the loaf won't bake up quite as tall.
Bake at 350 for 50-60 minutes. Remove from the oven to cool, in pan, for 15 minutes, on its side. Then, remove loaf from pan to cool completely
What's your favorite type of quick bread? And what are your favorite ways to use zucchini? My friends keep dropping them off!
**This post contains affiliate links. Purchases made through those links help support this blog with no extra expense to you. Thank you for your continued support!**