Gluten Free Almond Butter Chai Cookies
As an Amazon Associate and member of other affiliate programs, I earn from qualifying purchases.
I love tea. It's a beverage that calms the nerves. So often in my life, it's been shared with someone special. I fell in love with chai (which really just means tea) visiting coffee shops with me husband. There's something earthy and comforting about a good chai latte. These gluten free almond butter chai cookies would be good with a cup of tea.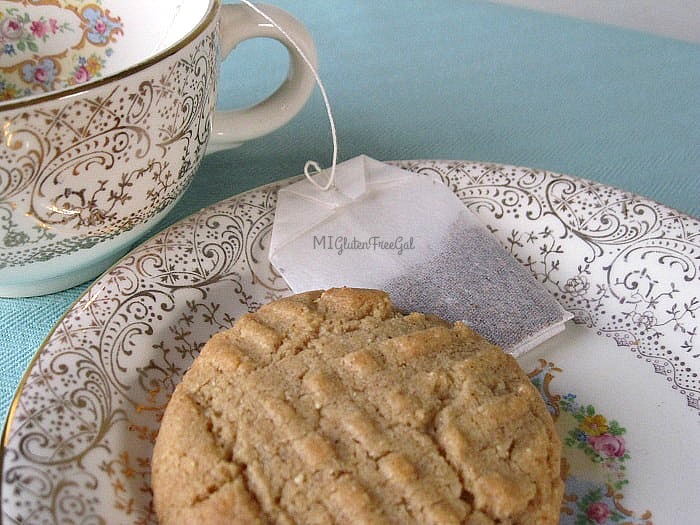 Inspired by Cashew Butter
My idea for these gluten free almond butter chai cookies came to me after receiving a container of Yumbutter's special edition "Be Present" Cashew Butter. In truth, I wasn't sure what to think when I received it. Cashew butter with cardamom in it? But upon opening the jar, the aroma of chai spices greeted my senses.
Aside from devouring the whole jar with a spoon, I immediately thought about making cookies. I did a little research on getting the spices right for these cookies. Since the cashew butter already contained cardamom and cinnamon, I just had to figure out how much ginger, cloves and allspice to add. I consulted other recipes on the internet and came up with my own spice blend.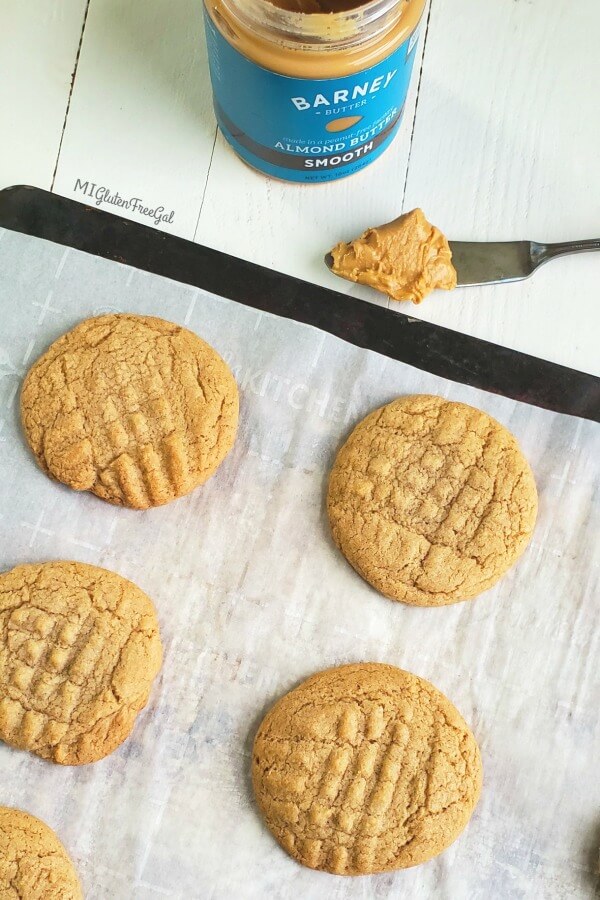 Better with Barney Butter
I first wrote this post in 2016. However, YumButter no longer makes that flavor of cashew butter. When I traveled to my local store, I found no cashew butter on the shelves. I did, however, find many varieties of almond butter. After looking over various brands, I settled on Barney Butter.
One selling point for me is that Barney Butter bears a gluten free certification. When living with Celiac Disease, every bit or reassurance helps. Among the beliefs that guide them, they source all their almonds from local growers. In addition, their products also bear a B Corporation certification, and use 100% recycled packaging.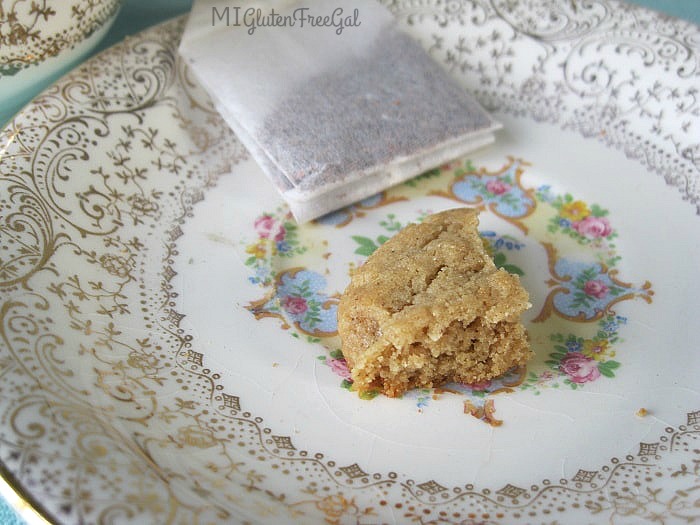 The Perfect Touch
When I first made these cookies, it took making a few small batches to get them perfect. After the first baking I added some additional allspice. They still needed something though. Then it came to me. To taste like chai tea, they needed TEA. So I added a tablespoon of chai tea concentrate. (Regular strong brewed tea works as well.)
I'll have to say I'm pretty proud of myself. I love the way they turned out photographed on our china. It belonged to my husband's grandmother Merle, who was pretty creative in the kitchen too. I'd like to think she'd be pretty proud of me.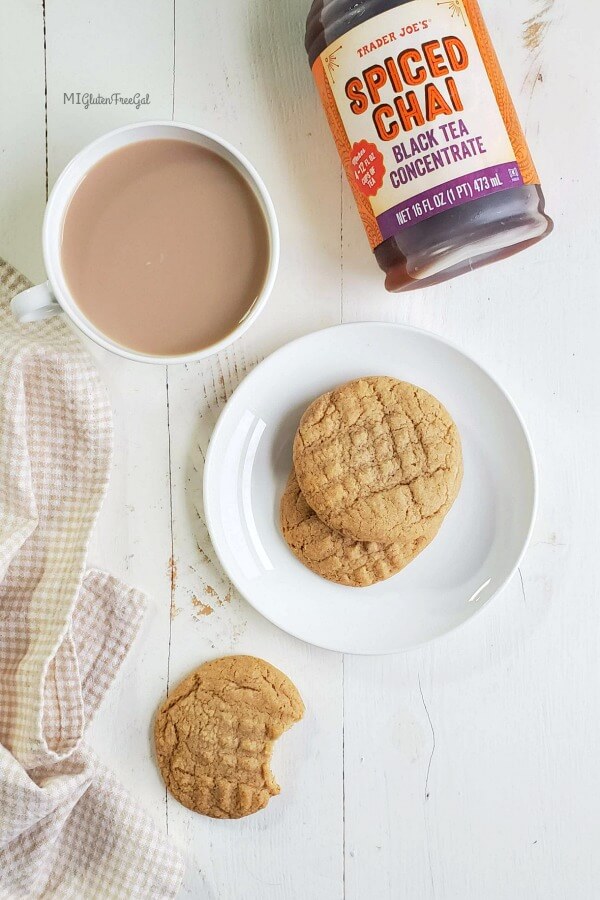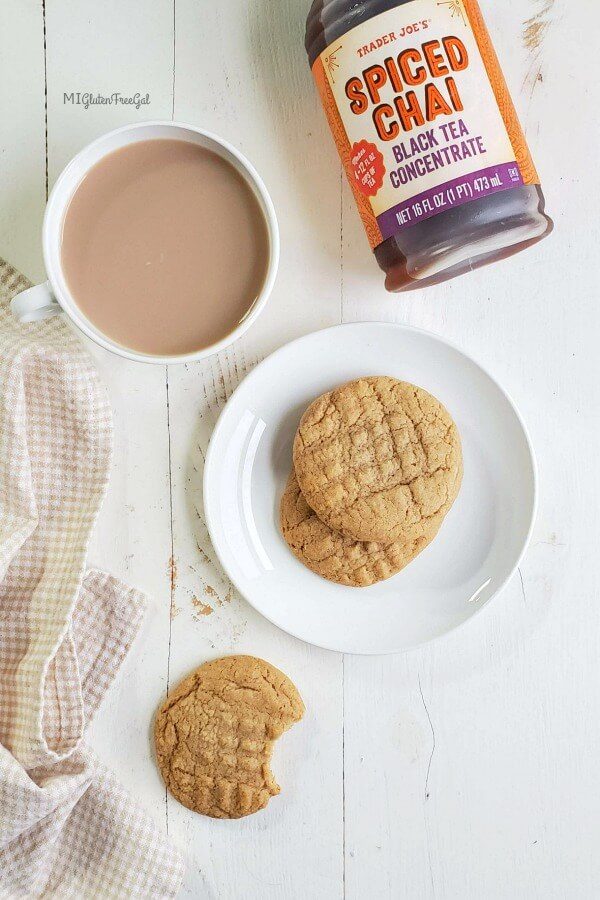 Chai Tea Concentrate?
The first time I made these cookies, I used strongly brewed tea. Since then, I've discovered the awesomeness that is chai tea concentrate. When I remade these gluten free almond butter chai cookies this week, I used a concentrate from Trader Joe's. It contains quite a bit of ginger, and offers quite a bite.
When I made my gluten free pumpkin chai snickerdoodles, I used Gray Duck Chai Concentrate. However, that's only available around South Dakota. Therefore, if you prefer a more subtle chai flavor, I recommend Oregon Chai. I verified with them that it is a gluten free product.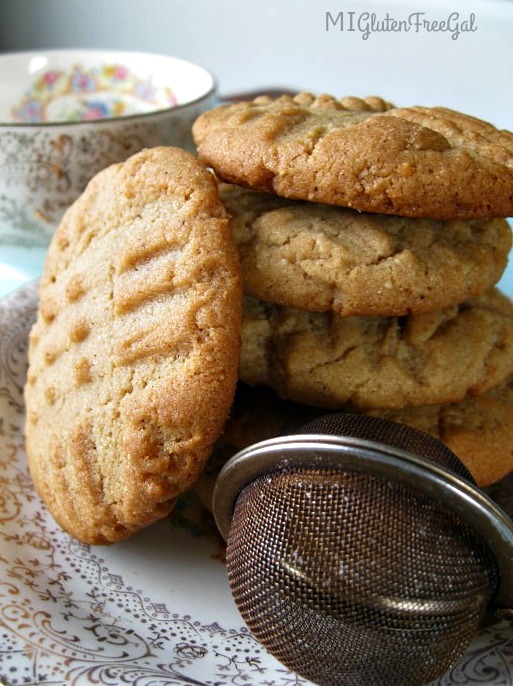 Can You Use Peanut Butter?
To be honest, I'm unsure how peanut butter will pair with chai spice. Peanut butter has a heavier and more distinctive taste. However, I can say that I consulted GF Jules Peanut Butter Cookie recipe for the dough for these cookies. So add whatever spices you'd like and give it a try!
Not used to using almond butter? Try it in these five ingredient Almond Butter Chocolate Chip Cookies from Sally's Baking Addiction. Or go the savory route and make this Coconut Curry with Almond Butter from Food Faith Fitness. This simple Almond Butter Chicken Salad from Eating Bird Food sounds like a great dish as well!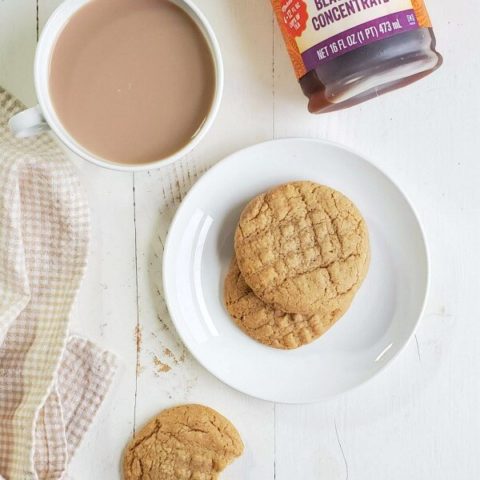 Gluten Free Almond Butter Chai Cookies
Ingredients
1/2 c. butter, softened (1 stick)
3/4 c. brown sugar
1/4 c. sugar
1 egg, room temperature
1 tsp. vanilla extract
1 tbsp. Chai Tea Concentrate (I also added an addl. tsp)
1/2 c almond or cashew butter
1 1/2 cups gluten-free all-purpose flour (I used King Arthur Measure for Measure)
1/2 tsp. baking powder
1/4 tsp. baking soda
1 tsp cinnamon
1/8 tsp. ginger
1/8 tsp. cloves
1/4 tsp. allspice
Instructions
In a large bowl, cream together butter and sugars. (Approximately 3 minutes.) Once creamed, blend in the egg. Blend in vanilla and tea concentrate. Finally blend in cashew butter.
In a separate smaller bowl, mix together flour, baking powder and soda, and additional spices.
Slowly mix dry ingredients into wet, in three small additions. Dough will be moist. Like most cookie dough batters, the dough would benefit from being refrigerated, for at least 2-3 hours.
Preheat oven to 350.
Cover cookie sheet in parchment paper. Scooping dough with a teaspoon, roll dough into balls. Place dough balls on covered cookie sheet at least 2 inches apart. Flatten balls using a fork in a hatch pattern.
Bake cookies 9-10 minutes. Allow to cool on cookie sheet for at least 5 minutes prior to put on cooling rack.
Have you created a cookie creation recently? What's your biggest inspiration when creating a new recipe? Leave me a note in the comments and we'll keep encouraging one another!
**YumButter originally me with a free jar of product when I wrote this post. All ingredients used for the updated post were purchased by myself. This post does contain affiliate links. Purchases made through those links help support this blog with no extra expense to you. Thank you for your continued support!**