Gluten Free Pumpkin Bread Pudding
As an Amazon Associate and member of other affiliate programs, I earn from qualifying purchases.
This gluten free pumpkin bread pudding starts with a warm homemade loaf of pumpkin bread. Baked in custard and topped with homemade chocolate sauce, this fall recipe will become your new favorite!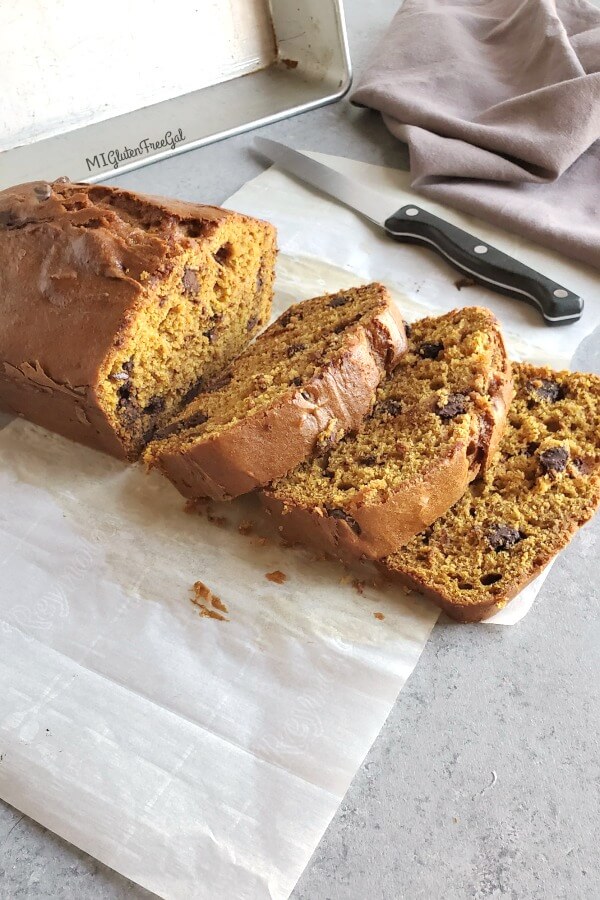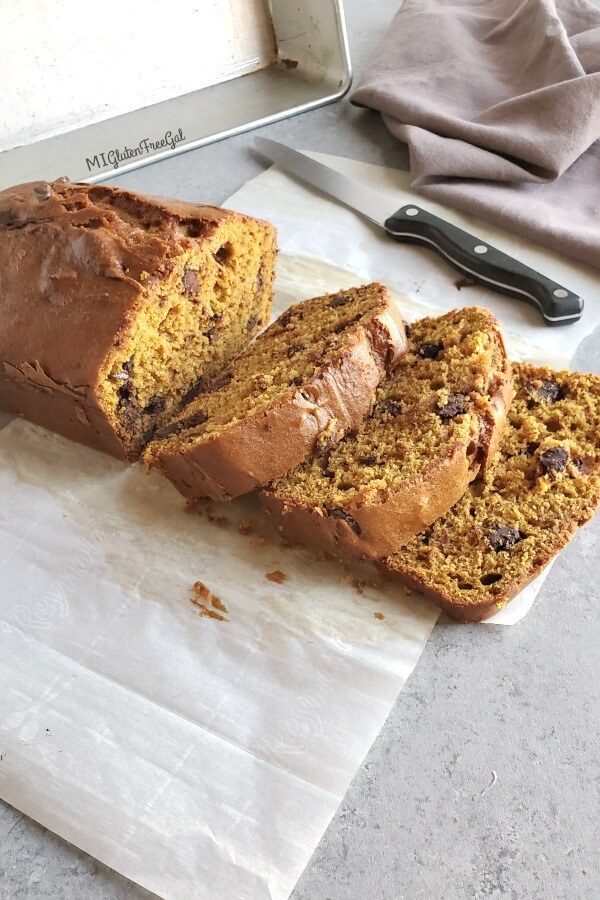 Gluten Free Chocolate Chip Pumpkin Bread
I first made this gluten free bread pudding three years ago. What started as a failed attempt at gluten free pumpkin bread turned into a decadent dessert. In that original recipe I added more pumpkin than the recipe called for, which caused to much moisture. I guess you could really call my final creation "gluten free pumpkin bread" bread pudding.
This time I consulted many recipes and stayed pretty true to Wheat By The Wayside's dairy free Gluten Free Chocolate Chip Pumpkin Bread. I did use one less egg, as I knew I would later be soaking this in custard. And in all honesty, it still turned out great. Here are some other gluten free pumpkin bread recipes you may like.
Use Parchment Paper!
Whichever one you choose to start this recipe with, make sure to line your pan with parchment paper. It makes clean up a breeze! The pan in this picture is the exact one I cooked my bread in. No residual crumbs or batter.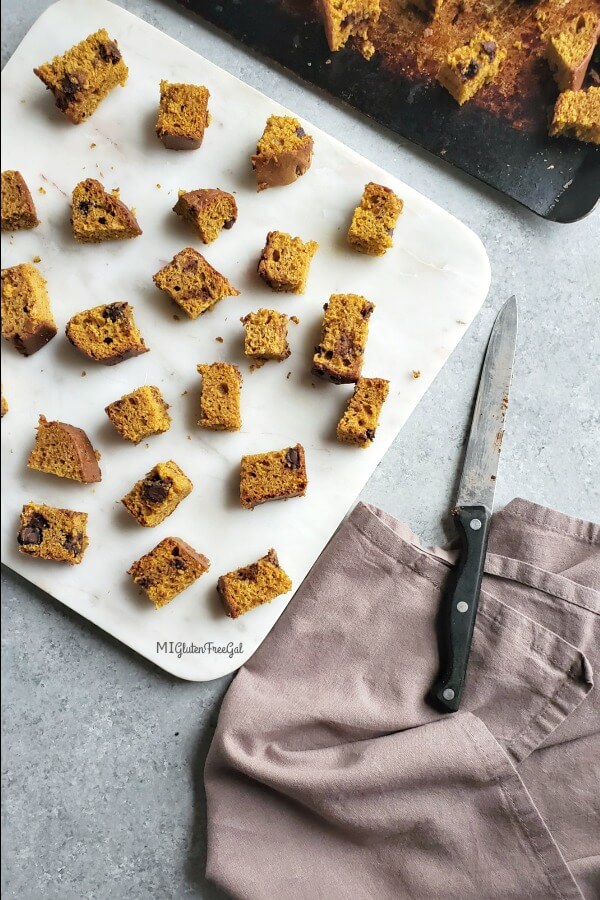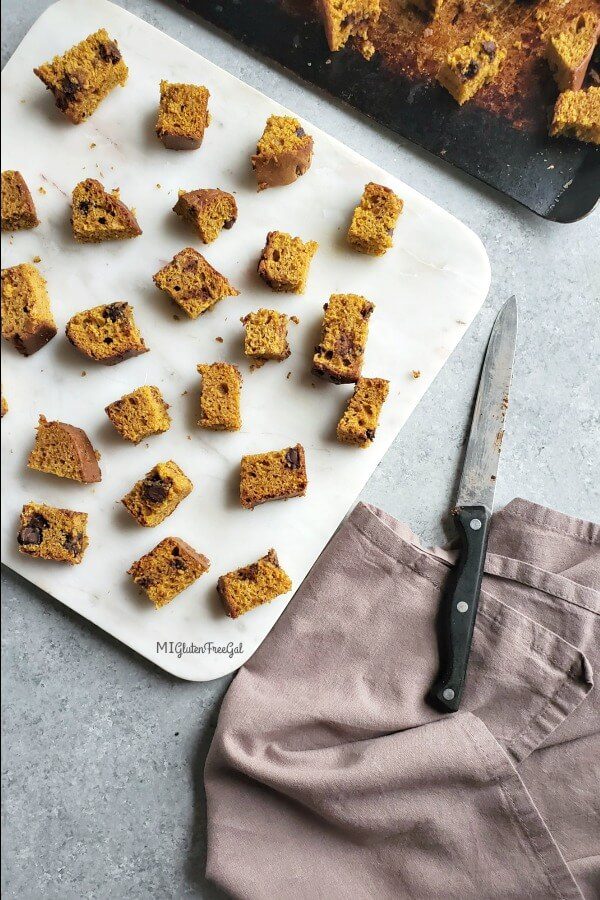 Why Dry the Bread?
Have you ever made French Toast? Originally called "pain perdu" in French, it intentionally uses "lost" bread, or stale bread. This fresh loaf of gluten free chocolate chip pumpkin is far from stale, so we need to speed up the process. By cubing it and drying it in the oven for 20-30 minutes, we reach the needed texture in less time.
In addition to looking up bread recipes, I also researched bread pudding recipes. I basically followed the custard recipe from Bobby Flay's Pumpkin Bread Pudding with Spicy Caramel Apple Sauce and Vanilla Bean Creme Anglaise. His recipe calls for added pumpkin, but I chose to leave that (and the bourbon) out.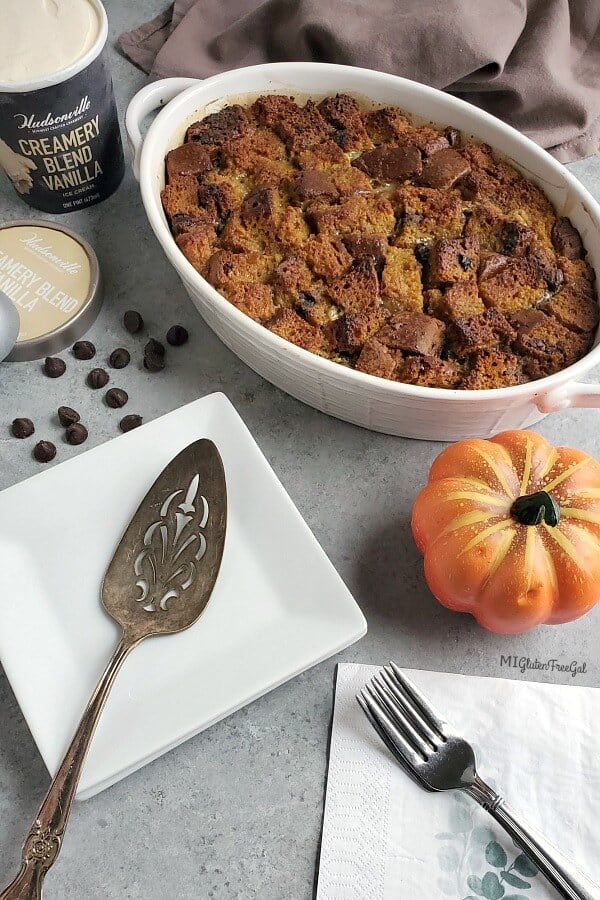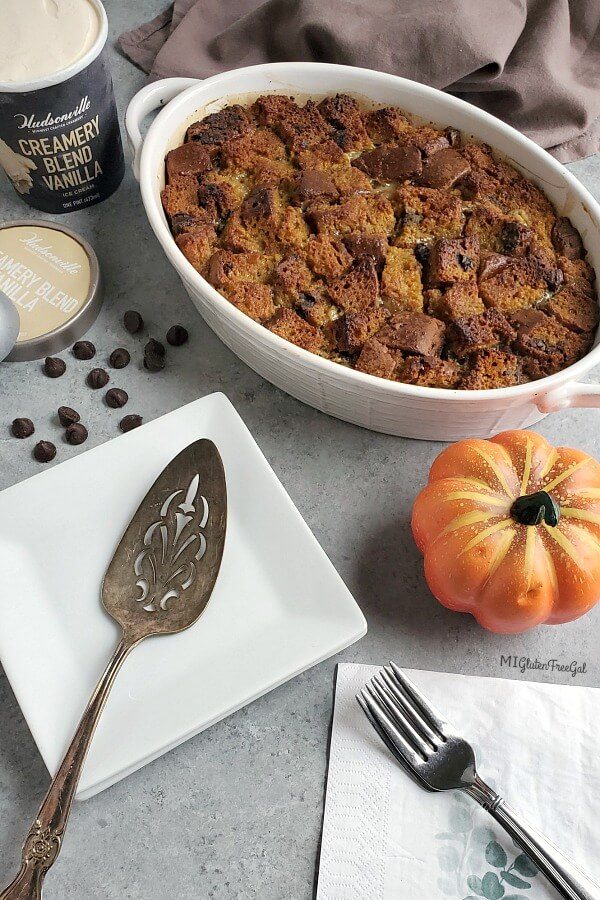 French Toast Casserole vs. Bread Pudding
Speaking of French Toast, how does a french toast casserole differ from bread pudding? Both involve baking bread, approximately 16 oz, in a blend of milk (or cream), eggs, and sugar. Which I think means this gluten free pumpkin bread pudding is A-ok for breakfast consumption!
Truly, the biggest difference appears to be the number of eggs and the ratio of milk. Most bread puddings call for 3 eggs and 2-4 cups of milk. (Quite a variation, I know.) To increase the richness of my pumpkin bread pudding, I used 6 egg yolks and 3 cups of half and half. In a french toast casserole, one usually uses 6 whole eggs and milk.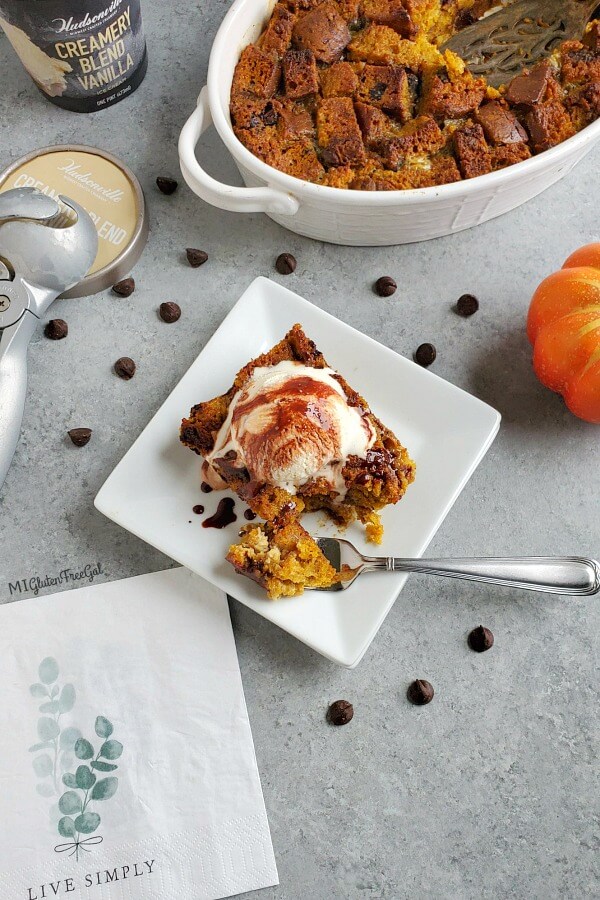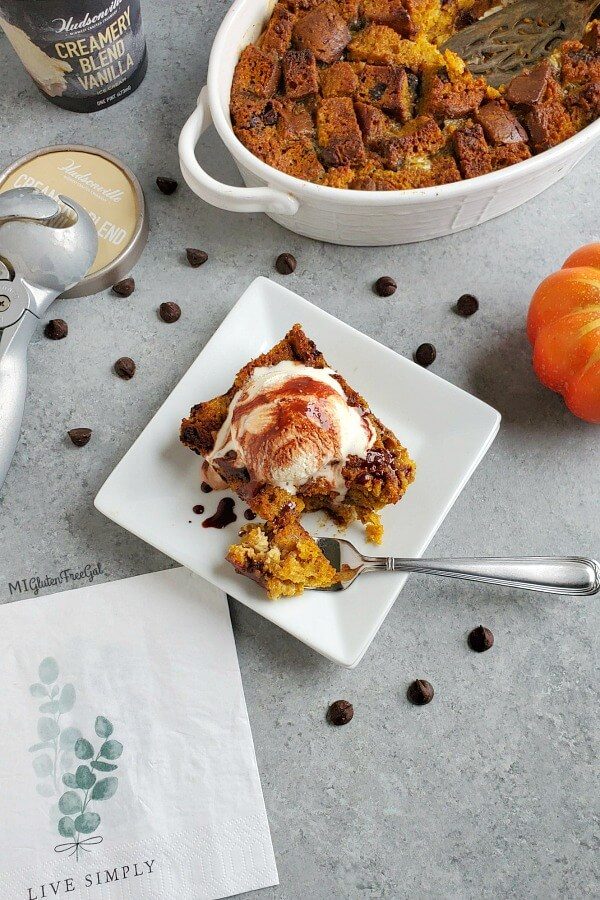 Dairy Free and Egg Free Options
If you need to follow a dairy free diet, you're in luck because Wheat by the Wayside's recipe is dairy free! For the custard, just use almond milk instead of cream. I successfully did this when I made my gluten free donut bread pudding. Egg free can be a bit trickier. I would again go to Allergylicious and try her Vegan Bread Pudding, but use her vegan pumpkin bread as the base.
I topped my gluten free pumpkin bread pudding with Hudsonville Creamery Vanilla Blend Vanilla ice cream. In my opinion, buying ice cream is quicker and easier than making the sauce. My best recommendations for dairy free ice cream are Coconut Bliss and Nada Moo. (And my homemade chocolate sauce is naturally dairy free!)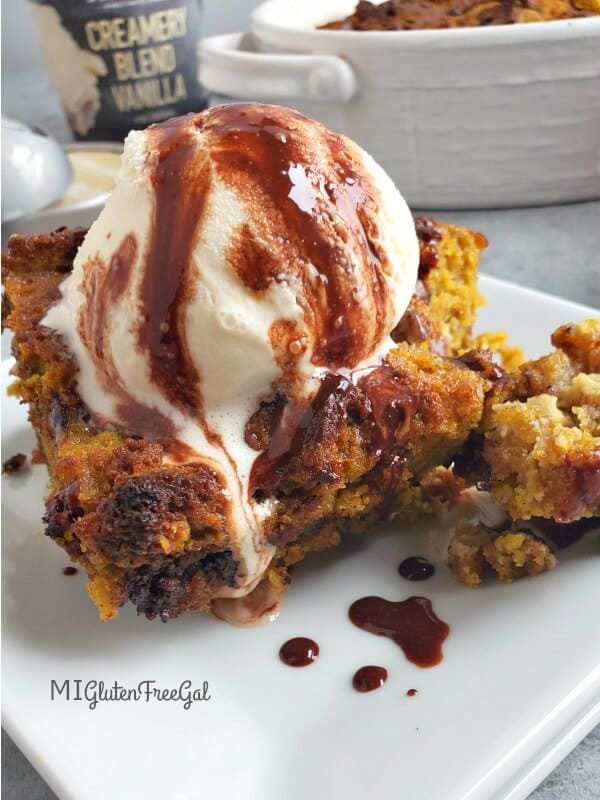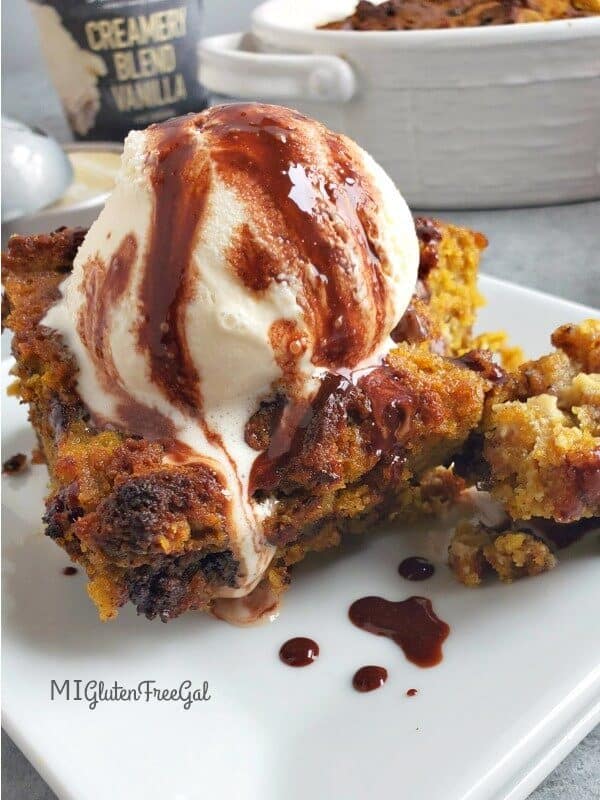 Other Gluten Free Pumpkin Based Recipes
If you're in full pumpkin mode, you might also like my Grain Free Pumpkin Slab Pie, or my Small Batch Gluten Free Pumpkin Roll. Also, these Two Ingredient Gluten Free Pumpkin Donuts are gluten, egg and dairy free. People have been LOVING them! In addition, if you have an air fryer, check out this Pumpkin Air Fryer French Toast from Vegetarian Mamma. It sounds amazing!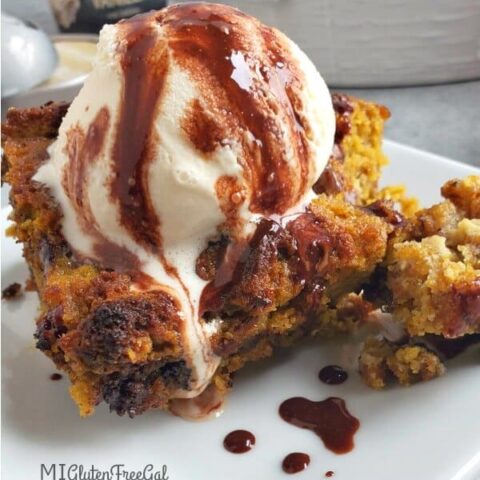 Gluten Free Pumpkin Bread Pudding
Ingredients
Wheat By The Wayside Pumpkin Bread (*with a alterations)
1 3/4 c flour
1/2 tsp baking powder
3/4 tsp baking soda
1/2 tsp salt * (reduced from original)
1 tsp cinnamon
1/2 tsp pumpkin pie spice
3/4 c pumpkin puree, room temp
1 c sugar (can do a mix of white and brown*)
2 eggs, room temp * (reduced from original)
1/3 c oil
1/4 c apple cider *
3/4 c chocolate chips* (increased from original)
Custard Mixture
1/4 c maple syrup
6 egg yolks
1/2 c sugar
3 cups half and half
1 tsp vanilla
Dairy Free Chocolate Syrup
(from my Mexican Unfried Ice Cream Recipe)
1/4 c. Cocoa
1/4 c. sugar
1/4 c. water
1/4 tsp. vanilla
Pinch of salt
Instructions
To Make the bread, start by measuring the dry ingredients (flour thru pumpkin pie spice), placing them in a medium bowl, and setting them aside.
In a large bowl or bowl of a stand mixer, combine room temperature eggs, room temperature pumpkin, sugar, oil and apple cider (or water.) Mix wet ingredients thoroughly.
Add dry ingredients to wet ingredients, and mix thoroughly. Add chocolate chips and stir by hand.
Preheat oven to 325. While heating, line loaf pan with parchment and pour in batter. Once oven is heated, bake for 50-60 minutes. (Katie's recipe stated 70 minutes, but mine was done prior. Test bread to internal temperature of 200 degrees.)
Remove loaf from oven and allow to cool in pan for approximately 10 minutes. Then remove from pan and allow to completely cool for 1-2 hours.
After bread has completely cooled, cut into cubes and toast for 20 minutes in a 300 degree oven. Transfer dried cubes to a 2-3 qt baking dish.
In a medium bowl, combine the custard mixture and pour over the dried bred cubes. Allow to soak for one hour or even overnight. (I let mine soak overnight.)
Bake the bread pudding in a 325 degree oven for 50-60 minutes. The sides should be puffy and the center should jiggle, just a bit.
Remove bread pudding from oven and allow to cool. Bobby Flay recommends letting it set for 30 minutes. It is, however, best served warm.
To make the dairy free chocolate sauce, combine ingredients in a small sauce pan and cook for 5-10 minutes until it starts to thicken. It will also thicken as it cools, so don't over cook it.
What culinary creations have you made from baking boo-boos? Have a tried and true recipe for bread pudding? Please share it with me below!
**This post is not sponsored by and brand or organization. This post does, however, contain affiliate links. Purchases made through those links help support this blog with no extra expense to you. Thank you for your continued support!**