Gluten Free Mexican Fried Ice Cream
As an Amazon Associate and member of other affiliate programs, I earn from qualifying purchases.
In truth, the title is a bit of a misnomer. There is nothing "fried" about this recipe. This recipe for gluten free Mexican fried ice cream uses your favorite ice cream, Cinnamon Chex, and super easy homemade chocolate sauce.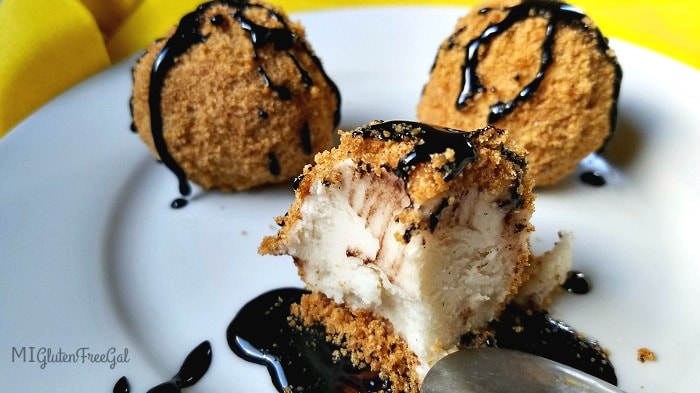 It All Started at Chi-Chi's
When I was younger, I was a Chi-Chi's fanatic. You know, back when they had actual restaurants where they sung to you on your birthday, making you wear that ridiculous sombrero. I've made many a memory there. I even went there for a family lunch after I graduated from college. Without fail, there was one thing I always craved. That Mexican fried ice cream. But Chi-Chi's is no more and now I have Celiac Disease. Therefore I set out to create this recipe for Gluten Free Mexican fried ice cream balls.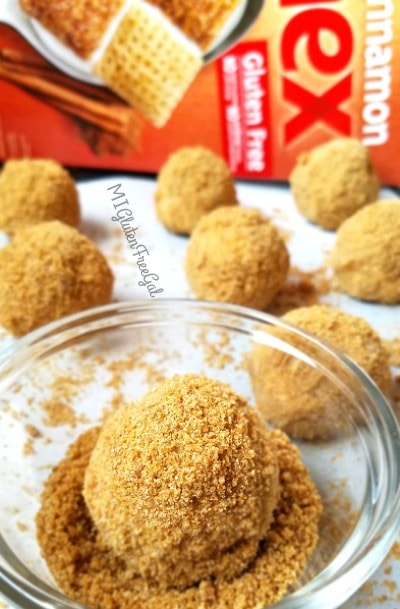 Ditch the Fryer
I'm not a huge fan of frying. It always uses more oil than I want, and I tend to make my house all smoky. In addition, I don't quite understand how one can "fry" ice cream without making it melt. While there may be a way, for sure I'd be the one to make a terrible mess of it. So I chose to be creative and use Cinnamon Chex to create these little Mexican fried ice cream balls. It works so well anyone can do it!
I think the most important ingredient in making this Mexican fried ice cream recipe is patience. After scooping out the ice cream, they need to freeze for a while. Then, once you coat them, they should freeze again for a while. You'll want to eat this immediately, but trust me, allowing them to harden is worth the wait. In the meantime, you can make this batch of SUPER easy homemade chocolate syrup. Much better than store purchased and dairy-free!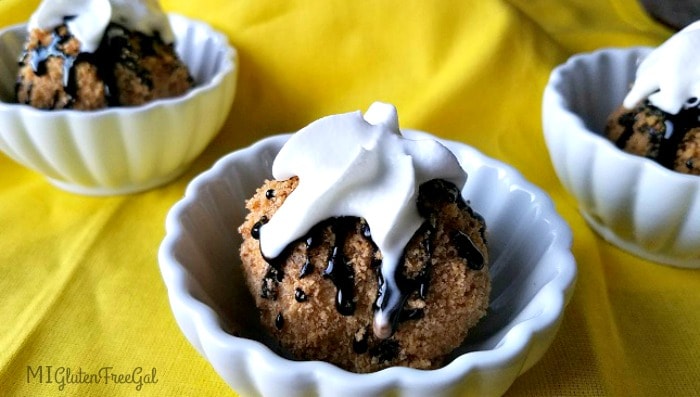 Bite Sized Deliciousness
Most Mexican fried ice cream recipes call for making large, regular scoops. I chose to use my 1 oz. Pampered Chef scoop to make miniature balls. I used So Delicious Vanilla ice cream, so this can be easily made dairy-free. Plus. this is the end of March Madness (why does it always end in April??) and I think they look like little basketballs. If you choose not to coat them in chocolate syrup, they'd make an excellent dessert finger food. Just eat them fast, because it would be a pity it they melted and went to waste!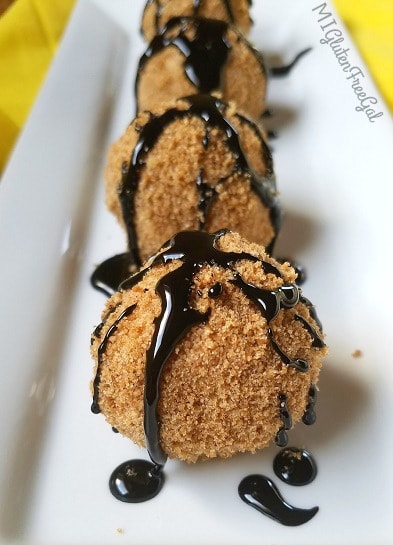 Craving More Mexican Comida (Food) ?
This Gluten Free Mexican Fried Ice Cream makes a great dessert after a Latin American meal. Meal suggestions include my Arroz Con Pollo, or my Black Bean Enchiladas. Looking for something else handheld? Try my Gluten Free Baked Empanadas or my Pupusas. If you'd like other ideas for sweets, my Gluten Free Tres Leche Pudding is simple, yet delicious!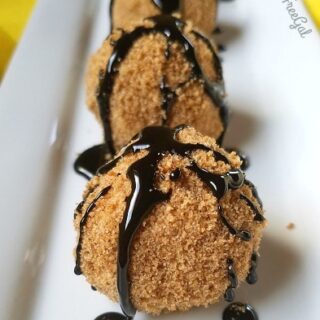 Gluten Free Mexican Fried Ice Cream
Ingredients
For the Ice Cream Balls
1 pint ice cream (Use So Delicious if you're dairy-free!)
2 cups Cinnamon Rice Chex, crushed
1 tsp cinnamon
1/2 tsp sugar
For the Dairy Free Chocolate Syrup
1/4 c. Hershey's Special Dark Cocoa
1/4 c. sugar
1/4 c. water
1/4 tsp. vanilla
Pinch of salt
Instructions
Scoop ice cream into spheres and place on parchment-lined cookie sheet. Once all scoops have been made, place cookie sheet in freezer for 2-3 hours or overnight.
In 3 cup mini food processor, pulverize cereal into crumbs. Add cinnamon and sugar. Process again to mix spices throughout.
Remove ice cream from freezer and allow to soften, approximately 4-5 minutes. Use your hands to pack cinnamon crumb mixture onto ice cream balls. Once all balls are coated, return to freezer to harden until ready to serve.
When ready to serve, remove from freezer. Top with chocolate syrup and a dab of whipped cream.
To make Chocolate Syrup
In a medium saucepan, combine cocoa, water and sugar. Gently stir over medium heat until some of the water cooks off and the syrup begins to thicken.
Remove from heat, add vanilla and pinch of salt. Sauce will thicken as it cools.
**This post contains affiliate links.
Purchases made through those links help support this blog with no extra expense to you. Thank you for your continued support!**
Have you ever made Mexican Fried ice cream? What other Mexican recipes do you love? Share your recipe ideas with me below!