Mindo Chocolate – Michigan's Chocolate Maker
As an Amazon Associate and member of other affiliate programs, I earn from qualifying purchases.
Love chocolate? Love supporting Michigan Made? Get excited about supporting hard working farmers? Mindo Chocolate allows you to do all three at the same time! Read about my recent trip to Mindo Chocolate production facility, located just outside of Ann Arbor, Michigan!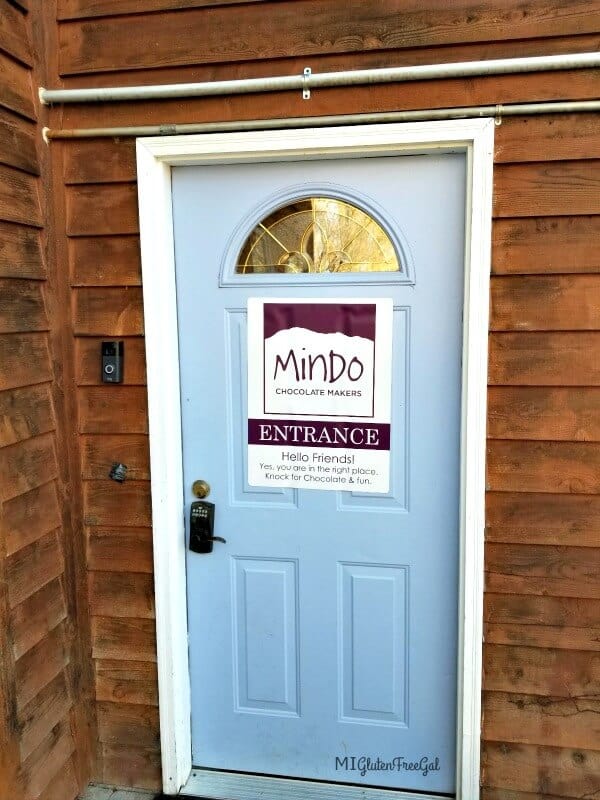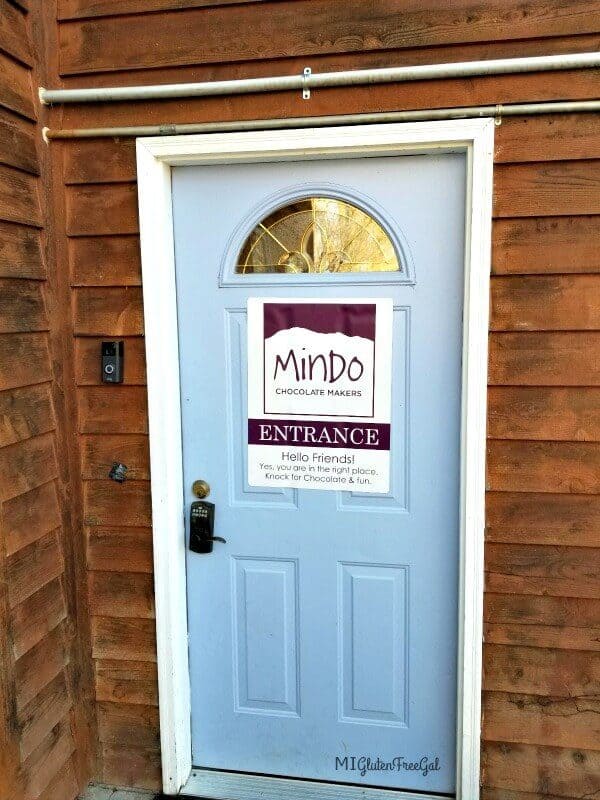 The Golden Ticket to Amazing Chocolate
My husband loves Willy Wonka. We own the director's edition of the one with Johnny Depp in it. Oompa Loompa dance tutorials and all. So when I asked him if he wanted to join me for a tour at Mindo Chocolate, it was an easy "YES."
So we drove just outside of Ann Arbor, to Dexter, MI. This small town is home to Mindo Chocolate, a bean-to-bar chocolate producer doing some pretty amazing things. We arrived at their production facility (a.k.a the owner's house) for a day of chocolate tasting and education. Trust me, the more I learned, the more I love them!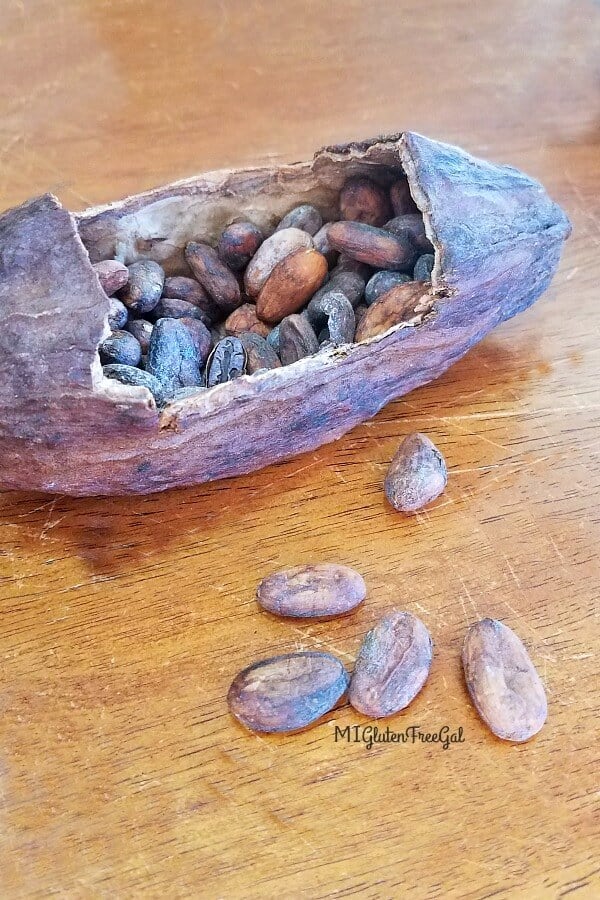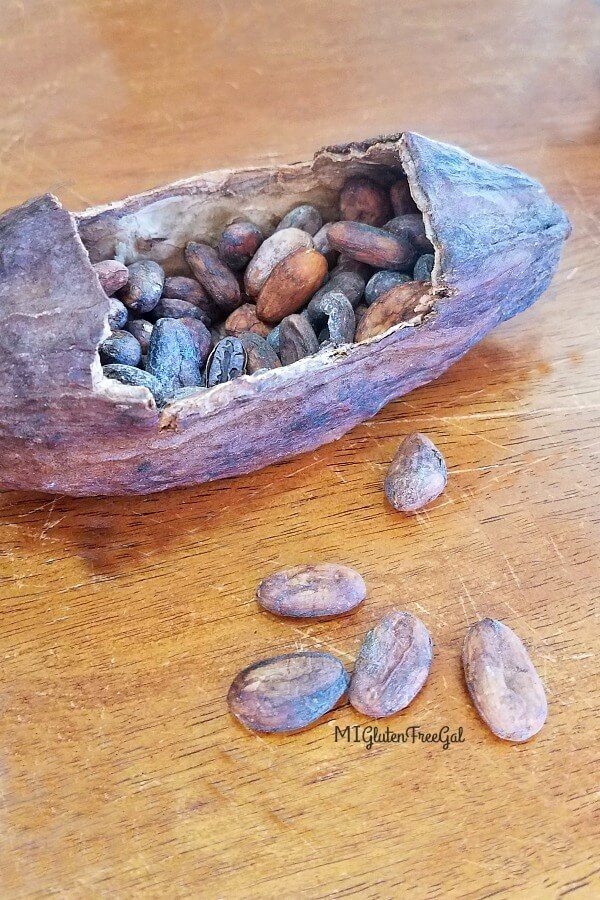 From Farm to Kitchen
Alex McCoy, Mindo's marketing specialist, greeted us at the door when we came in. She told us about how Mindo Chocolate started in Ecuador with an internet cafe and a batch of brownies. (Read more about the back story in this NPR "Hidden In Plain Sight" article.) By the way, it's pronounced "Mean-Dough."
She explained how Mindo trades directly with farmers in Ecuador. This means they see the fields for themselves and invest in the farmers. They grow cocoa pods under shade, which helps protect the soil and the ecosystem. Important, as the trees provide habitats to birds, of which Mindo has more species than any other place on the planet.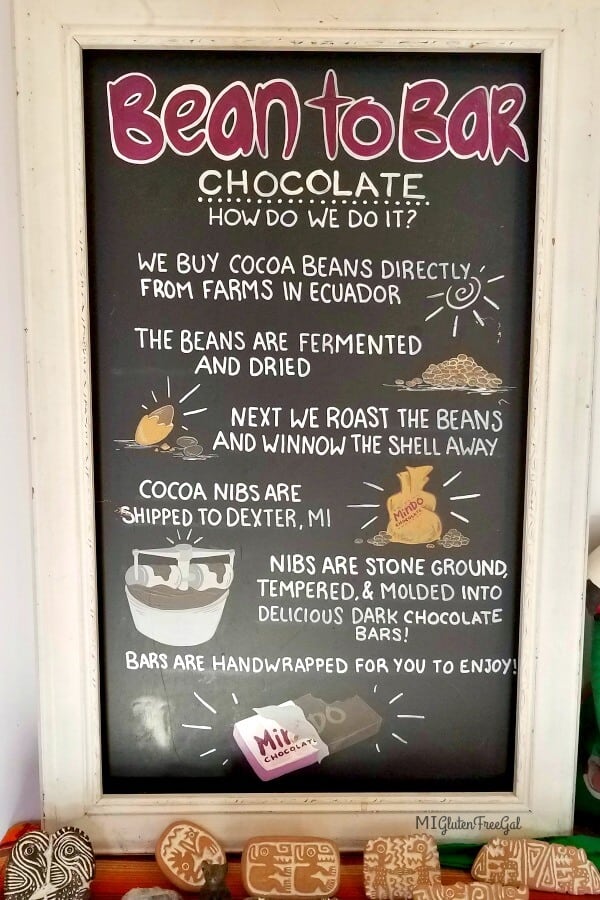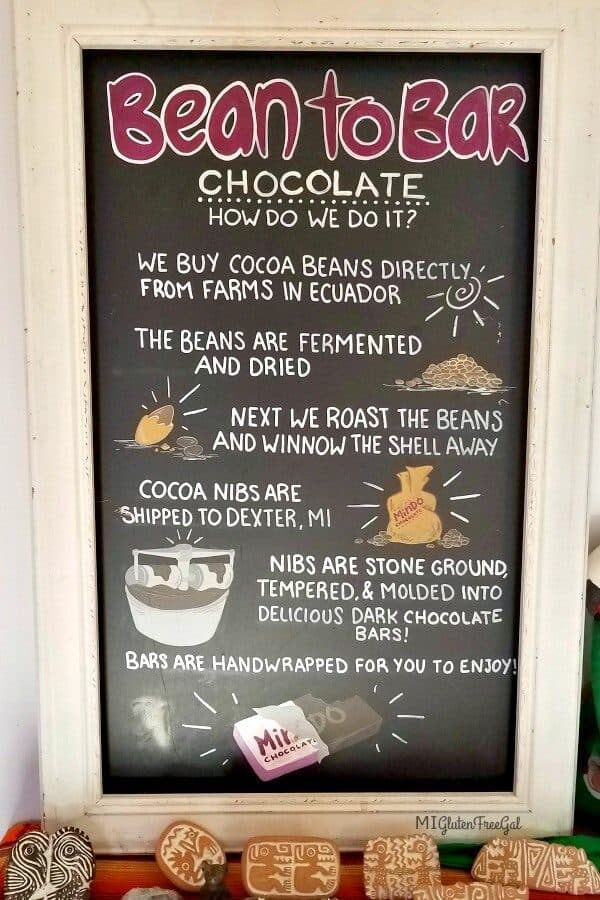 From Bean to Bar
Cocoa pods produce 80 to 100 beans, each. Mindo Chocolate uses Nacional pods, the oldest of cocoa varieties. In fact, in the 19th century, producers desired it more than any other variety. After spending a day tasting Mindo Chocolate, I can see why! After workers harvest the pods, the chocolate ferments for 5-7 days. Mindo Chocolate harvests the liquid during that fermentation process, which they sell as Miel de Cacao. Think balsalmic cream, but made from chocolate.
Then, they roast the beans at 200 Fahrenheit. Next, the beans are crushed to extract the cocoa nibs. Finally, they stone grind the cocoa nibs for 24-36 hours. A longer grind allows the chocolate to aerate, reducing bitter flavors. I could definitely taste the difference. I tried their 100% chocolate bar, and was surprised at its smoothness.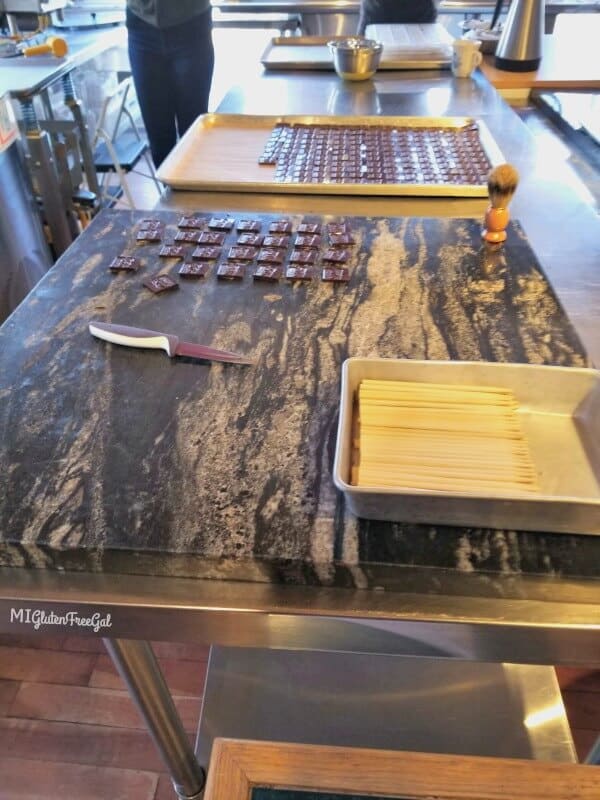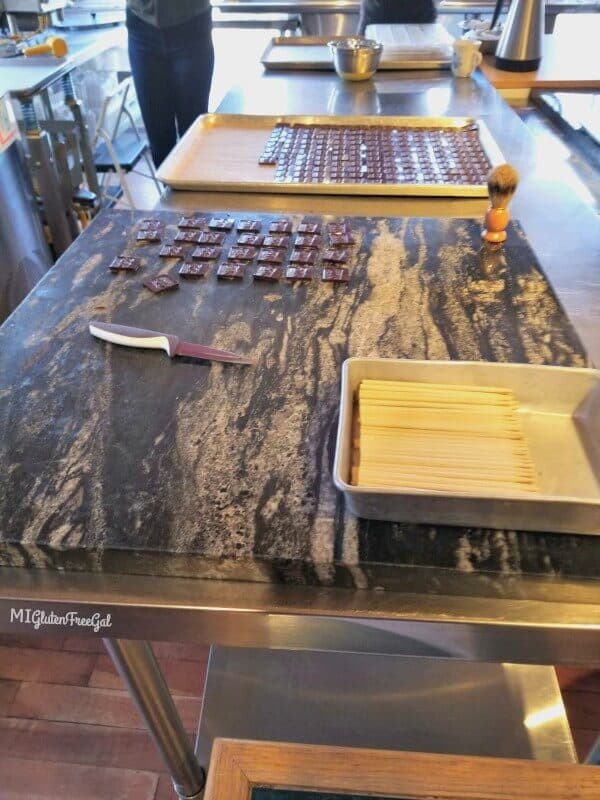 The Long Way
Every step in the chocolate making process is intentional. Staff temper chocolate on marble slabs and reheat the chocolate to prevent blooming of the cocoa butter. They make every piece of chocolate from hand. They even wrap them by hand! The envelopes surrounding the chocolate bars adr made from recycled sugar cane pulp. Local brewers use the discarded cocoa bean shells to brew beer and tea.
Mindo supports other Michigan brands as well. They use Calder Dairy in their creations. Chocolate bars are studded with Michigan blueberries and cherries. The eggs in their legendary brownies? Grown by their own family. Best yet for us? The entire kitchen remains free from wheat, rye, barley and peanuts. (Their white chocolate is soy free as well.)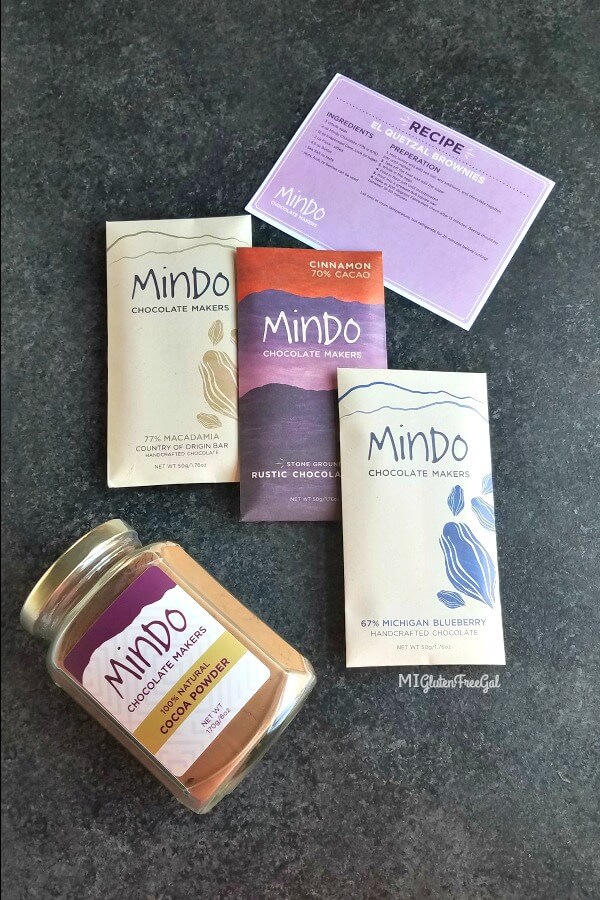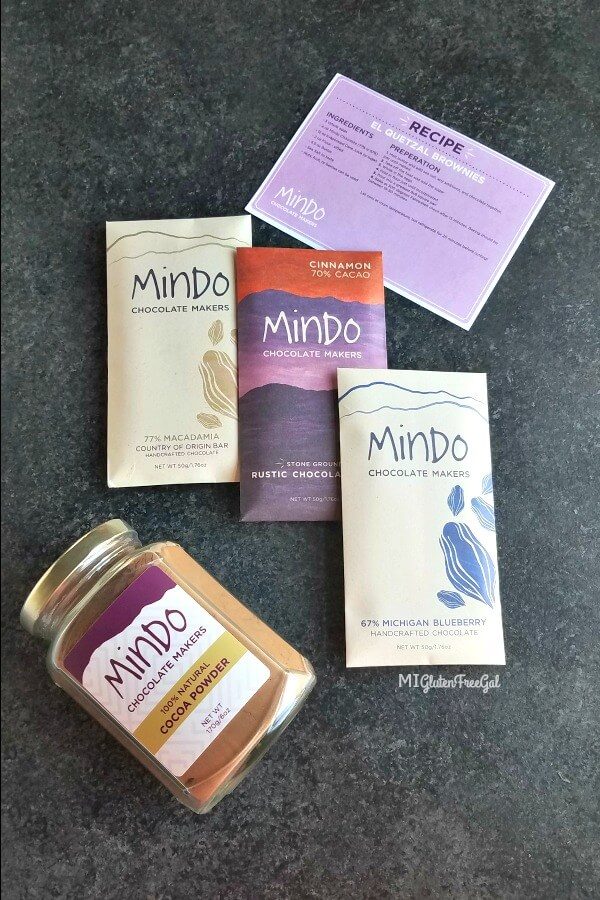 Mindo Chocolate Bars and More
Mindo offers three lines of bars. Their Chocolate of Origin bars are made right in Ecuador, providing further economic growth for farmers. The Signature Line includes bars made with cherries, blueberries and more. Finally, the Rustic line, made from courser ground chocolate, features flavors such as Hot Pepper & Cinnamon.
Mindo makes other products as well. They produce an excellent cocoa powder, with a higher percentage of cocoa butter than other companies. Mindo makes seasonal items, like the chocolate bunny I shared about in my Gluten Free Easter Candy post. They also making "Tasting Tiles," small pieces of chocolate, which are great paired with mead from Blom Meadworks.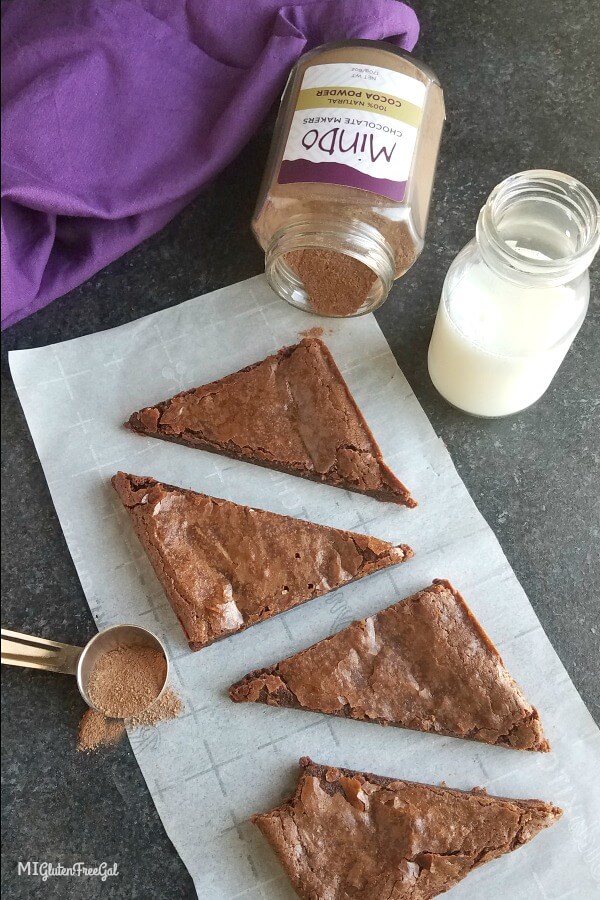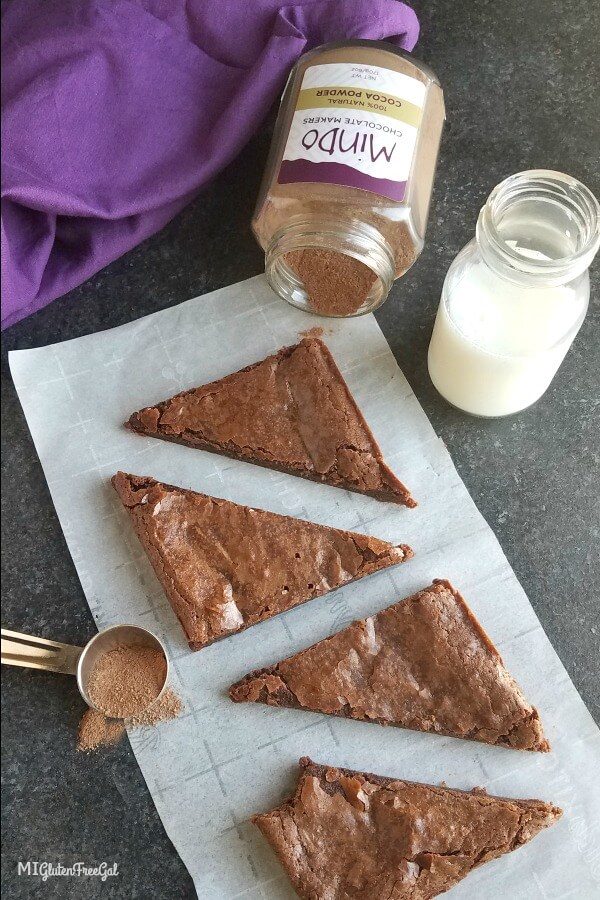 Bringing it All Home
I wish my pocket book allowed me to bring one of everything home. However, I restrained my self to three bars, and the cocoa powder. I used the Mindo cocoa powder to try to recreate their infamous El Quetzal Brownies. It needs some work, but the cocoa powder was definitely the right purchase. (The original recipe uses melted chocolate, not cocoa powder.)
Buy some Mindo Chocolate for yourself at retailers like Plum Market, Argus Farm Stop, Tasty Bakery, Zingerman's Roadhouse, Eastern Market, and more retail partners across Michigan. Alex mentioned not all stores may carry all of their products. Therefore, I recommend shopping via the Mindo website it you want something specific.
Ethically Sourced Chocolate
Mindo is one of many chocolate makers in the world placing a focus on ethically sourced chocolate. This includes paying farmers a fare wage, and reducing the reliance on child slave labor for cocoa harvesting. This also includes Michigan's Grocer's Daughter chocoalte in Empire, MI. Find out more at the Slave Free Chocolate website.
Ann Arbor Road Trip
With Mindo Chocolate's new storefront in dowtown Ann Arbor, their store is the perfect addition to an Ann Arbor road trip. Nearby I recommend Tasty Bakery (100% gluten free), Blom Meadworks (gluten free mead), and a stop at Literati Bookstore. (Love comics? Vault of Midnight is a MUST!) Grab lunch or dinner at Zingerman's Roadhouse, and find some unique gluten free groceries at Plum Market and Argus Farm Stop.
Mindo Chocolate Production Facility
11061 Trinkle Rd
Dexter, MI 48130
Mindo Chocolate Ann Arbor Store Front
206 N 4th Ave
Ann Arbor MI 48104
Monday thru Sat from 7 am – 7 pm, Sunday 9 am – 5 pm
Website | Facebook | Instagram | Twitter
**While I was not charged for the tour, I was not otherwise paid or compensated for this post. All thoughts and opinions are my own. I am DEFINITELY of the opinion you should try Mindo Chocolate!**