Gluten Free Cinnamon Rolls
As an Amazon Associate and member of other affiliate programs, I earn from qualifying purchases.
I tested this recipe for Gluten Free Cinnamon Rolls over and over for you. I hope you love these as much as my non-gluten-free husband does! This post is sponsored by Relative Foods.
The One Food You All Voted For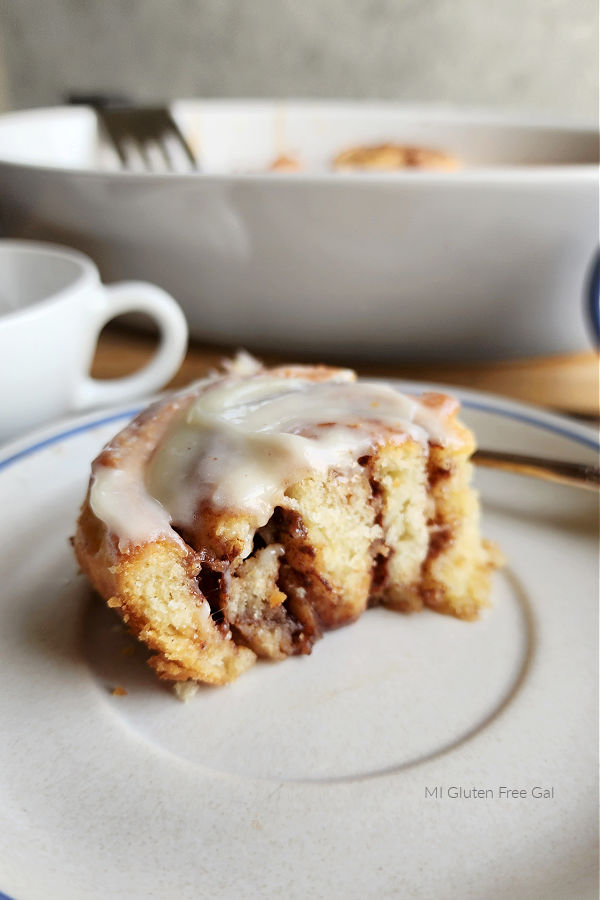 Back in April of 2023, Relative Foods and I asked my followers, "Which Recipe Do You Want Recreated Gluten Free?' While some mentioned coffee cake, spinach pie (which I may still attempt), and oyster crackers, the resounding answer was Cinnamon Rolls. And I get it. There is nothing better than a gooey soft cinnamon roll, slathered in sweet frosting. It may have taken me 6+ attempts, but I feel I have a winner with this recipe.
What is Relative Foods?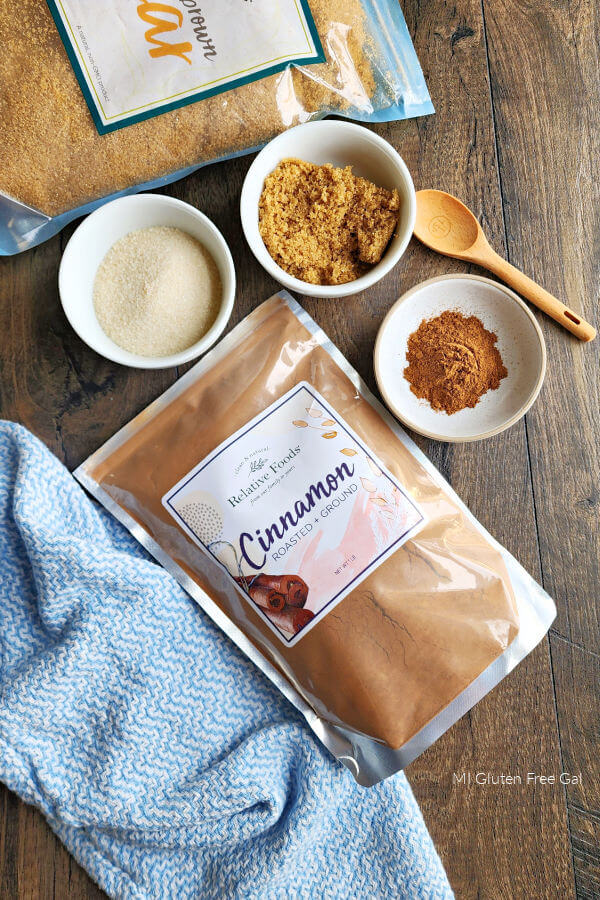 Relative Foods is a small, family-run, veteran-owned food processing business in Spring Lake, MI. Their facility is completely gluten free, and free from many common allergens. None of their products include nuts, soy or dairy. Many of their products are organic, and free of GMO's. They sell sugars, salt, millet flour, and spices, including their new cinnamon. I love the peace of mind I have knowing that their facility is 100% gluten free.
Added bonus- My followers get a 15% discount on all Relative Foods products with the code MIGFGAL at checkout. Or click this link, and it automatically applies the discount.
What Flour Do You Use for These Gluten Free Cinnamon Rolls?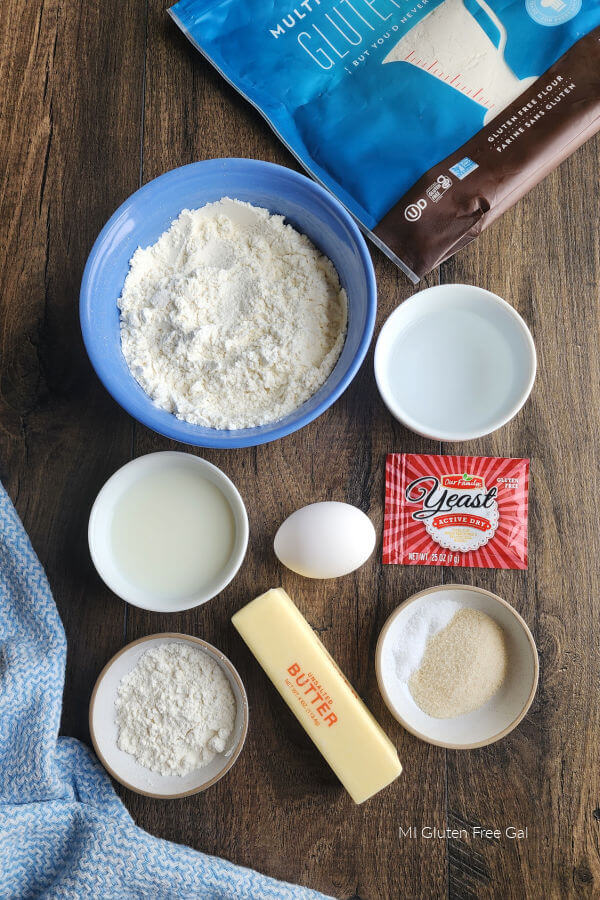 I need my followers to understand something. When I use the term "Cup4Cup," I am referring to a specific brand. I created this recipe for gluten free cinnamon rolls, starting with my popular gluten free crescent roll recipe. I didn't attempt this recipe with any other flour blend, and I don't plan to. In my baking experience, this is the best "all purpose" gluten free flour blend to use with yeast.
What is Tangzhong?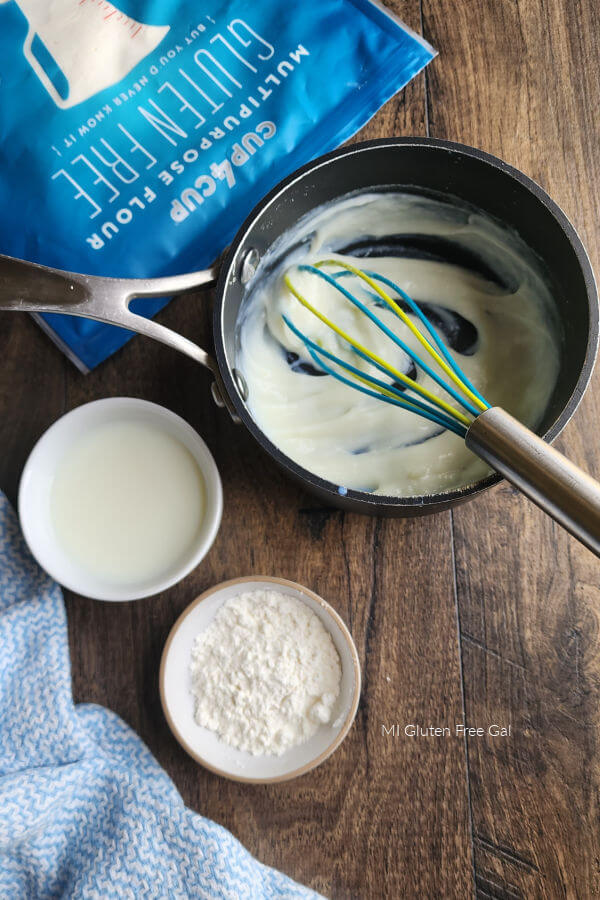 Glad you asked. Prior to attempting this cinnamon roll recipe, I'd never heard the term myself. I learned about this technique from reading King Arthur Baking's website. Tangzhong is a rue of flour and milk. So many cinnamon roll recipes call for "scalding" the milk. However I get distracted and usually cook it too long. Using the tangzhong method allows the dough to hold on to more moisture. And soft and moist is definitely what we want for cinnamon rolls.
When I looked at how tangzhong was used in other recipes, it appeared to have a 1:3 ration. 1 tbsp flour for 3 tbsp milk. Therefore I chose to use 2 tbsp flour and 1/3 cup milk. (For those that are unaware, 1/3 cup equals five tablespoons + 1 tsp.) Learn more about using this technique for baking in Gluten Free on a Shoestring's Gluten Free Japanese Milk Bread Recipe.
What Kind of Yeast Should I Use?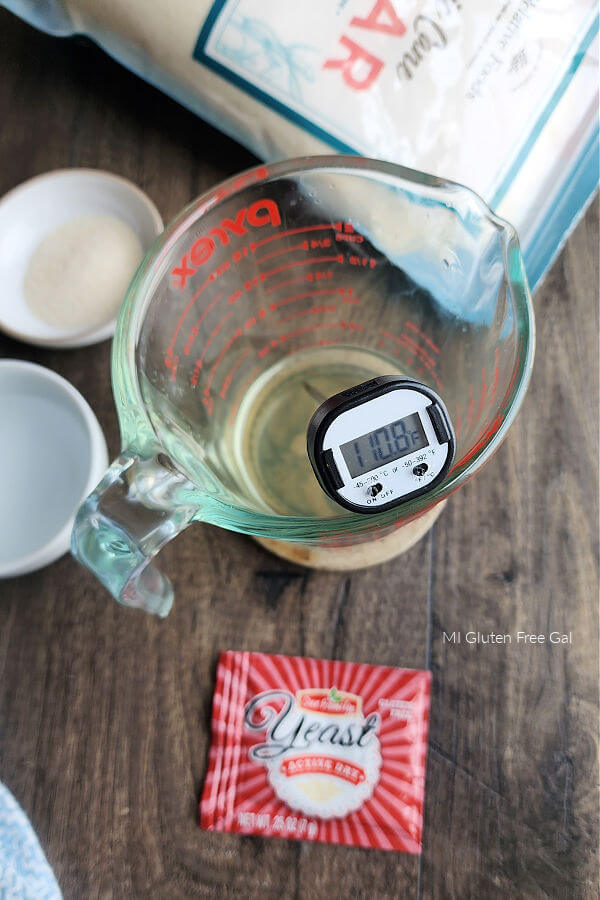 There are three kinds of baking yeast that people tend to use. Active, Instant and Fresh. I never use fresh, because I don't bake with yeast all that often. While Instant yeast allows you to skip the proofing step, I find the active yeast works better in this dough. I tried my gluten free crescent roll recipe with these two yeast types, and found that the instant yeast produced a better tasting and softer roll.
When proofing yeast, it's important that your water is "just right." 110 degrees is the water temperature I prefer. I always make sure to add a tbsp of sugar to my water, as it helps the yeast to grow/ feed. I usually allow my yeast to proof for 10 minutes. Which is perfect for this recipe, as your rue can cool down while your yeast is rising.
How to "Roll" Cinnamon Rolls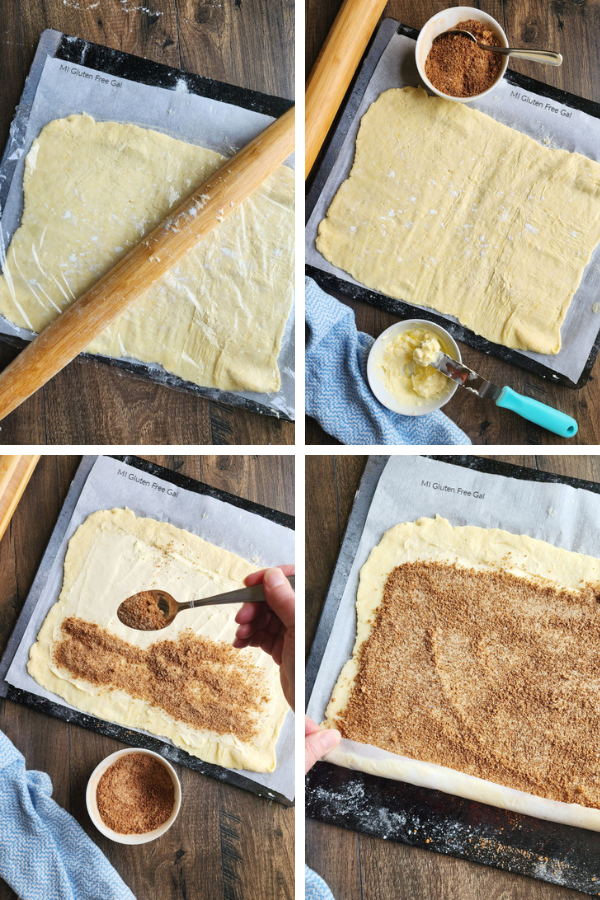 First, we need to chill. The dough that is. After you've combined all the ingredients for your dough, and allowed it to rise, it might be a bit warm. However, we want all that softened butter in the dough to be firm, so you can easily roll the dough. I allowed my dough to chill for 30 minutes, before rolling. Another tip- You can cover your dough with plastic wrap, to make rolling easier. The dough won't stick to your rolling pin, that way.
You'll rough your dough into a rectangle, approximately 15 x 9. While some people melt their butter and add their cinnamon and sugars to that, I prefer to add my softened butter separately. I look for it to be about the consistency of frosting. (I warm it in the microwave for 5 seconds,and then stir.) Then I sprinkle the combined Relative Foods cinnamon and sugars, and press it into the butter.
Finally, use the edge of the parchment to help you roll your dough into a log. If you managed to sprinkle enough flour underneath, prior to rolling the dough, it should roll up easily.
P.S. My favorite rolling pin is this tapered rolling pin from Totally Bamboo. It's lightweight, which is easier on my wrists. Plus it's simply beautiful. Easy to clean and care for, too. It only cost $19.99!
The Best Way To Cut Gluten Free Cinnamon Rolls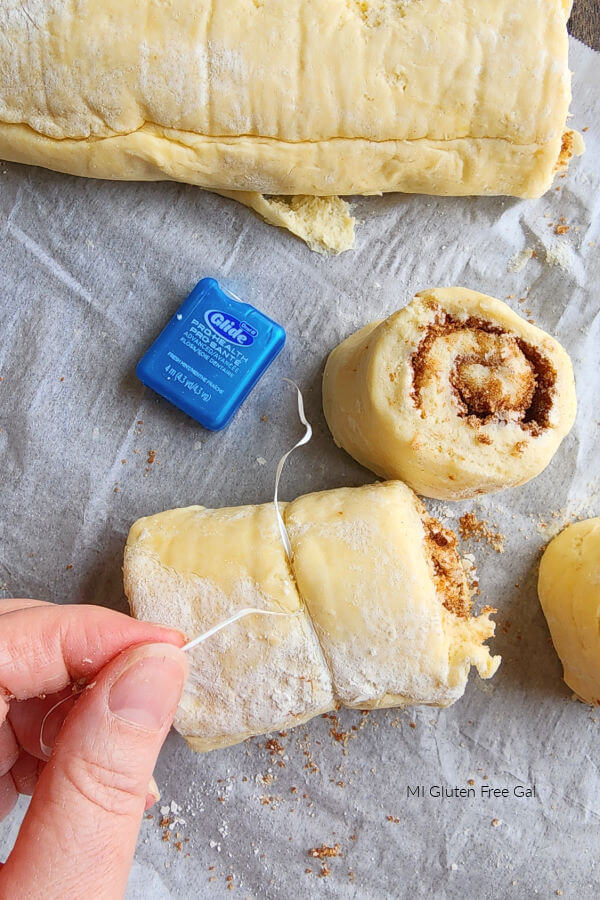 I know you just took the dough out of the fridge. But you're going to want to place the rolled up log back in the fridge for a bit. All that butter in the dough is warm. We need it firm to be able to "slice" it. 15 minutes should be good. Then use dental floss (preferably not the minty kind) to "cut" through the dough.
To "cut" the dough, you'll slide a large piece of floss underneath the log of dough. When you reach the halfway point, pull the opposite ends of floss towards each other. This will give you a cleaner cut than you'd get with a knife. Repeat this until you have 8 equally sized cinnamon rolls. After they've been cut, they'll rise again for an hour before baking. **Note- Before baking, brush on some heavy cream. This keeps the tops of the cinnamon rolls moist while baking.
What Should I Serve with Cinnamon Rolls?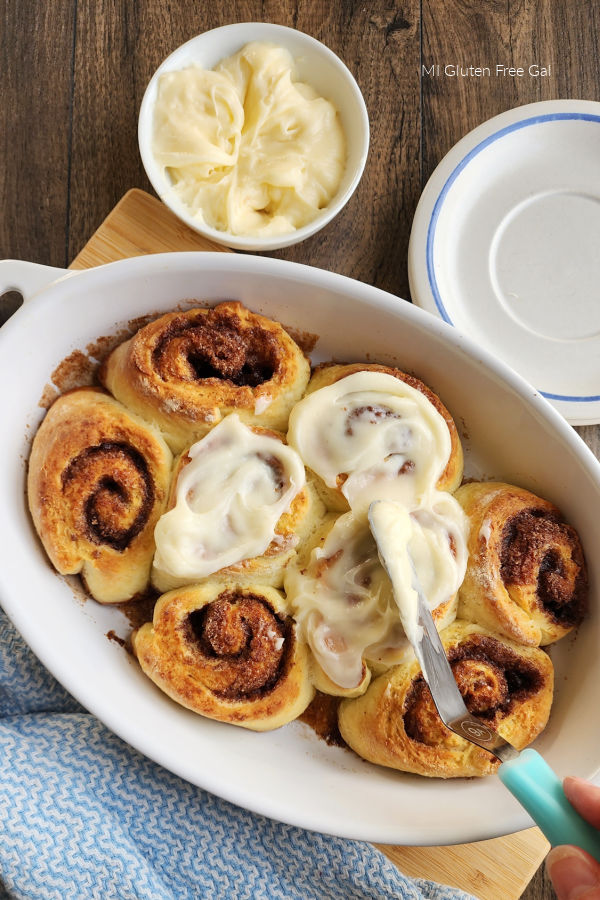 Great question. These gluten free cinnamon rolls would pair well with my Mashed Potato crust quiche or a savory breakfast strata. Make Iowa Girl Eats Crockpot Breakfast Casserole, and free up space in your oven. My friend Johnna said cinnamon rolls are served with Chili where she comes from. Make my Cozy Comfort Chili and try the combo yourself!
How Do I Reheat Cinnamon Rolls?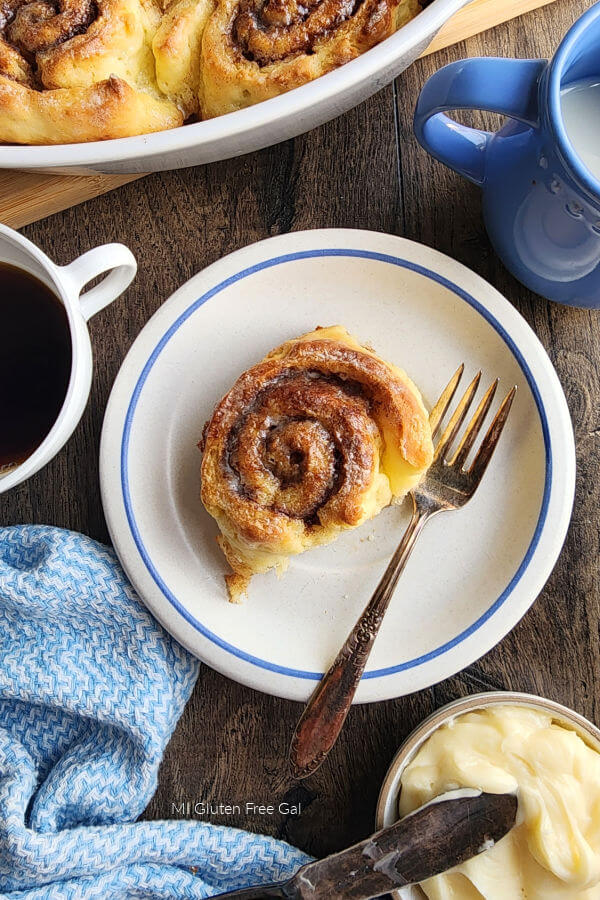 Because I live in a household of 2 (three if you count the dog), we're not eating a whole pan of gluten free cinnamon rolls by ourselves. (Although my husband would certainly be willing to try!) After doing some research, I found that you can place the whole pan back in an oven, preheated to 275 degrees. On a separate rack, place a bowl of warm water, to create steam. Heat for 15-20 minutes.
This is also why I recommend only frosting your cinnamon rolls individually. If you put a whole pan in the oven, with frosting, for 20 minutes, you'd end up with a hot mess. (Pun intended.) Plus, not everyone likes frosting. (Wild, I know.) So allow your friends and family to add their own frosting, and make it easier to reheat the pan, later.
Can I Make the Dough The Day Before?
I tested this recipe a 7th time, by making the entire recipe EXCEPT for baking it. I placed the rolled and risen cinnamon rolls in the fridge overnight. The next morning I removed the dish from the fridge, and allowed it to come to room temperature. I did this for 30 minutes. Then I preheated the oven to 350 and baked them for 30 minutes. They turned out absolutely perfect!
Need Dairy Free, Egg Free, Yeast Free, Grain Free, etc. Cinnamon Rolls?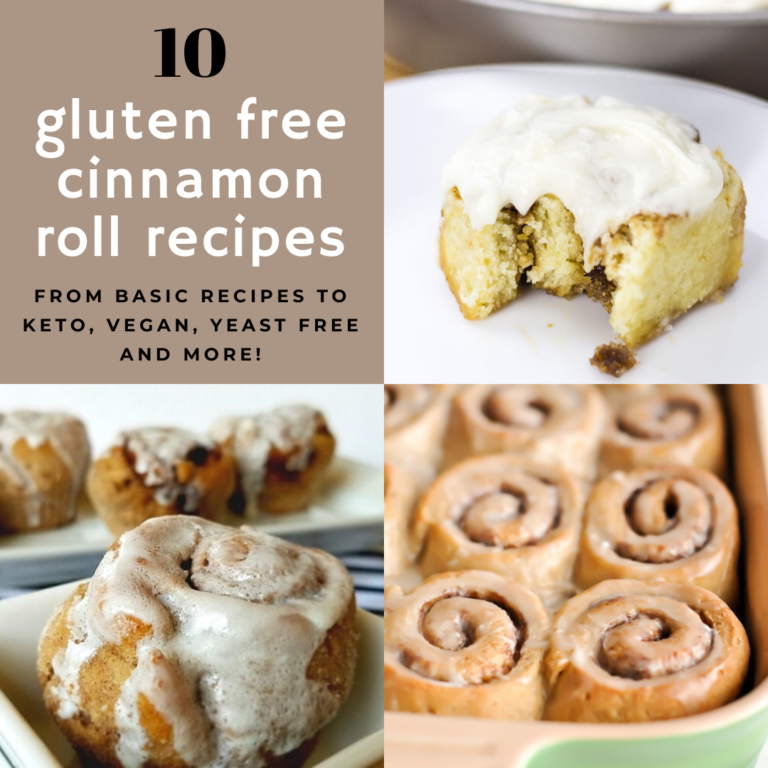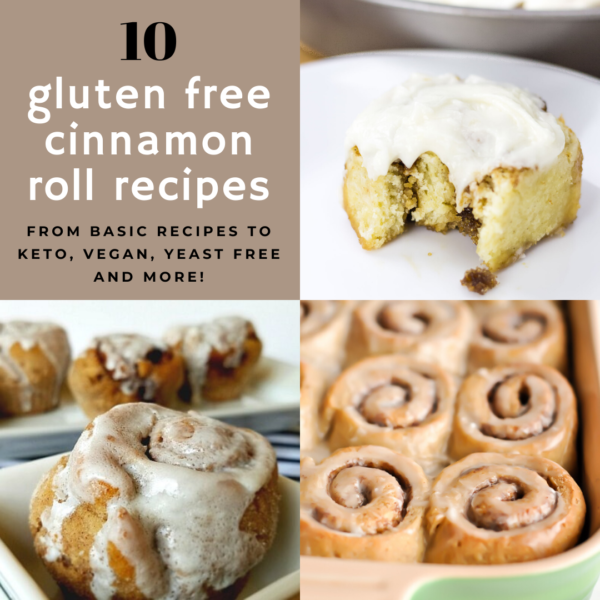 Cup 4 Cup brand Multipurpose flour contains milk powder. Therefore you cannot use this flour and simply substitute with other milk or butter options. I have a whole blog post that shares 10 different gluten free cinnamon roll recipes. There you'll find cinnamon rolls without eggs or dairy or even yeast. There's even a Keto option!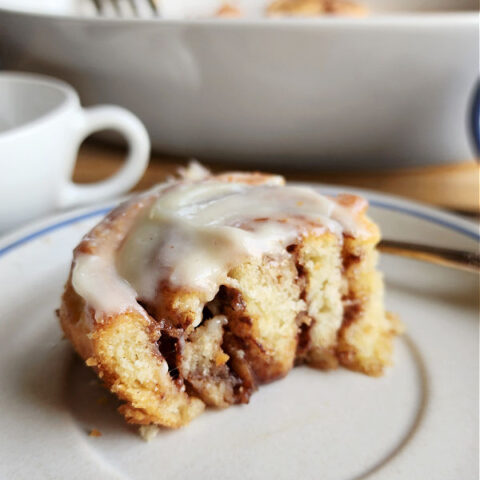 Gluten Free Cinnamon Rolls
Ingredients
To Make The Rue
2 tbsp Cup 4 Cup brand Multipurpose Flour
1/3 c. milk
To Proof the Yeast
1 tbsp sugar
1/4 c warm water (110 degrees)
1 pkg active yeast
To Make the Dough
1 3/4 c Cup 4 Cup brand Multipurpose Flour (210 grams)
1/2 tsp salt
1 tbsp sugar
5 tbsp softened butter
1 egg, room temperature
(cooled rue)
(proofed yeast)
For the Filling
4 tbsp softened butter
1/4 c cane sugar
1/4 c. brown sugar
2 tsp cinnamon
(Prior to baking, brush formed rolls with 2-3 tbsp cream)
For the frosting
4 oz cream cheese
2 tbsp butter, softened
1 tsp vanilla
1 c powdered sugar, sifted
Instructions
To make the tangzhong rue, cook 2 tbsp flour and 1/3 c milk in a small pot. Cook for 3-5 minutes until it starts to thicken. Allow to cool
While that is cooking, combine 1 tbsp sugar with 1/4 water that's been warmed to 110 degrees. Once combined, add a package of active yeast and allow the yeast to proof for 10 minutes.
While the yeast is proofing, add 1 3/4 c "Cup 4 Cup Multipurpose flour", 1/2 tsp salt, and 1 tbsp sugar to a large bowl. (I use a stand mixer.) Stir.
Add in 5 tbsp room temperature butter and 1 egg. Mix.
Finally add the cooled rue and the proofed yeast to the dough. Mix until a soft dough forms.
Transfer dough to an oiled bowl to rise for 60 minutes. I like to put my dough in a slightly warmed (but turned off) oven. Adding a bowl of warm water on the bottom oven rack also helps in the rising process.
After the dough has risen for an hour, allow to cool in the refrigerator for at least 30 minutes. This allows the butter to firm up, and make the dough easier to roll.
While the dough is chilling, combine 1/4 c. cane sugar, 1/4 brown sugar, and 2 tsp cinnamon in a small bowl. This is for the filling.
Once the dough is chilled, remove from refrigerator. Generously flour a large piece of parchment paper. Transfer chilled dough to paper and kneed until a soft ball forms.
Flour parchment again before rolling. Roll dough into a rectangle approx. 15 x 9 inches. You can use saran wrap on top of the dough to prevent it sticking to the rolling pin, if you prefer.
Spread dough with 4 tbsp softened butter. (I usually warm mine for 5 seconds in the microwave, until it has the consistency of frosting.)
Sprinkle the sugar and cinnamon mixture on top of the butter.
Using the bottom edge of the parchment paper, tightly roll the dough into a log.
After rolling the dough, place the dough log back in the fridge to firm up before cutting into individual rolls.
After having chilled, use unflavored dental floss to cut the log into 8 equal rolls.
Place cinnamon rolls in a greased dish, and allow to rise for 60 minutes.
After rolls have risen, brush with 2-3 tbsp heavy cream. This will keep the top of the rolls moist as they bake.
Warm the oven to 350 degrees.
Bake the cinnamon rolls for 25 minutes.
While the rolls are baking, prepare the frosting. Combine the butter, cream cheese, vanilla and sifted powdered sugar in a bowl with tall sides, and beat with mixer until all powdered sugar is combined. (A bowl with tall sides prevents the powdered sugar from getting everywhere.)
When rolls are done baking, allow to rest 5-10 minutes before applying frosting. I prefer to apply the frosting to individual rolls, in case you want to warm up leftovers in the microwave/oven
*To reheat the entire pan of rolls, preheat oven to 275 degrees. Place a bowl of warm water in the oven, for added moisture. Heat the rolls for 15 - 20 minutes, until rolls are soft. I also brush the tops of the rolls with add'l cream before reheating.
This post is sponsored by Relative Foods. All thoughts and opinions are my own. This post may also contain affiliate links. While I receive a small commission from advertising, it does not change the price that you pay. Thank you for supporting the work I do!