Baked Gluten Free Empanadas
As an Amazon Associate and member of other affiliate programs, I earn from qualifying purchases.
These gluten free empanadas, made with masa harina, are naturally gluten free. They are baked, not fried, and freeze well for a quick lunch when life is hectic. We like them stuffed with chicken and cheese, but personalize them with your favorite fillings!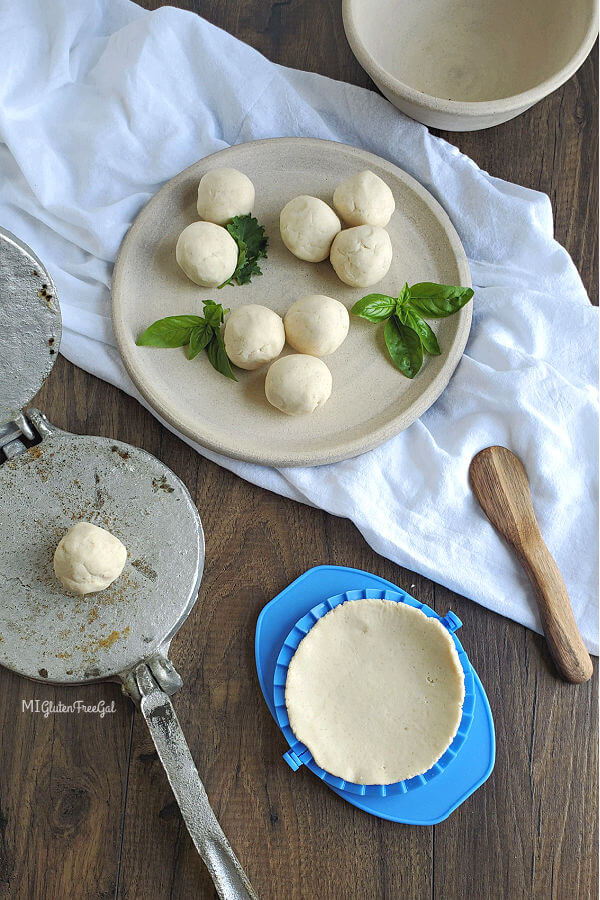 Columbian Style Gluten Free Empanadas
Depending on which Latin American country you find yourself, there are many types of empanadas. For instance, in Argentina, empanada dough consists of wheat flour and lard. Living with Celiac Disease, that means I would need to make some substitutions. However, Colombian style empanadas start with masa harina. Which is naturally gluten free. #Winning
Masa harina has become a fixture in my kitchen. I use it for homemade tortillas, pupusas and Mexican Lasagna. It's slightly different than cornmeal, as masa harina is cooked with lime, and then dried. I still use it in my cornbread, though. I choose to use the Maseca brand, because I know it's produced in a gluten free facility.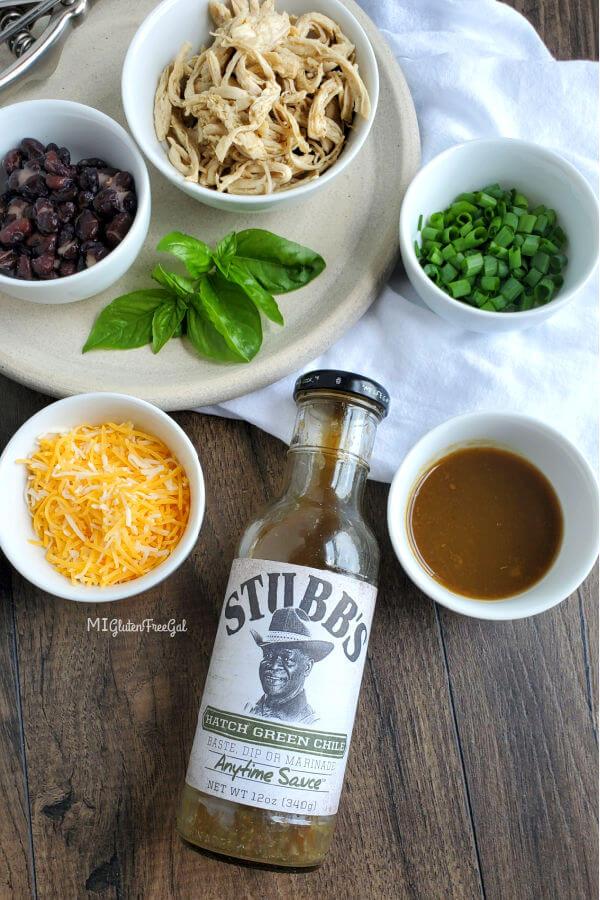 Stubb's Green Chile Anytime Sauce
I don't usually eat spicy things. (Totally aggravates my hiatal hernia.) Therefore, the love of Hatch green chiles were completely lost on me. However, Stubb's recently sent me a (rather large) package of products to try. Included in the package was their Green Chile Anytime Sauce. I love using Stubb's products, because their sauces are certified gluten free.
And now, I totally get America's love affair with these green peppers. To cut down on the heat, my husband combined Greek yogurt with the Stubb's Green Chile Sauce. This created a savory sauce, when combined with chicken, black beans and cheese. Before stuffing your gluten free empanadas, make sure to cool the chicken completely. The filling needs to be cold.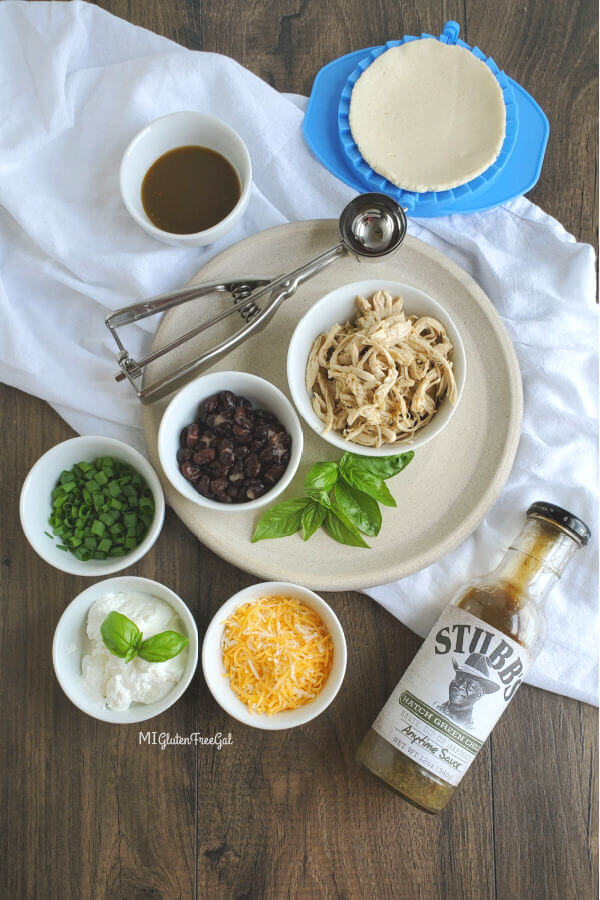 Baked, Deep Fried or Air Fried?
I prefer to bake this recipe for gluten free empanadas. Why? Because frying can get messy, and undoubtedly I'll end up burning myself. (I'm not anti deep fried food, tho. My gluten free falalfel is fried.) However, traditional recipes call for frying them. If you'd like to do so, heat your oil to between 350-365 degrees, and cook for 2 minutes per side.
Inevitably, someone asks, "what about an air fryer?" I don't have one. Yet. However, Gluten Free on a Shoestring owns one. She cooks her Colombian Empanadas in the air fryer at 380 degrees for 12 minutes, flipping them after 6 minutes. I'd definiltey make sure to brush them with oil, to make sure they crisp nicely and don't burn. Actually, I think she brushes her with an egg wash.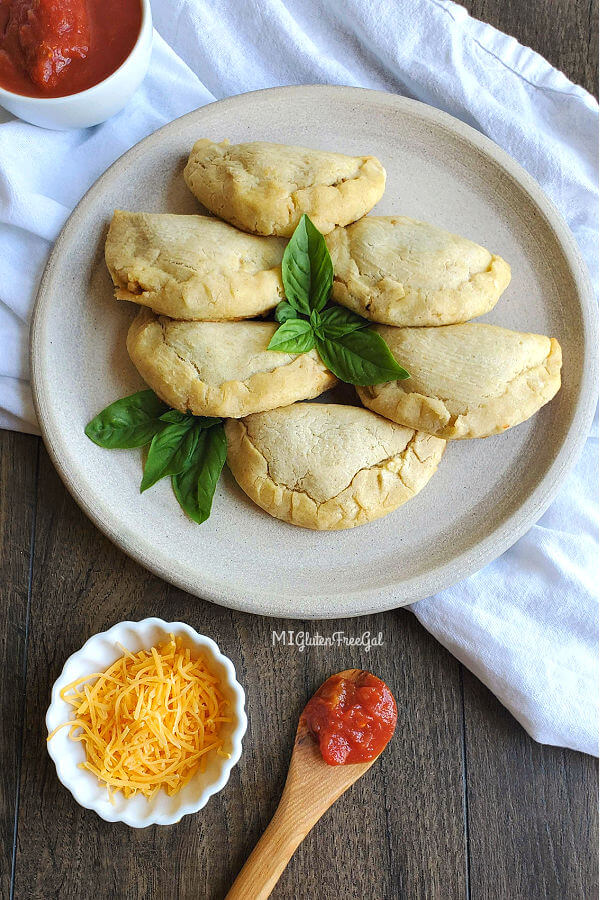 How Do I Store Extras? How Do I Reheat Them?
This recipe for gluten free empanadas makes a pretty good sized batch. If you have a large family, you may not have leftovers. However, in our household of two, there's more than we can (or should) eat in one sitting. The empanadas can be stored in the fridge for 2-3 days, and rewarmed in a 350 degree oven for 10 minutes.
We like to make and freeze these gluten free empandas for a quick dinner, or to stick in my husband's lunch. To freeze them, place them on a cookie sheet and stick in the freezer. Once frozen, transfer to a resealable plastic bag. To reheat from frozen, place in a 350 degree oven, and bake for 15-20 minutes. I'd recommend brushing them with a bit of oil so they don't burn.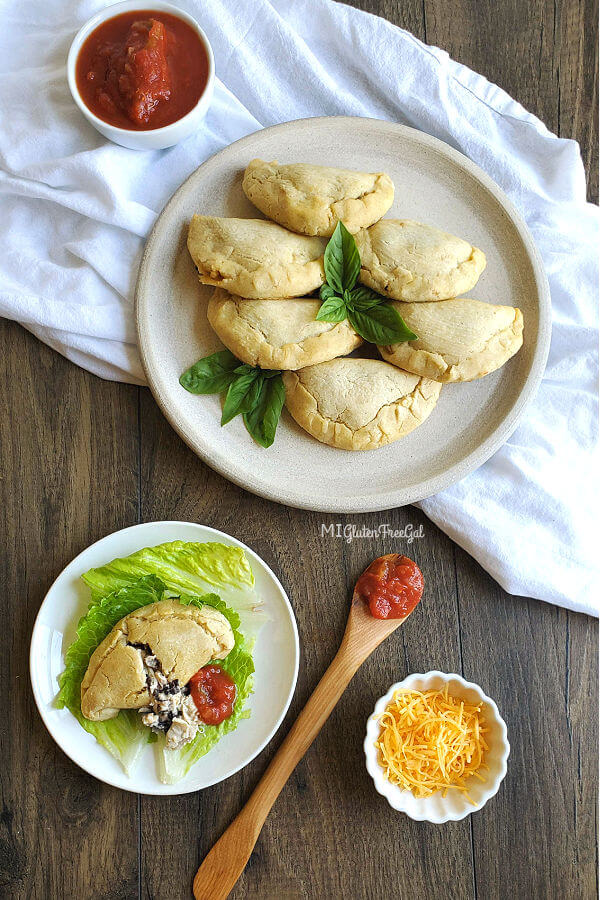 Other Filling & Dough Options
This is the part of the post where I try to share substitutions for eggs and dairy. However, this recipe uses no eggs at all. There is no dairy in the dough, and the cheese in the filling is optional. One could use a dairy free yogurt or sour cream, but I've never baked with that before, so I don't know how it will turn out.
My gluten free empanadas call for meat, however, you don't have to use it. A Cozy Kitchen's Colombian Empandas recipe uses no meat, and instead uses potatoes. You could also likely sub cooked jackfruit for the shredded chicken, although I've never tried it. Can't do corn or other grains? Try these cassava flour empanadas from Back Porch Paleo, instead.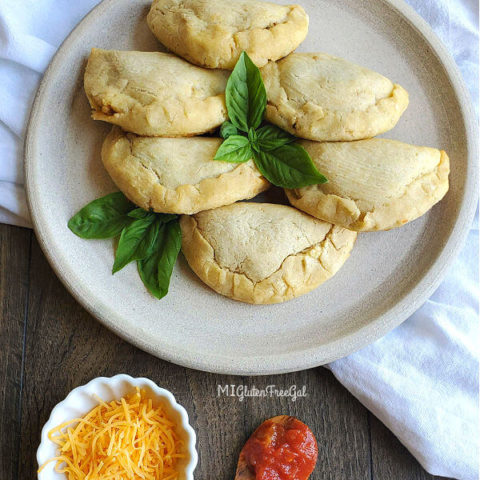 Baked Gluten Free Empanadas
Ingredients
For The Dough
2 c Maseca Masa Harina
1 1/2 c water
1/2 tsp salt
1 tbsp oil
For the Filling
1 large chicken breast, cooked and shredded
1 c black beans
1 c shredded cheese, blend of Cheddar and Mozzarella
1/3 c Stubb's Green Chile Anytime Sauce
1/3 c plain Greek yogurt (or sour cream)
1/3 c green onions, minced
Instructions
Preheat oven to 350 degrees.
Prepare dough by combining ingredients in a medium bowl. Mix until a firm dough forms, and then allow to rest while creating the filling. This allows the moisture to completely absorb into the masa harina. Cover the bowl with a towel, while it rests.
For the filling, combine all ingredients into a large bowl and stir so ingredients are evenly incorporated. The dough needs to be cool to stuff the empanadas, so make sure to start with shredded chicken that is completely cooled.
To fill the empanadas, divide the masa dough into 40g or 1.5 oz dough balls. I use an OXO scale to weigh the dough balls.
Next, press the dough flat in a tortilla press, between two sheets of plastic. (We actually use a plastic sandwich bag with the sides cut open.) You will do this to create a flat round disc. Next, place the disk carefully in an empanada press.
Place approximately two tablespoons of filling in the center of the press. My husband utilizes a medium Pampered Chef scoop, which he says is just the right amount of filling.
Carefully fold the top edge of the dough circle over the filling, pressing down on the bottom edge to seal the empanada. (This can be done by hand, without a special press. The special press just makes the edges prettier. For tips on making them without a press, see A Cozy Kitchen's recipe, linked in my blog post.)
Place formed empanadas on a cookie sheet that's been sprayed lightly with cooking oil, to prevent sticking. I'd also recommend brushing the tops of the raw empanadas with oil, to prevent burning. Some recommend brushing with an egg wash instead, which is optional.
Bake in a 350 degree oven for 18-20 minutes. Best served warm, with salsa.
See blog post for recommendations on freezing and reheating baked empanadas. Suggestions for deep frying and air frying the raw empanadas are also located within the text of my blog post.
What's your favorite Latin American inspired foods? Have you tried Stubb's products? What's your favorite way to use them?
**Stubb's generously provided me a large assortment of products to try. I was not otherwise paid or compensated for my time. This post does contain affiliate links. Purchases made through those links help support this blog with no extra expense to you. Thank you for your continued support!**