Gluten Free Arroz Con Pollo, Perfected
As an Amazon Associate and member of other affiliate programs, I earn from qualifying purchases.
Whether it's Cinco De Mayo, Taco Tuesday, or simply a day you feel "Olé," this gluten free Arroz Con Pollo is the perfect dish for your family table. Thank you to Delta Blues Rice for sponsoring this post and making wonderful rice products!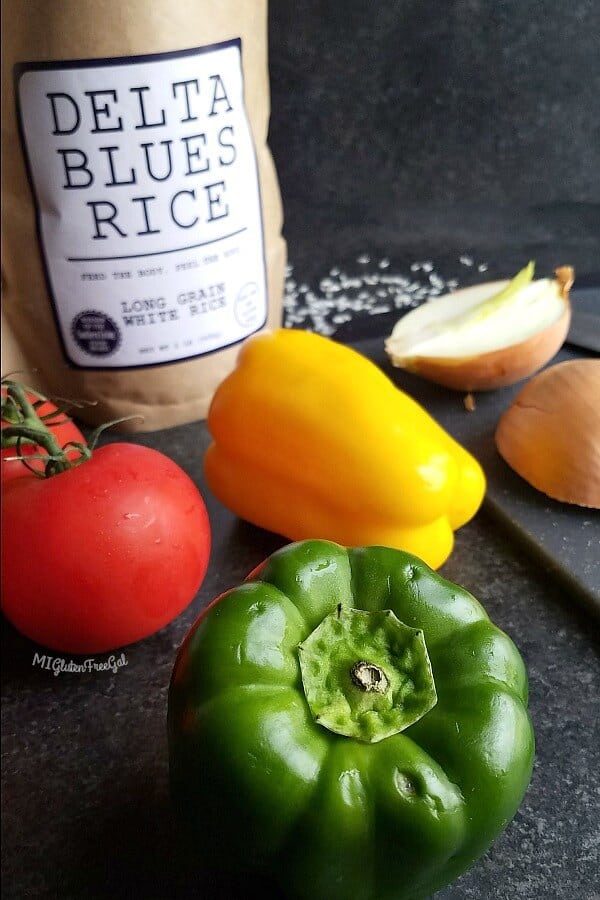 Cinco De Mayo and Sofrito
The end of April approaches, and Americans prepare for one of their favorite holidays. No, not Christmas or Easter, but Cinco de Mayo. It gives us all added permission to indulge in tacos, enchiladas and any other dish that adds a touch of cumin and cilantro.
While American dishes often being with a mix of onion, carrots and celery, Latin American dishes being with "sofrito." A good sofrito contains three major ingredients- tomato, peppers and onions. And a good glug of olive oil to cook it all in. Therefore, this gluten free Arroz Con Pollo starts with exactly that.
Cinco De Mayo is NOT Mexican Independence Day
When I first thought about what I wanted to make for Cinco De Mayo this year, I found myself a bit stumped. Uninspired. After all, what DO Mexicans consider a traditional meal from their homeland? Americans believe a variety of things about Cinco De Mayo folklore, some of which is untrue.
For example, Cinco De Mayo is NOT Mexican Independence Day. That celebration falls on September 16th, when Mexico sought independence from Spain. No, Cinco De Mayo commemorates the miraculous victory Mexico won over the French Army. To honor both armies, I settled on this gluten free Arroz con Pollo.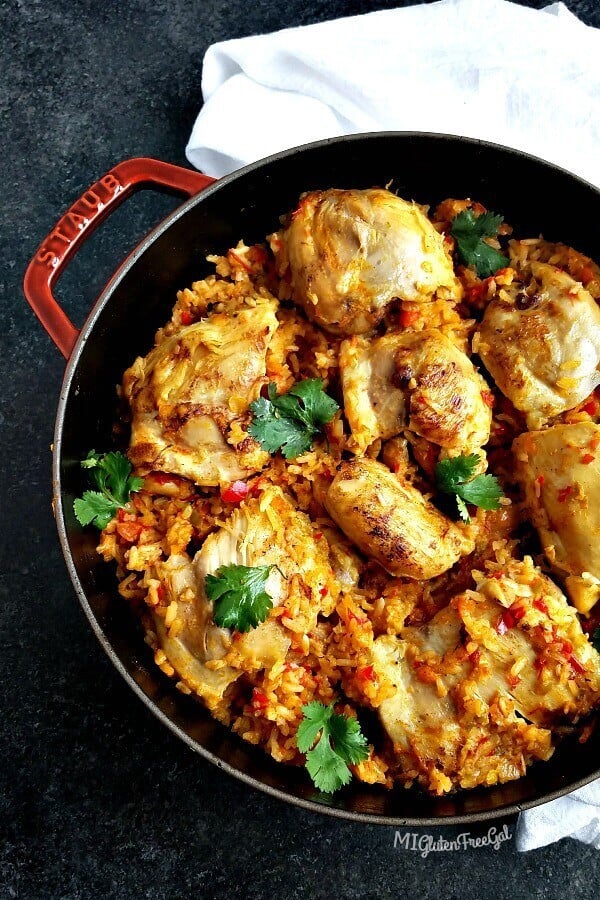 One Pot Meal
Know what I love most about this gluten free Arroz con Pollo? (Other than the fact that it is 100% DELICIOUS?) You cook the whole thing in ONE POT. I love one pot meals. Now, that's not to say you won't dirty other dishes. Let's not be silly.
However, you can be guaranteed that you won't leave a stack of pots and pans, reaching to the ceiling, when you are finished. Gracias a Dios! My preferred pot for meals such as this remains to be my Staub Cast Iron 4 qt Dutch Oven. (affiliate link) This pot can cook just about anything and everything. Roast chicken, curries, baked ziti, this pan accomplishes it ALL.
NO CILANTRO NEEDED!
Now, I titled this "Gluten Free Arroz Con Pollo, Perfected." Why? Because it leaves out the hot spices and cilantro, which tastes like soap. But if you like those things, feel free to add them. However, without polarizing ingredients, I highly believe young and old alike will agree on loving this dish.
My husband likes cilantro and spicy food, and he LOVED this even without those ingredients. Also, this dish could easily be made vegetarian, simply by leaving out the chicken. The sofrito provides a depth of flavoring that will create the best "Mexican rice" you've ever eaten, hands down.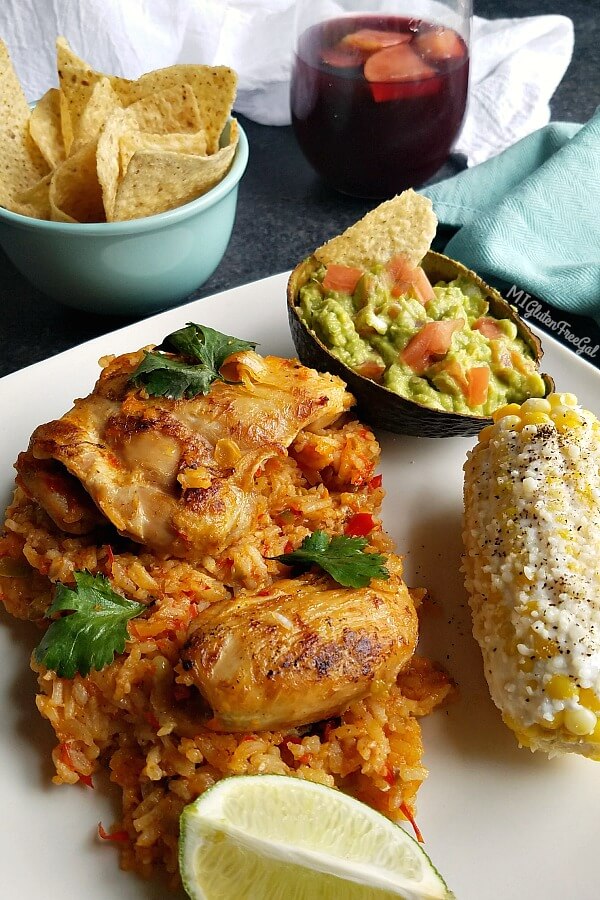 Arroz Con Pollo Side Dishes
While this gluten free Arroz con Pollo shines on its own, life can always use a little guac, am i right? And after eating elote (street corn) at Mama Lu's in Traverse City, I knew I wanted to serve them with this dish. To start, boil your corn and smear it with a bit of sour cream or Greek yogurt. Next, sprinkle it with a little bit of pepper, some garlic powder, and some Parmesan. (If you can find it, use cotija cheese, which is the Mexican equivalent of Parmesan.)
Let's talk libations. Now if we're honest, people love Cinco De Mayo for the plethora of Latin American inspired drinks. If you are looking to keep this meal family friendly, I recently discovered Welch's Sangria juice blend in a bottle. To fancy it up, I simply added cut up oranges and apples. If serving this gluten free Arroz Con Pollo solely in an adult crowd, add a touch of vodka or rum and voila! Missing margaritas? Boulder Locavore has 12 Margarita Recipes you need to make now!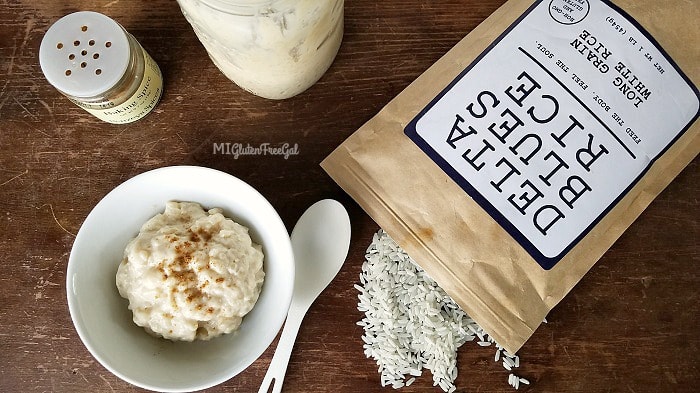 Cinco De Mayo Desserts
In addition, no meal is complete without dessert, am I right? May I suggest this Tres Leche Rice Pudding, or my dairy-free Mexican Unfried Ice Cream? Both are stellar! Fancy yourself craving something sweet with frosting? This gluten free horchata cake using Aldi products looks simply delicious!
One thing is for certain. No dietary restrictions should keep us from celebrating with friends, any day of the year. Some days we may feel like our Celiac Disease may have us out numbered. However, remember the Pueblo and remember that we too are more than conquerors!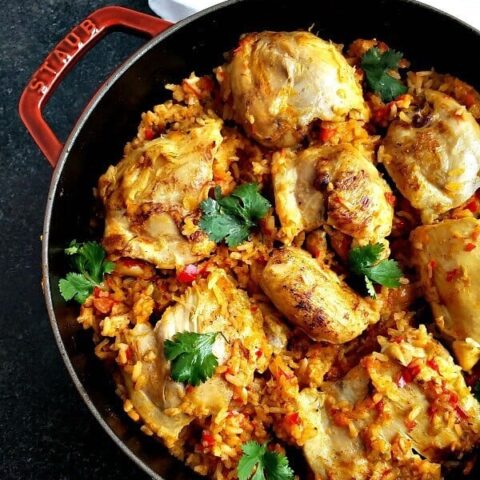 Gluten Free Arroz Con Pollo
Ingredients
For the sofrito
1 tbsp oil
3 tomatoes
1 large onion
1 green pepper
1 red pepper
1 tsp minced garlic (2 cloves)
1 tsp salt
1/2 tsp sugar
1/2 tsp paprika
1/2 tsp cumin
1 tsp salt
For the Arroz Con Pollo
1 tsp oil
2-2.5 lbs boneless, skinless chicken THIGHS
1 1/2 c Delta Blues long grain white rice
3.5 cups water
4 cups chicken broth
Instructions
Preheat a 4 qt. dutch oven with one tbsp olive (or preferred) oil.
Meanwhile, roughly chop vegetables and place in a standard size food processor. Pulse until vegetables are chopped uniformly.
Add sofrito mixture and salt to a heated dutch oven and cook for 25-30 minutes.
Remove sofrito to a bowl. Add paprika, cumin and additional salt to the bowl of sofrito.
Wipe out dutch oven, and add 1 tsp of oil. Salt chicken thighs and cook on med-high for 4 minutes per side, until golden. (I cooked 8, which crowded the pan, and prevented them from all getting browned nicely. 6 thighs will likely fit better. Remove browned chicken to a plate.
Add Delta Blues Long Grain White Rice to the pot, absorbing the oil from the cooked chicken. Allow to saute 3 minutes. Add sofrito back to dutch oven. Then add water and chicken stock cubes. Bring to a boil.
Add chicken back to pot, cover and cook for 25 minutes.
Remove from heat and allow to rest 5-10 minutes for rice to absorb the remainder of the water.
Serve, garnished with sprigs of cilantro, if desired.
**Delta Blues Rice sponsored this recipe. This post does contain affiliate links.
Purchases made through those links help support this blog with no extra expense to you. Thank you for your continued support!**