Pupusas- Latin America's Gluten-Free Hot Pocket
As an Amazon Associate and member of other affiliate programs, I earn from qualifying purchases.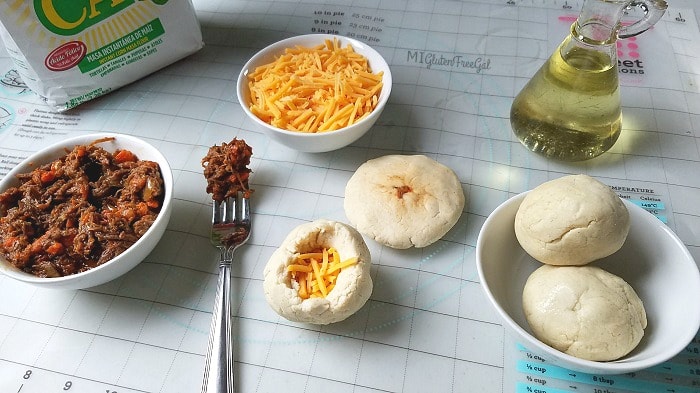 Thank God corn is naturally gluten-free. I mean seriously, despite not being able to eat wheat, we can still eat tacos and nachos and tamales. And pupusas. What's that you say? You've never heard of pupusas? Dios mio! Well let me introduce the two of you!
Pupusas are the Salvadoran equivalent to a hot pocket. They're seriously some of the easiest things one can make. The dough for pupusas is incredibly simple. Simply use use gluten free Maseca corn masa flour, hot water and salt. No seriously, it's that simple. In addition, the dough is 100% vegan! Then you form the dough into balls, make an indentation, and then add a few tablespoons for your favorite filling. Meat, refried beans, or simply cheese are all excellent choices. Then the super fun part. You get to play with your food! Close the hole at the top of the dough, pat it flat with your hands, and then grill it. That easy.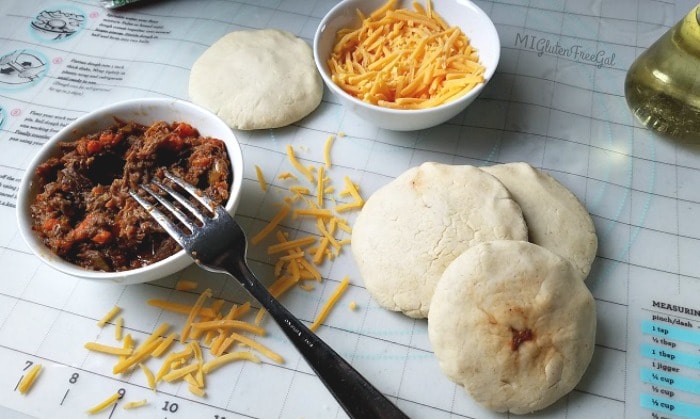 I used gluten free Maseca masa flour almost exclusively for my pupusas. This corn flour WAS certified gluten-free by GFCO. It appears to no longer carry this certification. However, the mill where Maseca is processed contains only corn products. No wheat, rye or barley is present in the facility.
Why is certification preferable? Not all "naturally" gluten-free flours are prepared in dedicated gluten-free facilities. Other flours, some of which contain gluten, can be processed on the same lines. Therefore, I follow the advice of Tricia Thompson of Gluten-Free Watchdog and only buy flours that say "gluten-free" on the package, and are preferably certified. Read about the study she did on the matter.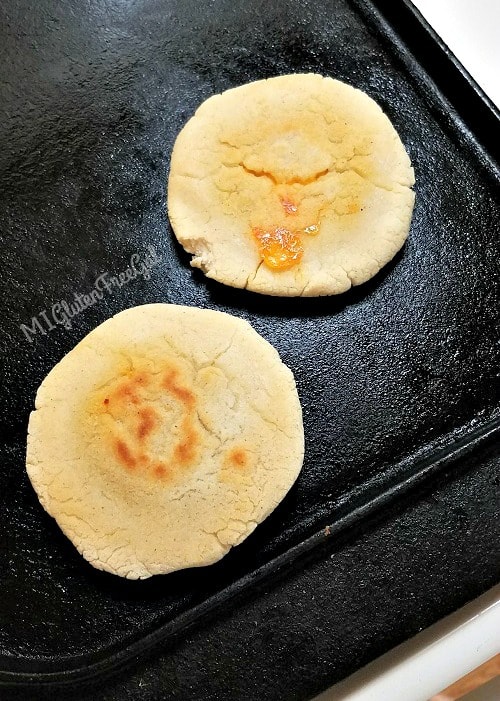 I digress. Let's get back to these cooking these pupusas. I cook mine on a well-oiled cast iron griddle. It's big enough so that I can cook two pupusas at a time. Plus, they cook quickly so dinner (or midnight snack) is in your hands in no time. Cook them three to four minutes on each side, and then be prepared for savory, hand-held deliciousness. I particularly like the pupusas pictured above. See the one on the top right? Some of the cheese oozed out and I SWEAR it looks like it's sticking it's tongue out at me. That's okay. I got his number.
Traditional Salvadoran pupusas are served with curtido. It's a vinegar-based coleslaw that is made out of cabbage, carrots, onion, sugar and seasonings. (No eggs or dairy!) If you're serving these to impress friends, TOTALLY make the curtido. However, I like to make a batch of these and freeze them. They're great handheld meals that I can stick into my husband's lunch. (As are the onigiri I make for him.) While the cheese ones are good, I try to make them with meat if I can. However, you can stuff these babies with anything you like. Vegetarian? I bet these would be GREAT with jackfruit!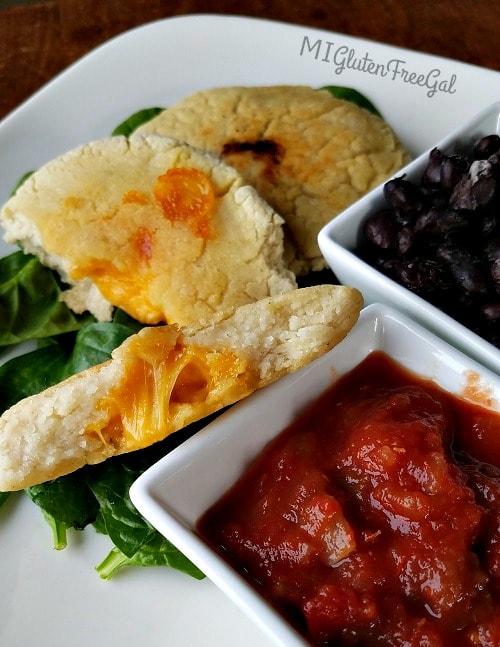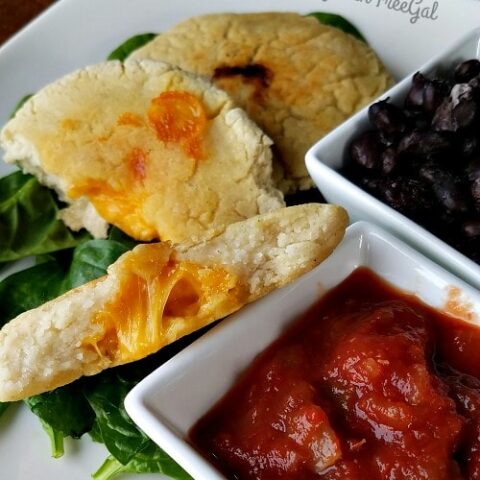 Pupusas
Ingredients
2 cups gluten free Maseca corn masa flour
1/2 tsp salt
2 tbsp oil
1 1/2 c. warm water
grated Cheese or other fillings
vegetable oil for brushing
Instructions
Combine gluten free Maseca corn masa flour, salt, oil and water. Allow to rest for 10 minutes to allow moisture to be fully absorbed.
While dough is resting, oil and preheat griddle
After 15 minutes, turn dough out onto a non-stick surface, and knead until a ball of dough. Finally, form dough into 8 small balls.
Flatten the dough, and lay on a non-stick surface. (I use a silicone mat.) Top the center with 1-2 tbsp of filling. Gently fold the edges in over the center, similar to filling a galette. Close any holes, and press gently with your hands to make a flat patty.
Cook pupusas 3-4 minutes per side on your well-oiled griddle. Keep warm in a preheated oven (200*), on a cookie sheet, until all pupusas are made and ready to serve.
Serve with a side of salsa and/or curtido. (Curtido recipe can be found on TheKitchn.)
What foods are you thankful that are gluten-free? What's your favorite Latin American inspired food? Leave a note in the comments below so I can get some more ideas of what to make with Maseca!
**This post contains affiliate links. Purchases made through those links help support this blog with no extra expense to you. Thank you for your continued support!**