Gluten Free French Toast Mason Jars
As an Amazon Associate and member of other affiliate programs, I earn from qualifying purchases.
Hectic mornings call for a quick breakfast. You can prepare these gluten free French Toast Mason Jars before bed, and have a nourishing and delicious breakfast, that you can take to go!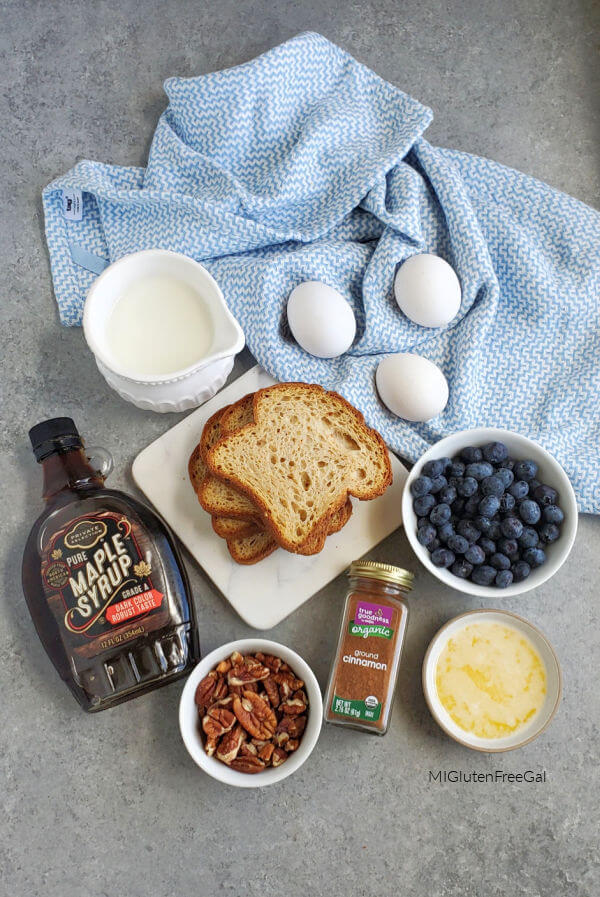 My Favorite Gluten Free Bread
I've been a huge fan of Canyon Bakehouse products for a long time. Their Heritage Style Wide Loaf is my absolute favorite. However, after becoming Costco members, we regularly purchase the shelf stable Multigrain 2 pack for $7.99. While the slices are smaller than the Heritage Style Wide Loaf, they're the perfect size for toast in the morning.
By the way, why IS gluten free bread so much more expensive? Are companies just taking advantage of us? The short answer is, no they're not. First, we must consider supply and demand. Fewer people purchase gluten free bread. Less demand equals higher cost. Also, gluten free bread is made with specialty grains that cost more. In addition, the grains they use must meet strict gluten free requirements to keep us safe.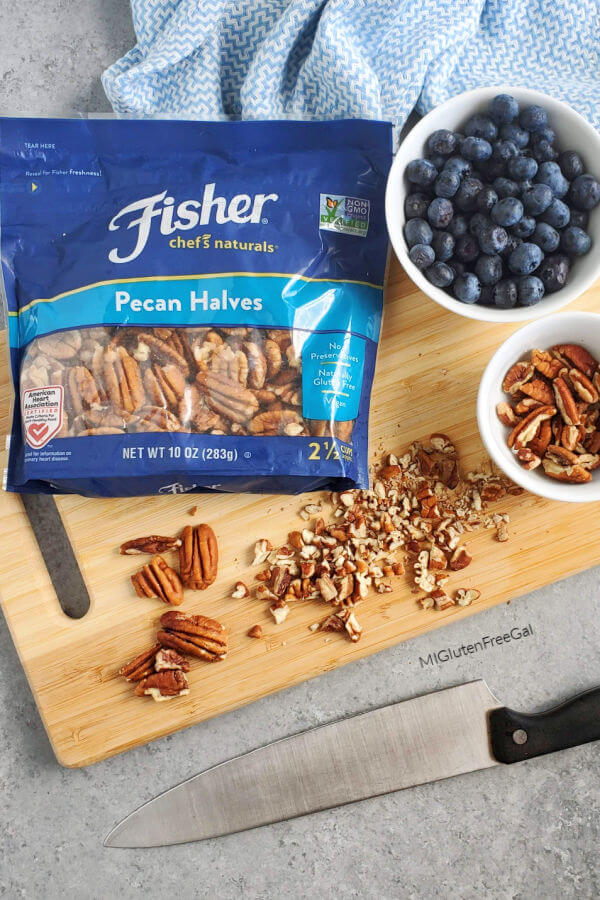 Are Nuts Gluten Free?
Nut products seem to be notorius for the phrase "may contain wheat" on packaging. It's important to remember that those types of advisory statements are neither required nor regulated by the FDA. In fact, they often cause more harm than help. In a study performed by Gluten Free Watchdog, 29 of 31 products with "may contain wheat" statements tested under 20 ppm. (28 of those tested under 5 ppm.)
That being said, I prefer to buy Fisher Nuts for baking. One, their pecans taste amazing. Two, the FAQ portion of their website states they have strict cleaning protocols for their factory. It also states, "We routinely test our gluten free products to ensure they do not contain traces of products that contain gluten. "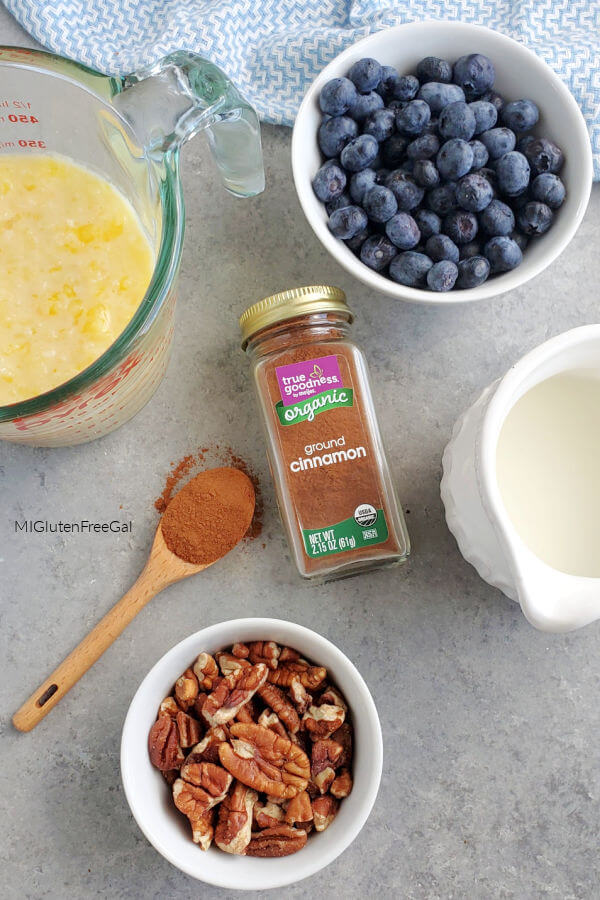 Are Spices Gluten Free?
When it comes to single ingredient spices, most are gluten free. In December of 2013, Gluten Free Watchdog performed a testing study on various single ingredient spices, produced and sold in the United States. Her special report states, "For the most part, spices assessed by Gluten Free Watchdog tested gluten-free (defined as less than 20 ppm.)" The only spice that was an issue was Fenugreek.
I buy single ingredient spices from Meijer and Kroger. If I can find them, I buy spices from Spice Islands. The biggest concern when it comes to spices, is spice blends and packet seasonings. This means products like taco seasonings, etc. McCormick has a line of gluten free seasonings, which include taco seasoning, chili mix, brown gravy and turkey gravy.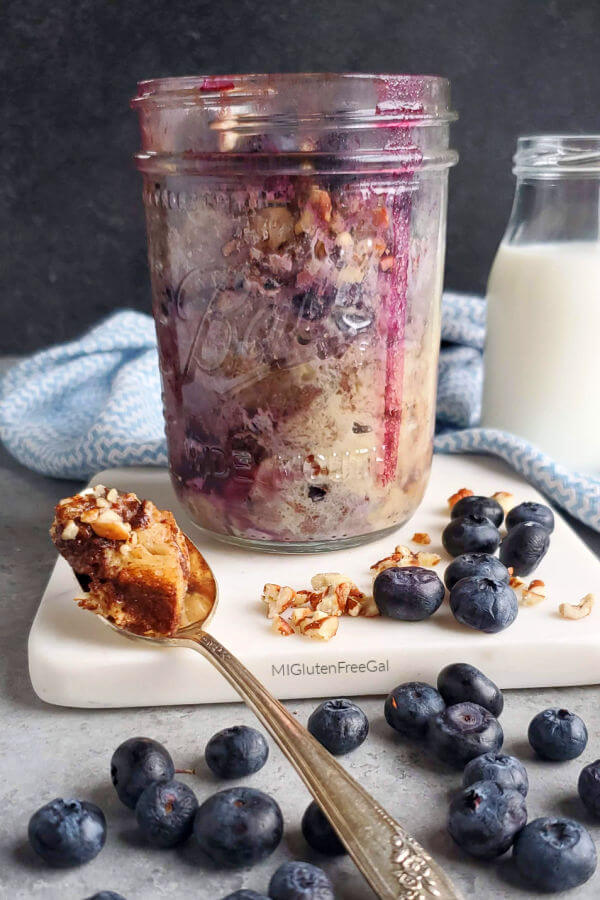 Preparing Your Gluten Free French Toast Mason Jar
After testing this recipe multiple times, I decided one key to success is in the layering. I find it best to place your fruit (in this case blueberries) at the bottom of the jar? Why? Because they'll release juice as they cook. It's better to have that additional juice absorbed by multiple layers of bread on top, versus adding the berries last.
Also, I found that there was such a thing as too many nuts. While the bread and berries get soft while cooking, the chopped nuts do not. Therefore, I only added two tablespoons in the middle of the jar. I did add a few more, on top, AFTER I finished cooking the mason jar french toast. I layered my french toast jar as such; berries, bread, nuts, berries, and then finish with bread. Then pour in the liquid ingredients and allow to rest overnight. This recipe makes two jars. I found the jar that sat for 48 hours was even better!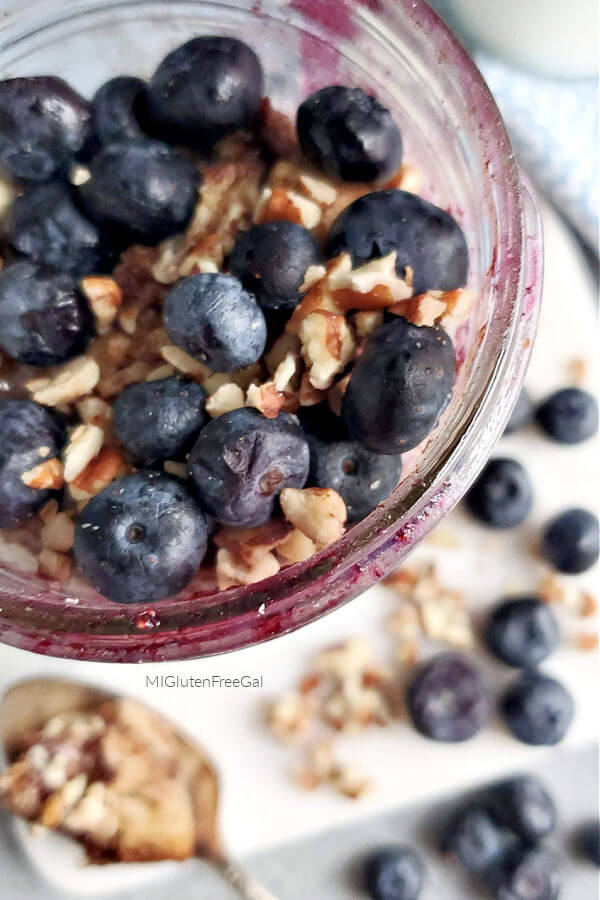 Heating & Eating Your Gluten Free French Toast in a Mason Jar
The benefit of this french toast mason jar recipe, is that you prepare it before going to bed, and heat it in the morning. However, I always recommend allowing chilled items to come to room temperature before heating. Why? Because you don't want the temperature change to damage the jar. Therefore I grab a jar from the fridge and set it on the counter before I shower. When I'm done, my breakfast is ready to heat.
This mason jar french toast is heated in intervals. I start by heating the jar in the microwave for one minute. Then, I allow it to rest for 30 seconds. Why rest? This allows the liquid to reabsorb into the bread for more even cooking. Then I warm it again for another 30 seconds, and again allow it to rest for 30 seconds. We don't want the contents to explode all over the microwave.
Finally, warm it for one last 30 seconds. You're going to want to watch it on this last round, as the french toast may rise and make a mess. Just give it a pause and let it shrink again. Then continue until that last 30 seconds is finished. Finally, this jar is gonna be HOT when you remove it from the microwave. Allow it to rest 2-3 minutes before eating, so you don't burn your tongue! I like to add more fresh berries on top.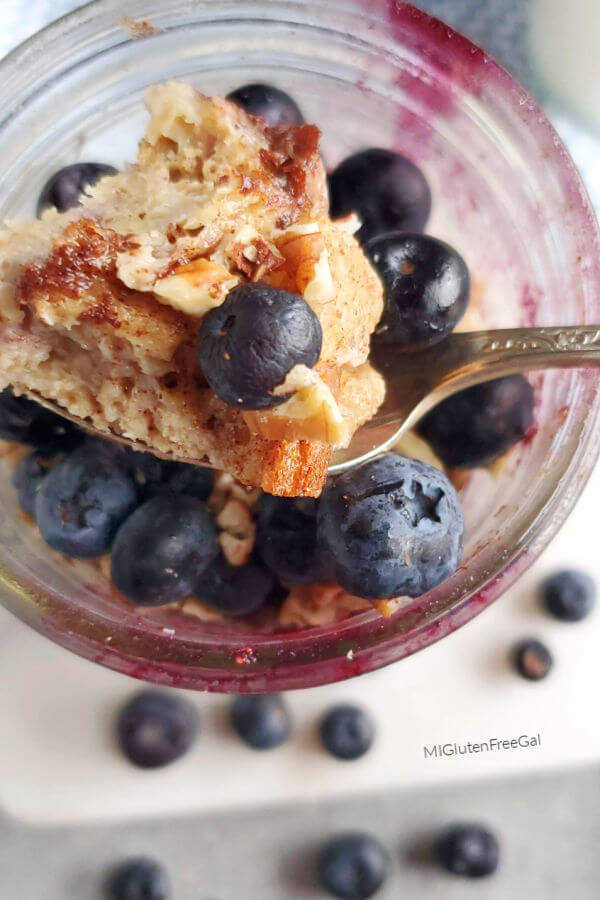 Other Gluten Free Breakfast Ideas
My husband and I are early risers, so I'm always on the lookout for breakfast options that don't require brain power in the morning. Check out my post on quick grab and go breakfast options. You can also prepare my pancake casserole or my french toast casserole, and eat from it all week long. If you want to be extra fancy, try my homemade savory toaster pastries, or sweet potato toast topped with Farmer cheese.
Other Mason Jar Meal Ideas
I prepared this recipe using 2 cup mason jars. You can use these same jars to make Vegetarian Mamma's Mason Jar Cold Brew Coffee, Use them for lunch or dinner to prepare Iowa Girl Eats BLT Egg Salad Jars, or Gimme Delicious Mason Jar Burrito Bowls. You can even use mason jars for dessert, like my gluten free mason jar cake. Or how about these Gluten Free Peach Cobbler in a Jar from Organically Addison?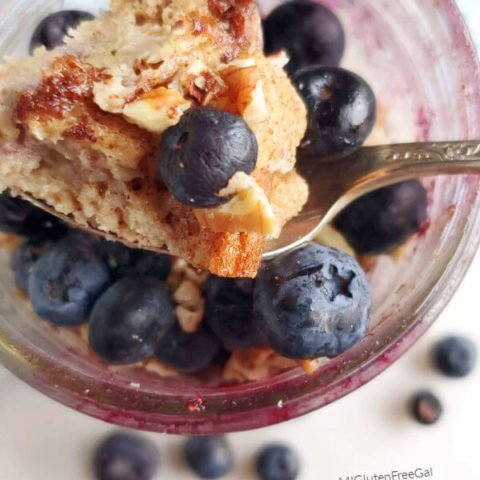 Mason Jar French Toast
Make gluten free french toast portable by making it in a mason jar
Ingredients
4 slices bread, cubed (approx 4.5 oz)
2 tbsp butter, melted
3 eggs
⅔ c milk
2 tbsp maple syrup
1 tsp vanilla
2 tsp cinnamon
¼ c chopped pecans (optional)
1 c blueberries (optional)
Instructions
Cube bread and set aside. Personally, I cut two slices at a time, and keep them separated on the cutting board for later.
In a small bowl or a 2 cup Pyrex measuring cup, combine melted butter, eggs, milk, maple syrup, vanilla and cinnamon. I prefer using a Pyrex measuring cup, because then I can evenly distribute the liquid between both jars. *Make sure your milk is room temp or wamer, or your butter will re-solidify.)
If using pecans (or another nut of your preference), chop them prior to building your Mason Jar French Toast.
Next, build your jar. Place ¼ c. blueberries (or other berries) in the bottom of the jar. Then place a layer of bread and nuts, then more blueberries, and then top with more bread. Repeat for the other jar.
Finally, pour half of your egg mixture over one jar, and pour the remaining half over your other jar. My liquid ingrediens totaled 1 1/2 cups, so each jar had 3/4 cup of liquid.
Seal with the jar lid and ring, and place in the refrigerator overnight. (Actually, IMO, these were even better having sat in the fridge for over 24 hours+.)
To heat, remove jar from fridge and allow to sit at room temperature for 5 minutes. ( I pull mine from the fridge before taking a shower.)
Place jar and heat for 1 minute. Allow to rest for 30 seconds.
Heat for another 30 seconds, and allow to rest again for 30 seconds.
Heat for a final 30 second interval. The waiting time between heating cycles is important, or your french toast ingredients will make a mess all over your microwave.
CAREFULLY remove jar from microwave. It WILL be hot. Allow to cool for 2-3 minutes before eating. Add extra syrup if you desire. Or top with a bit of fruit flavored yogurt.
** This post contains affiliate links. Purchases made through those links help support this blog with no extra expense to you. Thank you for your continued support!**