Gluten Free Mason Jar Cake – Cupcakes to Go!
As an Amazon Associate and member of other affiliate programs, I earn from qualifying purchases.
Tired of missing out on cake, because you're the only gluten free eater? Well, now you can have your gluten free cake and eat it too! This gluten free mason jar cake is a perfect "cupcake to go!"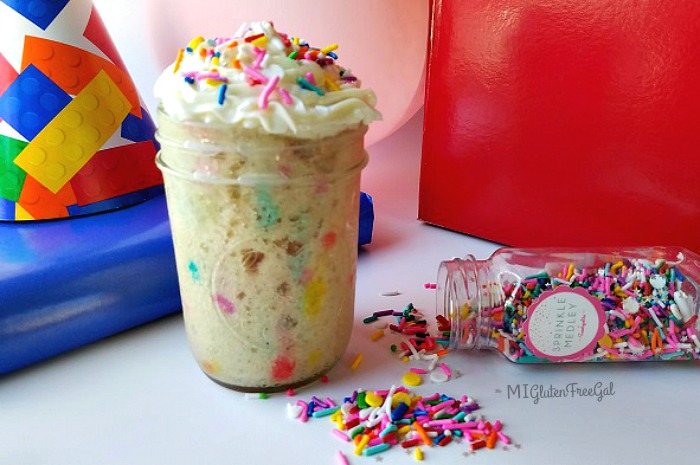 Fast and Easy Cupcakes for One
I love cake. While I won't turn down a slice of apple pie, I prefer cake with ALL the frosting. And sometimes, being the only person in the house who NEEDS to eat gluten free, I only need one small serving. Technically, you could make this recipe for gluten free mason jar cakes in two coffee mugs.
However, the added benefit of a mason jar, is that it comes with a lid. Which is PERFECT if you have a kid who needs a single serving gluten free treat to take to a classroom party or a friend's house. In addition, the benefit that these can be put together in under 10 minutes, makes them a lifesaver when we're not told until the last minute about said party.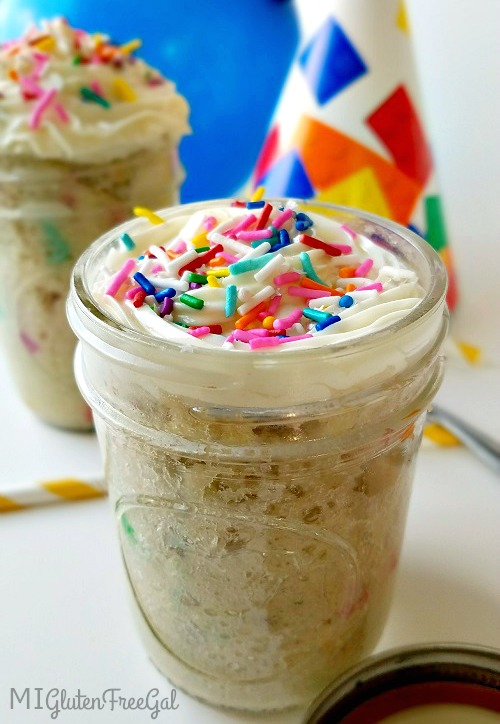 What Gluten Free Flour Should I Use? What About Dairy and Egg Substitutes?
I used King Arthur Baking's Gluten Free Measure for Measure flour for this recipe. In addition, I've made this with Krusteaz Gluten Free All Purpose Flour, with good results. If you need dairy free options, you can easily use what ever milk alternative you like. I've tried making this with oil instead of butter, and it resulted in a hard, rubbery cake. I'd try using shortening, instead.
This batter, which makes two mason jar cakes, uses one whole egg. I've never tried making this with an egg replacer. However, I HAVE used applesauce in my baked donut muffins. In that recipe I substituted 3 tbsp of applesauce for one egg. You can also try using 2 tbsp aquafaba (chickpea water).Other options include a powdered egg replacer, or using flax seed. Personally, I'm not a fan of either of those options.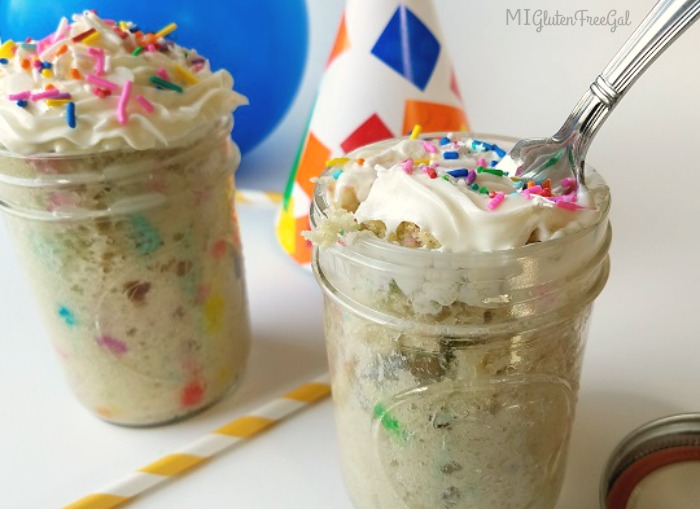 Which Sprinkles are Gluten Free?
Excellent question. When I first made these, I used Sweetapolita Birthday Party Sprinkles. You can see their assortment of gluten free sprinkles on the Sweetapolita website. For more on what brands of sprinkles are gluten free, read Wheat by the Wayside's article titled, "Are Sprinkles Gluten Free?" Also read Sweets and Thank You's post, Sprinkles 101, to learn about the different types of sprinkles.
How Much Batter Per Mason Jar Cake?
The first time I made this with Krusteaz flour, I made them with a homemade self-rising flour blend. However, not many recipes call for self rising flour, so I wanted to rework this for specific measurements for baking powder and salt. The Krusteaz blend baked up taller. However, the King Arthur blend baked to a perfect height to allow frosting on top, and still be able to put the cap on.
But back to the original question. I used 2 8 oz mason jars, and filled them both to about the 4 oz line. Do NOT bake all of this in a 16 oz jar. I tried that, and it required extra cooking time, that made the cake hard and less than tasty. Separating it between the two jars allows the batter to cook evenly.
More Mug Cake Recipes
Looking for more mug cake recipes? Check out this list of 5 Minute Gluten Free Microwave Desserts from Gluten Free Palate. This list of Best Gluten Free Mug Cakes, from Fearless Dining, includes chocolate, cherry, lime and more! And this list of Gluten Free Mug Cake Recipes from Casey the College Celiac offers Keto options, as well.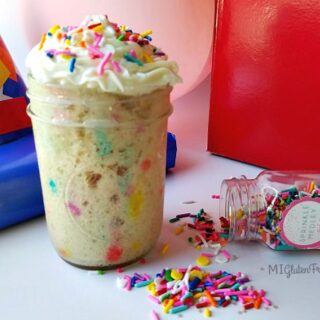 Gluten Free Mason Jar Cake
Ingredients
2 tbsp melted butter
2 tbsp milk
1/4 c sugar
1 egg
1 tsp vanilla
1/3 cup King Arthur Measure for Measure Gluten Free Flour
1/4 tsp baking powder
pinch sea salt
2tbsp sprinkles
Instructions
In a large glass measuring cup, melt butter. (I used a 2 cup Pyrex measuring cup.)
After butter is melted, add remaining ingredients (except sprinkles) to large glass measuring cup. Mix ingredients together thoroughly, making sure that flour is fully incorporated.
Mix in sprinkles (or other mix-ins)
Separate batter into two, 6 oz. mason jars. .
Place mason jars in microwave and cook 1.5 to 2.5 minutes, depending on your microwave. I did at least 2 minutes for mine.
CAREFULLY remove mason jars from microwave. They will be very hot.
Allow to cool completely prior to adding frosting. Top with additional sprinkles if desired.
**This post contains affiliate links. Purchases made through those links help support this blog with no extra expense to you. Thank you for your continued support!**
What's your favorite "mug cake" recipe? What tips would you offer to other parents whose gluten-free kiddo has been invited to a non-gf birthday party? Leave some suggestions below, please!