Sweet Potato Toast with Farmer Cheese
As an Amazon Associate and member of other affiliate programs, I earn from qualifying purchases.
Have you tried sweet potato toast yet? Now that I've finally tried this easy and affordable alternative to gluten free bread, I'm hooked! It's fantastic topped with Farmer Cheese and Blueberry jam. This post is sponsored by Lifeway.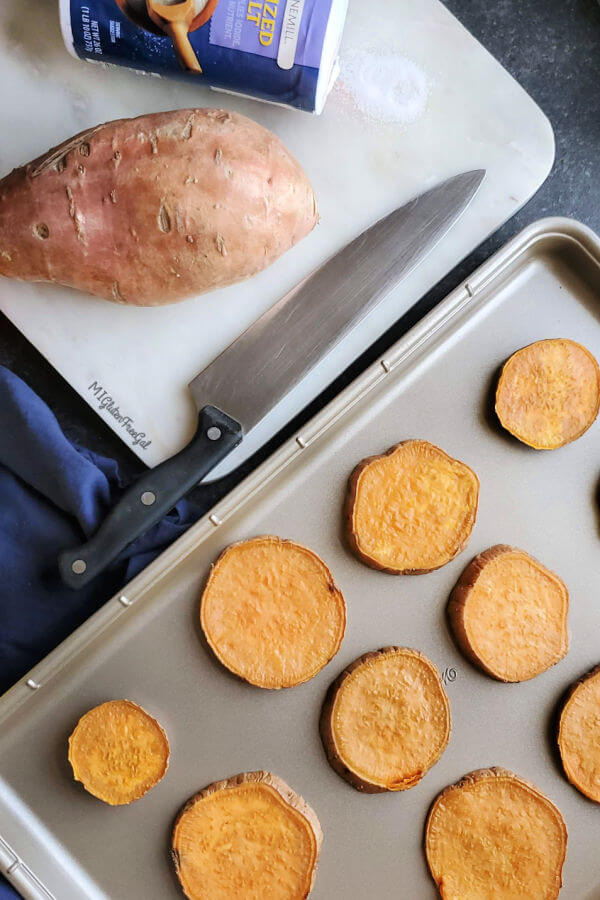 What Kind of Sweet Potatoes do you Use to Make "Toast"?
You're going to need to find some "uber tubers" to make these. For example, one of my sweet potatoes measured 7 inches in length, and 11 inches in circumference. The 3 lb bag of small sweet potatoes at Aldi are not ideal for making sweet potato toast. I buy my sweet potatoes at Horrock's in Lansing.
How Do You Make Sweet Potato Toast?
While some people recommend making sweet potato toast in the toaster from raw potatoes, I don't recommend that. I find cutting the sweet potato into rounds, and then baking them, creates a better "toast." These would be great to prep for the week, chill in the refrigerator, and then rewarm then in the toaster.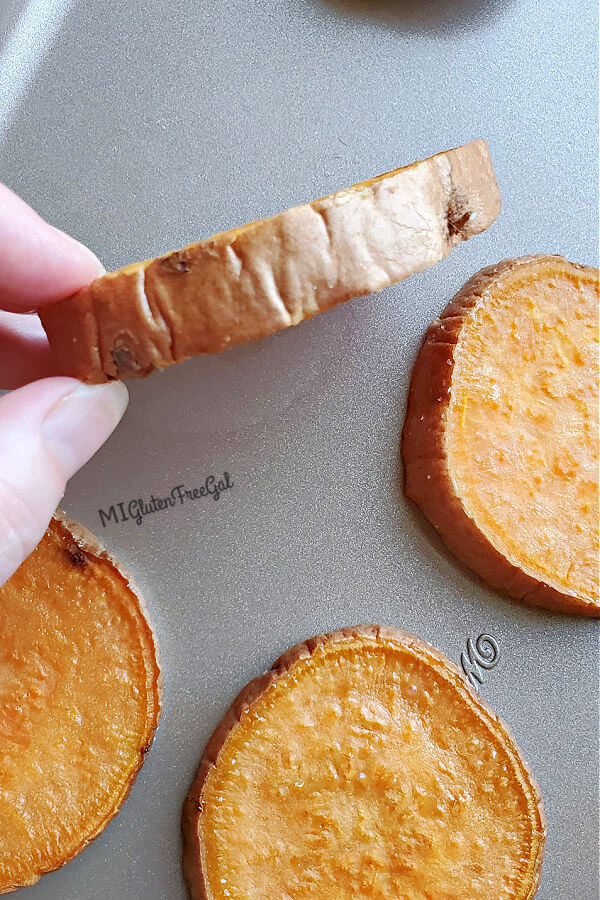 How Thick Should I Cut Sweet Potato Toast Slices?
On my first attempt, I cut my sweet potato in 1/4 in thick slices. However, I felt that that was too thin to hold as an actual piece of "toast." Therefore, for my second batch I cut them 1/2 inch thick, and baked them for a total of 15 minutes. (Other recipes recommended as long as 3o minutes, and I feel that made the rounds WAY too soft.)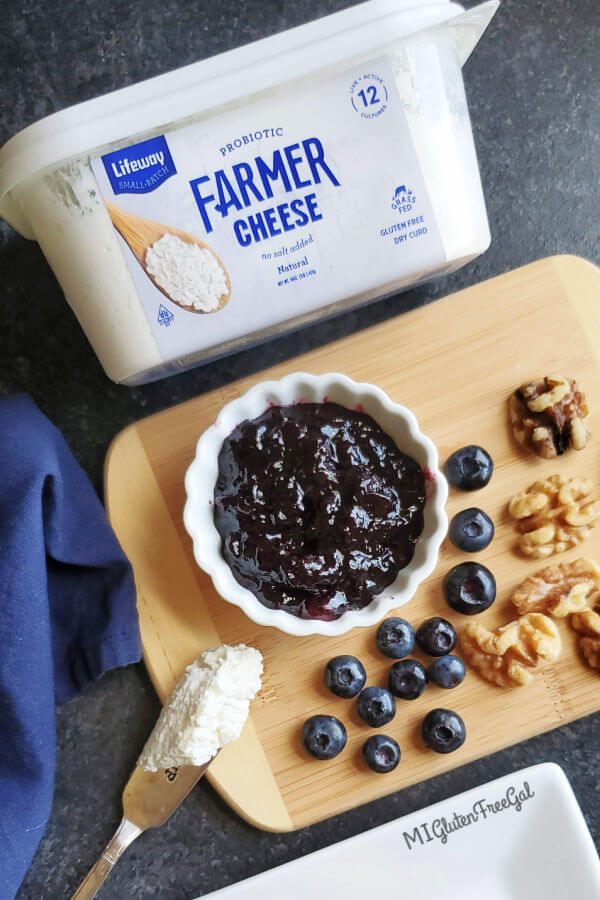 What Do You Put on Sweet Potato Toast?
Really, you can put anything you want on sweet potato toast. However, the combination of the sweetness of the potato, with the savory of Lifeway Farmer Cheese is delicious. From there I topped it with homemade blueberry jam. It's the same recipe from my hand pies, but I reduced the sugar down to 3/4 cup. I added a sprinkle of chopped walnuts, and a drizzle of honey. The jam is sweet enough, so the honey is optional.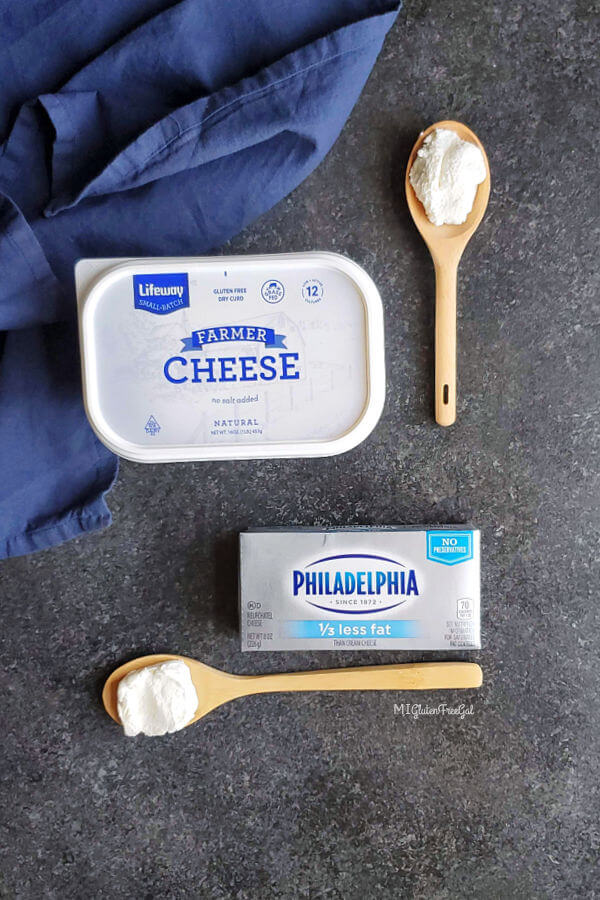 What is Farmer Cheese?
That's a great question. It's a soft cheese, and a variant of cottage cheese. However, Farmer Cheese is more solid, as the whey and liquid have been pressed off. The curd is also smaller than cottage cheese. It's similar in texture to ricotta, and can be used as a substitution in recipes that call for it. The taste reminds me of a mild cream cheese.
What Nutritional Benefits Does Lifeway Farmer Cheese Offer?
This Farmer Cheese is a more nutritious option for your morning bagel. It contains half the calories of Neufchatel, and 75% less fat. While lowfat cream cheese has 120 mg of sodium, this Farmer's Cheese contains only 10 mg of sodium. Plus farmer's cheese contains Vitamin D, Calcium, Potassium and Vitamin A. Cream cheese contains none of these nutrients. Also, Lifeway Farmer Cheese contains gut healthy probiotics.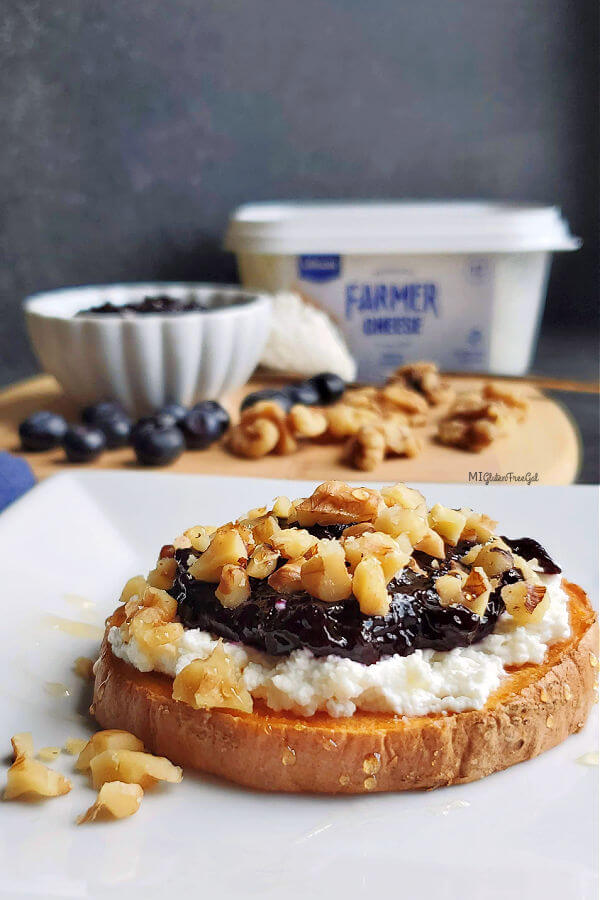 Where Can I Buy Lifeway Farmer Cheese?
If you'd like to add Lifeway Farmer Cheese to your meals, you'll find it at Whole Foods, Better Health Stores and Fresh Thyme Markets in Michigan. Plum Markets and Busch's Markets reportedly stock it as well. You can also use the store locator on their website to find it in independent stores near you.
Want more ideas on how to use Lifeway Farmer Cheese? Lifeway has a plethora of recipes on their website. I really want to try their Peach and Farmer Cheese pizza. Kate Scarlata, an expert on the FODMAP diet, also has a delicious Spinach, Kale & Farmer's Cheese Quiche recipe on her website. Or use like Old World Gluten Free does, to make gluten free pierogi!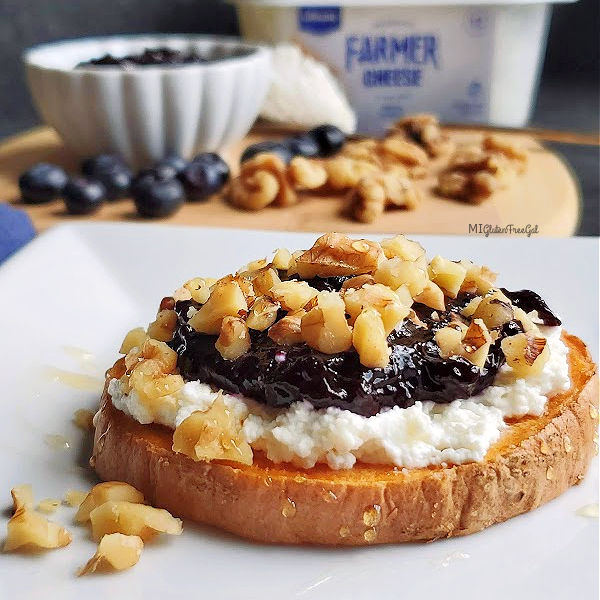 Sweet Potato Toast with Farmer Cheese
Ingredients
Large Sweet Potato
Cooking Spray
Salt
Toppings
Farmer Cheese
Preferred Jam
Chopped Walnuts
Instructions
Preheat oven to 350 degrees
Scrub one large sweet potato until clean. Do not peel.
Slice sweet potato into 1/2 inch rounds.
Spray both sides of sweet potatoes LIGHTLY with cooking spray. If you add too much oil, your sweet potato toast rounds will be soggy.
Bake in oven for 15 minutes. I recommend flipping them over at the 10 minute mark.
Once finished, take out of oven and allow to cool completely. Store sweet potato toast rounds in a container, in the fridge, until ready to use.
Sweet potato toast can be warmed in the toaster, and topped wih Farmer Cheese, jam and chopped walnuts.
This post is sponsored by Lifeway. They supplied free product for this recipe, as well as paid me monetarily for my time and energy. Regardless, I've been a fan of Lifeway products for many years, and am grateful to be working with them. All thoughts and opinions are my own.