Gluten Free Savory Breakfast Toaster Pastries
As an Amazon Associate and member of other affiliate programs, I earn from qualifying purchases.
Make these gluten free savory breakfast toaster pastries for a grown-up twist on a childhood favorite. Use your favorite gluten free pie crust recipe, your imagination, and let your taste buds guide you!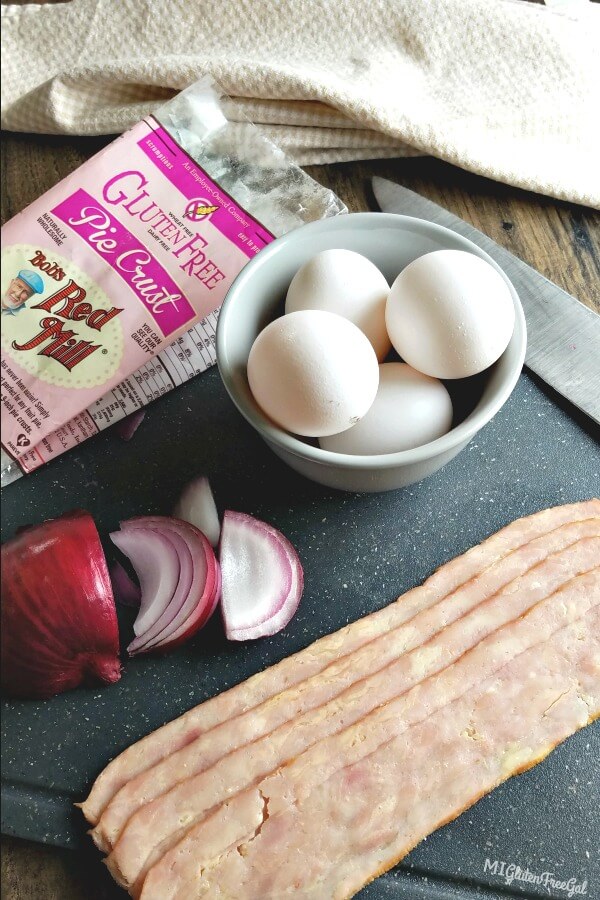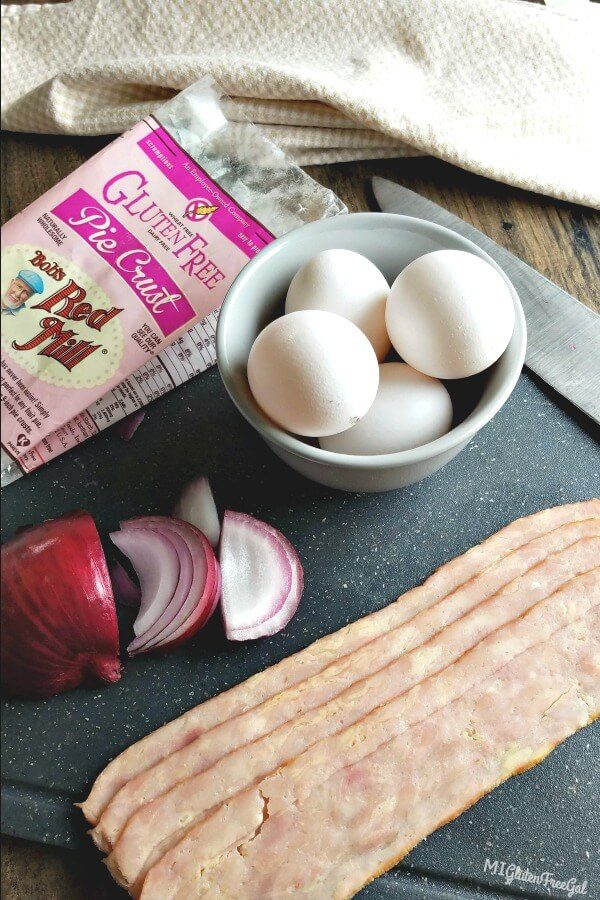 At first, I hesitated on what to call these. They're not gluten free Pop Tarts. The phrase "Gluten Free Pop Tarts" invoke the idea of something sweet, not to mention that "name" is likely trademarked. I also hesitated to call them "toaster pastries," as they require a more gentle touch. Alas, while they may not hold up well reheating in a toaster, one would likely call it a toaster pastry regardless. Therefore, I present my take on gluten free savory breakfast toaster pastries.
The idea for these gluten free savory breakfast toaster pastries came to me like most others. It often starts with random ingredients in the fridge, and a dash of curiosity, wondering how they can be whipped into something unique. Turns out, my idea for these savory breakfast toaster pastries is not new. In fact, I used the recipe for these Savory Breakfast Pop Tarts from Go Bold With Butter as a guide. Like Solomon says, there is nothing new under the sun, am i right?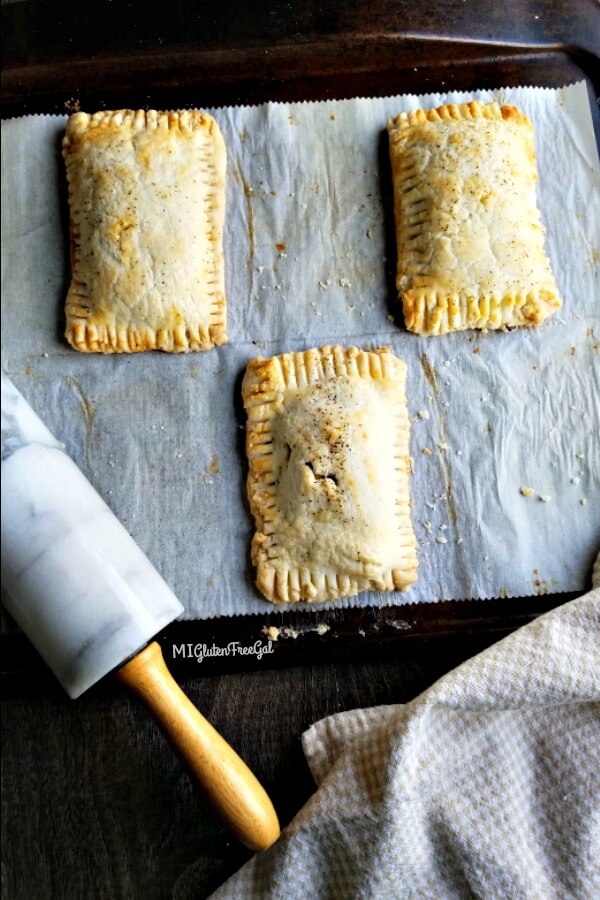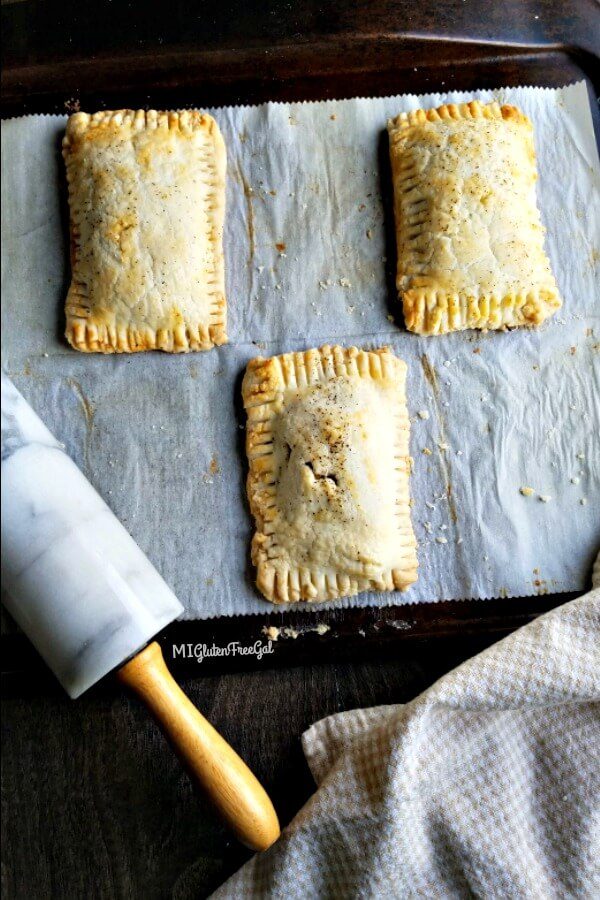 See, it all started when Bob's Red Mill sent me some products to play with a while back. In that box, as requested, they sent me a package of their gluten free pie crust mix. My original intention was to reshoot an old recipe from years ago. However, I spent the week preparing food for my husband in advance of traveling to gluten free camp. Some people think I'm nuts for cooking my husband's breakfast every day. Call it old fashioned or crazy, but we're #TeamClegg. At this point, it's tradition, and I'm not about to stop while he's teaching his last week of school and proctoring final exams.
In theory, this recipe begins simply. Start with a pie crust recipe, cut it into rectangles, top with filling, and seal another piece of pie dough on top of it. However, pie crust rarely behaves "easily." Especially gluten free pie crust. Truth be told, the Bob's Red Mill Gluten Free Pie Crust dough took a few tries to roll out correctly. I've been used to creating pie crusts with Chebe Bread, which are a bit more sticky. But after a few attempts, I finally got the crusts down for these gluten free savory breakfast toaster pastries.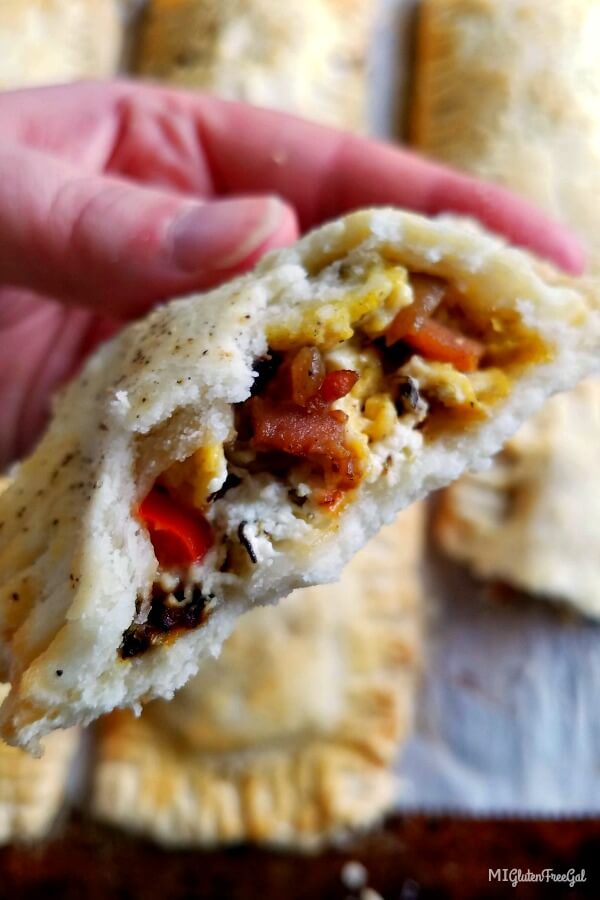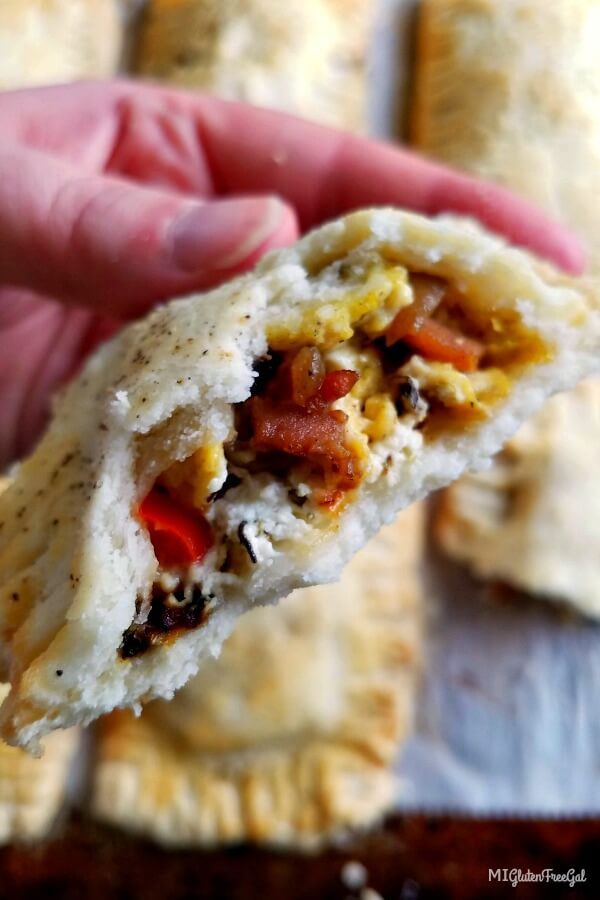 From there, fill it with whatever you desire. Scrambled eggs, scrambled tofu, sausage, bacon, chorizo, cheddar cheese, no cheese. I filled my gluten free savory breakfast toaster pastries with sauteed red onions, sauteed red pepper, cooked chicken bacon, scrambled eggs and goat cheese. Because let's be honest, just about everything is better with goat cheese. Once sealed, I brushed them with beaten egg and a sprinkle of salt and pepper. Once out of the oven, I topped these gluten free savory breakfast toaster pastries with a healthy smear of goat cheese. Because what's a toaster pastry without some sort of topping?
Now, these gluten free savory breakfast toaster pastries taste amazing fresh from the oven. They' made a great highlight for an awesome brunch. However, most likely you'll make a batch of these to freeze and warm up later throughout the week. Despite the name, I suggest warming these up in the oven or in the microwave. Not in the toaster. These tarts are delicate, and would likely fall apart in the toaster. And that would be a tragic shame, because you don't want to waste a single bite of these!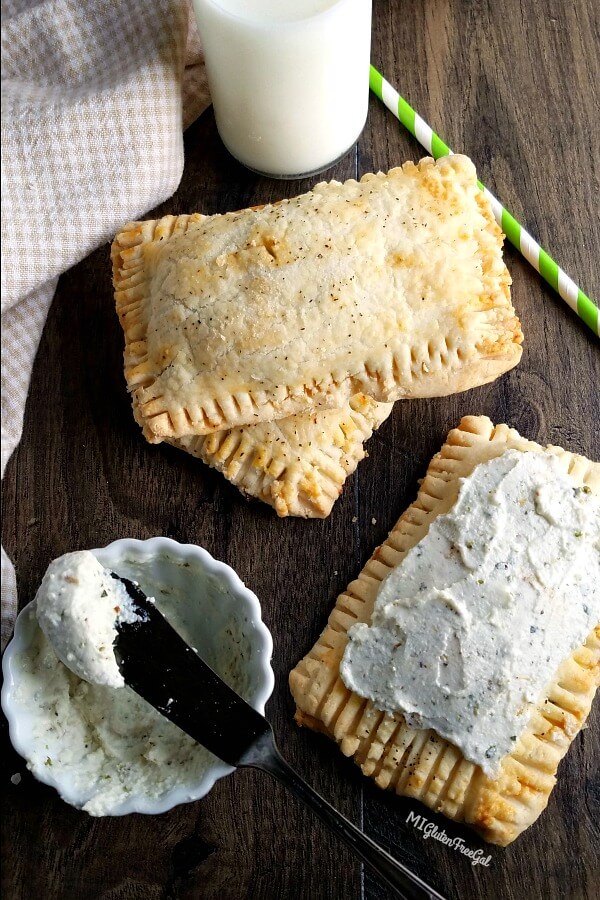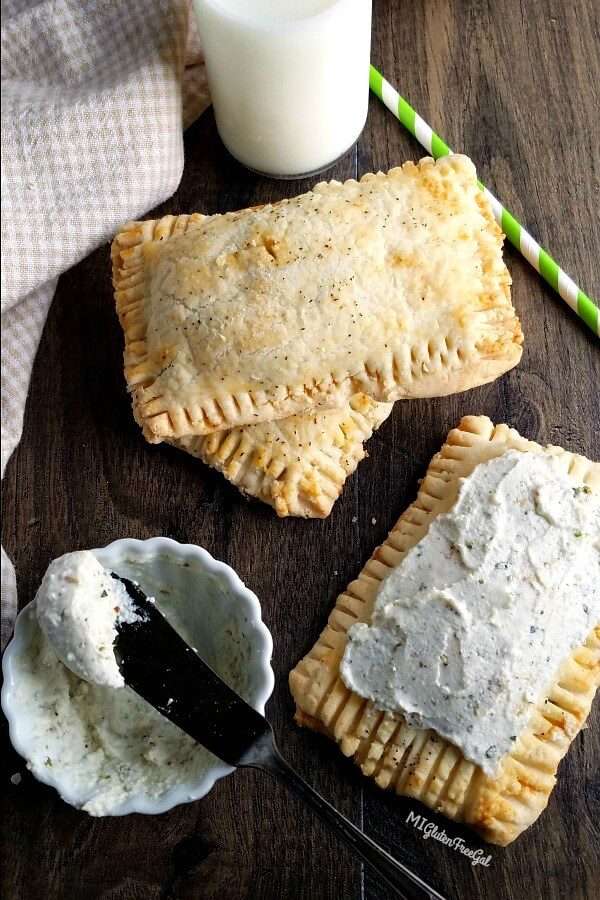 Of course, if you crave something sweet, you can make fruit filled toaster pastries. Want them egg and dairy free? My pal Megan at Allergy Free Alaska has a wonderful recipe for gluten free vegan strawberry pop tarts. My favorite pop tart as a kid was brown sugar and cinnamon. Find this and 6 more Pop Tart Filling ideas at BraveTart's website. Whether you try savory or sweet, try this baking idea with your kiddos this month, and watch their eyes light up!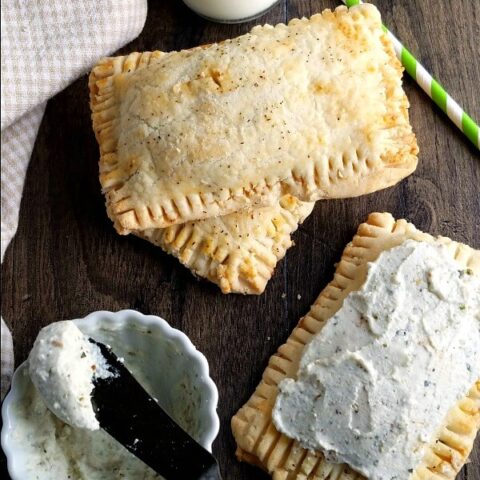 Gluten Free Savory Breakfast Toaster Pastries
Ingredients
For the crust
You can use your favorite pie crust recipe. I used Bob's Red Mill Pie Crust mix. Prepared according to the package, you will need
1 pkg Bob's Red Mill Pie Crust mix
12 tbsp butter
8 tbsp shortening
6 tbsp ice water
rice flour for rolling
For the filling
3 strips AL Fresco Chicken Bacon, diced
1/2 red onion, diced
1/2 red bell pepper, diced
2 eggs, scrambled
1-2 pkgs 4 oz pkg Aldi Happy Farms Garlic and Herb Goat Cheese, separated
For sealing
1 egg, beaten
salt and pepper
Instructions
Prepare your pie crust according to directions. If using Bob's Red Mill pie crust mix, combine mix, butter, and shortening in food processor. Pulse 10 times. Dump into bowl and knead in ice water. Separate dough into two portions, flatten into discs, and chill for one hour.
While dough chills, prepare filling. First, scramble eggs and then set aside in a medium bowl for later.
Next, saute red onion, chicken sausage and bell pepper. Sprinkle with a bit of salt, then add to previously cooked scrambled eggs. To that, add 2 oz. garlic & herb goat cheese. Stir to combine all ingredients together.
When dough is done chilling, remove from refrigerator. Generously sprinkle your surface with rice flour for rolling. Roll dough out, and cut into 3 inch x 5 inch rectangles. You should be able to cut out 16 rectangles total.
Top 8 rectangles with a few tablespoons of filling. Brush the edges of the pie crust with a bit of beaten egg. Top with another rectangle of pie crust, and use a fork to crimp around the edges.
Brush the tops of the toaster pastries with beaten egg and sprinkle with salt and pepper. Place on a cookie sheet lined with parchment paper. Chill in refrigerator for 30 minutes.
Preheat oven to 375 degrees. After toaster pastries have chilled, bake them for 18-20 minutes. Remove from oven and allow to slightly cool prior to spreading with remaining goat cheese. To cover all savory breakfast toaster pastries, you may need a second package of goat cheese. Cream cheese also works well for a topping.
**Bob's Red Mill gave me a package of their Gluten Free Pie Crust Mix free of charge. I have not otherwise been sponsored or paid to write this post. In addition, all thoughts and opinions are completely my own. This page may contain affiliate links.**