Gluten Free Blueberry French Toast Casserole
As an Amazon Associate and member of other affiliate programs, I earn from qualifying purchases.
This gluten free blueberry french toast casserole will impress your famliy and friends. Made with a few simple ingredients, you can prep this overnight casserole before you go to bed, and stick it in the oven when you wake in the morning!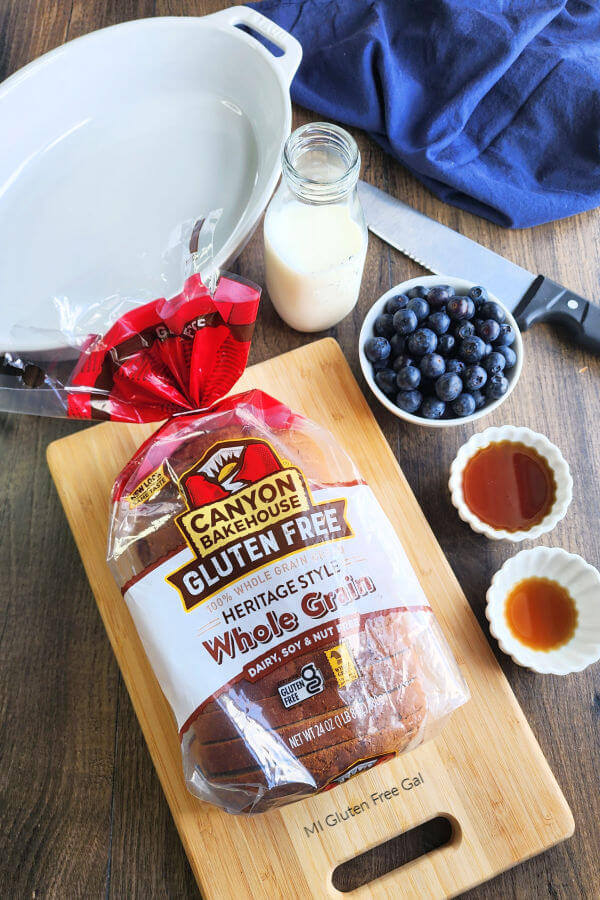 Canyon Bakehouse Gluten Free Heritage Style Bread
Say goodbye to little loaves my friend. These Canyon Bakehouse Heritage Style Wide Loaf breads are BIG deal. At a whopping 24 oz., you're going to run out the door to buy it. Also, making a wider loaf of bread isn't as easy as you think. It's not as simple as using a bigger pan. Gluten-free bread dough needs walls to climb up, to adhere too. That's why most loaves are smaller. The bakers at Canyon Bakehouse put their heart, soul and energy into creating this Heritage Style line. They created two flavors – Whole Grain and Honey White.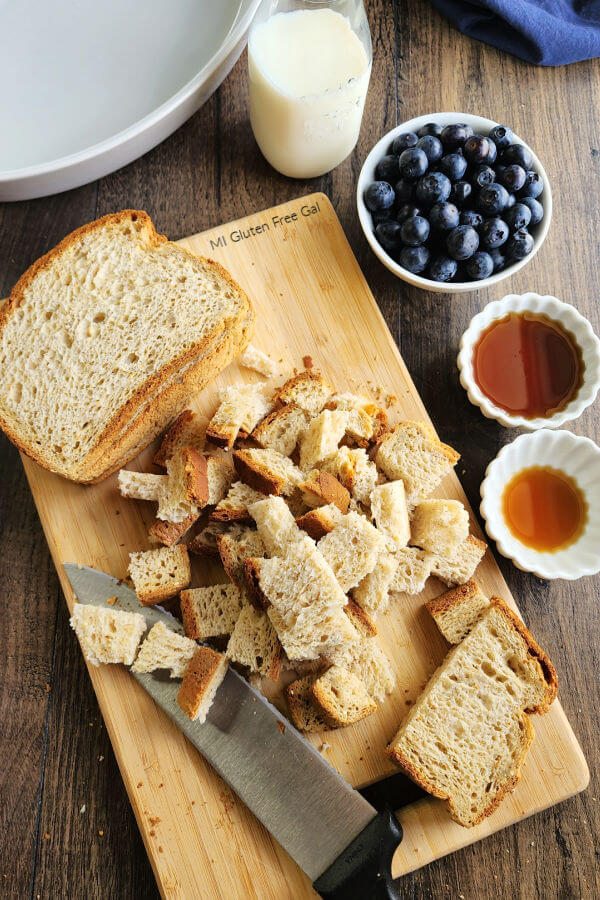 The Easiest Overnight Gluten Free Blueberry French Toast Casserole
You will love how easy this dish is to put together. Cube your bread, dump half of it into a greased dish, and then dump your blueberries on top. Next, distribute the cream cheese chunks evenly. Finally, fill in with the rest of the cubed bread, and dump the egg + milk custard over the whole dish. Wrap in plastic wrap, stick it in the fridge, and get a good night's sleep!
**Special note- It's important to pull your casserole dish out at least 3o minutes before you put it in the oven. When cold dishes are put into a hot pre-heated oven, your dish may break / shatter. Therefore, make sure to plan time to allow your casserole dish to come to room temperature. On a side note, I LOVE my Staub baking dishes. This oval dish is part of a 3 piece ceramic set, and I use it all the time.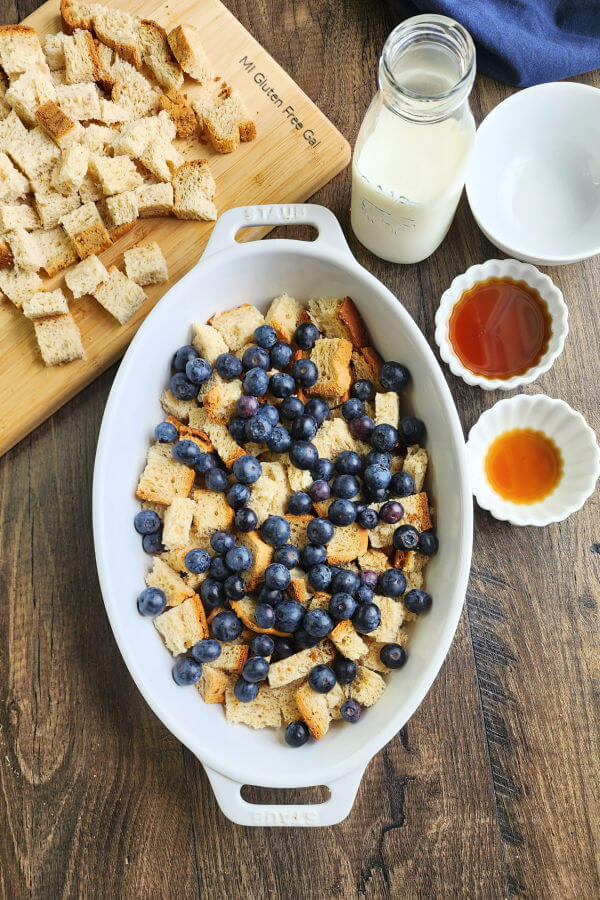 Should I Use Fresh or Frozen Blueberries?
You can use frozen in the casserole, but I choose to use fresh. However, frozen blueberries "bleed" into the custard as the casserole sets up overnight. It just looks "neater" with fresh blueberries. However, frozen blueberries are often cheaper. So feel free to do whichever works better for you.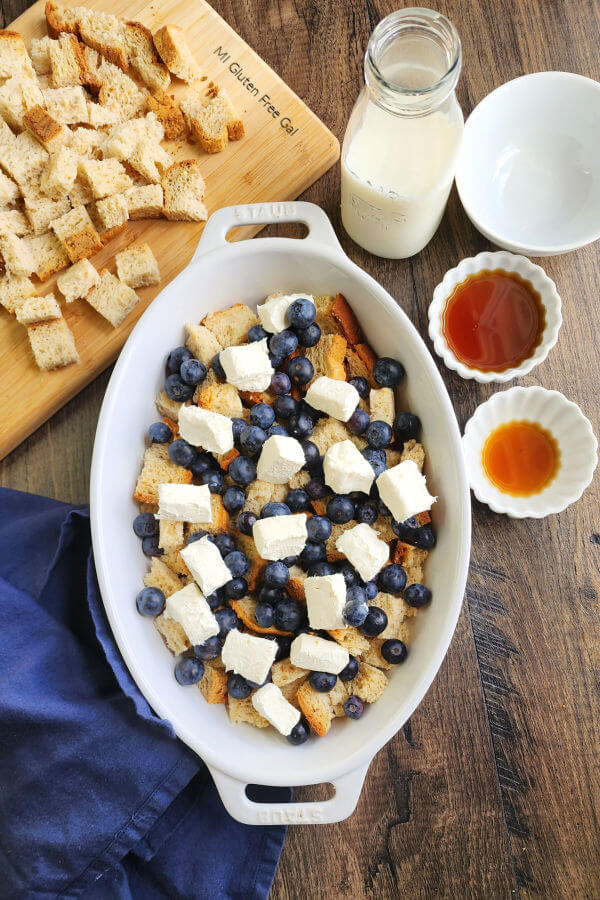 Can I Make This French Toast Casserole Without Dairy?
Canyon Bakehouse Heritage Style Bread contains no dairy. This recipe calls for 1 1/2 cups milk. If you can't consume dairy, almond milk or rice milk should work just fine. I don't have much experience with dairy free cream cheese. In Go Dairy Free's review of The Best Dairy-Free Cream Cheese Alternative Taste Test, she recommended Kite Hill Cream cream cheese. She stated it held up well in baked recipes.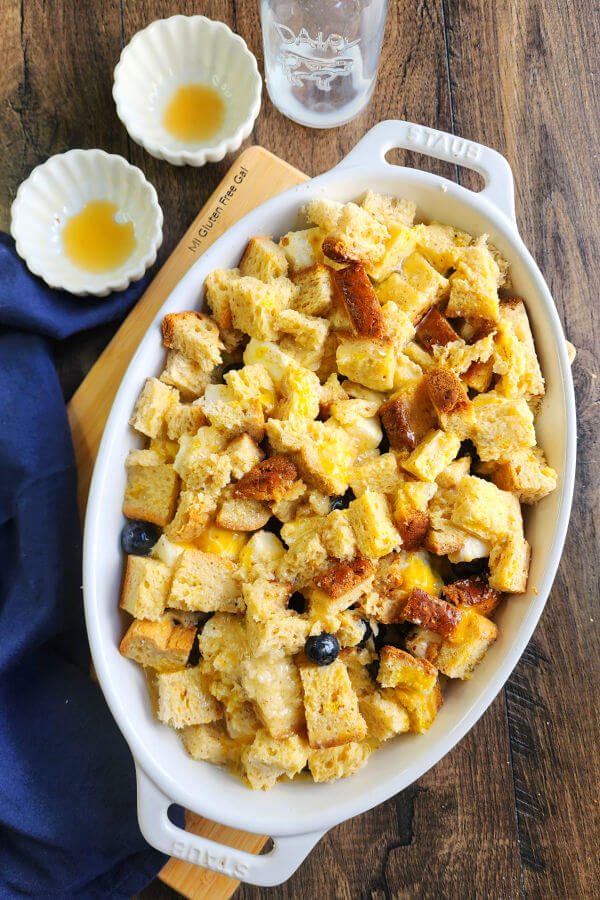 Can I Make This French Toast Casserole Without Eggs?
Canyon Bakehouse Heritage Style Loaf bread contains egg as an ingredient. You should be able to use a different egg free bread. However, my recipe uses 8 fresh eggs. I haven't tried an egg substitute. Therefore, I'd recommend making a recipe specifically written without eggs. Just What We Eat's Vegan French Toast Casserole would be a good option.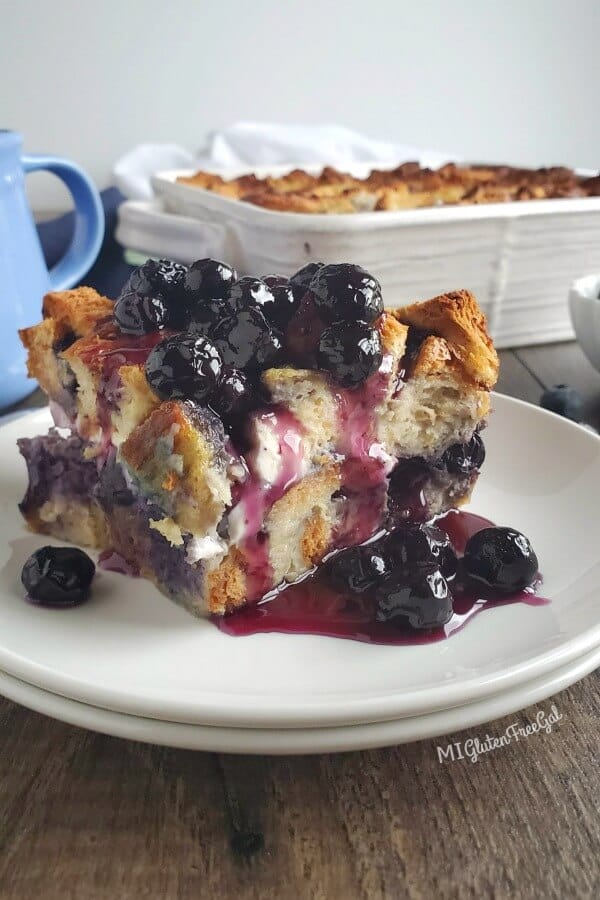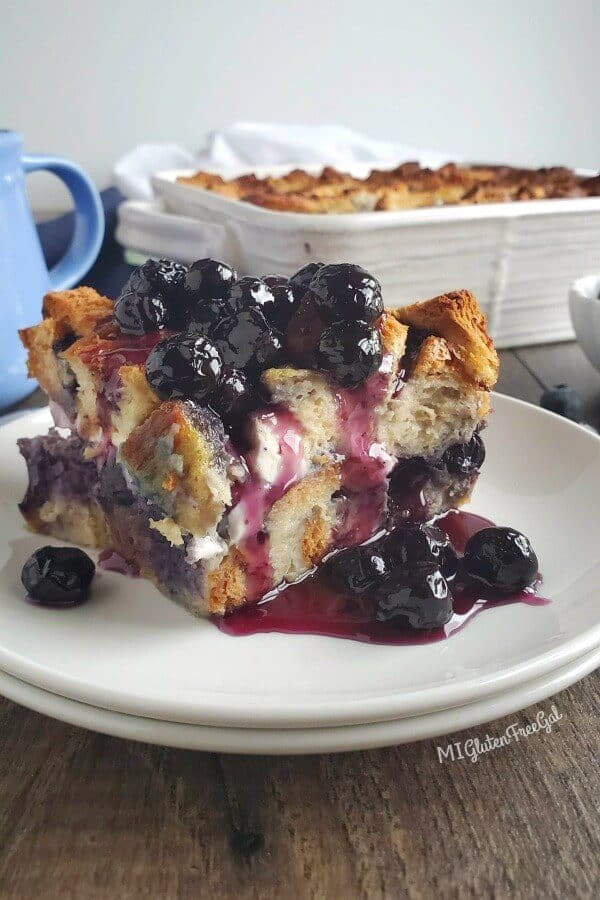 Don't Skip the Homemade Blueberry Sauce
While you can serve this gluten free blueberry french toast casserole with simple maple syrup, the homemade blueberry sauce takes this dish over the top. It cooks in about 15 minutes, and you can prepare it while your casserole bakes. If you have leftover blueberry sauce, it pairs great with plain Greek yogurt.
How to Handle Leftovers
Refrigerate leftovers and eat within 2 to 3 days. I reheat individual servings in the microwave, usually for at least 1 minute. Since microwave wattage varies, the time you need to reheat your casserole may vary.
More Blueberry and Brunch Recipes
Need more breakfast or brunch recipes? Visit my post about gluten free brunch casseroles and dishes. Looking for more gluten free blueberry recipes? Check out my recipe for grain free blueberry pie, or blueberry zucchini bread. For muffins, try The Gluten Free Austrian's Gluten Free Blueberry Muffin recipe.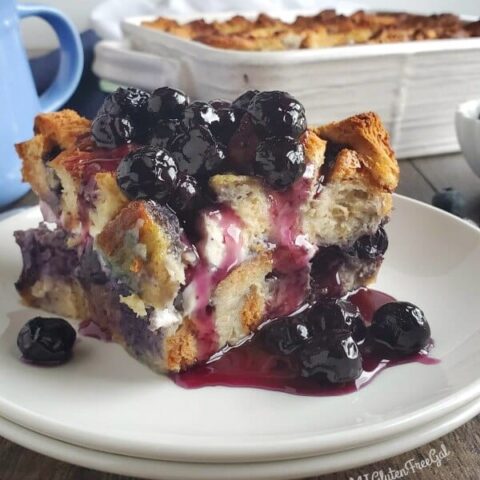 Overnight Gluten Free Blueberry French Toast Casserole
Cook Time:
1 hour
10 minutes
Total Time:
9 hours
25 minutes
This easy gluten free blueberry french toast casserole will impress everyone at your dinner table!
Ingredients
8 slices gluten free Canyon Bakehouse Heritage Style Bread, cubed
1 cup blueberries
1 8 oz pkg cream cheese, cubed
8 eggs, beaten
1 1/2 c milk of your choice
1 tsp vanilla
3 tbsp maple syrup
1 tsp cinnamon
Blueberry Sauce
1 cup white sugar
2 tbsp cornstarch
1 cup water
1 1/2 cup blueberries (can be frozen)
1 tbsp butter
Instructions
Place brick of cream cheese in freezer, and allow to harden. This makes it easier to cut. Cut into cubes once firm.
Lightly grease an 11 x 7 oval baking dish
Cut 8 slices of Canyon Gluten Free Heritage Style White or Whole Grain bread into 1 inch cubes.
Arrange half of bread cubes into bottom of baking dish.
Spread 1 cup of blueberries on top of bread chunks, followed by the cubed cream cheese, and then the rest of the bread cubes.
In a large bowl, whisk eggs, milk, vanilla, syrup and cinnamon. Once combined, pour over casserole.
Cover casserole with sarah wrap, and place in fridge overnight.
The next morning, remove casserole from refrigerator, at least 30 minutes prior to baking. You want the dish to come to room temperature before putting into the oven. If you don't wait, it could cause your dish to crack in the oven, from the sudden and drastic change in temperature.
Meanwhile, preheat oven to 350 degrees.
Remove plastic wrap from chilled casserole, and then cover with aluminum foil.
Cover baked for 40 minutes
Remove foil, and bake for another 30 minutes.
While casserole is baking, prepare blueberry sauce. Combine sugar, cornstarch and water in a medium pot. Stir until cornstarch is dissolved.
Bring to a simmer, and heat for 3-4 minutes to dissolve the sugar.
Add 1 1/2 cups of blueberries (either fresh or frozen.), and simmer for 10 minutes, until berries burst and sauce starts to thicken.
Remove sauce pan from heat, and add 1 tbsp butter.
Once casserole is finished baking, remove from oven, and allow to cool for 5 minutes. (This prevents you burning your mouth!) Serve warm with bueberry sauce on top.
**Canyon Bakehouse was generous enough to send me these loaves of bread. This post also contains Amazon affiliate links. I earn a small percentage for advertising. However, it does not impact your cost. Thank you for supporting my blog. **