Quick Gluten Free Breakfast Ideas
As an Amazon Associate and member of other affiliate programs, I earn from qualifying purchases.
Not a morning person? Looking for quick gluten free breakfast ideas? Sharing some of my favorites, some which include meal prep, and others that are easy grab and go options. That includes Gem City's Mini Blueberry Lemon Loaves. This post is sponsored by Gem City Fine Foods.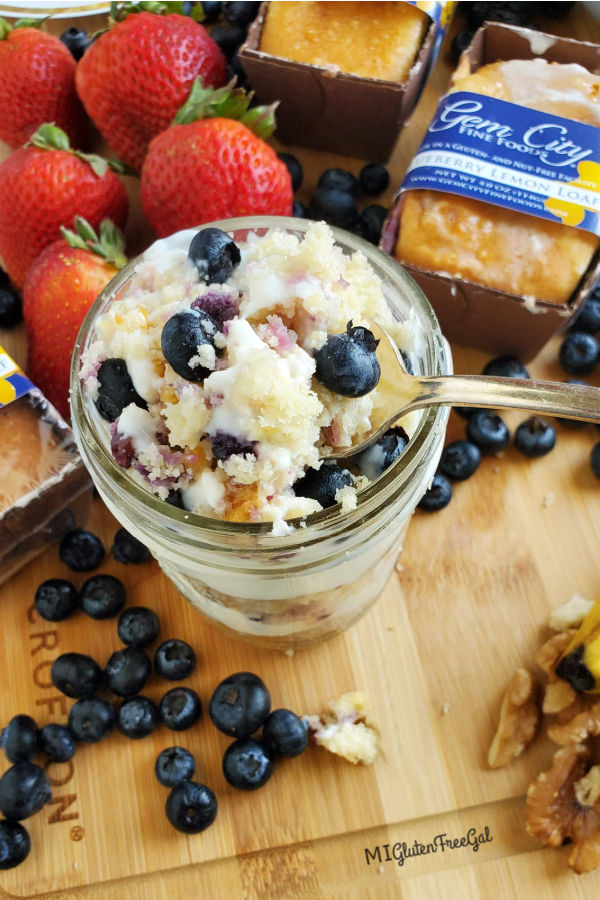 Gluten Free Breakfast Meal Prep Ideas
My husband is a public school teacher, and during a normal year, we get up at 5 in the morning. I have little time or energy to make anything creative on weekdays. Therefore, a bit of advance meal prep helps make the mornings run smoother. Here are some recipes that will keep your family fueled up.

Premade Gluten Free Breakfast Foods To Keep on Hand
A good breakfast is one that incorporates fat, fiber and protein. This helps you feel full, while keeping blood sugar levels even. (I learned that from Mary Ellen of Milk and Honey Nutrition, who is a regsitered dietitian.) Create your own breakfast box with a few of these items.
Fresh and Frozen Fruit (Use both in Evolving Table's Fruit Smoothie recipe.)
Yogurt Cups
Nuts & Nut Butters (and Seed Butters)
String Cheese
Gluten Free Cereal & Granola
Gluten Free Bread and Bagels
Gluten Free Muffins & Muffin Mixes

Gem City Fine Foods' Blueberry Lemon Loaves
While technically not a muffin, these Gluten Free Blueberry Lemon Loaves from Gem City are a great quick gluten free breakfast options. They're baked and packaged in a dedicated gluten and nut free facility, and they contain no soy. (They do contain dairy and eggs.) So good, it won the Specialty Food Association's Bakery Desserts New Product award in 2020.
Visit the Gem City Fine Foods website to order these mini loaves, or look at which stores carry their products.
(Not currently available in Michigan.)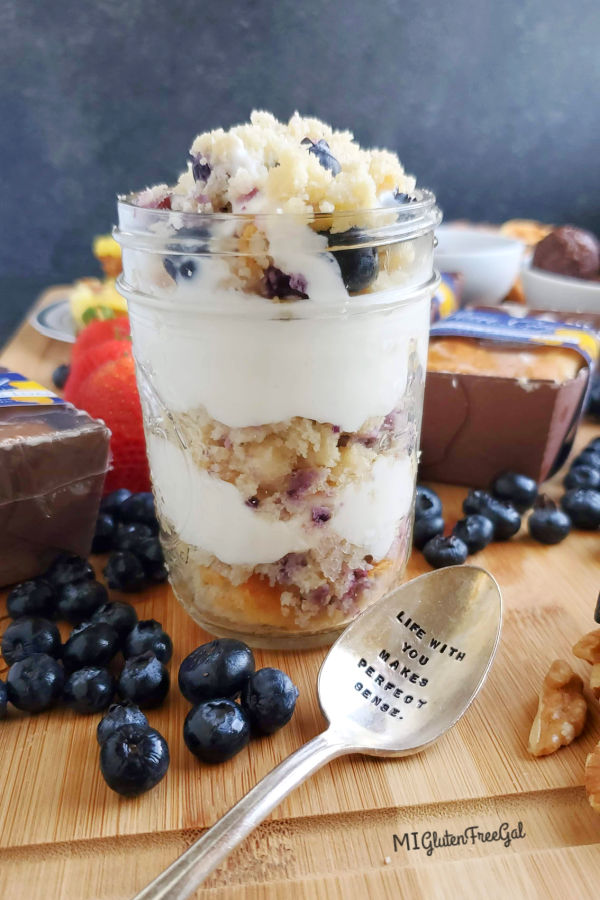 Gluten Free Muffin Breakfast Parfait
Since I can't tolerate oats, I decided to turn one of the Blueberry Lemon Loaves into a breakfast parfait. I broke one loaf into three sections. Then I crumbled one third into the bottom of a small mason jar. Next, I placed a few spoonfuls of yogurt on top.
I repeated with another layer of crumbled loaf and yogurt. Finally, I added more crumbled blueberry loaf to the top of the parfait, and a few blueberries. I used vanilla yogurt, but you could use any flavor. Lemon yogurt would pair great with it too!
Not into blueberries? Try this recipe for gluten free banana muffin parfaits from My Gluten-Free Kitchen. Looking for a recipe for overnight oats? Try this recipe for Make-Ahead Fruit & Yogurt Breakast Parfaits. I also want to try these Savory Grits Breakfast Parfaits from TheKitchn.
**This post is sponsored by Gem City Fine Foods. All thoughts and opinions are my own. **