Gluten Free Blueberry Pancake Casserole
As an Amazon Associate and member of other affiliate programs, I earn from qualifying purchases.
Who doesn't love a good breakfast casserole? This sweet and fruity Gluten Free Blueberry Pancake Casserole is a great way to use leftover pancakes. Your household is sure to love this creative spin on a French Toast casserole.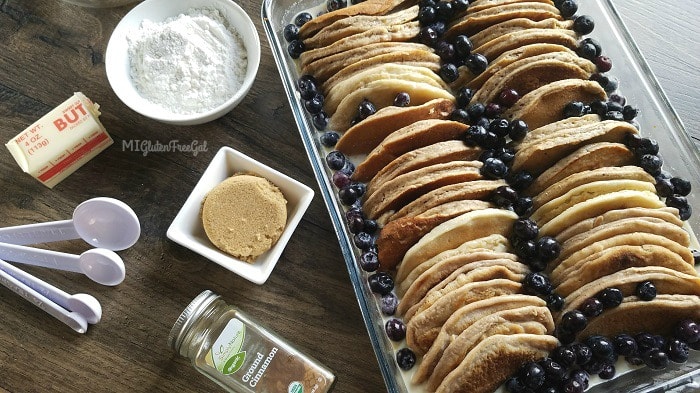 Michigan is the Blueberry State
Confession. I used to hate blueberries. Sad thing, considering "Michigan produces more blueberries than any other state in the nation." However, over time I matured, as did my taste buds. Thank goodness, because juicy blueberries are the star in this Gluten Free Blueberry Pancake Casserole. Since blueberries are good for your health, this makes this a health food, right? Therefore one can eat multiple pieces, right? Because after you taste this, you're totally going to want more.
Leftover Gluten Free Pancakes?
I wish I could say I am the brain child behind this beautiful Gluten Free Blueberry Pancake Casserole. In fact, that honor belongs to Annalise from Completely Delicious. I came across her Blueberry Pancake Bake while searching for creative ways to use leftover pancakes. What? Leftover pancakes? That week I made gluten-free pancakes for a church event, and went overboard in my portions. Like, 30+ pancakes overboard. Go big or go home, right?
Anyway, I found this amazing recipe Annalise created and I updated it to make it gluten-free. Which isn't hard really. You only make two subs – gluten-free pancakes and gluten-free flour in the streusel. (In addition, Annalise started with blueberry pancakes. I say use whatever leftover pancakes you have.)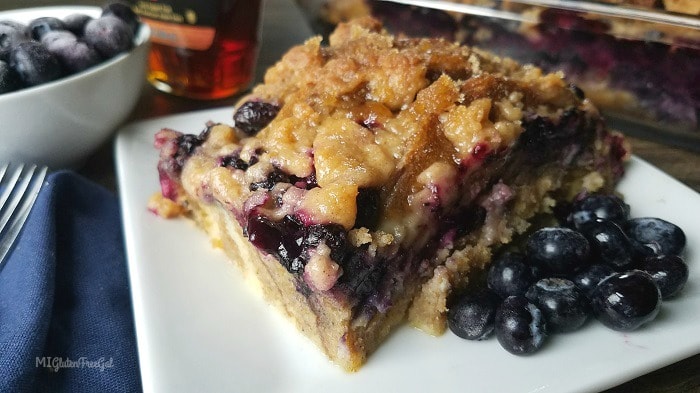 How to Make a Gluten Free Streusel Topping
That's right. This Gluten Free Blueberry Pancake Casserole is covered in the most amazing streusel. Okay, Confession 2 – I totally said "streusel" to my phone to see how to spell it correctly. Is that sad? Does anyone else do that? The placement of the "e" and "u" totally trips me up.
Well, no matter how you spell it, it's freakin' delicious. I mean, how can one go wrong with gobs of brown sugar and butter? With this sweet streusel on top, you don't even need to top this Gluten-Free Blueberry Pancake Casserole with syrup. I mean, you can. No shame from over here if you do. Feel free to let you inner Elf out and coat this bad boy in syrup if you want. Just sayin' it still tastes AMAZING without it.
How Many Does This Casserole Serve?
This Gluten Free Blueberry Pancake Casserole makes enough for at least 8 servings. Even more if you're serving it as part of a brunch spread with lots of other goodies. (Maybe with this homemade gluten-free chicken breakfast sausage?) I hypothesize that you could cut the "custard" recipe in half, use less pancakes, and bake it in a 8 x 8 dish. However, I haven't tried it.
Looking for something even more decadent? Try my Cream Cheese Stuffed, Overnight Blueberry French Toast Casserole. Craving something to feed a family of two? Try my easy gluten free breakfast casserole for two. Looking for a bigger savory breakfast strata? Try this one I made with Schar Artisan Baker bread. Suffice it to say, if you're looking for breakfast foods, I probably have you covered.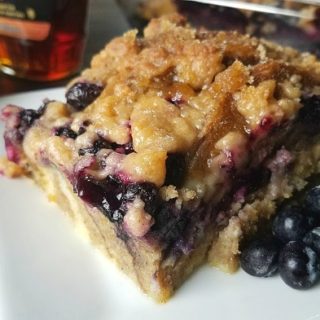 Gluten Free Blueberry Pancake Casserole
Ingredients
Casserole
20 pancakes, cut in half
6 eggs
1 1/2 c milk (She used whole milk. I used skim.)
1 c. heavy cream
1/2 c white sugar
1 tbsp vanilla extract (I use LorAnn Oils vanilla.)
2 c. frozen blueberries (She used 1/2 cup. Not enough blueberries IMO.)
Streusel Topping
1/2 c. gluten-free flour (I used Cup4Cup)
1/4 c. brown sugar
1/2 tsp cinnamon
1/4 tsp salt
1/4 c. butter, cold and cut into cubes
Instructions
Grease bottom of 9 x 13 casserole dish and line with pancakes, cut side down.Pancakes should be standing up, snuggled next to each other.
In a large bowl, mix milk, cream, sugar and vanilla together. Pour custard mixture over pancakes. Distribute blueberries evenly over the casserole. Cover and refrigerate overnight. Or at the very least 3 hours. You want the pancakes to soak up the cream mixture.
Remove casserole from refrigerator and preheat oven to 350*. It's important for the casserole to come to room temperature before going into the oven to prevent the dish from breaking. It should rest at least 30 minutes.
While the oven is preheating, prepare the streusel topping. Combine flour, sugar, cinnamon and salt together first, then add butter last. You can "cut the butter in" with a pastry blender or fork. If you have a small food processor, you can mix this in there as well.
Distribute streusel evenly over the casserole and bake for 50-60 minutes. Mine browned pretty quickly, so you may want to cover it with foil halfway through baking.
Allow to firm up at least 15-20 minutes.
What's your favorite breakfast casserole? Do you like meat in your breakfast bakes, or do you prefer to load it up with fruit? Leave me a comment below!