Gluten Free Cornbread Stuffing
As an Amazon Associate and member of other affiliate programs, I earn from qualifying purchases.
Still searching for a gluten free stuffing recipe? This Gluten Free Cornbread Stuffing is my absolute favorite version. Made with homemade cornbread, and cranberries, it tastes like the holidays should.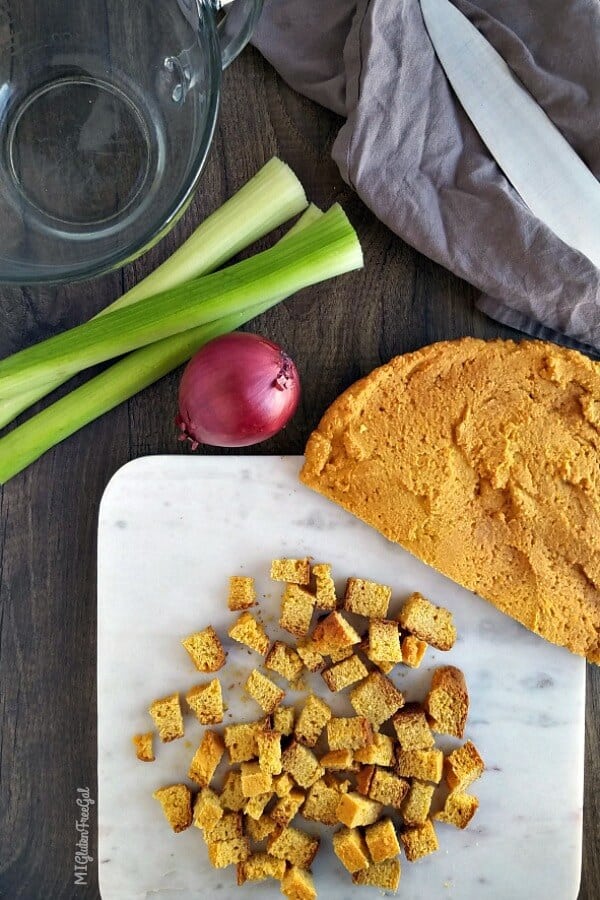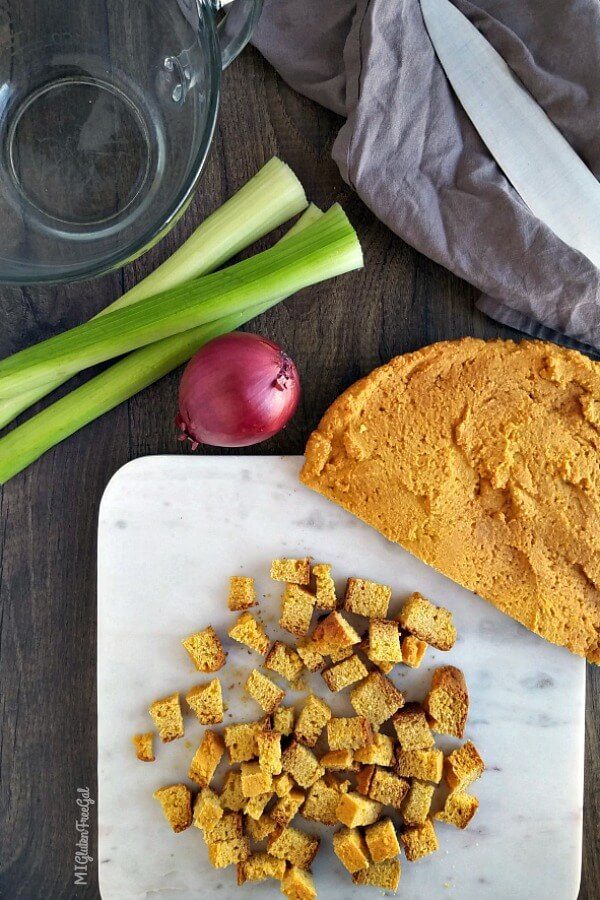 Stuffing or Dressing?
Stuffing. It's the one thing that people miss at the holidays. Stuffing shouldn't just be relegated just to the holidays, though. I received a panicked email during Christmas, when someone's stuffing mix supply ran out. I tried to encourage the writer that it's not all that hard to make. Use the recipe for Bette Hagman's gluten free cornbread, and you're halfway to this delicious gluten free cornbread stuffing.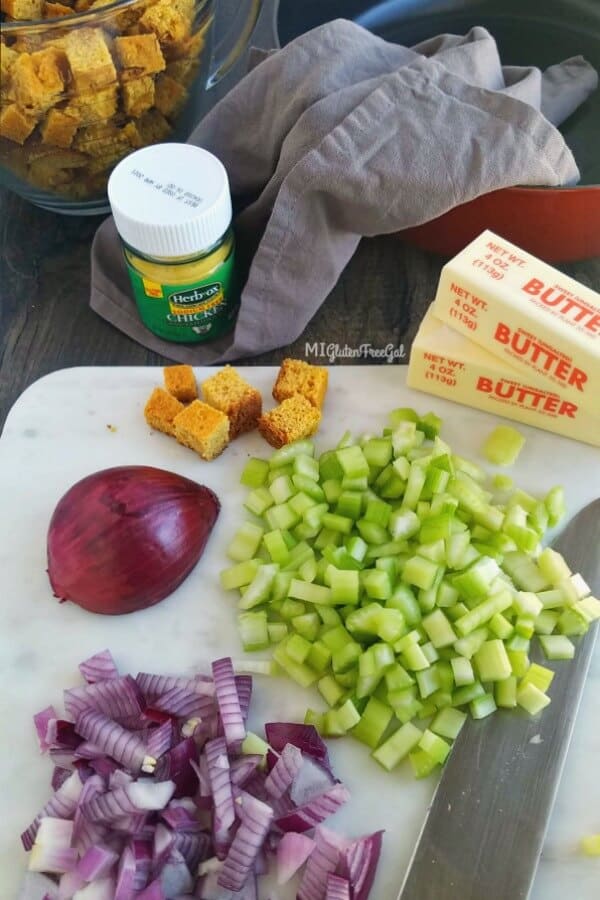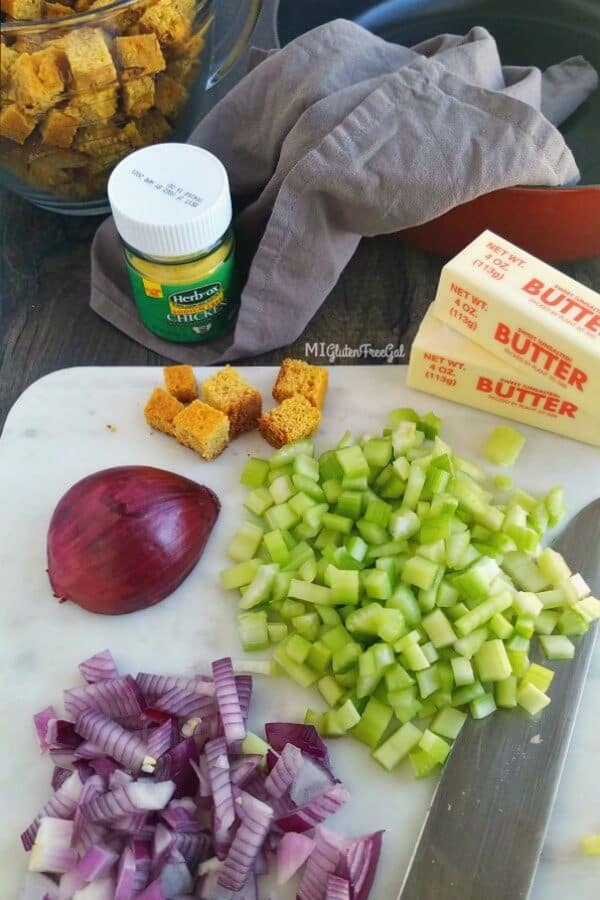 Gluten Free Bouillon
I originally posted this recipe for my gluten free cornbread stuffing in 2017. I did it in a hurry, because I wanted everyone to have it in time. However, it contained only one picture. To be honest, it wasn't a great one. So here I am, a year later, updating the post with images that tell more of the story. My recipe calls for using gluten free bouillon and water. (You can use chicken stock if you want.) Here are the bouillon brands I trust.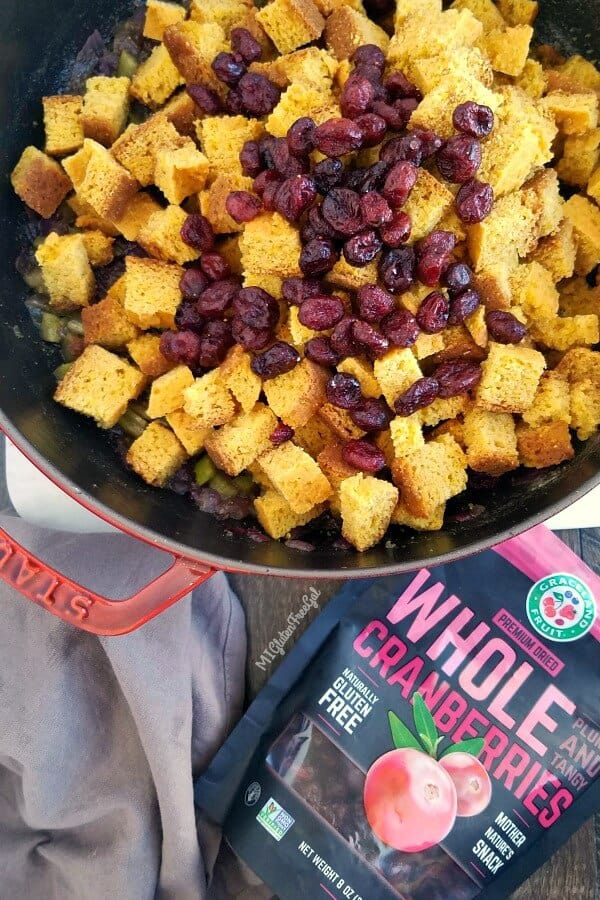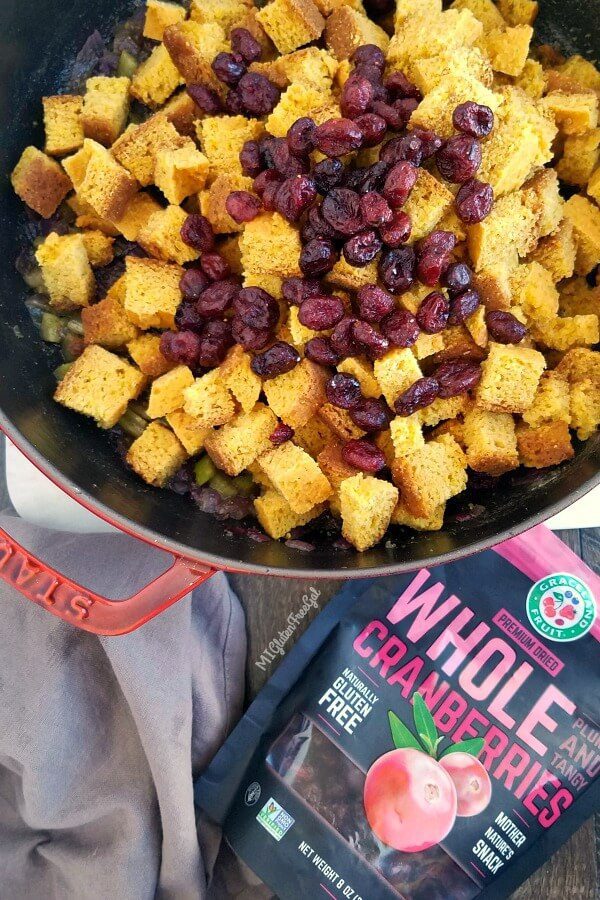 Gluten Free Cornbread Stuffing KEY INGREDIENT
My recipe for gluten free cornbread stuffing contains one important ingredient. Cranberries. Some may not agree, but I feel it adds an added sweetness to the dish. When I can, I prefer to use Michigan brands, such as Graceland Fruit. I first tried their products at the Third Coast Bakery grand opening. Luckily, I can find these whole ones at my local Meijer. I added them whole to my gluten free cornbread stuffing, but suggest chopping them up a bit before adding them to yours.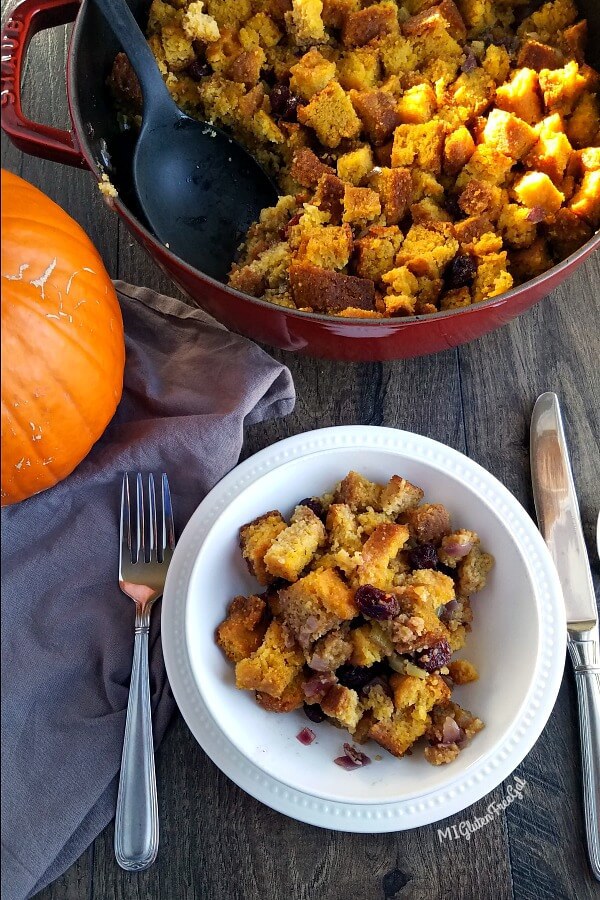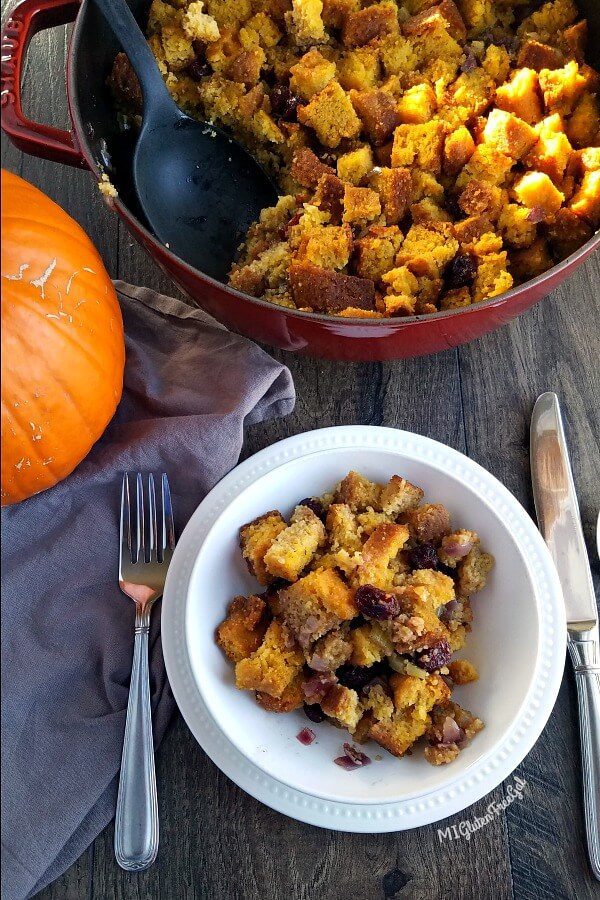 Don't wait for the holidays to make this gluten free cornbread stuffing. This dish is good anytime of the year. While it's tasty with turkey, it's succulent as a side to sausage as well. You can use it to make waffled stuffing, that would make one heck of a base for a meatloaf sandwich. Either way, you can easily make this gluten free cornbread stuffing part of your meal rotation.
Looking for a recipe using regular gluten free bread? Try this Gluten Free Mushroom Stuffing from VegetarianMamma. Want a smaller portion size? Add these Gluten Free Stuffing Cups from Eat At Our Table to your menu! Both use my favorite Schar Artisan bread!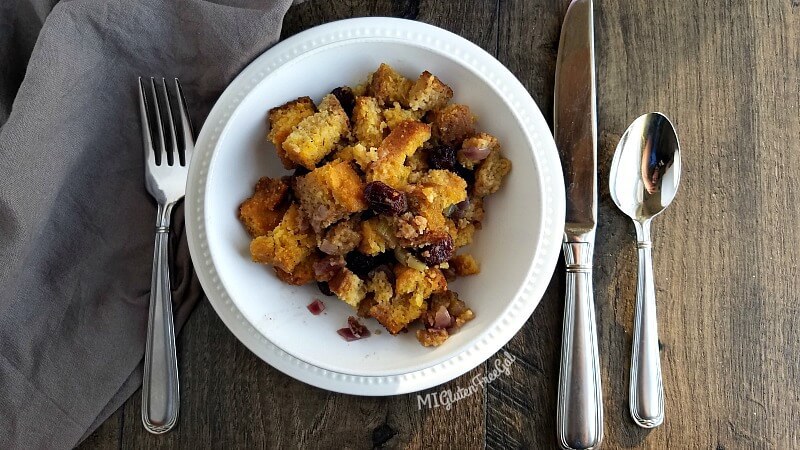 Gluten Free Cornbread Stuffing
Total Time:
1 hour
10 minutes
Ingredients
1 small onion, diced
2-3 ribs of celery, chopped
2 sticks of butter (or Earth Balance if dairy-free)
2 tsp Gluten Free Bouillon
2 tsp salt
1/2 tsp pepper
2 tsp sage
1 tsp thyme
9 c cubed cornbread
1/2 c dried cranberries
2 1/2 - 3 c water
Instructions
Preheat oven to 350.
Dice onion and chop celery. In large skillet, melt butter and saute onion and celery until onions are translucent.
Add bouillon, salt, pepper, sage and thyme to sauteed mixture. Cook 2-3 minutes further.
Place cornbread cubes in large baking dish, preferably one that has its own cover. Add to it the sauteed vegetable and herb mixture. Stir together along with dried cranberries.
Moisten cornbread stuffing with water. You can adjust the level of water for your preferred level of moisture.
Cover baking dish and cook for 25-30 minutes. Remove cornbread dressing from oven and let rest covered 5-10 minutes.
Do you enjoy cornbread stuffing anytime of the year, or just the holidays? What do you like to pair with it? Leave me a comment below!
**This page contains affiliate links. A small portion of your purchase goes to help fund this site. It does not impact the cost to you.**