Easy Gluten Free Cornbread- A Bette Hagman Recipe
As an Amazon Associate and member of other affiliate programs, I earn from qualifying purchases.
This naturally gluten free cornbread pairs wonderfully with soup or our favorite chili. Serve it with your next family meal! If you've been missing Jiffy mix, you can make this cornbread from scratch just as fast.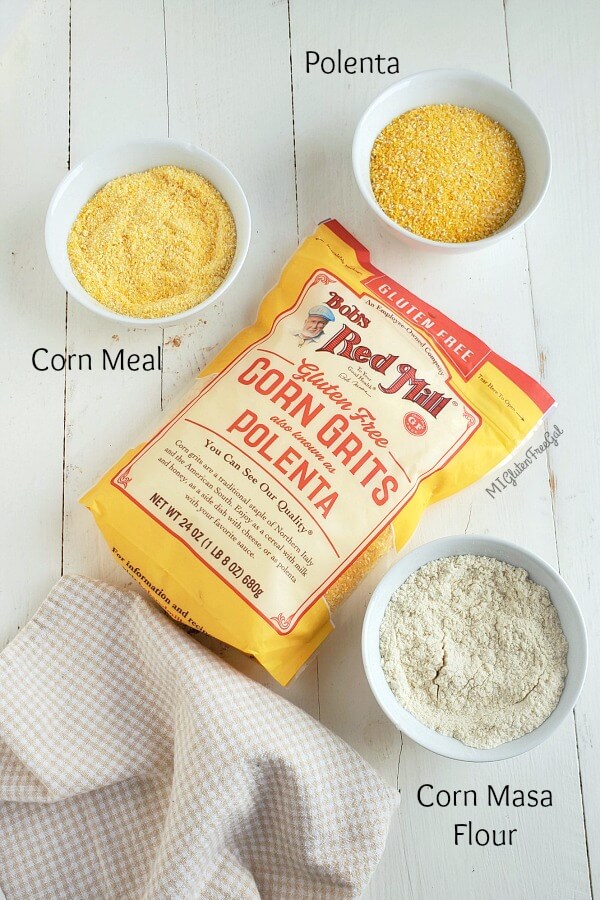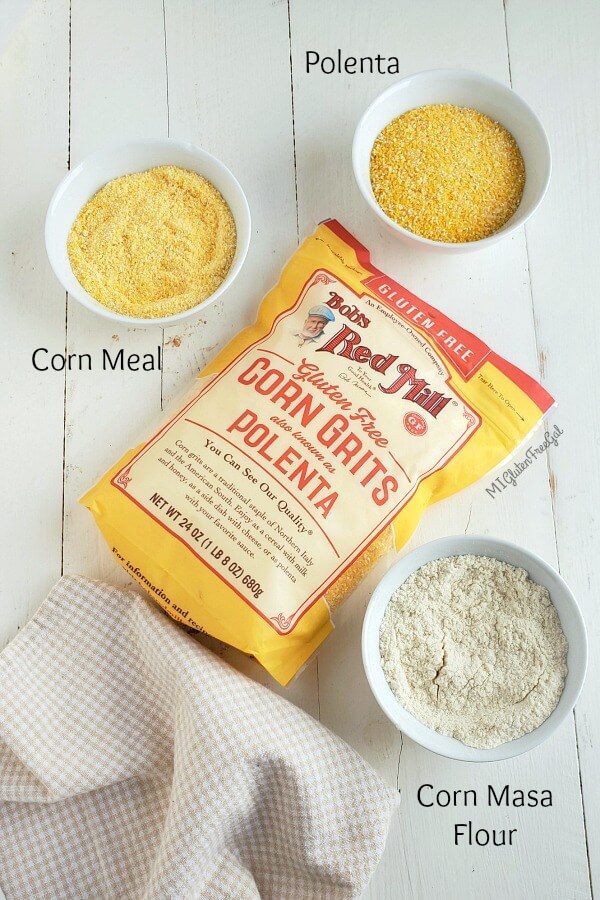 Polenta, Corn Meal and Corn Flour
To make this gluten free cornbread, I use Bob's Red Mill Gluten Free Corn Grits, aka Polenta. We eat polenta porridge for breakfast, so I simply use this instead of buying additional cornmeal. Please be aware that Bob's Red Mills sells two difference bags of "polenta / corn grits," and one is gluten free and one is not.
So how are these three "types" of corn meal different. As Epicurious explains their post about the difference between polenta and cornmeal, polenta is more coursely ground than cornmeal. In addition, true cornmeal for polenta is made from flint corn instead of dent corn. It is traditionally milled differently as well.
Technically, this recipe calls for corn flour. However, I use corn masa flour. The difference? Corn masa flour, per Brass Brasserie, is cooked in a lime solution, and then ground. I use Maseca corn masa flour for making tortillas. Corn flour is not cooked, but simply ground. (Also, Corn Flour in the UK is what we would call "corn starch" here in the United States.) For more on the differences between corn meal, flour and grits, see this post from Epicurious.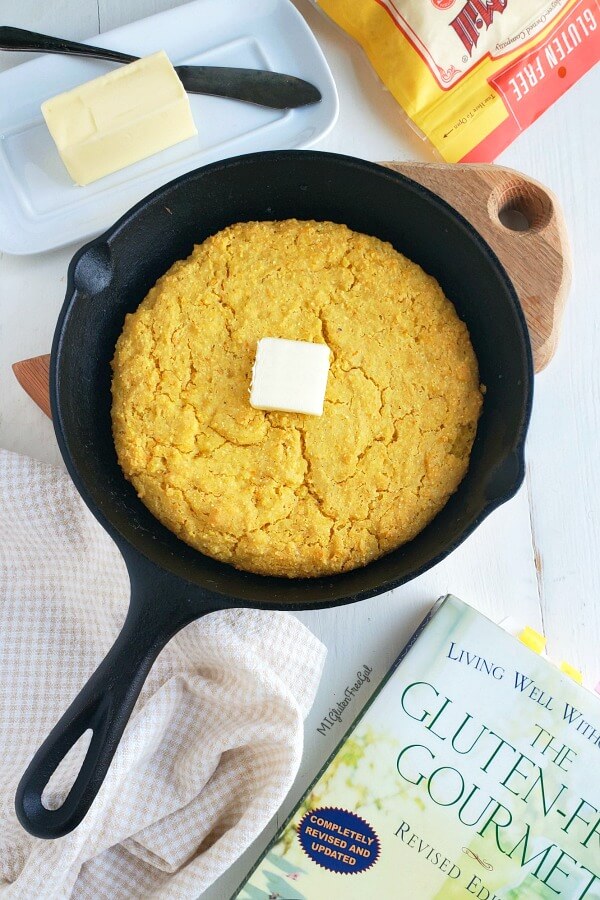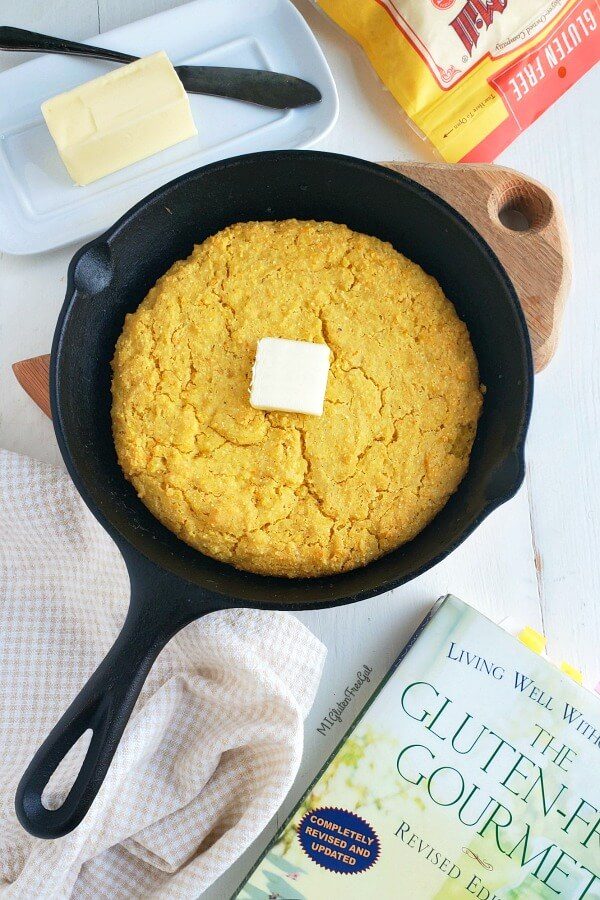 Bette Hagman – My First Gluten Free Cookbook
I've been making this easy gluten-free cornbread recipe by Bette Hagman for over a decade. Her cookbooks are an amazing gluten-free resource for those who are newly diagnosed. Through her I learned to make banana bread and spice cake. Her cookbook, pictured above, still has Post It tabs from all my favorite recipes.
This gluten free cornbread uses no special "gluten-free flour." Just cornmeal & corn flour, some fat, moisture and a bit of leavening. And just a touch of sugar. My husband loves its deep, rich corn flavor. Bette's original recipe calls for buttermilk. However, I never have that on hand, and simply use milk mixed with vinegar.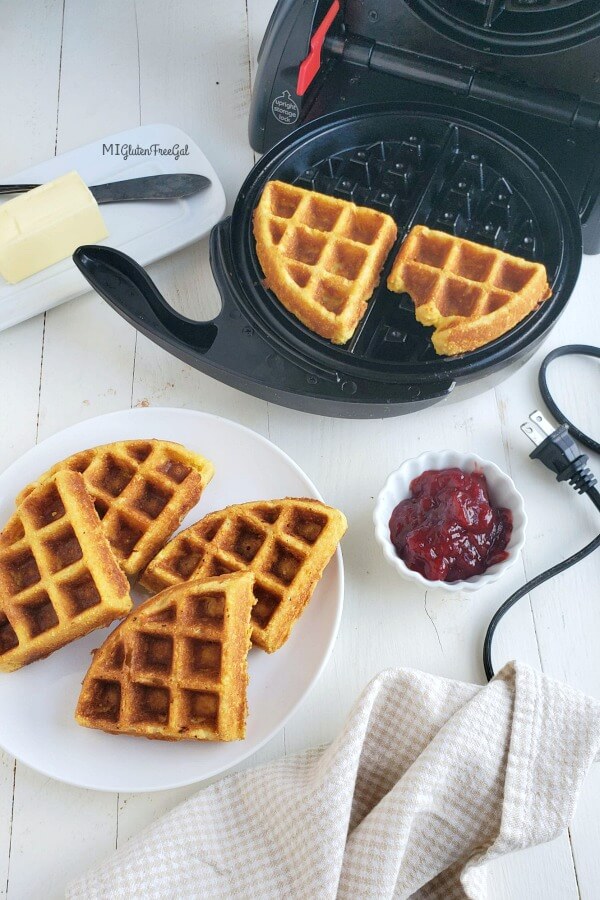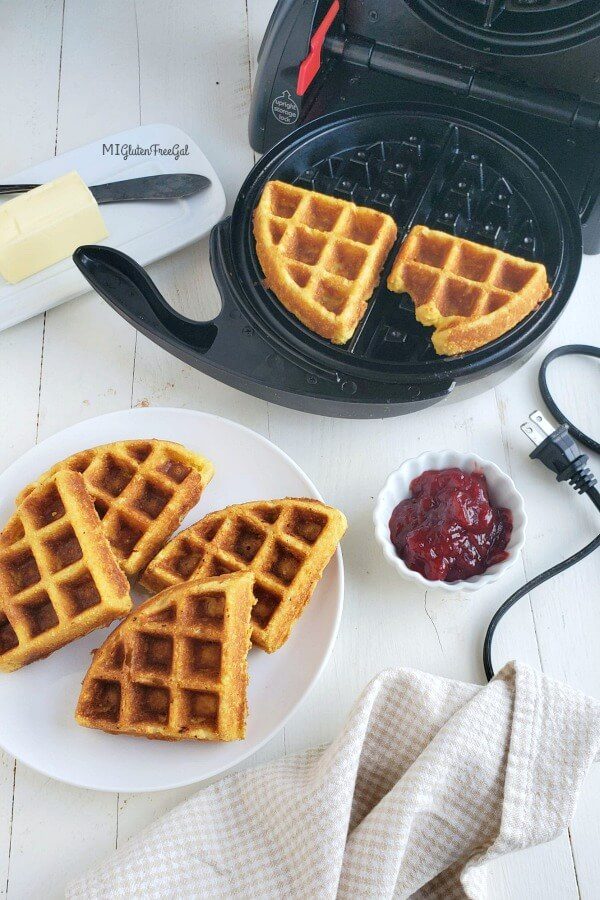 Cook Your Gluten Free Cornbread in the Waffle Maker!
You can make this easy gluten-free cornbread in any vessel you choose. I've made it in regular muffin tins, mini muffin tins, and a cast iron skillet. If you choose to use a skillet, make sure to oil and preheat the skillet in the oven. Doing so not only prevents it from sticking, but gives the most beautiful golden brown color on the bottom.
However, my favorite way to prepare cornbread is in my waffle maker. It sections the cornbread into individual servings. In addition, if you're preparing a large meal, it's one less thing in your oven. Cooking the gluten free cornbread in the waffle maker only takes 4 minutes per waffle. Fast and delicious!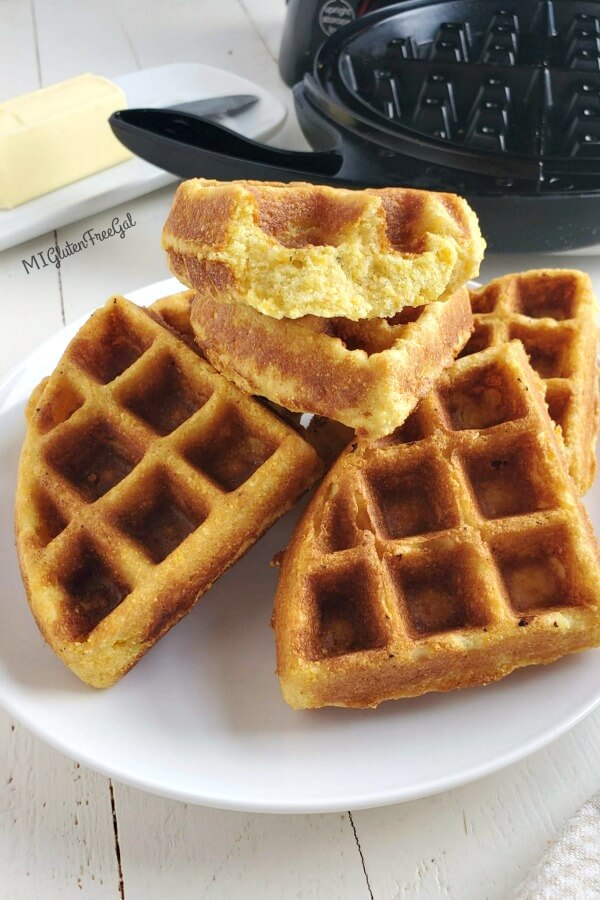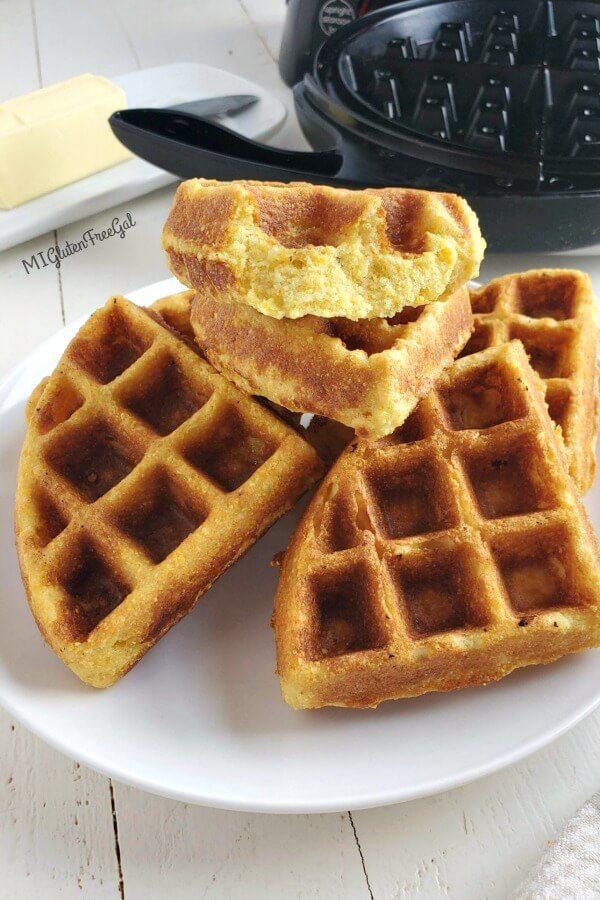 Other Uses for Gluten Free Cornbread
I use this recipe as the base for my gluten free cornbread stuffing. However, my husband's favorite use for this batter is my gluten free corn dog waffles. It also pairs nicely with my Cozy Comfort Chili. Cut the recipe in half and use it to top this Mexican Beef & Cornbread Bake from Five Heart Home! Or turn it into breadcrumbs to coat chicken!
Want cornbread, but have additional dietary restrictions? Introduce those on a corn / grain free diet to this Paleo Cornbread from Gluten Free Palate. Avoiding eggs and dairy? Try this Top 8 Free Cornbread from Allergy Awesomeness. She uses applesauce as a replacement for eggs, just like my basic gluten free donut recipe.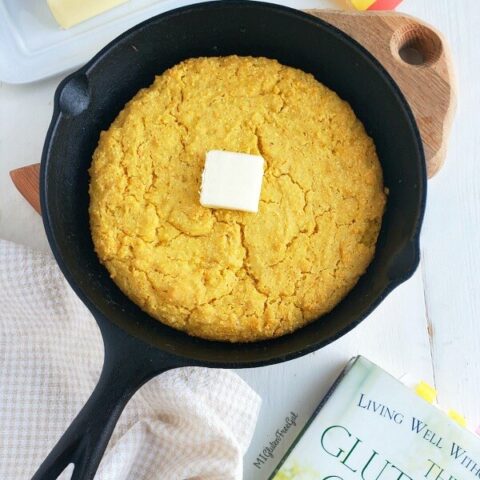 Easy Gluten Free Cornbread
Ingredients
1 cup yellow cornmeal
1 cup corn flour (can use gluten free all purpose flour, also)
1/4 cup sugar
2 teaspoons baking powder
1 tsp baking soda
1 tsp salt
2 eggs, beaten
1 cup whole milk (or 1 cup buttermilk, and leave out the vinegar)
1 tbsp cider vinegar
4 tbsp butter, melted
Instructions
Preheat oven to 350. If using iron skillet to bake cornbread, lightly coat it with oil and place in oven to warm. Otherwise, line muffin tins (or mini muffin tins) with liners - or grease and flour them well.
Combine milk and vinegar to as a buttermilk substitute. Allow to sit for at least 5 minutes. (You can just use buttermilk if you have it, and leave out the vinegar.)
If using polenta, grind it in spice grinder 10-15 seconds to break it down finer into cornmeal. Combine cornmeal, corn flour, sugar, baking powder, baking soda and salt in bowl. Whisk together well.
Whisk in beaten eggs, melted butter, and milk + vinegar. Batter will not be runny, but not incredibly thick either.
Pour into heated skillet or spoon into prepared muffin tins. Bake for about 25 minutes or until the top starts to turn a golden brown. (I would check on it after 20 minutes.)
What's your favorite use for corn bread? Do you use is it in recipes for just enjoy it as is? Do you have any mix-ins you like to add? Please leave me your suggestions, below!
**This post is not sponsored. However, it does contain affiliate links. Purchases made through those links help support this blog with no extra expense to you. Thank you for your continued support!**