Waffled Gluten-Free Stuffing: Leftover Genius
As an Amazon Associate and member of other affiliate programs, I earn from qualifying purchases.
Tired of plain Thanksgiving leftovers? Get creative and turn that leftover gluten free stuffing into waffles! This 2 ingredient recipe for waffled gluten free stuffing becomes the base for an amazing Thankgiving sandwich!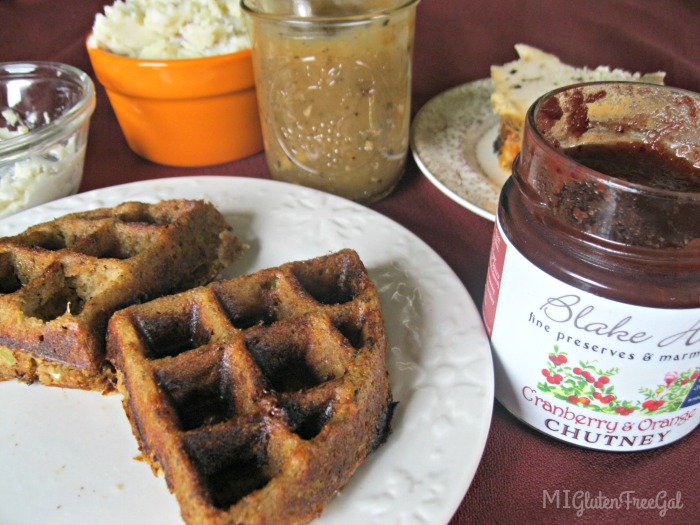 What To Do With Thanksgiving Leftovers?
So when Friday rolls around and you're waking up from your Thanksgiving Day coma, you have a question to ask yourself. What are you going to DO with all of those leftovers? Sandwiches made from waffled gluten-free stuffing, that's what. Forget your traditional open faced turkey sandwich covered in gravy. This "wafflewich" made with waffled gluten free stuffing turns the culinary dial to 11. Be prepared to have your mind blown.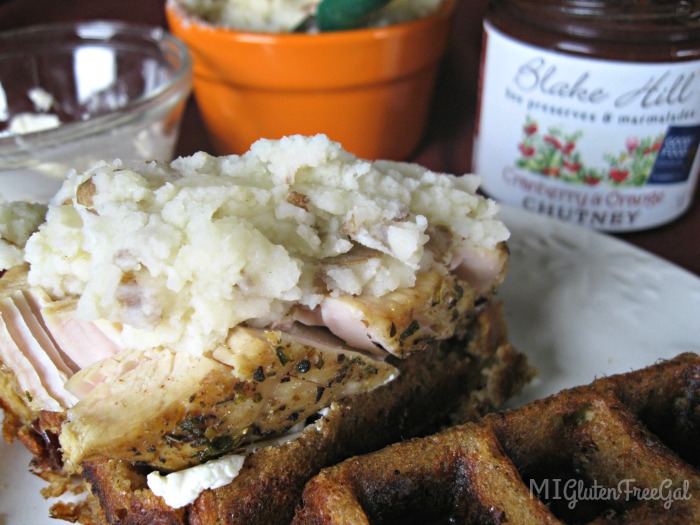 How to Waffle Stuffing
It's very simple actually to make waffled gluten free stuffing. Of course, I only know the answer because I "googled" it myself and did some research. It seems the ratio is 4 cups of stuffing to 2 eggs. (If you have 3 cups of stuffing, use one egg plus one egg white.) I added some water, as my leftover stuffing was a bit dry. Don't add too much though, as it won't cook correctly if you do. I found that a cooking time of 10 minutes allowed for the outside crispness that I desired. In the Dash Mini Waffle maker, it only took 5 minutes.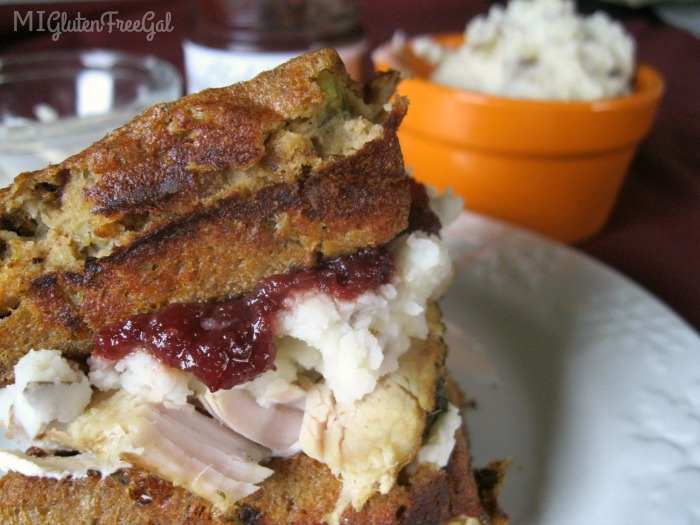 How To Make a Waffled Thanksgiving Sandwich
From there, making a "wafflewich" with your waffled gluten free stuffing is a breeze. This is an excellent time to use leftover turkey, mashed potatoes and gravy. I prefer to use leftover cranberry sauce, like the one I received in my American Gluten-Free box. However, it you want to make this sandwich truly memorable, smother your waffled stuffing with goat cheese. You might not be able to see mine because it's topped with juicy chunks of turkey breast. But trust me, it's there. This is quite a mouthful, so you might want to attack this beauty with a fork and knife.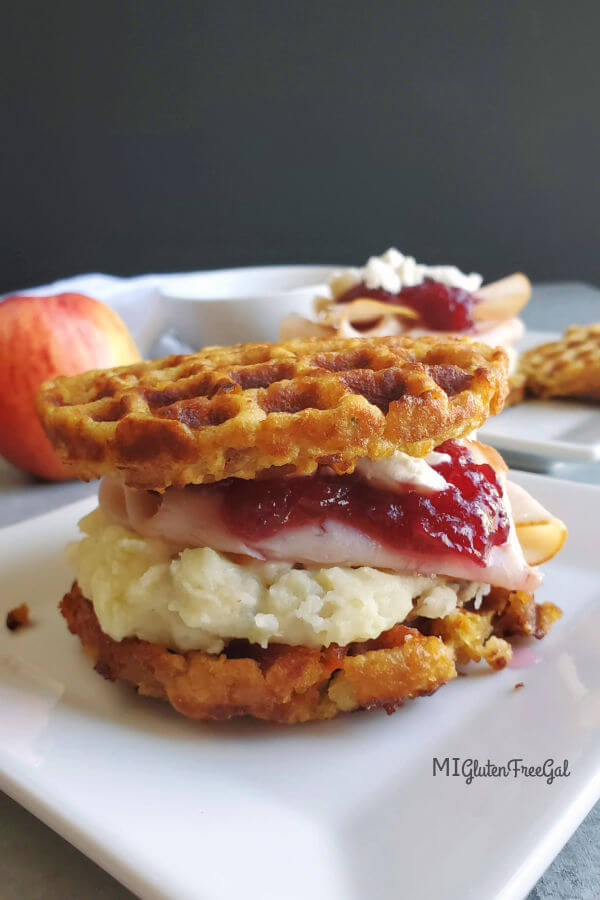 Other Recipes for Gluten Free Thanksgiving Leftovers
At Thanksgiving, I always make extra mashed potatoes, for this flourless breakfast quiche. And your leftover cooked turkey would work well in this breakfast strata. Throw it together Thursday night, and bake it Friday morning! Other than that, I recommend Eat at Our Table's round up of Recipes for Thanksgiving Leftovers. In addition, this list of 33 Thanksgiving leftover recipes from Casey the College Celiac has a lot of great ideas.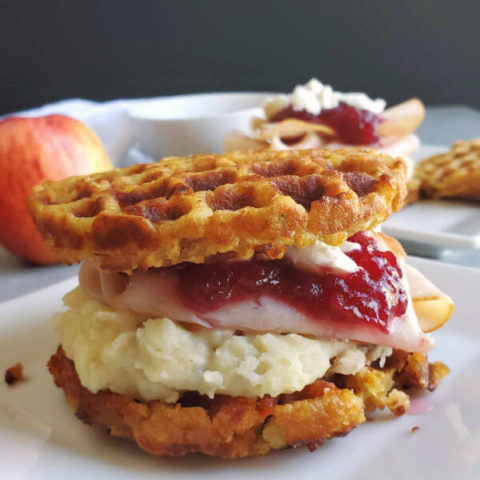 Gluten Free Waffled Stuffing
Ingredients
4 cups of leftover stuffing
2 eggs
Instructions
Preheat waffle maker (I like the Dash mini waffle maker for this.
Mix prepared stuffing and egg in a bowl.
I placed about a 1/2 cup of the stuffing mixture in the waffle maker. Then I allowed it to cook for 5 minutes.
To turn into a sandwich, top with leftover mashed potatoes, sliced turkey, cranberry sauce, and just a touch of goat cheese, if ya got it.
Notes
I originally made this in the belgian waffle maker the first time I tried it. However, I highly recommend using the mini Dash waffle maker instead, especially if you plan to use these for sandwiches. Otherwise, if you're making a large waffle, I'd simply add the potatoes, turkey and cranberry sauce on top, and then eat everything with a fork. 
So how about you? What's your favorite way to use leftovers? What other creative ways have you used your waffle iron? Leave me a note in the comments!
**Ameican Gluten Free provided the ingredients for this post, but has since gone out of business. I was not otherwise paid or compensated for my time. This post does contain affiliate links. Purchases made through those links help support this blog with no extra expense to you. Thank you for your continued support!**