Blueberry Pie: Gluten-Free and Grain-Free
As an Amazon Associate and member of other affiliate programs, I earn from qualifying purchases.
What's your favorite kind of pie? For me, apple tops the list, However, since making this grain free blueberry pie with Chebe's All Purpose Bread Mix, apple pie has a serious contender.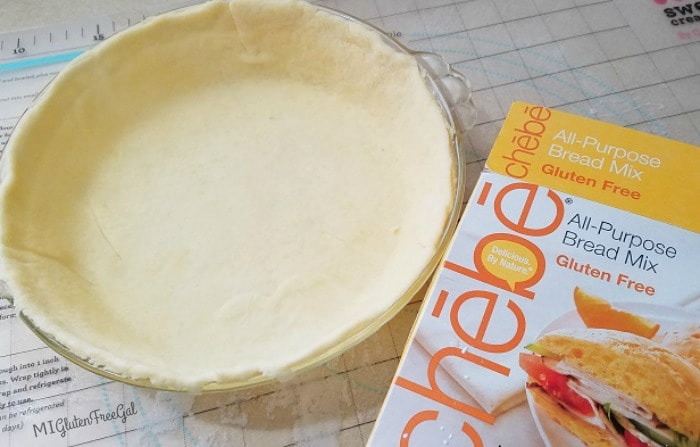 My First Gluten Free Blueberry Pie
I've written about pie crusts on my website many times. Crusts used for apple pie, pecan pie, chicken pot pie. Today I tackle a pie "first." Blueberry pie. Why I've waited so long, I have no idea. After all, Michigan produces more blueberries than any other state in the country. So when Chebe asked me to write down my steps in using their all-purpose bread mix, I gladly obliged. Add oil, eggs, frozen butter (yes, frozen!) and ice cold water and you'll have that crust together in no time flat. It's easy, gluten-free and grain-free!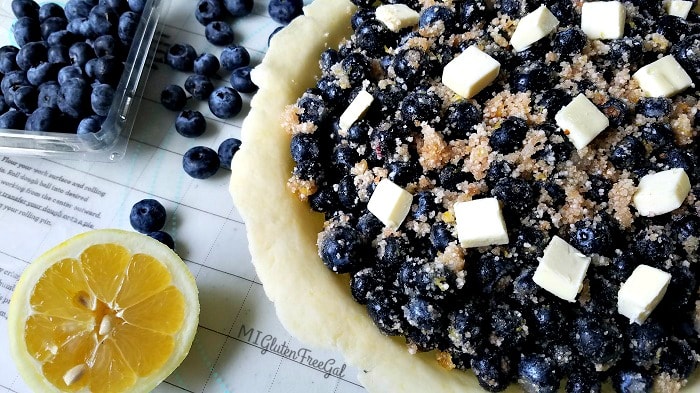 The Easier, the Better
The pie crust for this blueberry pie was simple. The filling for the pie required a little more research. I wanted something easy, something simple. One, because I'm not pastry chef. Two, because I wanted it to be simple for you to replicate as well. The recipe created by Elise Bauer on Simply Recipes was a natural solution. Elise's recipe uses quick cooking tapioca, which compliments the Chebe crust well. Chebe products are made from tapioca flour, which is a root. Tapioca is not a grain, and is generally accepted as "okay" on the paleo diet.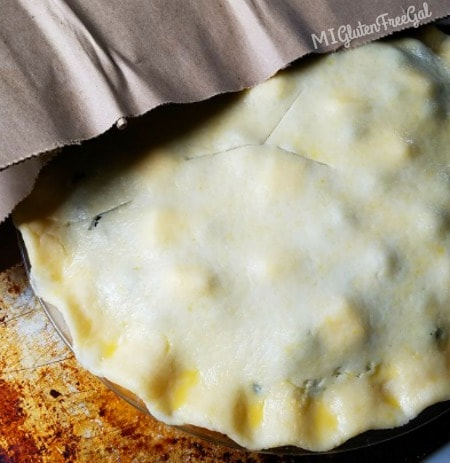 Baked in a Bag
Like my apple pie, the trick to this blueberry pie is something I learned from Nicole Hunn (a.k.a. Gluten Free on a Shoestring). I baked this blueberry pie in a brown paper bag. It allows the heat of the oven to bake the pie fully, without totally drying out the crust. I find this especially helpful when making pies with a Chebe pie crust. Brush your pie with an egg wash, slide it into the bag, and bake for an hour. Then, remove it and bake for 5-10 more minutes to reach the desired level of browning.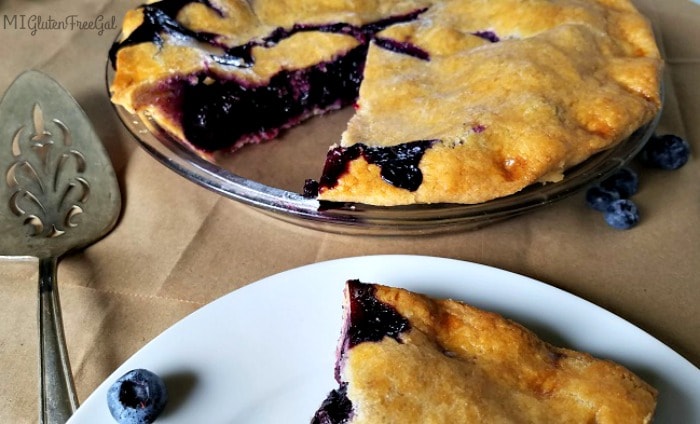 Allow Your Pie to Rest Before Eating
This blueberry pie is so easy to put together that you'll want to make it right away. You'll want to eat it right away too! However, exercise patience and let it set overnight. Trust me! Pie crusts made from Chebe can sometimes be a little stiff. Allowing it to set overnight allows the crust to soften and absorb the flavors of the blueberries.
I made my blueberry pie on Tuesday, then had to go out of town Wednesday. I sliced into it Thursday morning and it was absolutely perfect! We shared the rest of it with friends that night. Their small children devoured every single bite! I'd call that a win! You'll want to share this pie with your friends and family too!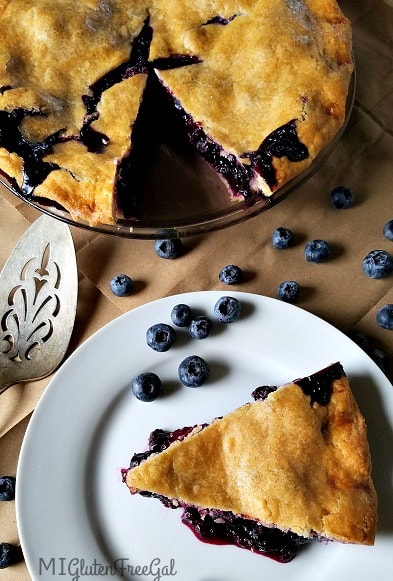 Dairy Free and Egg Free Options
When using the Chebe All Purpose Mix, I use eggs and dairy in the crust. Therefore, I recommend using a different recipe all together, if you follow a vegan diet. Try Sarah Bakes Gluten Free's recipe for Gluten Free Rustic Berry Pie for an egg and dairy free option. Need it to still be grain free? Try this vegan Summer Berry Pie from Lila Ruth Grain Free.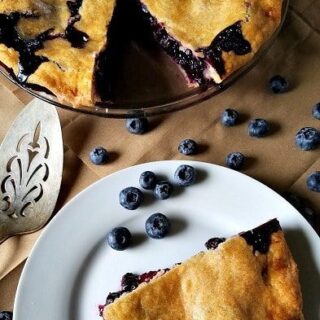 Grain Free Blueberry Pie
Ingredients
Crust
1 pkg. Chebe All-Purpose Bread Mix (Use their store locator or order easily on Amazon.)
1 tsp sugar
1/2 tbsp milk powder (this isn't necessary but helps to soften the crust)
2 tbsp oil
1 egg
4 tbsp. frozen butter, grated
4 tbsp. ICE COLD water
Filling
6 cups blueberries
zest of one lemon
juice of 1/2 lemon
1/4 cup quick cooking tapioca (or 1/4 c. gluten-free flour)
1/2 cup white sugar
1/2 tsp cinnamon
2 tbsp butter, cut into small pieces
Egg Wash
1 egg, beaten
1 tbsp water
Instructions
In a large bowl, combine Chebe All Purpose Bread mix, sugar and milk powder. Whisk quickly to combine. Add oil, whisking briefly, then add beaten egg. Stir once more.
Using a box grater, grate 4 tbsp of frozen butter. When all has been shredded, use your hands to gently incorporate butter into the flour mixture. The warmth of your hands will melt the butter and mix into flour.
Add 4 tbsp. of ice cold water to the bowl. Use your hands to knead dough until a dough ball forms together. It may seem a bit sticky at first, but a firm ball of dough will form. Place dough ball in the refrigerator while making the filling.
In a separate large bowl, make blueberry pie filling. Combine blueberries, lemon zest and juice, tapioca, sugar and cinnamon. Use a large spoon to mix all ingredients together well. For reference, the zest of one lemon is approximately 1 tsp, and the juice of half of a lemon is approximately 1 tbsp.
Preheat the oven to 350 degrees. Remove dough from refrigerator and divide in half. (I use my digital scale to weigh my dough. I usually allow one dough ball to be slightly bigger and use it for the bottom crust.)
First, lay down a layer of parchment paper or use a plastic mat for rolling purposes. Second, sprinkle the rolling surface with gluten-free flour. (I use Bob's Red Mill Rice Flour. If you are following a grain-free diet, use your preferred "neutral flavor" flour.)
Take the dough ball for the bottom crust and place on a rolling surface. Roll out dough for a 9 in pie crust. During the rolling process. flip and turn dough to prevent it from sticking to the surface.
Place pie dish centrally over dough. Carefully and quickly, flip the crust and dish over. Aid dough in sinking down in pan properly. Allow crust to hang over edge an inch or more to adhere to top crust.
Add blueberry pie filling to bottom crust. Cut 2 tbsp of butter into small pieces and arrange evenly over pie filling. Roll out second crust and place over top. Carefully fold top crust underneath bottom crust. Seal together using fingers. Brush top of pie with egg wash. Cut slits in pie to let steam escape.
Place pie in freezer for 10 minutes. This will chill the pie and prevent it from shrinking in the oven. (This is another tip I learned from Gluten Free on a Shoestring. Works every time!)
Remove pie from freezer. Then, slide blueberry pie into a brown paper bag, which is laying on its side. (See picture above.) If possible, staple bag shut to prevent any steam from exiting. Place pie on cookie sheet in 350 degree oven. Bake for one hour. (Trust me, the brown bag won't burn!)
After the hour is up, remove blueberry pie from the bag,place on cookie sheet and let brown further for 10 minutes. (In all honesty, I think my pie could have gone without the extra ten minutes. However, I also noticed that not all of the tapioca had cooked. You'll have the check the slits of your pie to see.)
Remove finished blueberry pie. Allow to cool at least 2 hours. This pie is best when allowed to rest for 24 hours, in my personal opinion. If you are doing so, make sure to cover the pie in a carrier to prevent it from drying out.
What great recipes have you created using
Chebe
? Tell me in the comments below!
**Chebe provided the ingredients for this post. I was not otherwise paid or compensated for my time. This post does contain affiliate links. Purchases made through those links help support this blog with no extra expense to you. Thank you for your continued support!**