Old World Gluten Free Pierogi
As an Amazon Associate and member of other affiliate programs, I earn from qualifying purchases.
Look up the word "dumpling" on wikipedia. It becomes quickly obvious that humans across the globe love food stuffed inside of dough. The Italians make ravioli, the Chinese make wontons, the Indians make samosa, and the Polish make pierogi. Here in Michigan, we're blessed to have Old World Gluten Free pierogi.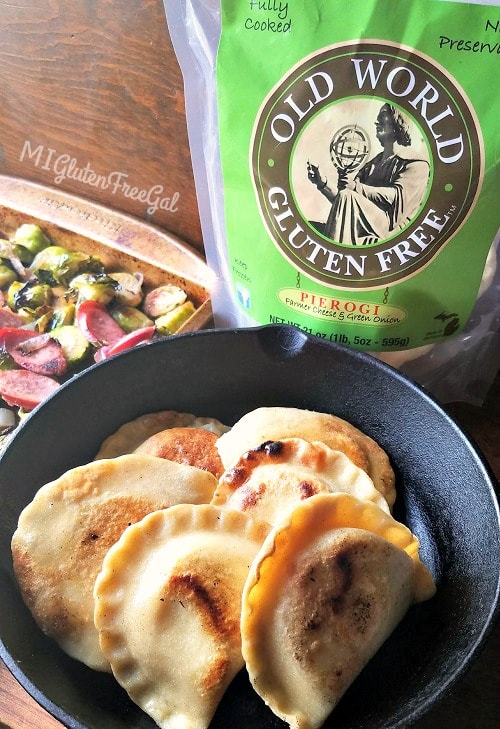 Old World, Made in Michigan
I keep my eyes peeled and ears perked for all things gluten-free. Old World Gluten Free came to my attention after their attendance at the "Making It In Michigan" Conference. This is a program put on by Michigan State University through their Product Center to encourage and help local Michigan entrepreneurs with products "related to agriculture, food, bio-economy or natural resource industries."
Not only did Old World Gluten Free attend this conference, they won a Product Placement Award! Not a "gluten-free" award, but a general award that covered all food products! Know why? Because they don't taste any different from regular pierogi! An added plus? The first dough ingredient is garbanzo bean (chickpea) flour. Not only does one get to indulge in pierogi, they're full of fiber and protein!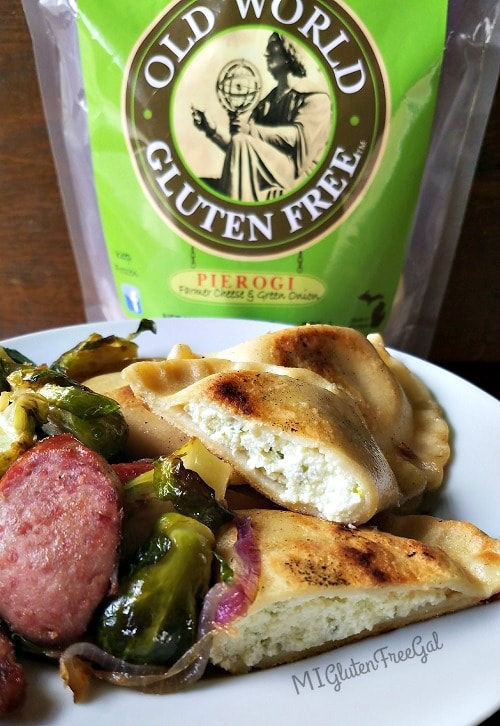 What Are Pierogi?
But enough background, let's get to the food!
Pierogi are versatile in the dumpling world. While other countries usually only focus on savory filled-dough delicacies, pierogi can be made savory OR sweet. And true to form, Old World Gluten Free offers both!
I had a friend purchase a bag of them for me while they were at the Tri-County Celiac Support Group's food fair. I received pierogi stuffed with Farmer's Cheese and Green Onions. (Click here for a list of their flavors, and their ingredients.) The first thing I noticed is that they are not some itsy-bitsy two bite dumplings. These are HUGE!
So How Do These Gluten Free Pierogi Taste?
These are also DELICIOUS! Seriously, what's there not to like about hot cheesy goodness?
What's that you say? You're vegan and don't eat cheese? But wait, there's more! Old World Gluten Free makes VEGAN pierogi as well! Can life get much better? I submit that it cannot!
Where Can I Buy Old World Gluten Free Pierogi?
They are made in St. Clair Shores, and prominently sold in the greater Detroit area. Find them on shelves at Randazzo's, Busch's Fresh Market, Westborn Market, Holiday Market, and Plum Market. Other stores include Ypsilanti Food Coop, as well as Village Market and Neiman's Market in St. Clair Shores. They recently became available at Oryana's Food Coop in Traverse City, MI.
You can also find them at many Michigan Kroger locations, as well as Midwest Whole Foods stores. This includes Illinois, Indiana, Iowa, Kentucky, Minnesota, Missouri, Ohio, and Wisconsin. Dedicated gluten free bakeries Rumi's Passion, and No More Belly Aching in Brighton, also stock them.
Live on the west side of Michigan? Bridge St. Market stocks Old World Gluten Free Pierogi. Click the "Find Our Pierogi" link on their website for a complete list of store locations.
Does Old World Gluten Free Ship Their Gluten Free Pierogi?
Don't live in Michigan? No problem! You can now order their pierogi ONLINE and sent right to your door through the Polana website. It's like Polish Christmas, all year long!
Gluten Free Pierogi Recipes
Want to make your own? Find Gluten Free Pierogi recipes from GF Jules, Officially Gluten Free, and Faithfully Gluten Free. Looking for Farmer Cheese? Lifeway Kefir Farmer Cheese is certified gluten free. Use their store locator to find it near you.
Old World Gluten Free
27203 Harper Ave.
St. Clair Shores MI 48081
586-873-0354
Are you a fan of pierogi? What's your favorite side dish to enjoy with it? Leave me a note below!