Ann Arbor Gluten Free Dining Options
As an Amazon Associate and member of other affiliate programs, I earn from qualifying purchases.
Visting the University of Michigan? Planning a trip to Ann Arbor? Then you'll want to read my list of Ann Arbor Gluten Free Dining Options.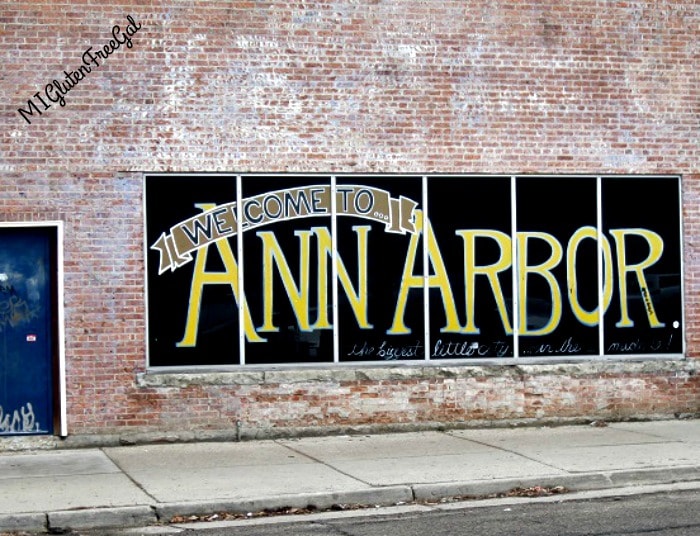 Ann Arbor is a huge tourist destination in Michigan. Being the home of one of Michigan's two Big Ten athletic teams, that brings a lot of visitors. In fact, the Ann Arbor Convention and Visitor's Bureau estimates 5.6 million people visited there in 2014.
If we figure that 1% of the population has Celiac Disease, we could estimate that 50,000 people are in need of gluten-free dining options while in the area. So to help make your trip a little bit easier, here are my list of top Ann Arbor gluten-free restaurant suggestions. (Plus two dedicated gluten free bakeries!)
Zingerman's Roadhouse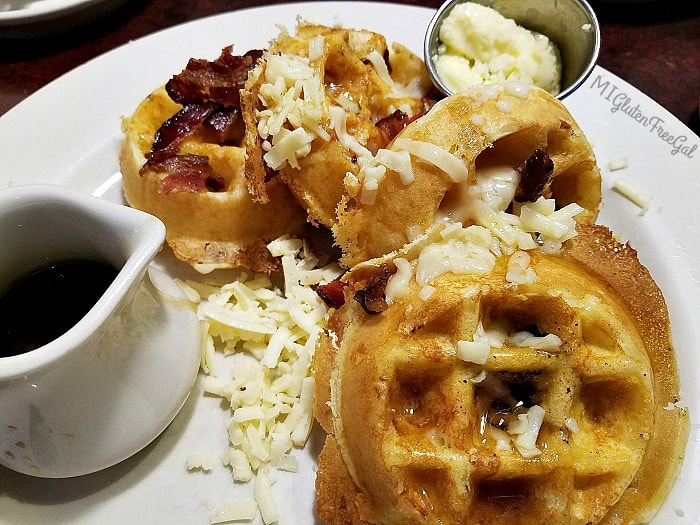 My first mention in my Ann Arbor gluten-free restaurant suggestions is Zingerman's Roadhouse. Why? Because Zingerman's is synonymous with the name Ann Arbor. The level of care that they take with their food prep is PHENOMENAL.
With dedicated fryers, toasters and waffle irons, it gives peace of mind while you're enjoying your meal. I mean, look at those Bits & Grits Waffles?! I wish I had a plate of them right now. Or their a gluten-free fried chicken. Fried Chicken folks! While you're in the area, make a pit stop at Plum Market across the street for Ethel's Baking Company treats and other gluten-free goods.
Earthen Jar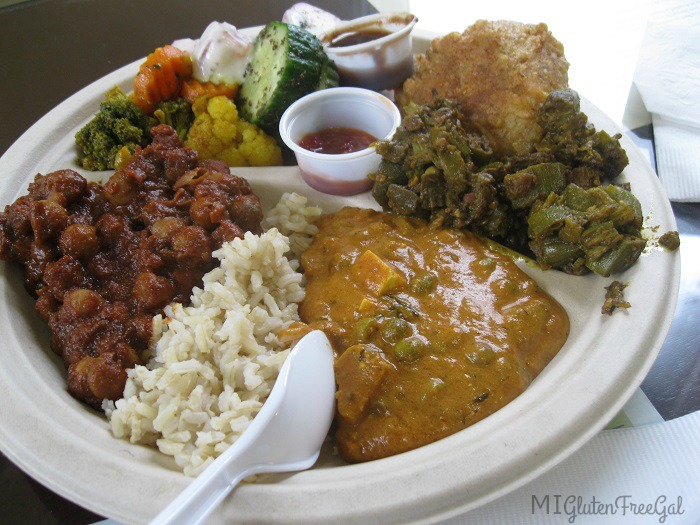 Of all the Ann Arbor gluten-free restaurant options, Earthen Jar is the only one that has a 100% gluten-free kitchen. That's right, no gluten anywhere. Period. HOW AWESOME IS THAT?! Earthen Jar is more than a gluten-free restaurant. It's 100% vegetarian as well.
All foods are served buffet style and charged by the pound. There are gluten-free desserts in the display case as well, made by Simple Pleasures. (*There is naan available, which does contain gluten, but it is made off site and is only available by request.*) Cardamom Indian restaurant also comes highly recommended by locals.
1923 Food Truck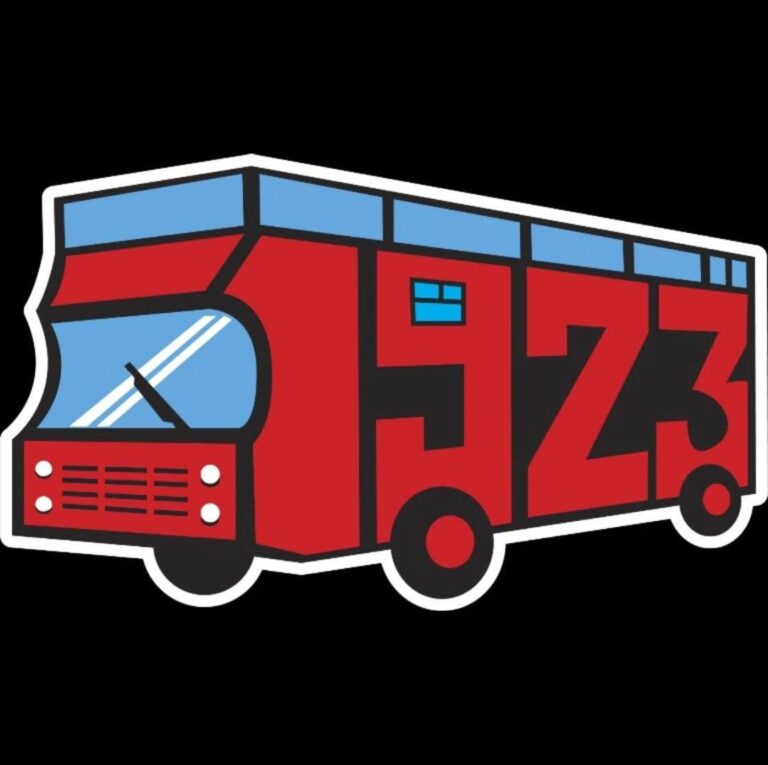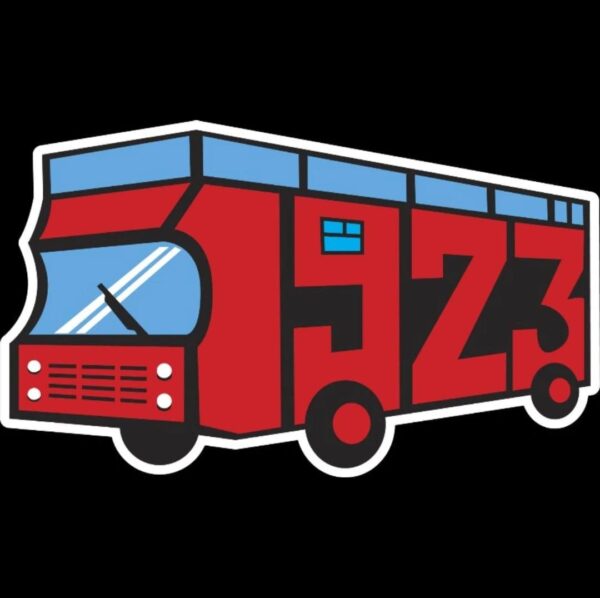 1923 Food Truck serves a complete gluten free menu. I have not been here yet, but this dedicated gluten free food truck has received rave reviews from customers who have dined there. Read more about this business in my review.
Frita Batidos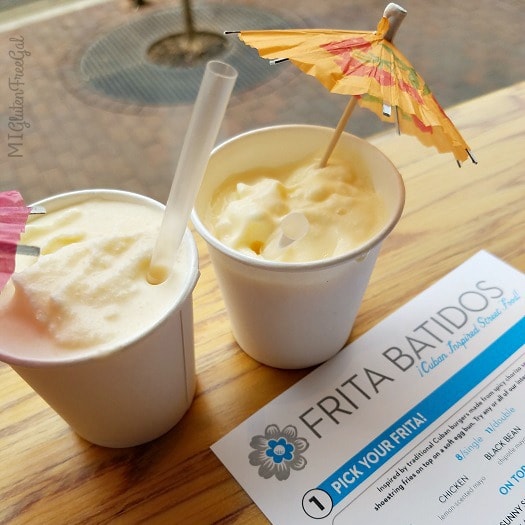 I think I'm in love with Frita Batidos. Even though their "fritas" are served bunless for us gluten-free eaters, it may be the most delicious beef patty I've ever tasted. Did I mention that their beef is locally sourced? Their signature fries are cooked in a dedicated fryer. That's a huge thing for those of us with Celiac Disease.
Their batido milkshakes are wonderful. I could eat my weight in their cajeta, which is made-in-house salted goat's milk caramel. Cover one of their sweet deep-fried plantains in the stuff and you'll never want to leave. Add rum to their batidos and it truly is a happy hour.
Condado Tacos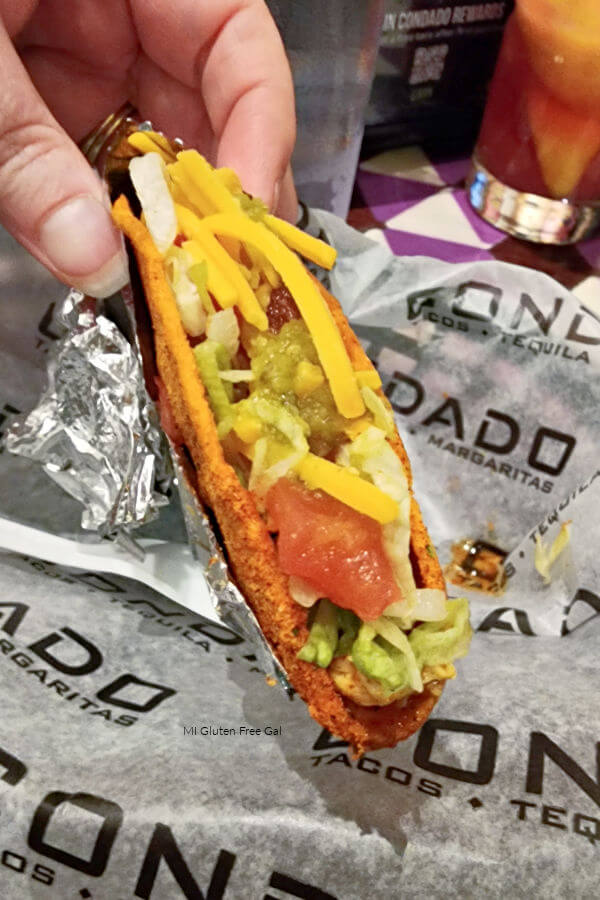 I've visited three different Condado Taco locations, and have had amazing meals every time. The majority of their menu is gluten free, and they have great protocols in place for dietary restrictions. Plus they're a peanut free and nut free restaurant. Read my review.
Juicy Kitchen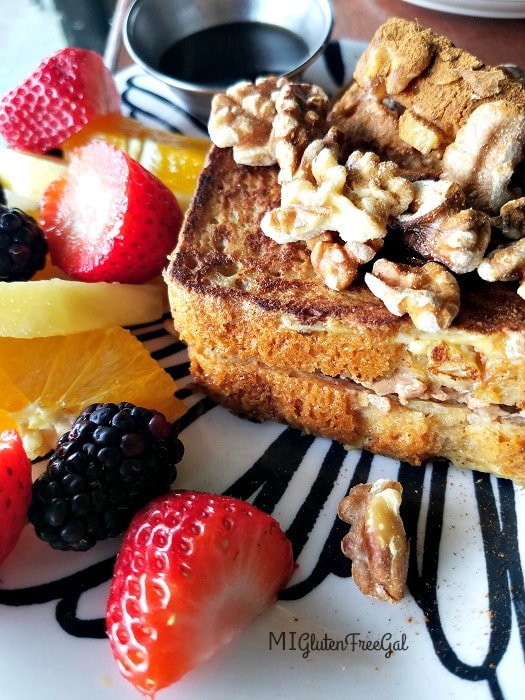 Ann Arbor is a place with many eclectic flavors and attention to healthy eats. Juicy Kitchen focuses fresh, local food with options for all kinds of eaters. Gluten-free? Check. Vegetarian? Check. Vegan? Yep, that's covered too. This delicious gluten-free stuffed french toast is cooked on a dedicated griddle with clean utensils and bowls. Cooks never share the egg wash from the regular French Toast. I highly suggest taking a bite with a bit of strawberry.
Core Life Eatery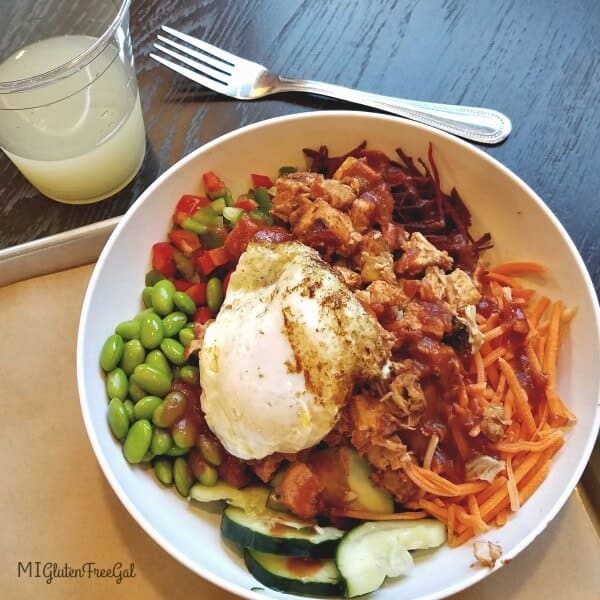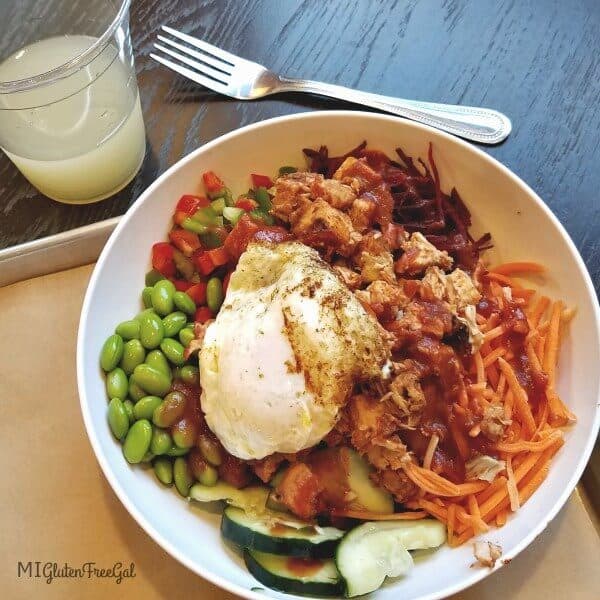 The Core Life Eatery chain recently opened a new location in Ann Arbor. Apart from the bread made off site, everything at Core Life contains no gluten ingredients. You can create your own bowl, or order one of their popular entrees. They also feature some pretty amazing beverages, including hot bone broth.
Anna's House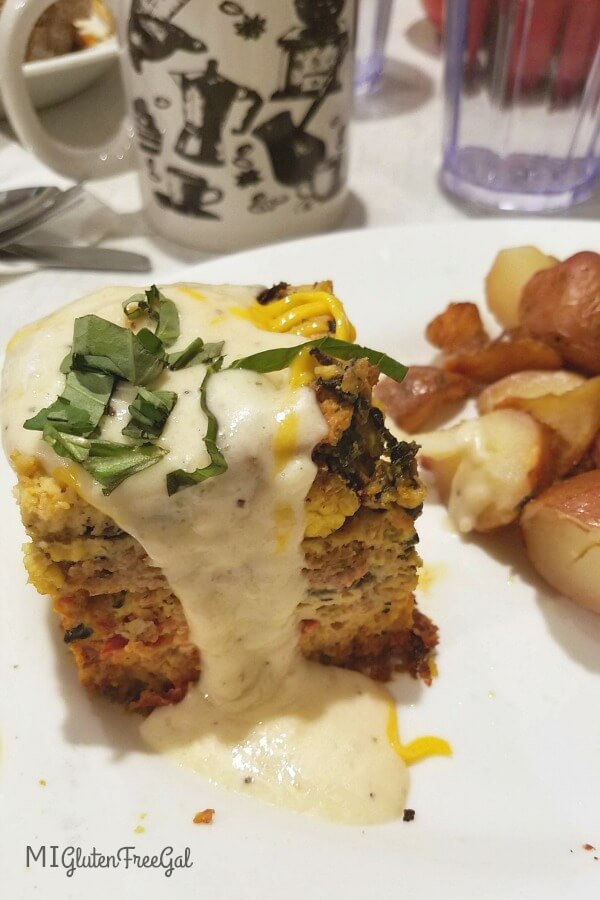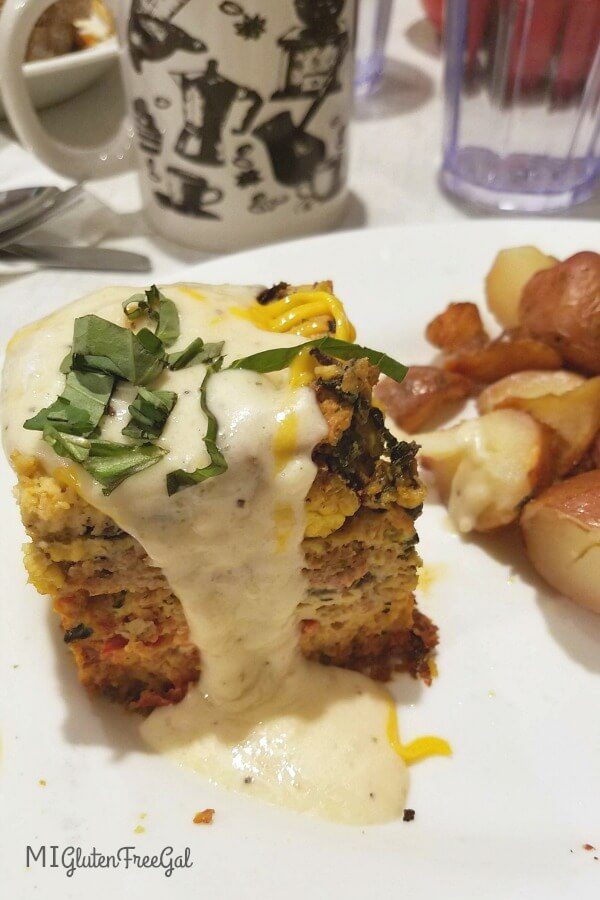 This chain of restaurants originally started in Grand Rapids, and opened the Ann Arbor Anna's House location in 2019. Gluten free meals are prepared in a dedicated prep space with dedicated utensils. While any meal here is stellar, their gluten free breakfast options are phenomenal. Pictured above is their breakfast lasagna.
Buddy's Pizza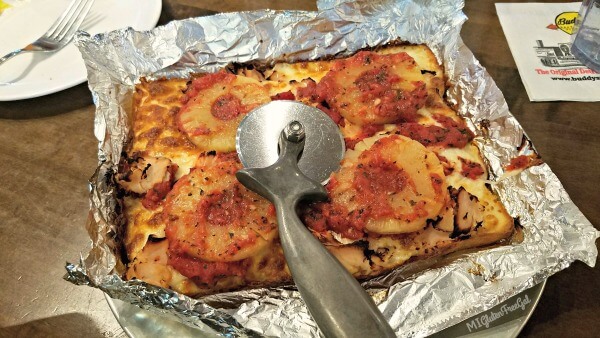 Buddy's Pizza has many locations across Michigan, including one on Ann Arbor- Saline Rd.
Tasty Bakery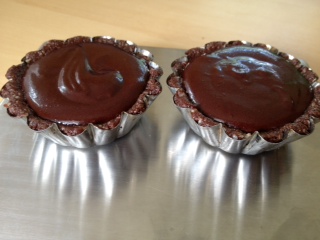 This 100% gluten free bakery serves up treats at their storefront, and at the Kerrytown Market. Customers also enjoy their treats at local Sweetwater coffee shop locations. To learn more about this unique confectionery, read my interview with Tasty Bakery.
Nirit's Bakery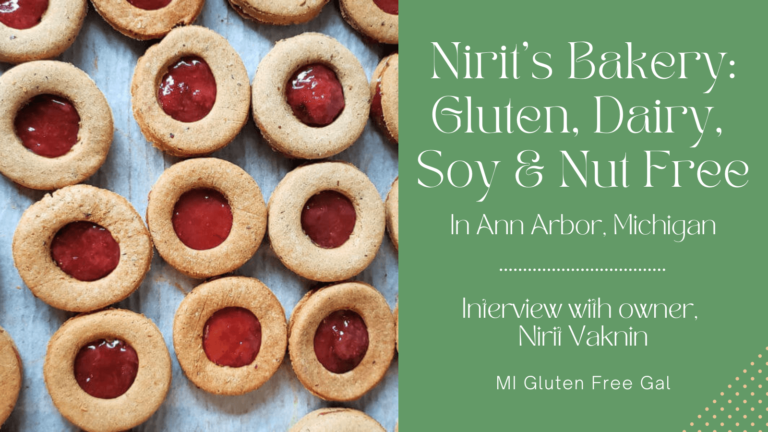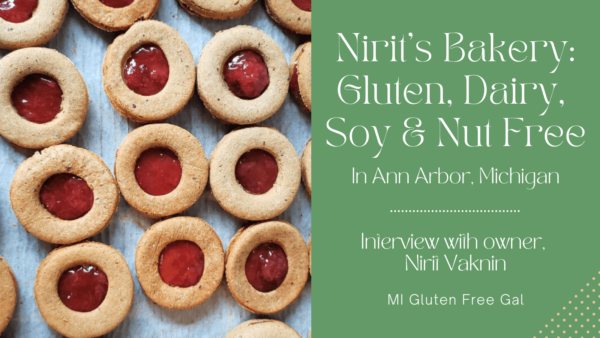 This Cottage Law business, Nirit's Bakery, sells at the Saline Farmers Market, which is just outside Ann Arbor. Everything they make is gluen, dairy, soy and nut free.
Blank Slate Creamery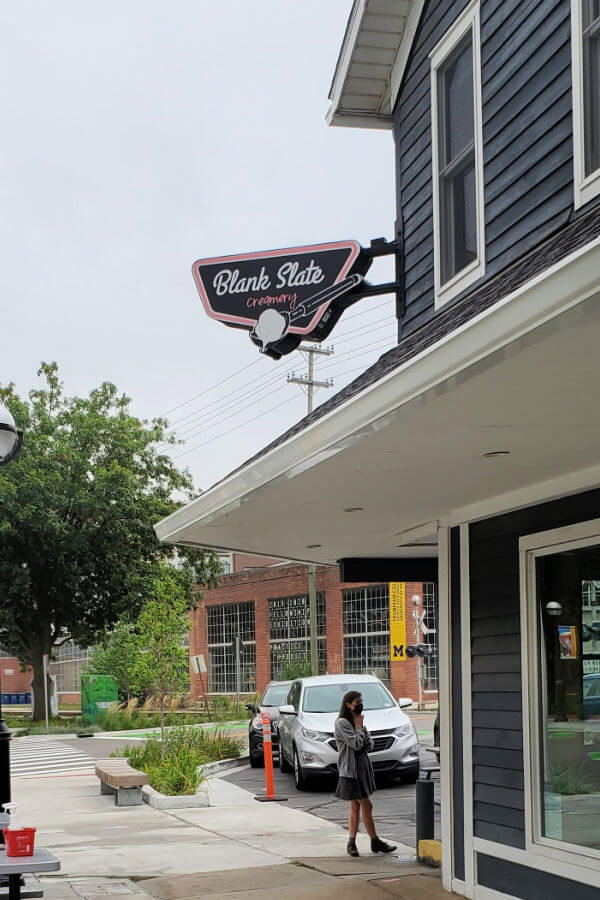 Blank Slate Creamery is an ice cream icon in Ann Arbor. They make all of their own ice cream, and many flavors are gluten free. Gluten Free flavors are clearly labeled.
Blom Meadworks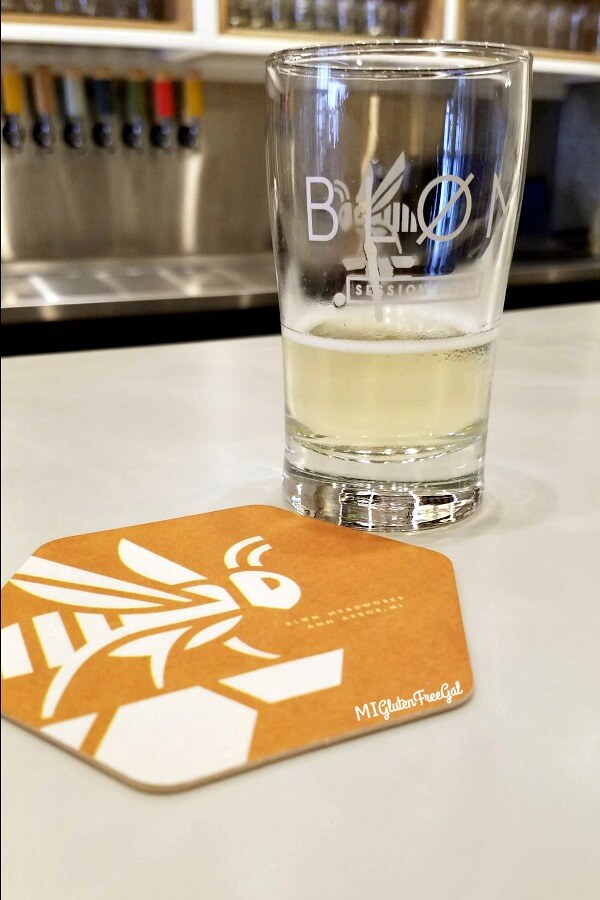 Blom Meadworks sells naturally gluten free, alcoholic mead. They often have gluten free snack options, too.
Other Ann Arbor Gluten-Free Restaurant Suggestions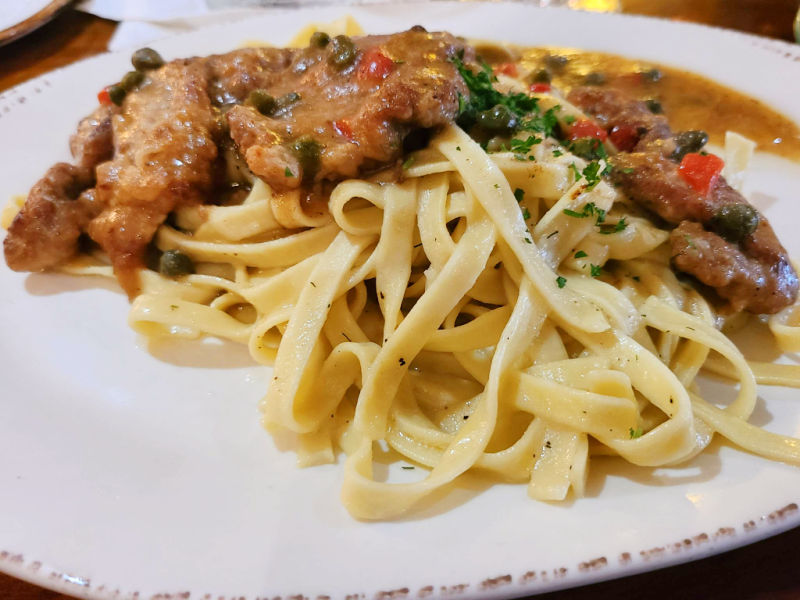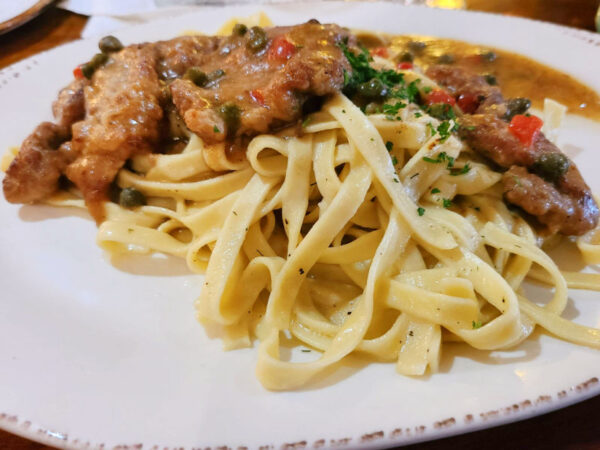 1. Paesano's
I've heard lots of great things about Paesano's over the years. A friend recently had dinner there, and enjoyed gluten free pasta and even tiramisu! They even serve gluten free bread. I need to return to Ann Arbor just to visit this restaurant.
2. Pilar's Tamales
Pilar's Tamales is a small Salvadoran restaurant on Liberty St. Corn flour comprises the base of almost every item on the menu. They do make a few non gluten-free desserts. I highly suggest the pupusas stuffed with cheese and loroco flower.
3. Miki Japanese Restaurant
My friend Jen Burch, from Blue Bear Aware, highly recommended this Ann Arbor gluten-free restaurant option to me. The biggest issue for any Asian restaurant is the presence of wheat in soy sauce. She reports that Miki offers gluten-free soy sauce for their dishes. If you get a chance to eat there safely, report back so I know!
4. Totoro
If you're in the mood for sushi, Totoro has many gluten free sushi options. Gluten free options notated on menu.
5. Stadium Market
Stadium Market isn't really a restaurant. It's a party store with a functional kitchen, selling gluten-free pizza and breakfast sandwiches Again, Find Me Gluten-Free has many reviews about this place. I sought the advice of Valarie Mates, the moderator of the online Gluten-Free Ann Arbor Yahoo Group.
She said that it's "awesome." Stadium Market reportedly has many gluten-free beers, and sells a selection of Udi's products. If you can attest to their steps for preventing cross-contact, please let me know!
6. First Bite Foods
This downtown Ann Arbor restaurant proudly claims "gluten free" in the window. While I have not personally eaten at First Bite, Find Me Gluten Free shows many positive reviews. I am not aware of their gluten free prep protocols, so ask before dining here.
7. Salt Springs Brewery
Salt Springs Brewery is located in Saline, which is just outside of Ann Arbor. While I have not personally eaten there, I've been told they have a dedicated gluten free fryer for fried fish. However, I would check with wait staff before ordering, just to make sure.
Final Reminders about Eating Gluten Free in Ann Arbor
As always, I suggest calling restaurants prior to dining to ask about gluen free food preparation practices. This allows you to get the best information without staff being distracted during a food rush. Luckily, Ann Arbor is a forward thinking city and there are plenty of options. You can even eat safely at University of Michigan dining commons! And last I knew, there's a gluten free stand at the football field.
Where do you look to eat in Ann Arbor? Leave me a note and I'll be sure to check them out!
**In full disclosure, I was provided free meals at some of these establishments, but that does change my views or my comments.**