Zingerman's Roadhouse, Where Gluten-Free Friends are Welcome
As an Amazon Associate and member of other affiliate programs, I earn from qualifying purchases.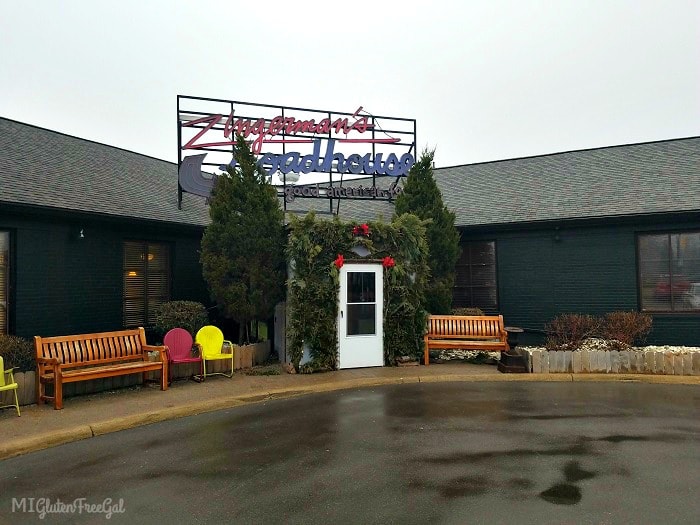 To me, the name Zingerman's is synonymous with the word Michigan. Zingerman's has been a fixture of the Ann Arbor community for what seems like forever. (For those keeping track, their deli opened in 1982. I would have been 4 at the time.) For years I've seen their baked goods at coffee houses, eateries and health food stores. With my Celiac Disease, it was a business I never thought I'd be able to personally enjoy. Upon my visit to Zingerman's Roadhouse, I've learned that I (and other's with Celiac Disease) can also be part of the family of customers.
My visit to Zingerman's Roadhouse started, like always, with a little research. Gluten-free diners highly rated the restaurant on the Find Me Gluten Free app. I reached out to my connection at the Ann Arbor Convention and Visitor's Bureau to see if she had an email contact. Luckily she did. (Us "Margaret"s are resourceful like that.) The CVB connected me to the totally delightful Marcy Harris. (Later we realized we grew up in the same city and had some of the same friends. Of course!) Marcy impressed so much with her answers (which I will share below) that I eagerly made a reservation to dine there for breakfast.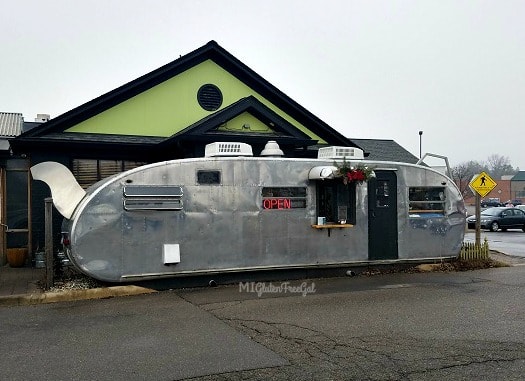 So my husband and I arrived for breakfast at 8 am, eager for breakfast and to get out of Ann Arbor traffic. We parked near the "Roadshow" which is an Airstream trailer outside of Zingerman's Roadhouse. They serve hot beverages and baked goods. You can drive thru and they'll serve you a warm cup of coffee and a genuine smile. We walked into the restaurant, and were warmly greeted by the waitstaff. I mentioned my scheduled meeting with Marcy and was promptly seated. It was a busy morning of regulars like Ron, who eats breakfast there every single morning.
Marcy joined our table. She was just as excited to meet me as I was to meet her! Our server got our drink orders and gave us a chance to look over the menu. I was impressed that the menus are printed daily, allowing for changes to the menu for the freshest of ingredients. While I knew what I wanted right away, it took my husband a few moments to decide. For me, the choice was obvious. I ordered the Carolina Gold Rice Grits and Bits waffles, with a side of housemade sausage, made from pigs raised here in Michigan. My husband, who has a pork and shellfish intolerance, went with the Huevos Rancheros. For him to find vegetarian refried beans definitely made his day.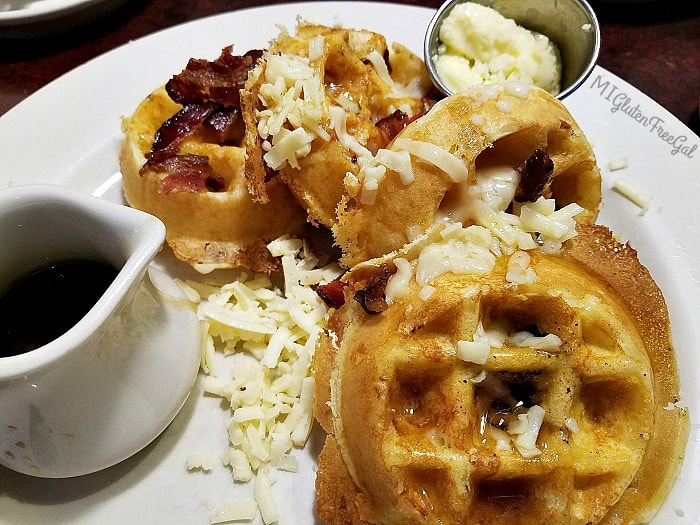 In a word, the food was AMAZING. The Grits & Bits waffles are crisp on the outside and almost creamy on the inside. That probably sounds weird, but trust me, it's like heaven. Topped with bacon and cheese AND syrup?! It's out of this world! And these waffles are ALWAYS gluten-free. They bake these circular waffles in a dedicated gluten-free waffle iron. (Regular waffles are rectangular.) This is intentional so that gluten-free items look different visually, adding another safeguard to the customer's dining experience. They also have gluten-free fried chicken, which is cooked in a dedicated fryer and served on a plate. (The regular fried chicken is served in a basket.) They also have gluten-free bread available, made at Zingerman's Bakehouse. This is offered as a substitution for bread on any of their sandwiches, or in a bread basket. (See the bottom of my article for prep methods on their gluten-free bread.)
My husband let me try his Huevos Rancheros. It was a bit spicy for my taste, but he adored them. He really enjoyed the coffee, which they roast at Zingerman's Coffee Company and source from small estates that Zingerman's personally visits. They always have their exclusively roasted Roadhouse Joe on brew, as well as a Coffee of the Month that rotates. You can purchase it in bags at the Roadhouse or visit Zingermnan's Coffee Company. They even have a chart on the wall, displaying the best way to brew each coffee.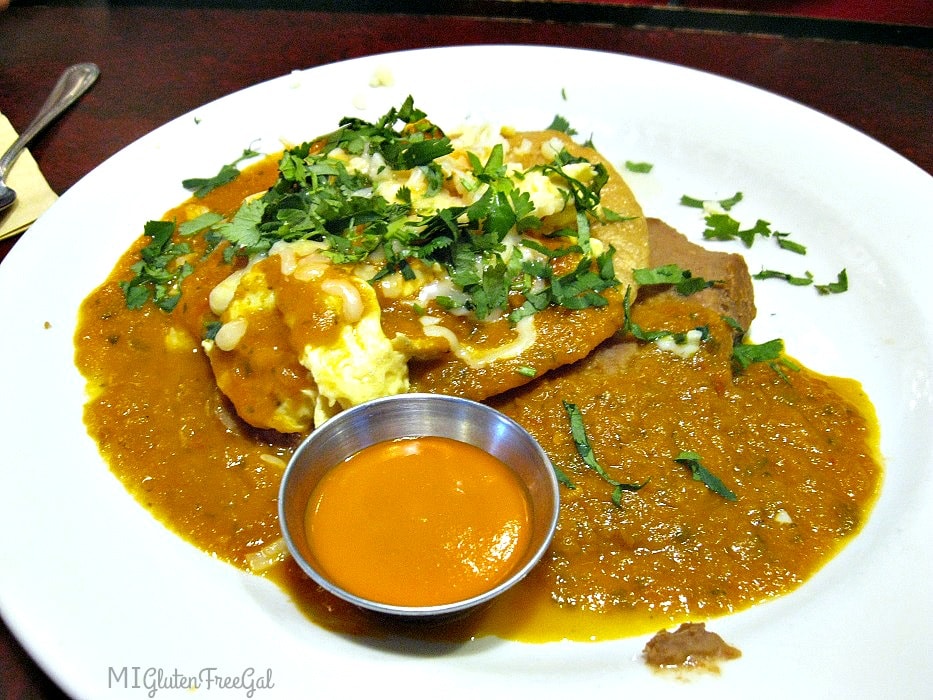 While we enjoyed our meal, Marcy shared some of the company's history and unique facts. For instance, Ari Weinzweig and Paul Saginaw started Zingerman's Deli for a very important reason. The quest to create an excellent Jewish Reuben sandwich. Things grew from there. Zingerman's now owns 13 connected businesses. This includes the restaurant, a Creamery where they make their own cheese, the Bakehouse where they make their bread, and even a Korean restaurant named Miss Kim. If they can make their Dolsot Bi Bim Bap gluten-free, I would be ecstatic. Regardless of how large they've grown, their mission and mindset never waivers- Great Food, Great Service and Great Finance.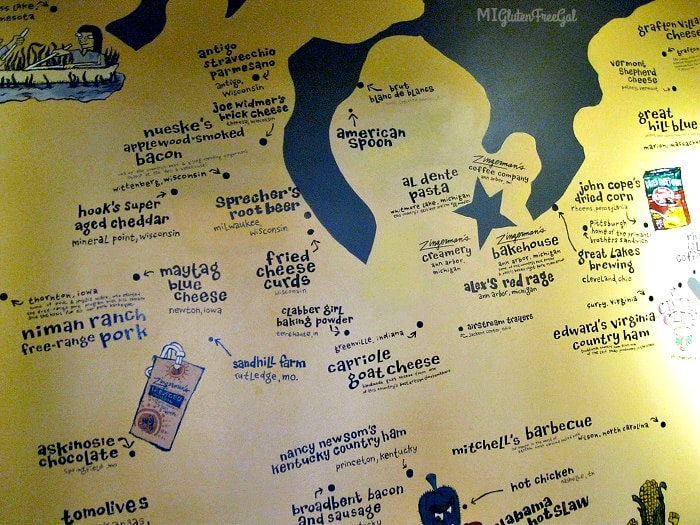 As impressed with I am with the food, I was just as impressed with the philosophy of the business. Zingerman's goal is to keep things local, regional and sustainable as much as possible. They own Cornman Farms in Dexter, where they raise their own animals and grow their own produce. They place an huge emphasis on training. Not just about how to cook and serve food, but on finance and other topics of their interest. They even encourage employees to teach classes themselves. Zingerman's offers training to others businesses as well. Their not intimidated by competition, but want to serve their community to make it a better place for everyone.
In all honesty, I'm in love with this restaurant. From the waffles to the staff to the collection of over 3,000 salt and pepper shakers that line the dining room walls. Because when you're here, you really do feel like family. And that's exactly how Ari and Paul and the rest of the Zingerman's staff want you to feel.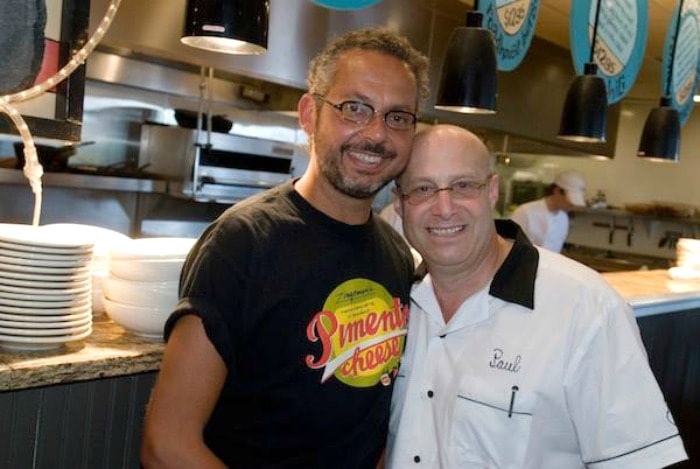 How Zingerman's Roadhouse Accommodates Gluten-Free and Food Allergy Needs
Zingerman's Roadhouse takes food allergies, Celiac Disease and other restrictions very seriously. We take several steps to make sure we are keeping our food allergy guests safe. Our practices start with our menu and our service interaction with the guests. Any item that is available on the menu as gluten-free is labeled with a "GF". If an item can be made gluten-free, we add a note underneath that item indicating how it can be done. For example, we have a gluten-free fryer, so we might indicate that an item can be prepared in that fryer to make it safe. Our servers are trained to inquire about food allergies, and to ask specific questions to find out as much as we need to know about accommodating a guest's needs.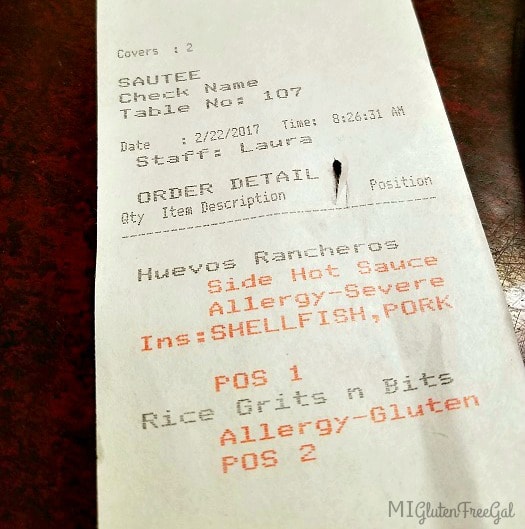 When a guest tells their server they have a gluten sensitivity, or any allergy for that matter, the server rings in the item with specific instructions detailing how it should be prepared. There are buttons in our Point of Sales system that denotes an allergy, what the allergy is, and the severity of the allergy. So for an individual who has Celiac Disease, we would use the buttons that say "Gluten Allergy, Allergy Severe". This information is sent to the kitchen, who then prepares the meal using safe handling.
For any allergy, that means changing gloves, using a separate cutting board, knife, bowl, utensils, pan, waffle iron, toaster, or fryer. If an item cannot come into contact with the grill, for example, we prepare it in a fresh, separate sauté pan. Three pairs of eyes read the ticket with the allergy note : the person preparing the food, the chef running the line, and the manager expediting the food. This way, three people are responsible for keeping each other in check for making sure the food is safe.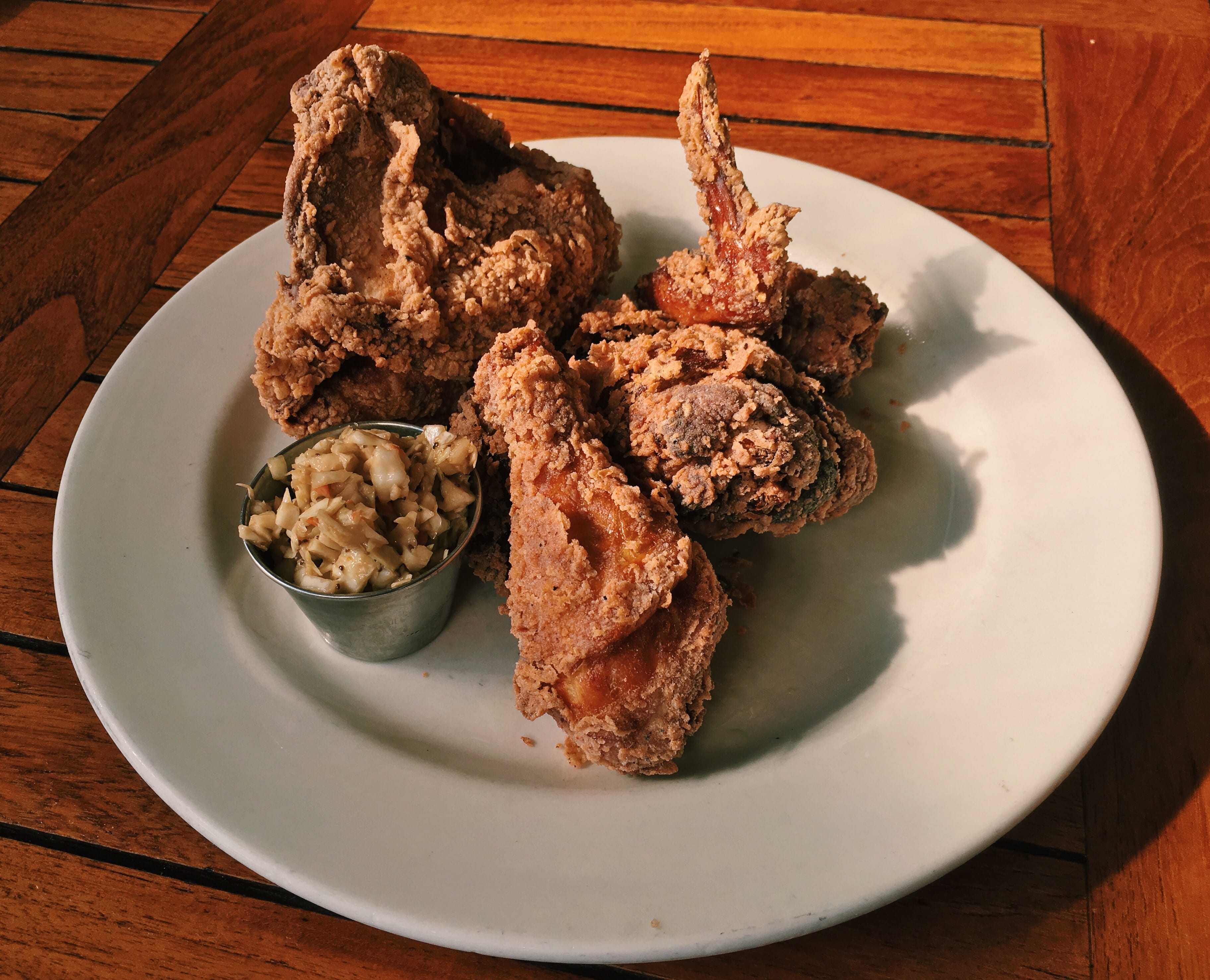 If we are preparing gluten-free bread for a bread basket, or for a person's toast in the morning, the bread is toasted in a toaster specifically for gluten-free bread. We do have rice flour available for our gluten-free waffle and gluten-free fried chicken, so it is imperative that we make sure to prepare these items in the gluten-free waffle iron or fryer. There are ways for us to distinguish these items from the others so that there is no mistake of mixing them up.
If a guest comes in regularly, we do take down their name and allergy information and enter it into our reservation system. This way we can print a ticket from the reservation computer and give a copy to the server and to the kitchen. I am actually in the process of updating an allergy "cheat sheet" that a manager created for our servers a couple of years ago. The laminated card is the perfect size to fit in the servers' order-taking books. The card categorizes different allergies and lists additional information about our menu items for each category that is critically important for the server to know.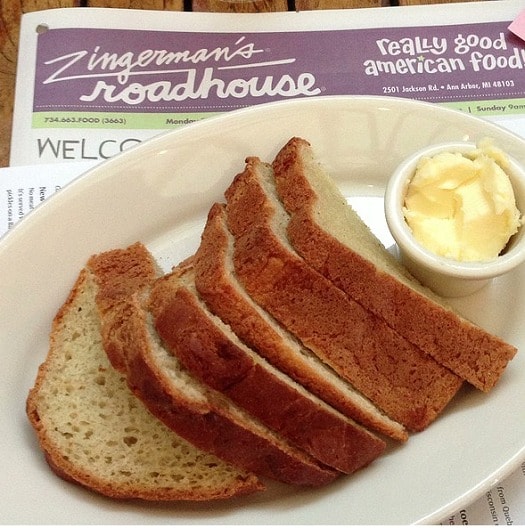 At Zingerman's we bake our own gluten-free bread, which is prepared in a shared bakery. (Zingerman's Bakehouse would like to emphasize that it is not a dedicated gluten-free bakery. They make the gluten-free bread as a service to the Roadhouse and the Deli only.) We prepare it during specific production days and times when NO other breads are being made. Zingerman's gluten-free breads are prepared in separate pans. Prior to production,we sanitize all utensils and ovens, OR use separate tools used designated only for gluten-free production. Because wheat particles can be present in the air, we send it to a third party lab for testing. Our test results came well within the government guidelines for parts per million of gluten. We do share this information with those that have a serious intolerance like Celiac, so that customers can determine whether this bread is the right fit for them.
Have you eat at Zingerman's Roadhouse or any of the other Zingerman's businesses? What's your favorite meal? Leave me a note below so I know what to get the next time I go back!
Zingerman's Roadhouse
2501 Jackson Ave
Ann Arbor MI 48103
(734) 663.3663
Website | Facebook | Instagram
**We were not charged for our meal. However, all of my thoughts and opinions are my own. And you better believe I'm going back for that fried chicken!**
Zingerman's Roadhouse is one of many Michigan restaurants I've visited. You can view a list of them on my Michigan gluten free dining post. Please remember to always ask any restaurant about their food preparation practices.