Gluten Free Monkey Bread Made From Pizza Dough
As an Amazon Associate and member of other affiliate programs, I earn from qualifying purchases.
Gooey, sticky, and delicious, Gluten Free Monkey Bread makes any brunch a fun success. With little balls of rolled dough, this baked good is as fun to make as it is to eat! Using Bob's Red Mill Pizza Crust Mix makes it easy, with the perfect mix of gluten free flours!
Pizza Dough = Gluten Free Monkey Bread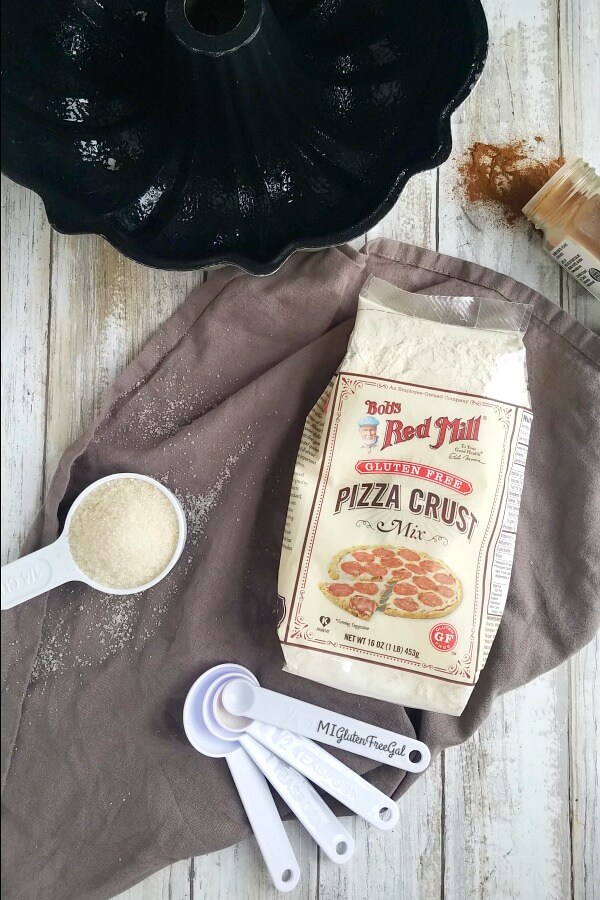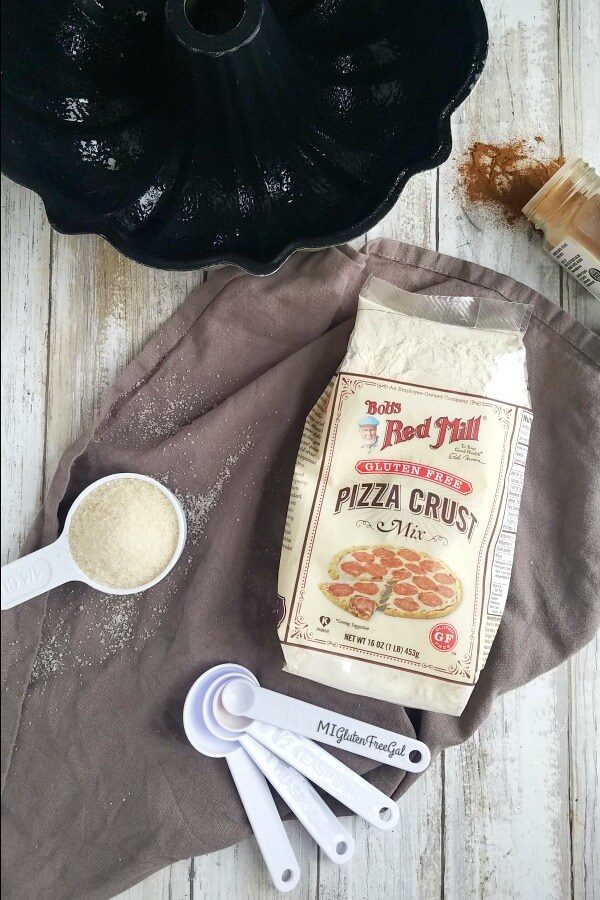 Recently, I asked my Facebook followers what dishes they missed. Beth Jeanne requested a recipe for Gluten Free Monkey Bread. Typically, people make monkey bread with refrigerated, premade biscuit dough. As we all know, no one makes a gluten free version of that. I attempted a small batch version of gluten free monkey bread with non-yeasted biscuit dough. Tasty, but not quite the same.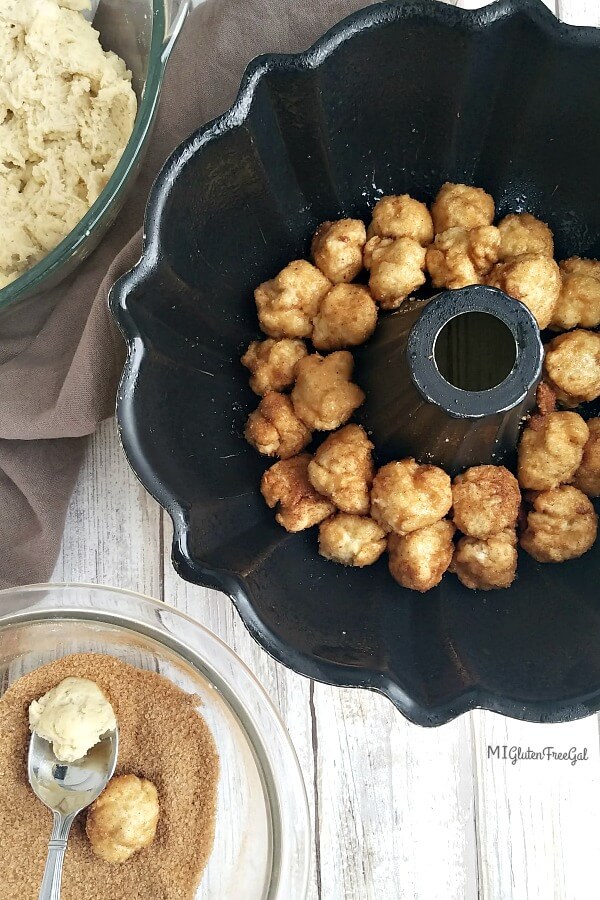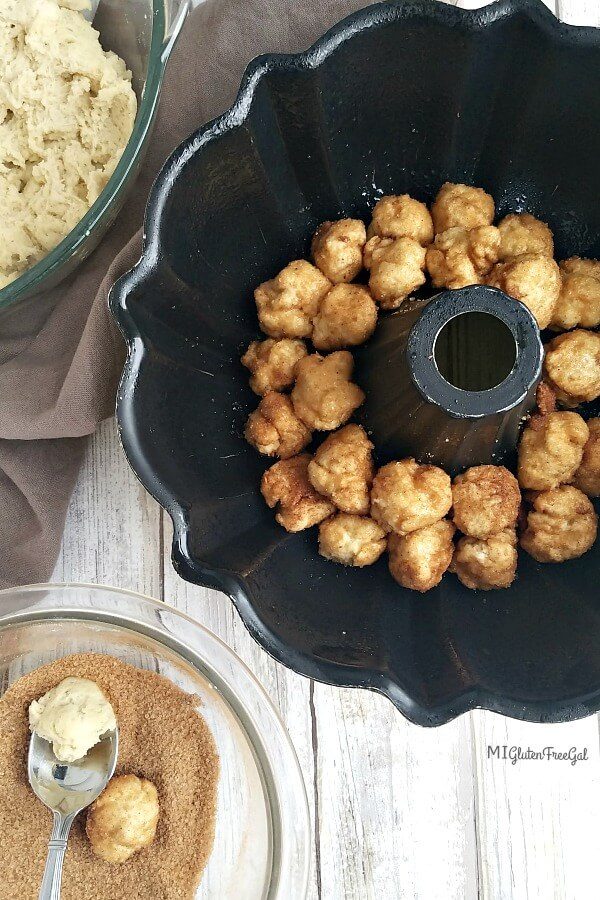 Then I remembered, I previously made gluten free cinnamon rolls with Bob's Red Mill Pizza Crust Mix. As gluten free cinnamon rolls and gluten free monkey bread are similar, I got to work! Being a bit of a know it all, I chose to use milk and butter instead of the water and oil the package stated. WRONG. While delicious, it failed to be soft and puffy like I desired. So, I made a second attempt. Because you, my friends, are worth it!
On my second attempt, I used water and oil as the packaged directed. However, I also used a fresh, store bought packet of active dry yeast. Bob's Red Mill Gluten Free Pizza Crust mix comes with a yeast packet. However, sometimes a new packet of yeast is better. All these changes were worth it. The finished Gluten Free Monkey Bread was ON POINT!
Plating Makes All the Difference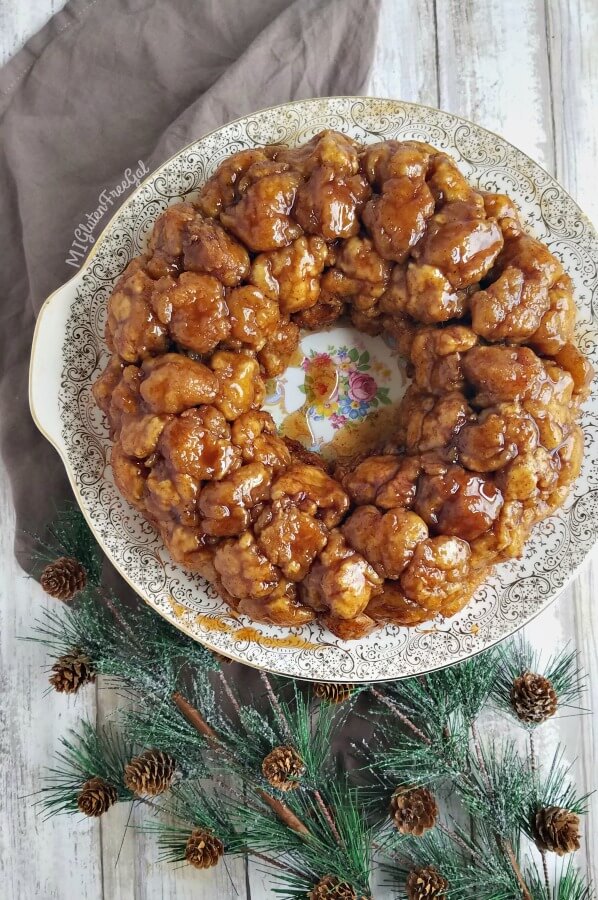 One important word about plating your Gluten Free Monkey Bread. Most recipes I researched stated to NOT leave it in the pan more than 5 minutes. Why? Because the caramel glaze will cause it to stick to the bottom of the pan. The fun of monkey bread is pulling off a piece at a time. Can't do that if it's stuck in the pan.
Speaking of plates, I don't own a cake stand. So, I improvised. I used a platter from our china set, and placed it on top of a candle holder. Recognize the pattern? I used the same china in the pictures for my Gluten Free Cashew Butter Chai Cookies. The set previously belonged to my husband's grandmother, Merle. She baked extensively, and was widely known for her cake filled with homemade lemon curd.
Time Well Spent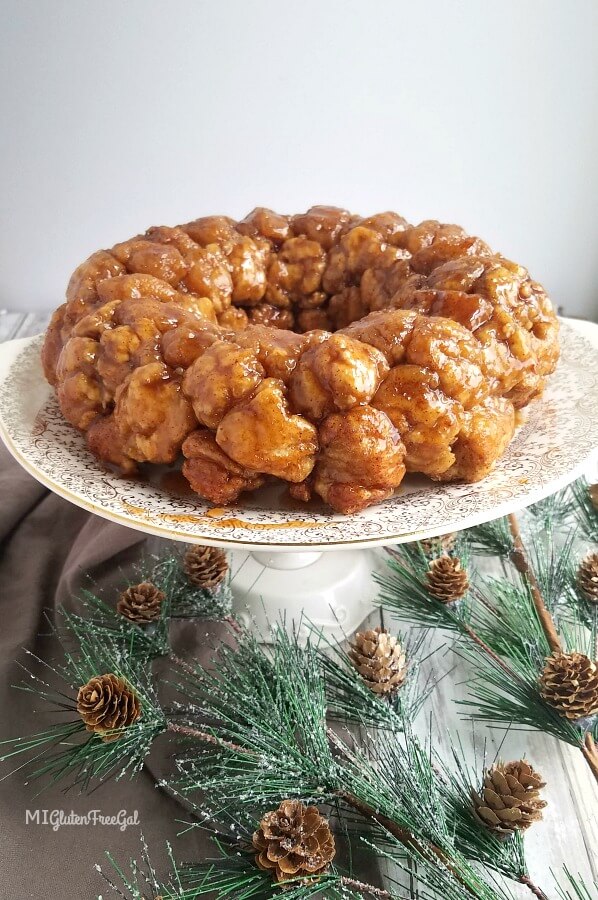 This recipe for Gluten Free Monkey Bread is easy, although not quick. As it contains yeast, you do need to allow the dough time to proof in a warm place. (I highly suggest doing so in a warmed, turned off oven. I learned this trick from Linda Fedewa, and it works like a charm every time.) Also, the dough takes time to roll into little balls. I highly recommend doing this with children and loved ones. As my husband's Grandma Peg would say, "many hands make light labor."
A full batch of Bob's Red Mill Pizza Crust Mix makes approximately 32 oz of dough. If you don't want all this sweetness on your hands, you could use half the dough to make a regular pizza. (Like I did with my neighbor kids.) Then you could use the other half to make a smaller version of Gluten Free Monkey Bread. If you don't have a small bundt pan, other bloggers have used a loaf pan to make their monkey breads. I love when one item can be prepared two separate ways!
Permission to Eat With Your Hands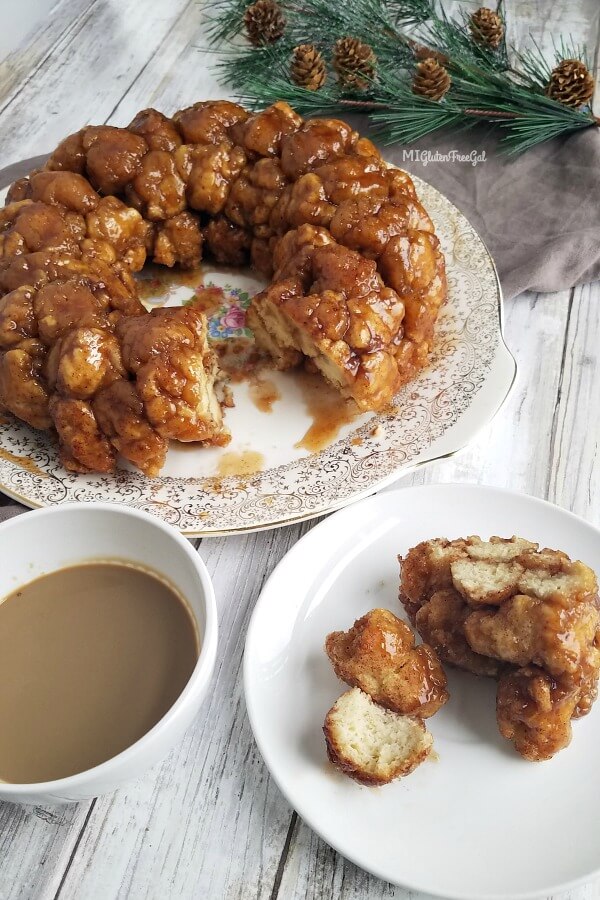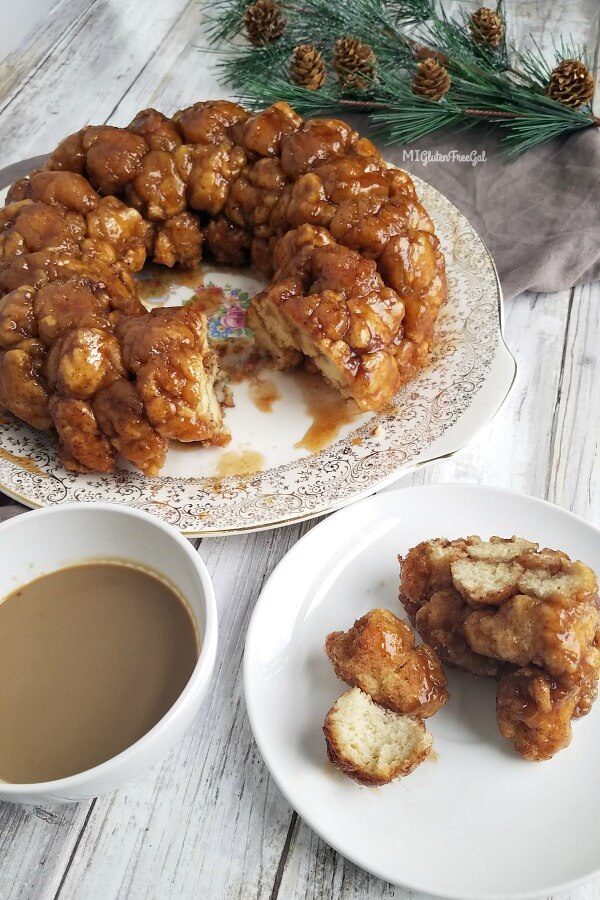 This Gluten Free Monkey Bread is best served warm. You can make it ahead of time. Just make sure to cover is securely, and rewarm before serving. You can serve this in slices. However, the best way is to allow the crowd to simply pull of pieces with their fingers. I mean, how often in life are you given permission to eat with your hands?!
Looking for a egg free, gluten free monkey bread? Check out this Vegan Gluten Free Monkey Bread from my pal Amanda at Eat at Our Table. She also used a pizza crust mix, instead choosing the Top 8 free mix from Enjoy Life Foods. Can't find that mix? Visit my friend Nicole at Allergylicious. She made a gorgeous Homemade Monkey Bread from scratch, that contains no gluten, eggs, dairy or nuts!
Can't find the Bob's Red Mill pizza crust mix? Try one of the yeasted pizza dough recipes in my pizza blog post.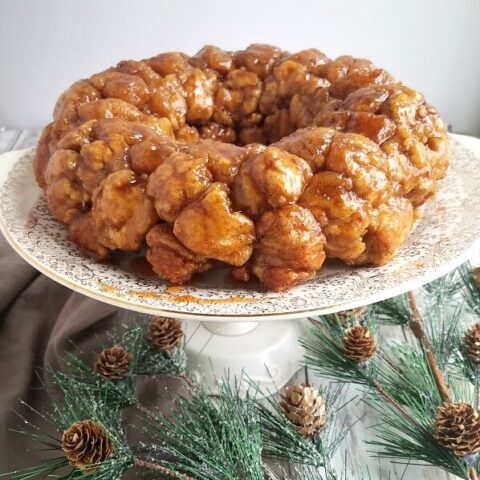 Gluten Free Monkey Bread
Total Time:
1 hour
35 minutes
Ingredients
For the dough
1 pkg Bob's Red Mill Gluten Free Pizza Crust Mix
1 1/2 c warm water (105-110 degrees) + pinch sugar
1 packet active dry yeast
2 large eggs, room temperature
2 tbsp oil
For the coating
1/2 c - 3/4 c white sugar
1 tsp cinnamon
1 tsp pumpkin pie spice
For the sauce
1/2 c butter (1 stick)
3/4 c brown sugar
pinch cinnamon or pumpkin pie spice
Instructions
1. Turn oven to 200 degrees. When it is finished preheating, turn the oven OFF and leave the door closed. Spray a bundt pan with oil cooking spray.
2. First, measure water in a glass measuring cup or place in glass bowl. Add a pinch of sugar to help the yeast have something to "grow" on. Add yeast and allow to proof 5- 10 minutes.


3. In a large bowl (or stand mixer bowl), add room temperature eggs and oil. Using the paddle attachment (if you don't have a stand mixer, just use a hand mixer), stir eggs and oil. Then add proofed yeast water.

4. Finally, add the Bob's Red Mill Pizza Crust mix. Combine thoroughly.

5. Transfer dough to an large (preferably glass) bowl. Cover dough (either with towel or plastic wrap), and place in warmed oven to proof dough for 45 minutes. After dough has proofed, remove from oven, uncover, and allow to come to room temperature. (I stuck mine in the refrigerator for 15 minutes.)

6. Preheat oven to 350 degrees.
In a small bowl, combine sugar, cinnamon and pumpkin pie spice. (If you don't have pumpkin pie spice, simply use more cinnamon instead.)

7. Retrieve cooled dough. Using the tip of a spoon, drop bits of dough in sugar mixture and loosely roll into balls. Place rolled dough balls in bundt pan, and fill bundt pan.

8. After all dough has been rolled, melt butter in a small sauce pan. Add brown sugar, and a pinch of pumpkin pie spice if desired. Pour melted butter mixture over top of dough balls.

9. Place bundt pan on top of cookie sheet (just in case it cooks over!) and bake in preheated oven fr 30-35 minutes.

10. Once finished baking, remove from oven and allow to cool in pan for 5 minutes. (Not a moment longer, or the cooled sauce may cause it to stick in the pan!) Invert monkey bread onto serving dish. Serve warm.
**This post is not sponsored, however it does include Amazon affiliate links.**