Mom's Homemade Lemon Curd and Easter Cake
As an Amazon Associate and member of other affiliate programs, I earn from qualifying purchases.
What food immediately makes you think of home? For my husband, it's his mom's homemade lemon curd. Easter just isn't Easter without her two-tier Easter cake, with lemon curd layered between!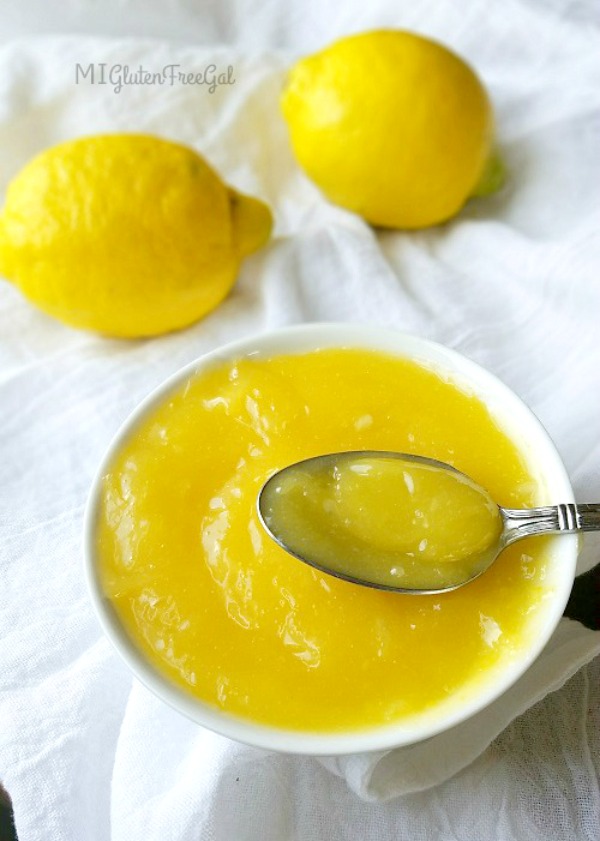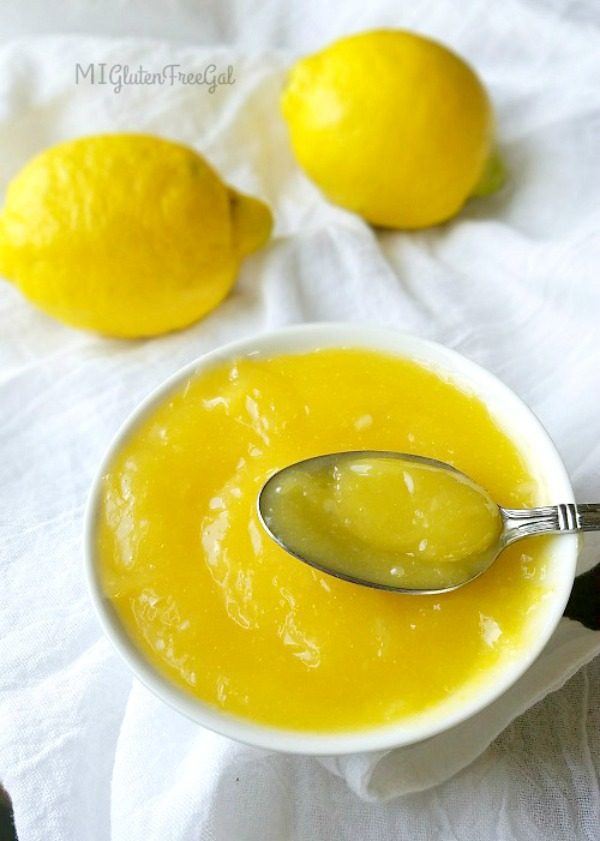 Family Recipes
Did you grow up eating lemon curd? I know I didn't. In my family, we ate jam, and if I was lucky, apple butter. When it came to family desserts, holidays included pie and German chocolate cake and jello. (With the bananas magically suspended in the middle. You too?)
My husband grew up with two signature family desserts. Betty Clegg is famous for her Wacky Cake and her white cake with homemade lemon curd. The lemon cake really started with her mother, Merle. In the beginning, Merle made the cake and the 7 minute frosting from scratch. Later, Betty switched to a cake mix and store bought frosting, she made things a bit easier on herself. However, the homemade lemon curd is essential.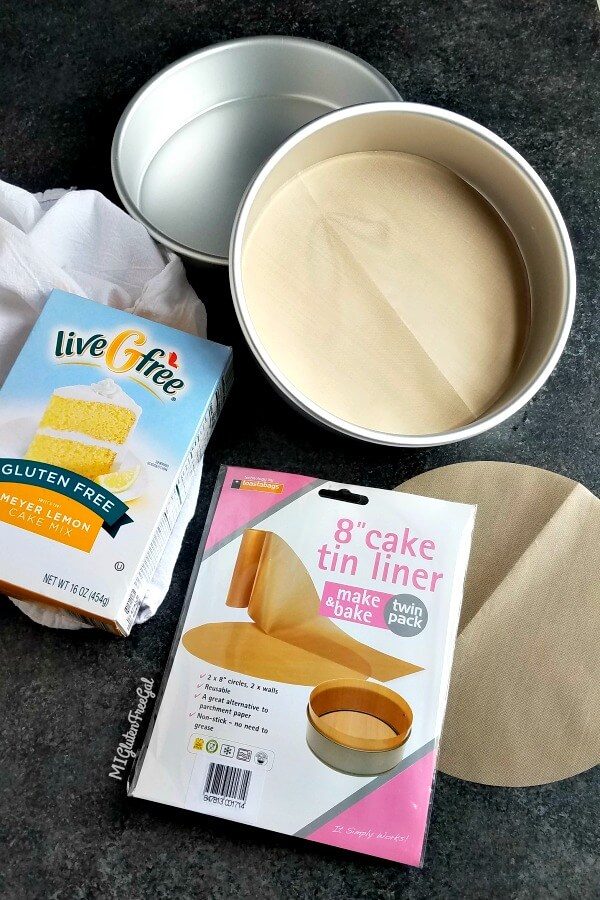 Cake Making Tips
Betty (my MIL) always uses a white cake mix. She makes it with a regular, non-gluten free mix, and follows the direction on the box. Therefore, I simply chose a gluten free cake mix I had on hand. I found the Aldi gluten free lemon cake mix in my pantry, so I used that. I figured it would pair perfectly with her homemade lemon curd.
Prior to baking your mix, make sure your pans are "greased" or lined with parchment. Otherwise, you may not be able to get them out. I used these 8″ cake tin liners from Plan It Products. They graciously gave them to me while I was at the International Housewares Show. My cakes came out perfectly with NO sticking!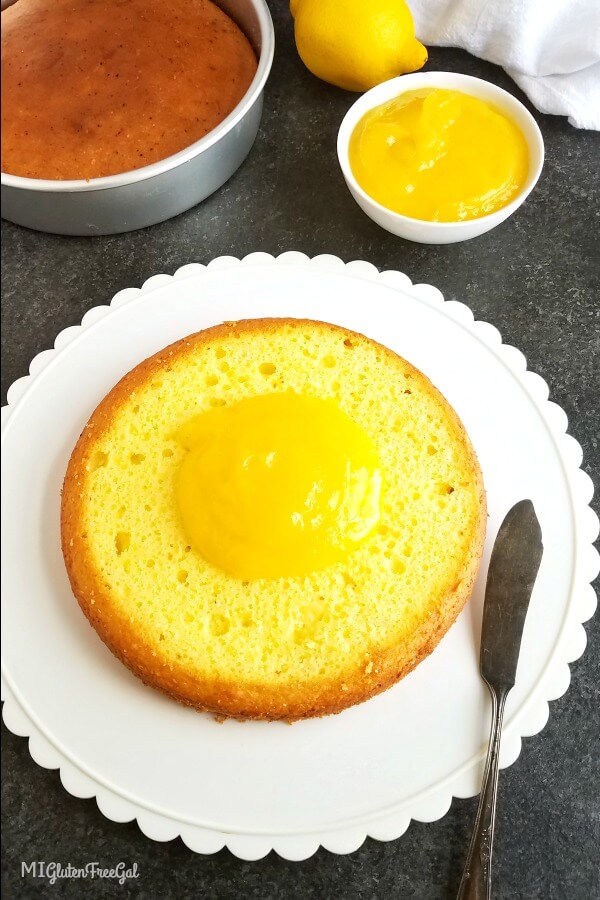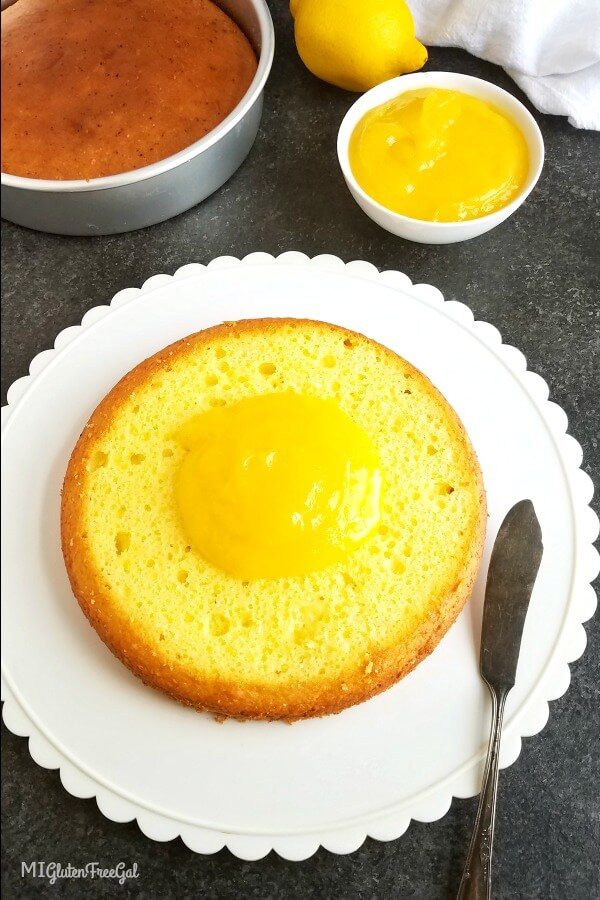 Cake Decorating Tips
Making a two layer cake may seem daunting. However, it's easier than pie. (Literally, any cake is easier than making pie!) First, make sure to level the bottom layer of your cake. I place my hand on top of the cake, and run a long serated bread knife from edge to edge. Having a hand on top to add pressure helps me to keep it level.
Second, prior to frosting, some choose to freeze their cake layers. Why? It helps prevent crumbs from flaking off while frosting the cake. The recipe below for my MIL's homemade lemon curd should fill one 8″ cake. (I had a smidge leftover and ate it with a spoon!) Using an offset spatula helps make spreading it easier.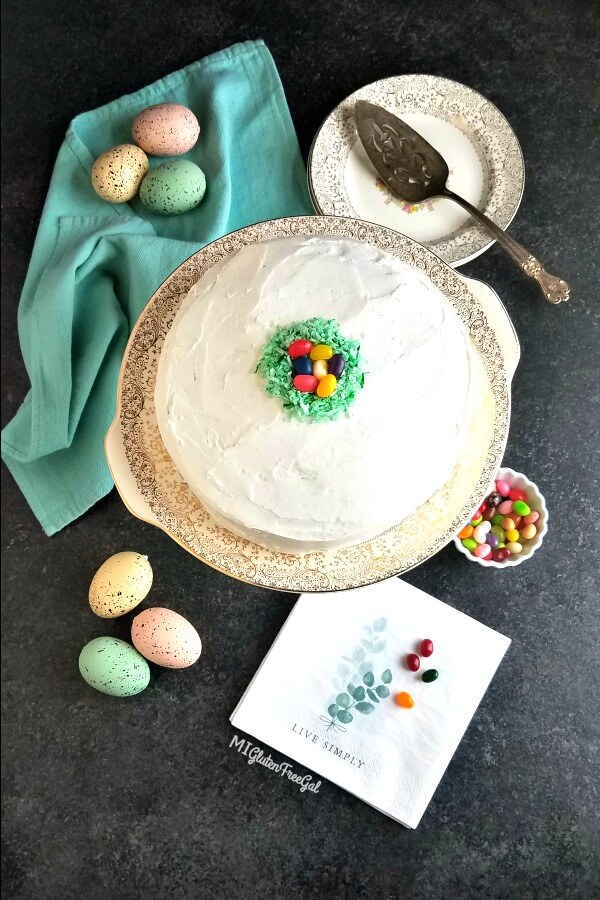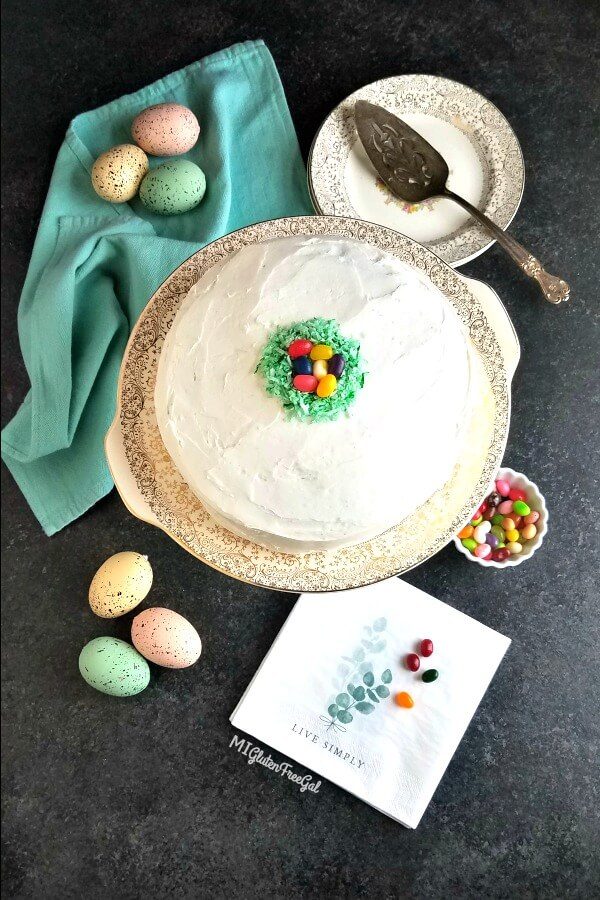 Tinting Coconut
Just as I asked my Facebook community, I asked my husband what "must" be on the table for Easter. He immediately answered his mom's lemon cake. In addition, it must be decorated like hers. She tints coconut with green food coloring, and places it in the center of the cake. Finally, she tops the green coconut with jelly beans.
I asked a few friends how they tint their coconut. I did it once when making "hamburger" whoopie pies, but struggled. Therefore, I used their suggestion of placing some coconut in a sandwich bag. Then, I added a few drops of green food coloring and smooshed it around. Highly technical, right? It worked, though!
Extra Whites and Vegan Options
This recipe requires three egg yolks. Now what to do with those egg whites? You can freeze egg whites for up to two months. Many suggest freezing them in an ice cube tray. Leftover whites can be use to make meringue! I also recommend using an egg white to make Dessert For Two's Cheesecake in a Loaf Pan!
Speaking of eggs, this recipe uses both eggs and butter. If you need an egg free recipe, I recommend this egg free vegan lemon curd from The Loopy Whisk. If you can manage eggs, but need it to be dairy free, you can replace the butter with Earth Balance Buttery Sticks or Miyoko's Vegan Butter.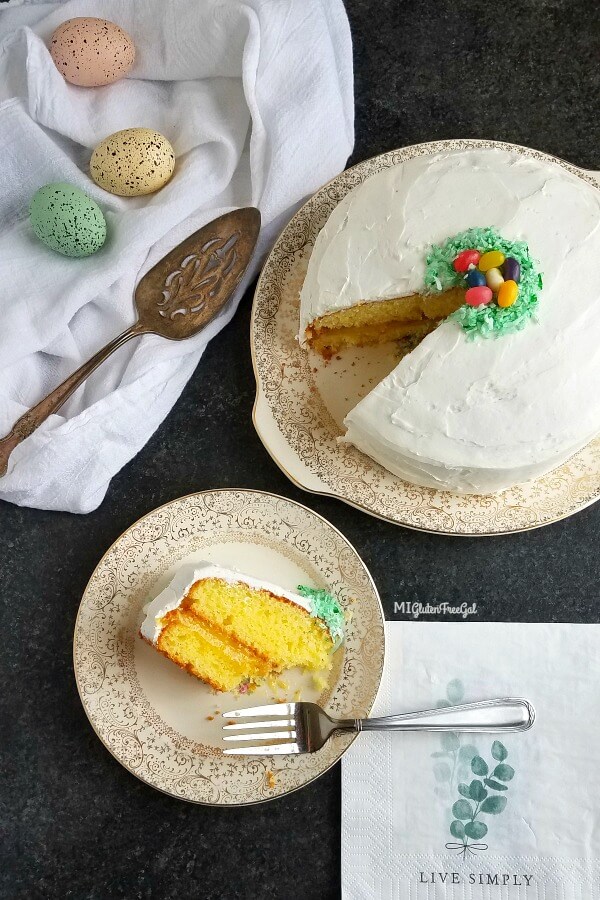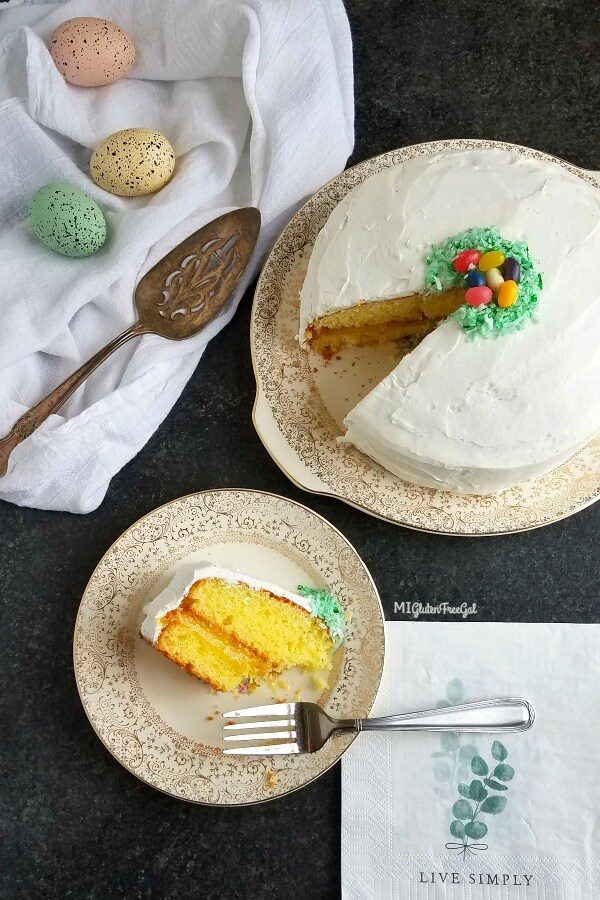 Gather Round the Table
When my husband came home from work today, he was so happy to see this Easter cake. It reminds him so much of home. Who knew that some coconut and jelly beans could make such a big difference! For this feature, I used Gimbal's jelly beans. As I mentioned in my Easter candy round up, they are free from the 8 most common allergens.
So now I pass our family homemade lemon curd recipe on to you. Don't worry, I don't think Betty will mind. She's pretty great at sharing whatever she has. Come join us for supper sometime. I guarantee she'll not sit down until your fully fed, complete with a cup of tea or coffee.
Looking for more gluten free Easter cake recipes? Try this Gluten Free Lamb Cake from GF Jules. Looking for something with a bit more coconut? Try this Grain Free Hummingbird Cake from Gluten Free Palate. Of course, Easter 'tis the time for carrots! Try this easy single layer gluten free carrot cake from My Gluten-Free Kitchen! Want a smaller cake? Sub gluten free flour in this Small Lemon Layer Cake from Dessert for Two.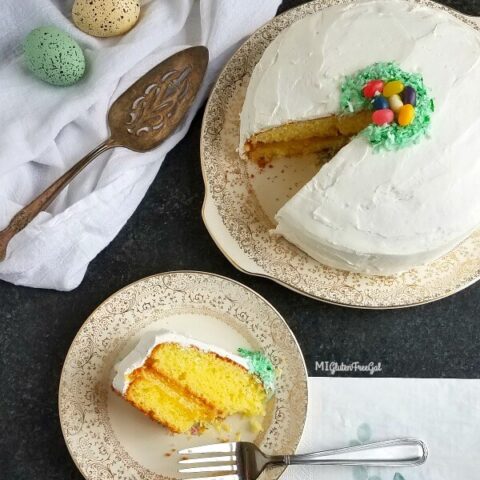 Mom's Homemade Lemon Curd
Ingredients
In a large saucepan, mix:
3/4 c. sugar
2 tbsp cornstarch
1/8 tsp salt
Add:
1/4 c lemon juice
grated rind of 1 lemon
Mix together until juice is combined into sugar mixture.
Finally, add
3 egg yolks, beaten
1/2 c water
2 tbsp butter, softened
Instructions
Combine all ingredients in a large saucepan and cook. Stirring constantly, cook over medium heat. Cook for approximately 15 minutes. Allow to cool.
What family recipes have become part of your identity? What's your favorite food to eat at Easter? I'd love to learn more about your family traditions. Also, check back for recipes for homemade gluten free crescent rolls and gluten free scalloped au gratin potatoes!
**This post contains affiliate links. Purchases made through those links help support this blog with no extra expense to you. Thank you for your continued support!**