Single Serve Gluten-Free Cheesecake
As an Amazon Associate and member of other affiliate programs, I earn from qualifying purchases.
This single serve gluten free cheesecake requires no sharing. None. You enjoy this deliciousness all on your own. Strawberries are optional. However, they are fruit, which is totally #adulting. Enjoy.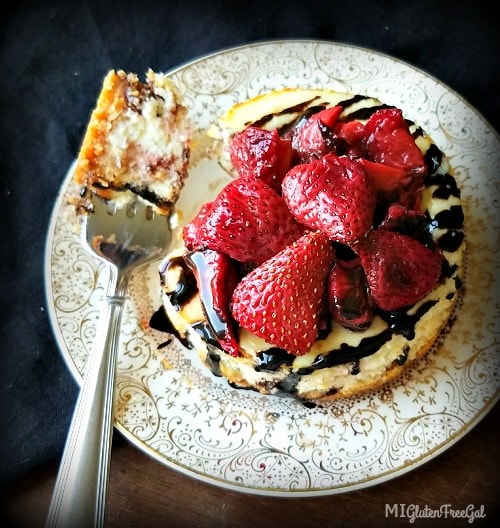 Lost Your Mojo? This Will Fix It
It's been a long summer. Actually, it's been a long six weeks. Between last minute home improvements, immediate car replacements and two weeks of hard core volunteering, I've lost a bit of my mojo. I think this single serve gluten-free cheesecake is going to help return it, though. I'd almost bet it will help renew your mood too!
Earlier this summer, I made some smashingly awesome S'mores bars. Like, "one of the best things I've ever tasted" good. I made them with my last bag of (prepared) GF Jules Graham Cracker Mix. It did result in my having loads of leftover graham crackers. So, I needed to find a use for them! Enter, this Just One Serving NY Style Cheesecake from Heather Maclean Cooks.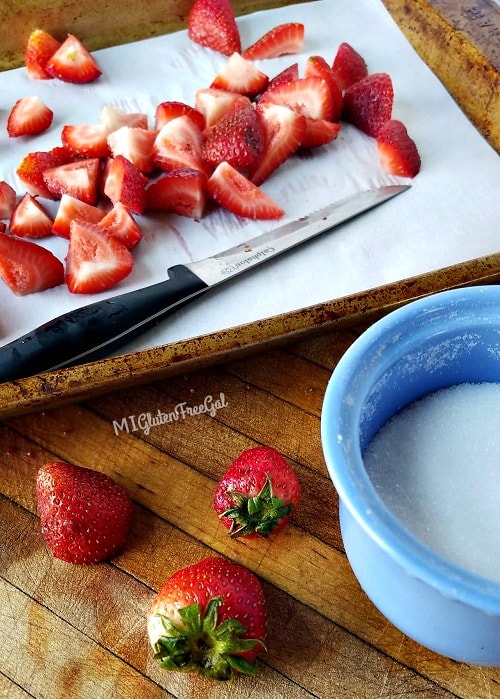 Roasted Strawberries – The Fruit You Didn't Know You Needed
Trying this single serve gluten-free cheesecake also allowed me to attempt another "recipe" I've been wanting to try. Roasted Strawberries. I first heart Kendra, a.k.a. Drizzle Kitchen, talk about them on her Instagram Stories. So I just had to try Simply Recipe's Vanilla Roasted Strawberries to add to this cheesecake.
Well, now it's my turn to roast these beautiful berries. Can I just say "wow"? The aroma as these roast? It's the ultimate smell of summer! Imagine fresh, homemade strawberry jam, but solid so you can pick it up with your fingers. AMAZING! They are the PERFECT topping for this single serve gluten-free cheesecake.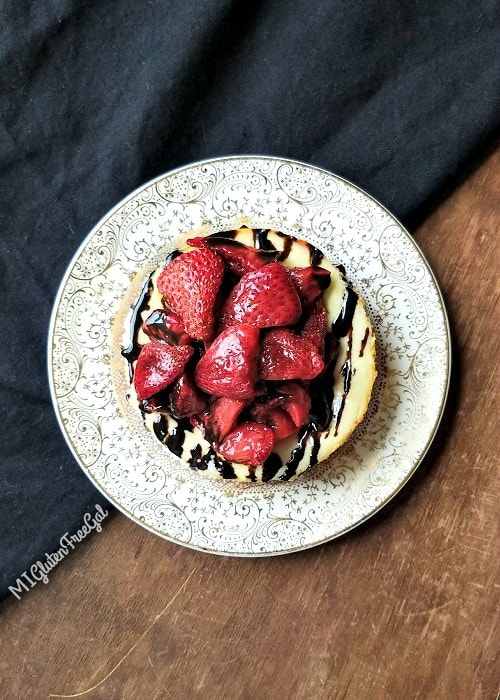 Cheesecake Gets a Gluten Free Makeover
So in true "me" fashion, I made some changes to Heather's original recipe. First, the obvious. Use gluten-free graham crackers. Next, I used Neufchatel Cheese, regular cream cheese's low-fat cousin. Lastly, I used non-fat Greek yogurt instead of sour cream.
Why? Because it's all I had in the house, and I'm too pooped to putt right now. Added bonus? It's lower in fat! Other than that, I followed her recipe to the T, making them in my favorite Wilton Mini Spring Form pans. (I use the ALL time time. Seriously, you should order them. Here they are on Amazon!)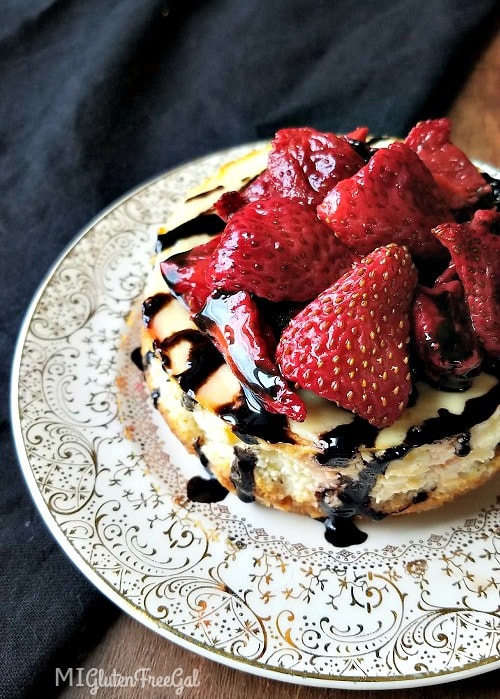 Some Assembly, and Patience, Required
Now, this single serve gluten-free cheesecake is not "instant." You still have to bake it for thirty minutes. You still have to chill it afterward for at least an hour. So, use the time to take a nap or read a book. Or if you just don't know how to say "no" like me, go to a meeting to set up another event for a non-profit.
I'm tellin' ya though, the wait is totally worth it. This single serve gluten-free cheesecake is not overly sweet, which I really liked. I drizzled it with a bit of my dairy-free chocolate sauce, and topped them with those berries. Doesn't it look breathtaking?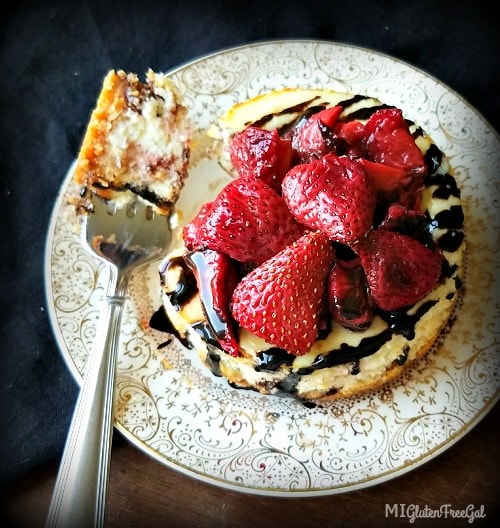 Sharing is Optional
Confession. Even though this recipe is called "Single Serve Gluten-Free Cheesecake," I shared it with my husband. This single serve gluten-free cheesecake really is big enough to satisfy your own sweet tooth and the one you love. If you want to share. You don't have to. Like me, you can use this time to practice saying "no." xoxo
*Note – This recipe can also be made using my homemade gluten free graham cracker recipe. If your heart yearns for grain free cheesecake, check out my mini apple cheesecake bites. Need this to be dairy free? This Gluten Free Vegan Berry Cheesecake from Sarah Bakes Gluten Free are a showstopper!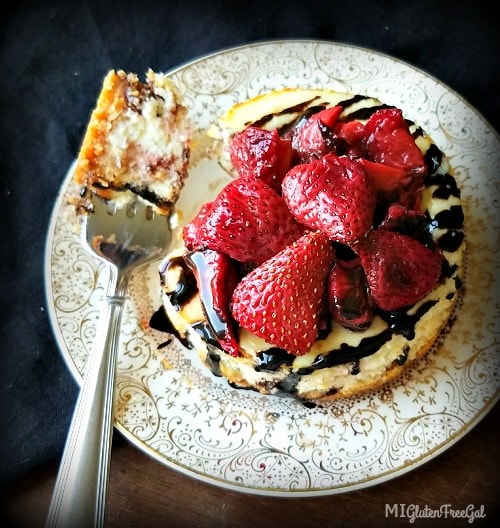 Single Serve Gluten-Free Cheesecake
Total Time:
2 hours
45 minutes
Ingredients
1/3 c. gluten free graham cracker crumbs
3 tbsp white sugar
1 tbsp unsalted butter, melted
4 oz. Neufchatel cheese, softened
1 1/2 tbsp plain, non-fat Greek yogurt
1/4 tsp vanilla extract (I prefer LorAnn Oils)
3 tbsp beaten egg (1 whole egg contains 4 tbsp)
Instructions
Heat oven to 325. Ever so lightly grease a 4 1/2 inch springform pans.
If not already crushed, crush graham crackers into crumbs. (It helps relieve lots of tension!)
In a small-ish glass bowl, melt one tbsp of butter. Once melted, mix in graham cracker crumbs and ONE tablespoon of sugar. Mix thoroughly and press into bottom of pan.
To avoid dirtying all the dishes in the house, rinse out the bowl. Now you can reuse it for the next step!
In bowl, combine Neufchatel cheese, yogurt, the remaining TWO tablespoons of sugar and vanilla extract. Whip it, whip it good. Until there are no lumps. Then gently fold in the beaten egg. Heather says this will prevent the top of your cheesecake from cracking. Mine didn't crack, so she must be right!
Pour batter over crust mixture. Place springform pan on top of a cookie sheet, and bake your single serve gluten-free cheesecake for 30-35 minutes. I highly suggest using a cookie sheet underneath, because the cheesecake mixture might weep a bit. At least mine did.
Once the cheesecake is done baking, remove it from the oven. Immediately run a knife around the edge to prevent the cheesecake from sticking to the pan as it cools. (I did not do this. Mine stuck to the side. Bad Margaret.) Cool on rack until it reaches room temperature, at least 30 minutes. Then, refrigerate for one to two hours.
Top in whichever way you prefer and ENJOY!
**This post does contain affiliate links.
Purchases made through those links help support this blog with no extra expense to you. Thank you for your continued support!**