Gluten Free Beef and Black Bean Enchilada Cups
As an Amazon Associate and member of other affiliate programs, I earn from qualifying purchases.
Gluten Free Enchilada Cups may just be the best handheld Mexican food EVER. Use Chebe All-Purpose Bread Mix to make these Gluten Free Beef and Black Enchilada Cups into a fantastic grain-free meal! This post is sponsored by Chebe.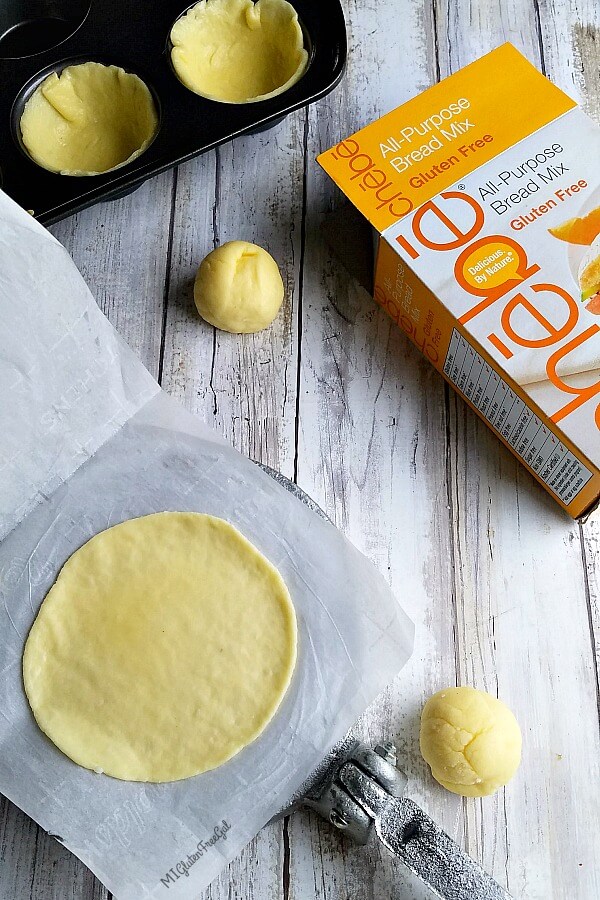 Tacos are My Love Language
I think it's safe to say America loves Mexican food. I find myself constantly sharing memes with taco-loving friends. Many reasons exist for loving tacos. You eat them with your hands. They contain cheese. They are the perfect vessel for our obsession with guacamole. If I pondered harder, I could come up with more reasons, I'm sure. However, I want to tell you of my latest Mexican love affair. Gluten Free Enchilada Cups. These little bowls of savory goodness completely won my husband over.
If at First You Don't Succeed….
These Gluten Free Enchilada Cups required a bit of trial and error. The owner of Chebe, Richard Reed, sent me an email months ago. It contained recipe ideas that he challenged me to recreate with his grain-free Chebe All-Purpose Bread mix. These beauties immediately caught my eye. As Barney Stinson would say, "Challenge Accepted." Researching similar recipes, they all started with premade tortillas. So I tried the recipe for grain-free tortillas on Chebe's website. While tasty, those tortillas failed to bend as much as I needed to fit them in the pan. Therefore, I grabbed a second box of Chebe mix and made a second batch of dough.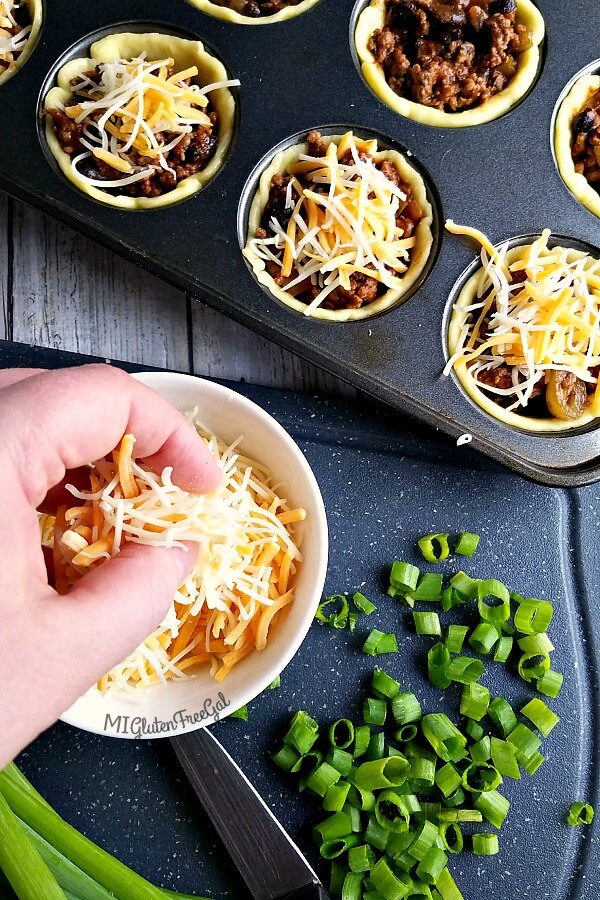 Good Things Come in Small Packages
Great things come in small packages, right? Jewelry. Keys to a new car. Chocolate truffles. That's what I love about these Gluten Free Enchilada Cups. They're small. Handheld. They perfectly fit in a lunch box or work as a quick after school snack. Plus, you can customize this any way you choose. While I titled this "Gluten Free Beef and Black Bean Enchilada Cups," you can stuff these with whatever you like. Not a fan of beef? Feel free to use another protein, like chicken or Chorizo sausage. Vegetarian? Use all beans! Want them to be please a kid (or adult) who's a picky eater? Leave out the beans.
A word of note if you want to make these Gluten Free Enchilada Cups completely grain free. While the mix and the filling contains no grains, most enchilada sauces contain a grain thickener. For instance, in this Gluten Free Enchilada Cups recipe, I used Hatch Enchilada Sauce. However, this contains cornstarch as a thickener. Therefore, I would use plain tomato sauce + spices and add a bit of your own thickener. Here I list a few grain free substitutes for corn starch. Just make sure any starch you add is combined with water so it doesn't clump in your sauce
Grain Free Substitutes for Cornstarch
Tapioca Starch – Tapioca starch is also known as manioc, cassava, or yucca. It is the main ingredient in Chebe. To replace cornstarch in a recipe, use 2 tbsp of tapioca starch for every 1 tbsp of cornstarch in a recipe.
Arrowroot Starch – Arrowroot starch also comes from a root. It contains more fiber than cornstarch, and "forms a clear gel when mixed with water." Use 2 tbsp of arrowroot starch for every 1 tbsp of cornstarch in a recipe.
Potato Starch – Potato starch is not the same as potato flour. Potato flour is simply dehydrated potato, whereas potato starch comes from a multistep step process of extracting just the starch of a potato. Potato starch is a 1-1 substitute for cornstarch.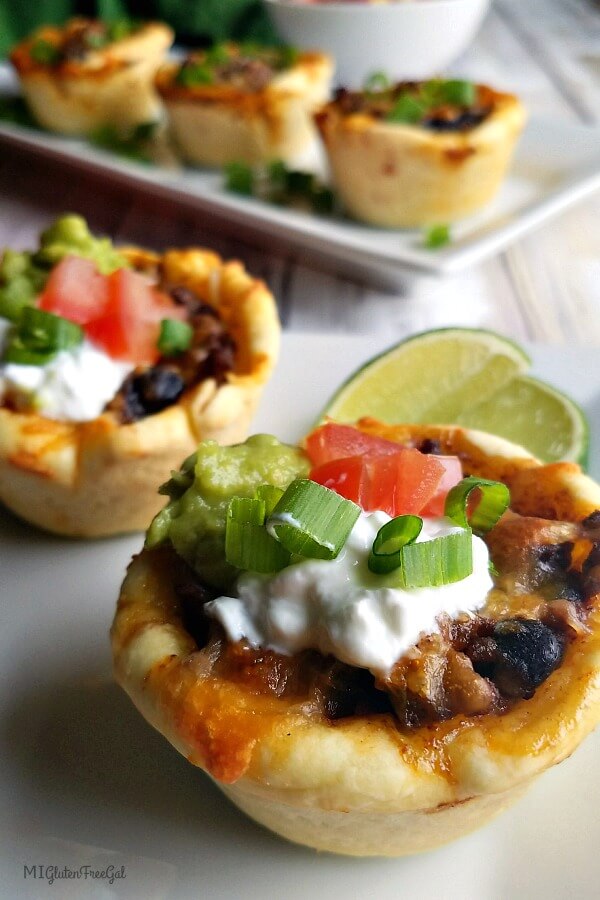 So back to these Gluten Free Enchilada Cups. While they taste delicious on their own, they really shine with a touch of guacamole and Greek yogurt. That's right, Greek yogurt. In our house, we don't use sour cream anymore. Plain, nonfat Greek yogurt contains more protein, less fat, and still adds that touch of cool creaminess that perfects these handheld meals. Sprinkle with a touch of diced tomatoes and garnish with chopped green onions.
Other Chebe Uses
Of course, no meal would be complete without dessert. Did you know you can use Chebe to make pie crust? Any of the pies I've created would go great with this meal. Apple Pie. Blueberry Pie. Especially Cherry Hand Pies! That makes a perfect meal, don't you agree?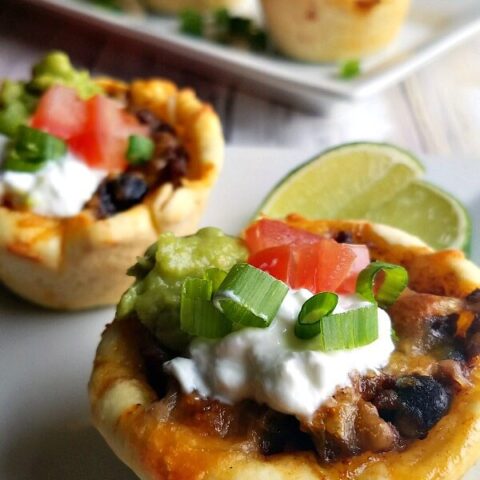 Gluten Free Beef and Black Bean Enchilada Cups
Ingredients
For the Crust
1 pkg [Chebe All-Purpose Bread Mix|https://amzn.to/2weTaAc rel='nofollow']
2 tsbp cotija cheese (Mexican equivalent to Parmesan - optional)
1 tsp salt
2 eggs
2 tbsp oil
1 tbsp lime juice
2 tbsp water
For the Filling
1 tsp oil
1/2 yellow onion, diced
1/2 green pepper, diced
1/2 lb. lean ground beef
1 cup black beans
6-8 oz enchilada sauce (I used Hatch mild enchilada sauce)
3 oz shredded cheese
For Garnish
Plain Greek yogurt or sour cream
Guacamole (I used Wholly Guacamole)
Diced Tomatoes
Chopped Green Onions
Instructions
In a wide mixing bowl, combine Chebe All Purpose mix, cotija cheese (if using) and salt. Whisk to combine.
In a small bowl, combine eggs, oil, lime juice and water. Whisk to beat eggs and combine with liquids. Add liquids to Chebe mix and mix with fork until dough starts to form. Turn out onto cutting board or silpat to knead into a soft dough ball.
Roll dough into a thick log and cut in half. Roll the two sections thinner, and cut each half into 6 chunks, creating 12 equal dough balls.
Using a tortilla press lined with parchment paper, press each dough ball into a circle. Press the dough once, and then turn a quarter turn and press again. Then, gently remove the tortilla dough and press into the muffin cup that's been lightly sprayed with cooking spray. (It may be best to lightly spray the parchment paper with cooking spray to accomplish pressing the dough.) Repeat until all 12 muffin cups are filled. Set aside, and preheat oven to 350 degrees
Meanwhile, heat skillet to medium heat. Add oil and saute onions and peppers, 3-4 minutes until onions are translucent. Add ground beef and continue to cook until beef is thoroughly cooked. Turn off skillet and add black beans.
Add enchilada sauce to cooked meat & bean mixture, and stir to combine. Using a one-ounce scoop, distribute mixture evenly between the 12 muffin cups. Don't be afraid to fill them high, as it will sink down as it cooks.
Bake the enchilada cups in a preheated 350 degree oven for 15 minutes. Remove from oven, top with cheese and bake an additional 10 minutes, until cheese is melted.
Top with Greek yogurt, guacamole, diced tomato and diced green onions. Serve ho
**This post was sponsored by Chebe. While I was given free product and compensated for my time and creation, all thoughts and opinions are my own. I've been a huge fan of Chebe over the years, and you can often find me at expos helping represent them at their booth. If I happen to be in a town near you, stop by and say Hi! Also, this post contains affiliate links.**