Chebe Pie Crust – Grain Free Pastry Magic
As an Amazon Associate and member of other affiliate programs, I earn from qualifying purchases.
Looking for a gluten free AND grain free pie crust? Make a Chebe pie crust and impress everyone with its taste and texture!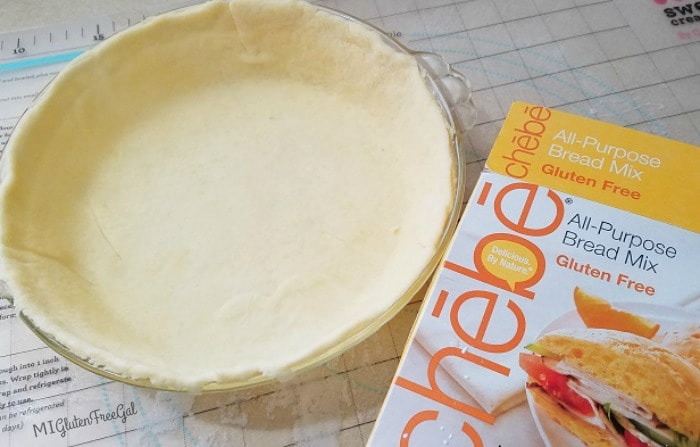 I love using Chebe products. They are some of the most versatile, allergen friendly, gluten free mixes out there. Their focaccia is delicious, their pizza crust is amazing, and their cinnamon rolls are super easy to make.
Recently, I was contacted by Chebe to see if I would be willing to make some gluten free pies, using their mix as the crust. I received a generous shipment of their products before Thanksgiving, but have not had a chance to sit down and write about them until now.
They have a pie crust recipe on their website that's easy to make. One of the biggest problems with any raw gluten free pie crust is that they tend to fall apart. Without the elasticity of gluten, it's hard to hold all of those ingredients together. However, the Chebe pie crust dough resists falling apart and is incredibly easy to handle. This truly impressed me.
Chebe Pie Crust – Cinnamon Roll Mix
I created multiple pie crusts with their mixes. Their cinnamon roll mix makes a stellar substitute to a graham cracker crust. They make amazing apple turnovers, and are great for cream pies, like the butterscotch pie pictured below. I also used the cinnamon roll mix to make these delicious gluten free mini apple cheesecakes!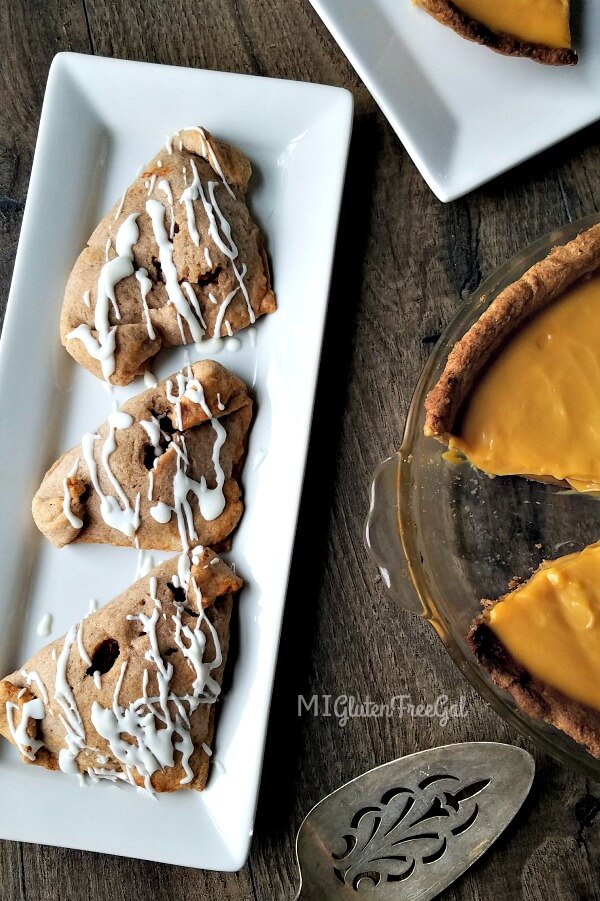 Chebe Pie Crust (Sweet) – All Purpose Mix
Reviving these near Thanksgiving, I attempted gluten free pecan and pumpkin pies. My uncle Joe loves pecan pie, and found this one to be quite tasty. I made the pumpkin pie for a segment I did on my local news station. They were impressed that it was not only gluten free, but also grain free! I've also used this recipe to make blueberry pie, apple pie, and cherry hand pies.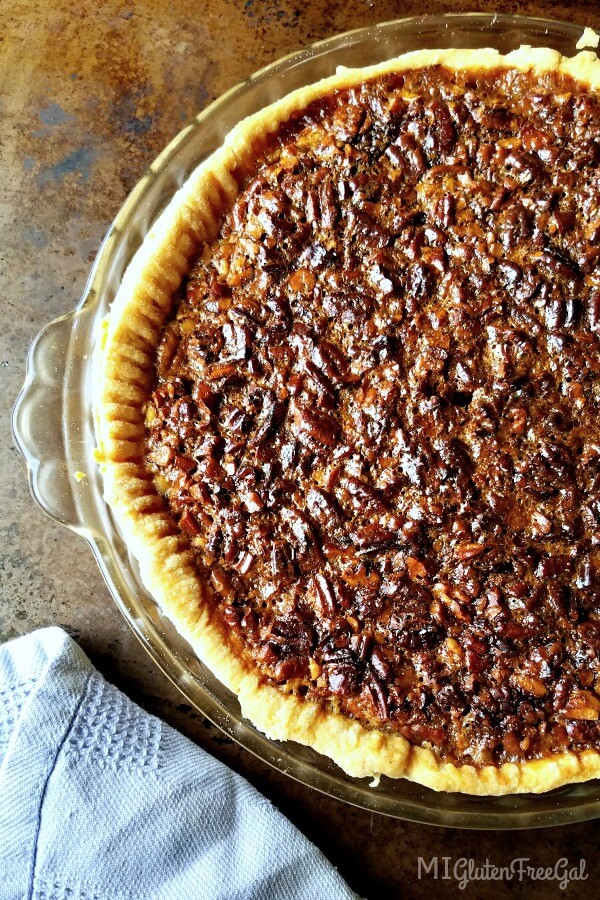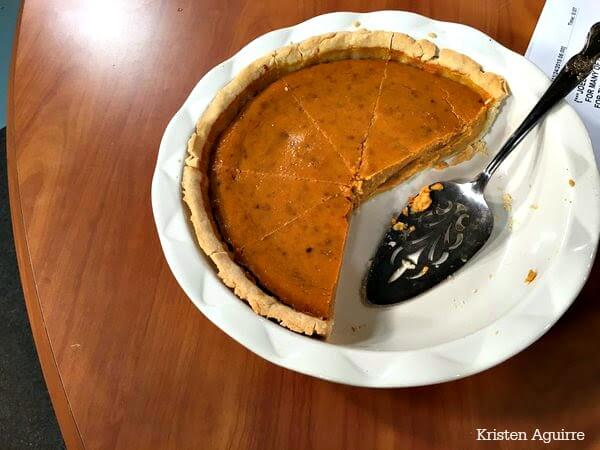 Chebe Pie Crust (Savory) – All Purpose Mix
My biggest success thus far has been a chicken pot pie. I think the trick to using Chebe as pie crust is a filled pie.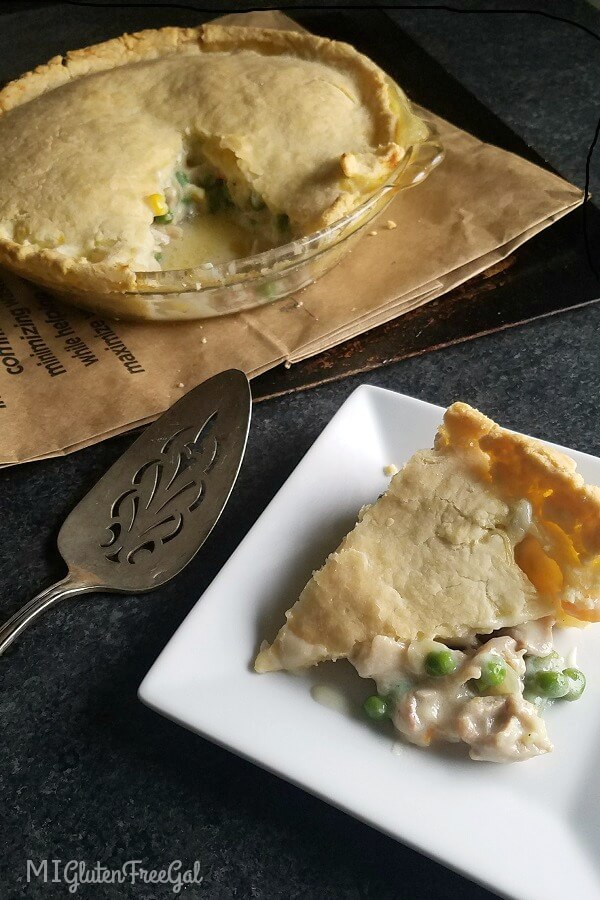 I made my chicken pot pie on Christmas Day, but did not end up using it that day. So I wrapped it tightly in saran wrap and stuck it in my refrigerator. Three days later on Sunday I unwrapped it and placed the whole chicken pot pie, in its ceramic dish, in the microwave. After warming for 3-4 minutes, the crust magically changed into a super soft and pliable crust. We shared it with a friend who is also eating gluten free and she even asked for seconds.
It may very well have been THE BEST chicken pot pie that I have ever made. My husband said that it was definitely the best gluten free chicken pot pie he has ever had. It tastes much better than the chicken pot pie that I made with the Pillsbury gluten free crust. (This product is no longer on the market.) Chebe costs much less, $3.29 a box versus $4.49 for a tub of Pillsbury dough.
Chebe products win again!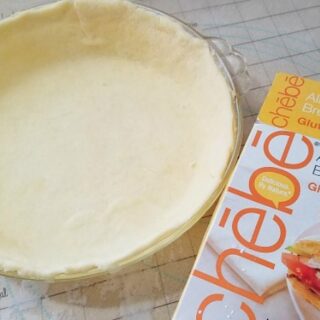 Chebe Grain Free Pie Crust
Ingredients
1 box Chebe (any flavor)
1 egg
2 tbsp oil
4 tbsp COLD butter (2 tbsp butter and 2 tbsp cream cheese also works!)
4 tbsp *ice cold* water
Instructions
In a food processor, combine Chebe mix, oil and egg. Pulse to combine and moisten Chebe mix.
Next, add cold butter, cut into small pieces, to the Chebe mix. Pulse until it resembles a sandy texture.
Finally, add ice cold water, one tablespoon at a time until dough forms.
Use in any recipe that calls for pie crust.
**Chebe Bread provided the ingredients for this post. I was not otherwise paid or compensated for my time. This post contains affiliate links.
Purchases made through those links help support this blog with no extra expense to you. Thank you for your continued support!**