De Food Truck – 100% Gluten Free Food Truck in Northern Michigan
As an Amazon Associate and member of other affiliate programs, I earn from qualifying purchases.
Traveling to the greater Traverse City area? Add De Food Truck to your bucket list. This 100% gluten free food truck offers fried fish and the best french fries you've ever had.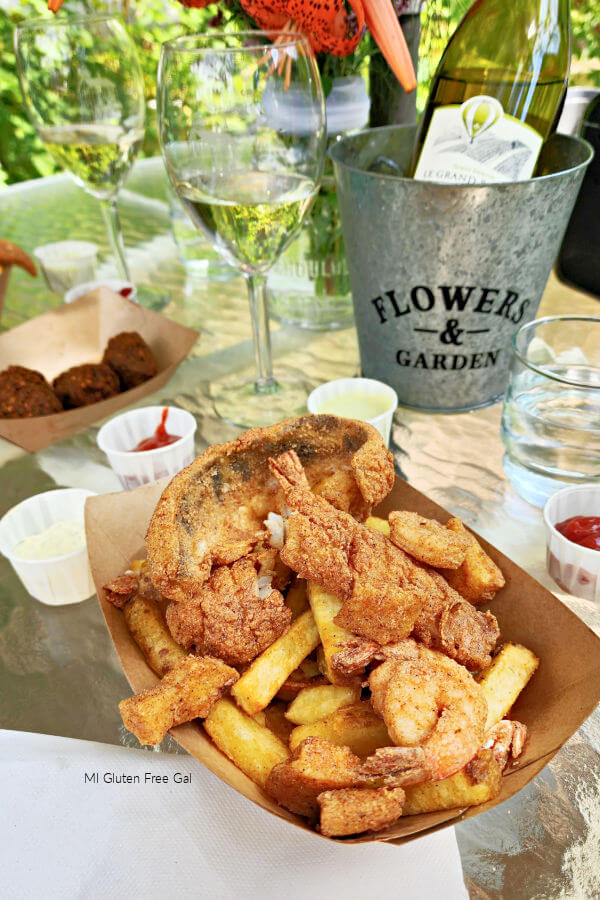 Recently my husband and I had the wonderful opportunity to share the afternoon with the owners of De Food Truck, Toby and Joelle. While the food was absolutely amazing, the conversations with two of them was just as memorable. We sat and talked for hours!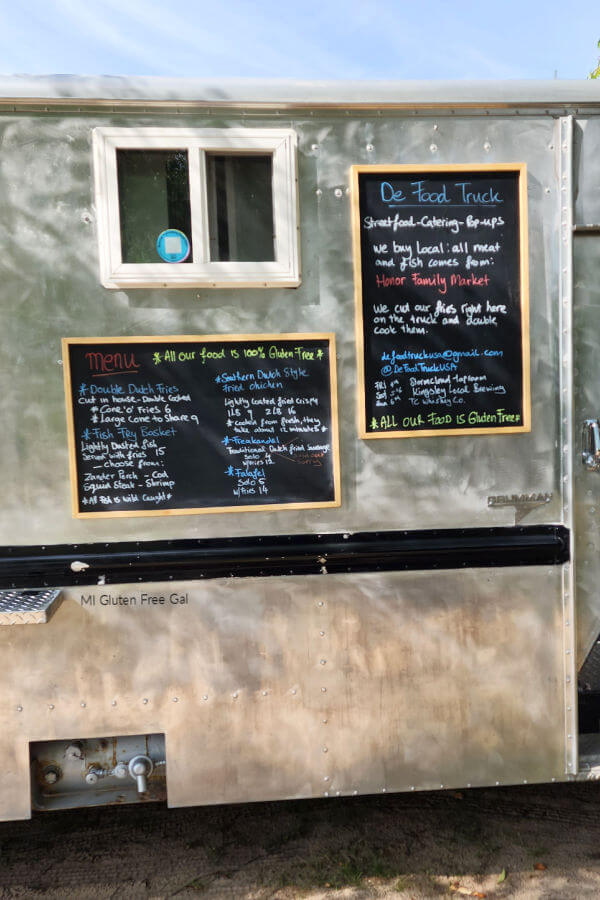 Where is De Food Truck Located?
You can find De Food Truck in a few cities in Northern Michigan. Most often they serve in Frankfort, Kingsley and Traverse City. However, they are also available for catering. I included De Food Truck on my Traverse City Gluten Free Dining Guide.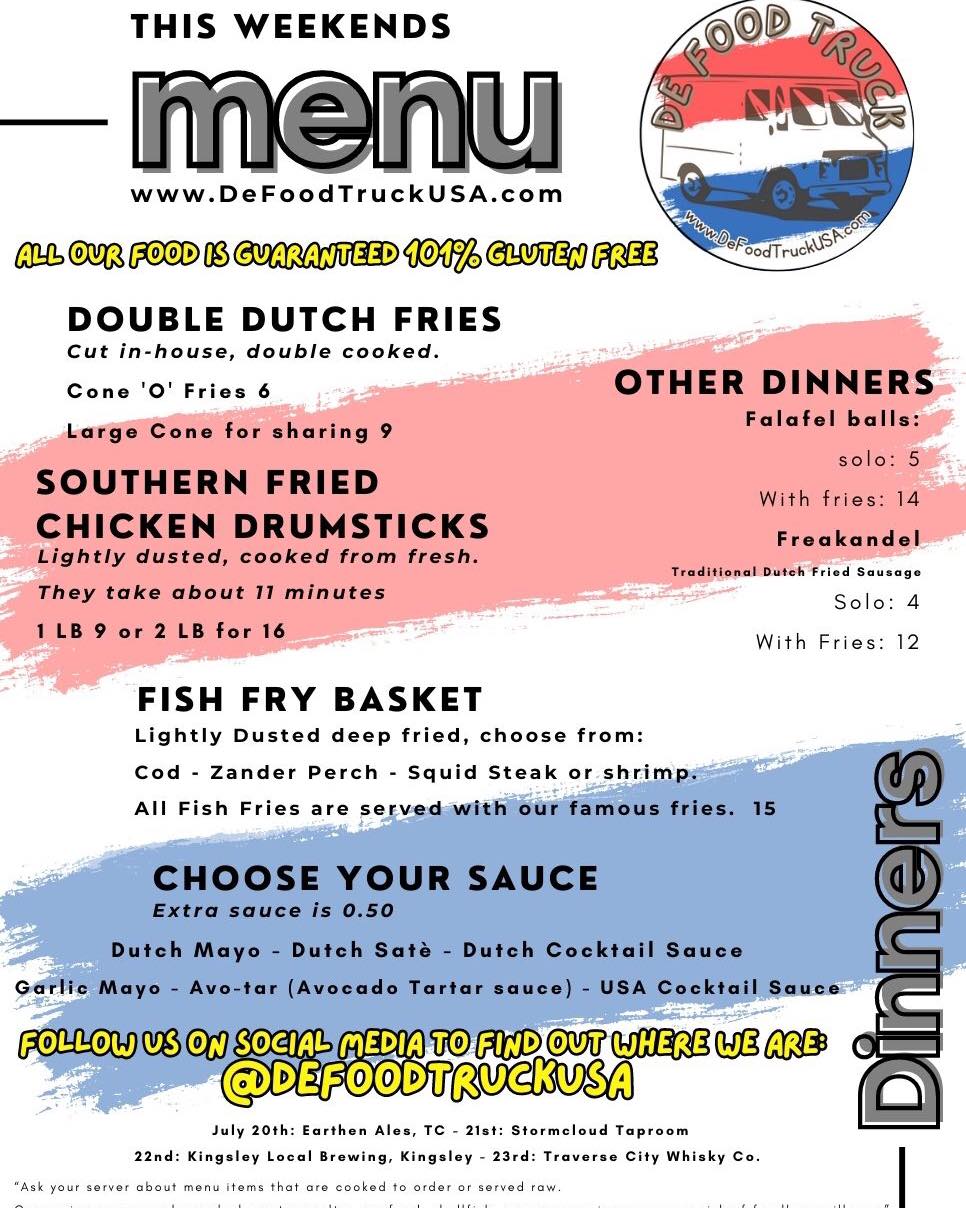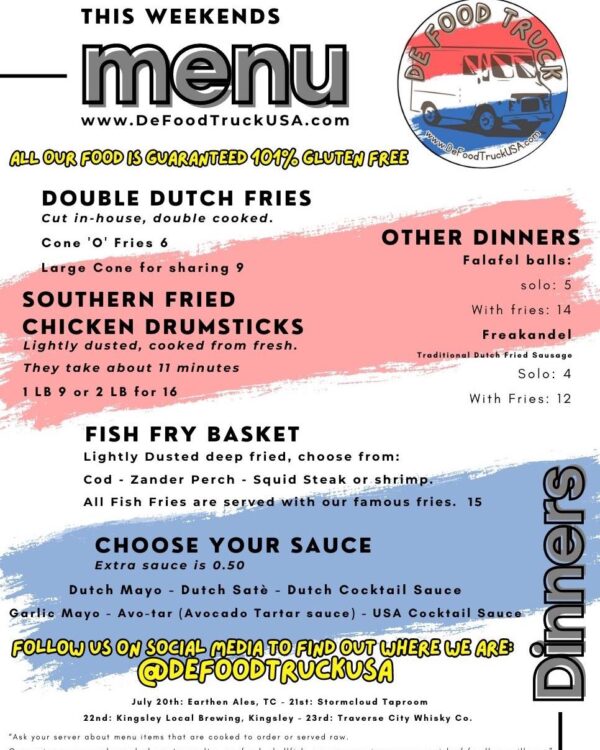 What's On the Menu?
Everything on De Food Truck menu is gluten free. They offer a variety of fried fish and seafood, as well as chicken. In addition, Toby also prepares Dutch Freakendel. This deep fried sausage is a specialty in the Netherlands, where Toby was born. He fries everything in canola oil.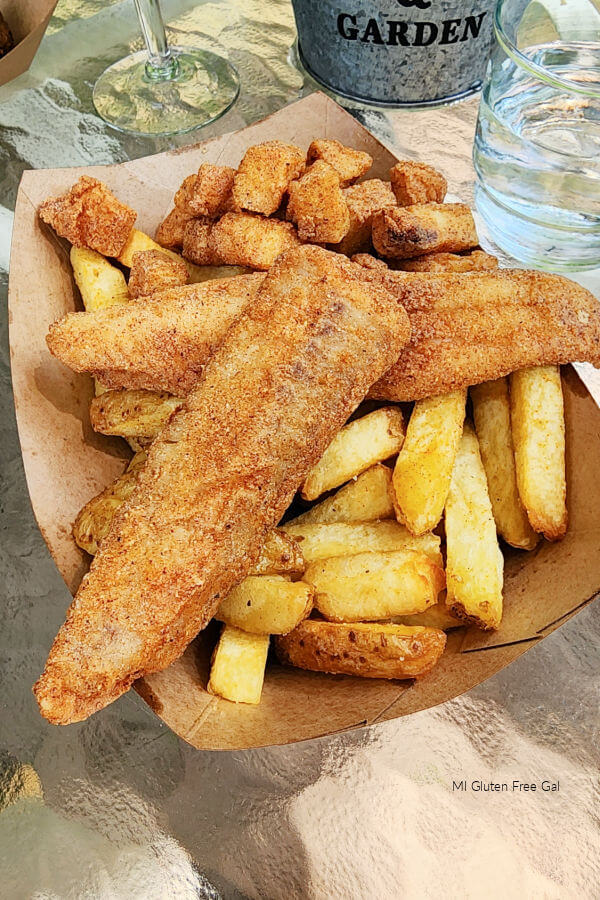 What Did You Order From De Food Truck?
My husband and I tried a variety of the fried fish and seafood. We both had perch and their amazing French Fries. These are no pre-bought frozen fries. Toby makes his fries from scratch, and fries them twice. Toby stated that they go thru as many as 100 lbs of potatoes on any given day!
My husband and I also tried their squid steak bites. I've never had squid before, so I wasn't sure what to expect. It was great! Nice and firm, without tasting overly fishy. In addition, I had the fried shrimp, which was delicious.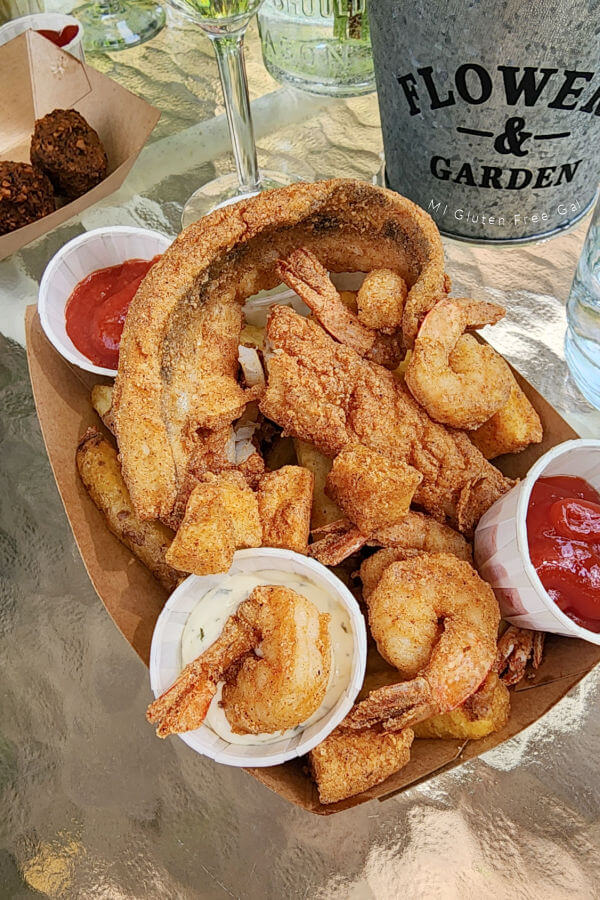 What Kind of Breading is Used?
Since everything on this food truck is gluten free, you'll find no wheat flour here. Toby uses a blend of rice flour and corn starch, and his own blend of spices. Everything we tried was perfectly cooked, and not soggy.
(Visit my article on gluten free fried fish to make your own fish fry at home.)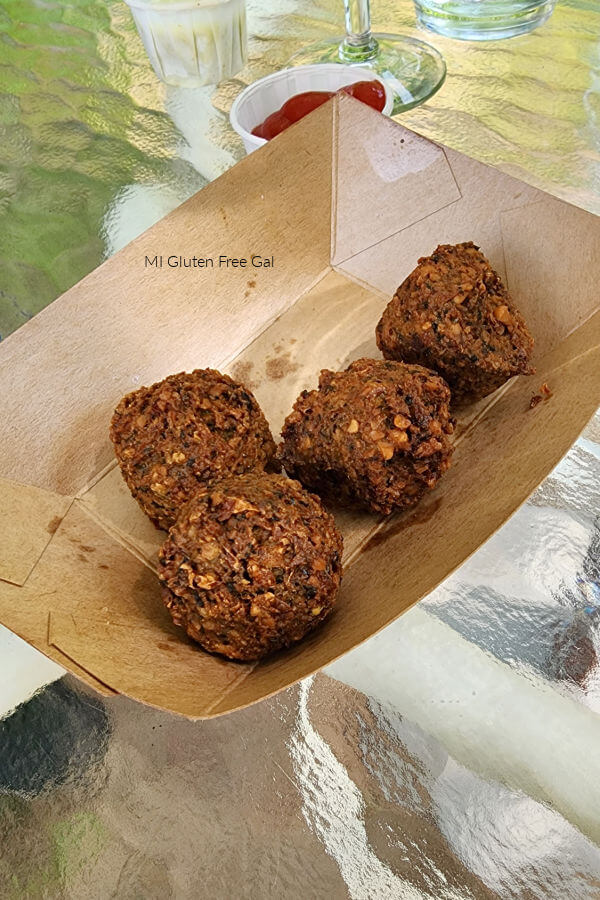 Does De Food Truck Have Vegetarian Options?
Yes! You can order their falafel, with or without fries. (Although, I highly recommend the fries!) Toby cooks the falafel in a dedicated fryer, away from the seafood and chicken. In fact, the fries and falafel are both vegan.
In addition, Toby makes this amazing Avo-Tar, which is a version of tartar sauce made with avocado. I could have put it on everything! Toby also said that he plans to switch to vegan mayo, so he can accommodate more people with dietary restrictions.
(Want to make your own falafel? Try my gluten free falafel recipe!)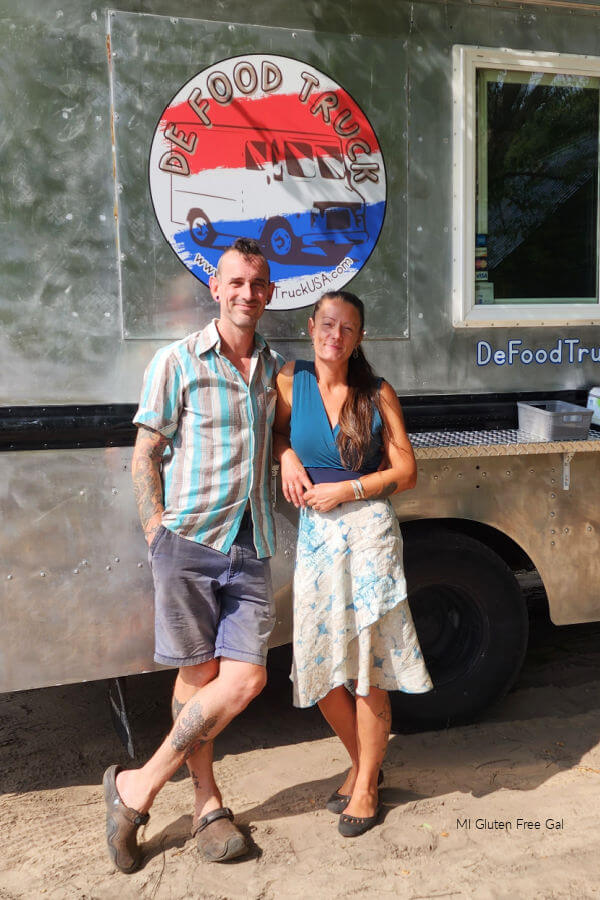 Why a Gluten Free Food Truck?
Toby has been in the food truck business, since 2006. He personally needs to follow a gluten free diet. After having operated a variety of trucks, he decided to finally open one that benefited him and others who have to eat gluten free. You can learn more about Toby Dunne in this Record Patriot article from July 2023.
Have any other questions about De Food Truck? Drop them in the comments and I'll try to get them answered for you!
De Food Truck
Locations and Hours – They usually open for service between 3 and 4 pm.
Follow them on social media to find where they're at this week. They usually operate Thursday through Sunday. Frequently they serve at the Storm Cloud Brewing Co. in Frankfort, Traverse City Whiskey Co. and Kingsley Local Brewing. They also cater!
**Note- We were not charged for my meal, despite me offering to pay. We visited Toby and his wife on our 20th wedding anniversary, and they wanted to help us celebrate.