Gluten Free Falafel: Vegetarian Chickpea Balls
As an Amazon Associate and member of other affiliate programs, I earn from qualifying purchases.
Tired of not being able to order falafel due to restaurants cooking it in a shared fryer? My easy gluten free falafel recipes allows to you to enjoy this delicious Mediterranean treat at home!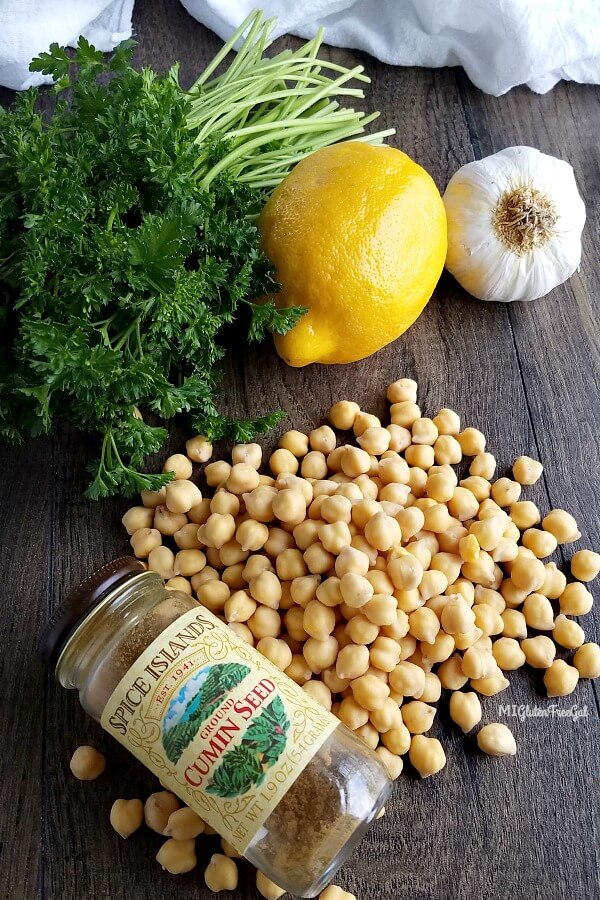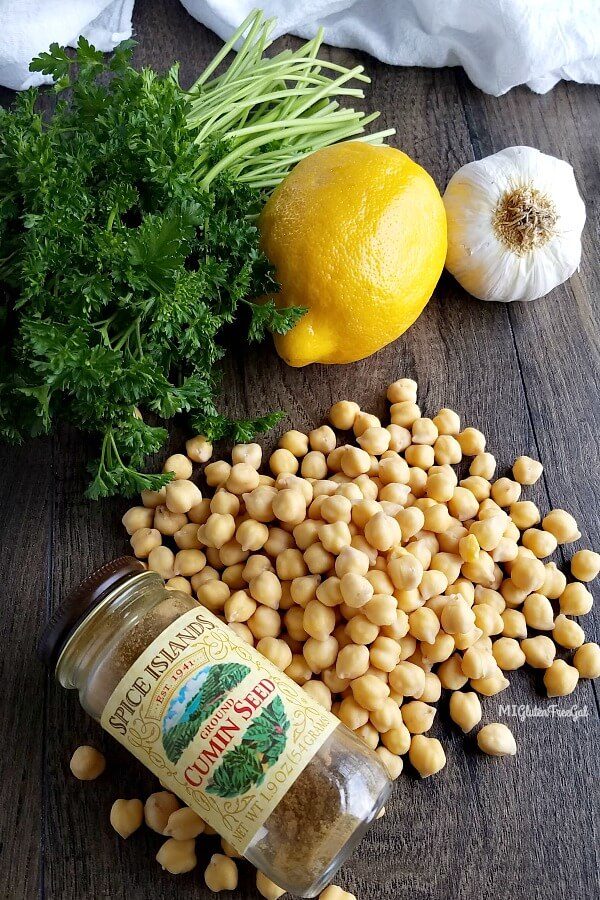 Chickpeas are the Unsung Culinary Hero
Sometimes I think there is nothing more versatile than chickpeas. And yes, before you ask, people call them garbanzo beans as well. Same thing. But as I was saying, you can prepare chickpeas in a gazillion ways. Okay, maybe that's a bit of exaggeration. Before I wrote about 5 gluten free ways to eat chickpeas, but today I want to share a method I forgot. FRIED. That's right. Process those soaked chickpeas in a food processor, make it into a loose batter, and you have the basis for vegan, gluten free FALAFEL. Just add onion, garlic, cumin, parsley, etc. to your preferred palate and get cookin'!
Recently I visited Teta's Grill in Flushing, Michigan. Sadly, they fry their falafel in a shared fryer with chicken fingers. So, no falafel for me. Between that and a package of BFree Foods gluten free pita in my freezer, I felt determined to make my own gluten free falafel. At first I thought "How hard can it be?" I figured I would blend cooked chickpeas with spices and fry it. Um, yeah. Totally wrong. Big mistake. To make gluten free falafel from scratch, you gotta start with soaked, uncooked chickpeas.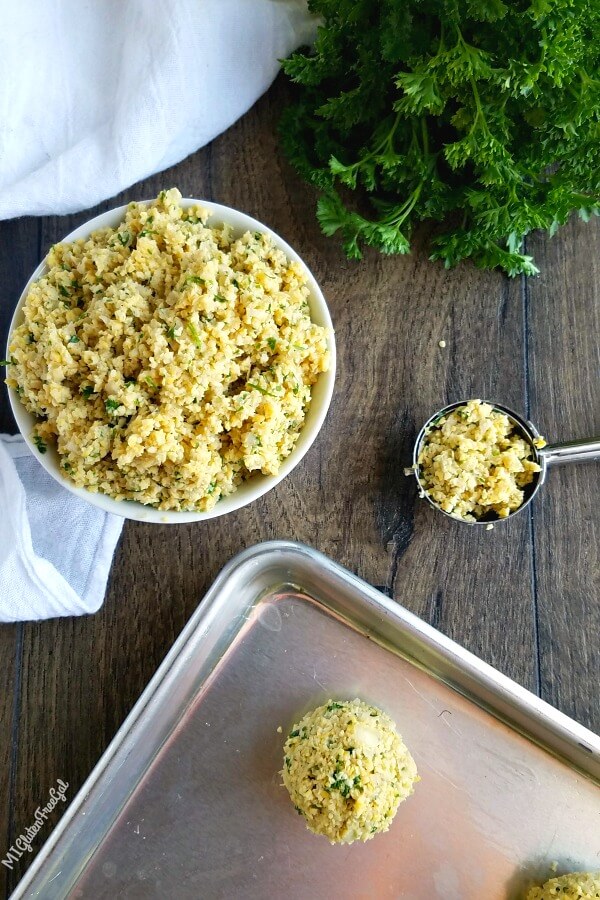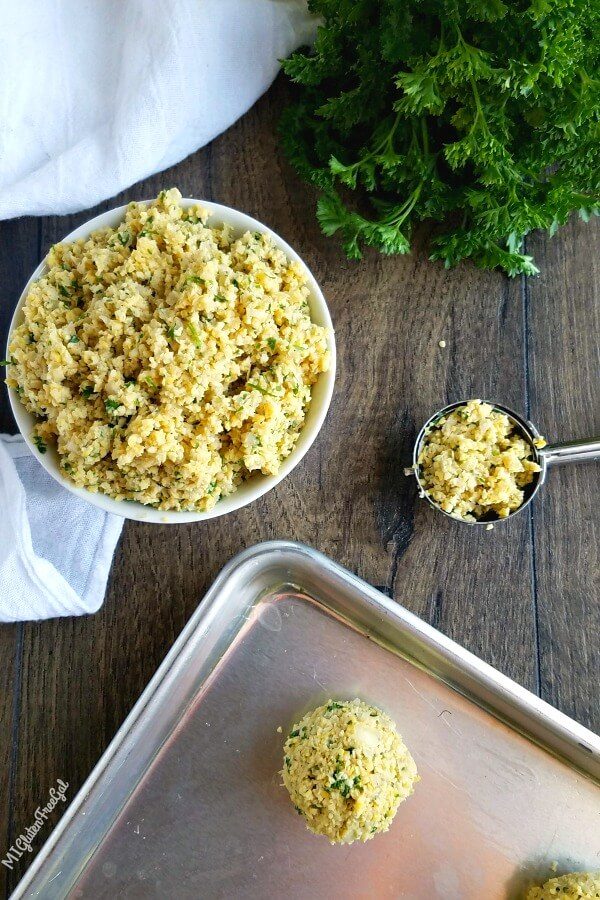 Gluten Free Falafel Research
From there, making gluten free falafel "batter" is a snap. Or a whirl in the food processor as the case may be. In full transparency, I researched a lot of recipes before coming up with mine. Some recipes called for baking, like this Easy Falafel Recipe by From My Bowl. However, most suggested frying, like this Crispy Falafel Recipe from Cookie and Kate. I baked a few, for research sake. Now, if you want to avoid frying, you can. However, the resulting gluten free falafel won't turn golden brown, nor will they be crunchy on the outside.
Now, I know what you're thinking. "I hate frying. It's messy and I guarantee I will burn myself." (Or maybe that's just me?) Let me tell ya, I successfully fried these in small batches and did NOT burn myself. I used less oil by doing it in a small pot, and had more control over frying times and temps. Trust me, if I can pull this off, so can you. I imagine you could use a deep fryer to make these. You might also be able to pull this off in an air fryer. I don't have one, so you'll have to check this recipe for Air Fried Falafel from Nutrition Refined for tips on that.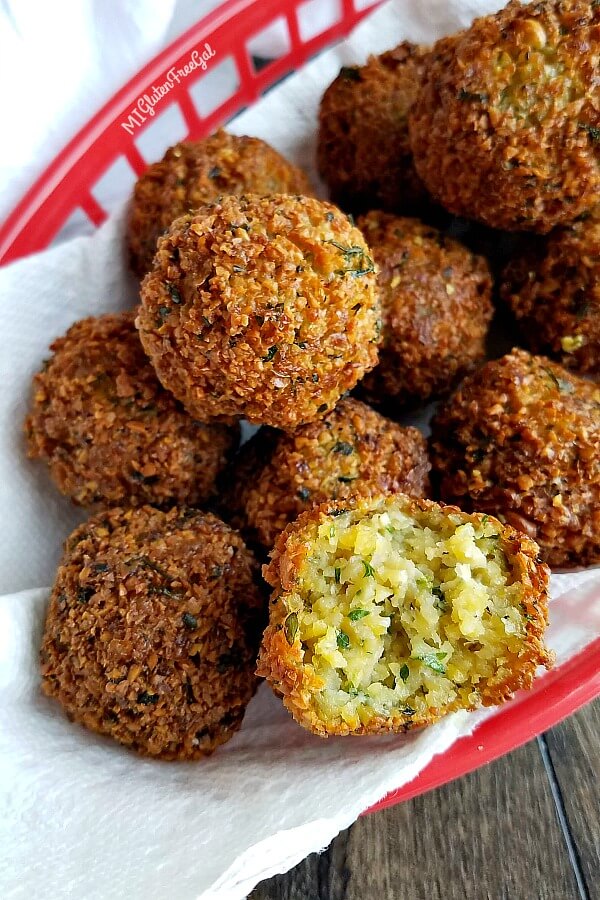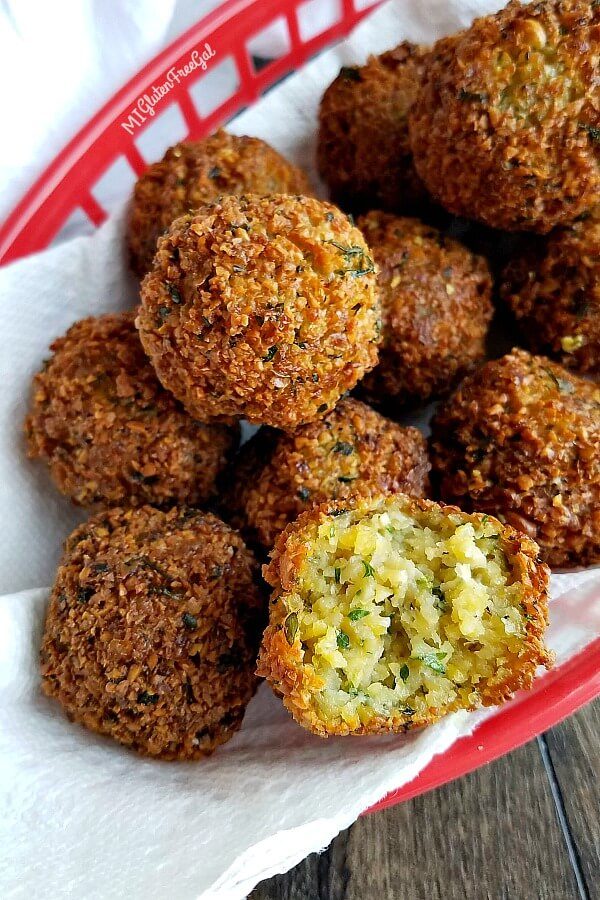 Proud Foodie Mama
Seriously, LOOK at these beauties. I feel like a proud momma over here. See how crispy they are on the outside? And the vibrant touch of green from the parsley on the inside? I may need a moment to collect myself over here. Seriously, when I took this picture (on my Samsung S7, btw) I sent it to friends like I was sharing a baby picture. Especially since this gluten free falafel recipe is the first time I ever fried ANYTHING. What can I say? I'm a (darn lucky) natural!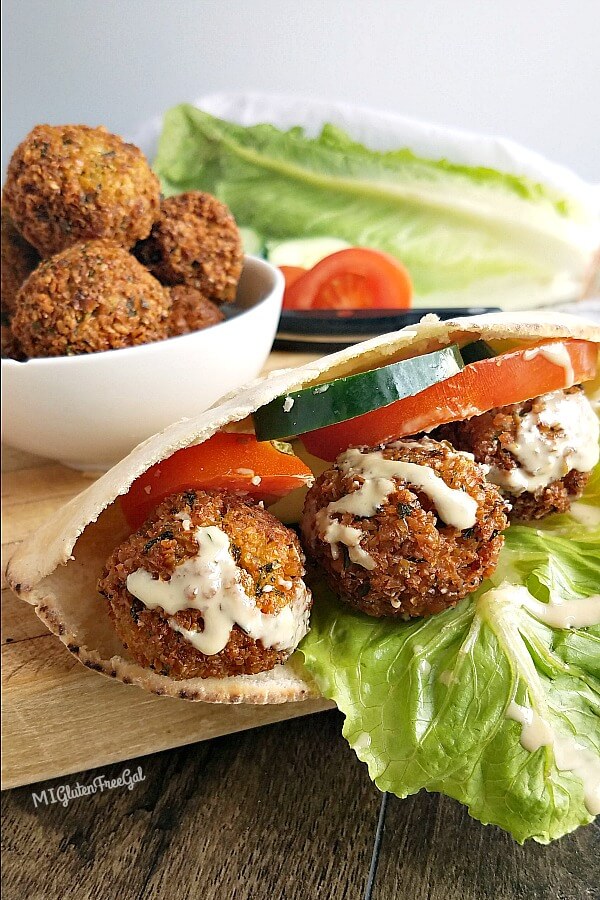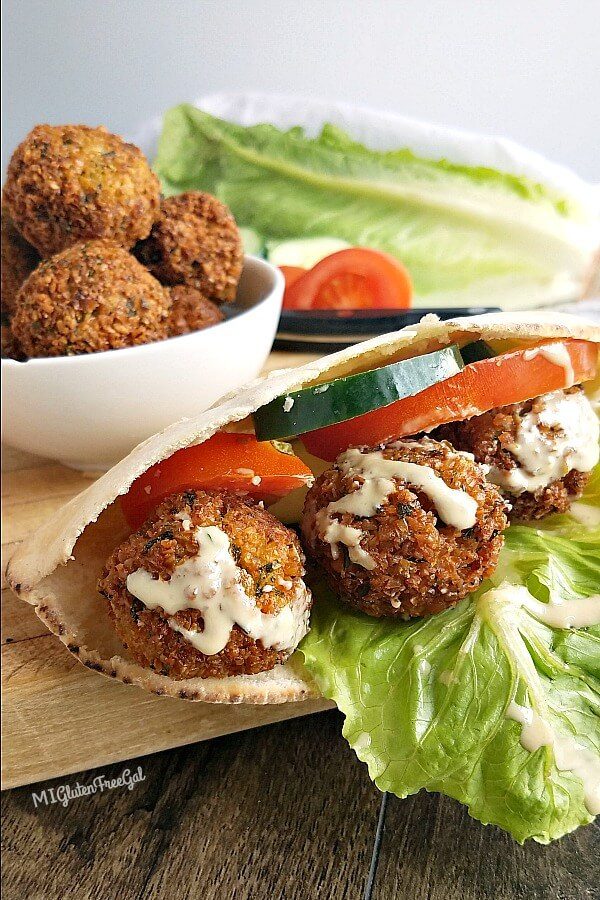 How Do You Serve Gluten Free Falafel?
Now, you have multiple options for serving these gluten free falafel. Obviously, you can eat them freshly cooked and shove them in your mouth like my husband and I did. However, should you choose to have a bit more manners than us, you can serve them in BFree Foods gluten free (and Top 8 free!) pita bread. Friends, this stuff tastes like the real thing. It even opens so you can stuff things inside. Not sure if it's in stores, but you can order it on Amazon here! This gluten free falafel tastes amazing in a buddha bowl too! This recipe makes A LOT, so just freeze and reheat for a quick meal!
What restaurant foods do you miss most? Do you fry foods at home, and if so, what? Leave me a note in the comments, and let me know what I should make next!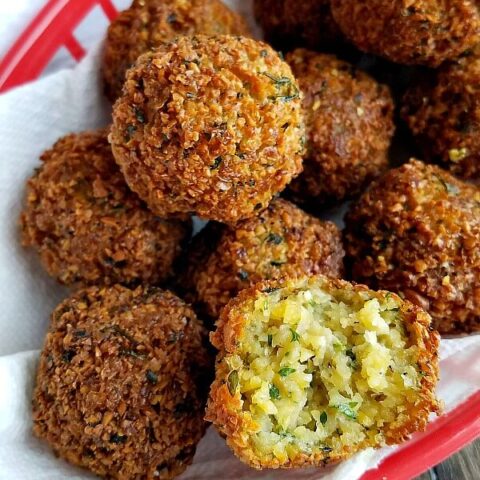 Gluten Free Falafel
Ingredients
1 lb dry chickpeas, soaked overnight
3/4 yellow onion, finely chopped
1 oz parsley leaves
2 tsp minced garlic
1 tbsp salt
1 tbsp cumin
1/2 tsp black pepper
1 tbsp lemon juice
Instructions
Place chickpeas in large bowl, and add enough water to cover beans and soak overnight.
When ready to prepare gluten free falafel, finely chop onion.
Combine all ingredients in food processor and blend until a course meal is formed.
Transfer mixture to a very large bowl and refrigerate for 2-3 hours. This allows the starch in the chickpeas to leach out, allowing you to to form the falafel.
Using a one ounce scoop, create mounds of falafel "batter." It will not be sticky like cookie dough, but instead fairly loose. Make balls and place on a cookie sheet. Do this until all the "batter" is formed. Scooping it all beforehand allows you to cook them quickly.
In a small to medium pot, pour in enough oil to create 3" depth. (I use a smaller pot to do this, as it uses less oil.) Preheat oil to 350-375 degrees. I used a kitchen thermometer to gauge mine.
Depending on the size of your pot, place 4-6 falafel in the hot oil. Cook gluten free falafel two minutes per side, and then place on paper towel to absorb excess grease. Repeat with remaining falafel "batter" until all cooked.
Best served hot and fresh. However, they can be frozen and reheated in oven or microwave. Serve with tahini or garlic sauce.
**While I mention BFree Foods, this post is not sponsored by them. (They did however give me a free package of pita bread at the Chicago GFAF Expo.) All thoughts and opinions are my own. This post does contain affiliate links.**