Condado Tacos Gluten Free Options
As an Amazon Associate and member of other affiliate programs, I earn from qualifying purchases.
If tacos are the way to your heart, you're going to love Condado Tacos gluten free options. In fact, only three items on their menu contain gluten, and they don't cook any gluten containing items in their fryer. *I was not charged for my meal.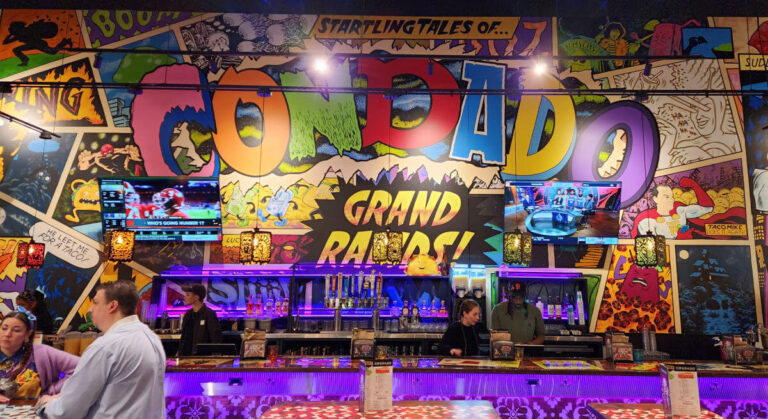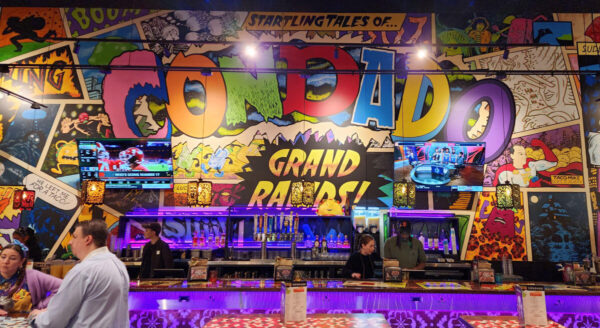 Where is Condado Tacos?
Condado Tacos started in Ohio in 2014, and has expanded to Michigan, Pennsylvania, Indiana, Tennessee, Kentucky, and North Carolina. Michigan alone offers 7 locations, including Grand Rapids, Kalamazoo, Troy, Royal Oak, Detroit and Ann Arbor. I've visited the Polaris location in Columbus, as well as the Royal Oak location. Recently, I was invited to the grand opening of the Breton Village restaurant in Grand Rapids, which is their 40th location.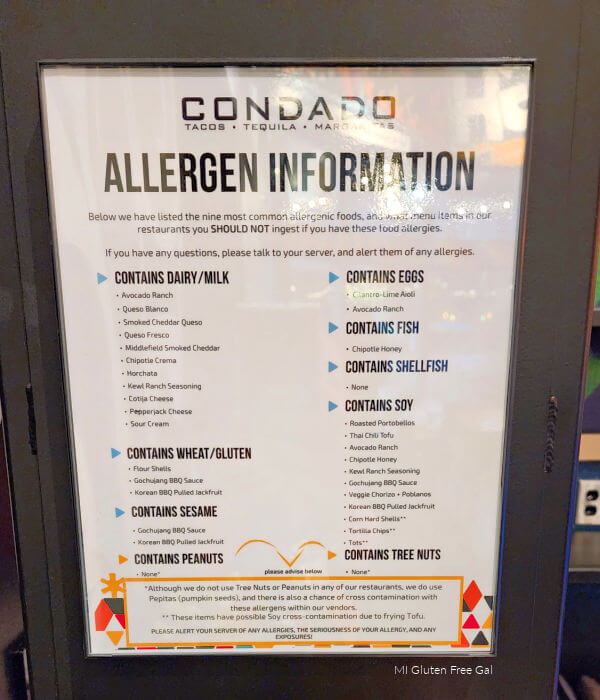 What Gluten Free Options does Condado Tacos Offer?
Prior to attending the event, I reached out to Condado Tacos staff with a few questions. They were great at answering all of my questions in advance. In addition, they were generous with their time in answering additional questions while at the restaurant. Here at the answers to my most pressing questions.
What gluten free options does Condado Tacos offer?
Everything on the menu is gluten free except for the following items; Flour tortilla shells, Gochujang BBQ Sauce, and Korean BBQ Jackfruit. These items are never cooked in our fryers.
How Does Condado Tacos Prepare Gluten Free Orders?
What steps does Condado Tacos take to prevent wheat cross contact with gluten free orders?
We do not have a separate dedicated gluten free prep space. However, if an item is marked specifically as "gluten free," our team considers it an "allergy" and uses a set of protocols to keep our guests safe. This includes washing hands and putting on fresh gloves. In additioan, staff use an entirely separate cutting board and only pulls fresh product to avoid any cross contact. We also package those items separately into their own basket/tray or To Go bag.
Does Condado Tacos have a Dedicated Gluten Free Fryer? What Oil Do You Use?
We only fry the following items : Tofu (crusted with gf cornmeal), corn taco shells, corn tortilla chips, brussels sprouts (gf) and tater tots (gf). We use a highly refined soybean oil for our fryer. However, we also fry tofu in our fryer.
(From FARE-"Highly refined soy oil is not required to be labeled as an allergen. Studies show that most people with soy allergy can safely eat highly refined soy oil as well as soy lecithin. If you are allergic to soy, ask your doctor whether you need to avoid soy oil or soy lecithin.")
What Food Allergen Training Does Your Staff Receive?
What Training does Condado Staff Receive about Preparing Gluten Free Orders?
All staff goes through allergen training during the initial onboarding process. We consider a gluten allergy as serious as any of the other main allergies like tree nuts, shellfish, and other commonplace allergies. Every Condado Tacos location has a common allergen guide guests can reference, and it is updated with any menu change we undergo.
What Other Dietary Restrictions Do You Accommodate?
We use no peanuts or tree nuts on our menu. (We do use pumpkin seeds, which may have cross contact issues with nuts, in processing.) In addition, we currently have no shellfish on our menu. (Our chipotle honey contains fish ingredients.) Our menu is easily modifable for dairy free, vegan, vegetarian, and gluten free eaters. Our menu has a key that denotes these options. We do not have dairy free cheese options, at this time.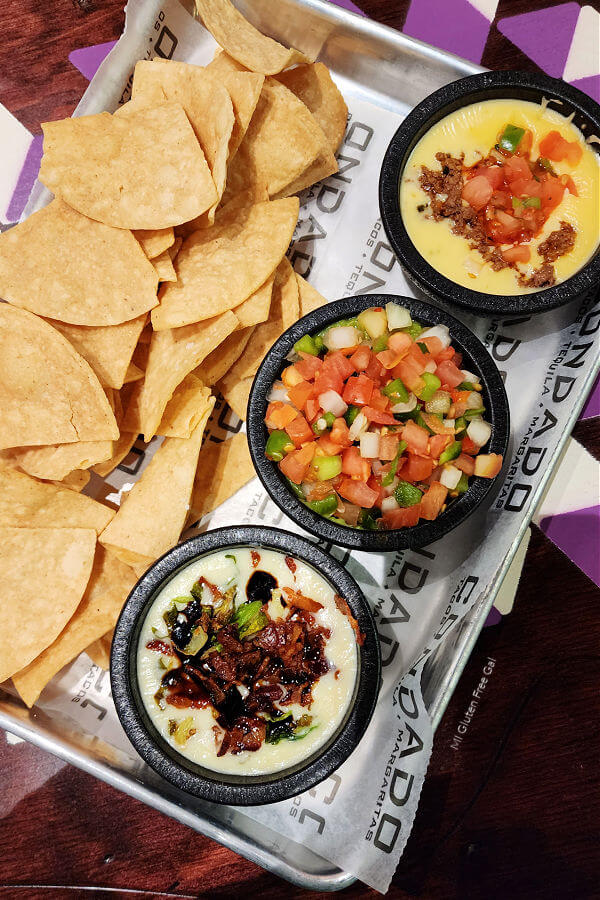 What Did You Order?
I was invited to a private event for the new Breton Village location. (In full disclosure, I was not charged for any of my beverages or my meal.) Condado Tacos is widely known for their margaritas, which they had available. However, I rarely drink alcohol, and appreciated they they had mocktails available. (Stay tuned for Condado's new mocktails menu that will be released in April.) I thoroughly enjoyed their Cactus Juice, which is made from prickly pear juice, pineapple, lemon and ginger beer.
This is my third time dining gluten free at Condado Tacos, and I love their queso. On this occassion, all guests were given an order of chips, queso and guacamole. This is their Three Buds menu option, which allows you to pick any three dips, and is served with chips. One of the new items on their menu is their Brussel Simmons queso, which may be the best queso I've ever eaten in my life. It's topped with crispy shaved Brussel sprouts, bacon, and a balsalmic glaze.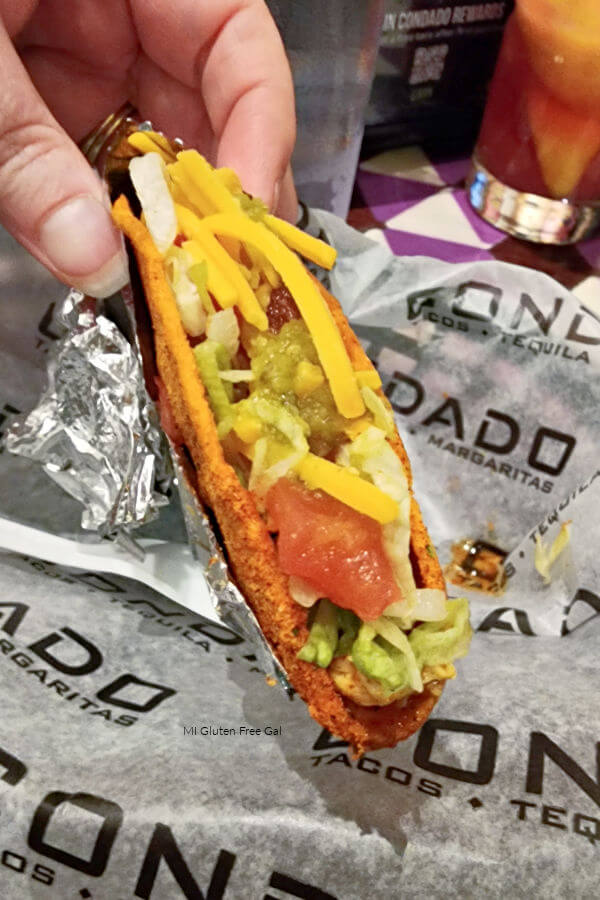 What Tacos are Gluten Free? What Proteins Are Offered?
Condado Tacos offers lots of gluten free options. You can order some of their Suggested Tacos, or build your own. I appreciate that their menu denotes which items are spicy, as my stomach doesn't handle spice so well. When it comes to ordering, my server stated that one taco is a snack, two to three tacos are a meal. Since I wanted to try other items, I only ordered one taco.
Their "Suggested Tacos" menu offers any protein choices, as well as vegetarian options. Choose from chicken, ground beef, brisket, pork, steak, or plant based tacos. They even offer veggie chorizo! I ordered their Plane Jane Taco, as I wanted to try their Kewl Ranch shell. If a taco you want is listed as being made with a flour tortilla, you can ask to sub a corn tortilla instead.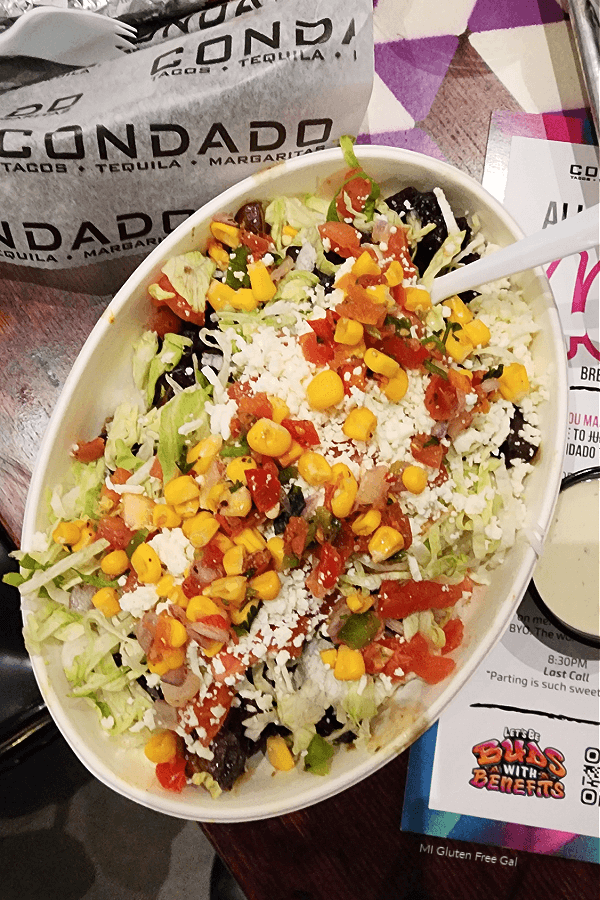 What About Vegetarian Options?
With the option to build your own tacos, nachos and bowls, there are many vegetarian options. I chose to order a Rice and Black Beans bowl. I chose their Roasted Portabellas as my protein, which were AMAZING. My waitress was great in walking me thru how to add to my bowl, and was great with suggestions. Their creamy Avocado Ranch was the perfect topping for my bowl.
Truth be told, I was so full from the Three Buds dip sampler, I took the bowl home and ate it for lunch the next day. It still tasted amazing, rewarmed the next day. I dare say this is better than any bowl I've ever ordered from Chipotle. Condado Tacos also offers Thai Chili Tofu as a protein, as well as Veggie Chorizo. Unfortunately, their Korean BBQ Jackfruit is NOT gluten free.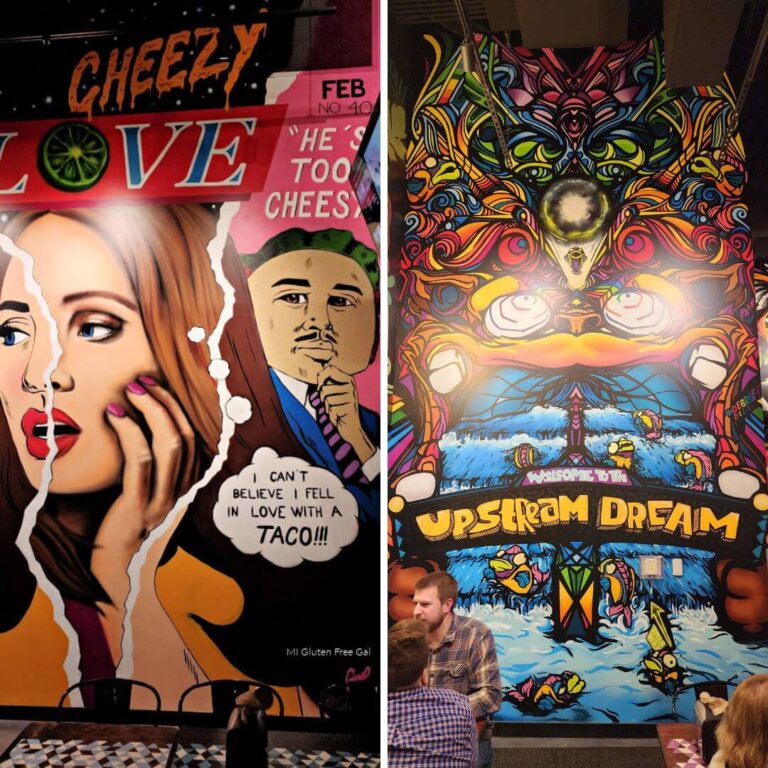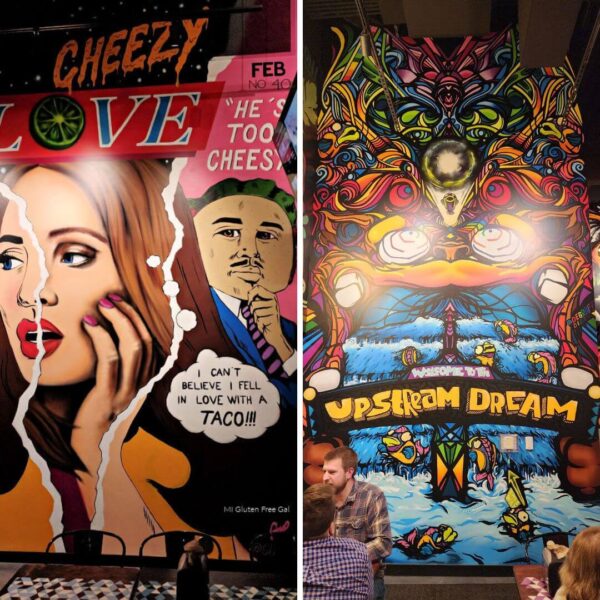 Let's Talk About This Art Work!
Each Condado Tacos location features hand painted art work by local artists. As you can see in the top right hand corner of the first photo, it says "Feb NO 40." This marks the month this restaurant opened, and that it is the 40th Condado Tacos location. Sometimes artists include their instagram handle so you can follow them on social media. I didn't get a chance to look for it, but I'll defintely try the next time I go!
"Condado Tacos celebrates the communities they join by hiring local artists to paint the walls and ceilings of each restaurant with unique, street-art inspired hand painted murals. For the Breton Village location, Condado Tacos is serving up scenes featuring "The Startling Tales of Condado #40," where pages from our very own Grand Rapids Condado comic book series are strewn about the room.
In each artist's mural, you'll find pages from each of the artists' different stories. Grand Rapids area references include Punk Island, the Griffins hockey team, the Grand Rapids cityscape, the geology of the Great Lakes, the Fishladder, Grab Corners (now Campau Square), Finny – a fin whale skeleton from the Grand Rapids Public Museum, and other hidden images local Michaganders will recognize and enjoy."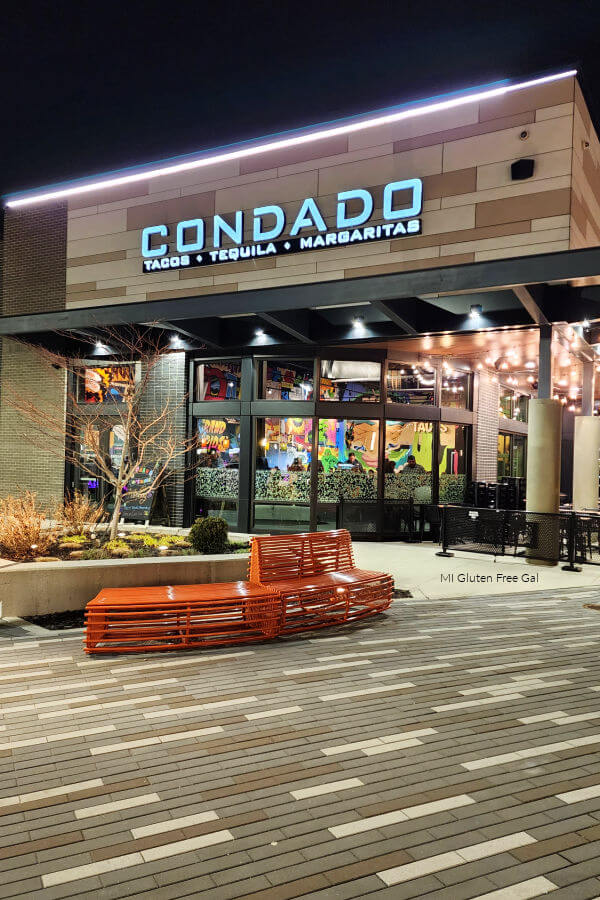 Excellent Customer Service
While the food was amazing, the customer service was just as wonderful. Staff were great at answering questions. I even told a server how impressed I was that I overheard him asking his guests if they had any allergies, prior to serving them. My server has been with Condado Tacos for 2 1/2 years. She said she personally appreciates Condado's attention to allergens, as she and her friend both have dietary restriction.
I was able to chat at length with Tina, one of the managers, and she was great at answering any additional questions I asked. She was very friendly, and easily approachable, as were all the other management staff. The CEO of Condado Tacos stated the goal of their restaurant is to encourage guests to "come as you are." I left that evening feeling welcomed, and encouraged that this is the kind of place that will take my gluten free dining needs seriously.
After eating here, I'll be adding Condado Tacos to my Grand Rapids, Ann Arbor and Detroit restaurant dining guides. And don't forget Columbus!
Condado Tacos
Multiple Locations – Ohio, Pennsylvania, Tennessee, Kentucky, Michigan, Indiana, N. Carolina
Michigan- Grand Rapids (Breton Village and Bridge Street), Kalamazoo, Troy, Royal Oak, Detroit and Ann Arbor,
Website | Facebook | Instagram | Tik Tok
*Disclaimer- I was invited to a private event, and was not charged for my meal. However, all thoughts and opinions are my own. This is my third time eating at Condado Tacos, and look forward to dining with them again.
Condado Tacos is one of many Michigan eateries I've visited. You can find a list of them on my Michigan gluten free dining post. Please remember to always ask any restaurant about their food preparation practices, before dining.