Gluten Free Detroit Dining Options
As an Amazon Associate and member of other affiliate programs, I earn from qualifying purchases.
Traveling to the Motor City? Looking for a place to eat? I'm sharing the best restaurants offering gluten free options in Detroit. From American cuisine to Cuban to Thai food, you're bound to find something you like.

Where is Detroit?
Detroit is located in the southeast corner of Michigan. It is easily accessed via Interstate 75, which runs from Florida all the way to Michigan's Upper Peninsula. While one can get close to Detroit by air, the Detroit Metro Airport is actually located in Romulus. Therefore, one still must drive 25 minutes to get from the airport to downtown Detroit. The Detroit River separates the city from Windsor, in Ontario, Canada.
What is Detroit Famous For?
Once the capital city of Michigan from 1805-1847, Detroit is best known for its Motown music heritage and its sports teams. One can still visit the home of Henry Ford, a pioneer in the car industry. In fact, Detroit is still referred to as the Motor City, and is home to GM Headquarters.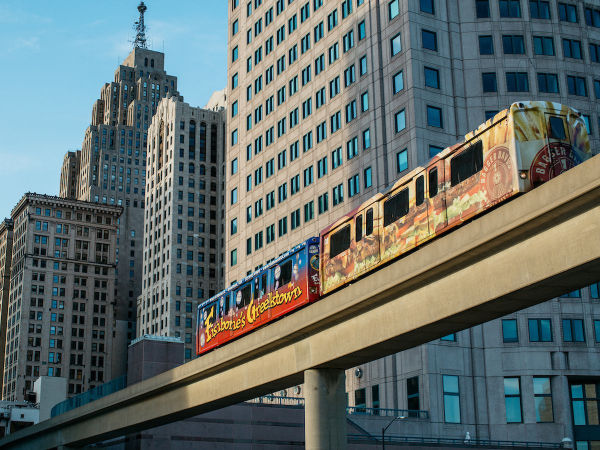 Parking in Downtown Detroit
Parking in Downtown Detroit can be hectic. Parking garages are located downtown, and street side parking is also available. The Park Detroit website and app allow you to pay for parking online. The app also helps you find available parking. Also keep in mind that Detroit offers the People Mover, an elevated train that manuevers around Downtown Detroit. Even if you can't park near your destination, you may be able to park in a structure and take the People Mover to where you want to go.
Festivals and Attractions in Detroit
Detroit is home to the America's Thanksgiving Parade, and many more holiday events. For the car enthusiast, visit the yearly Detroit Auto Show. In addition, one will find many museums, theater and concert venues, including the Masonic Temple. Explore Belle Isle in the summer, and visit Campus Martius Park and Cadillac Square for year round activities. For a list of attractions to tour, check out the Visit Detroit website.

Gluten Free Dining in Downtown Detroit
I'm sharing ten restaurants that offer gluten free options. Only one restaurant, Breadless, is 100% gluten free. At the end of this list, I've included an embedded map so you can find these restaurants, easier. In addition, I've included an additional section of gluten free options in Metro Detroit, near the Detroit Zoo. Despite its name, the zoo is actually in Royal Oak, which is 20 minutes away.
Breadless (100% Gluten Free) 2760 Larned St, Detroit, MI 48207
Gluten Free Options:
Everything on the menu at Breadless is gluten free! They make sandwiches wrapped in greens. Choose from fun wraps like the Cardi B (Swiss chard + sliced chicken, pepper jack cheese, cilantro avocado sauce ) or the What the Kale (Dino kale + halal roasted chicken, cheese, bbq sauce). Recently Breadless has operated food stalls at Comerica Park, home of the Detroit Tigers, and Little Caesar's Arena, home to the Pistons.
Cross Contact Prevention Protocols:
Because their menu contains no gluten, cross contact should not be possible.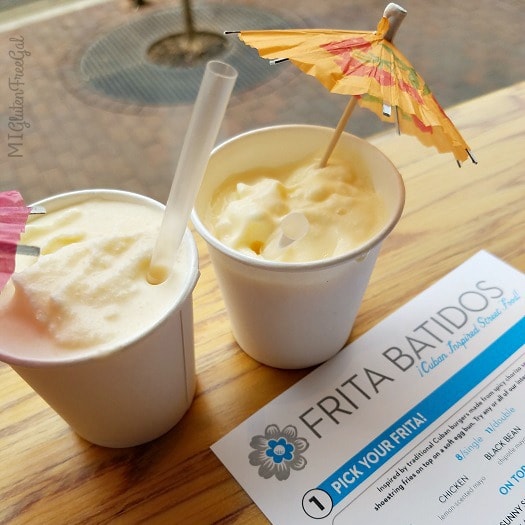 Frita Detroit 66 W Columbia St, Detroit, MI 48201
Gluten Free Options:
Gluten Free options include burgers without a bun, french fries made in separate hot oil, and their "Best Snack Ever." The BSE is layered dish of Coconut Ginger Rice, black beans, melted muenster and cilantro lime salsa. And I admit, it really is the best. Their Batidos, or cuban mikshakes, are also gluten free.
Other options include "Beef Frita lighter on romaine, Chorizo Frita lighter on romaine, Chicken Verde Bowl, Tropical Salad with or without seared tofu, Twice Fried Ripe Plantains, Loaded Plantains, Crisped Plantains, 'Best Snack Ever," Shoestring Fries, Garlic Cilantro Fries, Black Beans, Coconut Ginger Rice, Tropical Slaw, Cinnamon Sugar Plantains, Batidos (w/the exception of the Batido de Trigo available occasionally as a special and the same applies to our housemade Paletas in the Spring/Summer months), Avocado Spread and Cilantro Lime Salsa."
Cross Contact Prevention Protocols:
Eve, the owner of Frita Batidos, recently shared with me their newly updated gluten free food order protocols. That includes at dedicated fryer, available at their Detroit and Ann Arbor location. They also have a kit in a zipped bag with dedicated gluten free cutting board, Chef's knife, pot, pan, etc. (Again, available at both locations.)
"We do ask that guests with Celiac Disease let us know, because we take extra precautions with this condition. For guests with Celiac disease, we specify on our order ticket, do a verbal call to the expeditor, write it on a white board and have a dedicated person in the kitchen prepare and package the order from start to finish." Both servers and kitchen staff are trained on what Celiac Disease is, and cross contact.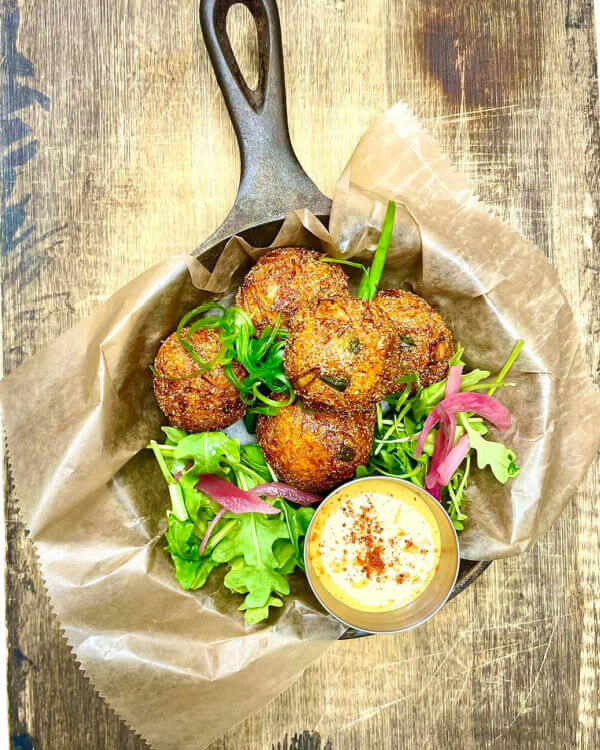 The Elephant Room *439 E Congress St, Detroit, MI 48226
Gluten Free Options:
Almost everything. "We have eliminated gluten from all our recipes. For our non celiac crowd, we do carry a few bread options, but our menu is 99% gluten free. Unless we specifically have to, which is extremely rare, we don't work with gluten." So any menu you see shared on The Elephant Room's social media is gluten free, unless otherwise noted.
Cross Contact Prevention Protocols:
As one of the owners has Celiac Disease, offering safe gluten free options is important at The Elephant Room. The maintain a dedicated gluten free fryer, and offer fried fish during Lent.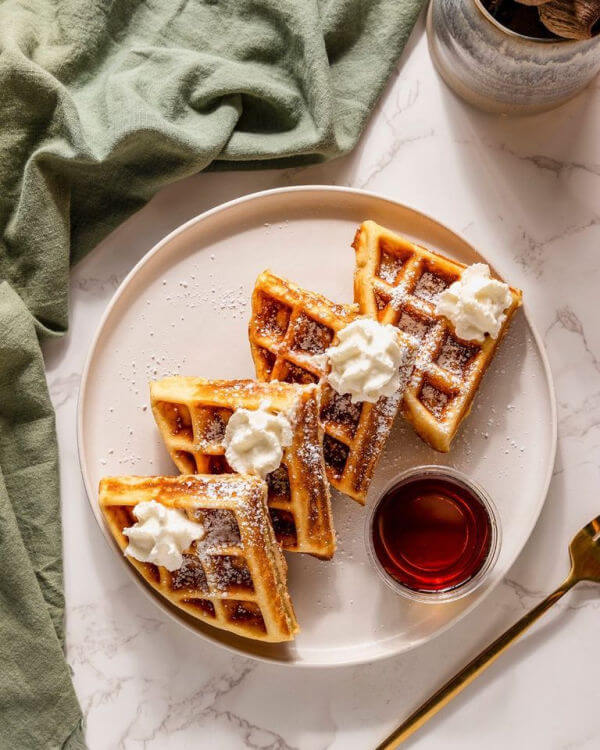 Folk Detroit * 1701 Trumbull, Detroit, MI 48216
Gluten Free Options:
"Our waffle and coffee cake are gluten free, and we have gluten free bread for sandwiches. Everything but our Crunchwrap and soba salad are able to be made gluten free. All of our gluten free options are marked on the menu along with dairy free, vegetarian, and vegan options."
Cross Contact Prevention Procedures:
"Our space is small, so typically only one thing is being prepped at a time, and everything is cleaned and sanitized afterwards. We only have one waffle and it's gluten free! For sandwiches, they are wrapped in foil before being put on the press. Gloves are worn to prevent any cross contact."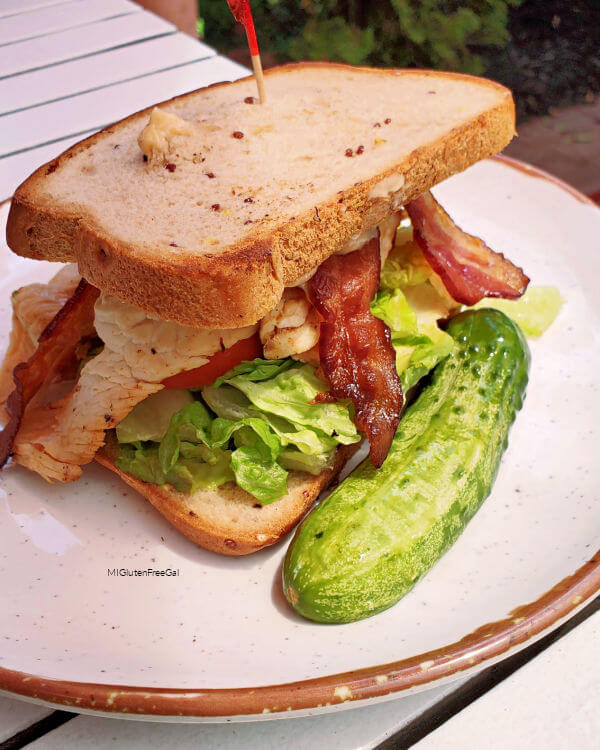 Mudgie's Deli 1413 Brooklyn St, Detroit, MI 48226
Gluten Free Options:
Mudgie's offers gluten free bread for any of their signature sandwiches. Choose from sandwiches like the Dad (ham and cheese with yellow mustard), the Mudgie (beef brisket, turkey breakfast, veggie cream cheese, lettuce, onion and honey mustard), or their Turkey Trot (turkey, cheddar dried cranberries, apples, walnut, honey mustard and mixed greens), and more. Certain sandwiches cannot be made gluten free, due to the toppings used.
"We offer gluten free bread for any of our sandwiches with the exception of the the vegan corned beef reuben. This is due to the fact that the vegan meat is made from vital wheat gluten and therefore cannot be made gluten free."
Cross Contact Prevention Protocols:
"We do not have a dedicated gluten free prep space. However, if an allergy is mentioned we do make all necessary precautions like cleaning the grill and board to keep the order safe."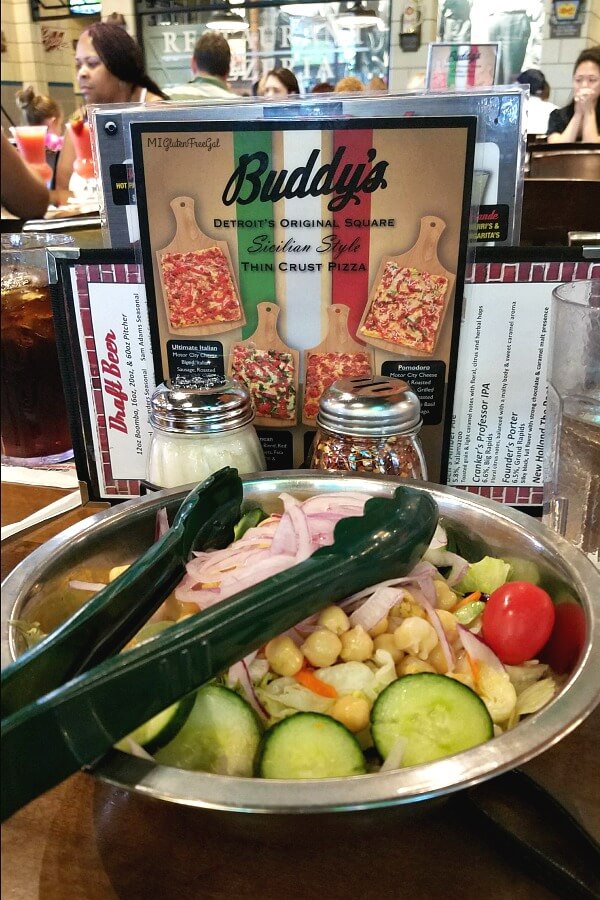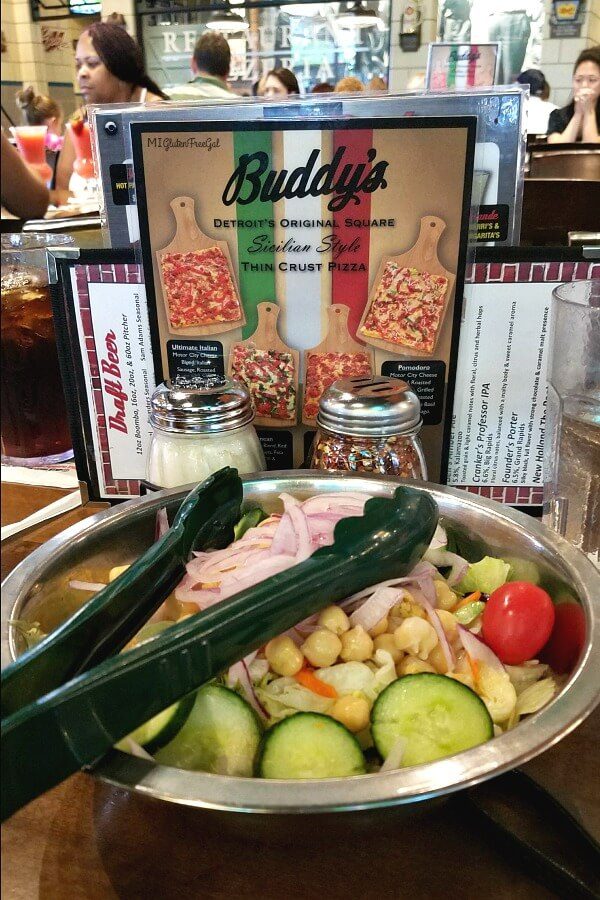 Buddy's Pizza 1565 Broadway St Detroit, MI 48226
Gluten Free Options:
Buddy's Pizza owns many restaurant locations across the state of Michigan. Detroit, which is the original home of the Detroit style pizza, offers gluten free pizza and salads. Please be advised that their gluten free crust contains dairy, and costs an additional $2. It is only available as a 4×4 square pizza.
Cross Contact Prevention Protocols:
In the past, Buddy's restaurants maintain a separate gluten free prep space for preparing gluten free pizzas. I am emailing them to confirm that this is still true.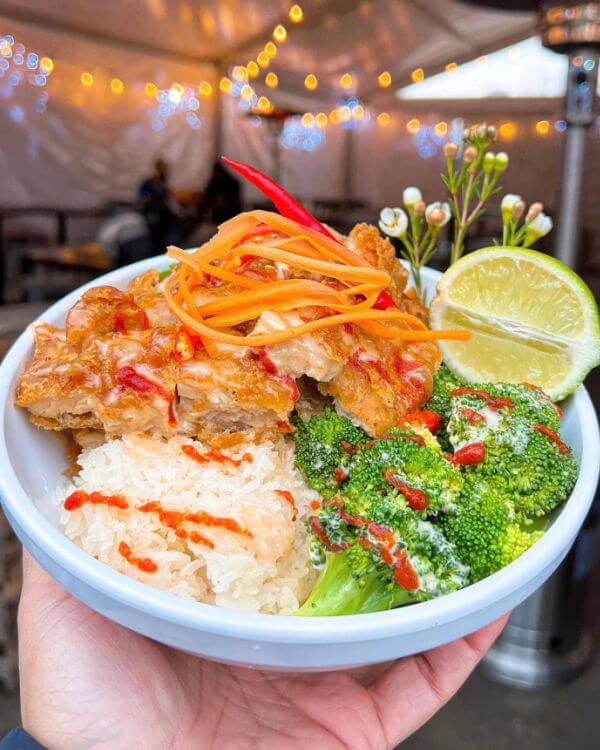 Gluten Free Options:
Bangkok 96 operates two locations. Their downtown Detroit location is located in the Detroit Shipping Company food hall. Gluten Free options, marked on their menu, include a Pad Thai roll, Candied Beef & Sticy Rice, Crispy Fried Chicken, and more.
Cross Contact Prevention Protocols:
A comment on the Find Me Gluten Free app states that they have a dedicated fryer and that all batter is gluten free. I have emailed the restaurant asking for them to confirm this. When they answer my questions, I will update this space.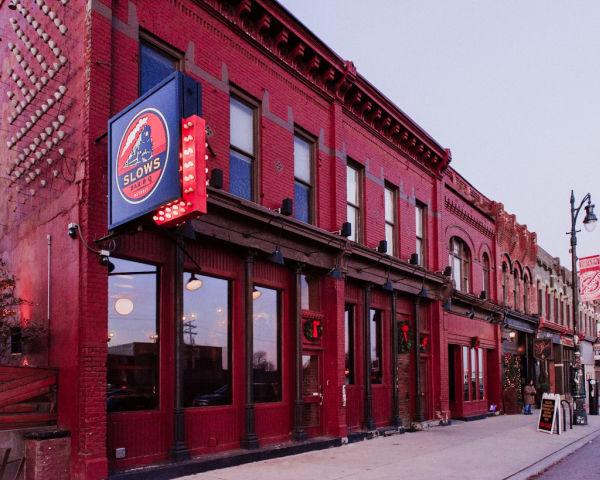 Slow's BBQ 2138 Michigan Ave, Detroit, MI 48216
Gluten Free Options:
When looking at the Slow's BBQ main menu, most dishes are marked with a lowercase "g", which means gluten free options are available. (Sadly, no gluten free mac and cheese.) They also offer gluten free buns from Rumi's Passion.
Cross Contact Prevention Protocols:
I have emailed the restaurant asking for further information. When they answer my questions, I will update this space.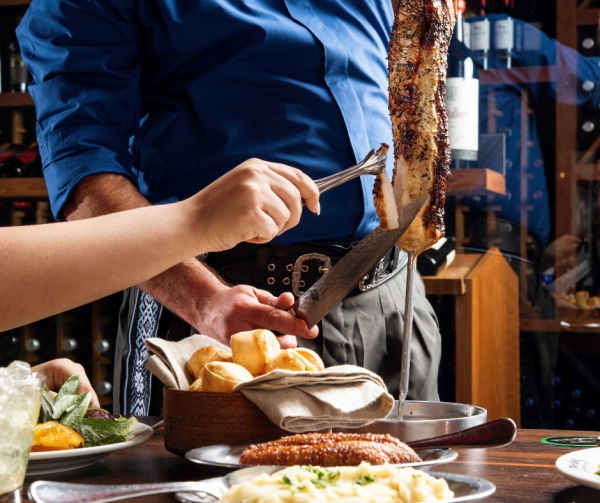 Texas De Brazil * 1000 Woodward Ave Ste 1B07A, Detroit, MI 48226 *
Gluten Free Options:
Texas De Brazil offers a Special Diets menu on their webpage. It appears that the majority of their meats and salad bar contain no gluten. Their Brazilian cheese bread (like Brazi Bites) contain no gluten, nor does their jasmine rice or Sweet Fried Bananas. Dessert options include Crème Brûlée and Brazilian Flan
Cross Contact Prevention Protocols:
I have emailed the restaurant asking for further information. When they answer my questions, I will update this space.
Restaurants in the Detroit Suburbs / Detroit Zoo
While all the sports teams (Lions, Tigers, Pistons and Red Wings) stadiums are in downtown Detroit, the Detroit Zoo is located in Royal Oak, Michigan. Troy and Berkley are north of the Detroit Zoo, and Ferndale is just south of the zoo. In addition, Troy is home to the Somerset Collection mall. I have marked restaurants where I have not personally eaten with an asterisk. I am providing a link to each restaurant so you can ask the owners/ management more about their menu and food prep practices.
Troy
Berkley
Royal Oak
Ferndale
*Restaurants marked with an asterisk are locations where I have not personally eaten. Locals recommended them to me. As always, ask questions about gluten free preparation methods prior to ordering.