Gluten Free Houston – Great Friends & Great Finds
As an Amazon Associate and member of other affiliate programs, I earn from qualifying purchases.
Recently I took a vacation with my husband. No prearranged dates, deadlines or to-d0's. IT WAS WONDERFUL. I snapped a few shots along the way, wanting to share my gluten free Houston finds with you! Let me know in the comments what you love and what I missed!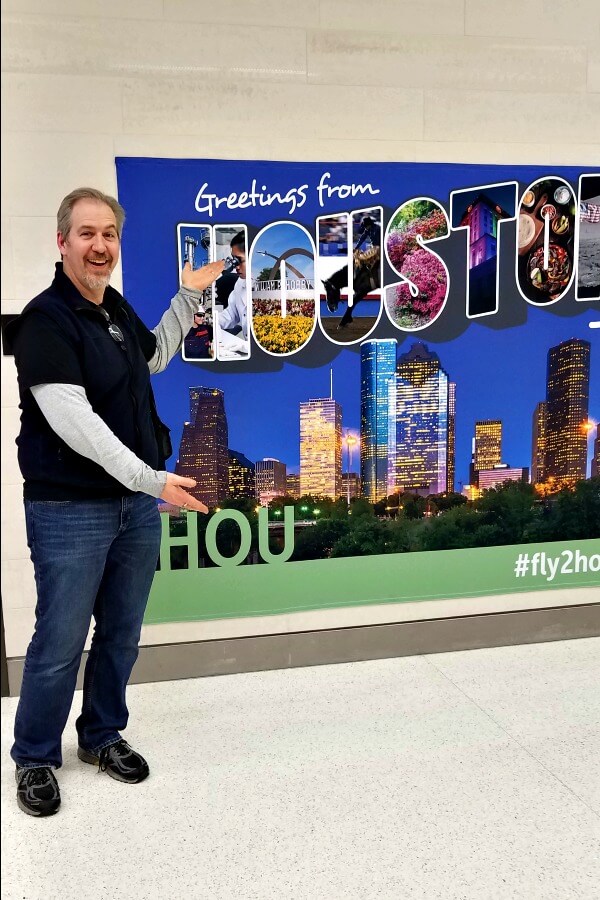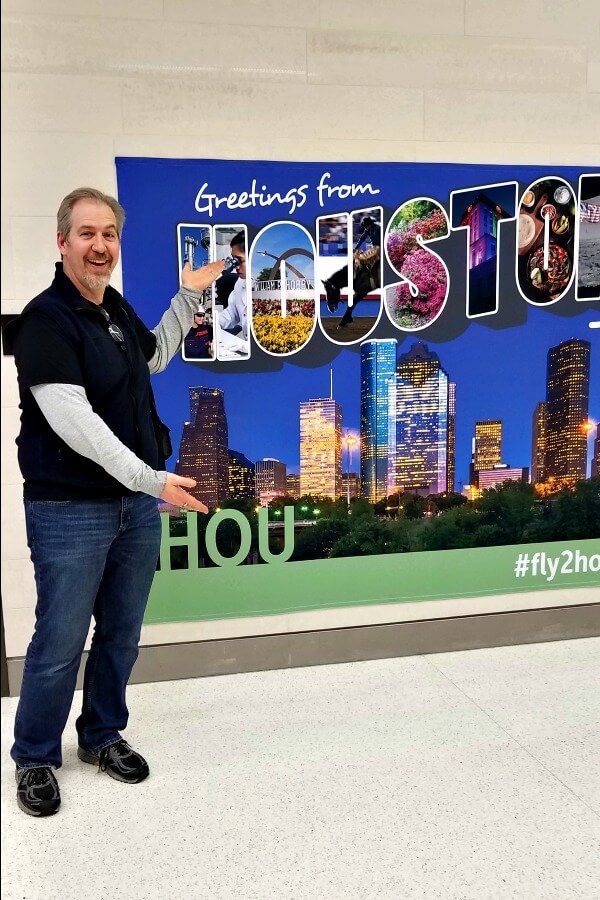 We made it! Our arrival to Houston was not not without it hiccups. However, it included some delicious homemade gluten free chicken and bacon alfredo pizza. In addition, we also sat next to the most charming man from Mumbai, currently working for Chrysler. We had a fascinating talk about air flight, car engines, and the traditions of India. We experienced a delay between Dallas and Houston. But thankfully, there was Chick-Fil-A soft serve ice cream, which of course makes everything better. We finally arrived at our location, in Houston, somewhere around 1 a.m.
I suppose I should back up a bit to explain the reason behind my gluten free Houston vacation. One of my dearest friends live. My dear Sarah, (I've written about her and her family's influence in my life, here) lives in Houston with her husband Amit. She and I lived as college roommates for 3 years, and she was one of the two bridesmaids in my wedding. To be honest, as much as there is to do and see in Houston, I felt most excited just to be in their presence.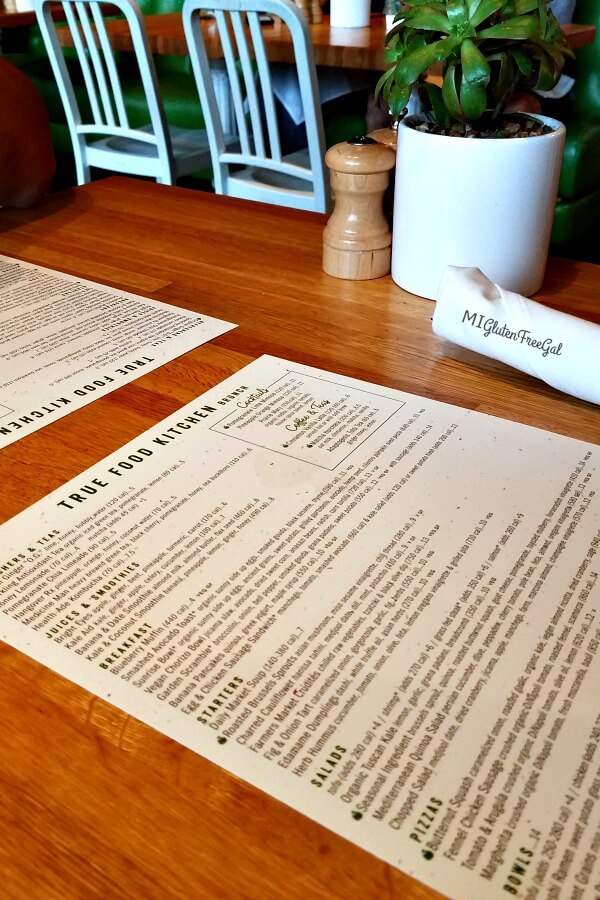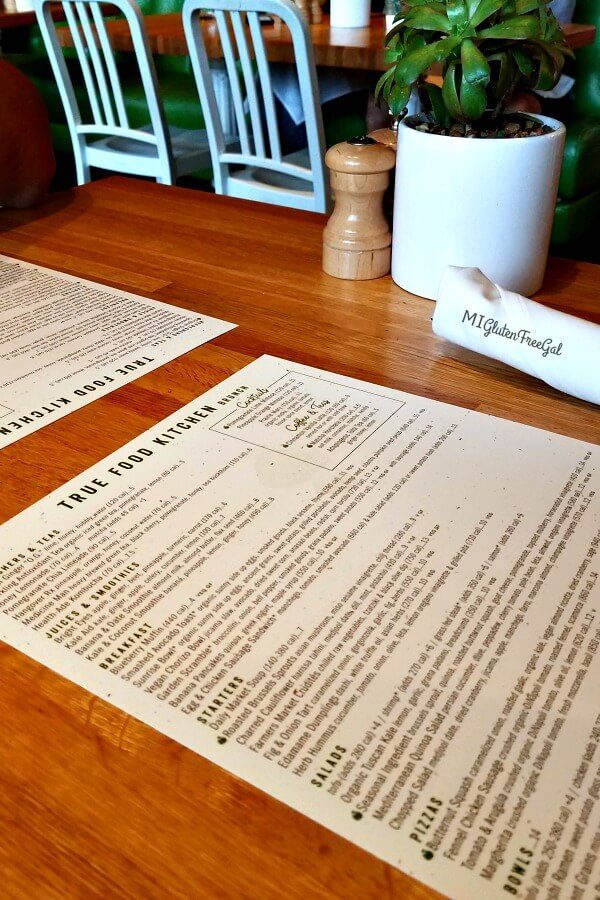 True Food Kitchen
After a good night sleep. we slowly roused. A late breakfast accompanied dog cuddles and a rousing time of "throw the ball for the dog." I mean, does life get much better than that? Our first day included a trip to True Food Kitchen. Both Amit and Sarah follow a vegetarian diet, and I really wanted to find a restaurant that fit both of our dietary restrictions. After some searching on Find Me Gluten Free, I discovered True Food Kitchen in the Galleria area. I felt even better about dining there when friends In Johnna's Kitchen, Casey the College Celiac, and Alysa Bajenaru all raved about it, too! We had a great meal, which I plan to share more about in depth, later. In all, the restaurant reminded me a lot of The Little Beet Table in Chicago.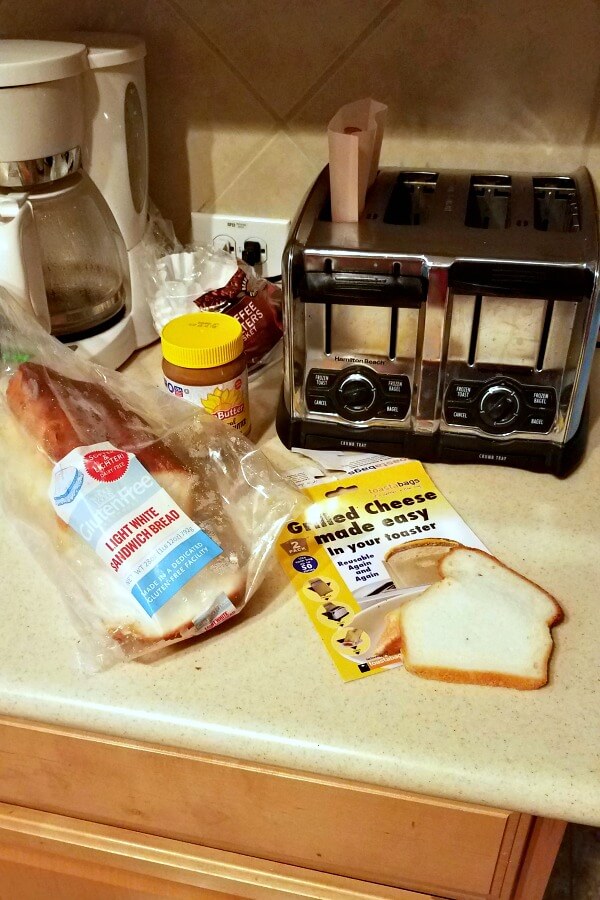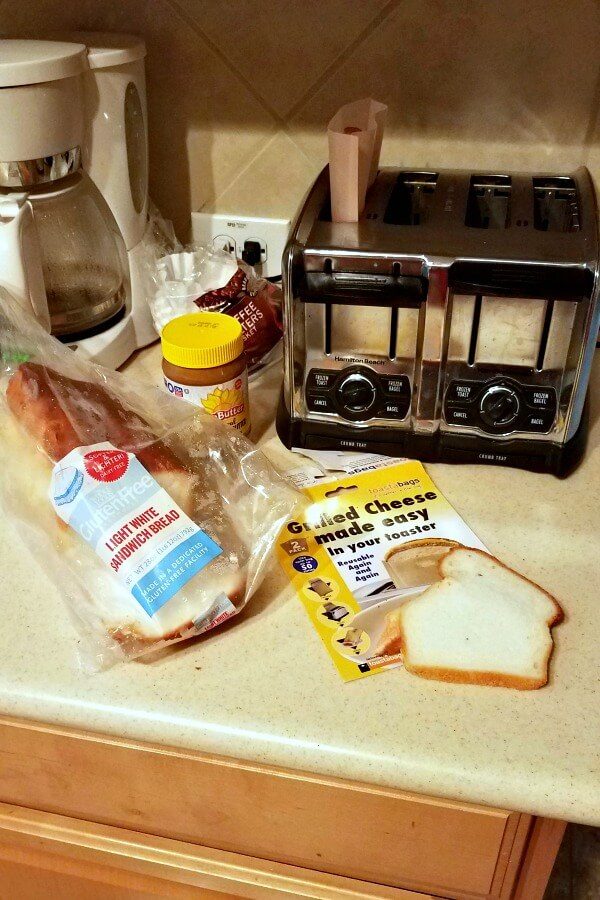 Doesn't Everyone Go Grocery Shopping?
After lunch, we ventured next door to Whole Foods to buy gluten free bread, and coffee for my husband. I was able to make toast in their toaster, thanks to my Toastabags! (Which I bought at a Menard's at 7 in the morning, before we left.) After that we made a trip to Sprouts Market, as I've heard friends RAVE about this store. Someone suggested that it's owned by the same parent company that owns Fresh Thyme markets. On recommendation from Mary Ellen of Milk N Honey Nutrition, I bought the chocolate covered rice cake. And this my friends, is why I like to visit grocery stores in every new city I venture to- because they have things we don't!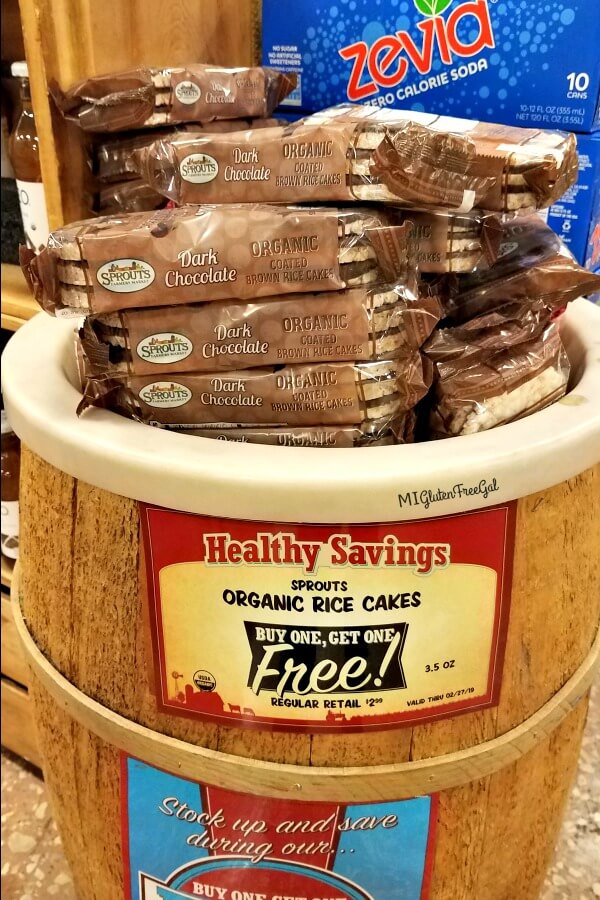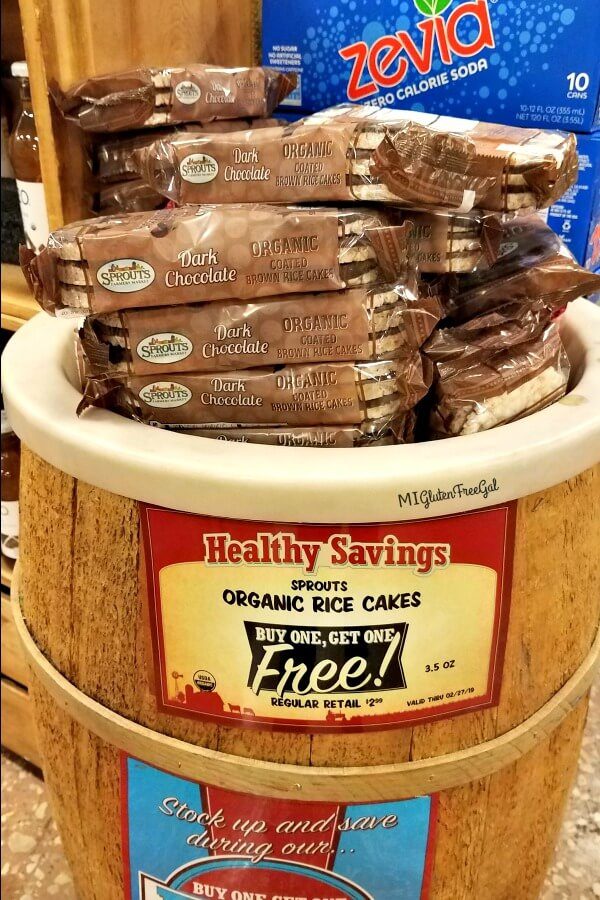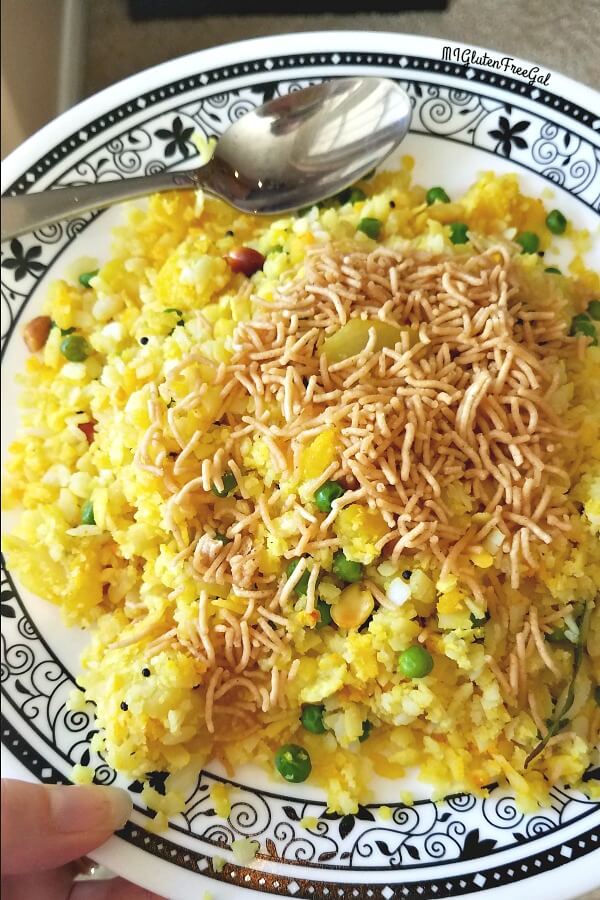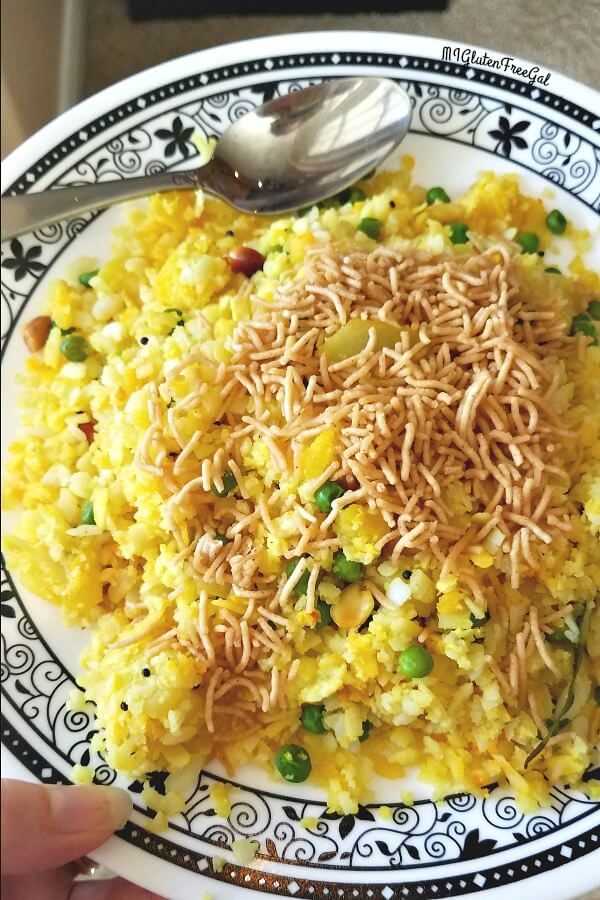 Next Stop – Indian Market!
While I looked forward to trying new restaurants in gluten free Houston, I REALLY looked forward to home cooking. Sarah's husband Amit is from India, and a wonderful cook. We ventured to the Indian market, where Amit introduced me to Indian spices and bean flours. We even ended up buying a 10 lb of gluten free chappati flour. Which, ironically never got opened while we were there and found it's way into my luggage on the return flight. Suffice to say, I tried enough foods I want to replicate. So stay tuned for Indian foods.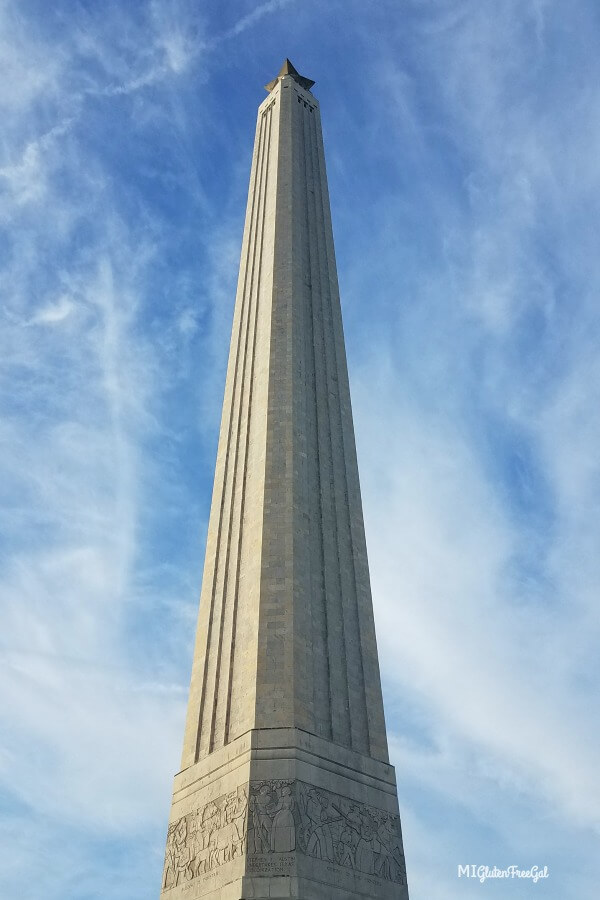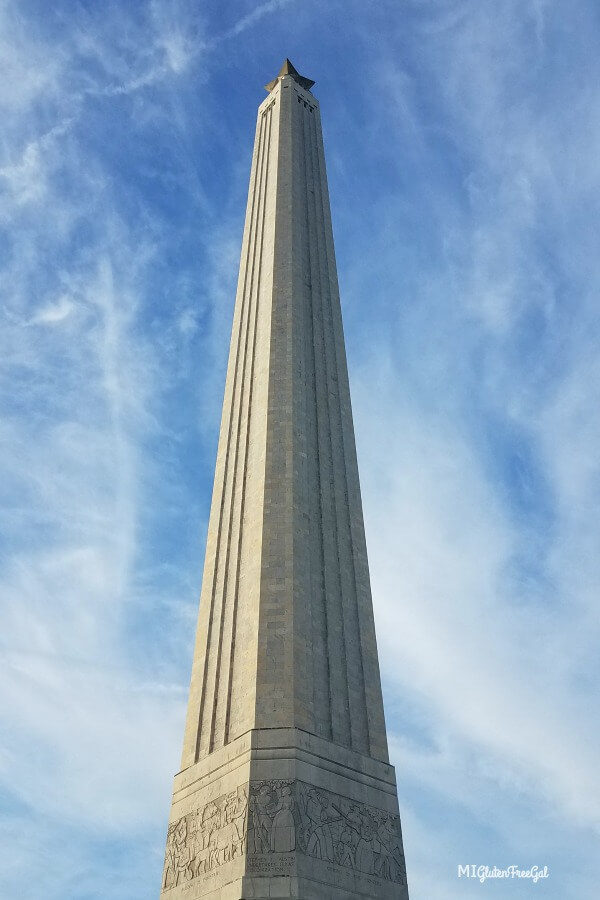 Look Up
While on vacation, I tried to not be on my phone all the time. We spent Sunday sight seeing. We ventured to the San Jacinto Battle Memorial and Museum. This monument stands 567 feet tall, just 12 feet higher than the Washington Monument in Washington D.C. (Because everything is better in Texas, right?) Like the Washington Monument, it also has a reflecting pool. You can take an elevator to the top, with quite a sight of the surrounding areas.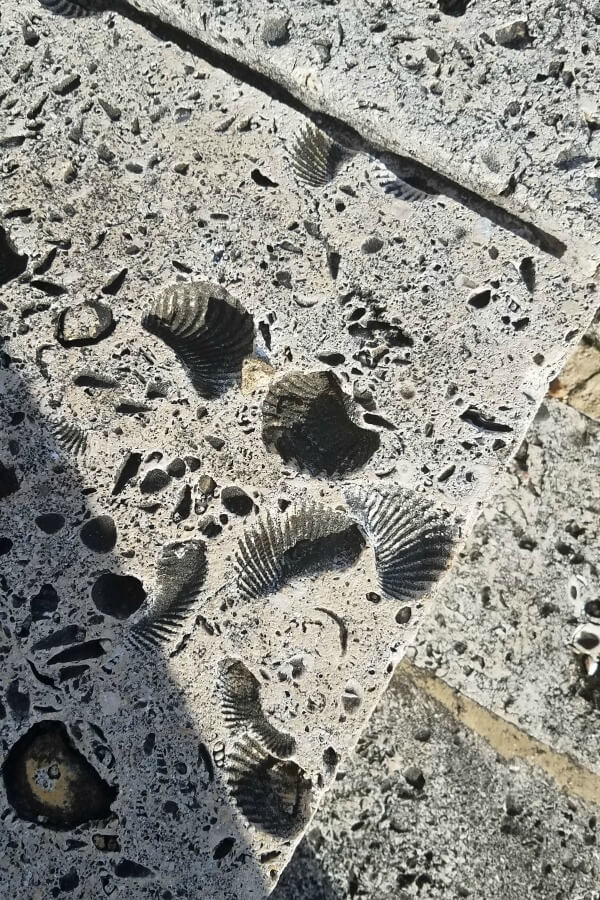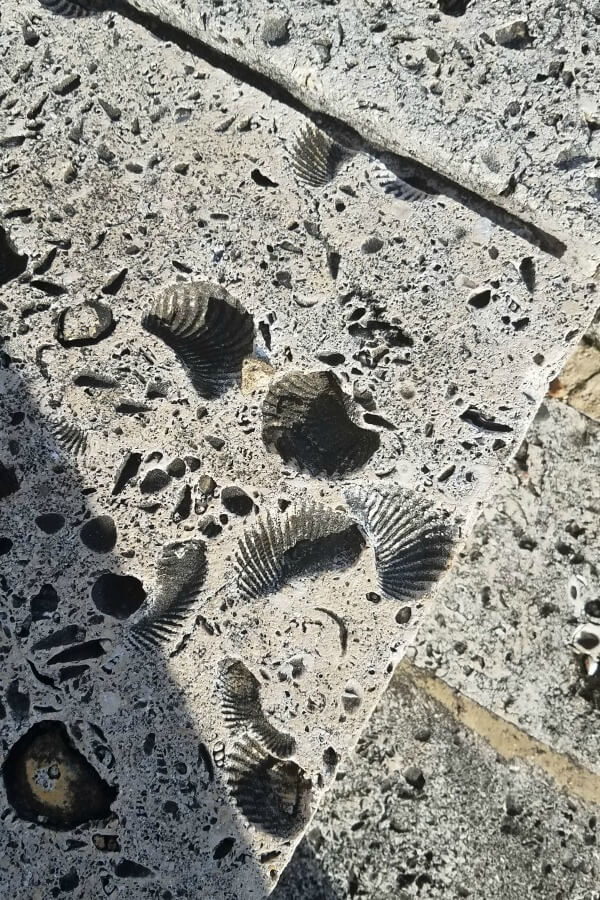 What intrigued me most was the exterior of the building. Builders cut stone imprinted with shell fossils. We ended the evening with dinner at Pappasitos Cantina. While some on Find Me Gluten Free liked it, I didn't. The environment was loud, and my waiter seemed unsure of himself. I did like the tableside guacamole preperation, especially because they were willing to leave out the cilantro! If you're looking for a good gluten free Houston restaurant though, I would choose elsewhere.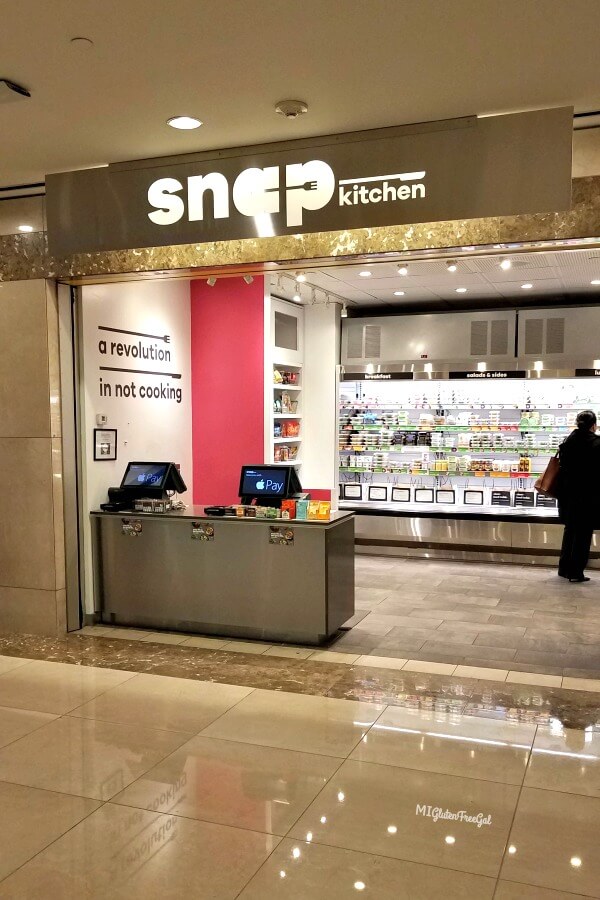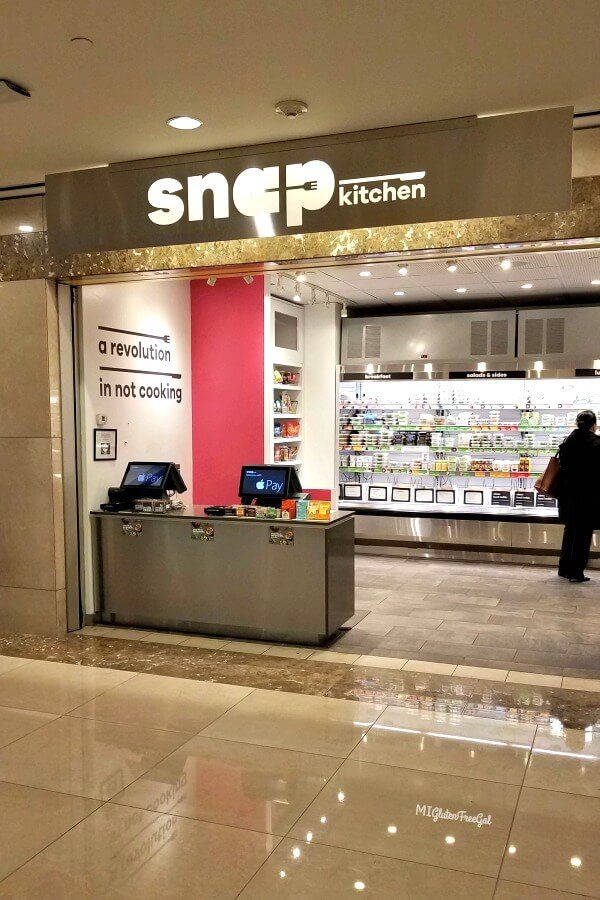 Go Below
The next day, my husband and I ventured into downtown Houston. Did you know the downtown buildings connect to one another through a series of underground tunnels? Also, these tunnels are not for merely walking. They house eateries, bank offices, card shops, and even a dentist. We found Snap Kitchen while down there, a store that offers premade gluten free meals and snacks. All meals are organized by color- green for vegetarian, red for red meat, yellow for poultry and blue for fish. The staff answered all my curious questions. Would love to see this available in the Midwest!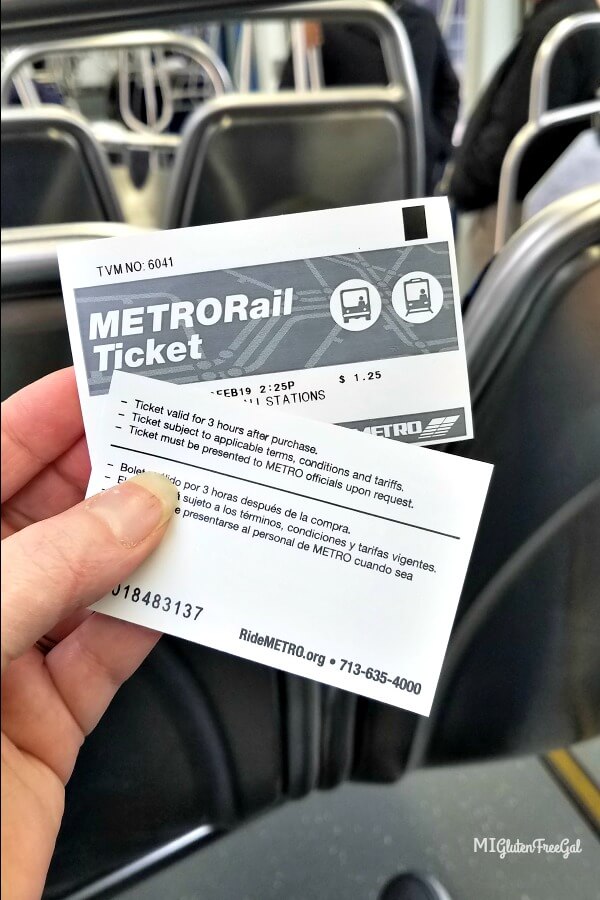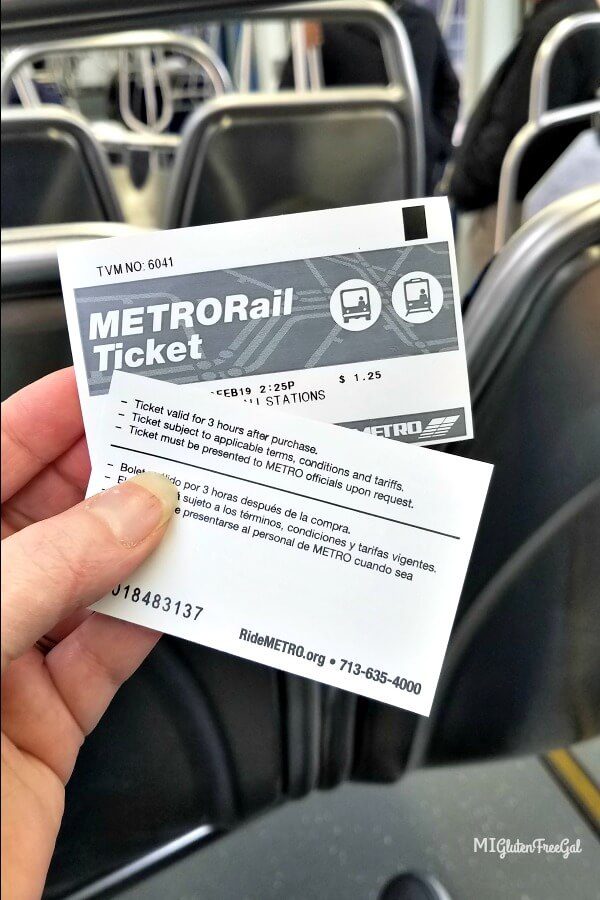 Ride Above
After exploring the tunnels, we rose to the city surface in search of good coffee. Downtown we found Boomtown Coffee, which my husband enjoyed. The staff enthusiastically offered suggestions of sights to see, and informed us on how to use the rail system. WHICH IS FANTASTIC! For $1.25, you can use the rail system for 3 hours, with unlimited stops. We hopped on the train and rode to the Cullen Sculpture Garden.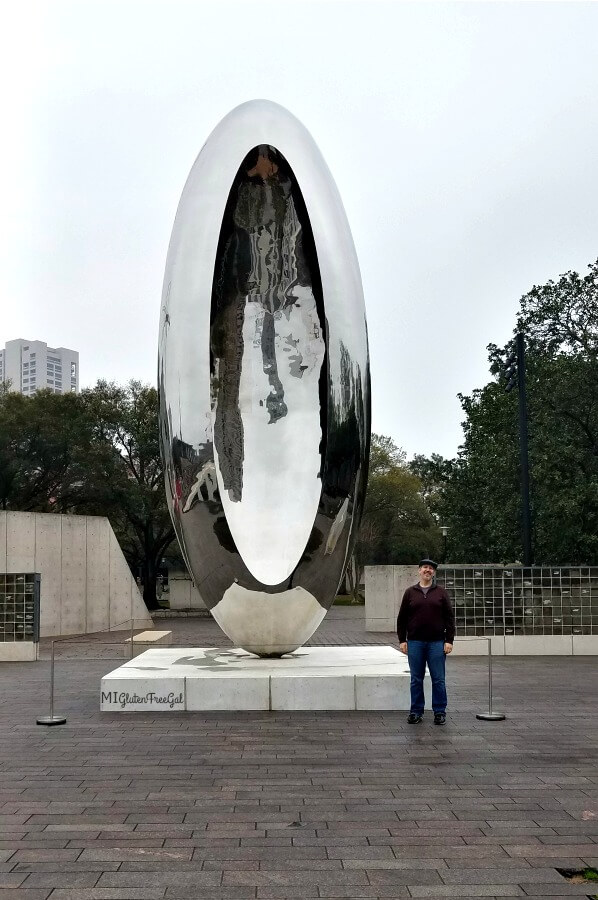 In the Clouds
My husband loves displays of public art. This public outdoor art display did not disappoint. It includes sculptures from Rodin, Matisse, and more. Of most intriguing note to me is the Cloud Column, made by the same sculptor who made Cloud Gate (The Bean) in downtown Chicago. I love finding pieces that connect me to other places and time in my life. After that, we made a quick stop at the Museum of Fine Arts for a potty break, then off to find lunch.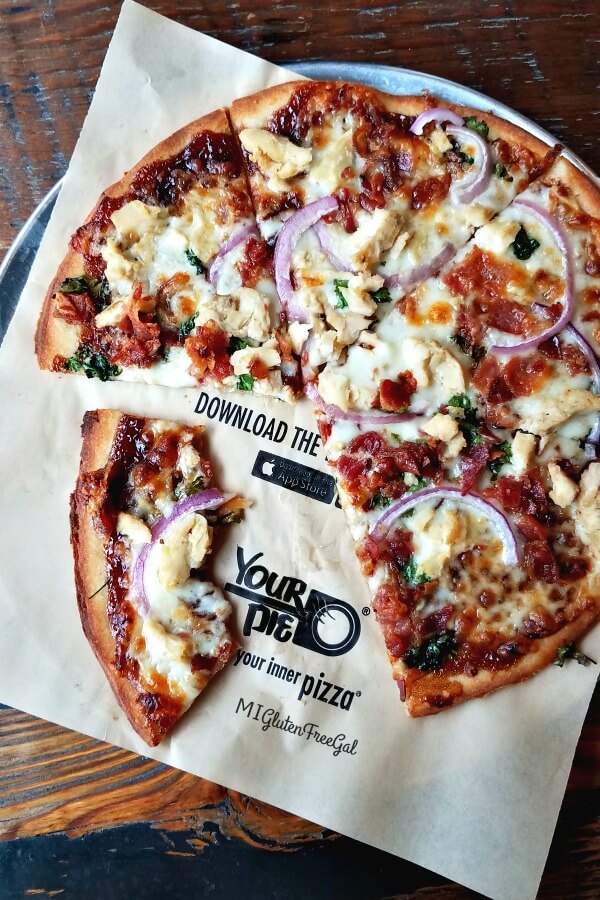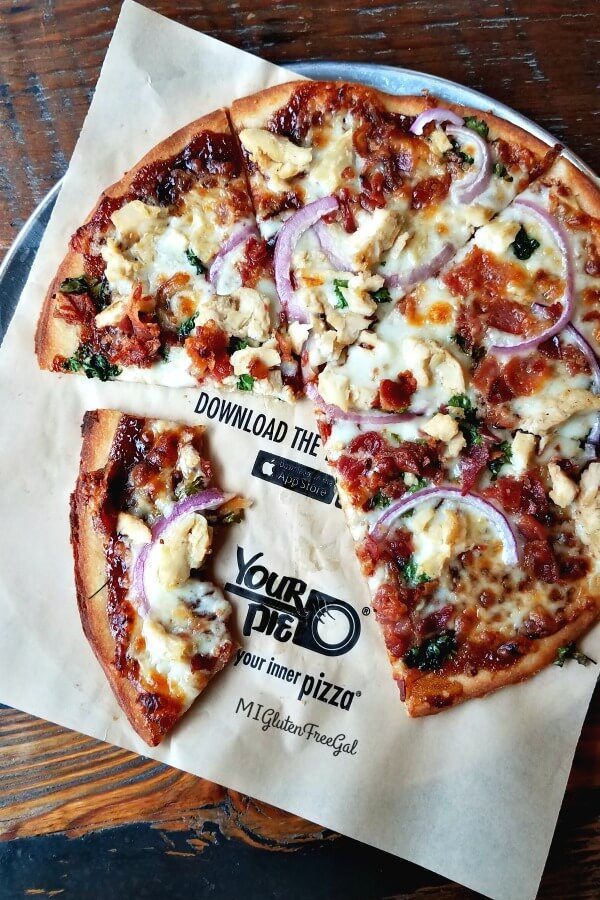 Your Pie
After some public transportation confusion, we finally ended up at Your Pie on Main St. Ironically, after taking this picture, I realized I previously visited one in Murfreesboro. This gluten free Houston eatery excelled compared to the TN location. Staff created my pizza in back, in a clean prep area, with fresh toppings. They cooked my gluten free pizza on a metal pan to prevent cross contact with other pizzas. They also offered gluten free hard cider, as well as red and white wines. I passed, but my husband enjoyed one of the many local, Texas beers they had on top. Huge kudos to the staff there!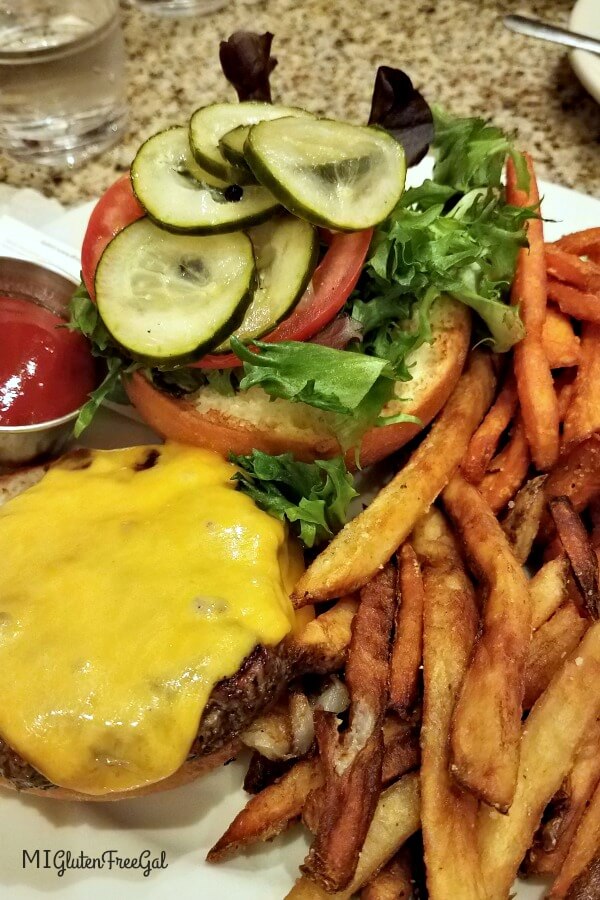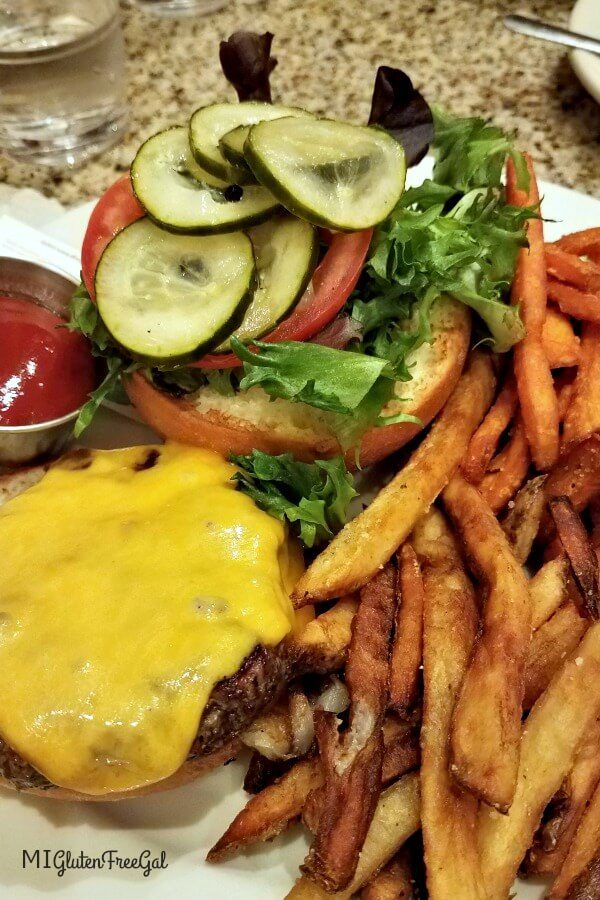 Bella Green – The Heights
First let me preface this section by stating I felt safe eating at this establishment. Based on reviews from locals and those abroad, as well as questions I asked of wait staff, I felt content in getting a good gluten free Houston meal. However, I will say that the staff weren't the warmest. The head cashier was abrupt, another worker glared at us while we ate, and our burgers were just ok.
Everyone has an off day, including me. Just hoping that the reception (and the burgers) were warmer for others. I will say I was pleased that they were willing to do half sweet potato fries, and half regular fries with my order. To be honest, the sweet potato fries were the best part of my meal.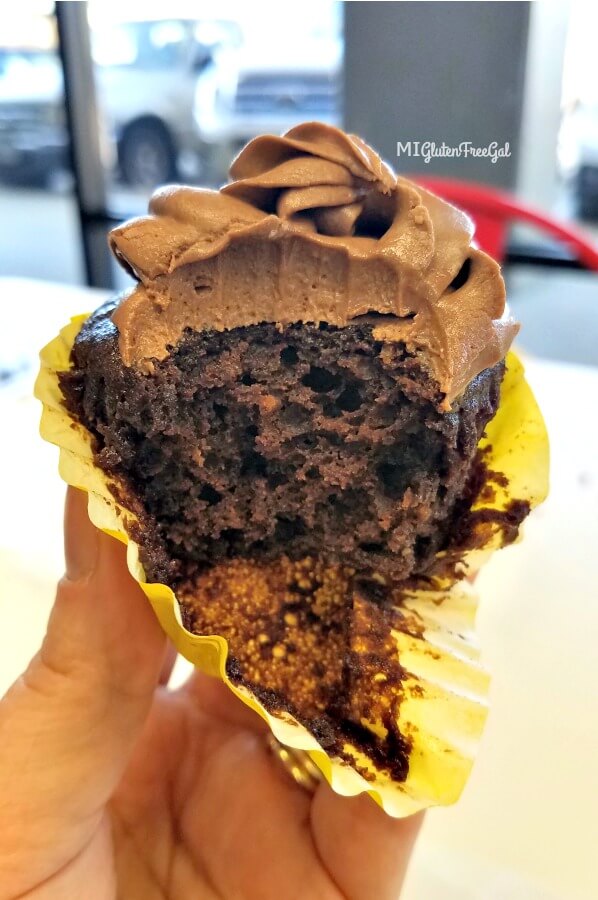 More than Just Vanilla
Any town I travel to, I search for a dedicated gluten free bakery. In our gluten free Houston travels, we found one with a storefront in Spring, TX. (There are many more that are home based.) Just Vanilla Bakeshop offers scones, cupcakes, cookies and more. They even serve goodies for those on a Keto diet. Of all the things my husband, Sarah and I tried, I loved this chocolate cupcake with chocolate frosting the most.
We ended that night, back at Sarah's home. She made paella, and we ate around the table in friendship. There's so much to see in this world, and in Houston. Meanwhile, I'm content with lazy days in pajamas, surrounded with friends who are like family. Now that we are back in the frozen tundra of Michigan, I wish our time there could have been longer. But alas, time moves on!
**Have you been to Houston, Texas? What wonderful gluten free finds did you discover there? **